Are You Tired of Wasting Money on Lettuce Gone Bad?? Friends sometimes tell me they want to eat healthier, so they go out and spend a bunch of money on fresh lettuce and other veggies. But then, their plans change and they can't eat it all before it spoils. Perhaps you can relate.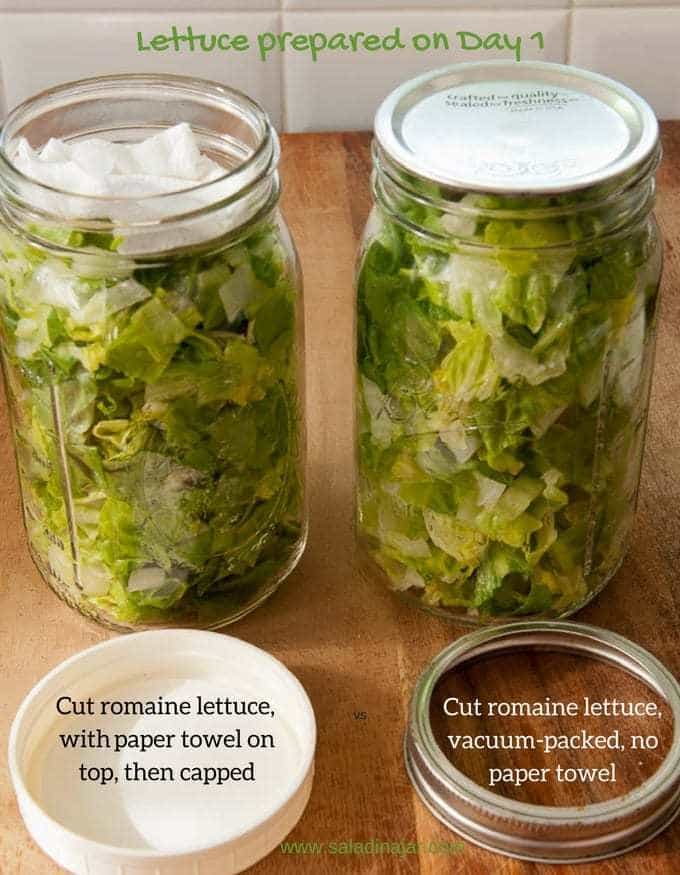 Not long ago, a reader left the following comment:  "The food saver is expensive and a lot of effort. You can get the same result by placing half a paper napkin on top of your lettuce before you seal the jar. It absorbs the liquid, keeping the lettuce good for a solid week."  This was pertaining to one of my first posts about vacuum-packing cut lettuce, an idea that helps me avoid wasting money on lettuce-gone-bad.
I'm used to these kinds of challenges from a select few commenters. You can read about two previous experiments I conducted by clicking on following links. One was a comparison of lettuce placed into a covered but unsealed Mason Jar, cut lettuce placed into a plastic bag, and lettuce vacuum-packed into a Mason jar. The other was an experiment regarding cutting lettuce with a plastic knife.
Here are the ground rules for this most unscientific test:
Lettuce must be cut into small ready-to-eat pieces. That's important because I want my lettuce/salad to be ready to eat in less than a minute when I walk in the door for lunch. Easy-to-grab junk food is less of a temptation when I'm famished because I always have a jar of chopped lettuce at hand.
The lettuce-filled jars are stored in the same location in the same refrigerator, filled with the same lettuce so original freshness is not a factor.
In each picture, the paper towel jar is on the left and the vacuum-packed jar is on the right. As you can see in the first picture above, the lettuce is equally fresh on Day 1.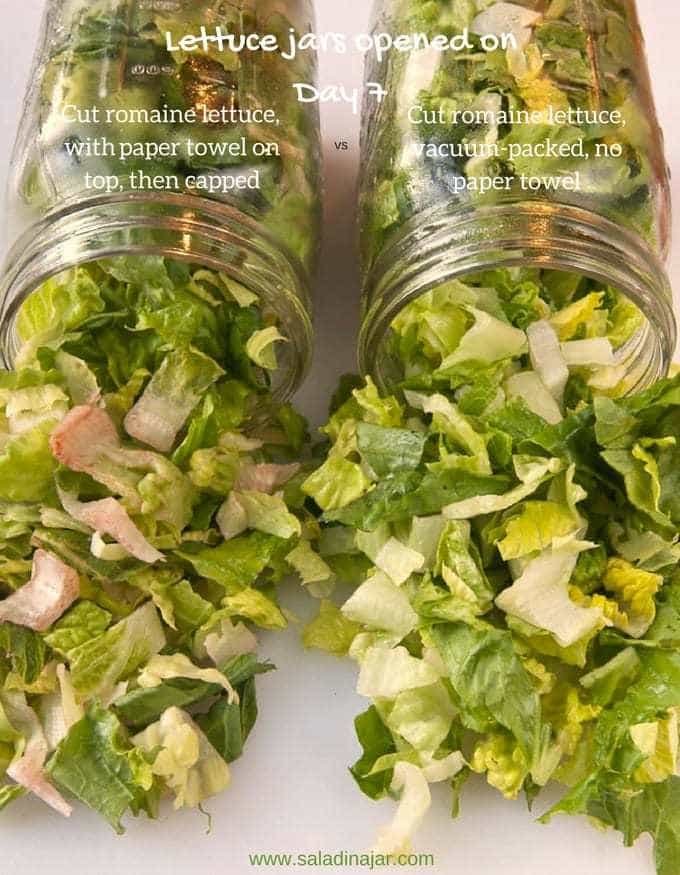 Can you see that the "paper towel lettuce" is showing it's age?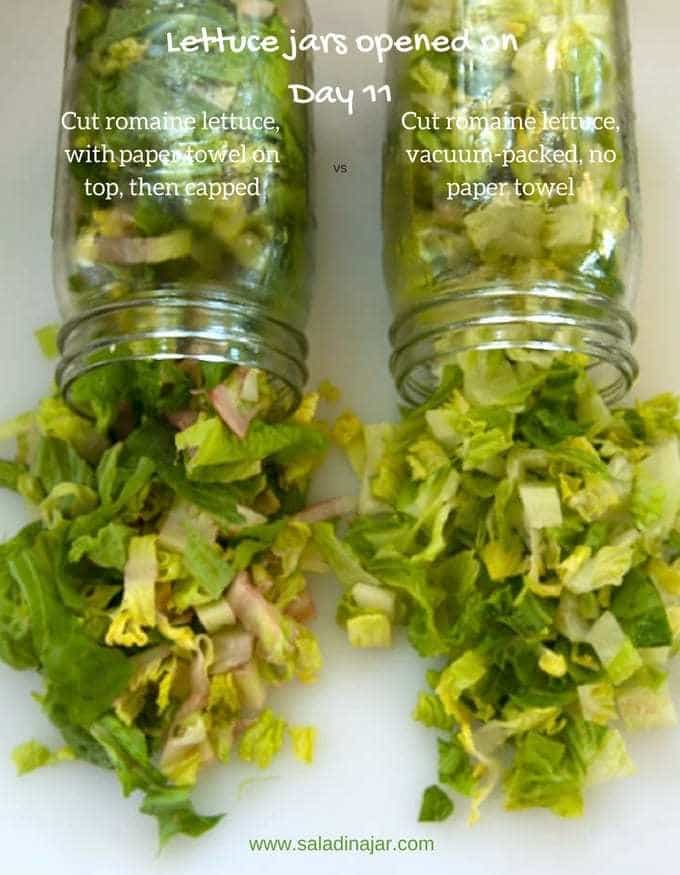 Which jar would you choose? (See random thought #4 below.)
Random thoughts if you are Tired of Wasting Money on Lettuce Gone Bad:
I can't resist commenting on my reader's assessment of the vacuum-packing idea. Yes, vacuum-pack machines can be expensive, but I have written about two excellent alternatives that are much, much cheaper. See this post and this one, too.  Reynolds Handi-Vac; Wide-Mouth Vacuum Attachment
Regarding the work involved, it may take upwards to an hour to prepare 5-6 jars initially. But after a little practice, you should be able to reduce the time to 30 minutes or less. Promise!!
Consider the good eating habits you are promoting by making your salad easy to grab and eat.
Honestly, 11 days is pushing it, even for vacuum-packed lettuce. Occasionally, there is the slightest older-lettuce smell in a jar this old. But within a few seconds, (maybe when the oxygen hits it), the smell is gone. You could always give the lettuce a quick rinse.
Warning: Always store vacuum-packed lettuce in the refrigerator.  Make no mistake! This is not a heat-processed canning procedure.
p.s. Thanks to the reader who left this comment. I always welcome new ideas and like to try as many as I can.
Related Posts:
How to Vacuum-Pack Chopped Lettuce To Prolong Freshness
12 FAQ About Preserving Chopped Lettuce That Stays Fresh For a Week
The Lettuce Experiment
Which Vacuum-Pack Machine Should I Buy to Vacuum-Pack Lettuce Into a Jar?
Yes, You Can Use a Handheld Vacuum-Pack Machine to Seal Lettuce Into a Jar
How To Vacuum-Pack Lettuce Into a Jar for Less Than $6 (Plus a Video)
Is a Plastic Knife a Substitute for Vacuum-Packing Lettuce?
Can I Add Other Foods to My Vacuum-Packed Jar of Lettuce? 
Vacuum-Packing Lettuce Into a Jar–5 Years Later