Curious about vacuum-packing lettuce in a Mason jar to see if it will help you eat healthier? Today, I'm giving an update on Vacuum-Packing-Lettuce: 5 Years Later.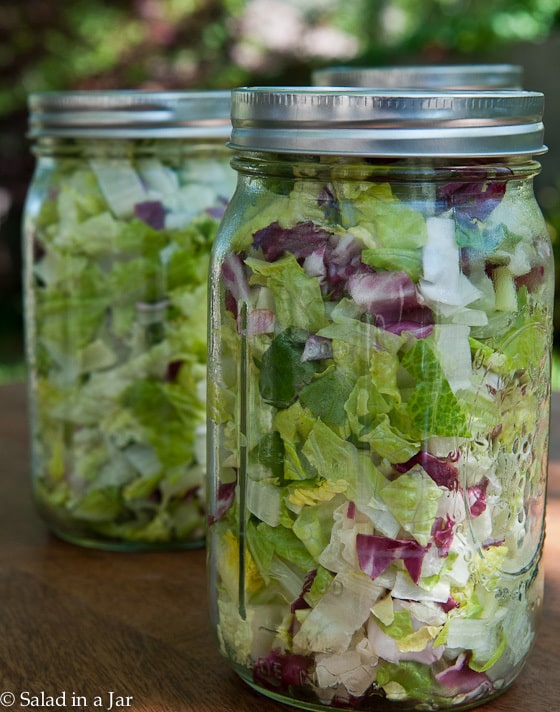 Have you ever wondered if the salad-in-a-jar lady still vacuum-packs her lettuce? Does she really eat it every day?
The Backstory on Vacuum-Packing Lettuce
What possessed her to start a blog about the whole idea of vacuum-packing lettuce anyway?
When my oldest son was a computer science student in college, he reserved the domain www.paularhodes.com for no charge. If he told me at the time, I didn't get it. Five years ago, he mentioned it to me again and by that time, I had figured out what a blog was. I knew I had something to share with the world–or at least a few friends.
With my son's technical help, we set up this blog in one afternoon. Unlike some people who agonize, sweat, and put lots of thought into their blog title, we came up with the name "Salad in a Jar" in less than 30 minutes. I already knew the process for vacuum-packing lettuce into a Mason jar (something I had been doing for 3 years already) would be my first post, so it seemed like a good place to start. 
Vacuum-Packing Lettuce–5 Years Later
Fast forward 5 years later (and 747,000+ pins of that first post) . . . .Yes, I still vacuum-pack 5-6 quart jars of lettuce every week. The lettuce-filled jars are my go-to weekday lunch with rare exception. Because I keep the salad simple, I am able to assemble the jars in 10-15 minutes making the habit sustainable.
I mention this because many readers have tried this technique but can't resist adding other ingredients to their salad. While they are beautiful to look at and seem more interesting initially, they require more time to assemble, and storage time is reduced if the salad-filled jar is actually vacuum-packed. Certain veggies are too delicate for the process,  e.g. spinach, tomatoes, mushrooms, and cucumbers. I've heard reports of people spending an hour or two creating a week's worth of these fancy salads.  Understandably, few people have the time and/or motivation to keep that up for long.
Do I ever get tired of eating lettuce for lunch every day? The honest answer is yes, sometimes. Of course, I vary what I add to my salad, but occasionally, I skip it altogether for 2 or 3 days to give me a break before I jump back onto the salad wagon.
In case you are new to this blog, you can read all the details here about how to make salad-in-a-jar my way or watch the video to get you started.
Confidential to those of you who bought all the jars and vacuum-packing paraphernalia but decided it didn't work for your lifestyle and/or preferences: Consider vacuum-packing nuts, flour, granola, small crackers, bread crumbs, dried fruit, pasta, and rice into all those jars. It's easier to see what you have and keeps the bugs out. Besides that, it makes your pantry look all cool and organized.
RELATED POSTS: