Using a Hand-Held Vacuum-Sealer for Mason Jars To Store Cut Lettuce
Sneak Preview: Use a hand-held vacuum-sealer for Mason jars when storing cut lettuce to prolong the freshness. This is the device I currently recommend.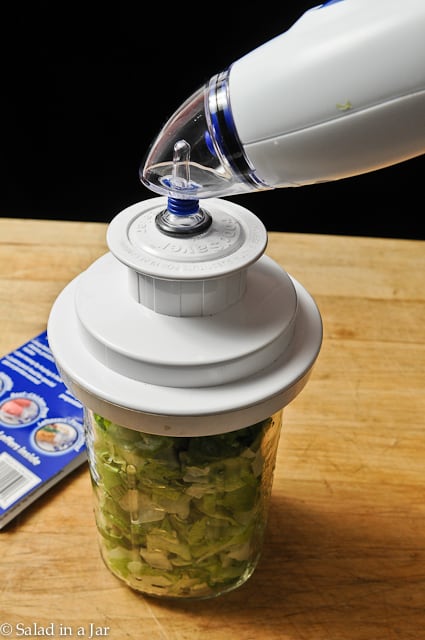 As an Amazon Associate, I earn from qualifying purchases.
Some people say it can't be done. They say you can't seal lettuce into a Mason jar with a handheld vacuum device, which would mean you must use a more expensive full-size vacuum machine that takes up a fair amount of space in your kitchen. Guess what?!
IT'S NOT TRUE. Don't believe it.
To convince the skeptics, I made a quick little video to show you how. The device I'm using in the video is no longer available.
The FOYO hand-held device shown below appears to be a dupe for the Reynolds Handi-Vac. It doesn't take much storage space, is quieter than a full-size vacuum-sealing appliance, and it does the job.
All things considered, you may prefer the regular, full-sized vacuum-pack machine because of its versatility, but the hand-held is cheaper for those of you who want to dip your toes in the water before diving headfirst into the world of vacuum-packing.
Have you tried using a hand-held device to vacuum-pack lettuce in a Mason jar?
I would love to hear about your experience.
If you have questions or suggestions, email me privately to Paula at saladinajar.com. Hope to see you again soon! Paula