"Using a Handheld Device to Vacuum-Pack Lettuce" is all about showing you how to vacuum-pack Mason jars full of chopped lettuce with a portable handheld vacuum-pack machine.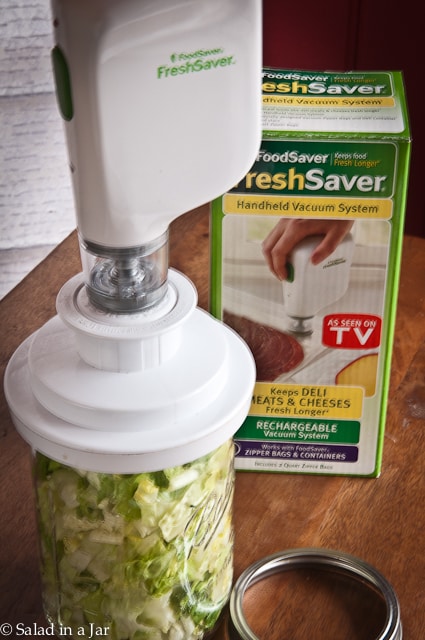 Some people say it can't be done. Yep, that's what I've read. They say you can't seal lettuce into a Mason jar with a handheld vacuum device, which would mean you must use a more expensive full-size vacuum machine that takes up a fair amount of space in your kitchen. Guess what?!
IT'S NOT TRUE. Don't believe it.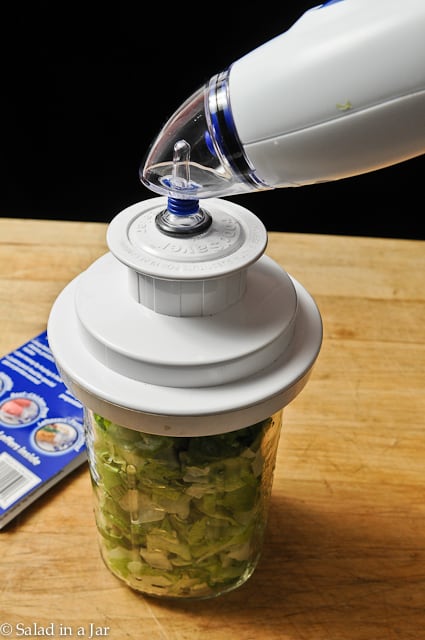 To convince the skeptics, I made a quick little video to show you how. This same method works with the FreshSaver by FoodSaver and the Reynolds Handi-Vac. Between the two, I prefer the Reynolds Handi-Vac because it seems a little easier, but they both work. I have not tried any other brands.
5/20/20 Addendum: The Reynolds Handi-Vac discussed above is not currently available from Amazon. Neither is the Gourmia brand recently recommended by America's Test Kitchen on TV. You might check out FoodSaver's Handheld Cordless Food Vacuum Sealer. I haven't used it but it looks similar to the FreshSaver.
All things considered, you may prefer the regular, full-sized vacuum-pack machine because of its versatility, but the handheld is cheaper for those of you who want to dip your toes in the water before diving head first into the world of vacuum-packing.
Have you tried using a handheld device to Vacuum-Pack Lettuce in a Mason jar?
I would love to hear about your experience.
Posts Related to "Using a Handheld Device to Vacuum-Pack Lettuce"