Grilled Salmon with Fresh Corn, Tomato and Avocado Relish takes salmon to a new level when served over grilled asparagus and garnished with fresh and colorful summer veggies.
We've all been there…
I will never forget the first time one of my best girlfriends moved away. At the time, I was just finishing the fifth grade.
Where I grew up, most people were farmers and few people moved–in or out. When Mary Ann told me her parents were splitting and she was moving to town, I was devastated. It was the first time divorce had touched me personally.
30+ years later and different circumstances, I had the same feeling of disbelief. When my good friend Beth told me she was moving because her husband was starting a new job. I was so sad!
This old picture, taken during a shopping trip in 1988 with lots of other girls from church, might give you an idea of why I still miss her.  Thankfully, we have email.
When Beth sent this recipe, I couldn't wait to try it. She makes it for their Christmas dinner. But Christmas isn't the best time to get good tomatoes and corn for the relish, so I waited until the middle of summer.
Tomatoes combined with fresh sweet corn and avocados dress up this salmon far beyond my usual throw-it-on-the-grill-and-eat-it-with-Dijonnaise routine.
This recipe originated with Emeril Lagasse according to Google. I've adapted it to my own tastes and the contents of my spice rack. 
Mr. Lagasse called for Essence on the salmon but I substituted lime pepper.  Surely lemon pepper would be just as good. I also left out the fresh onions in the relish because we like to kiss at my house and those two don't go together very well–at least not for me.
Here's the deal about avocados:
They can be tricky. It's difficult to catch them at just the right stage–not too hard, not too soft and before they start to develop dark spots inside.  Read about my secret for buying avocados without bruises if you don't already have your own method.
Avocados also keep this dish from storing well. Ever tried to keep leftover guacamole to eat the next day??  Same deal.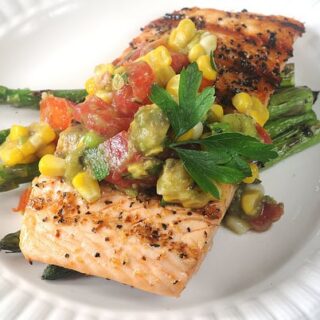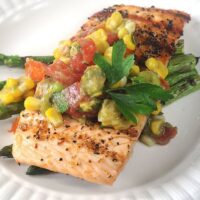 Grilled Salmon with Fresh Corn, Tomato and Avocado Relish
Warm grilled salmon served with summertime-fresh corn, tomato and avocado relish.
Ingredients
1 large ear fresh corn, husks removed
1 large fresh tomato, diced
1 avocado, diced
1 tablespoon fresh parsley leaves, chopped
1 tablespoon extra-virgin olive oil
1 1/2 teaspoon fresh-squeezed lemon juice
1 teaspoon salt
1/4 teaspoon white pepper
4 (6 ounce) salmon fillets
1 tablespoon olive oil
Lemon or lime pepper
Asparagus, fresh 4-5 stalks per person, grilled
Instructions
Relish
Boil or microwave corn until tender. When cool enough to handle, cut corn from cob.
Add remaining ingredients and mix gently. Chill
Salmon
Brush (or spray) both sides of each fillet with olive oil. Sprinkle with lemon pepper. Grill over medium heat for 3-4 minutes on each side until flesh is opaque. Time will vary with thickness and temperature of grill.
Place salmon on top of asparagus. Spoon cool relish over top of warm salmon. The contrast in temperature is one of the best features of this dish. Serve immediately.
Nutrition Information:
Yield:

4
Serving Size:

1
Amount Per Serving:
Calories:

638
Total Fat:

41g
Saturated Fat:

7g
Trans Fat:

0g
Unsaturated Fat:

30g
Cholesterol:

143mg
Sodium:

676mg
Carbohydrates:

16g
Fiber:

5g
Sugar:

4g
Protein:

53g
Posts Related to "Grilled Salmon with Fresh Corn, Tomato and Avocado Relish"