You are really going to enjoy this quick, single-serving of microwave cinnamon apples. The apples cooked in a bag or a bowl take about five minutes from beginning to end.
Try these cinnamon-spiced apples with pita chips, oatmeal, ice cream, or yogurt. Read to the end to find out how to make an "Apple Bueno" or Apple Burrito.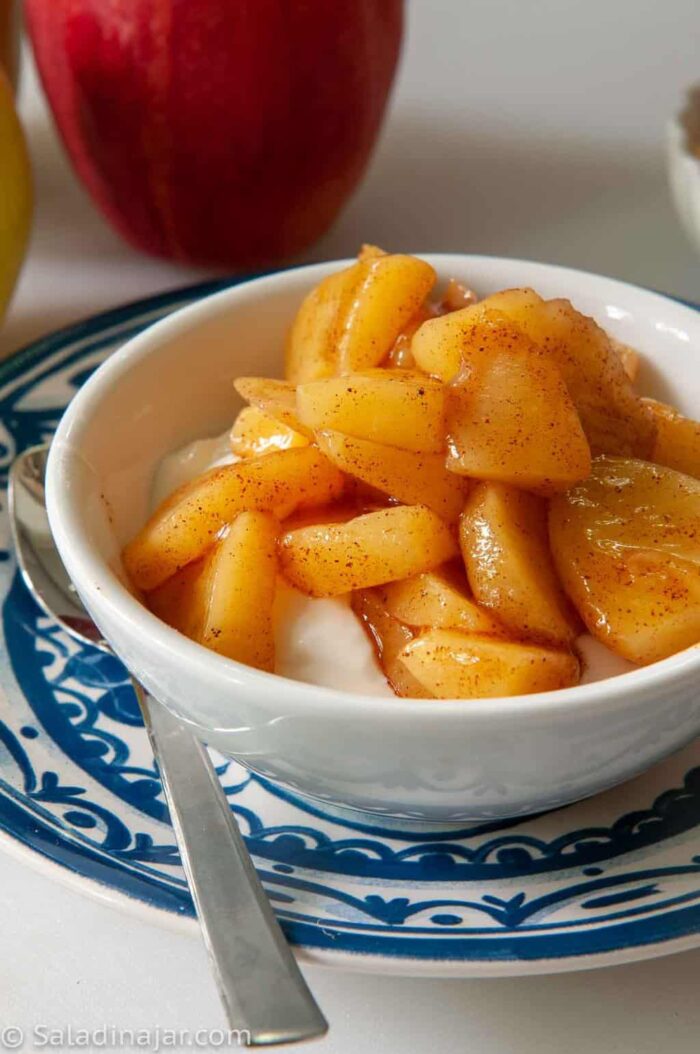 What crazy thing do you eat when you crave something sweet but there are no obvious desserts in the house?
One of my sisters confessed to eating dry cake mix. She made sure we knew that was a long-g-g-g time ago. Doesn't that make any confession easier when everybody understands it's ancient history?
Chocolate chips are my straight-out-of-the-pantry sweet. They're made even better when carefully balanced on top of a graham cracker. Fortunately, I don't always have those in the house.
---
Recipe Inspiration
One night when my sister was visiting from out of town, we had a serious hunger attack.
I remembered a tip I picked up from my new co-worker Christa. She mentioned microwaving a sliced apple to use as a quick addition to oatmeal or ice cream.
It sounded like the perfect topping for cinnamon chips similar to the Apple Buenos we used to enjoy at Taco Bueno on Sunday nights after church. I tried it and was instantly smitten. I predict you'll feel the same.
---
Is it safe to microwave in a zippered plastic bag?
When this post was first published, many people were concerned about the issue of cooking in plastic. I had already done my research and knew that people who make the rules about this stuff say it's fine. Now I'm going to refer you to another source that can explain the safety issues concerning zippered plastic bags better than I can.
Basically, they are saying…
"There are a lot of concerns when it comes to reheating food in Ziploc bags. Plastic releases chemicals in the food, which then enters the cells of the consumers' body. These chemicals, mainly dioxin, increase the risk of cancerous cells in a person's body.

However, Ziploc bags are safe, because they are manufactured after proper research. The dioxins only release in the food, when the food is heated using a high temperature, like 1,500 degrees F. However, the most powerful microwaves don't reach this temperature, reducing the risk of harming the food inside the Ziploc bag."
–Marie S, Sherman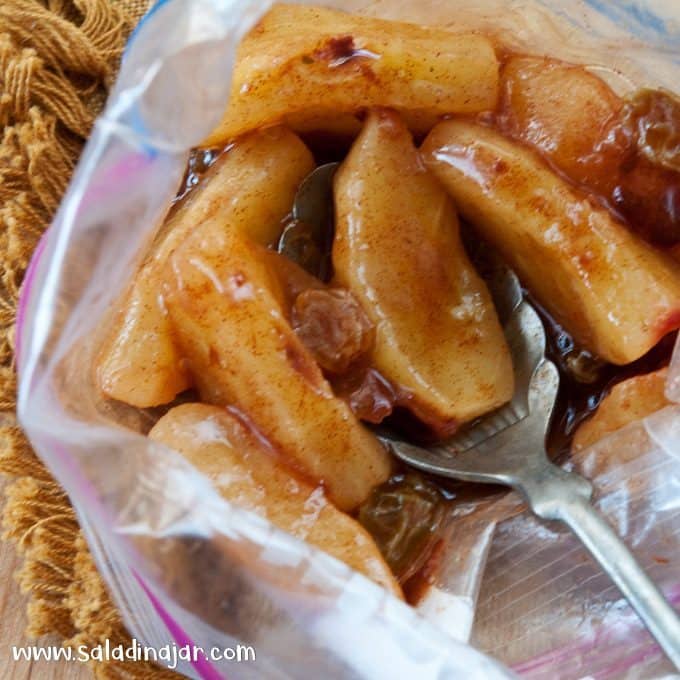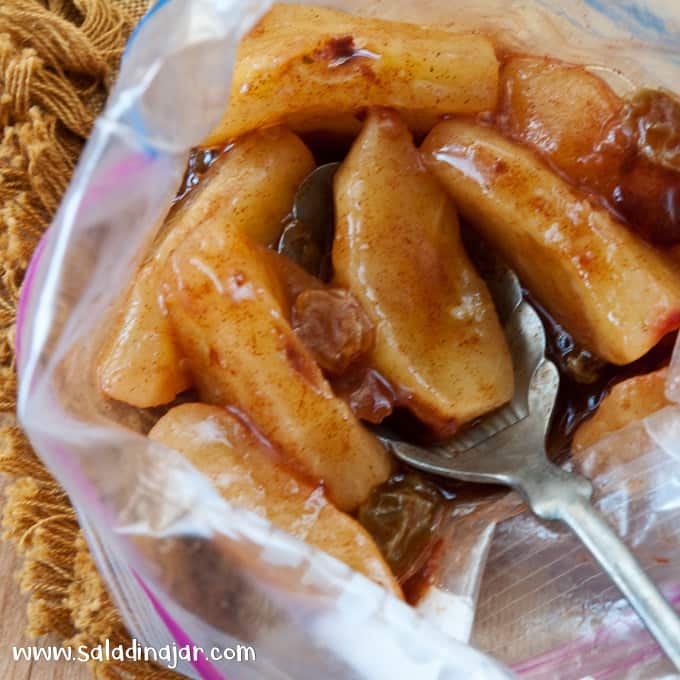 FAQ about Microwave Cinnamon Apples
How long does it take to prepare this recipe for microwaved baked apples?
How long does it take you to peel an apple? How long does it take you to gather sugar, cinnamon, and cornstarch? Add two minutes to the answers for those questions and that's how long it takes. Less than 5 minutes for me.
Exactly which plastic bags do you use?
My favorite is the freezer quality pint-size Ziplock freezer bags. If cooking in a plastic bag makes you nervous, see this article about the safety of such a practice. Unfortunately, pint-size bags can be difficult to find.
Can I cook these apples in a bowl?
Absolutely. The only difference is that you will have to wash the bowl instead of throwing it away like you would the plastic bag. It's a small sacrifice for most people.

Warning: Use a MICROWAVE-SAFE bowl, please. Don't risk shattering Grandma's favorite candy dish.
What else can I use besides apples?
Pears make a great substitute.
Do I really need a recipe for this?
Probably not. After you make them the first time, I'm pretty sure you will be good to go on your own.
How many servings does this recipe make?
Only one. That's why I call it a snack. But it wouldn't be hard to scale up. Remember that the more apples you use, the longer it will take to cook them in the microwave.
Are these microwaved apples healthy?
They are fairly low in calories. If you count sugar as unhealthy, substitute something like Stevia, Swerve, or whatever you favor. Leave the sugar out if your apples are especially sweet on their own. This recipe is gluten-free as written.
---
How do I make an "Apple Bueno?"
Follow the recipe below to cook the microwave apples with cinnamon. On a flat plate, spread fried flour tortilla chips (also seasoned with cinnamon) in a single layer. Pour cooked apples over all the chips and eat like nachos.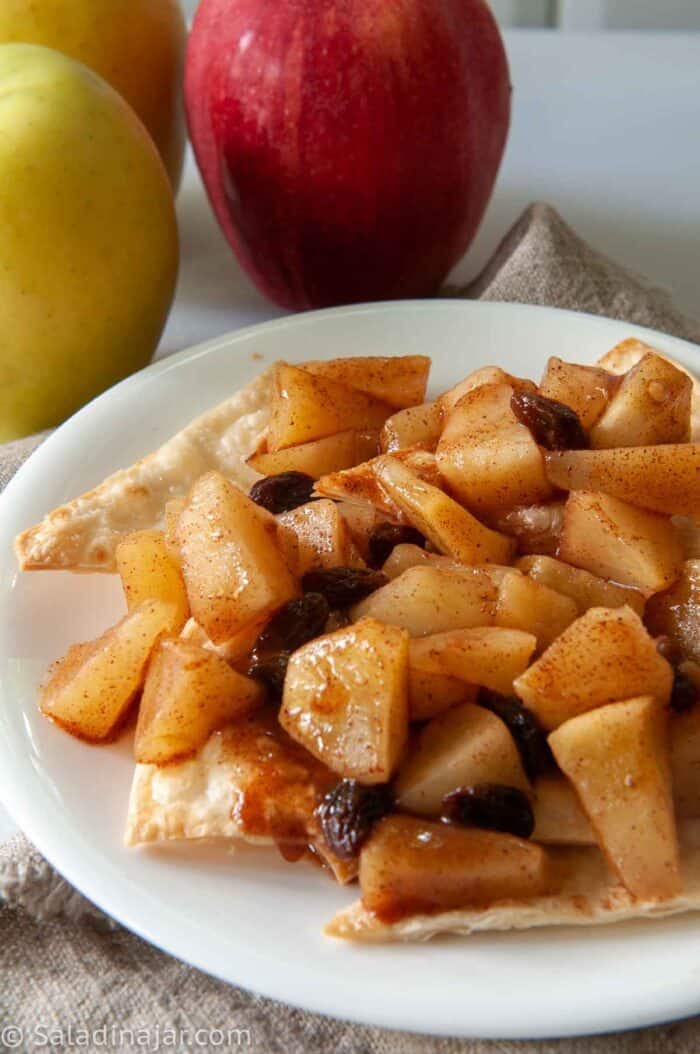 How do I make an Apple-Cinnamon Burrito?
Use a freshly-made flour tortilla for the best burrito. You can even make them yourself. (This homemade flour tortilla recipe is my favorite.)
After cooking the apples, pour them over a flour tortilla. You should be able to make at least two tortillas with this recipe. Roll them up and enjoy.
---
How To Make Microwave Cinnamon Apples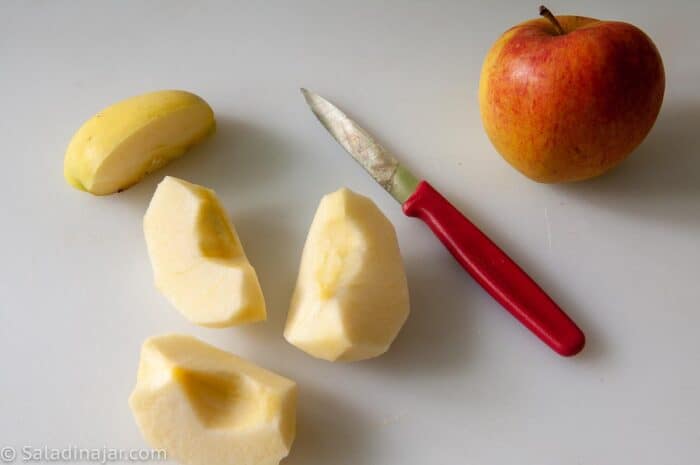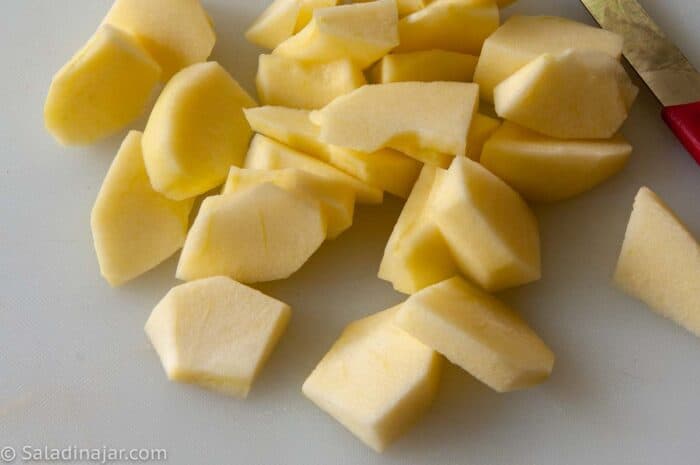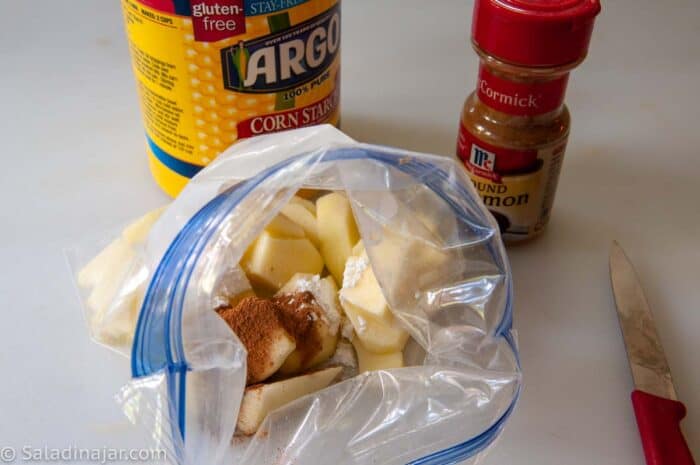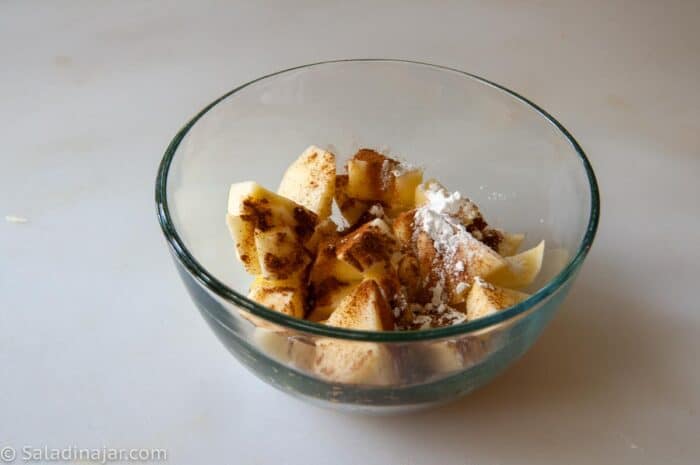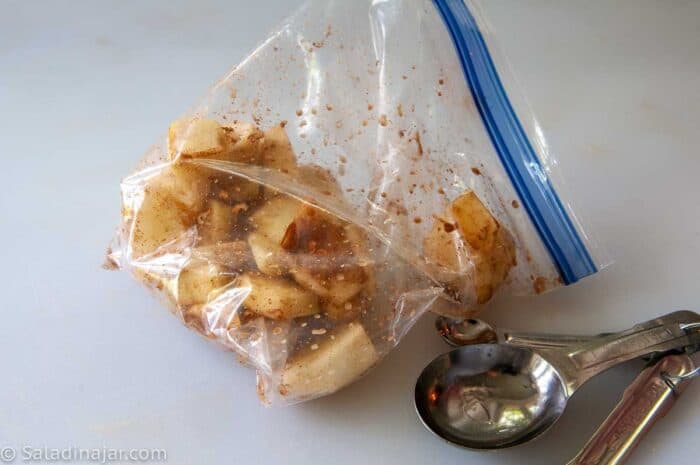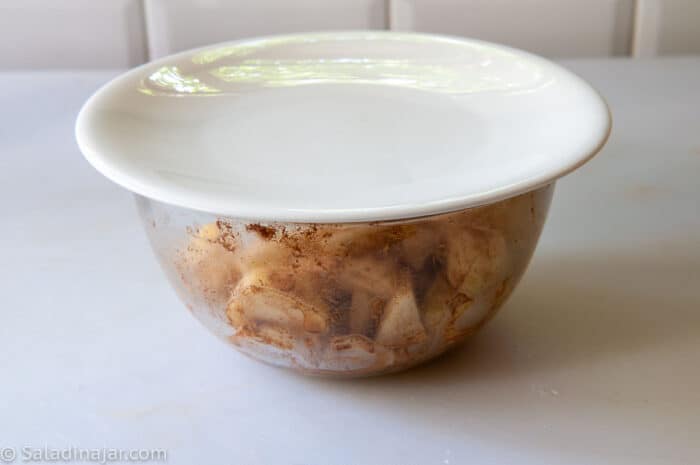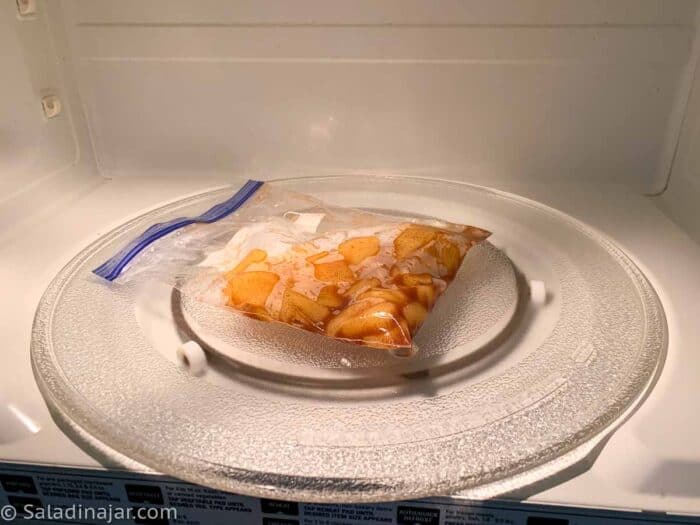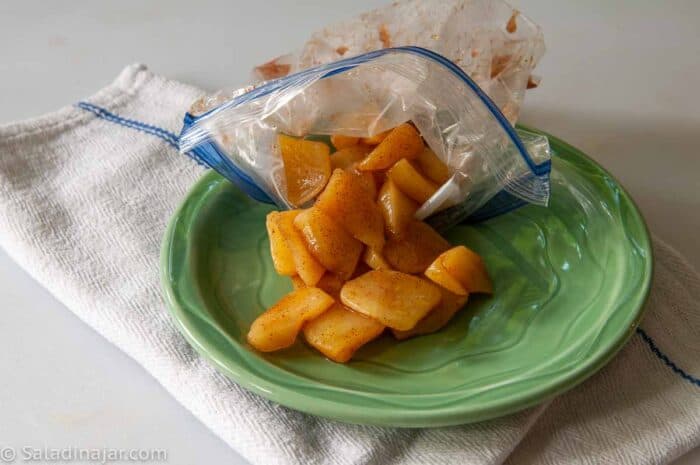 ---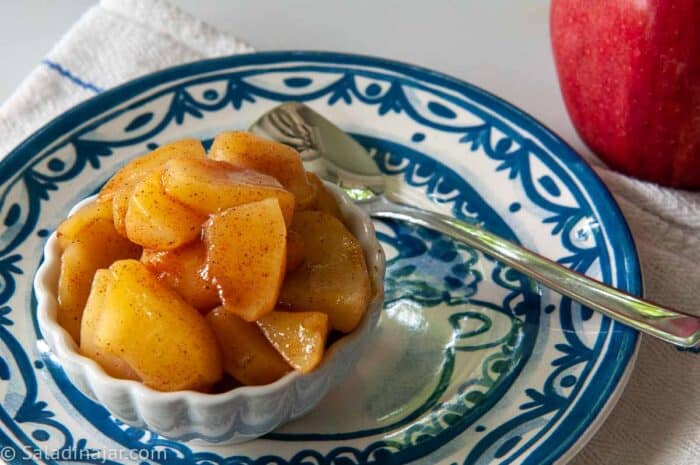 ---
Looking for more quick snacks?
---
Pin the picture below to save for later.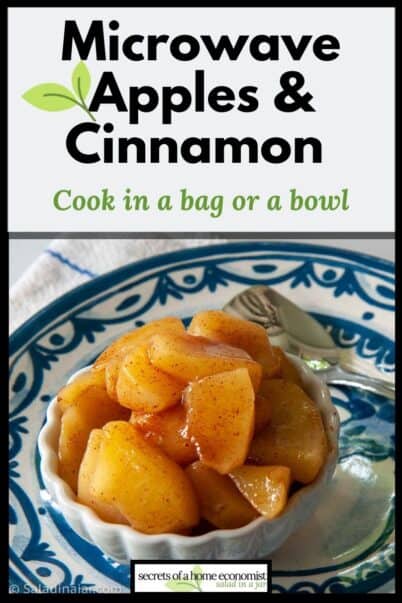 ---
---
Did you try this recipe and enjoy it? Consider helping other readers (and me) by returning to this post. Leave a rating on the recipe card itself underneath the picture. Although always appreciated, comments aren't required.
If you have a question or tip to share, please leave it in the regular comments after the recipe so I can answer back. Or, email me privately: paula at saladinajar.com.

Thank you for visiting!
Paula
---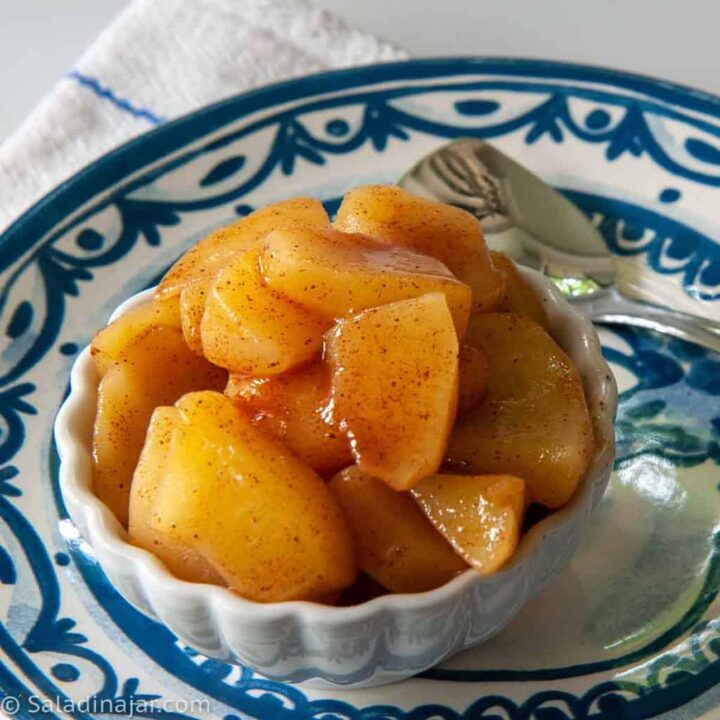 Microwave Apples and Cinnamon
Apples in a bag are a quick, single-serving of cinnamon-spiced apples cooked in a zip-lock bag or bowl. Pour over pita chips, oatmeal or ice cream.
Ingredients
1 small apple (Golden Delicious or Granny Smith are my favorite)
1 packet of sweetener (Stevia is my favorite), or a teaspoon of sugar
1/4 teaspoon cinnamon
1/4 teaspoon cornstarch
1 tablespoon water
Instructions
Peel or don't peel apple, core and slice or dice. Place in freezer-quality plastic zippered bag along with remaining ingredients.
Seal the plastic bag and shake well to mix ingredients. (If you prefer, place all ingredients into a small microwave-safe bowl and cover loosely.)
Reopen bag just a touch to vent. Microwave on High for 2 minutes-- longer if you use a big apple.
Carefully (it will be HOT and steamy) open bag and pour over plain or cinnamon-sugar pita chips, flour tortilla chips, oatmeal or ice cream.
Notes
(Nutritionals based on no raisins.)
Nutrition Information:
Yield:

1 serving
Serving Size:

1
Amount Per Serving:
Calories:

101
Total Fat:

0g
Saturated Fat:

0g
Trans Fat:

0g
Unsaturated Fat:

0g
Cholesterol:

0mg
Sodium:

2mg
Carbohydrates:

27g
Fiber:

4g
Sugar:

20g
Protein:

0g