Try this quick, single-serving of cinnamon-spiced apples cooked in a zip-lock bag or a small microwave-safe bowl, if you prefer. Cinnamon-spiced Apples in a Bag are irresistible when poured over cinnamon tortilla or pita chips, oatmeal, ice cream, or yogurt.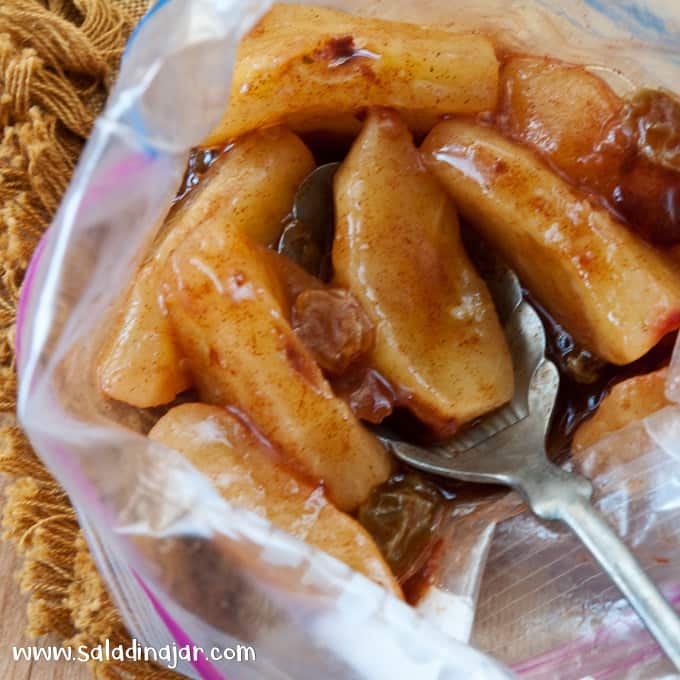 What crazy thing do you eat when you crave something sweet but there are no obvious desserts in the house?
One of my sisters confessed to eating dry cake mix. She made sure we knew that was a long-g-g-g time ago. Doesn't that make any confession easier when you say it that way?
Chocolate chips are my straight-out-of-the-pantry sweet. They're made even better when carefully balanced on top of a graham cracker. Fortunately, I don't always have those in the house.
Did you notice how much time these secret treats take to prepare?
Probably because when a hungry woman is desperate, there's no time to mess around.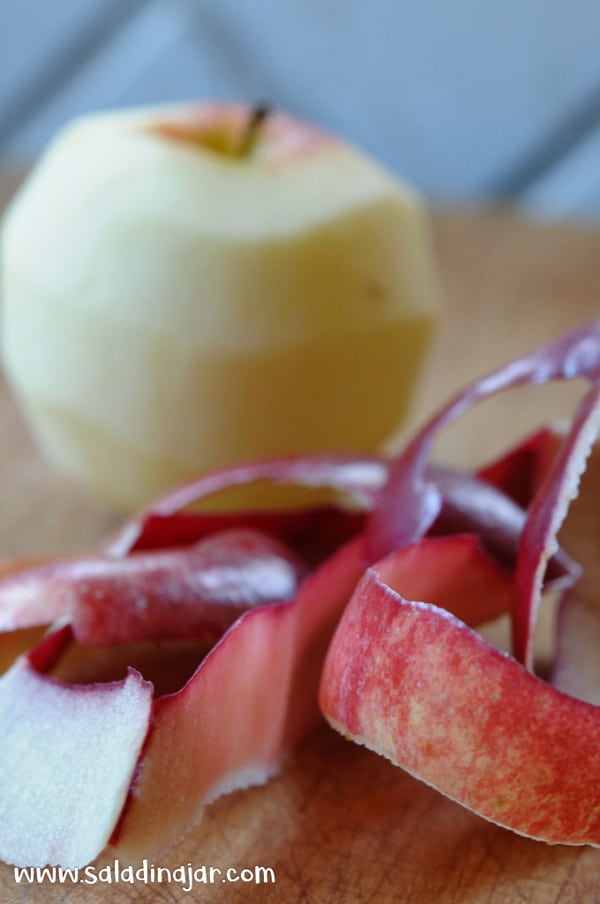 Recently, we experienced such an occasion.
When my sister and I got home from sitting with my dying father one evening last week, we wanted something sweet. As luck would have it, there was nothing but raw cookie dough in the freezer. That's OK in a pinch but I really wanted something warm.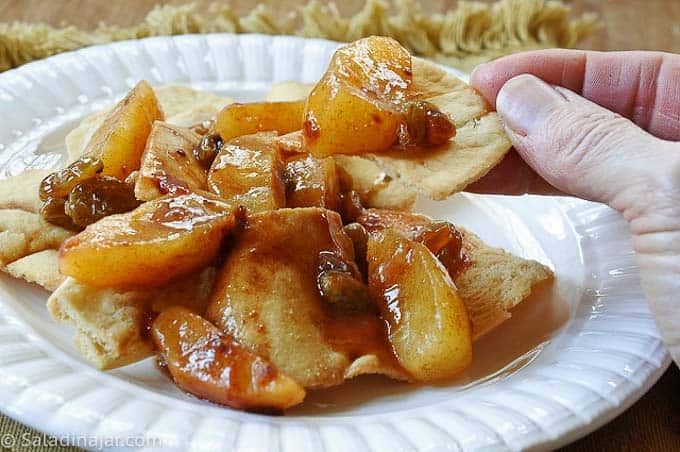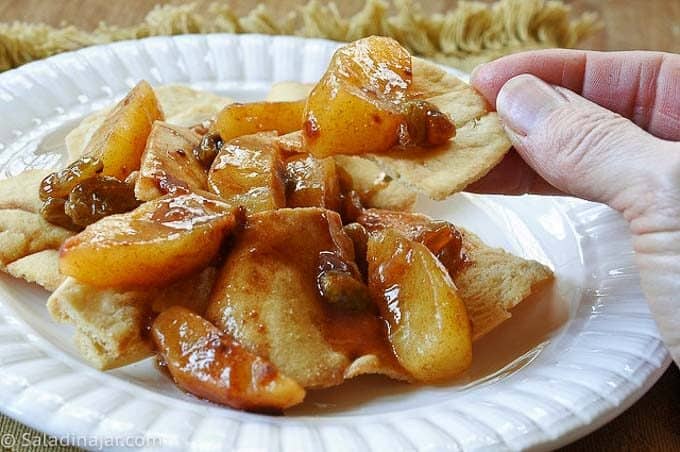 A lightbulb moment…
Then I remembered a tip I picked up from my new co-worker, Christa. She mentioned microwaving a sliced apple to use as a quick addition to oatmeal or ice cream. It sounded like the perfect topping for cinnamon chips similar to the Apple Buenos we used to enjoy at Taco Bueno on Sunday nights after church.
I tried it and was instantly smitten. I predict you'll feel the same.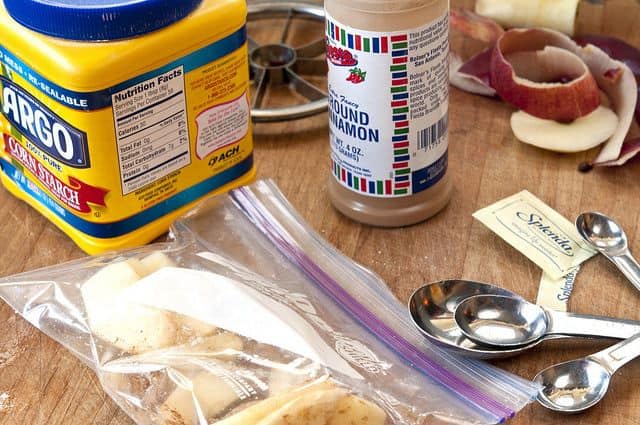 7 reasons why you should try "Apples in a Bag"
#1
Near-instant gratification
Apples cook in about 2 minutes. (Microwaves vary.)
#2
Mix and nuke in a disposable plastic bag for quick clean-up.
I use Ziplock freezer bags approved for the microwave. If that makes you nervous or uncomfortable, see this article.
#3
Or, make "Apples in a Bag" in a bowl instead.
Use a covered microwave-safe glass bowl or cook your apples on top of the stove in a regular pan. (When you're the cook, you get to do it how you want.)
#4
Change things up.
This recipe is versatile. Substitute pears for apples or change up the spices.
#5
After the first time, you won't need a recipe.
It's that easy.
#6
Only makes one serving.
Because it only makes one serving (unless you use a huge apple), there are no leftovers to call your name.
#7
Fairly low in calories
The perfect snack/dessert when you must have a sweet but the pantry is empty. See nutritionals below.
If you make this recipe and enjoy it, consider helping other readers and me by returning to this post. Leave a rating on the recipe card itself underneath the picture. Although always appreciated, comments aren't required. Thank you for visiting! Paula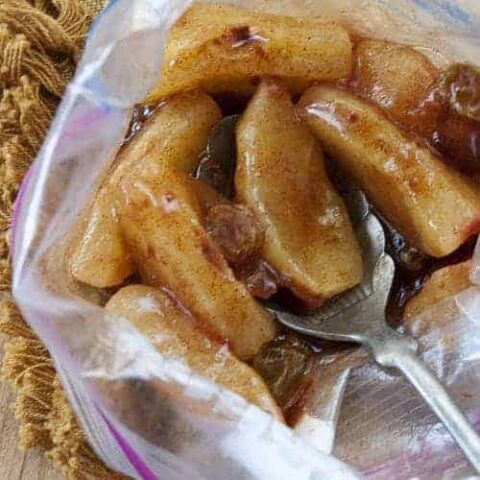 Apples in a Bag
Apples in a bag are a quick, single-serving of cinnamon-spiced apples cooked in a zip-lock bag or bowl. Pour over pita chips, oatmeal or ice cream.
Ingredients
1 small apple (Golden Delicious or Granny Smith are my favorite)
1 packet of sweetener (Splenda is my favorite), or a spoonful of sugar
1/4 teaspoon cinnamon
1/4 teaspoon cornstarch
1 tablespoon water
Small handful of raisins or craisins, optional
Instructions
Peel or don't peel apple, core and slice or dice. Place in freezer-quality plastic zippered bag along with remaining ingredients. Seal bag and shake well to mix ingredients. (If you prefer, place all ingredients into a small microwave-safe bowl and cover loosely.)
Reopen bag just a touch to vent. Microwave on High for 2 minutes-- longer if you use a big apple.
Carefully (it will be HOT and steamy) open bag and pour over plain or cinnamon-sugar pita chips, flour tortilla chips, oatmeal or ice cream.
Notes
(Nutritionals based on no raisins, unpeeled apples and artificial sweetener)
Nutrition Information:
Yield:

1 serving
Serving Size:

1
Amount Per Serving:
Calories:

59
Total Fat:

0.2g
Cholesterol:

0mg
Sodium:

2mg
Carbohydrates:

16.7g
Fiber:

2.9g
Sugar:

11g
Protein:

0.3g
Posts Related to "Apples in a Bag: A Quick Snack in Under 5 Minutes"