Would you like to quit buying expensive bags of cut lettuce? Read about "An Amazing Way To Make Chopped Lettuce Last Longer" whereby a plain lettuce salad is vacuum-packed into in a Mason jar. Not only will your cut lettuce last longer, but it will be healthy pre-prepared convenience food you can grab quickly for lunch.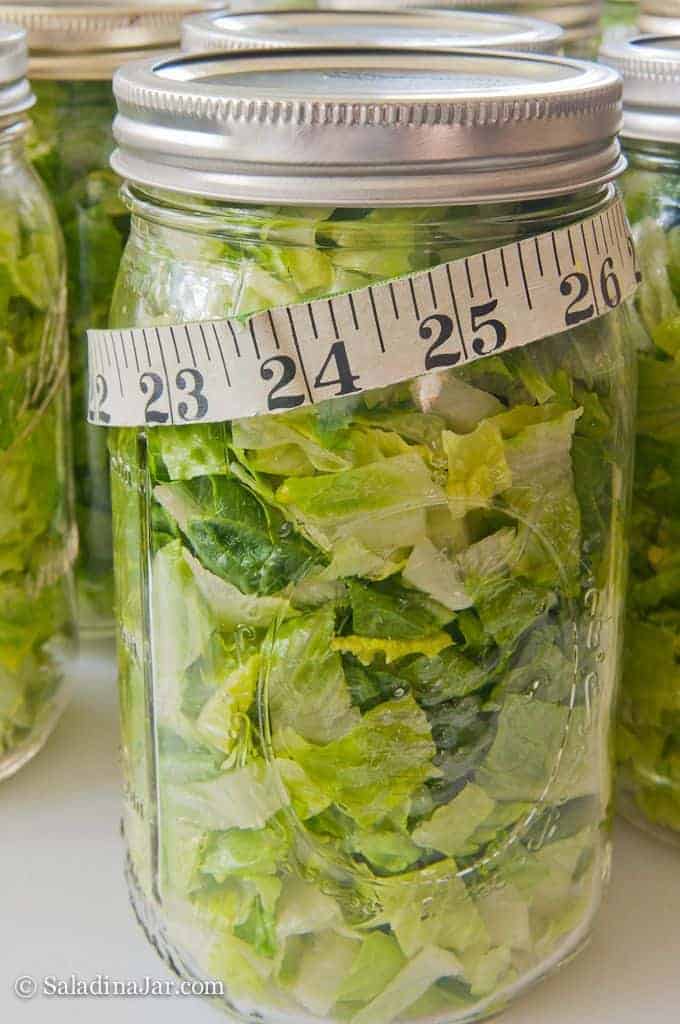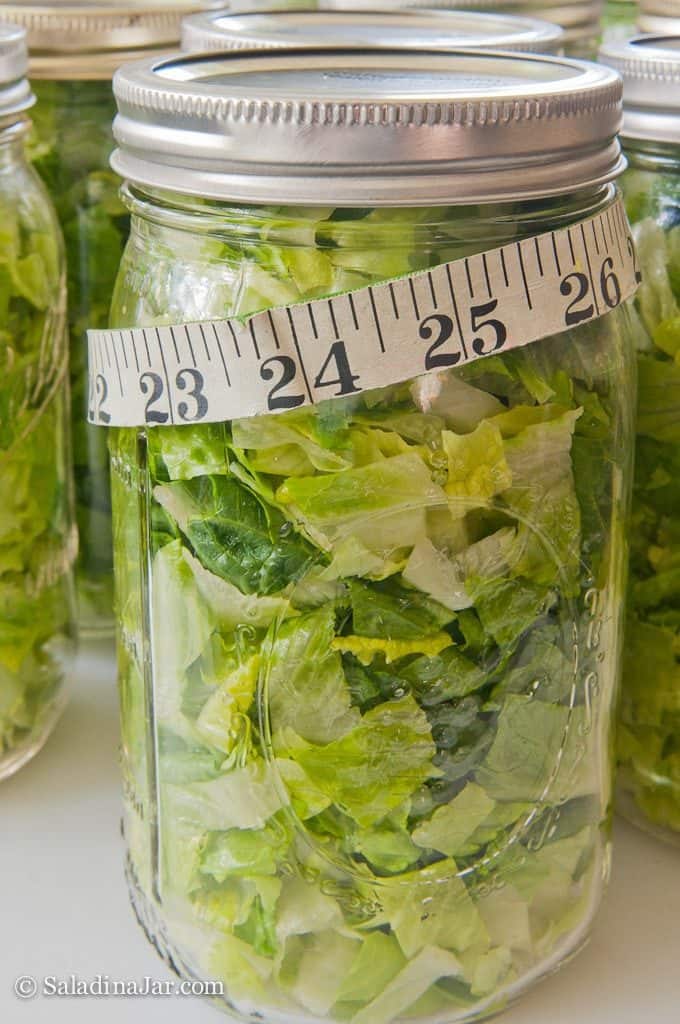 Do you wish you were eating more lettuce/salads?
I used to feel the same way, but I thought it was too much trouble–especially when I was hungry and ready to eat ASAP.
Now I'm a DAILY salad eater and you can be, too!
Why? Because having a salad no longer means washing the lettuce, spinning it dry, then tearing or cutting it into bite-size pieces. The preparation can all be done up to 10 days ahead of time in one 30-minute session (with practice).
When I'm ready to eat, all I have to do is pop open the lid, dump the chopped lettuce into a bowl, and decide what else I'm in the mood to eat in my salad.
What is the secret to getting chopped lettuce to last longer?
Chopped romaine lettuce will stay crisp and fresh for 7-10 days when vacuum-packed in a glass Mason jar and stored in the refrigerator.
Bear in mind that we're assuming the lettuce is relatively fresh. Hanging around in some warehouse or your fridge for too long is going to compromise the length of storage for a jar of salad prepared this way.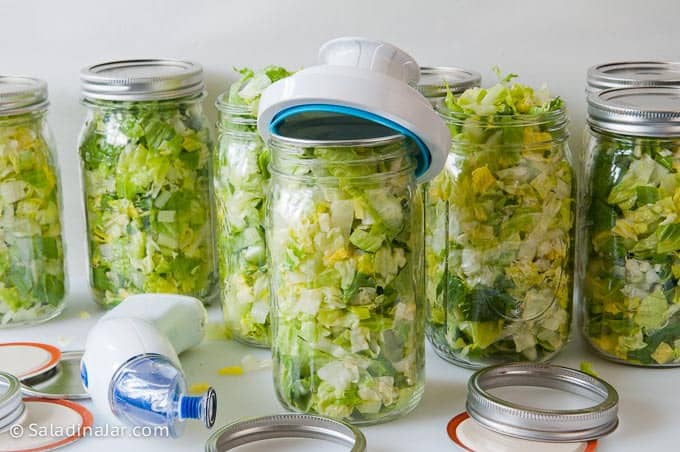 Save time!
My method takes less than 30 minutes (with a little practice) and minimal equipment to prepare 6-9 quart-size jars. Prep should not take hours (unless you decide to pack lots of extras into the jar).
Five benefits of vacuum-packing lettuce:
#1
#2
#3
No getting out your chopping board and salad spinner every day to make a salad
#4
On the run? Grab a jar and take it with you.
#5
Save money–especially when you buy lettuce in bulk
No more wasting money on prepackaged salads that often aren't fresh the day you bring them home.
Here's what you need:
How to prepare the lettuce for vacuum-packing:
Hearts of romaine lettuce work best.

Leave the lettuce leaves intact and wash well.

Use a large knife to slice through the lettuce lengthwise at least 4-5 times.

Slice crosswise to create 1/2 inch or smaller pieces.

Place chopped lettuce in the basket of a salad spinner.

Optional: give lettuce in the basket an additional shower before spinning.

Place basket in the spinner

Put the lid on and spin.
How to fill and seal chopped lettuce in Mason jars:
Gather Mason jars, 2-part metal lids, vacuum-packing device and large-mouth attachment.

Stuff jars full of lettuce. I pack mine tightly. You should pack only as much as you will eat in one sitting. You can reseal the jar, but the lettuce will not be as good the next time around.

Be sure no pieces of lettuce are hanging over the top edge.

Place ONLY the flat metal lid on top of the jar.

Cover the jar with the wide-mouth adapter.

Use a handheld vacuum-pack device to seal by covering hole on adapter with the hole in the device where suction happens.

Alternatively, use a full-size vacuum-pack machine and a hose to connect to the wide-mouth adapter.

After jar is sealed, remove wide-mouth adapter and screw metal collar on top of the flat lid.

To make sure vacuum is good, press index figure on the middle of the flat lid. It should not move.

You are done for a week or more.
Ready to eat a salad?
Pop the lid and empty a jar of lettuce into a bowl or onto a plate. Add whatever extras you want. I often add other varieties of lettuce–the kind that is too delicate for vacuum-packing, for example, spinach, arugula, or spring mix.
Enjoy the good feeling that comes with eating healthy vegetables.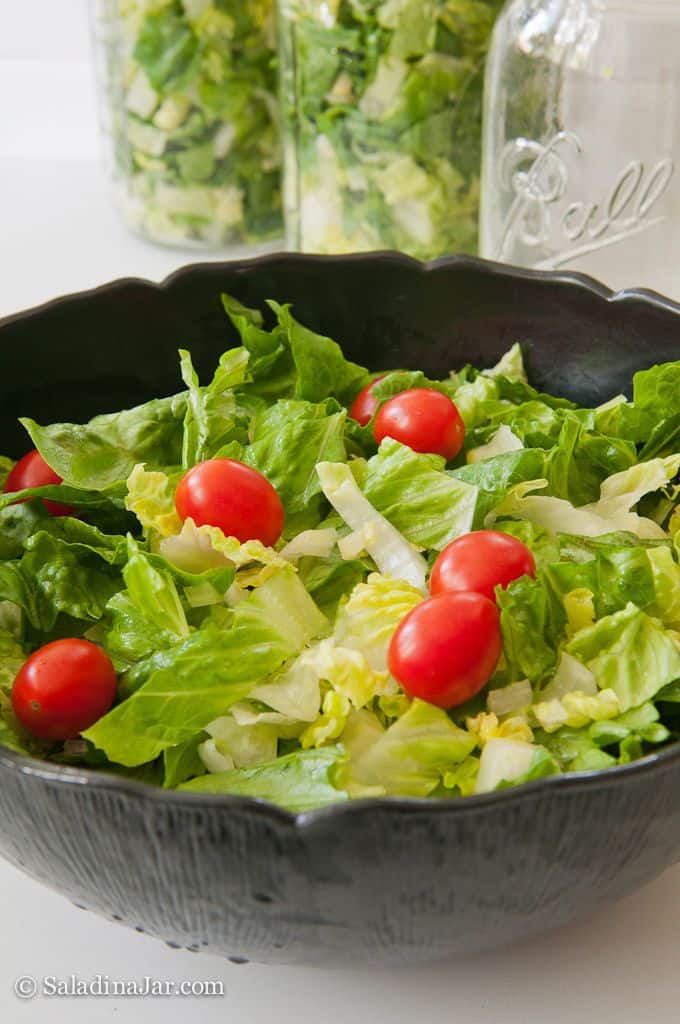 Please note: The tomatoes were not packed with the lettuce. They are just for looks.
3 FAQ about this amazing way to make chopped lettuce last longer:
#1
Why vacuum-pack instead of just using a regular screw-on lid?
The secret to the success of vacuum-packed salad-in-a-jar is the removal of oxygen. Oxygen will eventually turn cut lettuce edges brown. See this post for a pictorial comparison of various methods of lettuce storage.
#2
Why not just store clean lettuce in a plastic bag with a paper towel?
You can do that if you leave the lettuce whole, un-chopped and un-torn. It will last longer than buying a bag of chopped lettuce from the store, for sure. However, the romaine will still need to be cut or torn into smaller pieces before eating.
For me, that's too much trouble when I walk in the door hungry. I like to have everything ready to grab-and-go, with leaves already in small pieces and prepared to pour into a bowl and eat.
#3
Can I add other vegetables or favorite salad ingredients?
You can, but the shelf-life of additional vegetables varies compared to the lettuce. For example, while the vacuum-packed salad may still be fresh for several days, the sliced cucumbers you packed with it can go south within 2-3 days depending on their freshness.
I prefer to stick to lettuce only in my jars. That way I can decide each day what I will eat with it depending on my mood and availability of fruits, veggies, or leftovers in my fridge. Click here to read more on the subject.
Where can I get more information about this "Amazing Way To Make Chopped Lettuce Last Longer"?
Commenter Rick did a study about the effectiveness of the vacuum-packing process and posted his results here. You can read through the comments on this post for more opinions.
First published in 2009, this post was updated in 2019.
For more information about which vacuum-pack machine to buy, see the related posts below.
Posts Related to "An Amazing Way To Make Chopped Lettuce Last Longer"
If you make this and enjoy the recipe, it would help me and others if you would return to this post and leave a rating (on the recipe card itself underneath the picture). Although always appreciated, no comment is required. Thanks so much! Paula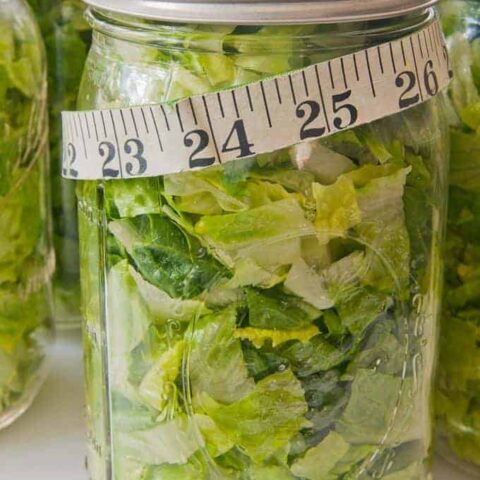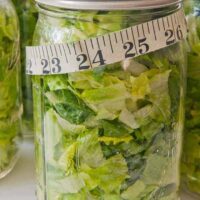 An Amazing Way To Make Chopped Lettuce Last Longer
Vacuum-packing fresh-cut or chopped romaine lettuce in Mason jars will keep it fresh up to 10 days. It's "salad in a jar" my way.
Ingredients
Fresh romaine lettuce (I use hearts of romaine because the inner leaves last longer than the dark green leaves on a whole head of romaine.) In general, one "heart of romaine" lettuce will fill one quart jar, but that varies.
Instructions
Wash romaine lettuce well, leaving the leaves intact at the base.
Cut lengthwise through the entire head at least 4-5 times.
Now slice crosswise about 3/4 to 1 inch apart according to your preference.
Fill salad spinner and run under the faucet one more time. Spin dry.
Dump into a very large bowl. Fill jars with chopped, spun-dry lettuce. I pack them as tightly as possible.
Seal jars using a wide-mouth jar attachment and a vacuum-pack machine. Screw on rings as insurance to keep lid sealed.
Refrigerate up to 10 days depending on how fresh your lettuce is when you started this process.
Notes
The number of servings or quart jars you end up with depends on how many heads of romaine you use and how compact and large they are. It will also be affected by how tightly you pack the lettuce into the jars.
Recommended Products
As an Amazon Associate, I earn from qualifying purchases. But don't worry. This doesn't change the price you pay.
Nutrition Information:
Yield:

6
Serving Size:

1
Amount Per Serving:
Calories:

54
Total Fat:

1g
Saturated Fat:

0g
Trans Fat:

0g
Unsaturated Fat:

1g
Cholesterol:

0mg
Sodium:

25mg
Carbohydrates:

10g
Fiber:

7g
Sugar:

4g
Protein:

4g