My way to do salad inside a jar is to chop fresh lettuce, vacuum-pack it into a Mason jar, then store the jars in the fridge. Learn how to prolong the freshness of cut lettuce so you, too, can enjoy a salad every day as fast as you can take the lid off.
This post was originally published in 2009. It has been updated, expanded, and republished in July 2019.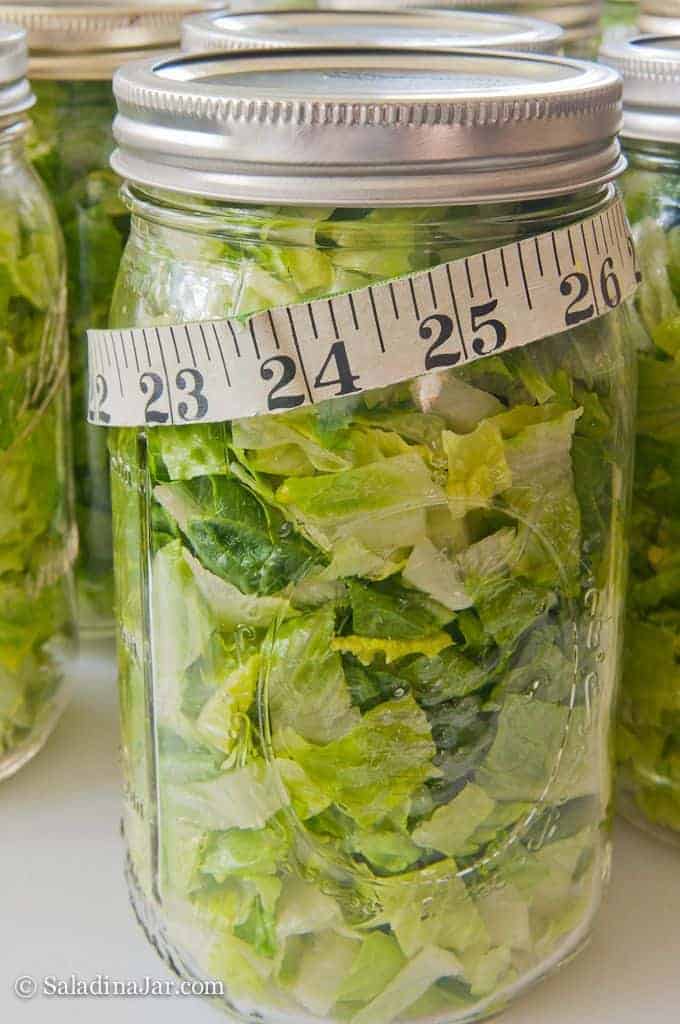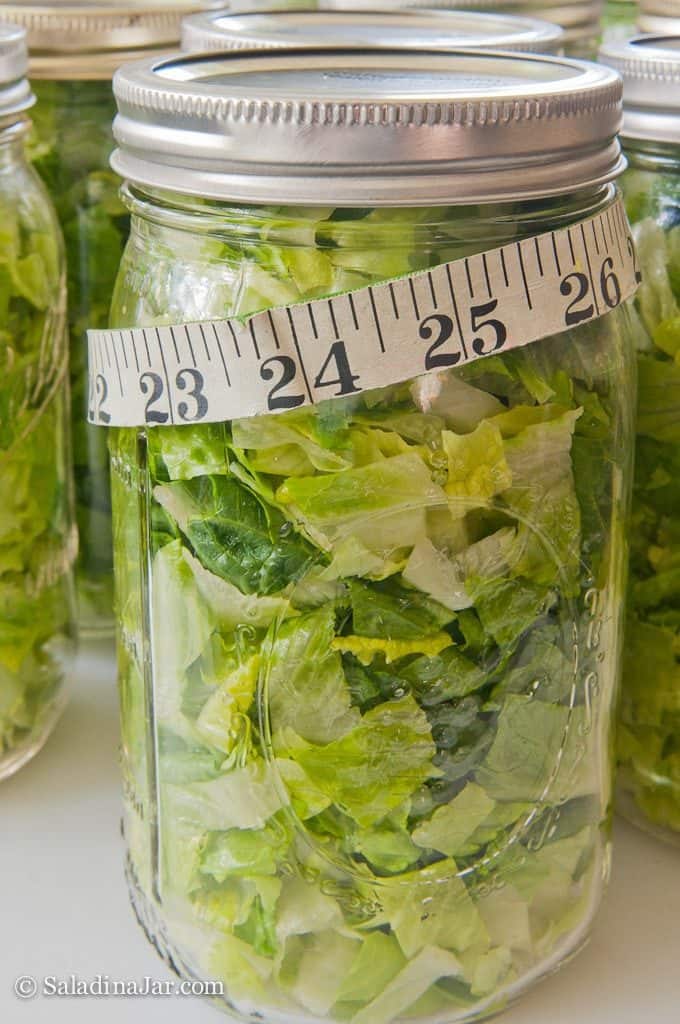 "Salad in a Jar" (my way) is not the traditional layered salad everybody else makes. It's also not "canned lettuce" although it may look like it. The lettuce is not heat-processed.
The result is a ready-to-eat salad you grab from the fridge. Open and pour into a bowl. Add your dressing and any veggies, nuts, or leftovers. Sit down to eat in less than 3 minutes.
You can prepare 7-10 days worth of clean, chopped, and ready-to-eat romaine lettuce in a few minutes. I've been making "salad-in-a-jar" (my way) every week for over ten years.
Do you wish you were eating more lettuce/salads?
I used to feel the same way, but I thought it was too much trouble–especially when I was hungry and ready to eat ASAP.
Now I'm a DAILY salad eater, and you can be, too!
Keep reading! I'll show you how.
As an Amazon Associate, I earn from qualifying purchases.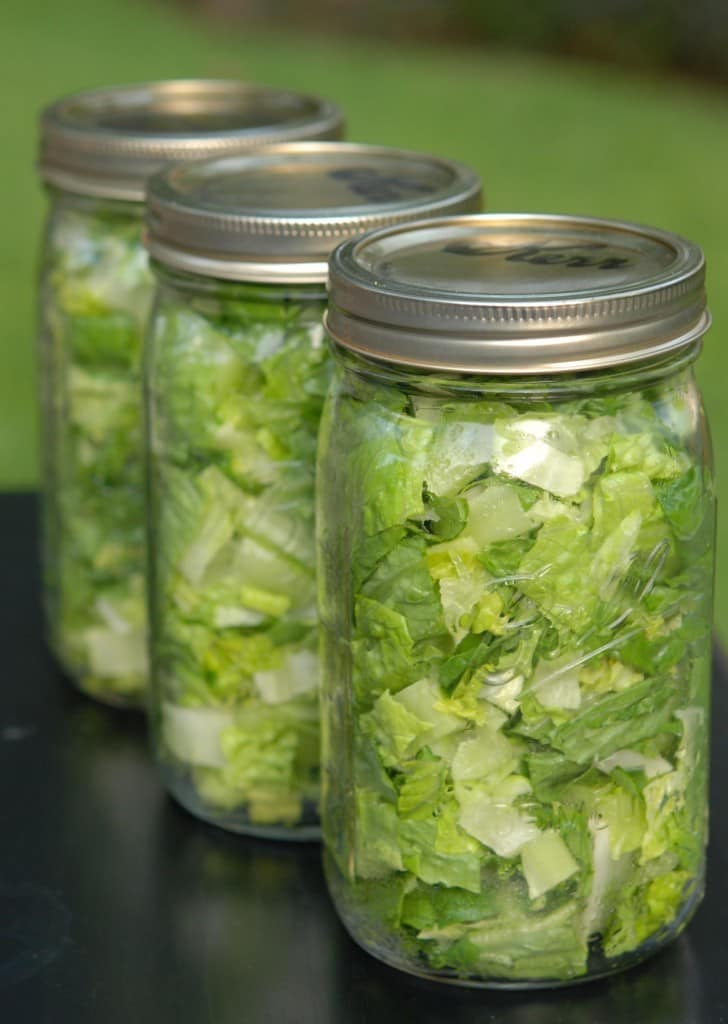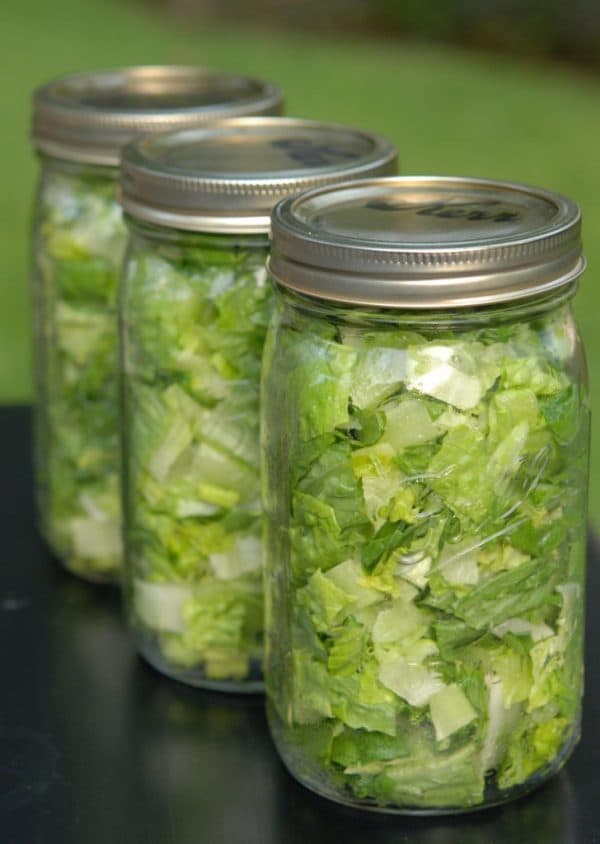 What is the secret to making chopped lettuce last longer?
Chopped romaine will stay crisp and fresh for 7-10 days when vacuum-packed into a glass Mason jar. It must be stored in the refrigerator.
Let me be clear…
We're assuming the lettuce is fresh. Don't pack lettuce that has been hanging around in some warehouse or your fridge for too long. Old lettuce will shorten the freshness window for a vacuum-packed jar of salad.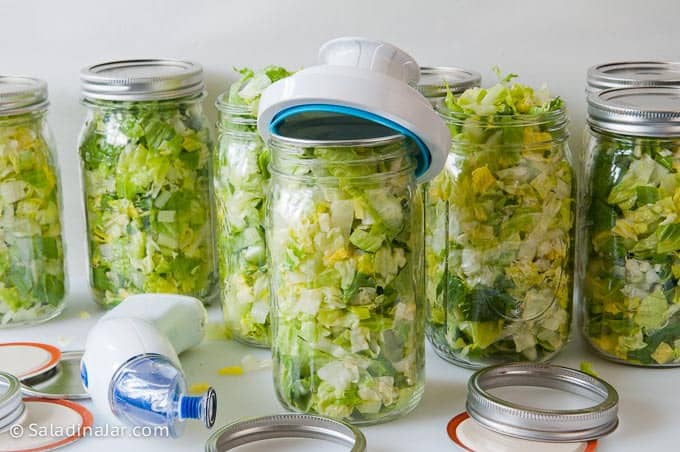 Five benefits of vacuum-packing lettuce:
#1
The vacuum-sealing process removes all the oxygen from inside the jar. Even though the leaves are chopped with a knife, the cut leaves are prevented from oxidizing.
#2
No getting out your chopping board and salad spinner every day to make a salad
Call me lazy, but when I'm famished, I don't like to take the time to clean, dry, and cut or tear lettuce. Having prepared jars of lettuce salad in the fridge has saved me from eating a lot of junk food.
#3
On the run? Grab a jar and take it with you.
You can eat your salad straight out of the jar. But it's easier to pour it into a bowl. My lunch bag is big enough to fit a salad bowl if I'm taking my lunch with me.
#4
Save money–especially when you buy romaine lettuce in bulk
Bulk warehouses like Costco or Sam's are the cheapest place to buy romaine. You can purchase the heads in packages of six.
I'm fond of the artisan romaine sold at Costco. They are slightly more expensive but worth it.
#5
Might encourage healthier eating habits
No guarantees on this one. If you eat a healthy salad daily, it could be the start of a new lifestyle. I eat about 7-8 cups of lettuce salad almost every day. Works for me.
How long does it take to prepare the jars?
Actual time to prepare 6-8 jars is 30-45 minutes after you've had some practice. Expect to spend a couple of hours the first time or two. Once you get your system down, making the jars goes fast.
What if I can't eat a whole quart of lettuce at once?
You can re-seal the jar after removing part of the lettuce. However, you have compromised the freshness by allowing oxygen to enter the jar. Don't expect the salad to last as long.
Alternatively, pack your lettuce into 12-ounce pint jars or the 24-ounce straight-sided Mason jars. (paid link) Tip: The smaller the jar, the more difficult they are to seal. Apply more pressure on the lid adapter.
What do I need to get started?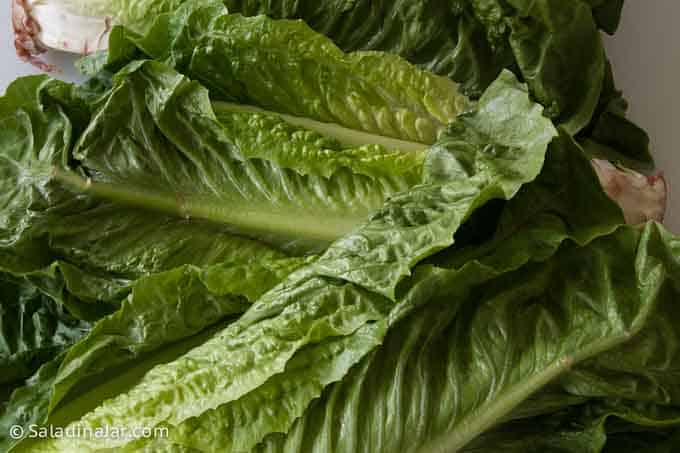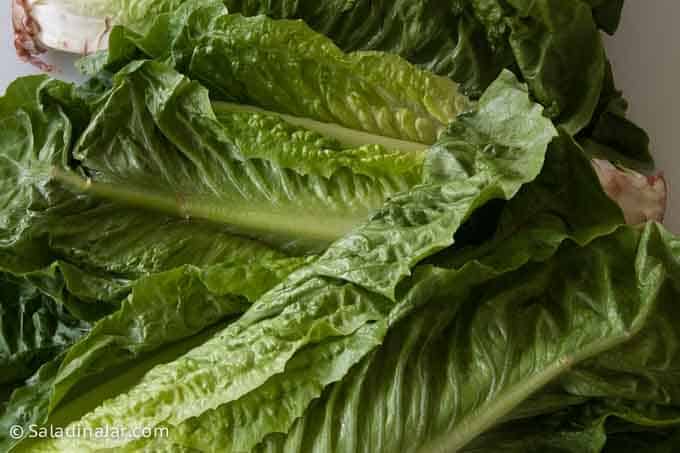 As an Amazon Associate, I earn from qualifying purchases.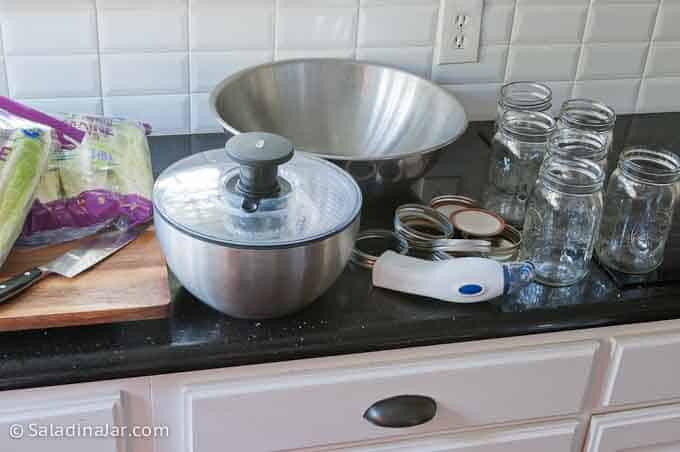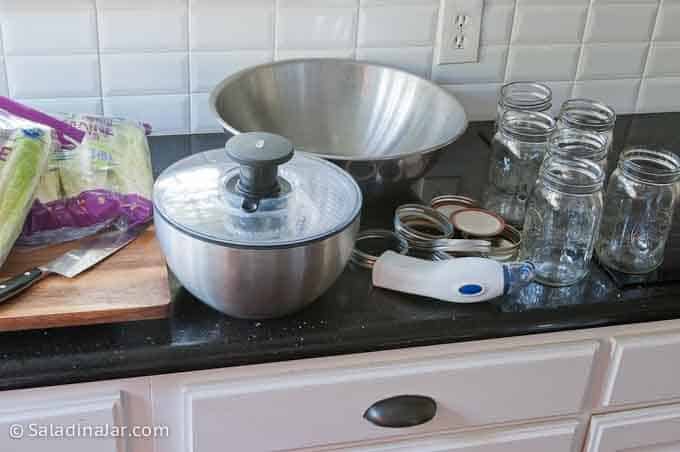 How to prepare the lettuce for vacuum-packing: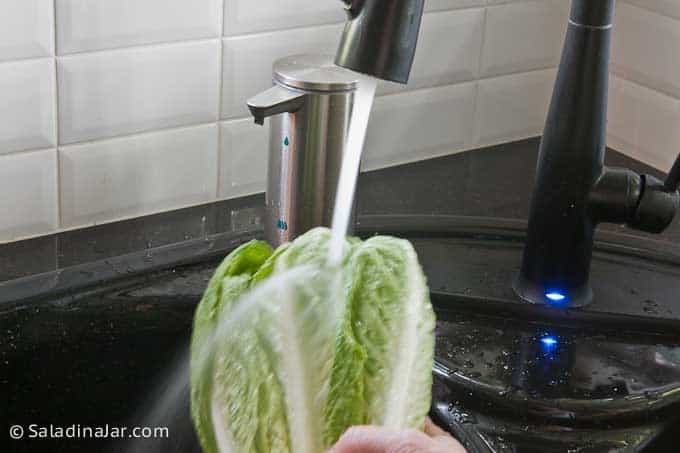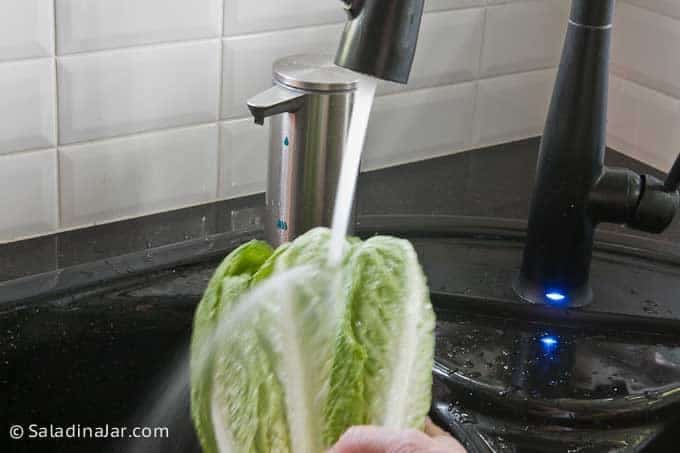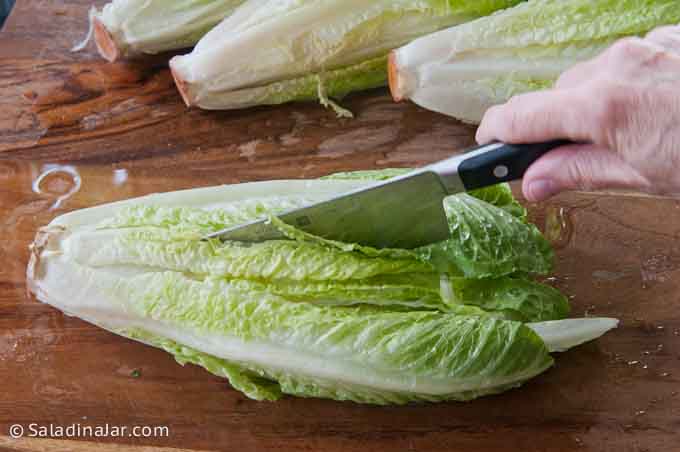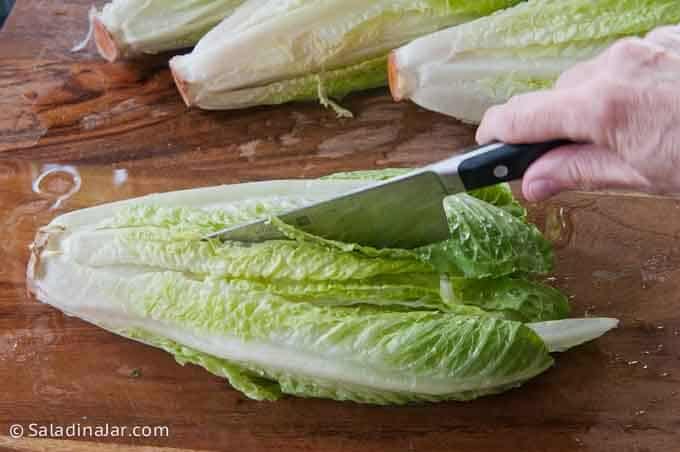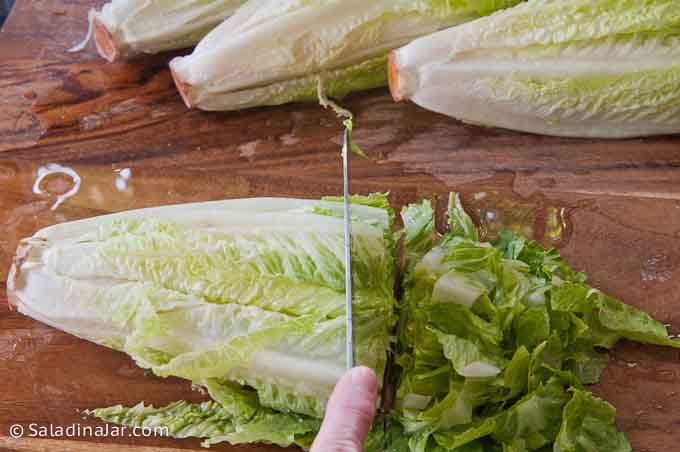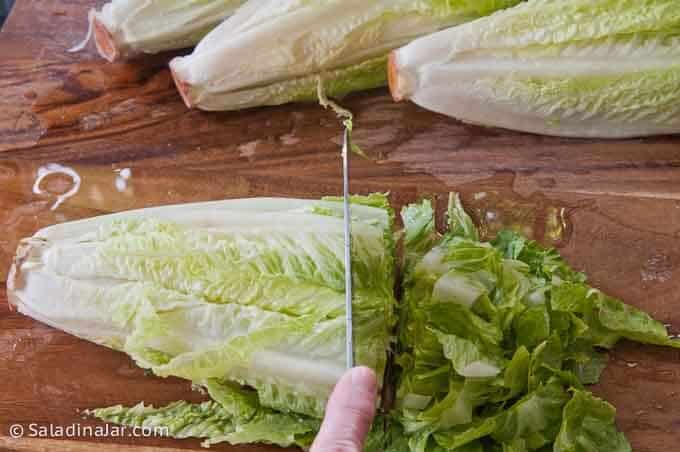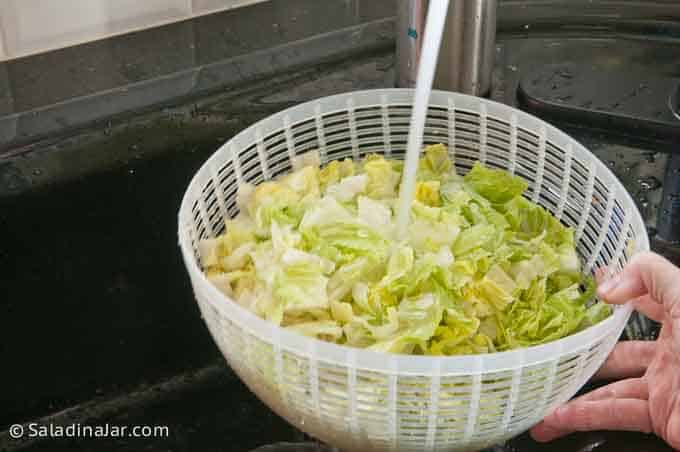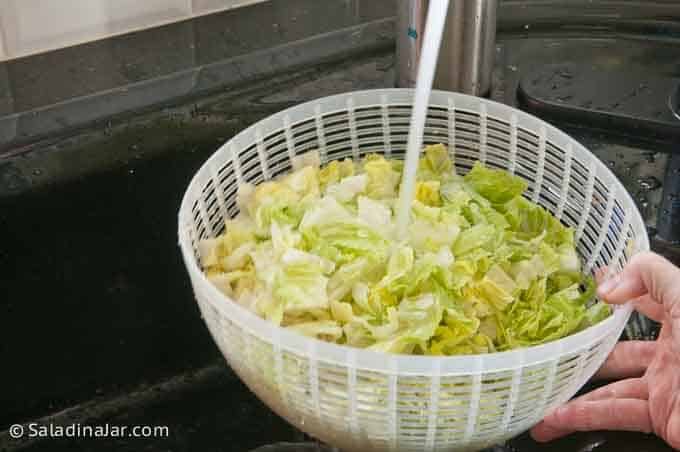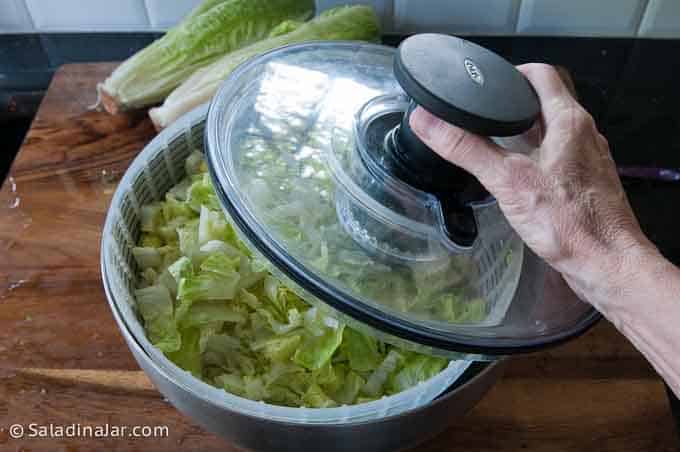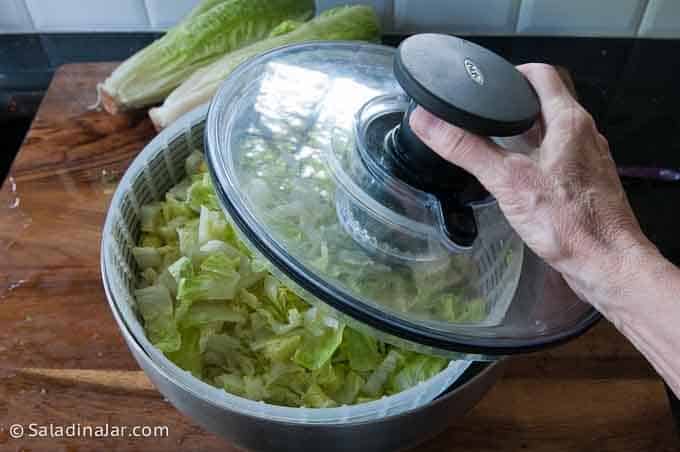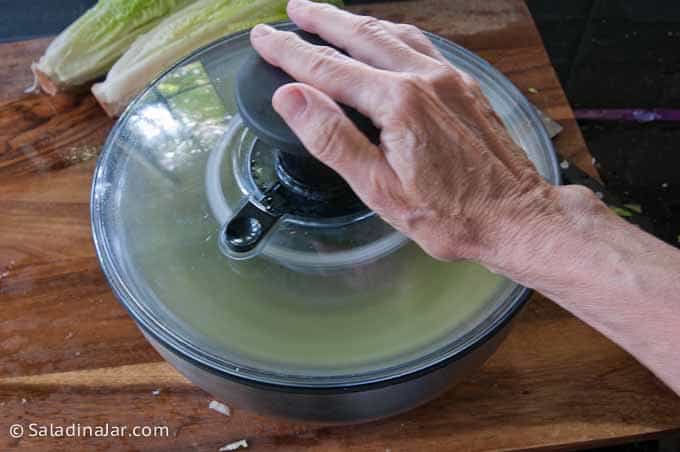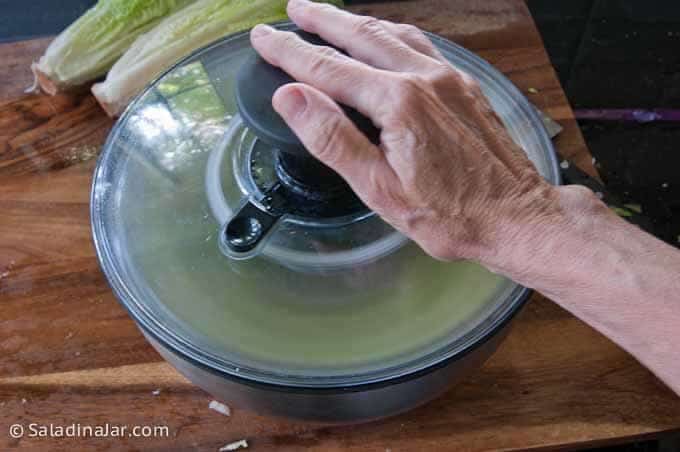 How to fill and seal chopped lettuce in Mason jars: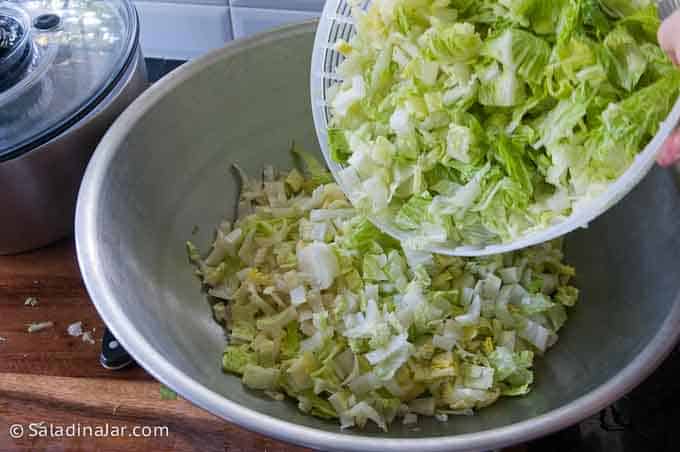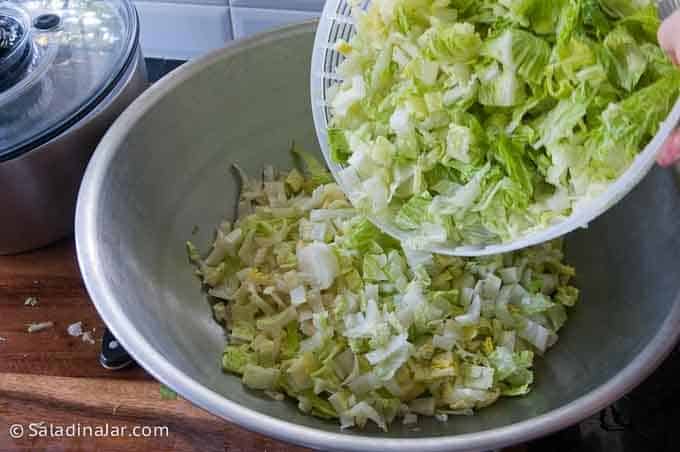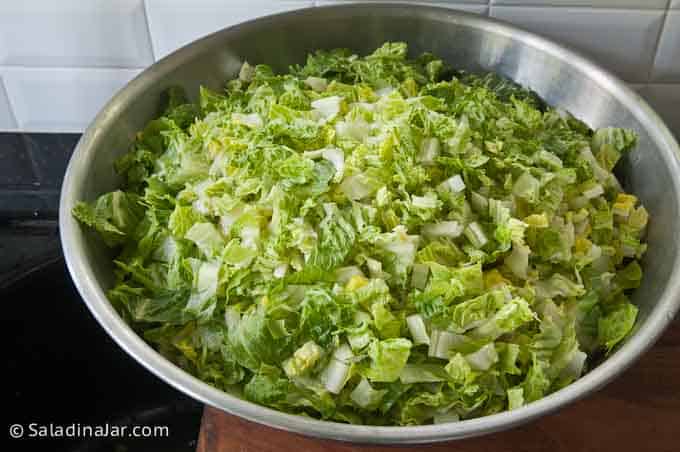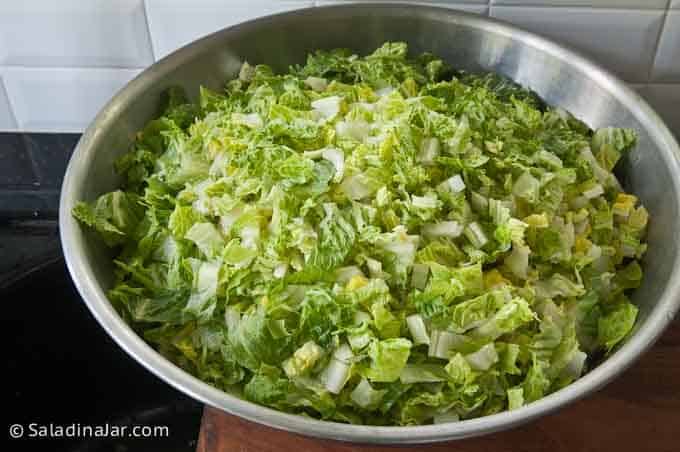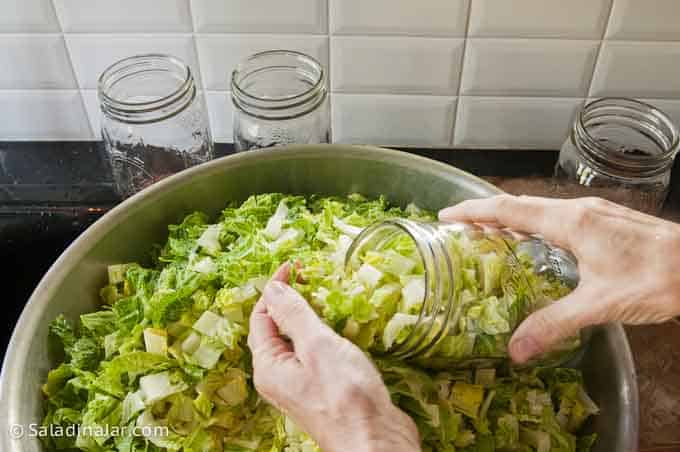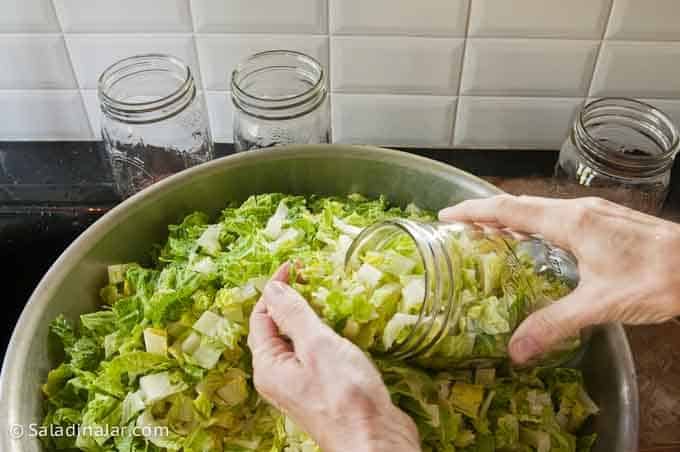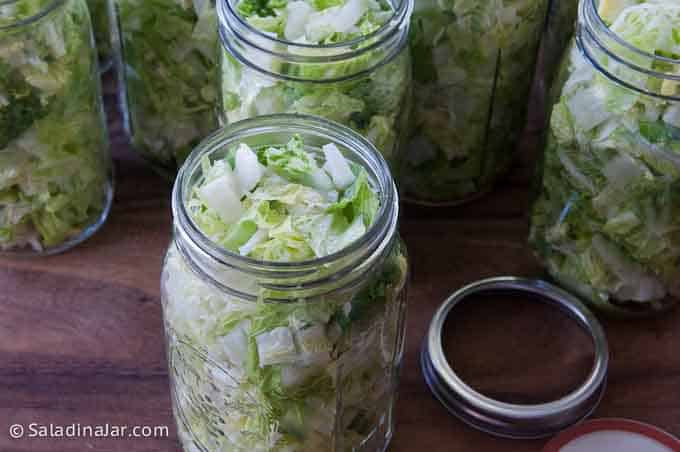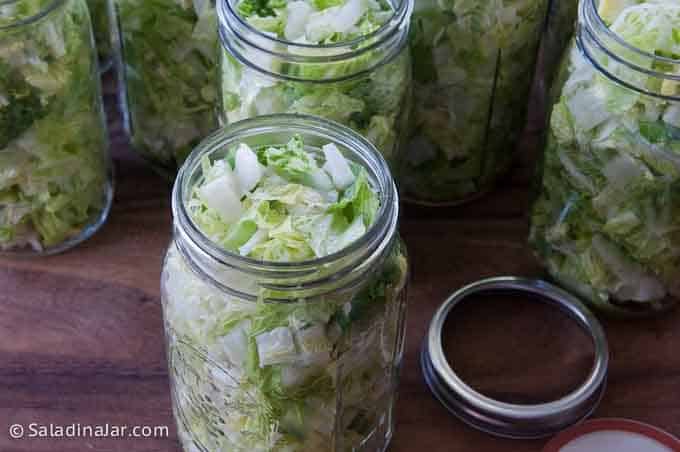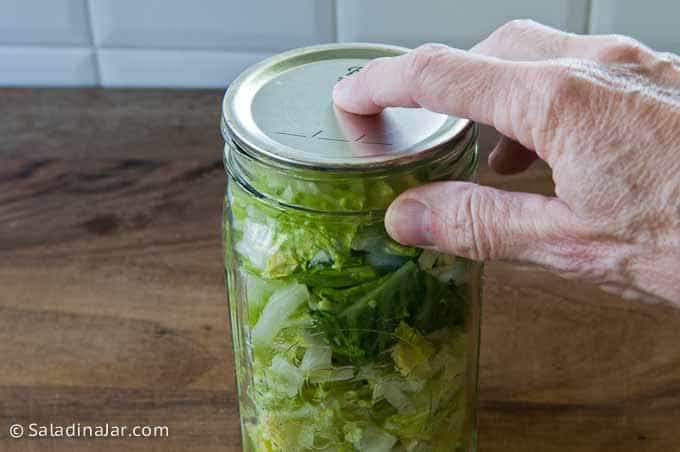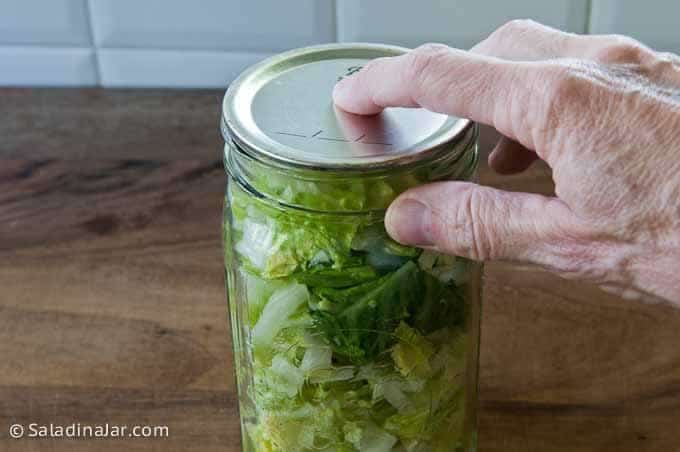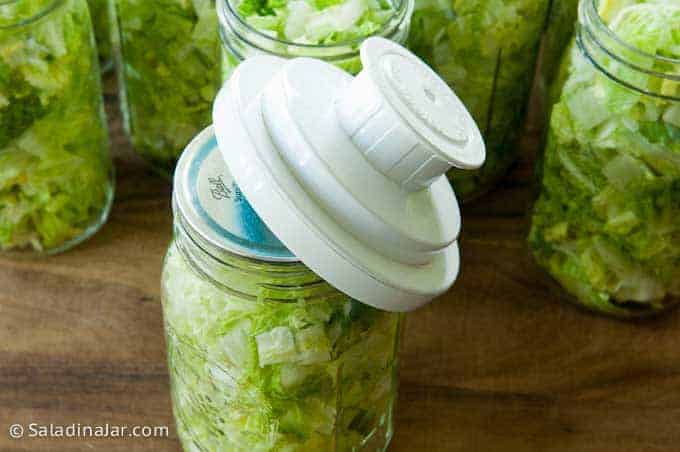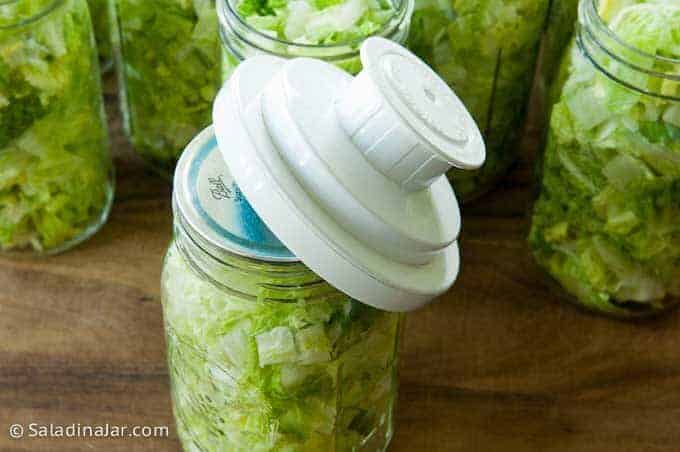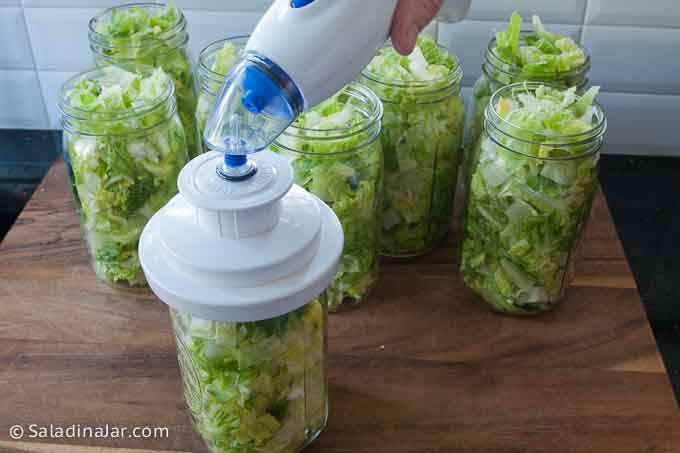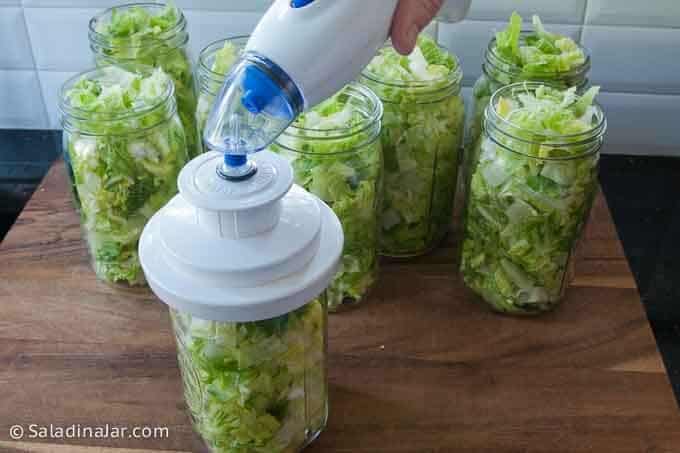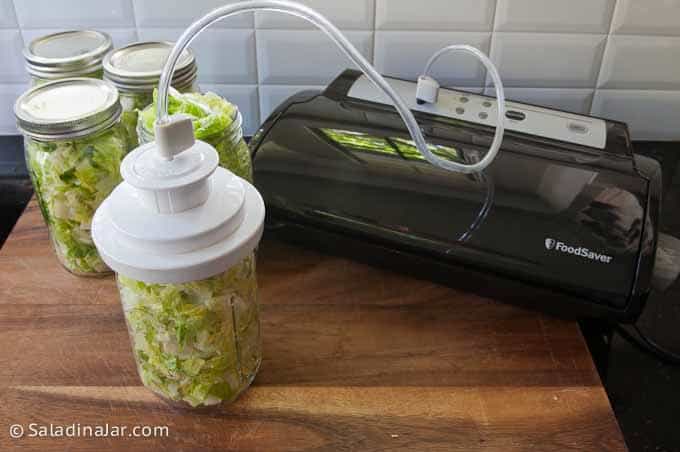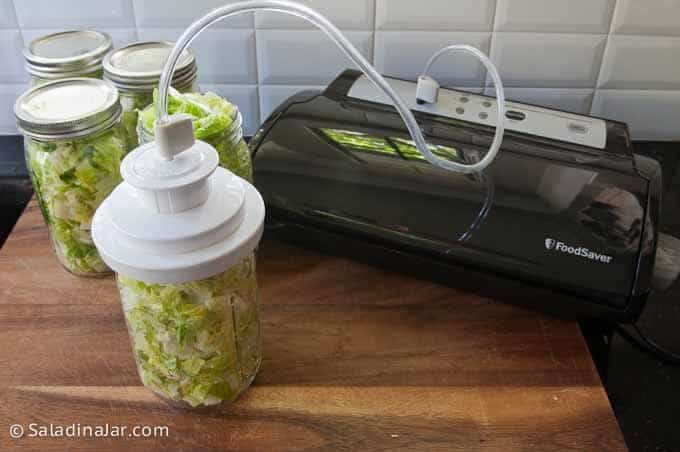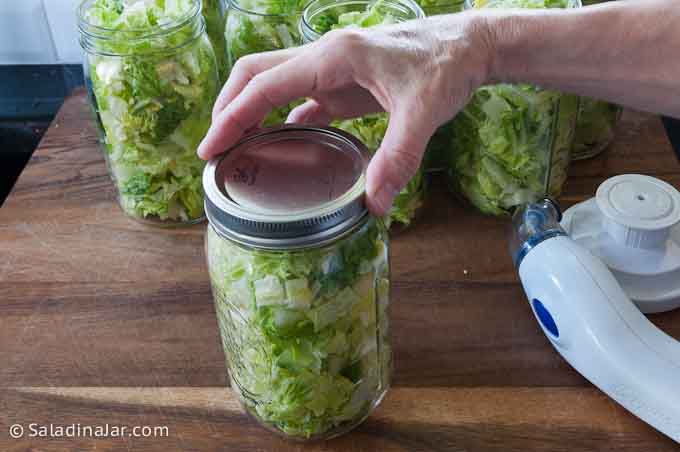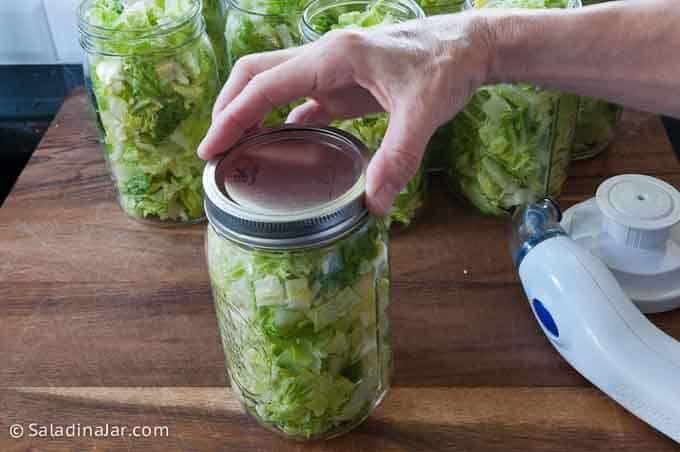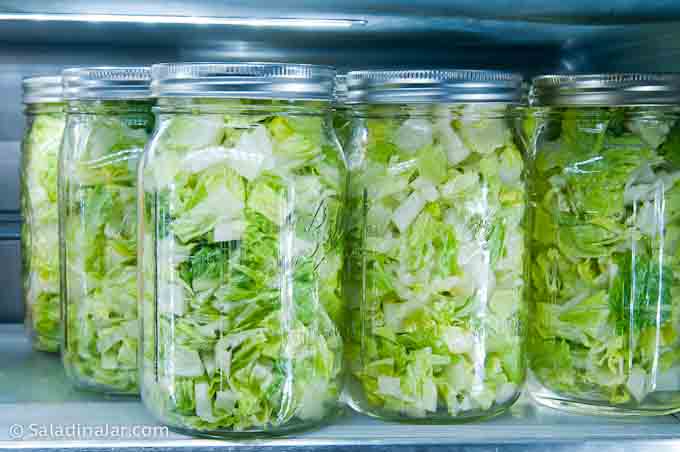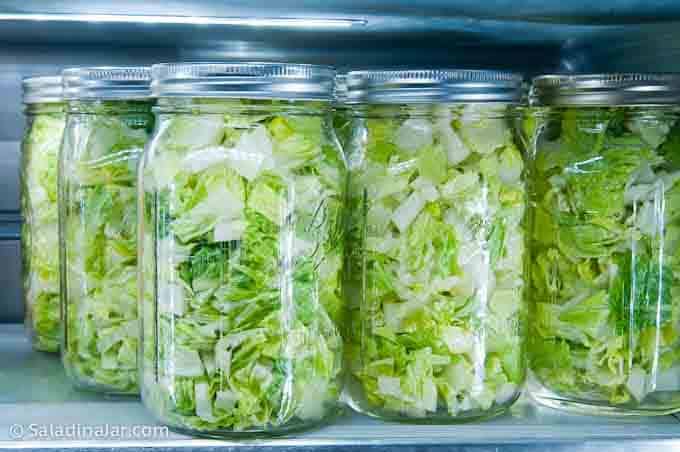 How to open a vacuum-sealed jar of salad: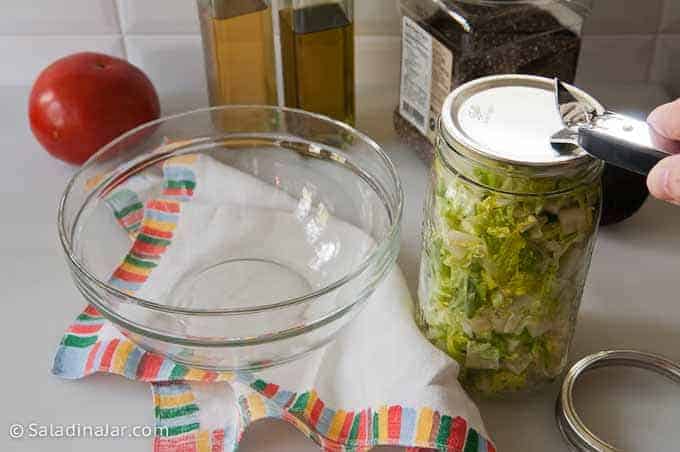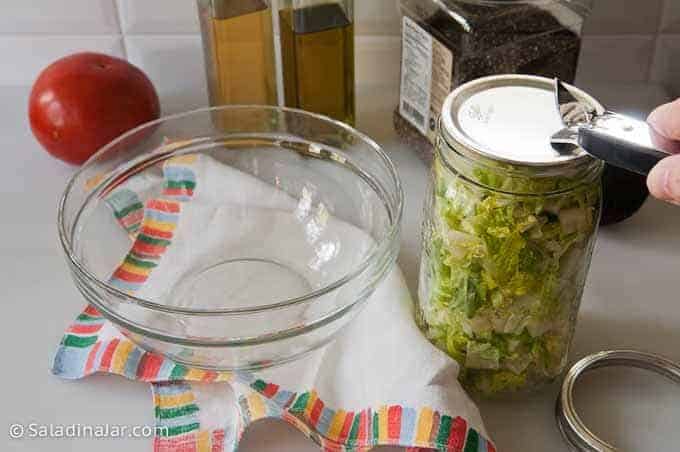 Pry off the lid with a can opener (as pictured above) or use your fingers. Empty your jar of lettuce into a bowl or onto a plate. Add whatever extras you want.
I often add other varieties of lettuce such as ready-to-eat spinach, arugula, or spring mix. Unfortunately, these are unpredictable when vacuum-packed.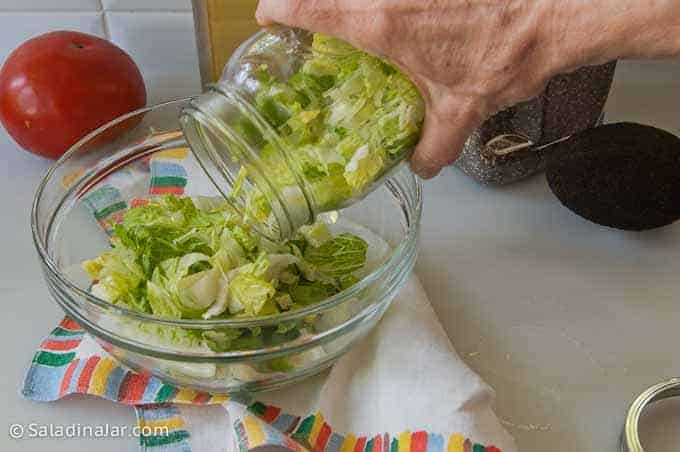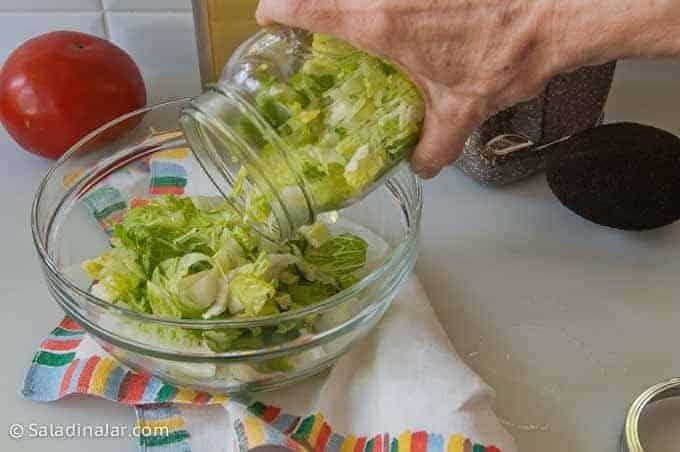 Enjoy the good feeling that comes with eating healthy vegetables!
Disclaimer about Salad-in-a-Jar (my way)
I'm sharing this method because it works for me, my lifestyle, and my tastes. This technique changed how I eat. It fits with most diets or special ways of eating.
I realize vacuum-packed jars of lettuce won't appeal to everybody, especially those who aren't much for planning. That's OK.
We all pick up different habits, likes, and dislikes along the way. If you're happy with your way of eating and method for preparing lettuce, don't change.
14 FAQ about this amazing way to make chopped lettuce last longer:
I'll start with the NUMBER ONE, TOP QUESTION!
#1
Can I vacuum-pack other vegetables along with the lettuce?
Yes, but the length of time you can keep the lettuce-filled jars will most likely be shorter, (much shorter in some instances).
It will depend on which vegetables you add and how fresh they were in the beginning. I never add anything to the lettuce for 4 reasons:
It takes longer to prepare the jars. I don't want to spend more than 20 -30 minutes–MAX. The job loses its novelty after a while. Don't misunderstand. Twenty minutes of trouble is well worth the benefit– kind of like doing push-ups. But this is a lifestyle for me. It has to be sustainable.
I want my salads to last at least a week, or even 10 days.
I never know what kind of salad I'll be in the mood to eat from one day to the next. A simple jar of chopped, ready-to-eat lettuce gives me a clean slate.
It's an opportunity to use leftovers in my salad.
Reader Rick did an experiment adding various veggies to his jars of lettuce. You can read about it here. I wrote a whole post about it if you're still curious.
#2
Do I really need a vacuum-pack device? I've heard rinsing the lettuce in lemon juice or vinegar will help it stay fresh longer.
After a reader suggested this, I did a side-by-side experiment. I rinsed lettuce with diluted lemon juice and compared it to vacuum-packed lettuce. The lemon-juice-rinsed-and-cut lettuce began to turn brown after three days. No comparison!
#3
Any suggestions for other ways to use a vacuum-pack machine?
These are MY current favorites. See reader comments below for other ideas.
Use your quart jars to vacuum-pack rice, flour, oatmeal, granola, and other dry pantry items. Try storing vacuum-packed stir-fry sauce, barbecue sauce, or salad dressing in the fridge.
Use the (way too expensive) plastic vacuum-seal bags for cheese, leftovers, and meat. Food stays in the freezer much longer without freezer burn when vacuum-sealed.
#4
Can I re-use the flat lids after using them to vacuum-pack?
Yes, until they get bent or they rust.
The rule is different when you are heat-processing canned food. Then you can only use the flat lids once.
#5
Do I need an attachment for each jar and where do I buy one?

No. You only need one.
The attachment fits over the opening with a flat lid between the top of the jar and the attachment. Pull the attachment off after sealing. See the video.
Large-mouth jar attachments are available online. I've never seen them in a bricks-and-mortar store, but readers have reported sightings.
Be sure you buy the large-mouth jar attachment if you have large-mouth jars. Otherwise, buy the small-mouth attachment.
#6
I have only owned FoodSaver vacuum-sealing machines. Consequently, I can't vouch for any other brands.
Look for a machine that has a port for the attachment. You don't need all the bells and whistles for this project, but cheap machines may not have a port. So, beware.
My preference is a portable device that runs on batteries. They are less noisy, take less storage space, and are cheaper.
#7
I prefer to tear lettuce with my hands or cut it with a plastic knife because it helps keep the edges from browning. Why is that unnecessary with this method?
Vacuum-packing removes the oxygen that causes the lettuce to brown when there are cut edges, torn or otherwise. I use a sharp knife so I can chop it fast and in fairly small pieces. Hands and plastic knives are way too slow for me.
20-30 minutes. MAX! That's all the time I want to allow for the process.
#8
Can I preserve other types of greens in the same way?
I've experimented with spinach and spring mix. Neither lasted more than 3-4 days. They're too fragile for vacuum-packing. Although some say it works for them. I can't recommend it. I'm a hearts-of-Romaine girl.
Even though I love romaine, the dark green outer leaves will not last as long as the crispier inner leaves. If I have a lot of dark leaves, I try to eat those jars first.
#9
How often do you eat lettuce that has been vacuum-packed into a jar?
It's what I take to work for lunch every day– along with a very small serving of something that's hot i.e. soup or leftovers, just to keep things interesting.
#10
Don't you get tired of eating lettuce?
Occasionally.
If I get tired of eating salads, I take a break but I'm usually back to them in a day or two because I feel more energetic and my clothes fit better. When I get bored, I switch up the toppings and dressing.
#11
I already have a lot of old Mason jars but they don't have a wide mouth. Can I still use them?
Yes, but the wide-mouth jars are much easier to fill, empty, seal, and wash. I HIGHLY recommend the wide-mouth over the small-mouth jars.
#12
A vacuum-pack machine can be pretty pricey. Any suggestions?
Places you might check include Tuesday Morning, Ross, eBay, warehouse stores, Walmart, Target and online. Or just ask around.
Many people have a vacuum-sealing machine sitting in their cabinets. They often quit using them after they run out of the bags that come with the device.
Portable units are much cheaper and they work great. See here.
#13
Why vacuum-pack my jar of lettuce instead of covering it with a regular screw-on lid?
The secret to the success of vacuum-packed salad-in-a-jar is the removal of oxygen. Oxygen will eventually turn cut lettuce edges brown. See this post for a pictorial comparison of various methods of lettuce storage.
#14
Why not store clean lettuce in a plastic bag with a paper towel?
You can do that if you leave the lettuce whole and un-chopped or un-torn. It will last longer than buying a bag of chopped lettuce from the store, for sure. However, the romaine still needs to be cut or torn into smaller pieces before eating.
For me, that's too much trouble when I walk in the door hungry. I like to have everything ready to grab-and-go, with leaves already in small pieces and prepared to pour into a bowl and eat.
An important reminder about safety:
Wash your lettuce thoroughly and keep refrigerated at all times for safety's sake.
Looking for more information?
Posts Related to "An Amazing Way To Make Chopped Lettuce Last Longer"
If you make this recipe and enjoy it, consider helping other readers and me by returning to this post. Leave a rating on the recipe card itself underneath the picture. Although always appreciated, comments aren't required. Thank you for visiting! Paula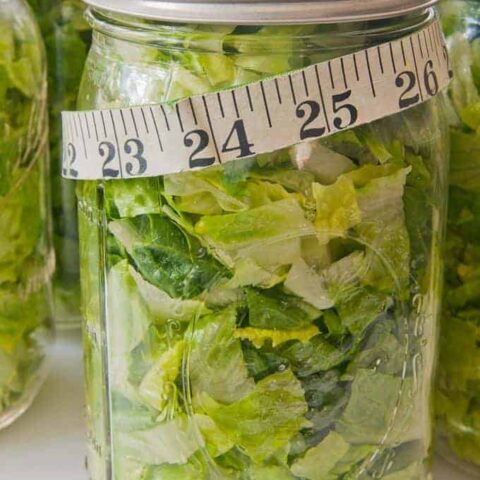 An Amazing Way To Make Chopped Lettuce Last Longer
Vacuum-packing fresh-cut or chopped romaine lettuce in Mason jars will keep it fresh up to 10 days. It's "salad in a jar" my way.
Ingredients
Fresh romaine lettuce (I use hearts of romaine because the inner leaves last longer than the dark green leaves on a whole head of romaine.) In general, one "heart of romaine" lettuce will fill one quart jar, but that varies.
Instructions
Wash romaine lettuce well, leaving the leaves intact at the base.
Cut lengthwise through the entire head at least 4-5 times.
Now slice crosswise about 3/4 to 1 inch apart according to your preference.
Fill salad spinner and run under the faucet one more time. Spin dry.
Dump into a very large bowl. Fill jars with chopped, spun-dry lettuce. I pack them as tightly as possible.
Seal jars using a wide-mouth jar attachment and a vacuum-pack machine. Screw on rings as insurance to keep lid sealed.
Refrigerate up to 10 days depending on how fresh your lettuce is when you started this process.
Notes
The number of servings or quart jars you end up with depends on how many heads of romaine you use and how compact and large they are. It will also be affected by how tightly you pack the lettuce into the jars.
Recommended Products
As an Amazon Associate, I earn from qualifying purchases. But don't worry. This doesn't change the price you pay.
Nutrition Information:
Yield:

6
Serving Size:

1
Amount Per Serving:
Calories:

54
Total Fat:

1g
Saturated Fat:

0g
Trans Fat:

0g
Unsaturated Fat:

1g
Cholesterol:

0mg
Sodium:

25mg
Carbohydrates:

10g
Fiber:

7g
Sugar:

4g
Protein:

4g