Have you just discovered your yogurt project still looks like milk? So now you're asking, "What Can I Do with Failed Homemade Yogurt?"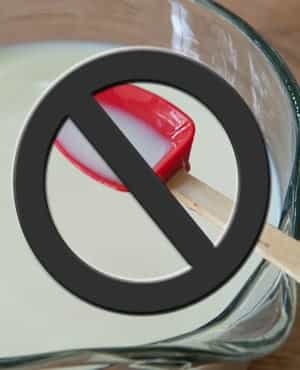 Oh, the disappointment and anguish over wasting money on milk, not to mention your time.
I can't count how many times I get desperate emails seeking to recover and make good yogurt from the same batch of milk or recycle the non-yogurt-milk into something entirely different.
The answer to these questions can go in several ways. If you know why your yogurt failed, you have a good chance at success if you try again with the same batch.
Was your incubation temperature too high or too low? Was your starter too old or dead? Check out my yogurt trouble-shooting post if you aren't sure.
But what if you don't know what you did wrong, and do everything the same way again? As the old saying goes, you can probably expect the same poor results.
Here are some suggestions based on my own experience:
4 Steps to Possible Yogurt Recovery
#1
Does the milk smell bad?
If so, throw it out — no need to ask any more questions.
If the milk still smells OK and you aren't feeding it to anybody who is immunocompromised such as the very young, the very old, or very ill, then proceed to the next step.
Related Post: Five Things You Should Not Do When Making Homemade Yogurt
#2
Reheat milk to 100 degrees.
We are assuming you heated the milk to 175 degrees F the first time around, and then, let it cool back to 100-110 degrees F.
To reheat, I put mine back in the microwave for 2-3 minutes. However, the time required may vary according to the size of the batch and your microwave.
#3
Add more starter.
If you suspect the original starter was the cause of your fail, try a different starter. Make sure the new starter is fresh and contains no additives.
#4
Re-incubate per my original instructions as seen here.
Just for fun: Here's the way I make yogurt. There are many ways to do it, but some are better than others.
Possible Issues With Failed Yogurt
#1
Did you remember to add the starter?
I've had several failures through the years, mostly due to my forgetfulness.
For example, I heated three batches of milk (2 quarts each) last night. As usual, I set them on the counter to cool down to approximately 110 degrees.
Later in the evening, I went to bed without thinking about the milk again until I awoke at 6:00 this morning. As I lay in bed, it hit me that I forgot to add the starter and put the milk into the oven to incubate.
Throwing out all that milk was unthinkable. It didn't smell bad, so I heated the milk to 100 degrees, added a little more starter, and incubated as usual. Five hours later, I had perfect yogurt.
#2
Did you set up your incubation system to the correct temperature?
Another scenario I often hear about is forgetting to turn on the heat for your incubation "system." Again, if the milk still smells OK, reheat milk mixture to 100 degrees F. Turn on your heat source for incubation and give the milk a few more hours to make yogurt.
#3
Is your yogurt too thin?
Perhaps your "fail" could be better described as drinkable yogurt. As long as it smells good, you could try again.
Nevertheless, my recommendation is to use it as it is even if it's not what you originally planned. Try it in smoothies or substitute it for buttermilk in baked goods such as these cinnamon biscuits.
---
As one of my readers once told me, "The yogurt gods can be fickle." Whenever you're dealing with a live organism, the results can be unpredictable.
But don't be discouraged. The more experience you have, the fewer failures you will experience.
Posts Related to "What Can I Do With Failed Homemade Yogurt?"