How To Make the Greek Yogurt of Your Dreams
Sneak Peek: Learn how to make Greek yogurt (aka Greek yoghurt) in the comfort of your own kitchen without any fancy gadgets. Dive into my easy-to-follow Greek yogurt recipe, complete with step-by-step instructions and visuals. Say goodbye to store-bought versions and hello to homemade yogurt made to your specifications!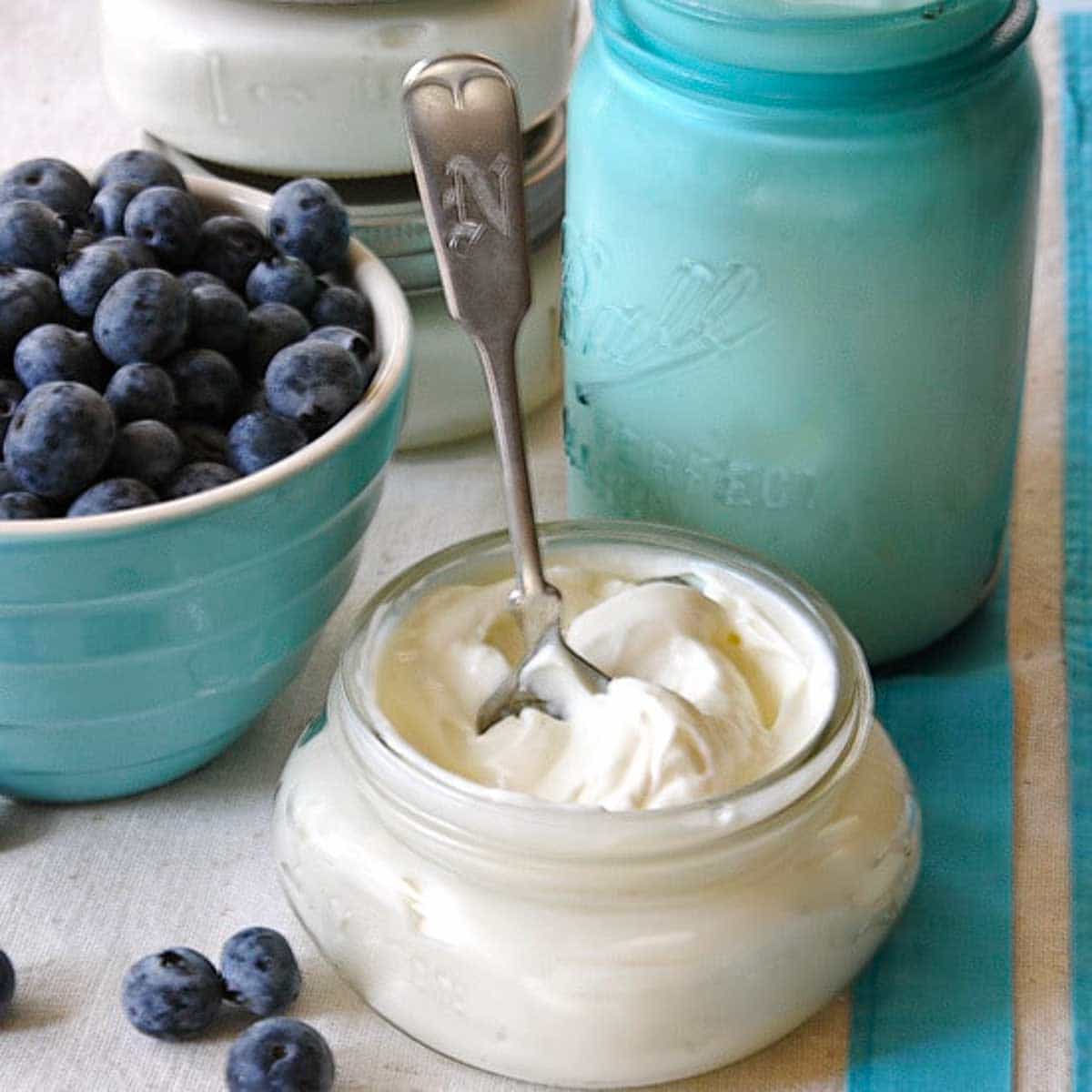 As an Amazon Associate, I earn from qualifying purchases.
Making yogurt is easier than you think. Follow my instructions, and before you know it, you'll be turning cartwheels over your first successful batch of Greek yogurt.
At first, I wasn't turning cartwheels. You see, I approached making Greek yogurt the same as a high school term paper. I read many recipes and tried to boil down millions of ideas and traditions into the perfect "recipe."
Before long, I was confused. So many people copy from a friend. When they make one good batch of yogurt, they publish the directions. Who should I listen to??? Aach!
You don't need a yogurt maker, an expensive incubator, or yards of cheesecloth. I've tried the yogurt maker and cheesecloth already. The yogurt maker is OK for beginners (like a flip phone for cellphone users), but when you become addicted to homemade yogurt, you'll want more.
The cheesecloth? What a mess! There's another way. Stick with me.
The essential tools are persistence, patience, and an appreciation for live cultures. (Beginners will also find a quick-read thermometer indispensable—more about that later.)
If you prefer to skip the details and answers to questions, click the button at the top to go straight to the recipe.
Happy Cooks Speak Up:
"Paula, I have been using your original recipe for Greek yogurt, starting about 2009, and I am glad to see you have the website. Very recently, I discovered Icelandic skyr. Last night, I made my first batch of whole-milk skyr, using this same method. The texture is great and the taste is every bit as good as the starter culture I purchased. Well done!" —Dave E
---
If you're unsure whether homemade yogurt is right for you, hop over to this post for an easy and humorous read about "Five Things You Should Not Do When Making Yogurt."
---
What's the difference between Greek yogurt and regular yogurt?
Greek yogurt is regular yogurt minus part of the whey. Whey is the yellowish liquid you see collecting on top of yogurt. Greek yogurt is often referred to as "strained yogurt."
More differences between regular yogurt and Greek yogurt:
Thicker than regular yogurt
Higher in protein and lower in sugar than regular yogurt
It contains more fat (unless you make it with non-fat milk) than regular yogurt.
The simplest way to make Greek yogurt is by straining off the whey from regular yogurt. Some companies add gelatin, rennet, or other mystery ingredients to make it thick. The result is often an inferior (and cheaper) product.
Something else to note from Healthline: "Because the straining process reduces the total volume, Greek yogurt takes significantly more milk than regular yogurt to make a batch of the same size."
---
How long does it take to make yogurt?
Now that my system is streamlined, the hands-on time is less than 15 minutes.
But there is hands-off time.
Heating and cooling the milk: 1-2 hours
Incubation period: 3.5-10+ hours
Straining yogurt: 1-3 hours
Adding up those hours sounds like an all-day affair. But it's like doing the laundry. You learn how to weave it into your schedule.
Do I need a yogurt maker to make yogurt?
A yogurt maker is easy and foolproof. That's not a bad thing, especially for beginners.
However, all yogurt makers are not alike.
Many yogurt makers only make individual servings. Therefore, they are impractical if you want to make Greek yogurt (straining required). Quart-size and bigger yogurt makers are better for Greek yogurt lovers.
How to make yogurt at home:
Step 1: Fill a heat-safe container with dairy milk (cow's milk or goat milk).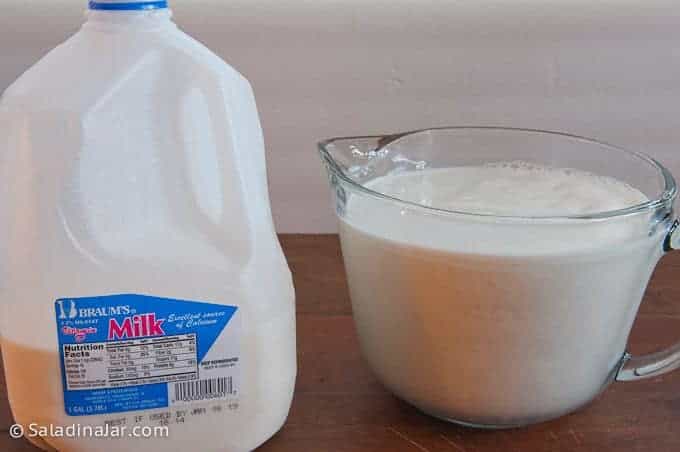 ---
Step 2: Heat milk to 180˚F.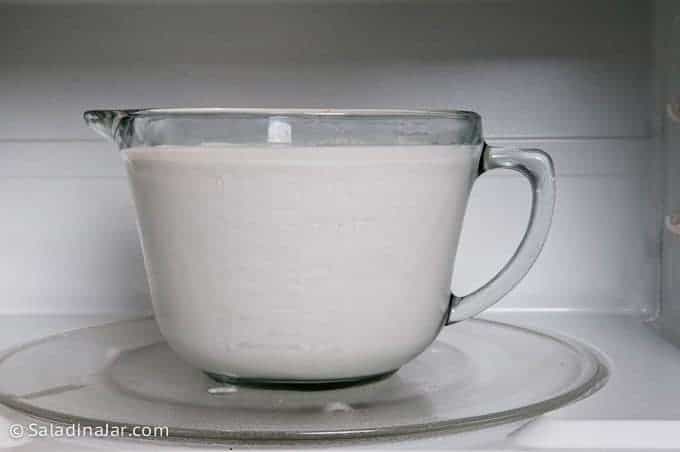 1. Using a microwave to heat the milk:
For 2 quarts of milk, heat on HIGH for 14-17 minutes until the milk reaches 180˚F. Check the temperature of the milk with a quick-read thermometer (paid link) until you know how long it takes for the milk to reach the right temperature in your microwave. If you want to heat less milk, the time will change.
If you want to hold the heat at 180˚ for 15 minutes, as some recommend for thicker yogurt, set the cooking level to 20% power and the timer to 15 minutes. Again, check the temps with a quick-read thermometer and write them down for future use.
Microwaves can vary wildly. Experiment with yours to see what works best. Once you figure out the perfect timing, make a note. You'll never have to think about it again unless you get a different microwave or use a different amount of milk.
Why I prefer heating milk with a microwave:
No worries about the milk boiling over and making a mess
No monitoring is needed once you figure out the perfect timing for your oven.
No stirring is required.
No scorching and the ensuing mess you have to clean up
Easy to hold the high temperature for 15 minutes if you choose to do that
Only one dirty dish to wash (plus a strainer if making Greek yogurt)–heat, cool, incubate, strain, and whisk yogurt in the same glass container
2. Using a stove to heat your milk:
You can also heat the milk on the stove. Keep the heat turned down to avoid scorching. Stir frequently and check the temperature as you go.
No matter how you heat the milk, avoid boiling it. But if your milk does boil, carry on. The milk will still make yogurt but may not be as smooth.
3. What about using an Instant Pot?
Some people use their Instant Pot to heat and incubate the milk. That's fine if you don't mind babysitting the process.
The disadvantages of making yogurt with an Instant Pot:
The size of your pot will limit the amount of yogurt you can make.
Whenever I've tried this, inevitably, I need my Instant Pot to fix dinner. (This might be related to Murphy's law.)
The advantages of making yogurt with an Instant Pot:
Incubation is easy if your model has a preset button.
It is convenient if you want small jars of yogurt
4. Can I skip the heating step since my milk is pasteurized?
Many people think the only purpose of heating milk is to sterilize it. But the milk has already been "sterilized" in the pasteurization process. The crucial reason for heating the milk is to unravel the proteins so that the incubation process will result in a thicker yogurt.
NOTE: If you use Ultra-filtered milk (such as Fairlife), you do not need to heat it. Some people call this the "cold start" method.
Don't miss this post if you wonder whether the cold start or the traditional method is better for you.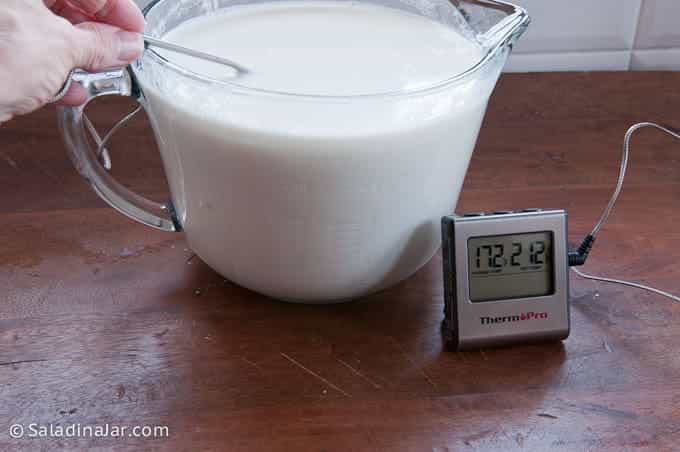 Step 3: Let the milk cool down.
The temperature of the milk needs to drop back to somewhere between 100-110˚F.
Milk that is too hot will kill the little yogurt bodies in the starter. Project over!
Cooling times will vary depending on the volume and type of container holding the heated milk. Use a quick-read thermometer (paid link) to check the temperature.
Hot Tip: If you are in a hurry, fill your sink or a tub and set the milk container down into the water. Add some ice once the milk cools down a bit.
Don't panic!
If you let the temperature slide down to 80 or 90˚F, don't worry. Add your starter and proceed as usual.
Until the temperature returns to 100-110˚F, the yogurt-making party is delayed, not canceled.
If you don't want to wait or your incubation system has no steady heat source, gently heat the milk back to 100˚F.
---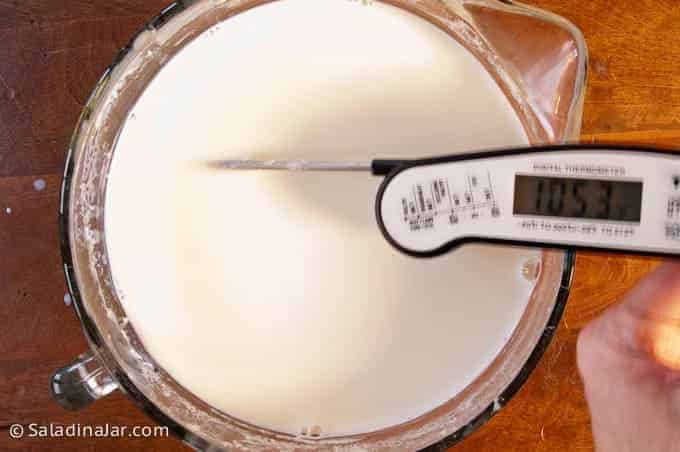 ---
Step 4: Add a starter to the cooled milk.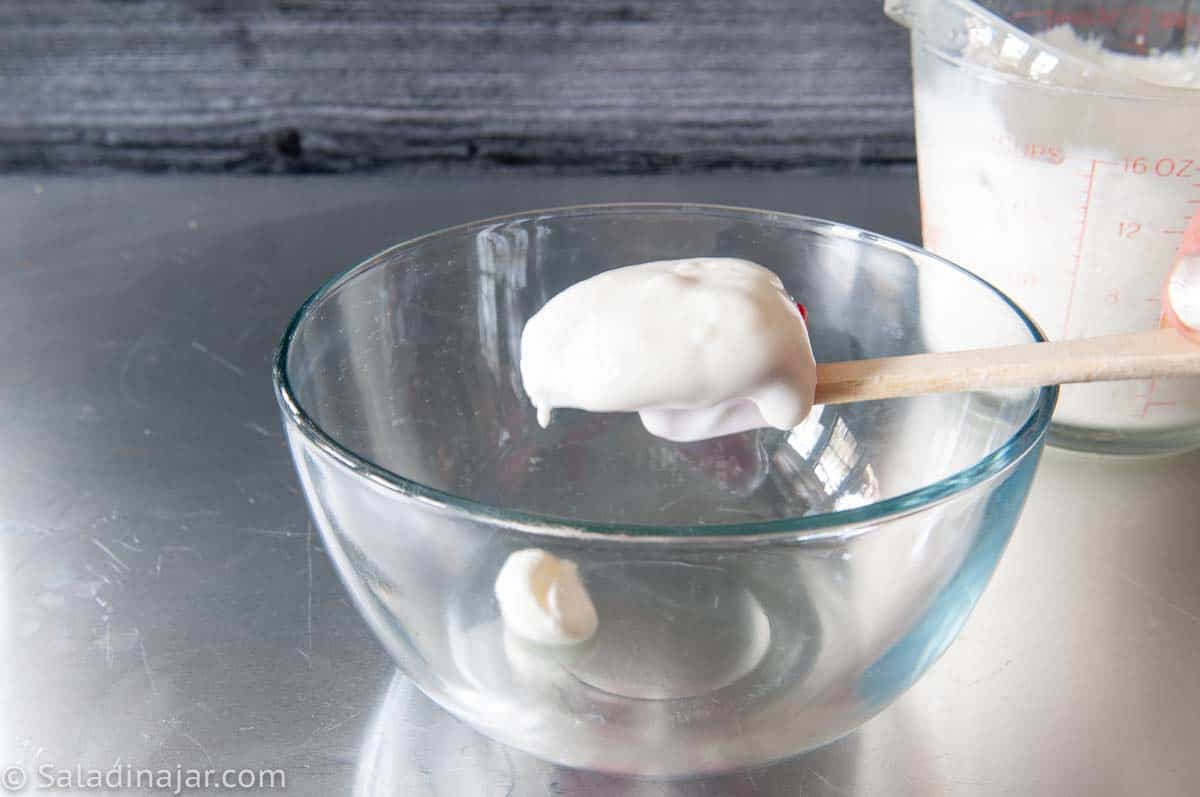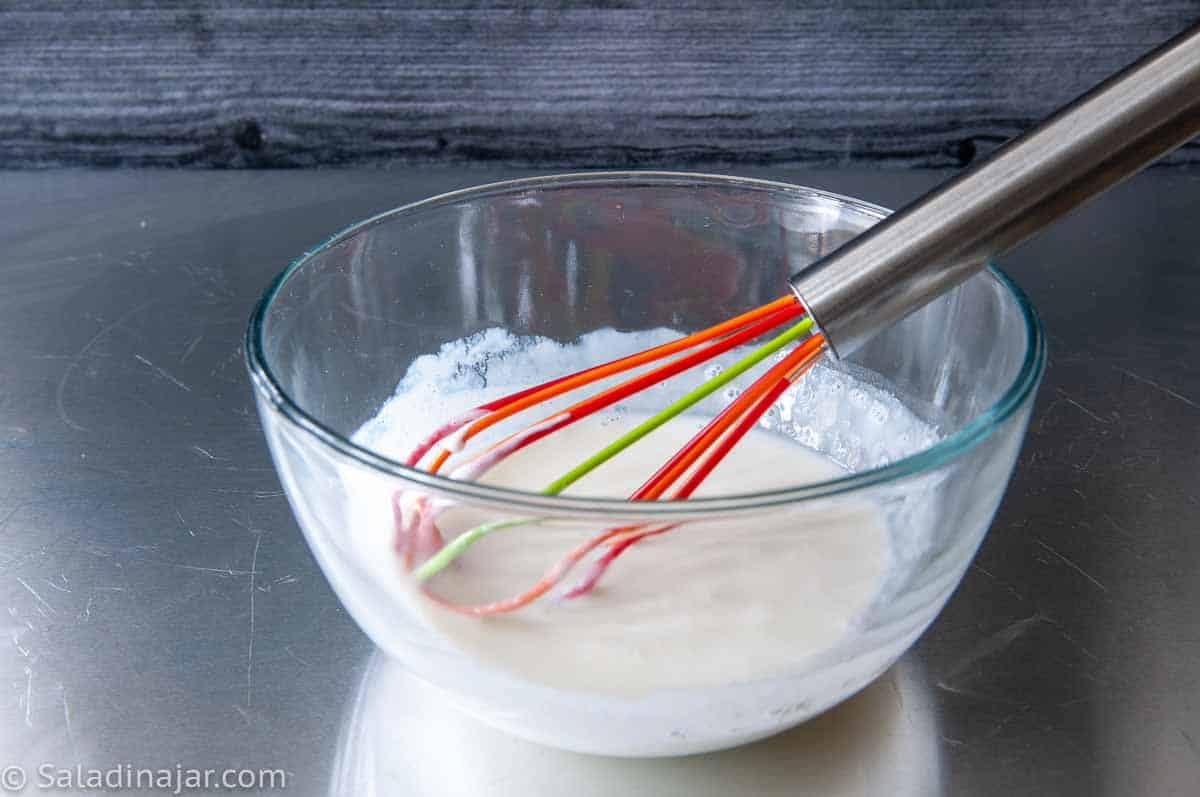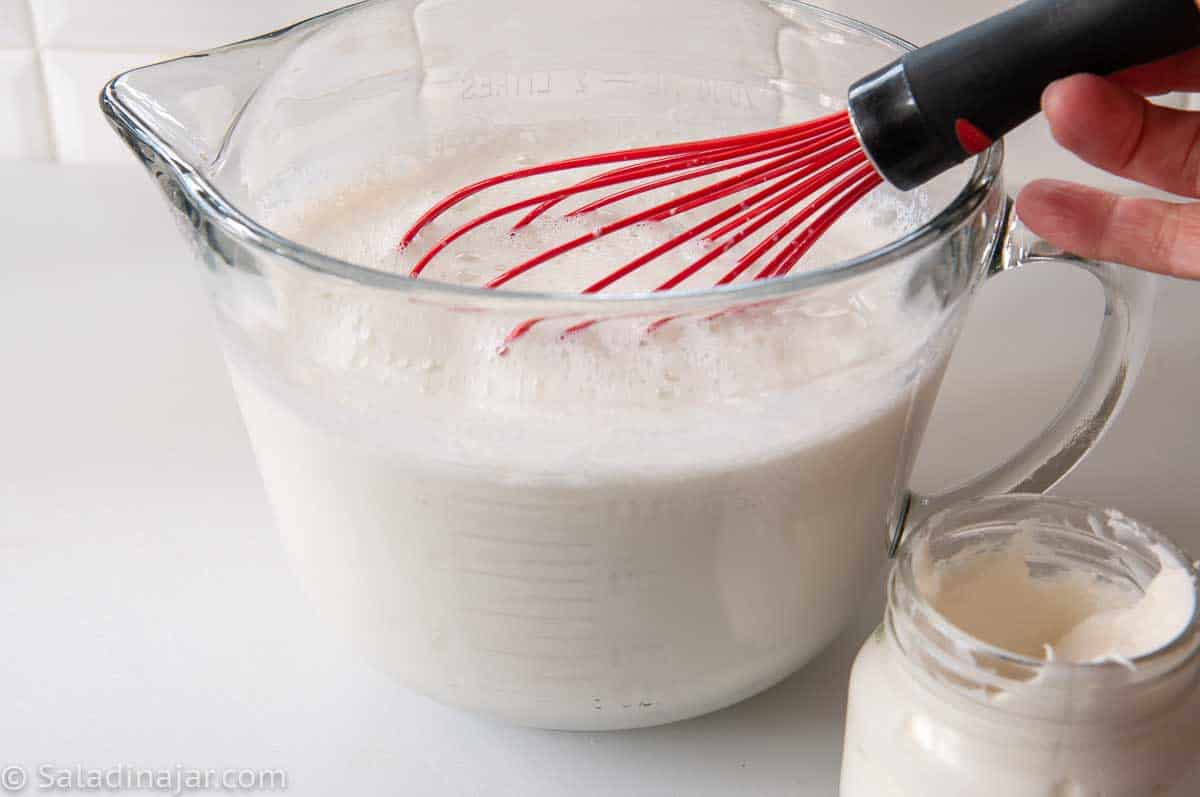 ---
More answers to common questions about yogurt starters:
1. What's a yogurt starter?
A yogurt starter contains live yogurt microbes. No starter? No yogurt.
2. Can I use a jar of my favorite yogurt from the store?
Yes, if it's unflavored, fresh, and contains live cultures (little yogurt bodies).
Avoid yogurt with additives such as gelatin or other thickeners. They can cause a grainy texture.
If you can't find unflavored yogurt, vanilla-flavored will usually work. But it's not my first choice.
3. What's the difference between using yogurt from the store and freeze-dried starters?
Unflavored yogurt from the store:

Readily available in almost every grocery store
It's relatively inexpensive.
Usually suitable for 3-4 generations, sometimes more.

Freeze-dried yogurt starter (aka "traditional starter") comes in a foil packet and costs more. It's available online, in health food stores, or in specialty supermarkets like Sprouts.

A traditional starter is hardier than highly engineered commercial yogurt. It's easier to ward off "wild yeast" that can mess up your yogurt.
A traditional starter is more complicated to use for a beginner. Expect the first batch to be thin. (Follow the directions that come with the starter.)
Subsequent batches will be thicker as the yogurt bodies reach their full potential.
4. Can I use yogurt from a previous batch of homemade yogurt?
Yes, if it is no more than a week to 10 days old.
If you use commercial yogurt for a starter, buy a new "starter" yogurt from the store every 3-4 batches.
"Traditional yogurt starter" can be used over and over. Some people say it can be used for years. Make a fresh batch every 7-10 days for the best results.
5. Do I have to warm the starter before adding it to my cooled-down milk?
Not really. Little yogurt bodies don't mind jumping straight off the diving board into warm milk. So I've made hundreds of batches of yogurt using a refrigerator-cold starter.
However, mixing the yogurt with cooled-down milk and whisking it until mixed is a good idea. Doing this helps to avoid "hot spots" and results in a smoother yogurt.
6. If I want to make Greek yogurt, do I have to use Greek yogurt as my starter, or will regular unflavored yogurt work?
It doesn't matter. Greek yogurt starts life as regular yogurt. Use whichever you have. Freshness is more important.
7. How much yogurt starter should I use?
Use a generous tablespoon of yogurt starter per quart of milk. More is not necessarily better. Yogurt bodies are big eaters and don't like to be crowded.
---
Step 5: Cover milk (loosely) and incubate.

Incubate inoculated milk for 5-10 hours. Whatever system you use must hold the temperature steady at 100-110˚F.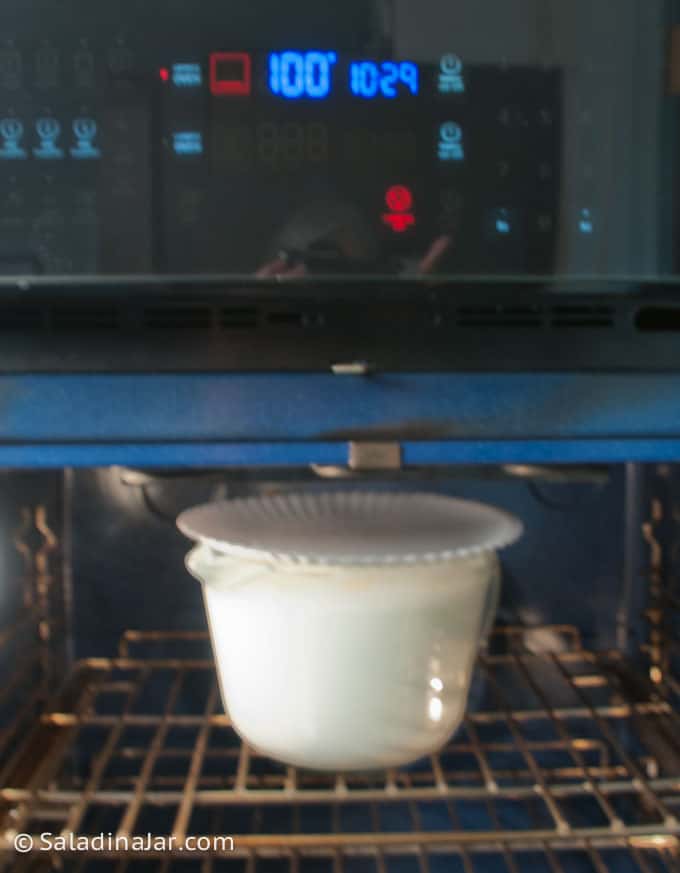 CAUTION: This step is where many people go off the rails. The little yogurt bodies will die if your incubation system gets too hot. But, on the other hand, nothing will happen if the milk doesn't stay warm enough.
Either way, the result will be milk, not yogurt. If that happens, find out what to do with failed yogurt here.
1. What is the best way to incubate yogurt?
Short answer: Whatever will hold your milk at a steady 100-110˚F.
Long answer: The possibilities depend on how your kitchen is set up, the equipment you already own, and how much milk you are trying to incubate at once.
See this post about the varied and creative ways my readers incubate their yogurt. Ideas include:
Set your oven on the "dehydrate" or "bread proof" setting
Wrap the warm milk in a blanket and put it inside an ice chest
Run your oven at 350˚F for 1 minute, then turn it off. Wrap warm milk in a towel and put it inside the oven.
For smaller amounts, some people use a thermos.
Use your instant pot on the yogurt setting (see the manual–instructions vary)
Wrap your milk in a towel and set it on a heating pad.
Buy an electric bread-proofing box (paid link).
Find a warm place in your house, such as the top of the water heater.
HOT TIP: When trying a new method, check the temperature periodically to ensure it is neither too cool nor too warm. Set a cup of water next to the milk and check the water, not the milk.
2. How long does yogurt need to incubate?
It depends…(Don't you hate that answer?)
3. What is the best temperature for incubation?
100-110˚F is optimal. A half-gallon of milk with a fresh and vigorous starter will be set within 4-1/2 to 6 hours. The yogurt will taste mild. Incubate longer for a tarter flavor.
The hotter the temp, the quicker your yogurt will set, and the tarter your yogurt will taste.
Note that temperatures closer to 115˚F have a downside:

The higher the incubation temperature, the more likely a "skin" will form across the top.
You may see excessive whey on top. Strain it off if you don't want to stir it back in. (See directions below.)
Go much higher than 115˚F, and the little yogurt bodies will die.
---
Step 6: When the yogurt sets, remove it from incubation.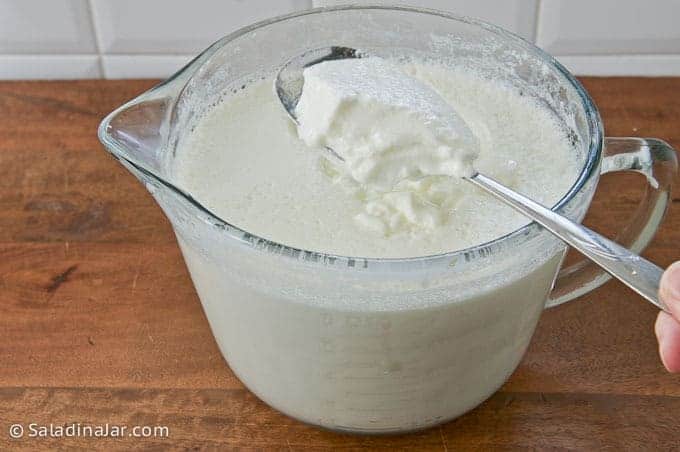 1. How can I tell if the yogurt is set?
Good question, and for some, the hardest part of the entire process. You will learn from experience when it "looks right."
Finished yogurt should look set — like jello. If you take a spoonful out of the middle, it should stand on its own.
2. What is the watery liquid I see on top?
There may be a watery and yellowish liquid on top called "whey." That's normal. Pour off the whey or stir it back in–your choice.
If you pour it off and want to save it, here are some ideas for what to do with fresh yogurt whey.
---
Step 7: Chill yogurt or strain it for thicker Greek yogurt.
At this point, you could chill the plain yogurt for 2-3 hours, then eat it. Or, you can make it thicker (Greek yogurt) by straining it.
---
---
How to make Greek-style yogurt from regular yogurt: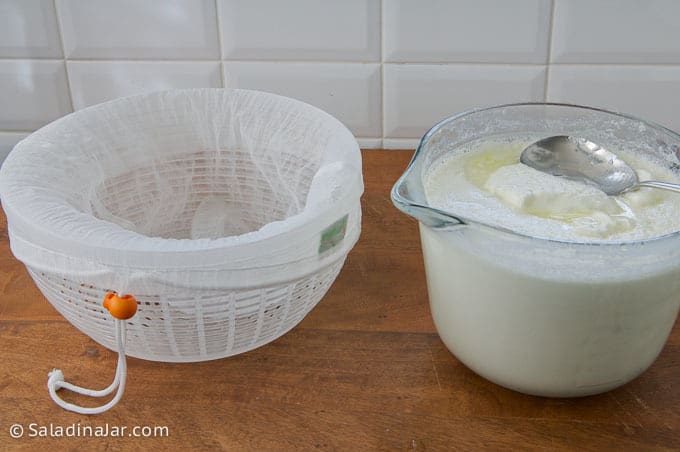 📌Kitchen Tip📌: The plastic bowl inside a salad spinner works great as a colander. It will hold up to a gallon of milk.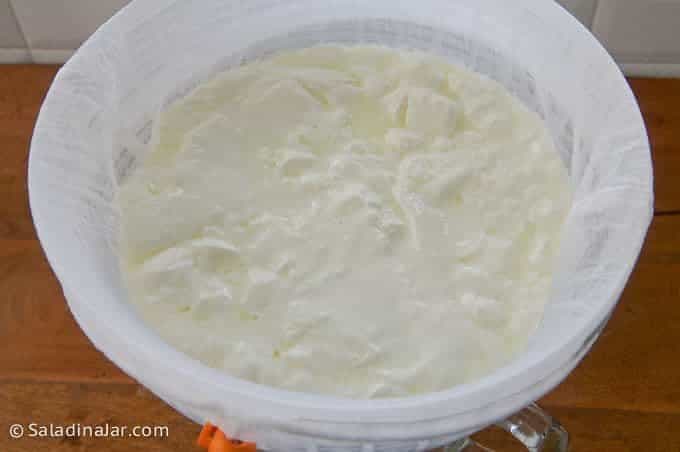 ---
Step 2: Let the yogurt drain until it is as thick as you want.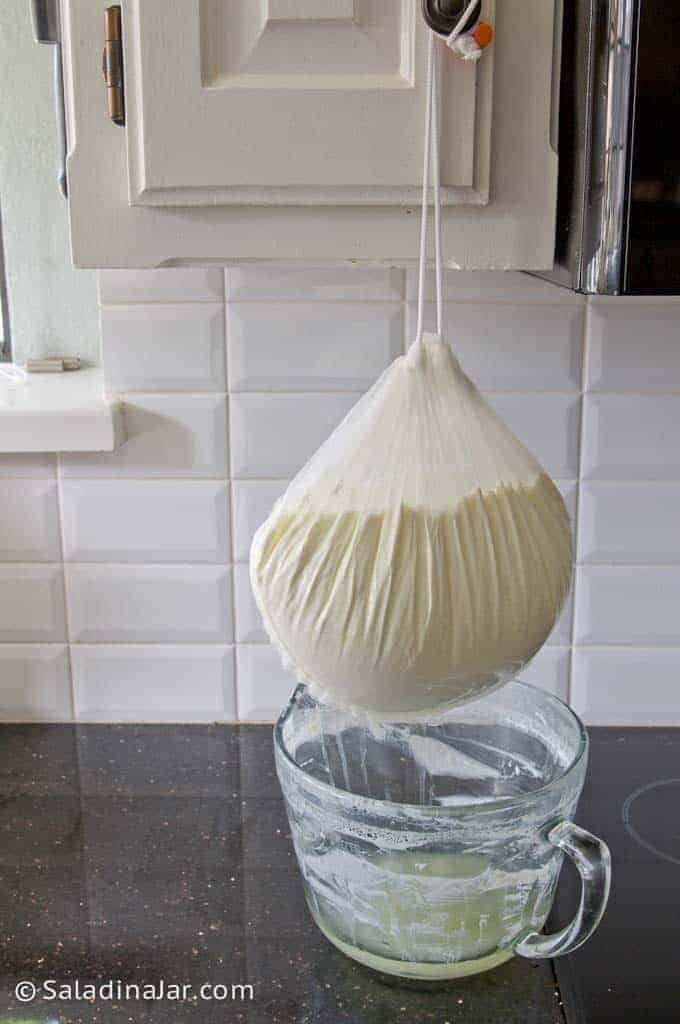 The time required to make Greek yogurt will vary according to your straining method and how thick you prefer your yogurt. The longer you strain, the thicker the yogurt.
If the yogurt is not properly fermented, it will be difficult to strain. When too thin, yogurt immediately runs through the cheesecloth or a pouch. When using a coffee filter, it may just sit there. Read this post about when yogurt fails for what to do next.
Should I refrigerate Greek yogurt while I'm straining it?
Some say the yogurt should sit in a refrigerator while it is straining. But who has room in their refrigerator for that?
Another 2-3 hours sitting on the counter won't hurt your yogurt (or you). The acidic nature of yogurt protects against spoilage.
---
Step 3: What should I do with the whey?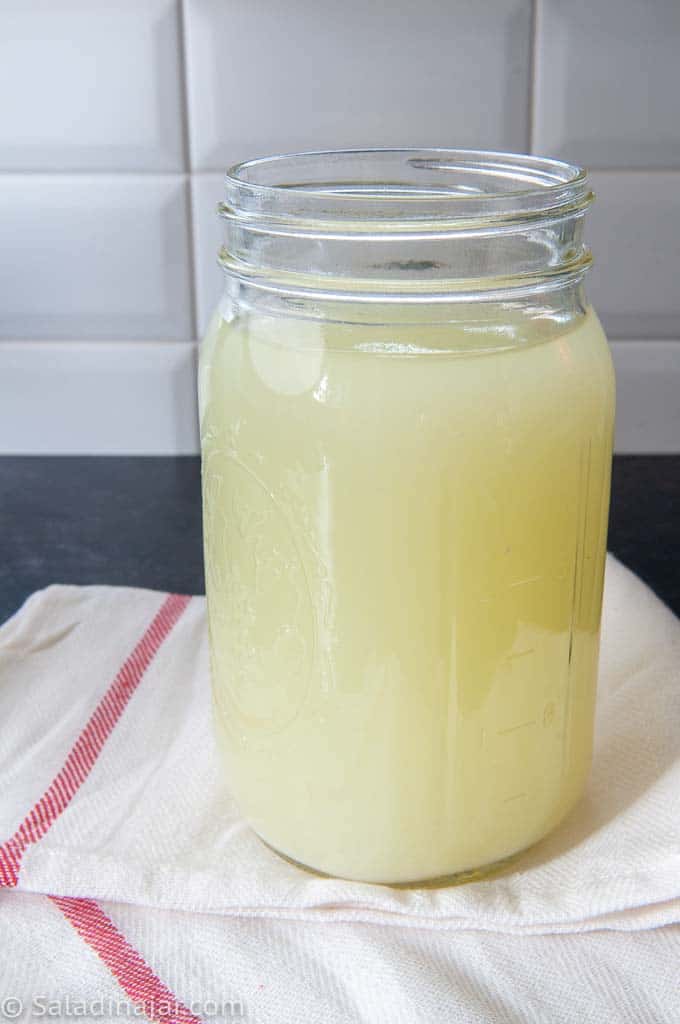 ---
Step 4: If desired, whisk Greek yogurt until creamy and smooth.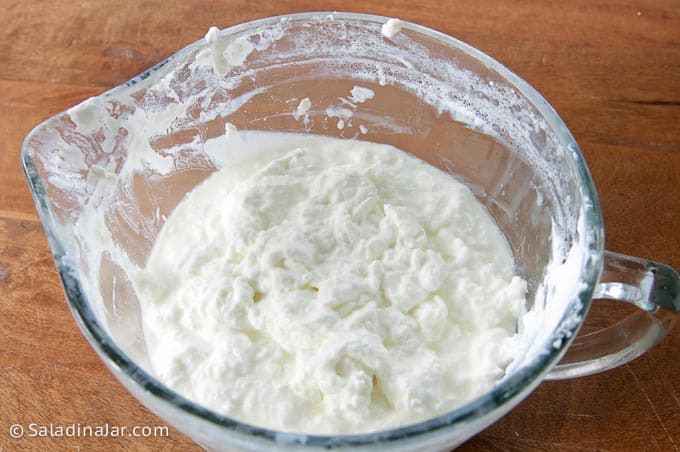 When chilled, the texture should feel smooth on your tongue. If it doesn't, see the troubleshooting guide below.
---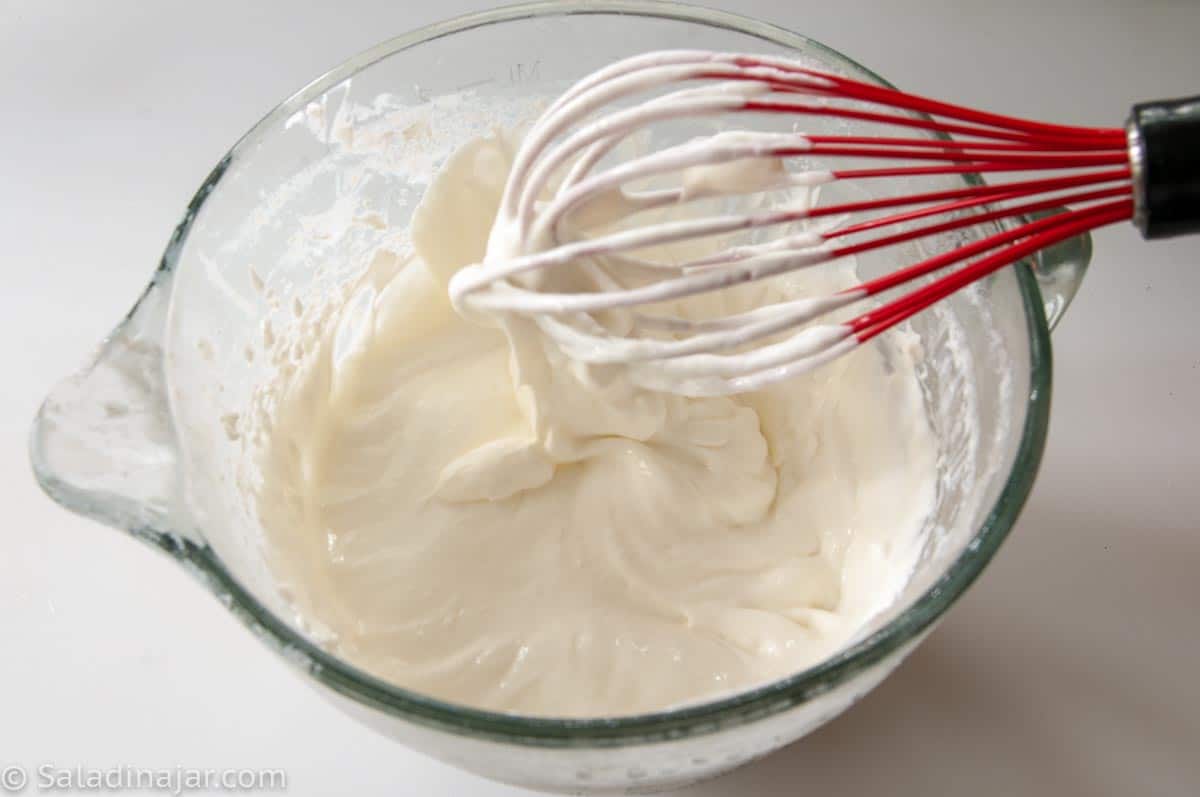 Step 5: Add flavoring.
Note: Before adding flavoring, save a small portion of unflavored yogurt to use as a starter for your next batch.
Now is the time to add fresh berries, fruit, flavorings, or sweeteners such as sugar, maple syrup, honey, or Splenda. The yogurt may appear thinner than you hoped at this point. Forge on. It will thicken up when chilled.
---
FAQ about making yogurt:
Why didn't my yogurt set?
The most common cause relates to incubation. The yogurt will not be set correctly if the temperature is not constant 100-110˚F for several hours.

Another cause is the starter. It should be fresh (made within the last 7-10 days), without additives or flavorings.
Why does my yogurt look lumpy?
It's normal for yogurt to look like cottage cheese once you "break" the surface. However, if it is extreme, you may have used too much starter.

Only a generous tablespoon or two per 2 quarts of milk is necessary. More is not better. Yogurt bacteria dislike being overcrowded. Read this post if you're confused about how much starter you really need.

Another cause is letting the milk incubate too long. A fresh yogurt starter (in a perfect environment) can transform warm milk into yogurt within 4-6 hours.
How can I make my yogurt creamy?
Whisk it vigorously. When making Greek yogurt, whisk it after you have strained it.

Do this by hand or use a wire attachment with a stand mixer. Some immersion blenders and portable mixers come with wire whisks that work great. Don't use a blender or food processor as they are too rough on the yogurt and will cause it to thin out, even after it's chilled.
Why is my yogurt grainy?
Was the milk heated too quickly? Also, using a yogurt starter with additives can cause graininess. Read more about grainy yogurt here.
What are the little bits of "skin" I feel on my tongue when eating yogurt?
You may have missed some skin attached to the side of the bowl as the milk was cooling.

I've tried several methods to prevent skin from forming. None work without a lot of stirring.

If the possibility bothers you, check out the cold-start method for making yogurt.
How long does homemade yogurt stay fresh?
Unflavored yogurt without additives should last at least two weeks. The freshness window may be smaller if you add fruit or other flavorings.
How can I tell if my homemade yogurt is still good to eat?
1) Smell it. If it seems off, throw it out.
2) Examine the yogurt carefully for mold. Pink mold can be hard to see, so look carefully. Black, green, or gray mold is easy to spot. Throw it out.

Don't throw it out if your milk doesn't make yogurt. Instead, see this post for what to do with a failed batch of yogurt.
---
Parting thoughts: Does this whole process seem too complicated? Anytime you work with living organisms when making food like bread or yogurt, those yeasty bodies depend on you to throw the perfect party so they can have fun. If you still have questions, check this post for questions about making yogurt.
It takes a few tries to determine what those yeasty bodies prefer, especially in your kitchen. Keep trying. I guarantee that creamy and delicious yogurt is within your reach. I'll help you.
---
If you have questions or suggestions, email me privately for a quick answer: Paula at saladinajar.com. Hope to see you again soon!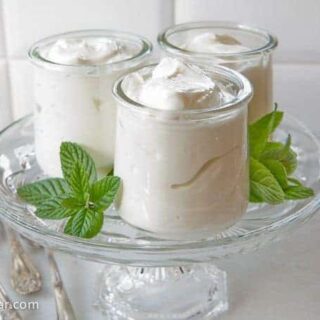 How To Make Healthy Greek Yogurt
A guide to making your own Greek yogurt at home using fat-free, 1%, 2%, or whole milk.
Share recipe love here. ⬇
Ingredients
2

quarts

(

1893

g

)

milk

–

fat-free, 2% or whole milk

2

tablespoons

yogurt

–

commercial or your own homemade for starter
Instructions
Fill a Pyrex 2-qt microwave-safe bowl or pitcher with

2 quarts

(

1893

g

) milk. Alternatively, pour milk into a heavy-duty pot to heat on the stove.

Heat milk in the microwave until bubbles begin to appear around the edge. The temperature should reach 170-180˚F after you stir it. (In my new microwave, it takes 25 minutes on 70% power). Monitor the temperature closely until you figure out the best time and power for our microwave.

If you prefer thicker yogurt, an optional step is to hold the temperature at 180˚F for 15-20 minutes. (I do this in my microwave for 15 minutes on 20% power.)

Remove the milk from the heat source and stir it. If a skin has formed, remove it.

Allow your milk to cool until the temperature drops to between 100-110˚F. Use an ice water bath to hasten the process, if desired.

Add a small amount of cooled milk to

2 tablespoons

yogurt as a starter. (You may use yogurt from a previous batch of your homemade yogurt.) Whisk until the starter is smooth.

Cover the milk and place it in a warm environment where the temperature stays around 100-105˚F.

Allow the inoculated milk to incubate for 4-8+ hours or until set like gelatin.

At this point, you could chill the yogurt and eat it as is. Or you can decide whether to pour off the whey or stir it back in. Straining yogurt to make it thicker will result in Greek yogurt.
Making Greek Yogurt from Regular Yogurt
Very carefully pour yogurt into a wet bouillon strainer or chinois. If the mesh is fine enough, you won't need to use a cheesecloth or paper towel. Or use a double layer of commercial-size paper coffee filters inside a cheap colander. (This is my current favorite method of straining.)

Let yogurt sit in the strainer until the yogurt is reduced by approximately a third. Time will vary according to the thickness of the yogurt out of the oven and your preference regarding texture and sourness.

Empty whey from the batter bowl and pour yogurt from the strainer back into the original bowl. Use a good whisk to beat until smooth. Thin with milk or leftover whey if yogurt is too thick.

Now is the best time to add flavorings or sweeteners, if desired. Otherwise, add extras before you are ready to eat.

Chill. This will stay fresh in the refrigerator for at least two weeks.
Notes
Nutritionals are only an estimate. Numbers will vary according to how much you strain your yogurt and the type of milk you use.
Nutrition
Serving:
1
|
Calories:
121
kcal
|
Carbohydrates:
12
g
|
Protein:
8
g
|
Fat:
5
g
|
Saturated Fat:
3
g
|
Polyunsaturated Fat:
1
g
|
Monounsaturated Fat:
1
g
|
Trans Fat:
1
g
|
Cholesterol:
20
mg
|
Sodium:
113
mg
|
Potassium:
339
mg
|
Sugar:
12
g
|
Vitamin A:
246
IU
|
Vitamin C:
1
mg
|
Calcium:
290
mg
|
Iron:
1
mg
HELP OTHERS find this recipe. Leave a 5 🌟🌟🌟🌟🌟 rating at the top of the recipe card if you enjoyed it. No comment is required.