Preview: Mix this Bread Machine Cinnamon-Raisin Bread in your bread machine, then roll it out by hand to get that classic swirl. Bake it in your oven for a superior crust. The secret ingredient? A pinch of ground cloves in the filling accentuates the cinnamon flavor.
Am I the only person who likes to unroll, separate the layers, or otherwise dissect my food as I eat it? This raisin bread begs to be unrolled so you can appreciate all the cinnamon-y layers as you smell and taste them.
In case you're wondering how you can swirl your bread in a bread machine, I will show you two ways. My favorite is to remove the dough after the DOUGH cycle, shape it by hand, and bake it in your oven. That's how you get the best crust (see how thin it is in the picture) with even browning and an even texture throughout the bread.
You can also interrupt the regular bread cycle to pull the dough out and shape it. Keep reading for more details.
This bread was baked in a covered Pullman pan. It's perfect for this recipe to keep the swirls under control. Compare the picture above with one further down in this post where I used a regular loaf pan. The swirls aren't nearly as pretty.
No worries if you don't have a bread machine. Use a stand mixer or mix this bread by hand. See the recipe notes for details.
It goes without saying that you aren't going to get cinnamon-raisin bread that looks like the one above if you bake your loaf inside a bread maker. That's why I almost always mix the dough in a bread machine and bake it in my oven.
Ingredients and substitutions:
MILK: Use any kind of milk you have. But remember the more fat in your milk, the richer and more delicious your bread. That's a general principle for all bread recipes.

EGGS: All bread recipes on this website are made with large-sized eggs. If you use a different size, adjust the liquid accordingly.

BUTTER: I tested the recipe with unsalted butter. If you use salted, decrease the amount of salt slightly.

SUGAR: Use granulated sugar. If you want to substitute honey, use a little bit less as honey is sweeter than sugar.

SALT: Use table salt or sea salt. If you use Kosher salt, increase the amount by at least 1/4 teaspoon.

CINNAMON: Be sure it's fresh! It makes a big difference.

CLOVES: If you like secret ingredients, this is for you. A pinch of ground cloves is what makes this bread memorable. Cloves punch up the flavor of cinnamon just like instant espresso intensifies chocolate or chocolate enhances chili. BTW, this ingredient is optional. If you don't have it–no sweat!

FLOUR: Bread flour is my favorite for this loaf. The higher protein helps the enriched dough to rise better, imparts more chewiness, and makes a loaf sturdy enough for toast. If you need to substitute all-purpose flour, you may need to decrease the liquid slightly.

Be sure to open the lid and check your dough as it kneads to see if it needs an adjustment in flour or liquid. This is the most important secret to making good bread with a bread machine.

YEAST: I don't buy anything but instant or bread machine yeast. If all you have is active dry yeast, see the notes in the recipe for more information.

RAISINS: Leave them out if you're not a raisin lover or get creative with substitutions. Try other dried fruit such as currants, dried cranberries, dried cherries, or chopped dates. (See the FAQ below for suggestions on the best way to add fruit and nuts to your bread dough.)

Walnuts and pecans are additional options. I recommend you toast nuts in the microwave before adding them to your bread for maximum flavor.

If you love bread with fruit and nuts in it, check out these recipes also on this website: Cranberry and Lemon Rolls. Golden Egg Bread with Dried Fruit, Soft Rum Buns with Raisins, and Sweet Bread Machine Banana Whole Wheat Bread
---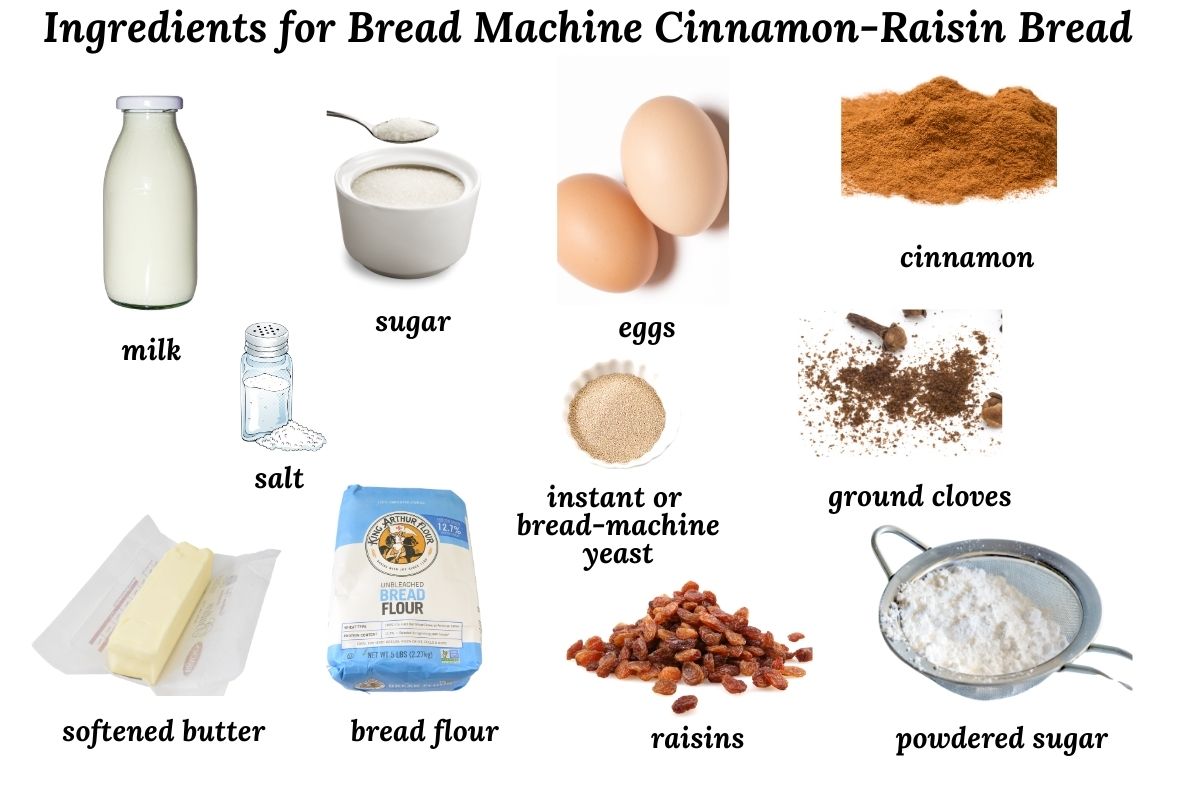 ---
A word about the filling:
Most recipes call for white sugar or brown sugar along with cinnamon for the filling. The problem is the layers. They want to pull apart as they bake. See the old picture below using a different recipe.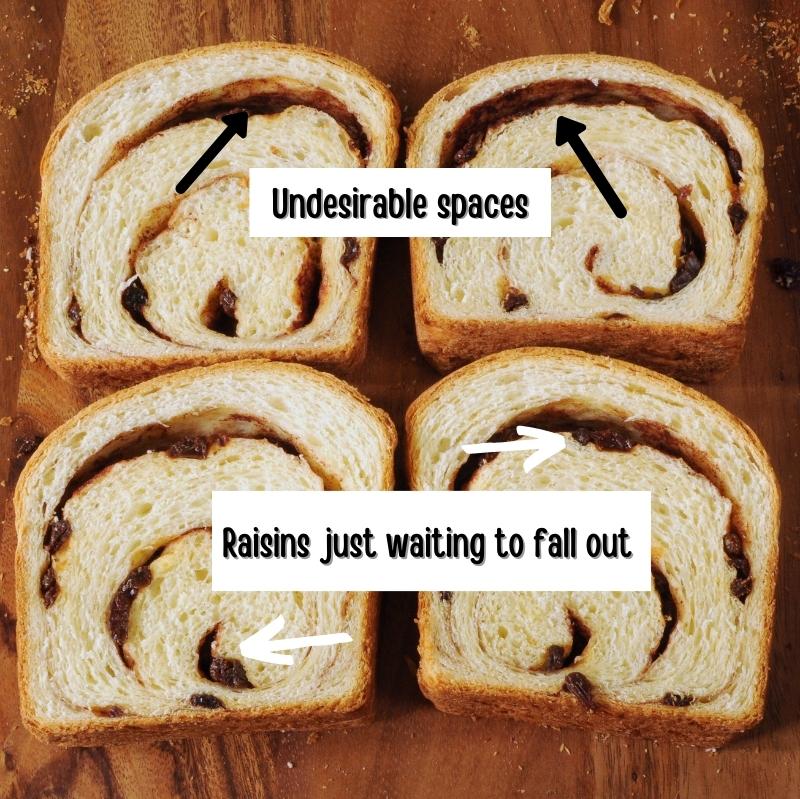 Thanks to Jennifer at Once Upon a Chef who gave me the idea to use powdered sugar in the filling instead of regular sugar or brown sugar. The cornstarch in the sugar "glues" the layers together. Using a covered Pullman pan also helps to keep the cinnamon swirls from separating.
Can I make this bread from beginning to end in a bread machine?
The answer is yes. I can think of at least two approaches:
If you don't care about the cinnamon swirl, follow the directions in the recipe except you should choose the REGULAR cycle instead of the DOUGH cycle. Forget about the filling and glaze. You can expect the crust to be thicker than when you bake it in your oven. The color may be lighter on top than the sides and bottom.

With this method, you can do the cinnamon swirl, but it requires some hands-on time. Minimize the holes caused by the paddles by pulling the dough out of the bread machine just before the last rise (check your manual). Remove the paddles.

Quickly shape the dough into a large rectangle as seen in the how-to pictures below. Sprinkle with the cinnamon-sugar mixture and roll it up. Pinch the seams shut and turn the ends toward the seams. Drop the dough back into the pan with the seam side down. Make sure the dough is distributed evenly in the pan. If you do this quickly, you don't need to stop the machine.
FAQ about Bread Machine Cinnamon-Raisin Bread:
Why did my bread split on the side as it baked?
Two possible reasons:
1. When rolling the dough after applying the sugar-cinnamon mixture, be careful not to stretch the dough before pinching the edges shut.
2. The pan you used was too small.
---
---
How to assemble Cinnamon-Raisin Bread after the DOUGH cycle finishes:
Please note: These pictures were taken using dough without raisins (so my grandkids would eat it).
If you enjoyed this recipe, it would help others and me if you gave it a five-star rating inside the recipe card below. 🤩 No comment required. Thank you.

Hope to see you again soon!
Paula
p.s. Questions or suggestions? Please email me: Paula at saladinajar.com.