A Bread Machine French Bread Recipe You Can Trust Every Time
Sneak Preview: Mix and knead this crusty bread machine French bread recipe in a bread maker for superior texture. Bake the dough in your oven for the best crust. This is an excellent recipe for beginners.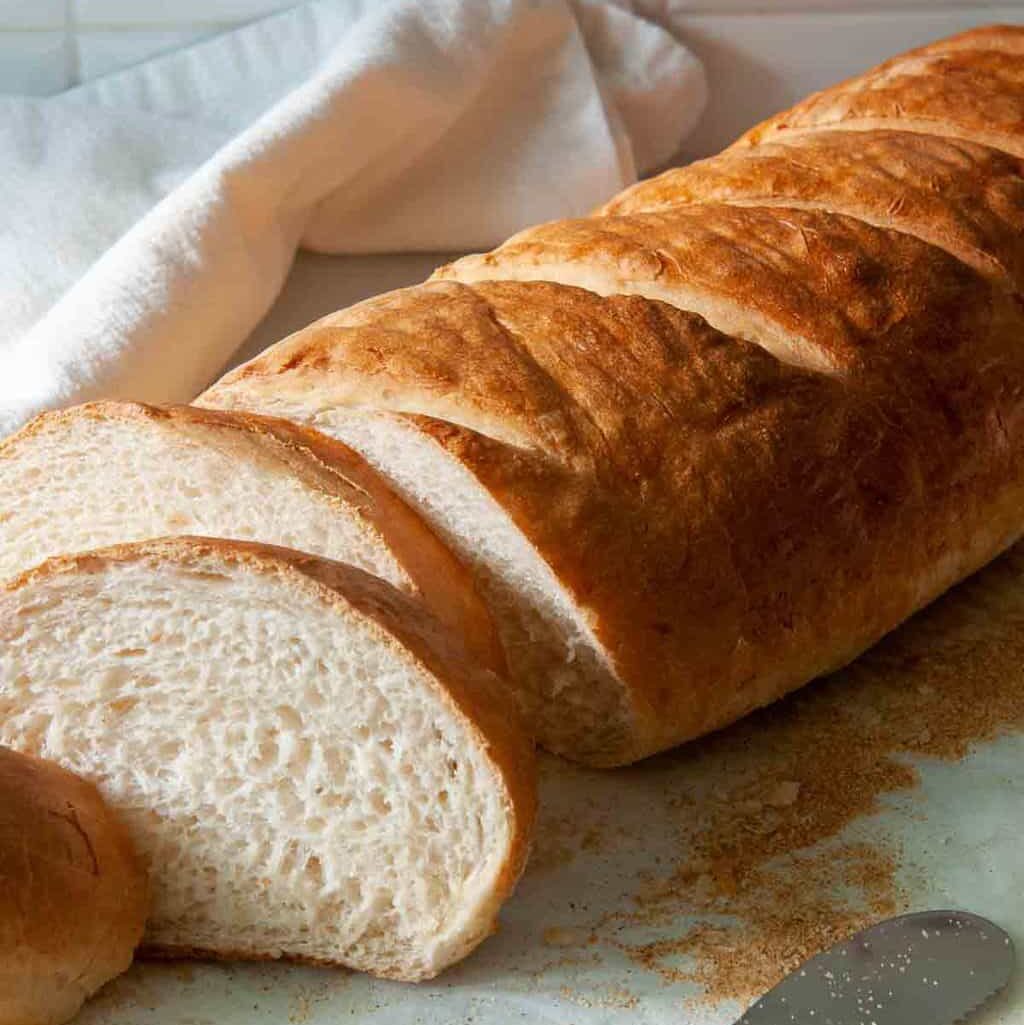 As an Amazon Associate, I earn from qualifying purchases.
Have you ever given somebody a recipe, and when they turn around and make it for you, you don't recognize it?
That's what happened with this Crusty French Bread recipe. First, I shared it with my young daughter-in-law, Amanda. Later, she baked this bread and brought it to a family party.
Here's the crazy part.
I asked HER for the recipe thinking it was better than mine. How did that happen? Now she is famous in our family for this Crusty French bread.
This recipe will build your confidence if you are a beginning bread baker.
No bread machine? No worries. See alternate directions for using a stand mixer or making by hand in the recipe notes.
Do you have a mini bread maker that only makes a 1-lb loaf? Check the FAQs for a version developed for you.
---
What you can expect:
When first removed from the oven, this bread has a soft, compact crumb with a crispy crust. It is NOT a chewy kind of artisan bread with big holes.
Nope! Nothing too sophisticated. Just a fresher loaf of bread. Slice it for eating out of hand, smear it with garlic butter to go with pasta, or make sandwiches (see below).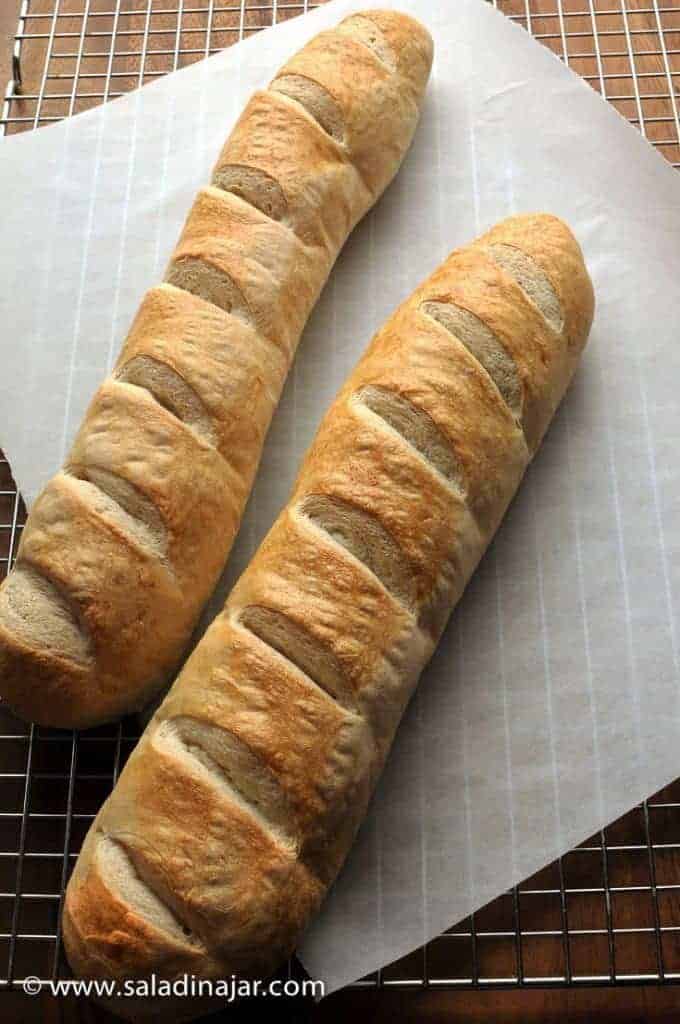 ---
Making bread in a bread maker with the DOUGH cycle:
If you are new to this website, you may be surprised that this beautiful bread comes from a bread machine. I rarely use my bread machine for baking bread because I don't like cardboard crusts, dense bread, or ugly bread.
Use the DOUGH cycle to mix and knead bread because it's the best kneading machine in town with a timer. When the DOUGH cycle ends and the dough has doubled in size, remove it and shape it by hand for a gorgeous texture and incredible crust.
After the second rise on your counter, bake the bread in a conventional oven for homemade bread you'll be excited to eat and proud to share.
Follow this link for many more tips and secrets about using a bread machine in this unique way. If you don't have much time, at least read this post about a secret you MUST know to use a bread machine successfully, no matter which recipe you use.
---
Ingredients and substitutions:
FLOUR: Bread flour is my preference. It will give you the best rise. My second choice is King Arthur's Unbleached All-Purpose Flour because of its higher protein content. Please weigh your flour. Measuring with cups often leads to dense loaves.

This recipe is not written for whole wheat or specialty flour. Reckless substitutions can be unpredictable.

WATER: Some people prefer spring water. I use tap or filtered water that I let sit on the counter for 24 hours to allow the chlorine to evaporate. Water straight out of the tap will work for most people. There is no need to warm the water; the friction caused by the paddles will heat the dough ingredients quickly.

My yogurt-making friends may want to use the whey you drain off yogurt when making Greek yogurt. (This is not the same as protein whey.)

BUTTER: If you don't have butter, use a butter substitute or vegetable oil. Instead of warming butter, chop it finely, and the kneading process will quickly cause the butter to melt and combine with the other dough ingredients.

YEAST: Dissolving instant or bread machine yeast (same thing) is unnecessary. I use instant yeast in all my bread machine recipes.

You can now substitute active dry yeast without dissolving it first. Be aware it may be a little slower on the uptake. Allow more time for rising.

SALT: Use table or sea salt. If you substitute Kosher salt, add an extra 1/4 teaspoon.

Please don't leave out the salt. It makes all the difference in the way your bread behaves and tastes. Check out this recipe if you need salt-free bread.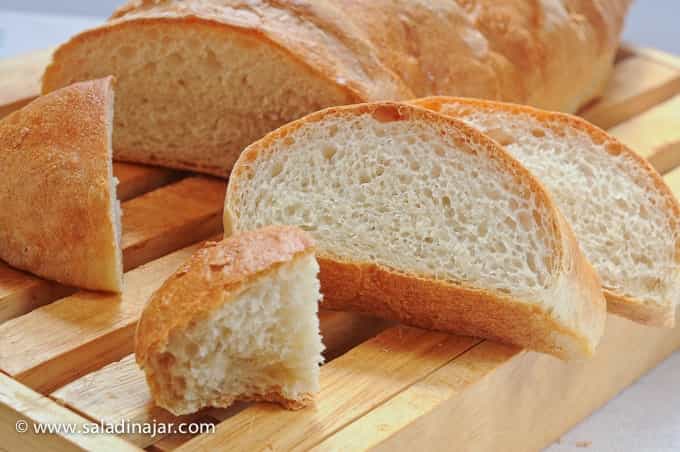 ---
How to shape a loaf of French bread:
Follow me. Start at the left top picture. If you aren't happy with the shape on the first try, roll the dough in a ball and start over. Nobody will ever know. If you prefer, I have included a video showing this process.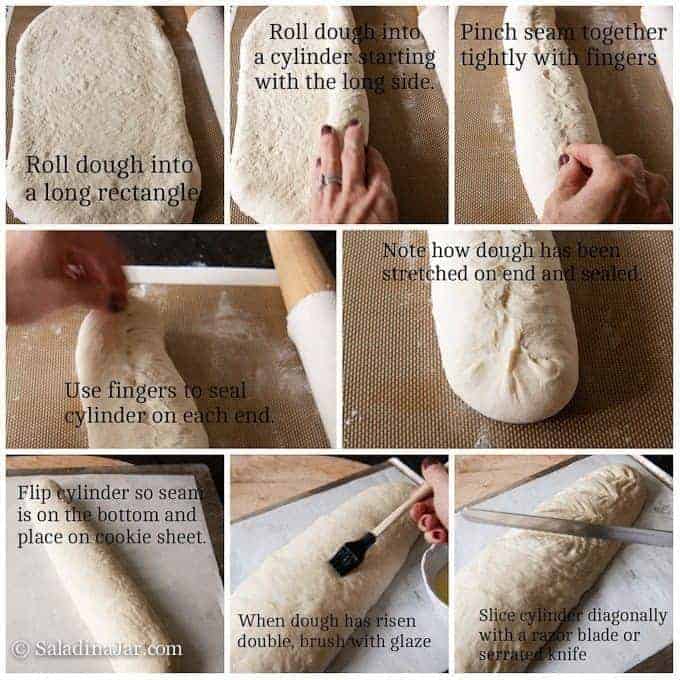 If you have trouble shaping the dough because it is too bouncy, treat it like a child having a tantrum. Walk away and wait for the gluten to relax. After 15-30 minutes, you can "talk" to the dough, and it should listen. (Don't forget to cover the dough while it's relaxing.)
---
FAQ
How can I make the crust even crustier?

1. Spray the inside of your oven with water (don't spray the light) using a spray bottle when you first put your loaf into the oven.
2. Set a pan of boiling water on the bottom shelf of your oven while the bread is cooking.
How can I keep the bread from sticking to the tray when baking it?
1. Cover your baking sheet with parchment paper or a silicone baking sheet.
2. Spray the sheet with a product like Baker's Joy that combines flour and oil.
3. Sprinkle cornmeal or semolina flour on your baking sheet to make it non-stick.

Be careful when glazing the loaf not to let it drip onto the baking sheet. It may glue your loaf to the baking sheet if you haven't covered it as described above.
Can I use this recipe in a one-pound mini-bread machine?
Here is a 1-pound version of the recipe: 2/3 cup water, 1 teaspoon butter, 1 teaspoon sugar, 1 teaspoon salt, 2 cups bread flour, and 2/3 teaspoon of instant yeast. Follow the directions given in the recipe below.
Our favorite sandwich using this bread:
Amanda recently made this bread for my mom's birthday party. We used it for beef au jus.
My other daughter-in-law, Susie, introduced me to McCormick's Au Jus Gravy mix. It's a touch salty, but I forgive.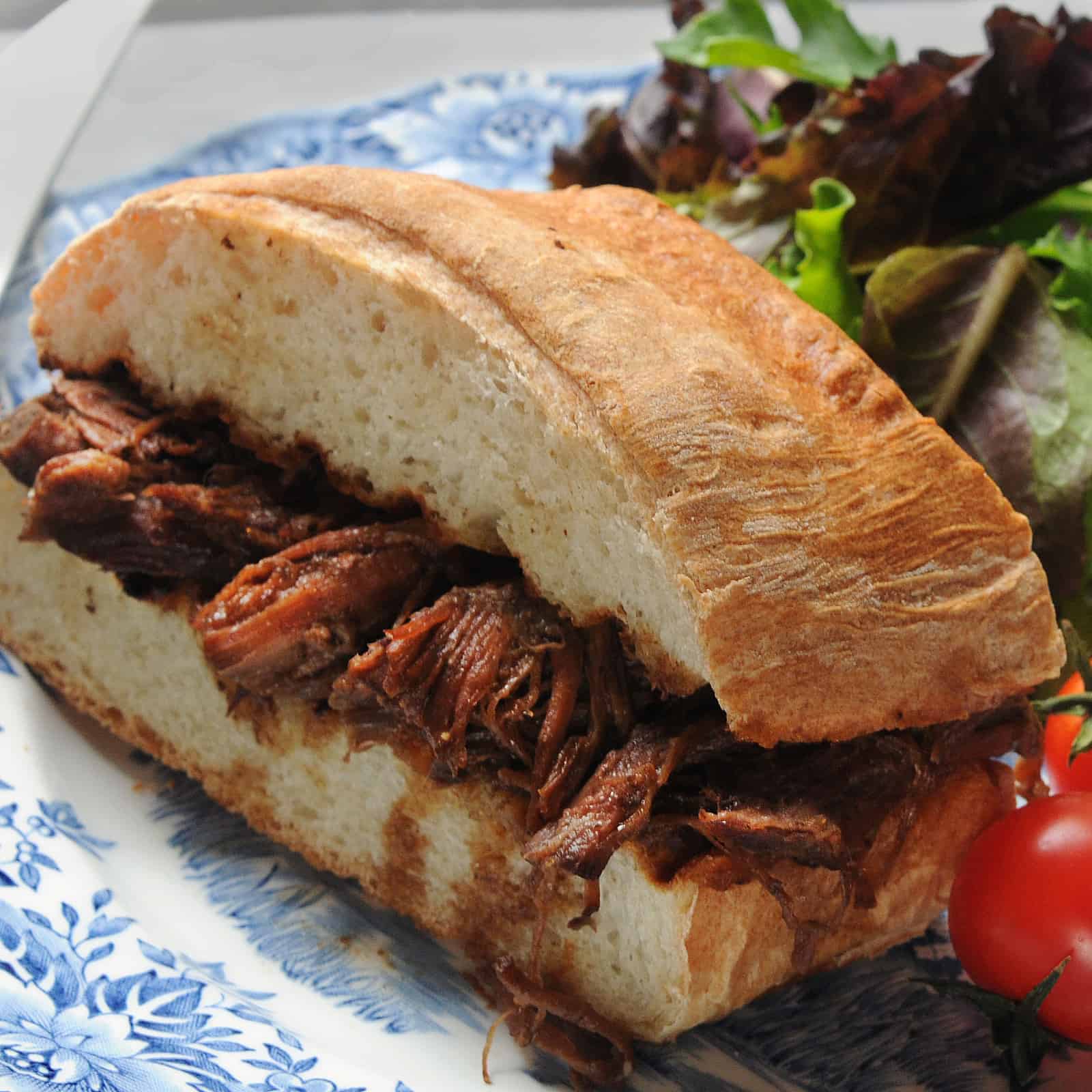 Place the browned beef roast in a slow cooker. Pour seasoning mixed with water (according to the package) over the meat. Cook it on high for 5 hours or low for 8-9 hours. The result will be perfectly seasoned broth and fork-tender shreds of beef. Serve with this recipe for Crusty Bread Machine French Bread.
More Bread-Maker Tips, Tricks, and Recipes
Testimonials
"I've made this several times since I can't find much bread in the grocery stores right now. It's delicious. I've got one rising now so that I can make us some french bread pizzas tonight. I'll be making this instead of buying bread even when the stores are stocked again. It's so easy to make too. So happy I found this recipe."

Jen
"This has become my go-to french bread recipe. Comes out perfect every time and so simple!"

Andrea
"I have made this a few times now and am IN LOVE! I've tried to make it whole wheat, and it's possible, but not nearly as good! I think this is a recipe that simply needs to be left alone. It's AWESOME exactly as it is."

Steph
Parting Thoughts: If this is your first recipe to make on my website, I hope it turns out well for you. Breadmaking can be a satisfying experience when everything works. However, practice helps, especially with bread.
Remember, bread machines don't have a brain! That's why they need your help to make fabulous bread.— Paula
If you like this bread, jump over to my Cuban Bread recipe. They are similar.
This recipe was adapted from "One Hundred Years of Bread" by Sidney Brockman Carlisle.
---
Recipe Help at Your Fingertips: For questions or suggestions, email Paula at saladinajar.com. If you need help, I'm happy to troubleshoot via email (faster than leaving a comment). Attach pictures and as many details as possible for the best advice.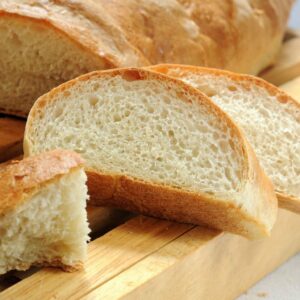 A Crusty Bread Machine French Bread
This recipe is for a simple, crusty French bread you can mix up in your bread machine and bake in the oven for the freshest bread ever. Ingredients include flour, sugar, butter, and yeast.
Share recipe love here. ⬇
Ingredients
1

cup

(

227

g

)

water

1-1/2

teaspoons

(

8

g

)

sugar

1-1/2

teaspoons

(

9

g

)

salt

1-1/2

teaspoons

(

7

g

)

butter (chopped)

3

cups

(

360

g

)

unbleached bread flour

1

teaspoon

(

3

g

)

instant or bread machine yeast
Glaze:
1

egg white

1

teaspoon

(

5

g

)

water
Instructions
Making the dough:
Place all of the dough ingredients

1 cup

(

227

g

) water,

1-1/2 teaspoons

(

8

g

) sugar,

1-1/2 teaspoons

(

9

g

) salt,

1-1/2 teaspoons

(

7

g

) butter (chopped),

3 cups

(

360

g

) unbleached bread flour,

1 teaspoon

(

3

g

) instant or bread machine yeast into a bread machine pan in the order listed. Select the DOUGH cycle and press START.

Check the dough at least twice during the mixing and kneading phase by lifting the lid to take a peek. The first time, look immediately after the machine starts mixing to ensure the paddles are engaged correctly.

Look again 15 minutes into the DOUGH cycle to assess the consistency of the dough. For most recipes, the dough should stick to the side, then pull away cleanly.

If your dough is too wet, add flour one tablespoon at a time.

Conversely, if the dough is too dry, add one tablespoon of liquid at a time until the dough looks just right. Read more about this surprising secret to success with a bread machine here.

When the DOUGH cycle completes, if the dough has doubled in size, go to the next step. If the dough has not doubled in size, leave it in the machine until it doubles before proceeding.
Shaping the dough:
Remove the dough from the pan onto a lightly-floured surface. Push the dough down with your palms to remove the bubbles. Shape into a loose ball. Cover and allow the dough to rest for 15 minutes.

Roll the dough into an oval shape slightly longer than you want your final loaf to be (about 9 x 12 inches is what I do.)

Starting from a long side, roll into a cylinder shape. Pinch seam together. Pinch ends together. Pull ends to reach seams and pinch together with the seam making a small rounded shape on each end. (This is difficult to describe. See the picture above or watch the video if you are confused.)

Flip the loaf over and carefully place it onto a greased baking sheet or one covered with a

silicone baking sheet

or parchment paper. Cover with a tea towel and allow to rise in a warm place until almost double.

Preheat oven to 425˚F (220˚C).

Whisk

1

egg white and

1 teaspoon

(

5

g

) water together for the glaze. Brush it over the loaf.

Using a sharp knife, (I use a serrated knife) or a single-edge razor blade, cut diagonal slashes about 2 inches apart and 1/2 inch deep across the top of the loaf.

Bake the loaf for 20 minutes. Reduce heat to

350

°F

(18˚C) and bake another 5-10 minutes until golden brown. Bread should reach

200

°F

(93˚C) + in the middle when done.

Remove to a cooling rack or slice and eat immediately.
Notes
How to adapt this recipe to a one-pound bread maker:
2/3 cup water (151 gr), 1 teaspoon butter, 1 teaspoon sugar, 1 teaspoon salt, 2 cups bread flour (240 gr), 2/3 teaspoon of instant yeast. Follow the directions given in the recipe.
Directions for making bread with a stand mixer or by hand:
To make this recipe in a heavy-duty stand mixer: Add ingredients to the bowl in the same order. Turn on LOW to mix until all ingredients are moistened. Then, using a dough hook, turn the speed to 2 or 3. Continue beating/kneading until dough becomes smooth and elastic (about 5-10 minutes). Cover and allow to rise in a warm place. Deflate dough gently and shape as indicated in the recipe.
If making by hand: Combine all ingredients into a shaggy ball in a large bowl. Turn dough out onto a floured surface. Knead with your hands until the dough becomes smooth and elastic. Kneading will likely take 10-20 minutes, depending on your experience. Place the dough ball into a greased bowl. Cover and allow to rise until double. Deflate the dough gently and shape as indicated in the recipe.
Please note: If you only have active dry yeast, use 1/4 teaspoon more than called for in the recipe.

It no longer needs to be dissolved first

, but you can if you prefer.
Nutrition
Serving:
1
slice
|
Calories:
120
kcal
|
Carbohydrates:
23
g
|
Protein:
4
g
|
Fat:
1
g
|
Saturated Fat:
1
g
|
Polyunsaturated Fat:
1
g
|
Monounsaturated Fat:
1
g
|
Trans Fat:
1
g
|
Cholesterol:
1
mg
|
Sodium:
104
mg
|
Potassium:
45
mg
|
Fiber:
1
g
|
Sugar:
1
g
|
Vitamin A:
6
IU
|
Vitamin C:
1
mg
|
Calcium:
5
mg
|
Iron:
1
mg
HELP OTHERS find this recipe. Leave a 5 🌟🌟🌟🌟🌟 rating at the top of the recipe card if you enjoyed it. No comment is required.