Preview: Mix and knead this crusty bread machine French Bread recipe in a bread maker for superior texture. Bake the dough in your oven for the best crust. An excellent recipe for beginners!
Have you ever given somebody a recipe and then, when they turn around and make it for you, you don't recognize it?
That's what happened with this Crusty French Bread recipe. I shared it with my daughter-in-law, Amanda. Later, she baked this bread and brought it to a family party.
Here's the crazy part…
I asked HER for the recipe thinking it was better than mine. How did that happen? Now she is famous in our family for this Crusty French bread.
If you are a beginning bread baker, this recipe will build your confidence.
No bread machine? No worries. See alternate directions for using a stand mixer or making by hand in the recipe notes.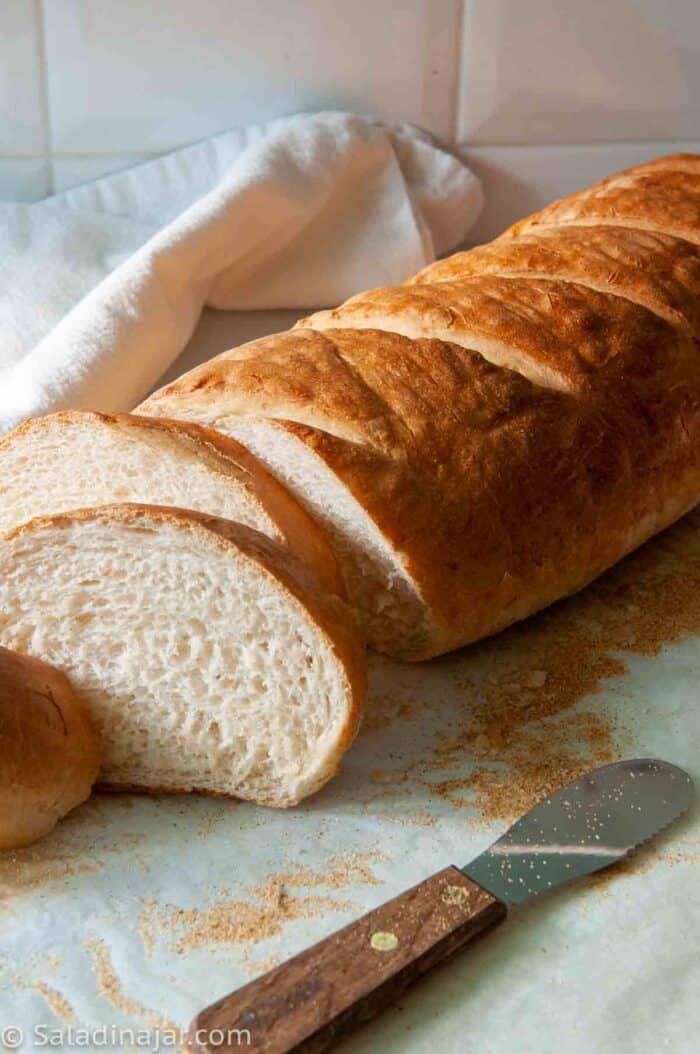 ---
What you can expect:
This bread has a soft, compact crumb with a crispy crust when first removed from the oven. It is NOT a chewy kind of artisan bread with big holes in it.
Nope! Nothing too sophisticated. Just a fresher loaf of bread. Slice it for eating out of hand, smear it with garlic butter to go with pasta, or make sandwiches with it (see below).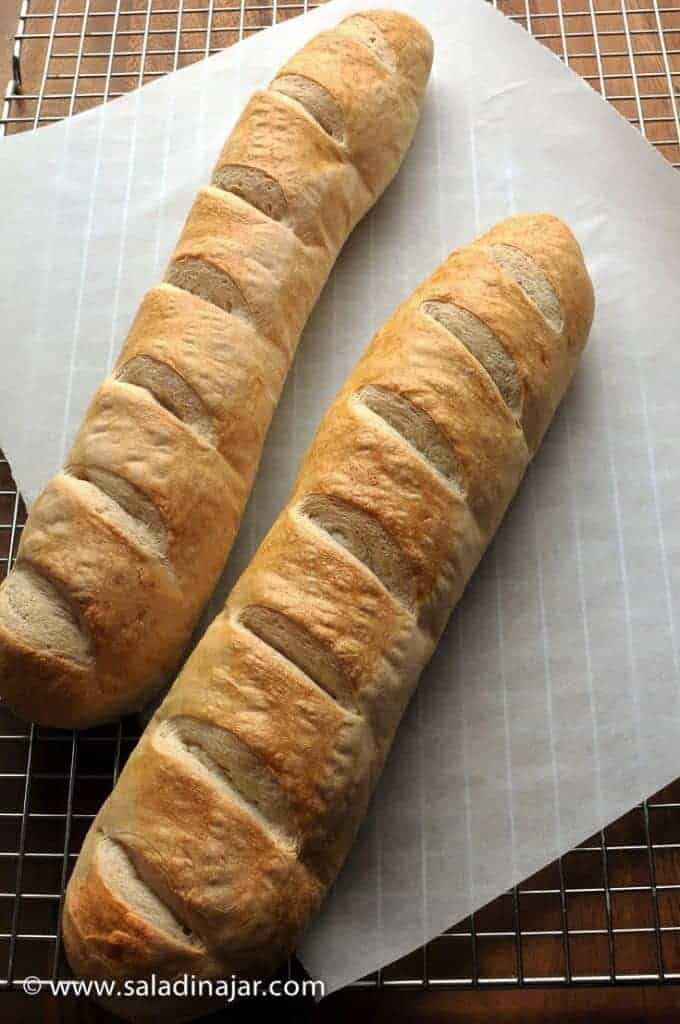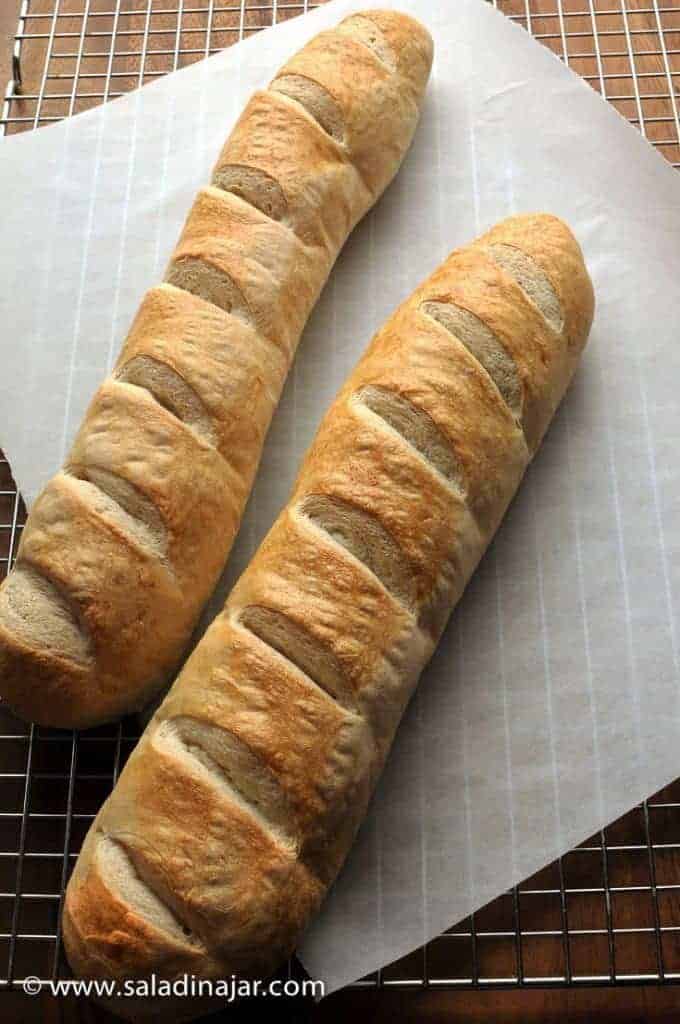 ---
Ingredients and substitutions:
FLOUR: Bread flour is my preference. It will give you the best rise. My second choice is King Arthur's Unbleached All-Purpose Flour because of the higher protein content.

Otherwise, go with any unbleached or bleached white flour you have on hand. It will still make a good loaf. This recipe is not written for whole wheat or a specialty flour. Reckless substitutions can be unpredictable. Proceed with caution.

WATER: I use spring water for all my bread because yeast and chlorine don't play well together. If you don't have any, tap water is fine.

My yogurt-making friends may want to try using the whey you drain off yogurt when making Greek yogurt. (This is not the same as protein whey.)

YEAST: Dissolving instant or bread machine yeast (same thing) is unnecessary. I use it in all my bread-machine recipes.

You can now substitute active dry yeast without dissolving it first. Be aware it may be a little slower on the uptake. Allow more time for rising. Adding an extra 1/4 teaspoon of yeast will help.

SALT: Use table salt or sea salt. If you substitute Kosher salt, add an extra 1/4 teaspoon.

Please don't leave out the salt. It makes all the difference in the way your bread behaves and tastes.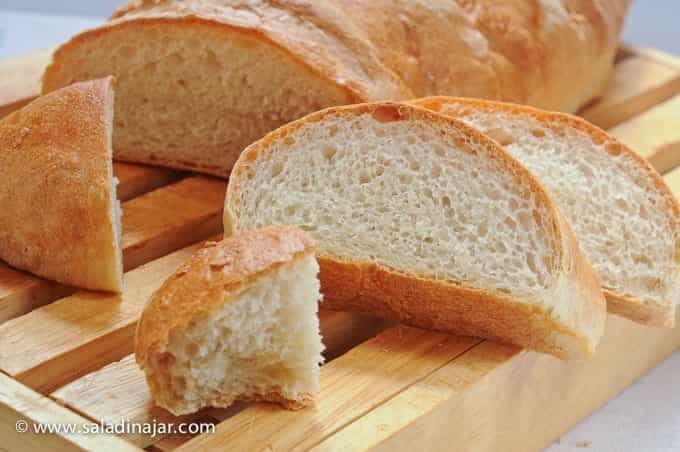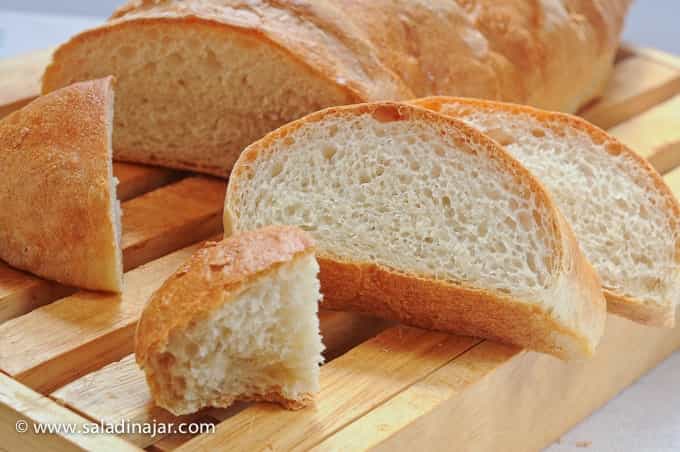 ---
How to shape a loaf of French Bread:
Follow me. Start at the left top picture. If you aren't happy with the shape on the first try, roll the dough in a ball and start over. Nobody will ever know. If you prefer, I have included a video showing this process.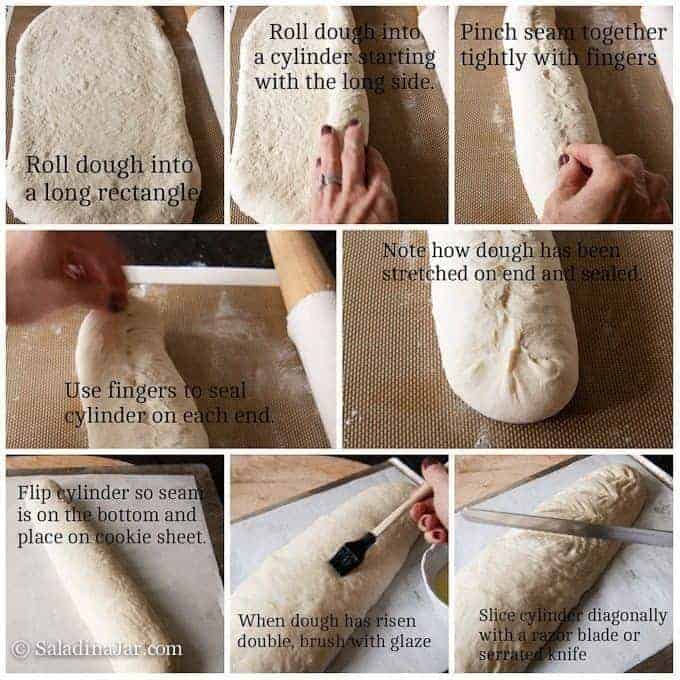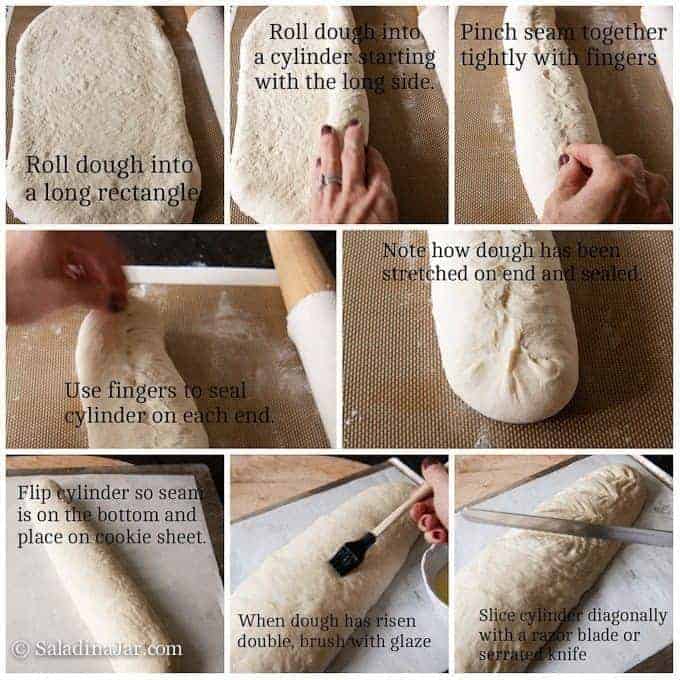 FAQ
How can I make the crust even crustier?

1. Spray the inside of your oven with water using a spray bottle when you first put your loaf into the oven.
2. Set a pan of boiling water on the bottom shelf of your oven while the bread is cooking.
How can I keep the bread from sticking to the tray when I bake it?
1. Cover your baking sheet with parchment paper or a silicone baking sheet.
2. Spray the sheet with a product like Baker's Joy that combines flour and oil.
3. Sprinkle cornmeal or semolina flour on your baking sheet to make it non-stick.

Be careful when you're glazing the loaf not to let it drip onto your baking sheet. It may "glue" your raw loaf to the baking sheet if you haven't covered it as described above.
How can I know for sure that my bread is ready to come out of the oven?
Insert a quick-read thermometer into the middle. The thermometer should read 195-200˚ F. This is my favorite thermometer (paid link) if you don't have one already. Anybody who cooks much will find many uses for this valuable kitchen tool.
---
Our favorite sandwich using this bread:
Amanda recently made this bread for my mom's birthday party. We used it for beef au jus.
My other daughter-in-law, Susie, introduced me to McCormick's Au Jus Gravy mix. It's a touch salty, but I forgive.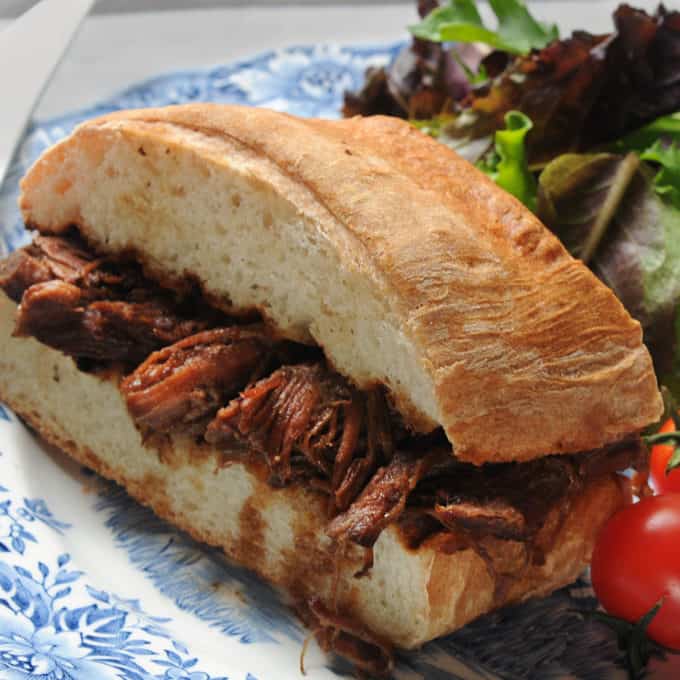 Place the browned beef roast in a slow cooker. Pour seasoning mixed with water (according to the package) over the meat. Cook it on high for 5 hours or low for 8-9 hours. The result will be perfectly seasoned broth and fork-tender shreds of beef. Serve with Crusty Bread Machine French Bread.
---
More Bread-Maker Tips, Tricks, and Recipes
---
Testimonials
"I've made this several times since I can't find much bread in the grocery stores right now. It's delicious. I've got one rising now so that I can make us some french bread pizzas tonight. I'll be making this instead of buying bread even when the stores are stocked again. It's so easy to make too. So happy I found this recipe."

Jen
"This has become my go-to french bread recipe. Comes out perfect every time and so simple!"

Andrea
"I have made this a few times now and am IN LOVE! I've tried to make it whole wheat, and it's possible, but not nearly as good! I think this is a recipe that simply needs to be left alone. It's AWESOME exactly as it is."

Steph
---
Do you need an entree to go with your French bread?
---
Did you try this recipe and enjoy it? Consider helping other readers (and me) by returning to this post. Leave a rating on the recipe card itself underneath the picture. No comment required.
If you have a question or tip to share, please leave it in the regular comments after the recipe so I can answer back. Or email me: paula at saladinajar.com.

Thank you for visiting!
Paula