Preview: Check out this collection of the best bread machine recipes you can mix up in your bread machine or bread maker. Most are easy. A few are advanced.
Since bread machines are my thing, I gathered up all of my best bread maker recipes into one place to make it easy for you. No more scouring the web for mind-numbing hours looking for a recipe that may or may not be good.
You won't need the user's manual you got with your bread machine when you use one of my recipes. I'll guide you step-by-step on how to make the best bread machine recipes while using a bread machine to do what it does best.
No worries if you don't have a bread machine or bread maker. Nearly all of my recipes have alternate directions for stand mixers, food processors, or making bread by hand.
---
If you are looking for a specific recipe but don't see it here, please send me an email (address below). I'll add it to my list. A good number of the recipes you see here were created and tested in response to a reader request.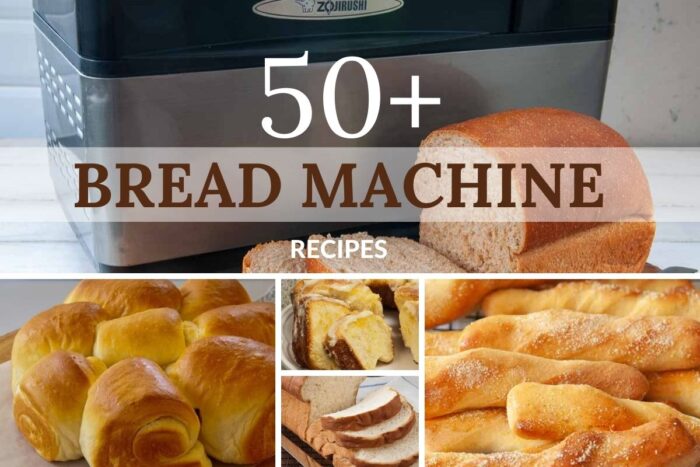 How to get the best bread when using a bread machine:
When I bake bread, I want it to be the best. It has to be worth the trouble and all those steps it takes to burn up the calories.
When the ingredients are dumped in a machine, mixed, and then baked right there in the machine, it's not always the best. Many times, it's downright awful.
But don't blame your bread machine or bread maker. After all, it doesn't have a brain. Human intervention is often required to make the very BEST bread that tastes good, looks good, and compares favorably with anything you can buy at a bakery.
In my book, bread makers are the best kneading machine in the world. So I use them to mix and knead the dough. When the dough cycle completes, grab the dough and work it into the shape of your choice.
Let it rise and stick it in your oven. Don't take it out until it's perfectly baked throughout (use a quick-read thermometer if you need to) and golden brown.
"Bread machines don't have a brain."
You'll be amazed at how simple most of these recipes are. Even beginners will likely find success, especially if you read and follow all the tips. But you'll also find some more advanced recipes like the Ciabatta above, Triple-Flavor Monkey Bread, or Bread Machine Brioche. There is truly something for everybody.
---
Browse for your next delicious bread machine recipe
Looking for some advice for using your bread maker?
---
If you have a question or problem you need help with, please write it in the comment section below so I can respond back. You can also email me privately: paula at saladinajar.com.

Thank you for visiting!
Paula