Preview: This gravy without flour is the perfect recipe for you if you follow a low-carb, Keto, or gluten-free diet. Pureed caramelized onions are the only thickener.
If you think cutting carbs is the end of your gravy train, then I have good news for you.
In my last post, I talked about eating mashed cauliflower and suggested using gravy to make it more appealing. Because of the carbs in traditional gravy, I avoid using flour, cornstarch, or arrowroot to thicken.
I tried coconut flour, but the texture felt gritty on my tongue. Same with chickpea flour. Most gluten-free flours are actually quite high in carbs, so that wasn't an option either.
Then it hit me…
I remembered my recipe for Roasted Rosemary Chicken with "Instant" Gravy. Baked onions are the only thickening agent in the gravy
It occurred to me that caramelized onions should work the same way, and sure enough, they make a delicious gravy.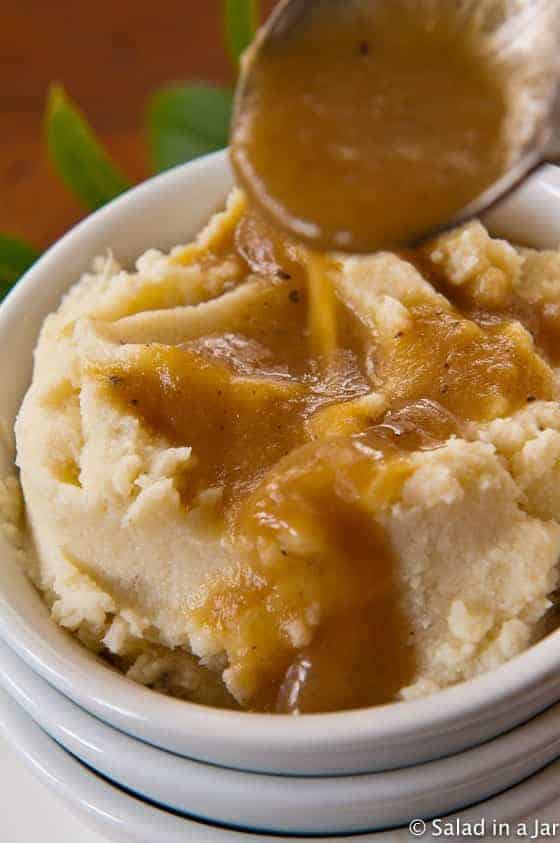 How do onions make a sauce thicker?
When using onions to make a sauce thicker, cook them down to access the natural gelatin within. I'm no food scientist, but my experience bears this out. The caramelizing process will accomplish this in addition to giving the onions extra flavor as they brown. Unfortunately, this will take time.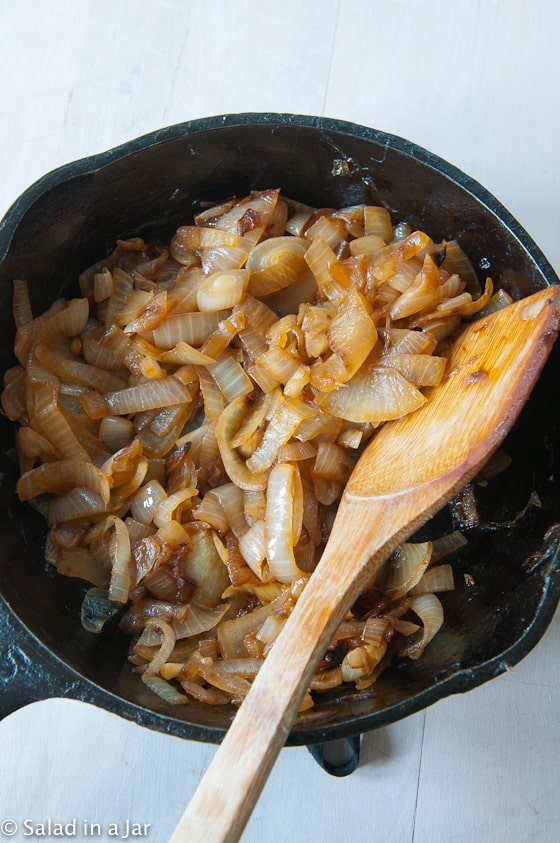 It can take up to an hour to caramelize your onions on top of the stove. The heat must be low so as not to burn the onions. In addition, they will need to be stirred occasionally.
An hour? Who has that time for that?
Two ideas for making caramelized onions at your convenience:
Use a slow cooker. No stirring or babysitting required. On the other hand, the flavor doesn't seem as concentrated because not as much liquid is lost in the slow-cooker process.
Fortunately, the onions can be prepared ahead of time, then frozen. I nearly always have a few packages of frozen caramelized onions in the freezer for recipes like this one. Pick a time when you know you're going to be in the kitchen for a while anyway.
Do mushrooms make everything better?
I think so. If you are a mushroom lover like I am, try browning about eight ounces of mushrooms in the same skillet you used for the onions. Add half of the mushrooms to the blender, or just leave them in pieces. Add them to your finished gravy for visual interest and added flavor.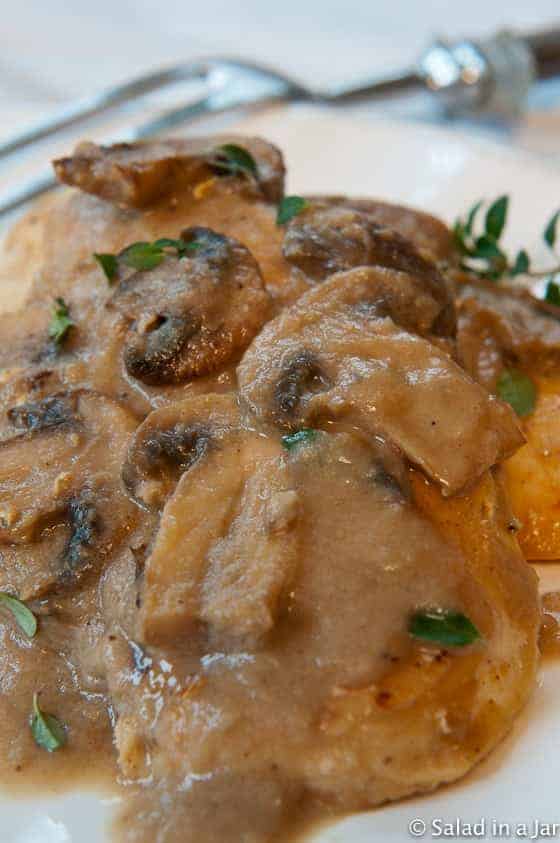 Recipe Notes
The flavor of your gravy will depend at least 99% on the quality and richness of your broth. If you use bouillon or canned stock, check the taste before adding salt. If you have juices left from a roast or baked chicken, use that.
1. No broth in the pantry?
Use the water you have used to deglaze the pan in which you caramelized the onions. All those browned bits will add flavor and color to your gravy.
2. Looking to add more flavor?
Depending on your tastes and dietary limitations, try adding a few drops of Worcestershire sauce, steak sauce, or Kitchen Bouquet. (Check labels. These will likely add sugar and grains.)
If you are strict about no extra sugar or grains, try adding herbs such as thyme or parsley, unflavored Greek yogurt, or sour cream.
Disclaimer: If cooked onions affect you adversely, this probably isn't the recipe for you.
---
More Grain-Free Recipes
If you enjoyed this recipe, it would help others and me if you gave it a five-star rating inside the recipe card below. 🤩 No comment required. Thank you.

Hope to see you again soon!
Paula
p.s. Questions or suggestions? Please email me: Paula at saladinajar.com.