These Southwestern Stuffed Peppers Without Rice are packed with beef, sausage, corn, black beans, zucchini, and rice cauliflower. Consequently, you'll feel good about eating them, your tastebuds will be ecstatic, and your tummy will be satisfied. Grain-free if you care about such things.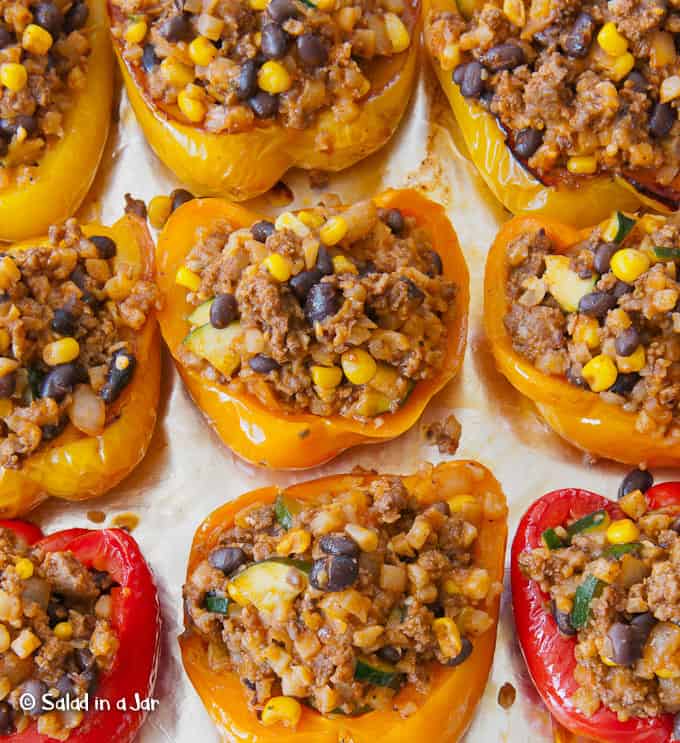 Do you have the hours of operation posted in your kitchen?
Although I don't have a sign, they are imprinted in my mind. Of course, seriously hungry people and grandchildren are welcome 24 hours a day, but meal preparation isn't usually happening after 7 pm.
Let me explain…
It helps me avoid the dangerous evening snack habit. For this reason, when my husband comes home late from work or Bible study and the kitchen is unofficially "closed," I frequently go to my freezer.
Why I always keep Southwestern Stuffed Peppers Without Rice in my freezer:
A frozen stuffed pepper will microwave from rock hard to fragrant and steamy within minutes. Eat straightaway for a healthy and satisfying meal.
An equally delicious option is slicing them up to make a filling for a flour tortilla. It's a veggie burrito of sorts.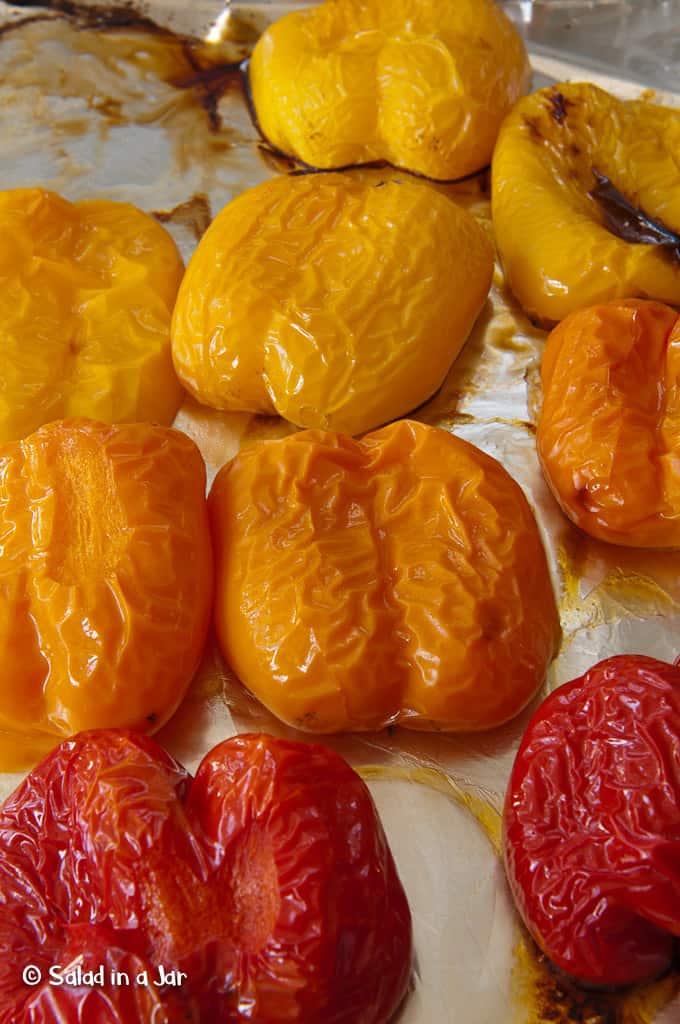 Playing with the Recipe…
You can use green peppers or the sweeter and milder red, yellow, and/or orange bell peppers. No zucchini in the crisper? Use yellow squash–or leave it out. No black beans? Use pinto or ranch-style beans.
In the same way, leave out the corn or onions if you prefer. In summary, this is a good clean-out-the-fridge/pantry recipe.
Despite the deliciousness of using cauliflower instead of rice, if you prefer to use rice, see my original recipe here.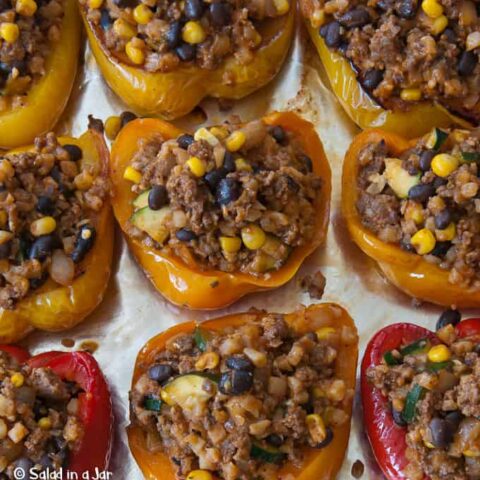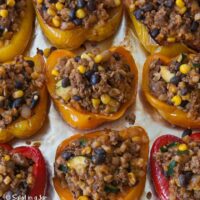 Southwestern Stuffed Peppers Without Rice
Bell peppers of many colors are filled with a Southwestern-style filling. Works great to make ahead and freeze.
Ingredients
4 large bell peppers, halved (vertically, through the stem) with guts removed
1 1/2 to 2 cups cooked cauliflower, riced (or chopped very finely), and sautéed or steamed (See notes)
1/2 pound ground beef
1/2 pound ground sausage (regular or hot)
1 small onion, chopped
2 cloves garlic, minced
1 medium zucchini, diced
1 cup frozen corn kernels
1 cup black beans, drained and well-rinsed
8 ounces tomato sauce
1 teaspoon cumin
1 teaspoon chili powder or smoked chipotle chili powder
Salt and freshly ground pepper to taste
1/2 cup Monterrey jack or Cheddar cheese, shredded
Instructions
Heat oven to 450 degrees. Line a large jelly-roll pan with foil. Spray outside of pepper halves with oil. Arrange peppers cut side down on prepared pan; bake on lower rack 15 to 20 minutes. When finished cooking and tender with a few random dark spots, turn right side up and arrange in 9 x 13 inch casserole dish. Turn oven back to 350 degrees.
Cook cauliflower rice if not already done and set aside.
Meanwhile, sauté ground meat in a large skillet. Add a little salt and pepper while cooking. Drain excess grease. Add onions and garlic. Sauté for 3 minutes until soft. Add cooked cauliflower rice, zucchini, corn, black beans, tomato sauce, spices, and heat thoroughly.
Spoon hot veggie mixture into cooked pepper halves. Sprinkle cheese over the top. Cook in 350 degree oven until heated through and cheese is slightly browned, 10-15 minutes. Freezes well.
Notes
If you have not purchased cauliflower already riced, you can make cauliflower rice from fresh cauliflower. See instructions here.
Cauliflower will reduce drastically, possibly more than half, when you steam or sauté it. Don't worry about getting exactly 2 cups of cooked cauliflower. A little more or less is not a big deal.
Nutrition Information:
Yield:

8 servings
Serving Size:

1
Amount Per Serving:
Calories:

314
Total Fat:

18g
Saturated Fat:

7g
Trans Fat:

0g
Unsaturated Fat:

9g
Cholesterol:

64mg
Sodium:

558mg
Carbohydrates:

19g
Fiber:

5g
Sugar:

6g
Protein:

21g
If you make this and enjoy the recipe, it would help me and others if you would return to this post and leave a rating (on the recipe card itself underneath the picture). Although always appreciated, no comment is required. Thanks so much! Paula
Posts Related to Southwestern Stuffed Peppers Without Rice: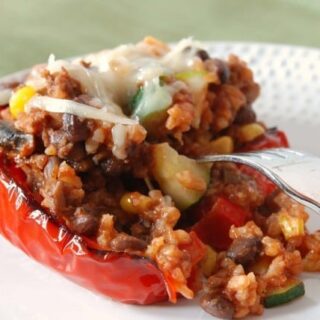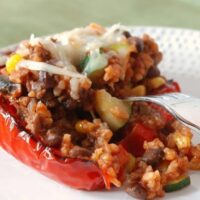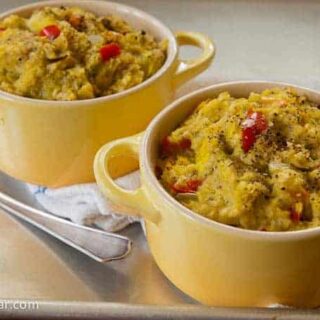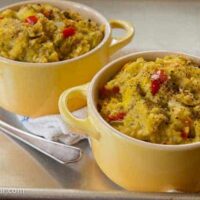 Colorful Fresh Yellow Squash and Peppers Recipe
Fresh yellow squash makes a delicious but simple casserole similar to that served at Black-Eyed Pea restaurants in the South.
Get the Recipe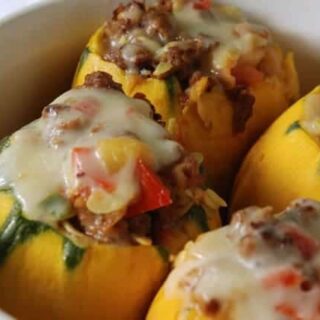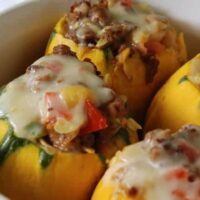 Sausage Stuffed Eight Ball Squash
Unusual looking 8-ball squash with a familiar taste make a beautiful presentation stuffed with sausage and other veggies.
Get the Recipe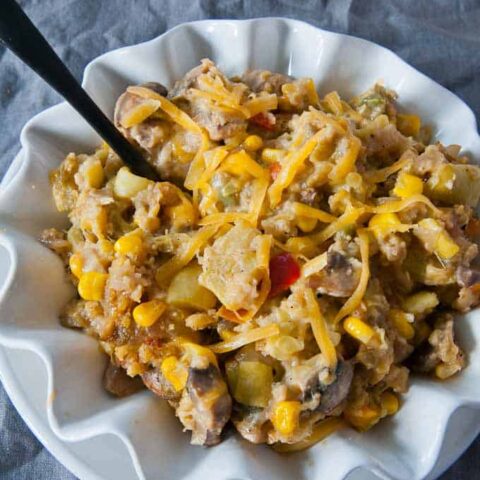 Green Chili and Squash Dressing
Spicy mixture of yellow squash, corn, green chilies and cornbread. Southern cuisine mixes with Tex-Mex flavors.
Get the Recipe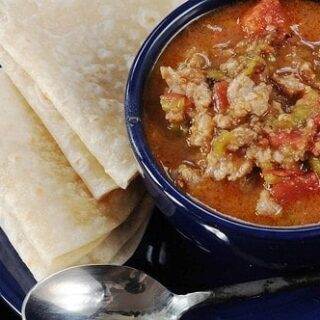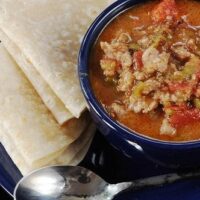 Green Chili Stew with Pork and Tomatoes
Stew with ground pork and tomatoes spiced with cumin--serve with flour tortillas for dipping
Get the Recipe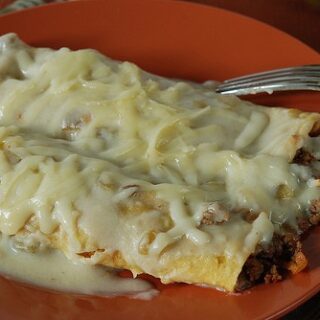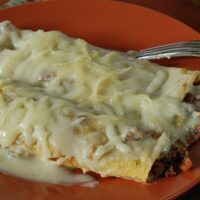 Green Chili Enchiladas
Green Chili Enchiladas are corn tortillas stuffed with ground beef, onions and Monterrey Jack cheese, then smothered in green chili sauce.
Get the Recipe