How To Make Southwestern Stuffed Peppers Without Rice
Sneak Preview: This recipe for Southwestern Stuffed Peppers Without Rice will show you how to roast and stuff bell peppers with a healthy and meaty filling.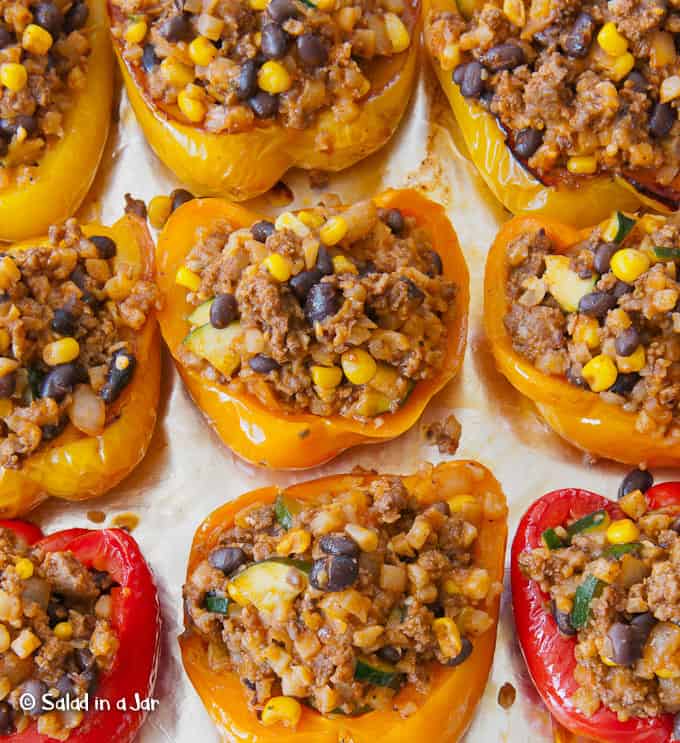 As an Amazon Associate, I earn from qualifying purchases.
Are you trying to avoid the "whites" (that's rice, potatoes, and bread)? If so, you need this recipe for Southwestern Stuffed Bell Peppers Without Rice. That's right! No rice. Instead, riced cauliflower stands in for the rice. Cauliflower-haters won't even notice. All the other flavors and colors are sure to distract them.
Is this recipe Keto or Low-Carbohydrate?
This recipe is colorful and full of veggies. Nevertheless, it does not qualify for the Keto diet or a strict low-carbohydrate way of eating. The black beans, corn, and tomato sauce are disqualifiers.
But wait.
Based on one average-sized bell pepper-half stuffed to the gills, there are 314 calories per serving. Besides that, you'll get 19 grams of carbs, 21 grams of protein, and 5 grams of fiber. All in all, these are pretty good statistics.
Which color of bell pepper is the best?
Green peppers are the unripe version of red, yellow, and orange peppers. It is the same way green tomatoes turn red (or yellow or orange) as they ripen. Green bell peppers taste more pungent by comparison.
Which is your favorite?  Red, green, orange, or yellow bell peppers? I prefer red peppers because they taste milder. Same for the yellow and orange ones.
Use any color you like in this recipe.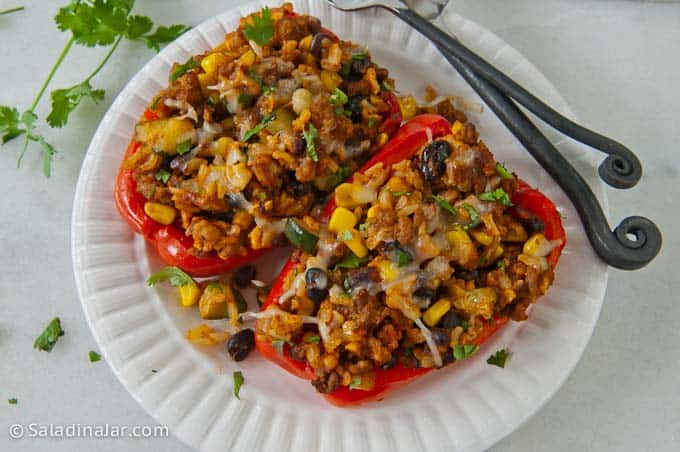 What does "Southwestern" mean in this recipe?
Cumin, chili pepper, and cilantro lend a distinctive southwestern flavor profile to this recipe. Black beans, Jack cheese, and corn continue the theme. If you like these flavors, I have a few other southwestern recipes such as Southwestern Eggplant Dressing and Southwestern Jasmine Rice.
Ingredients and substitutions:
Use your creativity with this recipe. For example, leave out ingredients you don't have or don't like and add things you do. 
Vary the meat and vegetables according to what is in your refrigerator.  The recipe is only a jumping-off point.
Specific substitutions or deletions may alter the "southwestern" vibe. For example, using parsley instead of cilantro lends freshness and color but not the same exciting flavor as cilantro.
BEEF AND SAUSAGE: Although the recipe calls for both beef and sausage, you could use all one or the other. Substitute turkey sausage if you like. Leave the meat out for vegetarian stuffed peppers.

SQUASH: Substitute yellow squash for zucchini.

BLACK BEANS: Pinto beans can take the place of black beans.

CAULIFLOWER: Frozen Cauli-rice is convenient. However, you can make it yourself. Get directions here.

Another good substitution for cauliflower is quinoa. Cook according to the directions on the package before adding it to step 3 in the recipe.

CHEESE: If you don't have Jack or Cheddar cheese, use something that's mild tasting and has a good melt. Even Velveeta would be good in this recipe.

CILANTRO: Parsley is a good substitute for cilantro if you're not a fan or don't have any.
How to freeze and reheat stuffed peppers:
These peppers are almost always available in my freezer.
Feeding a family
Place the appropriate number of peppers into a casserole dish. Fill peppers but don't add cheese or cilantro. Cover with plastic wrap, then cover with aluminum foil or slip into a plastic bag. Freeze.
To serve: First, let them defrost in the refrigerator. Remove plastic wrap, then cover with foil. Heat in a conventional oven 20-30 minutes at 350 degrees F until hot. Add cheese in the last five minutes. Garnish with cilantro, if desired.
Individual servings
After stuffing the peppers, cover and refrigerate them. When cooled, wrap each stuffed pepper (no cheese or cilantro) with plastic wrap, then foil and freeze.
To serve: Remove plastic wrap and foil. Pop individually frozen peppers into the microwave for 5-6 minutes and you've got a light supper.
Roasting softens the bell peppers — no need to boil them.
Preheat a conventional oven to 450 degrees F.
What can I do with leftovers?
This recipe makes a lot. I revised it upward so there would be plenty of leftovers to freeze per the directions above.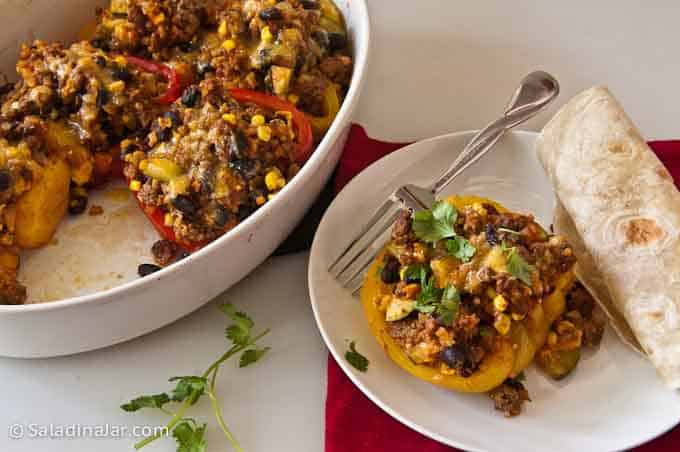 Often, I end up with leftovers of the filling, depending on the size of the peppers. That's when I pull out tortillas–corn or flour.
My favorite brand of flour tortillas is Tortilla Land. They are raw tortillas available at the grocery store. Cook them in a skillet at home. They are so much better than precooked tortillas in my opinion.
I recently discovered this recipe for making flour tortillas at home. If you are up for that sort of thing, these are fabulous!
Make a burrito:
Slice the stuffed pepper shell into strips. Fill the tortillas with warmed stuffed-pepper filling and sprinkle with more cheese. Wrap up like a burrito.
How do I roast bell peppers?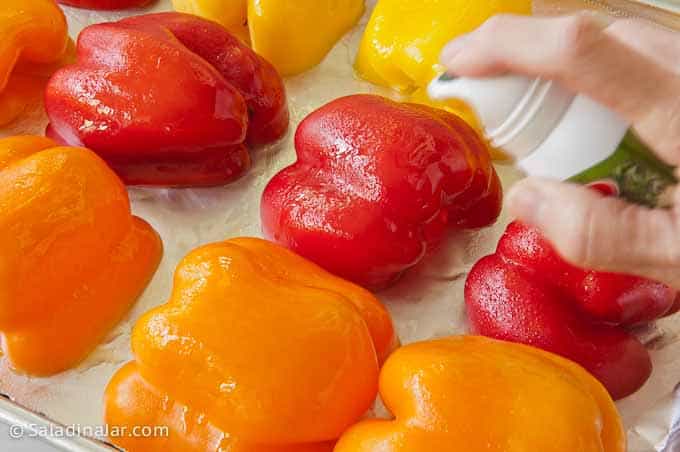 Divide peppers in half by slicing through the stem. Clean out seeds and membranes. Place upside down on a foil-lined cookie sheet and spray with oil. Place in preheated oven on the bottom rack and roast for 15-20 minutes.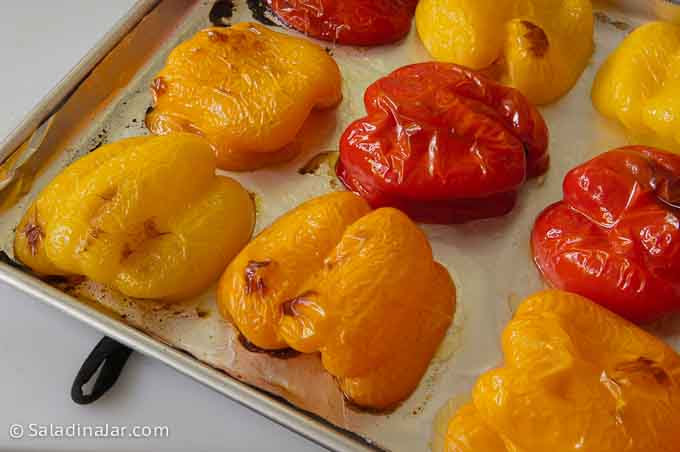 Peppers are done with they start to wrinkle slightly and have a few brown spots. (The peppers in this picture are a touch overcooked. Don't do what I did.)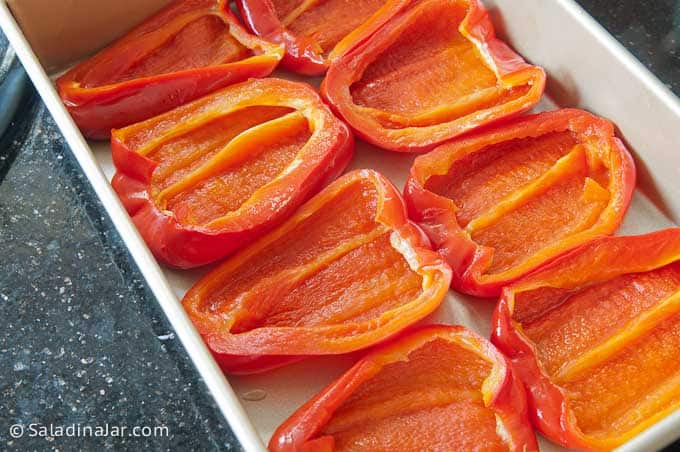 When cooled, turn the cooked peppers face-up and arrange in a 9 x 13-inch baking dish or pan.
---
Making the filling for Southwestern Stuffed Peppers: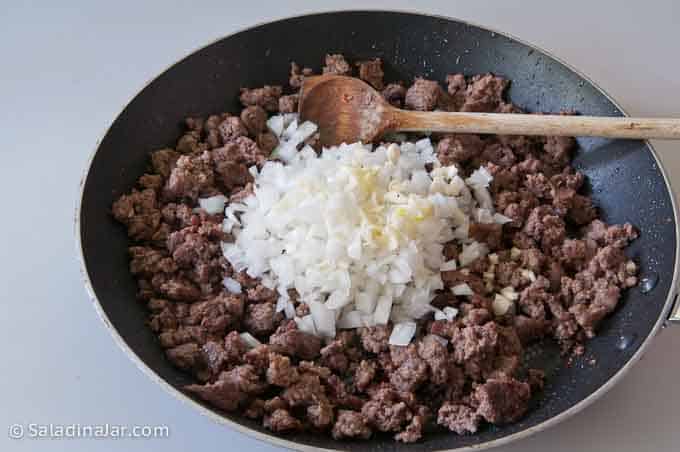 Brown meat. Add onions and garlic. Cook until the onions soften.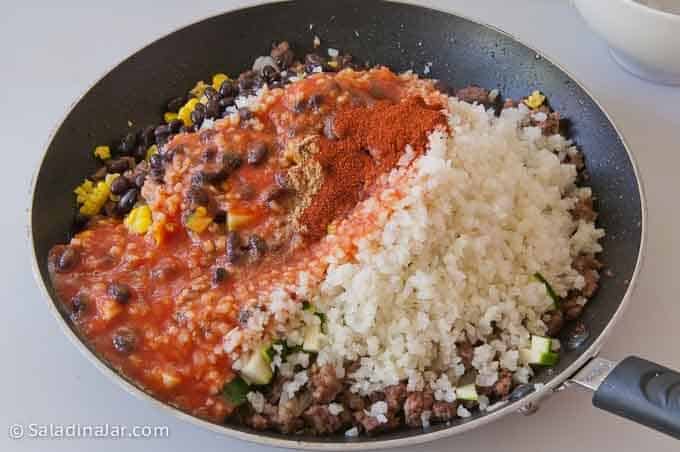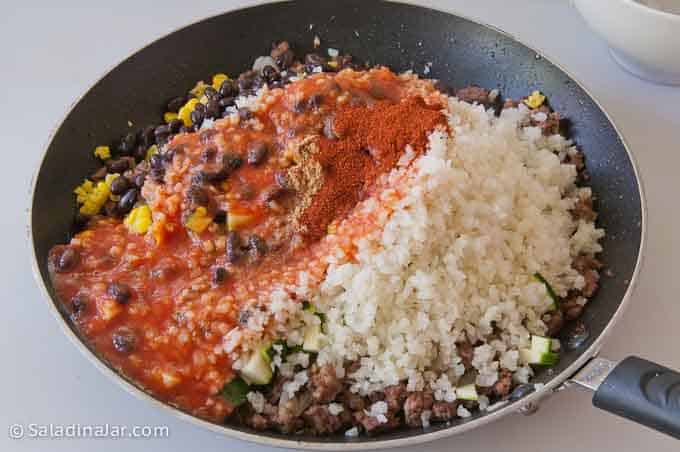 Add remaining ingredients except for cheese and cilantro and stir.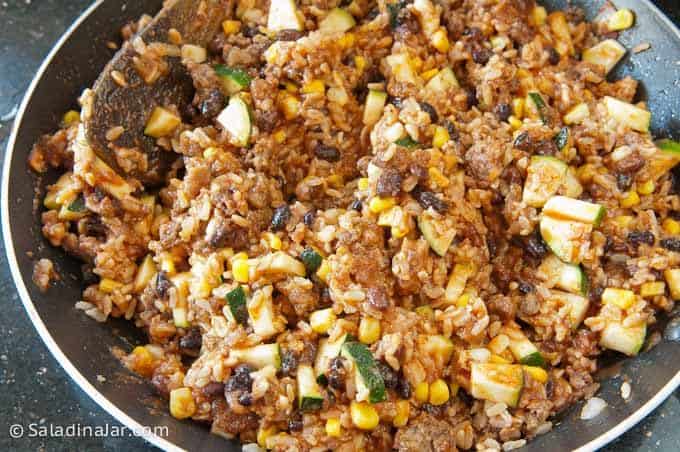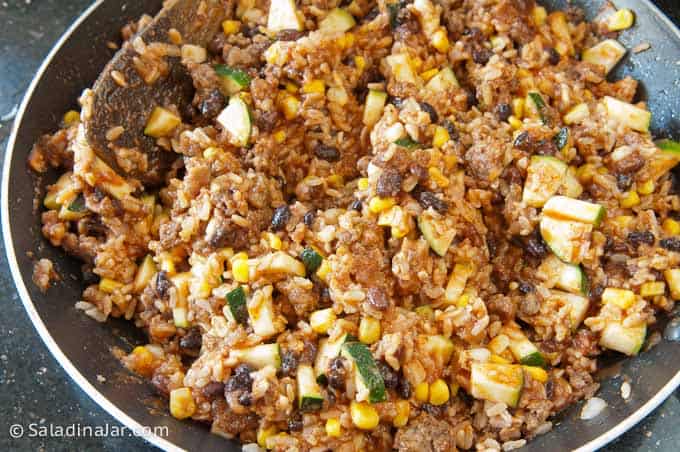 Cover and simmer on the stove for 8-10 minutes until mixture is heated through and zucchini starts to soften.
---
How to stuff and bake peppers: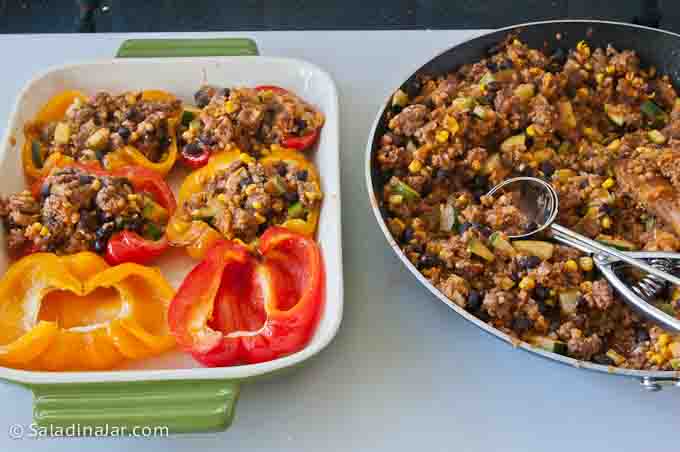 Use a large spoon or ice cream dipper to transfer filling into each pepper. Pack as tightly as you can, making sure to stuff filling into the corners of the peppers.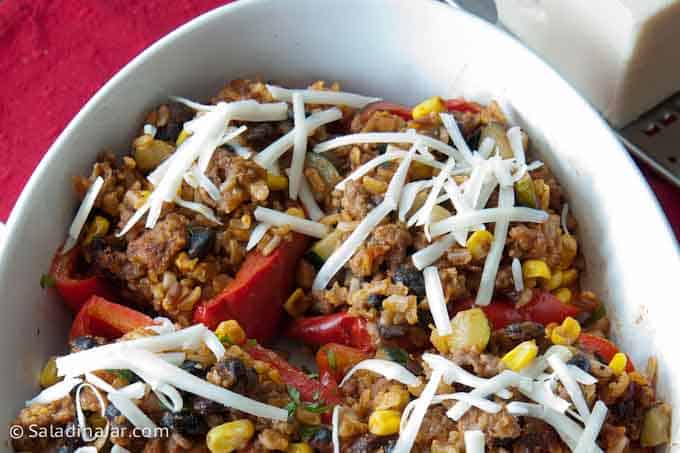 Sprinkle with cheese and return to 350˚F oven for about 10 minutes.
---
More recipes for veggie lovers:
---
Pin the picture below to save for later.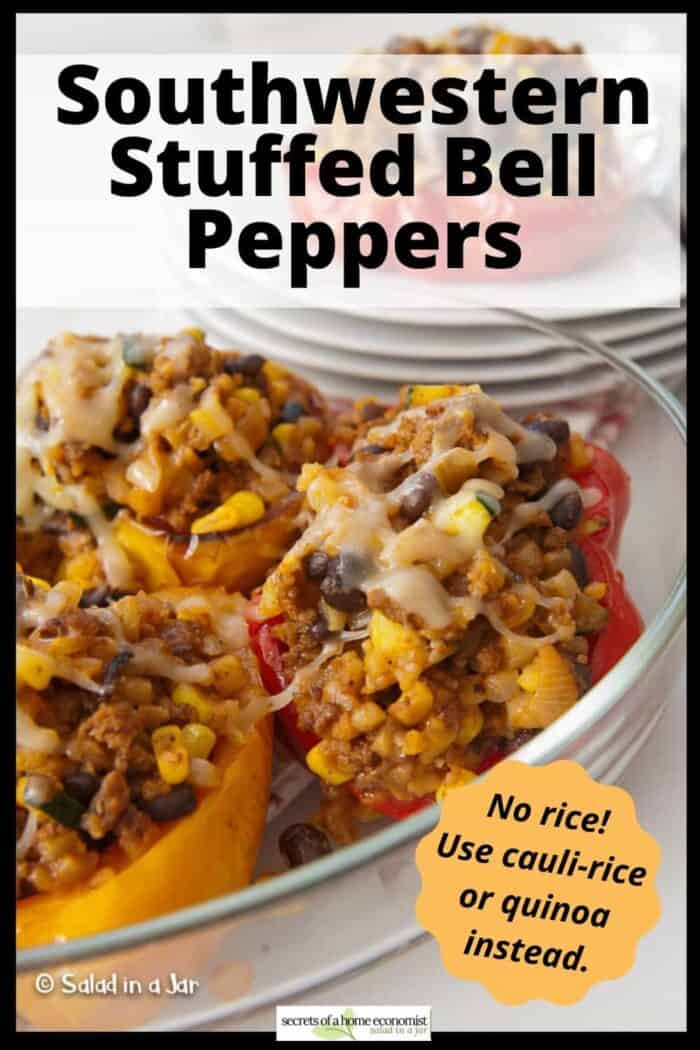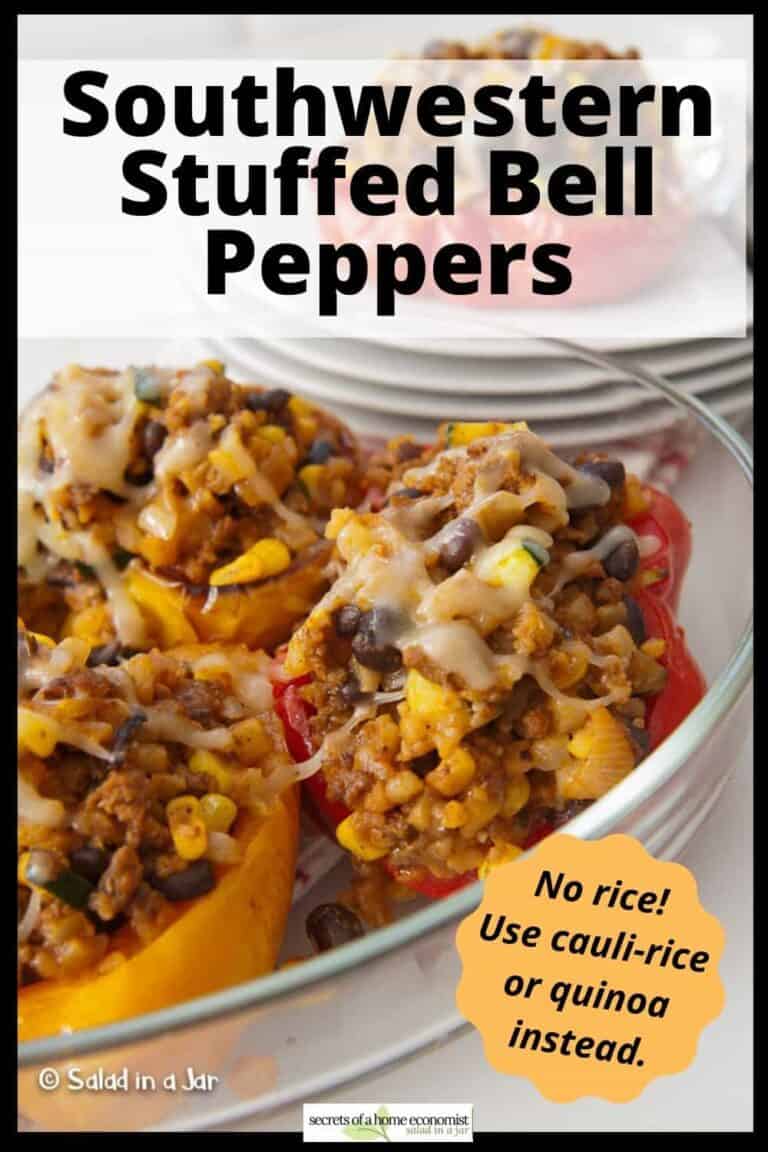 If you have questions or suggestions, email me privately to Paula at saladinajar.com. Hope to see you again soon! Paula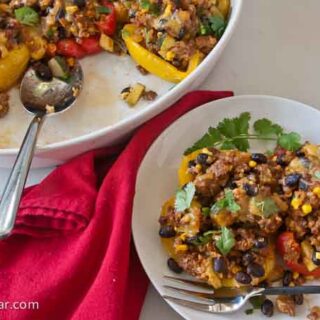 Southwestern Stuffed Peppers Without Rice
Bell peppers of many colors are filled with a Southwestern-style filling. Works great to make ahead and freeze.
Ingredients
6-7

large bell peppers

-

halved (vertically, through the stem) with guts removed

1

pound

ground beef

½

pound

breakfast sausage

-

regular or hot

1

teaspoon

table salt

-

approx 1 teaspoon and freshly ground pepper (approx 1/2 teaspoon)

½

teaspoon

freshly ground pepper

1

small onion

-

chopped

3

cloves

garlic

-

minced

1

medium zucchini

-

finely diced

1¼

cup

frozen or fresh corn kernels

1

can

black beans

-

(15.5 oz ) drained and well-rinsed

10

oz.

bag of frozen riced cauliflower

-

cooked according to package directions (or 1 cup cooked quinoa)

16

ounces

tomato sauce

1½

teaspoon

cumin

1½

teaspoon

chili powder or smoked chipotle chili powder

¾

cup

Monterrey Jack or Cheddar cheese

-

shredded

Garnish with chopped cilantro
Instructions 
Heat oven to 450 degrees. Line a large jelly-roll pan with foil. Spray outside of pepper halves with oil. Arrange peppers cut side down on prepared pan; bake on lower rack 10-15 minutes.

When the peppers finish cooking, they should be tender with a few random dark spots. Turn them right side up and arrange in 9 x 13 inch casserole dish. Turn oven back to 350˚F.

Meanwhile, sauté ground beef and sausage in a large skillet. Season with salt and pepper while cooking. Drain excess grease. Add onions and garlic. Sauté for 3 minutes until soft. Add remaining ingredients except cheese and cilantro. Heat thoroughly. Zucchini will start to soften slightly when ready.

Spoon hot veggie mixture into cooked pepper halves. Sprinkle cheese over the top. Cook in 350 degree oven until heated through and cheese is slightly browned, 10-15 minutes. Garnish with chopped cilantro.

Freezes well. If freezing to use later, don't add cheese. Allow frozen peppers to thaw. Cook from 20-30 minutes to reheat, adding cheese in last 10 minutes.
Notes
If preferred, you can make cauliflower rice from fresh cauliflower. See instructions here. You'll need approximately 1-1/2 cups cooked cauli-rice.
Nutrition
Nutrition Facts
Southwestern Stuffed Peppers Without Rice
Amount per Serving
% Daily Value*
* Percent Daily Values are based on a 2000 calorie diet.
Like this recipe? Thanks for leaving a 5-star rating inside the recipe at the top! 🤩