Quick Coconut Cake with White Cake Mix: A Recipe to Save the Day
Sneak Peek: Quick Coconut cake with a White Cake Mix features a triple hit of coconut with coconut milk, cream of coconut, and shaved coconut. A good drenching with cream of coconut makes this cake moist and flavorful. The topping does not contain cream cheese.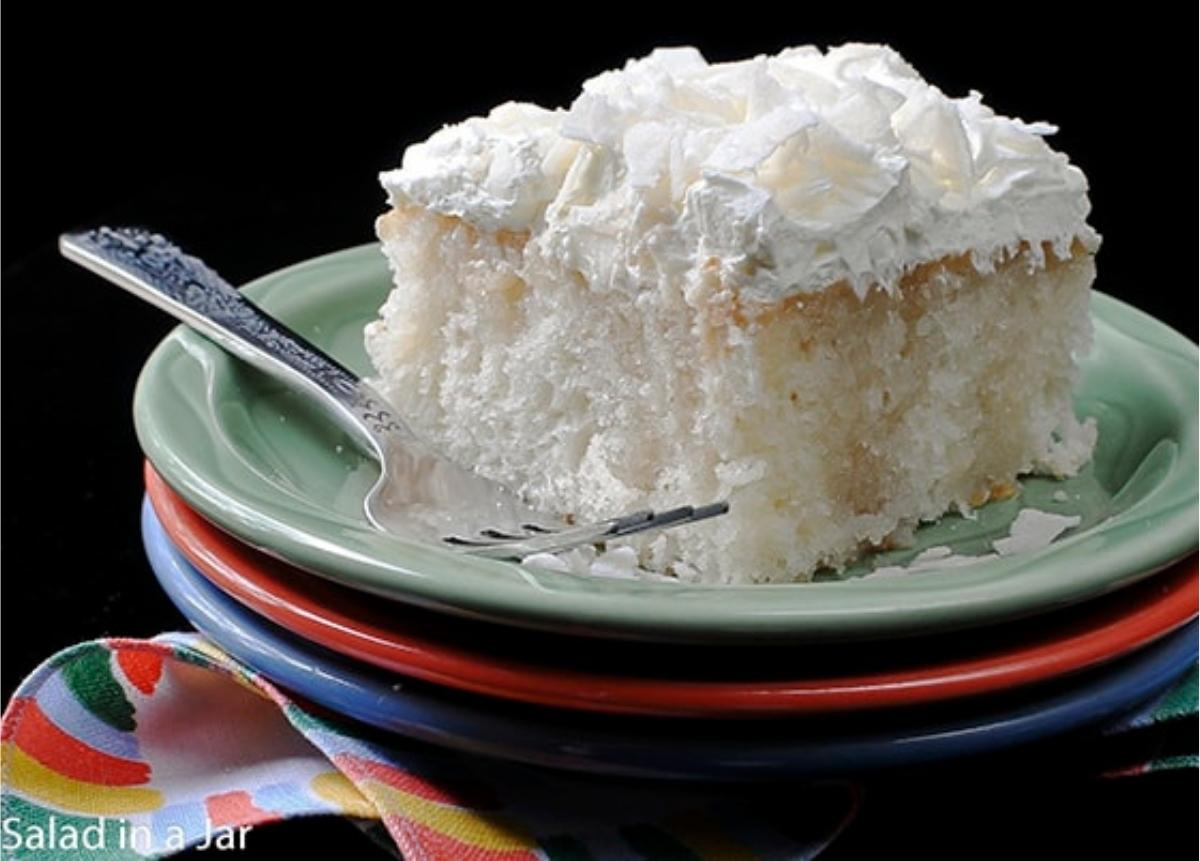 As an Amazon Associate, I earn from qualifying purchases.
Have you ever remembered you were supposed to bake something for the office party, a school function, or your Bible study group at 10:00 the night before just as you were ready to crawl into bed? Hopefully, I'm not the only one.
Most of the time, I'm too proud (unfortunately) to run by the store and grab something in a hard plastic container, so I keep a few tricks in my pantry. I got this Easy Coconut Cake recipe from Amie, one of my favorite co-workers. The coconut freaks at my job, including me, go crazy when she brings this cake.
Why this cake is so easy (and a great idea for making with kids):
Because you are using a cake mix, there's no flour to be measured, no butter to cream, and no eggs to separate.
No layers. Use a 13 x 9-inch pan. You won't have to cool the cake on a wire rack after it comes out of the oven–leave it in the pan to cool.
It travels well, especially if you have a cover for your 13 x 9-inch pan.
No coconut extract is needed. The coconut flavor comes from the coconut milk, shredded or flaked coconut, and the cream of coconut poured over the cake.
You don't have to make frosting. (No powdered sugar dust storms in your kitchen.) Whipped topping saves the day.
Here's what you need:
Stocking up on a few staples is helpful to produce this kind of last-minute magic. For this coconut cream poke cake, I make sure to keep the following in my cabinet:
White cake mix + eggs (don't keep these in your cabinet) and vegetable oil
Coconut milk: You will need coconut milk to substitute for the water in the cake mix. You can use low-fat coconut milk, but I prefer the regular coconut milk
Cream of coconut: Look for this in the alcoholic mixer part of your supermarket. But this doesn't mean it contains alcohol. It does not.
Shaved coconut: Shredded coconut is a suitable substitute if that's what you have on hand.
Frozen whipped topping: Because this cake is best made the night before, frozen whipped topping holds up better than real whipped cream. Don't worry. There is so much coconut goodness going on, nobody will notice the topping is not real cream.
All of these ingredients can be stored for months in the pantry, or the freezer. It's my kind of recipe as I would rather do a hundred push-ups (I detest push-ups) than make a midnight run to the grocery store.
Baking tips for this quick Coconut Sheet Cake Dessert:
1. Substitute coconut milk for water in the cake mix
Coconut milk makes the cake taste more decadent and less like a cake mix. However, if you don't have coconut milk, you can certainly use water, instead.
I don't use a cake mix very often, but my attempts to make this cake from scratch were unsatisfactory. The light and airy texture of a cake mix will soak up the cream of coconut better than any of my own recipes.
2. Heat (slightly) the cream of coconut before pouring it over the warm cake
In my opinion, heating the cream of coconut helps the cake to absorb it readily. It also makes it easier to stir the cream of coconut before you pour it.
3. Are coconut milk and cream of coconut interchangeable?
While we're on the topic, coconut milk and cream of coconut are radically different and are not interchangeable. The cream of coconut contains more fat than coconut milk.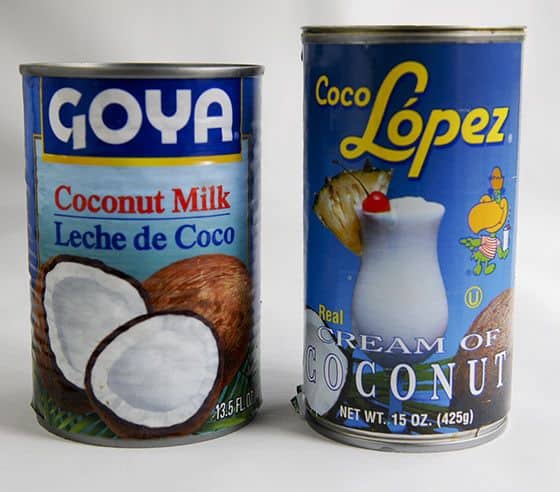 4. Sprinkled shaved coconut instead of shredded coconut on top.
Shredded coconut will still be delicious if you can't find shaved coconut flakes.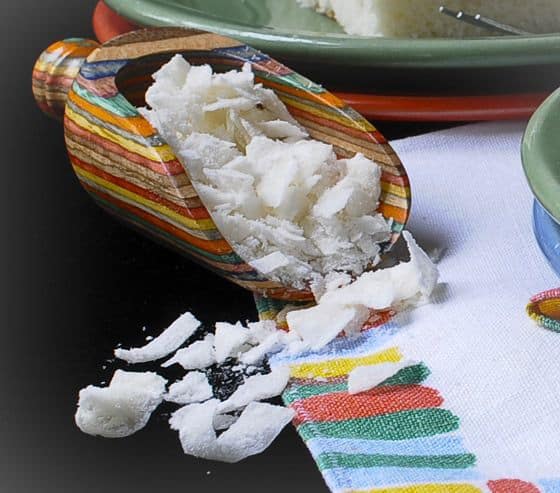 5. How to poke holes in the cake
I used a k-bob stick to make the holes. Amie uses the handle of a wooden spoon for maximum absorption. You could also use a fork or a chopstick.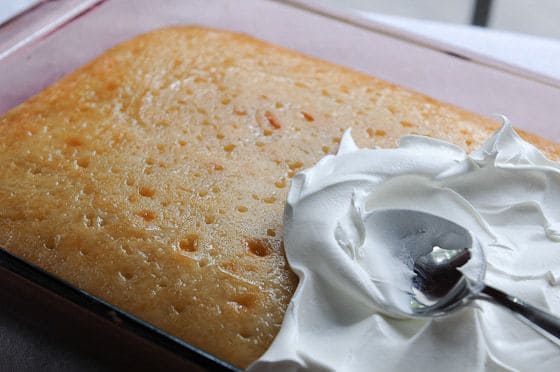 Frost the chilled cake with thawed whipped topping before sprinkling flaked icing on top.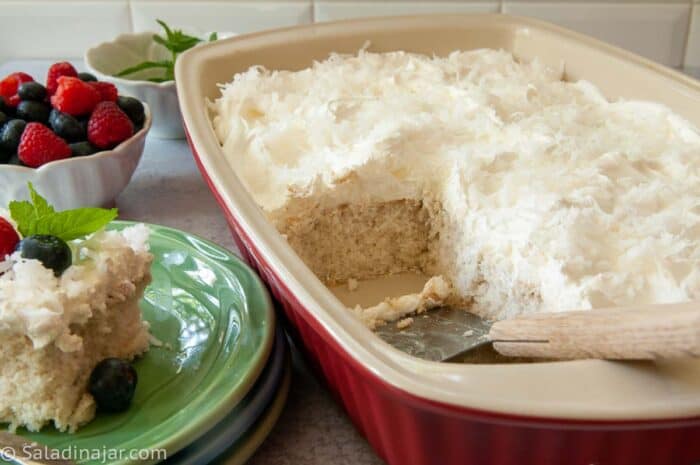 FAQ about Coconut Cake:
1. Can you add coconut milk to a box cake?
Absolutely. Coconut milk intensifies the coconut flavor.
2. Can you make a coconut cake with a white cake mix?
Yes. Adding coconut milk instead of the liquid listed on the box, covering the top of the cake with coconut, and soaking the cake with cream of coconut will transform a plain white cake into a luscious coconut cake.
3. What is the difference between coconut milk and cream of coconut.
Fat. Think of whole milk vs. heavy cream.
4. What kind of equipment do I need to make a box cake?
Some kind of electric mixer with a large bowl will give the best results.
5. Can I use a yellow cake mix instead of a white cake mix?
Yes. I don't think it is as visually appealing, but it will work.
If you like to make cakes starting with a cake mix, be sure to check out my sister's Swiss Chocolate Cake iced with whipped cream. It is her most requested cake. If you need something a little fancier, you can't go wrong with this Hickory Nut (or Pecan) Layer Cake with Raspberry Filling. My aunt won a washer and dryer with this recipe.
If you have questions or suggestions, email me privately to Paula at saladinajar.com. Hope to see you again soon! Paula
---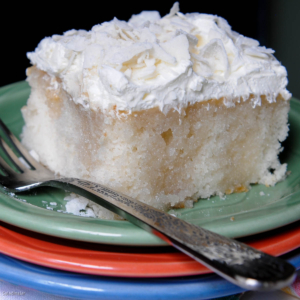 Coconut Cake with a Cake Mix
This easy cake is a coconut lover's favorite and it travels well. Perfect for your next work party.
Ingredients
1

white cake mix

-

I like the Betty Crocker brand

1-1/4

cup

coconut milk

15

ounce

can cream of coconut

8

ounce

container of whipped topping

1

cup

flaked coconut
Instructions
Prepare cake mix according to directions on the box, substituting coconut milk for water in the mix. I like to use a stand mixer to mix it up. Bake in a 9 x 13-inch pan. Amie and I both thought the cake was done at least 5 minutes before the box directions predicted. If the cake over bakes, the crust will be too dry to absorb the cream of coconut.

While the cake is still warm, poke holes all over the top of the cake with a skewer, a toothpick, a chopstick, or even a fork.

Warm cream of coconut for 1-1/2 minutes on HIGH in the microwave and pour over the cake. Chill in the refrigerator for several hours or overnight.

Frost with 1 container of thawed, whipped topping (i.e. Cool Whip). Sprinkle flaked coconut on top. Keep refrigerated.
Nutrition
Nutrition Facts
Coconut Cake with a Cake Mix
Amount per Serving
% Daily Value*
* Percent Daily Values are based on a 2000 calorie diet.
Like this recipe? Thanks for leaving a 5-star rating inside the recipe at the top! 🤩