Homemade Brown Sugar-Cinnamon Oatmeal Pop-Tarts may be a little extra trouble but they make a tasty and memorable breakfast. Flaky dough covers a sweet filling of your choice.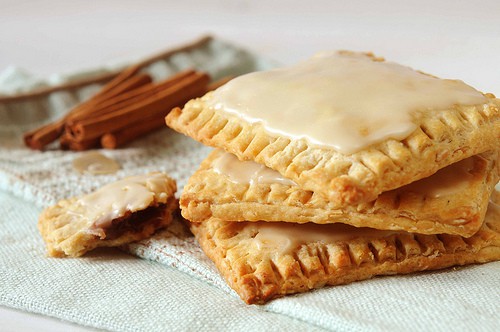 If you're thinking  "too much trouble" —don't go away just yet! Are you dough challenged? Never fear! I have devised an easy method for making these deliciously flaky and tasty pop-tarts with you in mind. The only special equipment you will need are 2 zippered gallon-size plastic bags (commonly referred to as Ziplocks) and parchment paper. See the pictures below.
Homemade pop-tarts are a special treat and/or fun project to do with your kids, grandkids or a class. Consider letting them help.
Reasons to make your own pop-tarts include:
Vary ingredients according to your tastes.
Control portion size.
Adjust ingredients so you won't feel guilty about feeding them to your kids or indulging yourself. Notice the whole wheat flour, oatmeal, raisins and buttermilk or yogurt. I wouldn't call these "healthy" but they aren't bad–see stats at the end. ( This is for you, Staci)
Unsurpassed freshness.
Convenient–can be frozen for easy baking when needed.
Adaptable for breakfast or dessert, kids or adults. If you think pop-tarts are for kids only, try breaking a pop-tart in two and layer with whipped cream and strawberries for a delicious form of strawberry shortcake. Or serve them with ice cream as seen here.
A few observations may be helpful:
1. Most recipes I've seen on the internet have more fat than my conscience or waist can tolerate. But it cannot be avoided entirely. Pop-tarts are, after all, just pie crust with a little bit of filling. I chose to use shortening (stick form stored in freezer is SO convenient) because it makes a flakier product than all butter. But if you are averse to shortening, you can substitute butter with good results.  BE SURE you freeze the tarts first before baking or they will turn in to a melty, greasy mess.
2. The flour is also negotiable. I used part White Whole Wheat because of its mild flavor and better behavior in pastry. Regular whole wheat tasted too much like cardboard. The oatmeal lends a wonderful nutty flavor.
3. You don't have to have a food processor but it makes for much faster mixing. If making dough by hand, I recommend you use oat flour instead of oatmeal. Mix dough the same way you would a traditional pie crust.
4. Thanks to Smitten Kitchen for giving me a starting point regarding the brown sugar-cinnamon filling. Raisins are optional. Dates would be awesome too. Chopping them finely will fool most raisin haters and keep your tarts from being lumpy.
5. Also thanks to Dorie Greenspan for giving me the idea to roll out sticky dough inside a plastic bag. I use the same method with my Pink Shortbread Cookies and Chocolate Ravioli.
Illustrated Directions: (See complete recipe below)
In another small bowl, whisk together buttermilk and egg. Pour over flour mixture and pulse 5-7 times. Remove lid and blade.  Use hands or spatula to press dough together.  All crumbs should come together into a ball.
Kitchen Secret for Easy Roll-Out:
Filling Variations: Try thick jelly or preserves–but expect it to leak a bit during baking. Check out the picture below for an awesome filling using a slice of cold cream cheese and a spoonful of blueberry preserves or lemon curd. You might call them "Cheesecake Pop-Tarts." Not sure if your kids will like them but adults go crazy for them.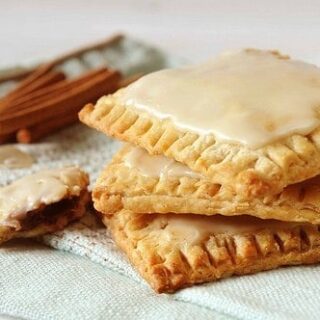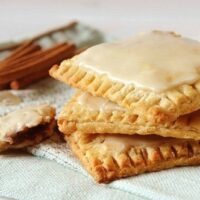 Homemade Brown Sugar-Cinnamon Oatmeal Pop-Tarts
Total Time:
1 hour
20 minutes
Although a little extra effort is involved, these pop-tarts are a special treat for a memorable breakfast.
Ingredients
1/2 cup quick-cooking oats (not instant or old-fashioned)
1/2 cup white whole wheat flour (milder and better for pastry than regular whole wheat)
1 cup all-purpose, unbleached flour
1 teaspoon salt
1 teaspoon sugar
1/3 cup cold or frozen shortening (if you are averse to shortening, butter may be substituted. Pop-tarts should be frozen before baking, however.)
2 tablespoons cold butter (chopped)
1 egg
1/3 cup buttermilk or plain fat-free yogurt
1/3 cup brown sugar
1 1/2 teaspoons flour
1 1/2 teaspoons cinnamon
1 generous tablespoon raisins (optional)
Instructions
Add all ingredients for filling to food processor bowl and process for 1 minute or until raisins are chopped fairly small. Pour into small bowl and set aside.
Combine oatmeal and flours in bowl of food processor and process for 15-20 seconds. Add shortening and butter and pulse 12-15 times. Mixture should be coarse. Don't go too far with this. You should have small but visible fat lumps throughout.
In another small bowl, whisk together buttermilk and egg. Pour over flour mixture and pulse 5-7 times. Remove lid and blade. Use hands or spatula to press dough together. All crumbs should come together into a ball.
Divide dough in half and place each in a separate gallon-size zippered plastic bag. Place dough ball at the center of the bag. Begin to roll out with dough remaining in plastic bag. Roll dough evenly to all four corners. Open bag and re-close to remove air or wrinkles. Flip bag and roll on reverse side to help with wrinkles. Try to roll it as evenly as possible. Holding the bag up to a window or light will show you where the dough may be too thin or thick. Place flat dough in freezer. Repeat process with second dough ball.
Fourth: When frozen hard, remove one bag of dough from freezer. Let warm 2 minutes , + or -. Dough should not be so hard it breaks, but also not soft. Use kitchen shears to trim all 4 edges of zippered bag. Use pizza cutter or knife to lightly mark cutting lines for 12 equal rectangular pieces. Without removing from bag, cut apart with kitchen shears. Do in this order:Cut bag in half. Cut each of those halves in half length-wise so you now have 4 long strips. Cut each of the 4 long strips into 3 equal lengths.
Place squares in freezer and repeat Step 4 with second bag. Place those squares back into the freezer for a few minutes until completely hard.
When squares are frozen hard, take from freezer. Remove plastic from 12 squares and divide between 2 cookie sheets that have been covered with parchment paper. Place spoonful of filling in the middle of each square. Remove plastic from remaining 12 squares. and place one on top of each square with filling. If at any point, dough becomes unmanageable, return it to the freezer until hard. Seal squares with a fork.
At this point you can bake them or freeze them. If freezing, place tarts in the freezer on a cookie sheet unwrapped until frozen hard. Cut paper around each pop tart and place in plastic container or bag with paper still attached.
When ready to bake, place pop-tart with attached parchment paper on a cookie sheet and bake immediately.
Bake in oven preheated to 425 degrees F for 15-20 minutes. If you plan to toast later, bake only until very lightly browned. Otherwise, bake until golden brown. Frost if desired when cooled.
Notes
*Frosting: Mix 1/2 cup powdered sugar, 1 teaspoon butter or margarine and 1 tablespoon coffee (for brown color, but does not really taste like coffee) or milk.
Recommended Products
As an Amazon Associate, I earn from qualifying purchases. But don't worry. This doesn't change the price you pay.
Nutrition Information:
Yield:

12
Serving Size:

1
Amount Per Serving:
Calories:

340
Total Fat:

24g
Saturated Fat:

10g
Trans Fat:

0g
Unsaturated Fat:

12g
Cholesterol:

37mg
Sodium:

268mg
Carbohydrates:

28g
Fiber:

2g
Sugar:

10g
Protein:

4g
Nutritional Analysis for 1 Cinnamon-Brown Sugar Oatmeal Pop-tart without frosting.
Calories 161
Total Fat 8.4 g
Saturated Fat 3.2g
Trans Fat 0g
Cholesterol 21mg
Sodium 221 mg
Total Carbohydrates 18.9g
Dietary Fiber 1.3 g
Sugars 4.9g
Protein 2.9g

Check out these recipes that also use the "Ziplock bag technique":