Sneak Preview: Shepherd's Pie with Leftover Roast Beef is a simple way to use pot roast or roast beef leftovers for a weeknight casserole. You'll be praying for pot roast leftovers.
If your family can predict the menu for the next two or three days whenever you prepare a beef roast, surprise them. Use your leftovers to make Shepherd's Pie. This recipe might be even better than the original pot roast and potatoes that started it.
Leftovers were never so comforting.
Is it called Shepherd's Pie or Cottage Pie? According to Jamie Oliver, make this recipe with lamb and call it Shepherd's Pie. Then, make it with beef and call it Cottage Pie. Oops! This recipe calls for beef; however, I called it Shepherd's Pie. My mistake.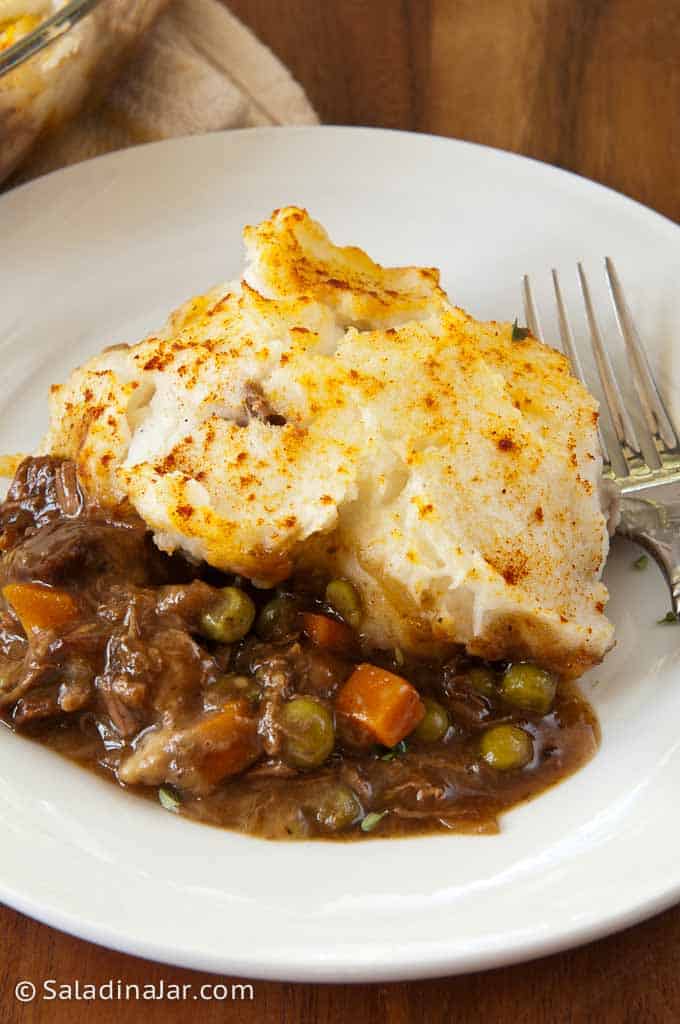 But it's too late to teach Google a new trick. So anyway, I think most Americans call this dish Shepherd's Pie no matter what kind of meat they use.
Roast Beef Leftovers?
Did you make a pot roast and have lots of leftovers? I called this a"Weeknight" recipe because we usually have pot roast on Sunday. So that means we have this easy leftover beef recipe during the following week.
Whenever I have this dilemma, I have trouble deciding if I want to make this Weeknight Shepherd's Pie recipe, Vegetable Beef Soup, or Steak and Mushroom Soup. They are all great ways to recycle leftover beef. I've been known to forbid seconds on my roast beef so there will be plenty of leftovers for one of these recipes the next day.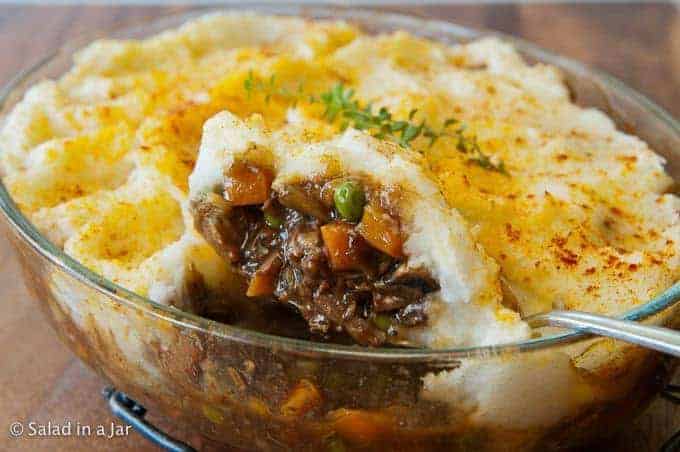 If you don't have leftovers, you can buy a pot roast or use sliced roast beef from the deli counter—more about that in the recipe.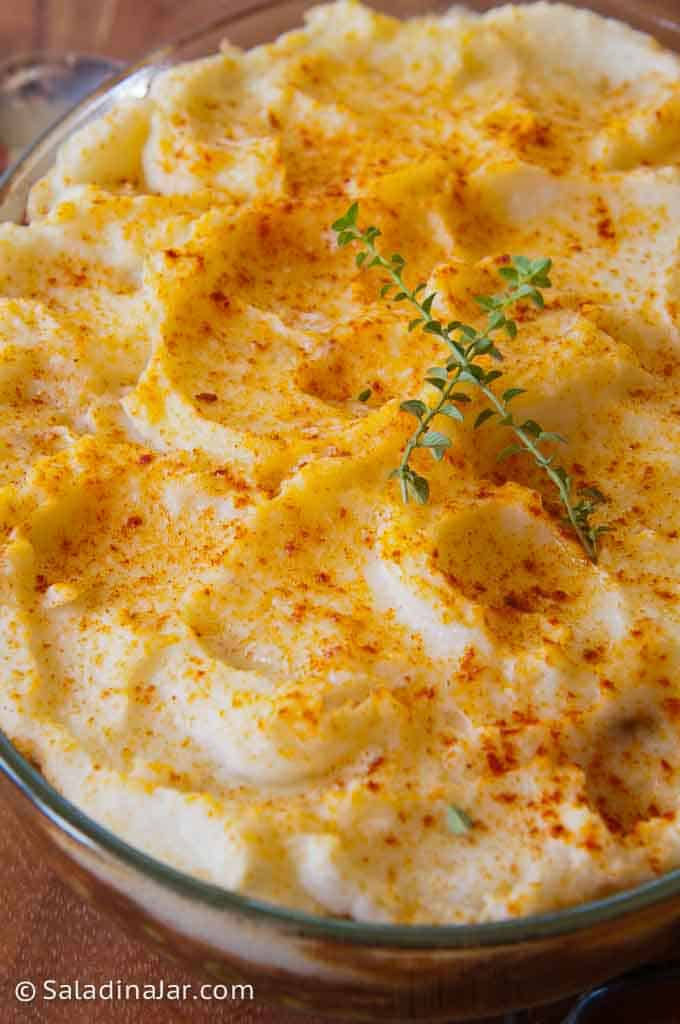 ---
Possible substitutions
#1
Ground beef for leftover pot roast
It's worth noting that many people substitute one pound of ground beef for the pot roast or roast beef. Of course, you could also substitute lamb if you prefer.
#2
Leftover mashed potatoes
The recipe below includes instructions for the mashed potato topping if you don't have leftovers. I try to make plenty of potatoes and gravy, too. That way I don't have to make them again for this recipe.
#3
Mashed cauliflower for potatoes
Are you counting carbs? Substitute mashed cauliflower for the potatoes. It's also scrumptious. Bet your family will be hard-pressed to tell the difference.
#4
Mushrooms, corn, or green beans
Are mushrooms not your thing? No worries. Leave them out.
If you want more veggies, I have subbed corn or green beans in the past, and it didn't hurt the recipe one bit.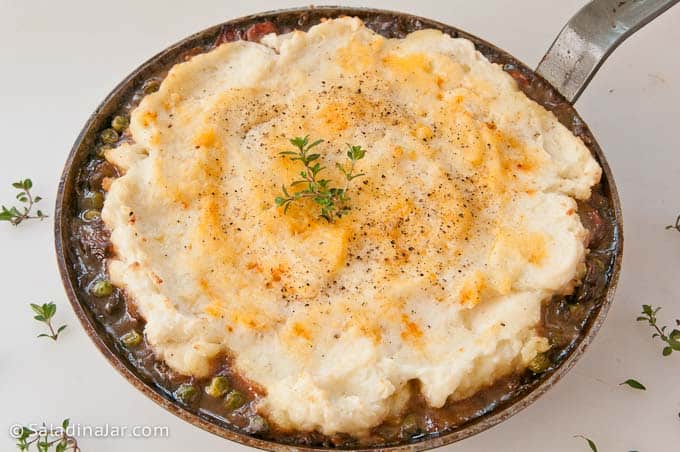 ---
How to make the mashed potato topping:
The directions call for cooking three peeled potatoes in water. When tender, drain well.
I cook potatoes in the Instant Pot by adding 1-1/2 cup water to the pot and the peeled and chopped (large chunks) potatoes. Set pot to high pressure for 10 minutes. Release the pressure immediately, and check to see if potatoes are tender. Drain well and allow to sit in the hot pan for a few minutes to dry out.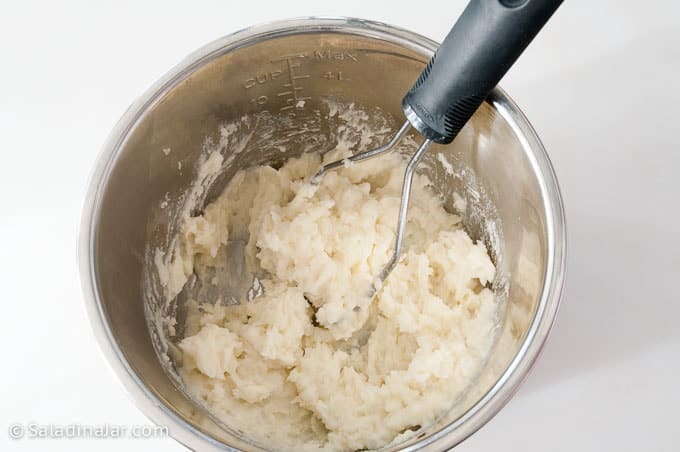 Mash with a potato masher until lumps disappear.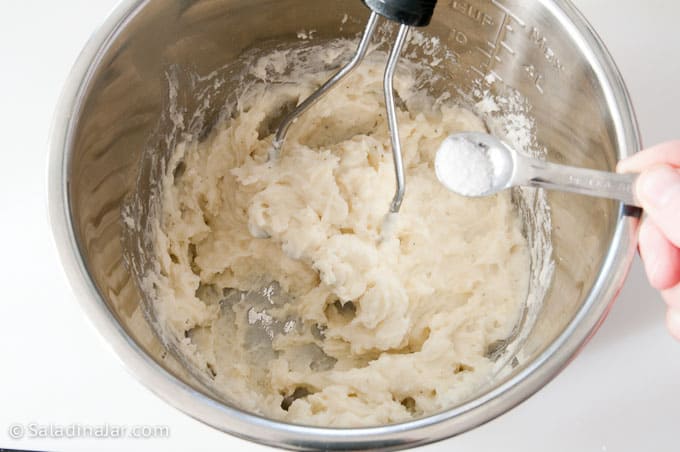 Season with salt and pepper.
---
How to assemble the meat layer: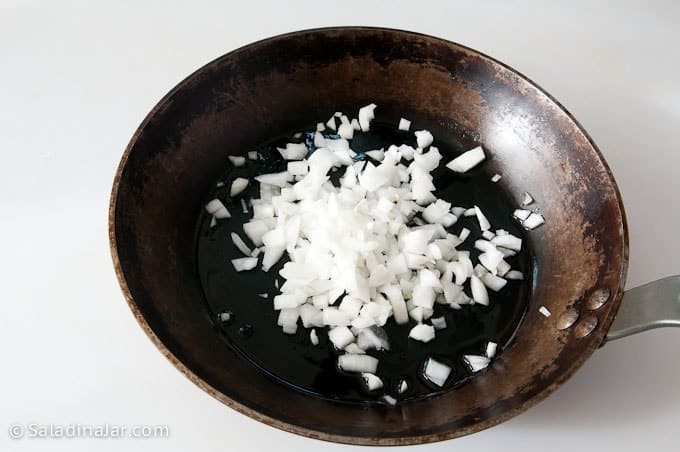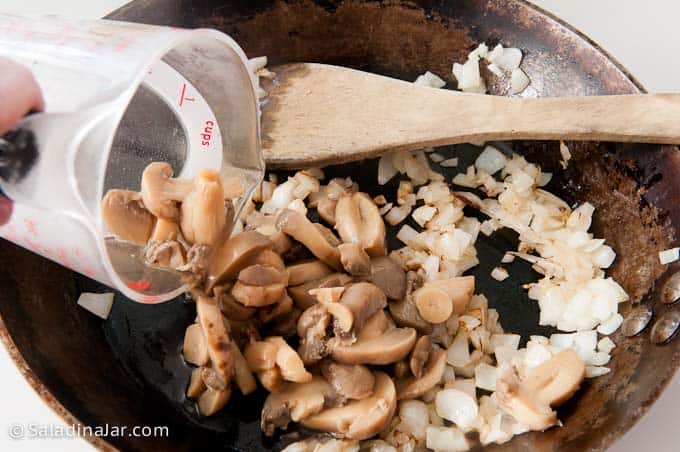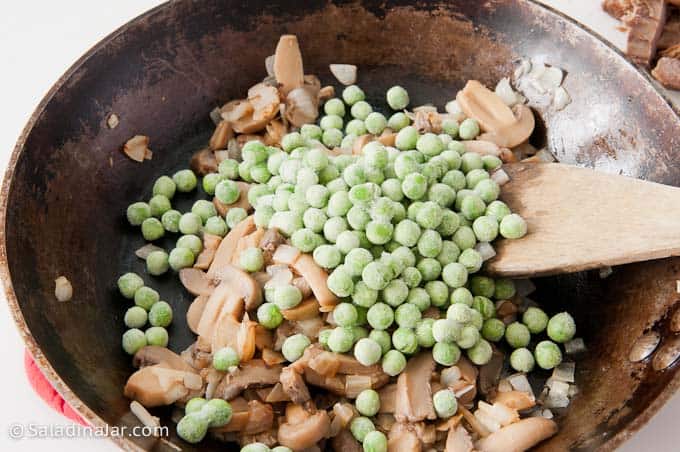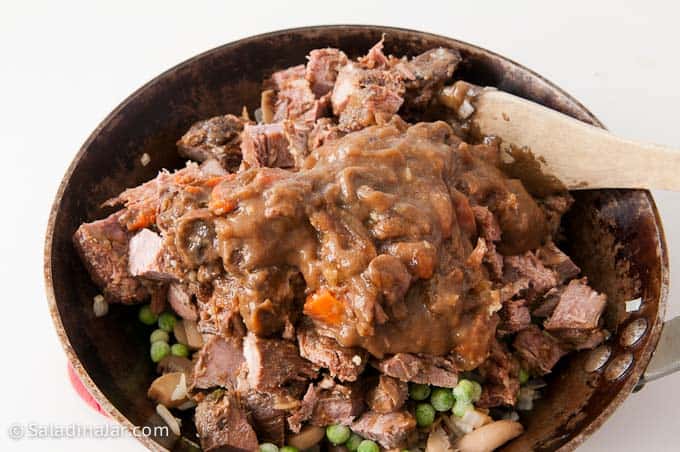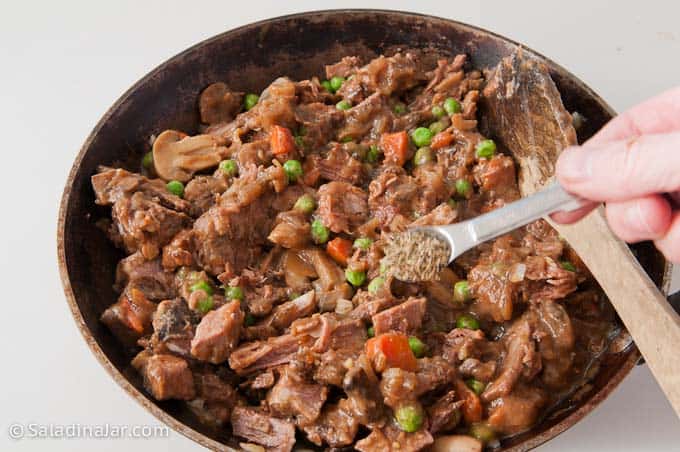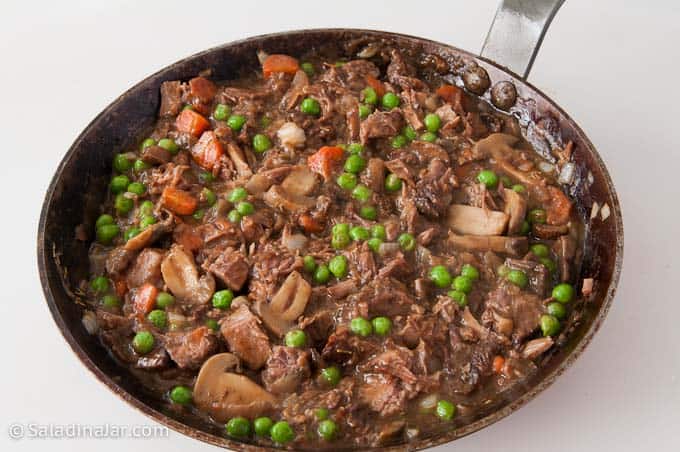 ---
How to put together Shepherd's Pie with Leftover Roast Beef: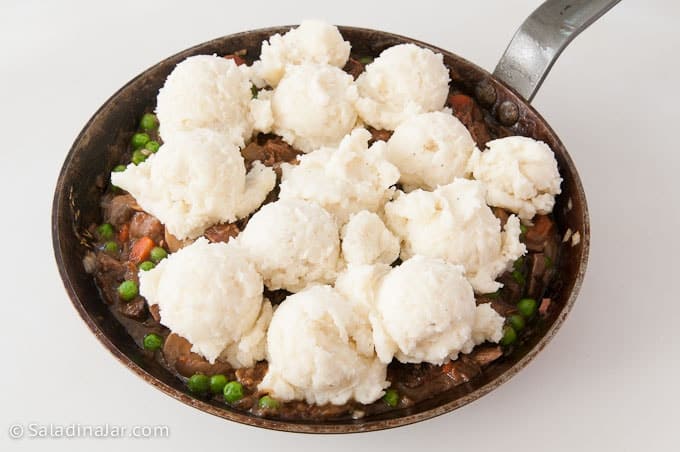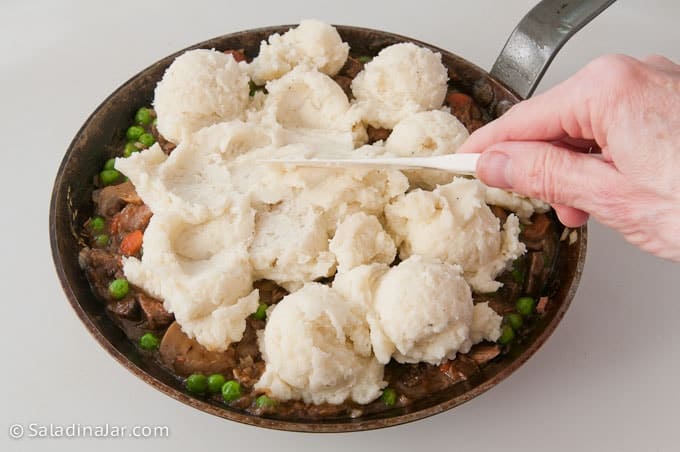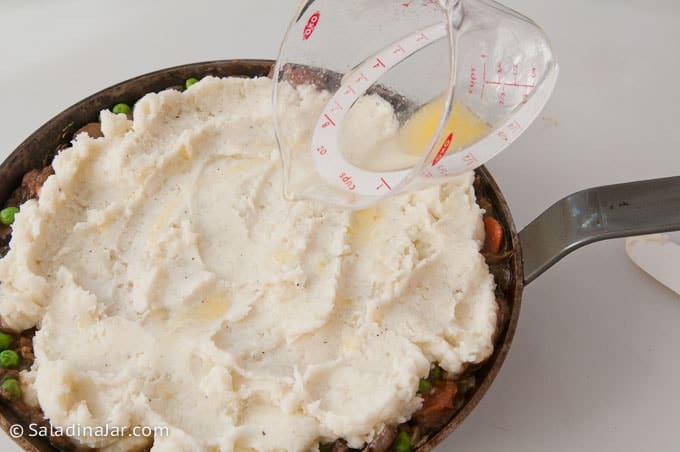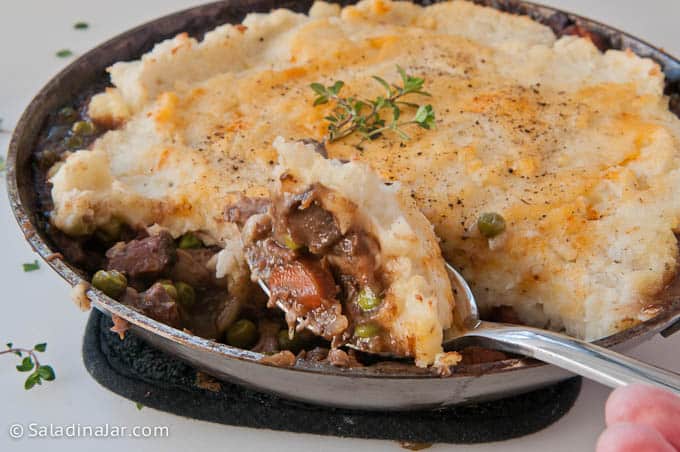 ---
If you enjoyed this recipe, it would help others and me if you left a five-star rating inside the recipe card below. 🤩 No comment required. Thank you.

Hope to see you again soon!
Paula
p.s. Questions or suggestions? Please email me: Paula at saladinajar.com.
---