Preview: This is the best bread machine pizza dough I've ever made with a bread machine. You can do it, too. Use the DOUGH cycle on your bread machine to make this flavorful crust.
I once worked for a major pizza chain in their research and development department. After I saw how much oil goes in the bottom of their pizza pans, I decided to make my pizzas at home as often as possible.
If you are a beginning bread maker, this recipe is for you. I can't think of a better recipe to start with. It's best for a medium-thickness crust, but you can also roll it thin for a thin-crust pizza.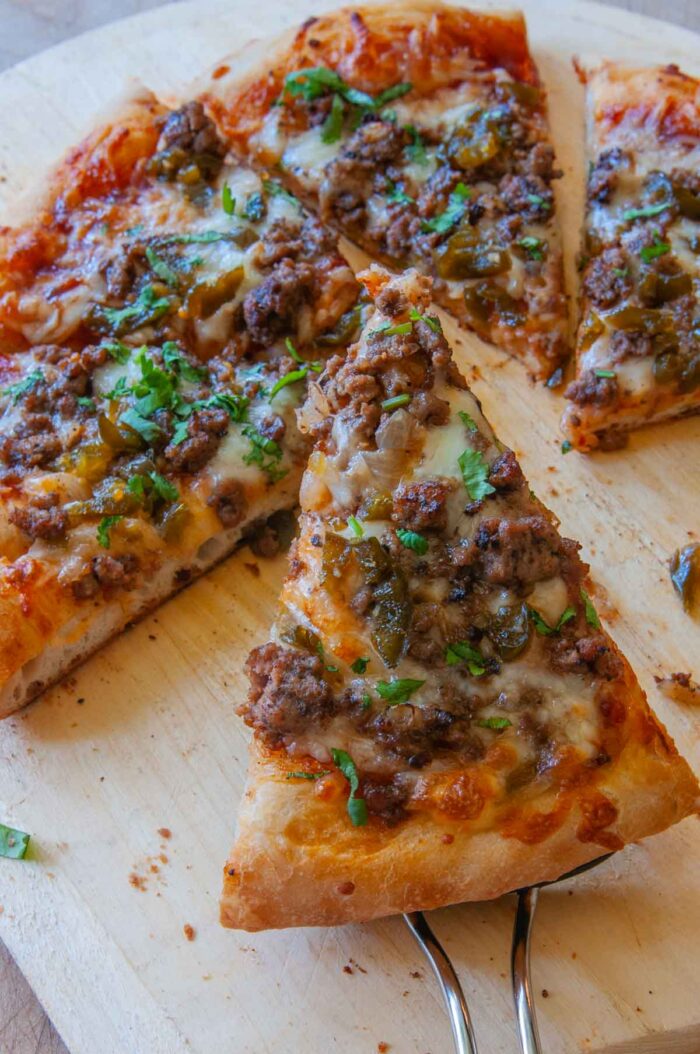 Recipe inspiration:
This recipe was adapted from Wolfgang Puck's "Perfect Pizza Dough" recipe as published in the Parade probably over 30 years ago. I have adapted it for a bread machine and made a few other minor changes.
I love to make pizza crust in my bread machine using the DOUGH cycle. If I use the timer function in conjunction with the DOUGH cycle (not available on all machines), the dough will be ready to roll out the moment I walk in the door after a long day.
---
Ingredients and substitutions: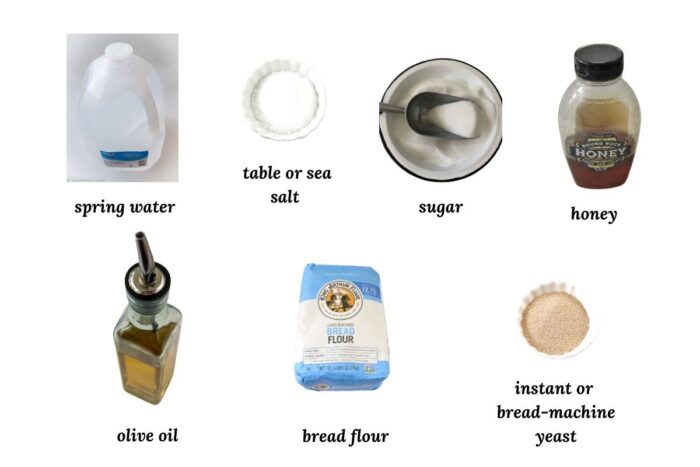 ---
WATER: I keep spring water in the house specifically for bread because it's chlorine-free and yeast-friendly. If you don't have any, use tap water (lukewarm).
SUGAR: Use granulated sugar. No substitutes.
OLIVE OIL: You may substitute vegetable oil but a good olive oil adds just the right flavor.
HONEY: Lyle's Golden Syrup or Corn Syrup are possible substitutes. Some people say brown sugar could be substituted but I haven't tried it and can't recommend an amount.
SALT: I use table salt or sea salt. If you use Kosher salt, add a pinch extra.
BREAD FLOUR: Bread flour gives this recipe a nice "chewy" characteristic. Substitute unbleached all-purpose flour if you don't have bread flour. Your crust will still be tasty.
INSTANT OR BREAD MACHINE YEAST: Instant or bread machine yeast (same thing) is always my first choice with a bread machine. Active dry yeast can be substituted but it may be a little slower to rise.
---
Bread Machine Pizza FAQ
How can I make pizza in a bread machine?
You can't really. You can only make the dough. You'll use the DOUGH cycle to mix and knead the dough. Then you will dump the dough out of the bread machine pan onto a lightly floured surface. You'll assemble the pizza on a pizza pan and bake in your conventional oven.

Do I have to use a pizza stone?
No. They are nice and help to make the crust crispy without scorching the crust. But you can get a crisp crust with this recipe if you use plenty of oil in the pan, a hot oven, and a dark-colored and heavy pizza pan or baking sheet.
Can I make the dough ahead of time?
Yes. Make the dough on the dough cycle. When it is done and the dough has doubled in size, remove the dough from the bread machine pan and divide it into two equal portions. Drop each dough ball into a plastic bag and store in the refrigerator for 3-4 days. If you want to keep it longer, place the dough in the freezer.

When you get ready to use the dough, it must come to room temperature and get puffy before you can shape it and proceed as usual to make your pizza.
Does it matter what order I add the ingredients to the pizza?
1. Sauce 2. Cheese 3. Meat and/or veggies 4. Fresh herbs can be added after pizza is baked.
I need to make LOTS of pizza. Can I double the recipe?
You can double this recipe only if your bread machine can handle 6 cups of flour. Most have a maximum capacity of 3-4 cups. Otherwise, I suggest you make more than one batch of dough and chill it ahead of time (See question above.) It actually develops the flavor and makes a better pizza.
How do you get the dough to stretch without making a hole?
Experience. But if you're having trouble, allow the dough to rest a few minutes and come back to it. It will stretch a little more after each rest.
Why is my pizza dough so dry?
The most likely reason is that you added too much flour. It's best to weigh the flour. But if you don't have scales, hold back 1/4 cup of the flour in the beginning and add it only if needed after the machine has mixed the dough for 5-10 minutes.

To fix dry dough: Add water 1 tablespoon at a time until the dough sticks to the side of the bread machine pan, then pulls away cleanly.
Why is my pizza dough so sticky?
You probably added too much water (or didn't add all the flour called for in the recipe). Add more flour–one tablespoon at a time–until the dough looks like the dough in the video. The perfect pizza dough will stick to the side of the pan, then pull away cleanly.
How to make bread machine pizza dough: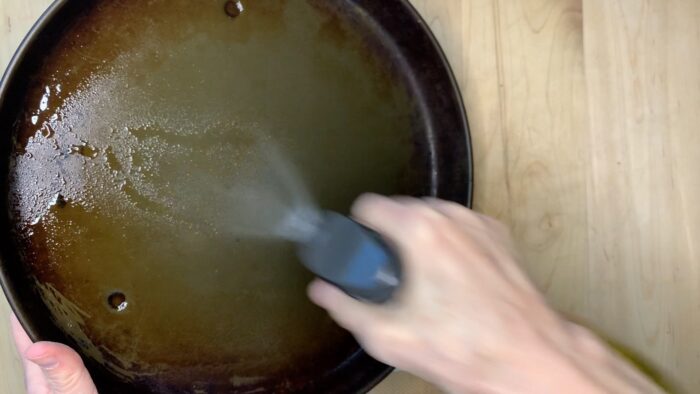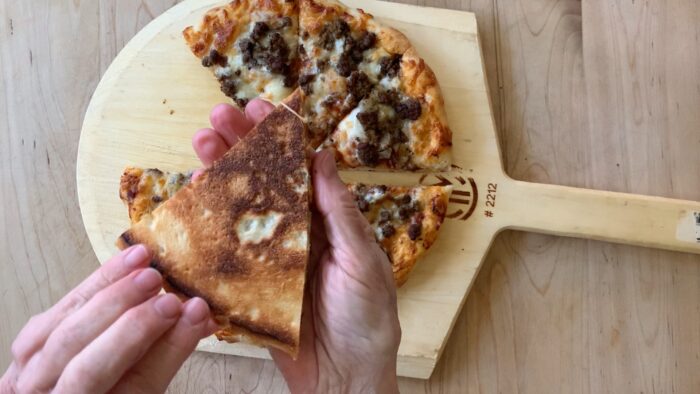 I've included nutrition information. However, since I don't know about your choice of toppings and the amount, these numbers are for the crust only.
---
---
---
Did you enjoy this recipe? You can help others (and me) by leaving a rating on the recipe card itself underneath the picture. No comment required. Thank you.

Hope to see you again soon!
Paula
p.s. Questions? Email me: paula at saladinajar.com.
Yield: 2 round crusts (16 slices)
Best Bread Machine Pizza Dough Recipe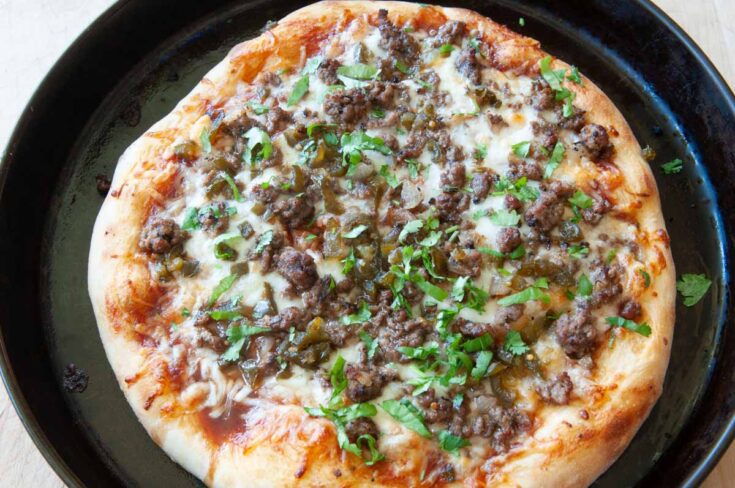 This pizza crust is made with a bread machine (although easily converted to a stand mixer recipe or by hand) and is simple enough for a beginner to make.
Total Time
2 hours
12 minutes
Ingredients
1 cup + 1 tablespoon spring water
1 teaspoon granulated sugar
2 tablespoons olive oil
1 tablespoon honey
1 teaspoon salt
3 cups(360 gr) bread flour
2 1/4 teaspoons fast-rising or bread machine yeast
Instructions
Place ingredients in bread machine in order given. Select the DOUGH cycle and start. Peek at the dough after 5 minutes. It should be gathering into a ball that sticks to the edge of the pan, then pulls away. If it doesn't still add a tablespoon of water. If it won't pull away after sticking, add a tablespoon of flour.
Preheat oven to 500˚F.
When the DOUGH cycle completes and the pizza dough is double the original size, remove dough from the bread pan to a floured surface. Divide into 2 pieces and shape each half into a ball. Cover and allow to rest for 10-15 minutes.
Spray 2 heavy pizza pans (I use 2 13-inch round pans) or a baking sheet with olive oil. Push and cajole pizza to the desired thinness with your hands. Using a rolling pin tends to make the dough compact. If the dough is resistant to stretching, let it sit and relax for a few minutes then come back to it.
Layer sauce first (don't overdo it), cheese, and then meat and/or vegetables. Watch the amounts. Excess toppings will cause your pizza to take too long to bake and may result in a soggy middle.
Bake in a preheated oven. Turn the temperature back 450˚F after you put the pizza in. Bake for 10-15 minutes or until the crust is golden on the edges and the cheese is turning golden brown in spots on top of the pizza.
Let cool for 2-3 minutes before slicing.
Notes
Directions for making bread with a stand mixer or by hand:
To make this recipe in a heavy-duty stand mixer, add ingredients to the bowl in the same order. Turn on low to mix until all ingredients are moistened. Using the dough hook, turn speed to 2 or 3 and continue beating/kneading until dough becomes smooth and elastic about 5-10 minutes. Cover and allow to rise in a warm place. Deflate dough gently and shape rolls as indicated in the recipe.
If making by hand, combine all ingredients into a shaggy ball in a large bowl. Turn dough out on a floured surface and knead with your hands until dough becomes smooth and elastic, a process that will likely take 10-20 minutes depending on your experience. Place the dough ball into a greased bowl. Cover and allow to rise until double. Deflate dough gently and shape the dough as indicated in the recipe

Please note: You can substitute active dry yeast for instant or bread machine yeast. There is no longer any need to dissolve it. Be aware that it may be a little slower acting than instant yeast, but it'll get there.
Recommended Products
As an Amazon Associate, I earn from qualifying purchases. But don't worry. This doesn't change the price you pay.
Nutrition Information:
Yield:
16
Serving Size:
2 slices
Amount Per Serving:
Calories:

142
Total Fat:

2g
Saturated Fat:

0g
Trans Fat:

0g
Unsaturated Fat:

2g
Cholesterol:

0mg
Sodium:

134mg
Carbohydrates:

26g
Fiber:

1g
Sugar:

1g
Protein:

4g