Preview: This is the best bread machine pizza dough I've ever made with a bread machine. You can do it, too. Use the DOUGH cycle on your bread machine to make this flavorful crust.
I once worked for a major pizza chain in their research and development department. After seeing how much oil goes in the bottom of their pizza pans, I decided to make my pizzas at home as often as possible.
If you are a beginning bread maker, this recipe is for you. I can't think of a better place to start. It's best for a medium-thickness crust, but you can also roll it thin for a thin-crust pizza.
---
This recipe started with Wolfgang Puck's "Perfect Pizza Dough" recipe published in the Parade probably over 30 years ago. I have adapted it for a bread machine and made a few minor changes.
I love to make pizza crust in my bread maker using the DOUGH cycle. If I use the timer function in conjunction with the DOUGH cycle (not available on all machines), the dough will be ready to roll out the moment I walk in the door after a long day.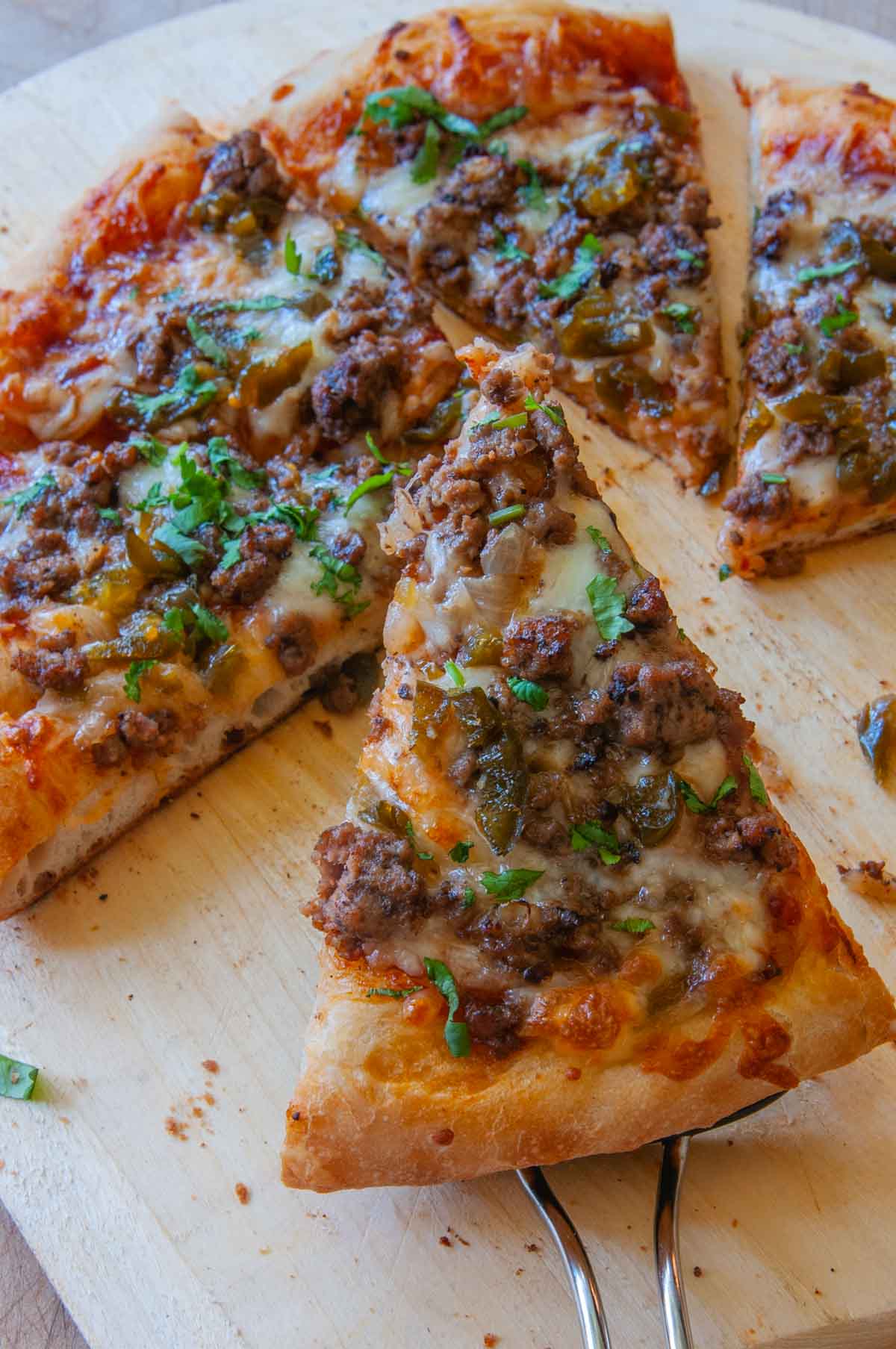 ---
Ingredients and substitutions: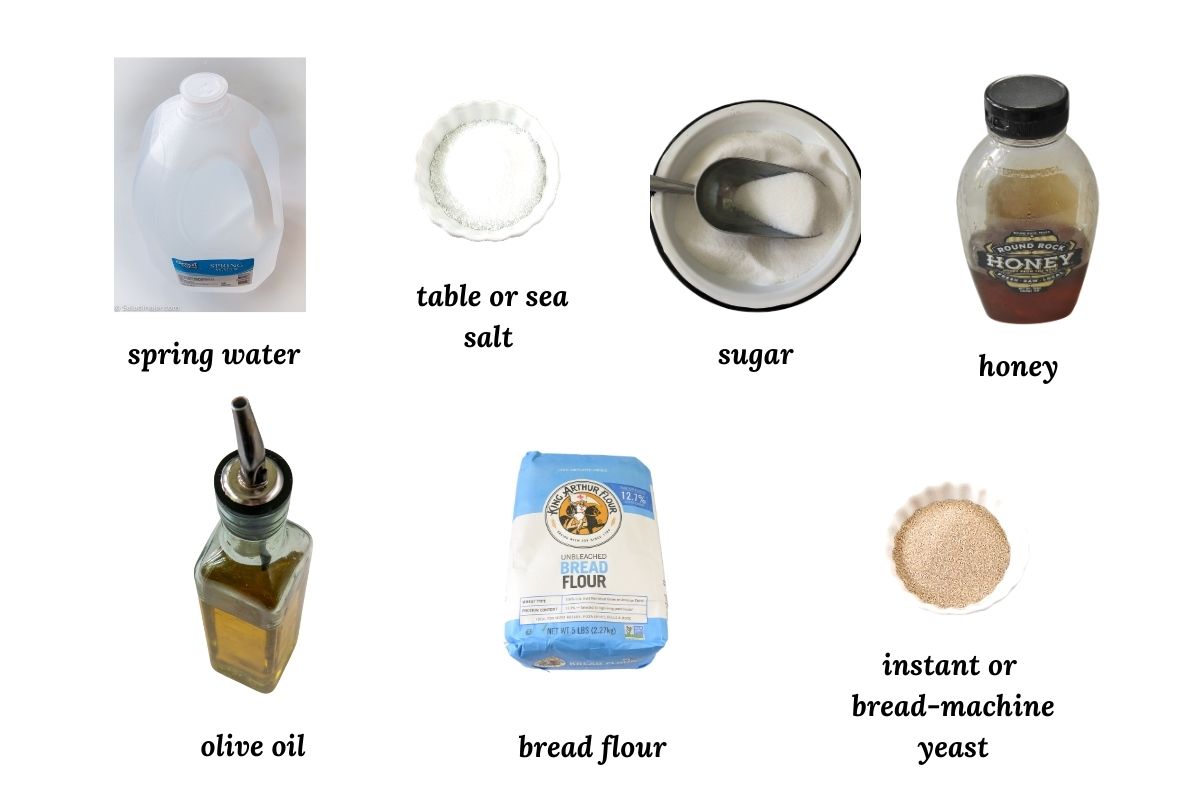 ---
WATER: I keep spring water in the house specifically for bread because it's chlorine-free and yeast-friendly. If you don't have any, use tap water (lukewarm).

SUGAR: Use granulated sugar. No substitutes.

OLIVE OIL: You may substitute vegetable oil but a good olive oil adds just the right flavor.

HONEY: Lyle's Golden Syrup or Corn Syrup are possible substitutes. Some people say brown sugar could be substituted but I haven't tried it and can't recommend an amount.

SALT: I use table salt or sea salt. If you use Kosher salt, add a pinch extra.

BREAD FLOUR: Bread flour gives this recipe a nice "chewy" characteristic. Substitute unbleached all-purpose flour if you don't have bread flour. Your crust will still be tasty.

INSTANT OR BREAD MACHINE YEAST: Instant or bread machine yeast (same thing) is always my first choice with a bread machine. Active dry yeast can be substituted but it may be a little slower to rise.
---
Bread Maker Pizza Dough FAQ
How can I make pizza in a bread machine?
You can't. You can only make the dough. Use the DOUGH cycle to mix and knead the dough. Then, dump the dough out of the bread machine pan onto a lightly floured surface. Finally, assemble the pizza on a pizza pan and bake it in your conventional oven.

Do I have to use a pizza stone?
No. Stones help to make the crust crispy without scorching the crust. But you can get a crisp crust with this recipe if you use plenty of oil in the pan, a hot oven, and a dark-colored, heavy pizza pan or baking sheet.
Can I make the dough ahead of time?
Yes. Make the dough with the DOUGH cycle. When the cycle finishes and the dough has doubled in size, remove the dough from the bread machine pan and divide it in half. Drop each dough ball into a plastic bag and store it in the refrigerator for 3-4 days. If you want to keep it longer, place the dough in the freezer.

When you get ready to use the dough, let it warm to room temperature and get puffy before you can shape it. Then, proceed as usual to make your pizza.
Does it matter what order I add the ingredients to the pizza?
1. Sauce
2. Cheese
3. Meat and veggies
4. Add fresh herbs after the pizza bakes.
I need to make LOTS of pizza. Can I double the recipe?
You can double this recipe only if your bread machine can handle 6 cups of flour. Most have a maximum capacity of 3-4 cups. Otherwise, I suggest you make more than one batch of dough and chill it ahead of time (See question above.) Chilling the dough develops the flavor and makes a better pizza.
How do you get the dough to stretch without making a hole?
Experience. But if you're having trouble, allow the dough to rest a few minutes and come back to it. It will stretch a little more after each rest.
Why is my pizza dough so dry?
The most likely reason is that you added too much flour. It's best to weigh the flour. But if you don't have scales, hold back 1/4 cup of the flour in the beginning and add it only if needed after the machine has mixed the dough for 5-10 minutes.

To fix dry dough: Add water one tablespoon at a time until the dough sticks to the side of the bread machine pan, then pulls away cleanly.
Why is my pizza dough so sticky?
You probably added too much water (or didn't add all the flour called for in the recipe). Add more flour–one tablespoon at a time–until the dough looks like the dough in the video. The perfect pizza dough will stick to the side of the pan, then pull away cleanly.

How to make bread machine pizza dough: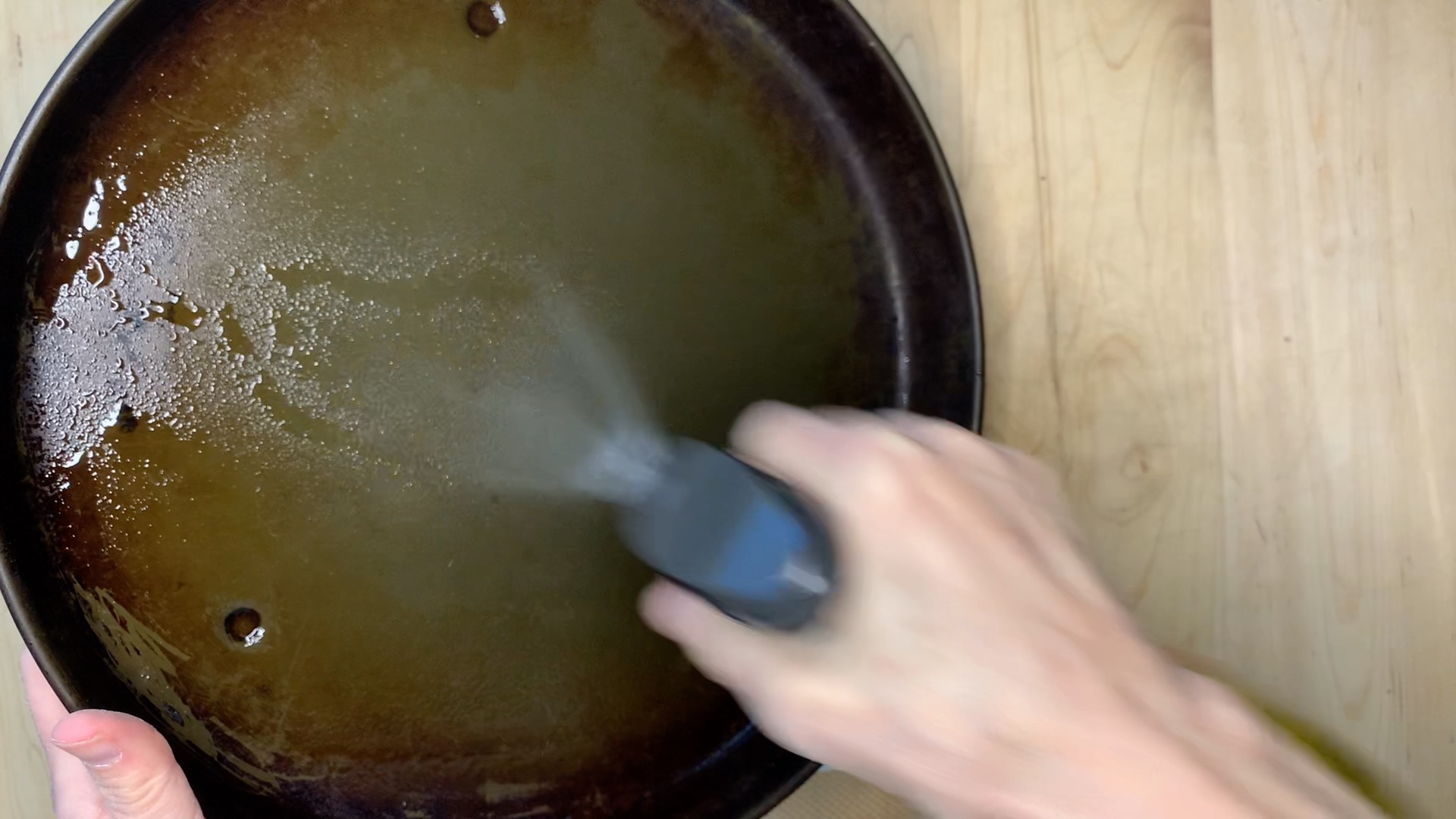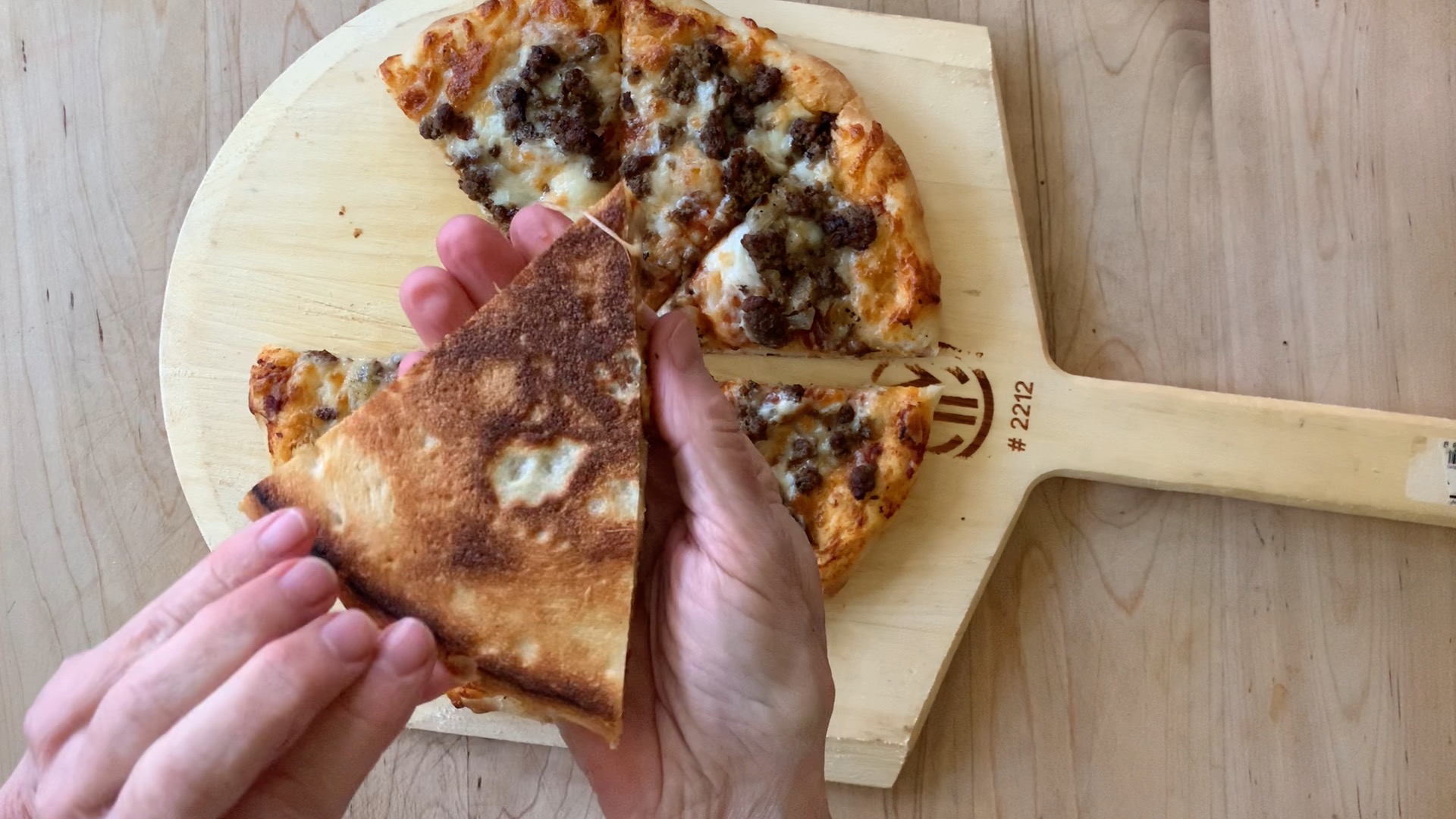 I've included nutritional information for the crust only. However, your choice and amount of toppings will be an unknown variable.
---
If you enjoyed this recipe, it would help others and me if you left a five-star rating inside the recipe card below. 🤩 No comment required. Thank you.

Hope to see you again soon!
Paula
p.s. Questions or suggestions? Please email me: Paula at saladinajar.com.