Low-Calorie Salad Dressing with Balsamic and Yogurt: Quick To Mix
Sneak Preview: This Low-Calorie Salad Dressing Recipe makes a creamy yogurt balsamic vinaigrette that is quick, easy, and won't break your calorie budget. Add this recipe to your healthy homemade salad dressings collection.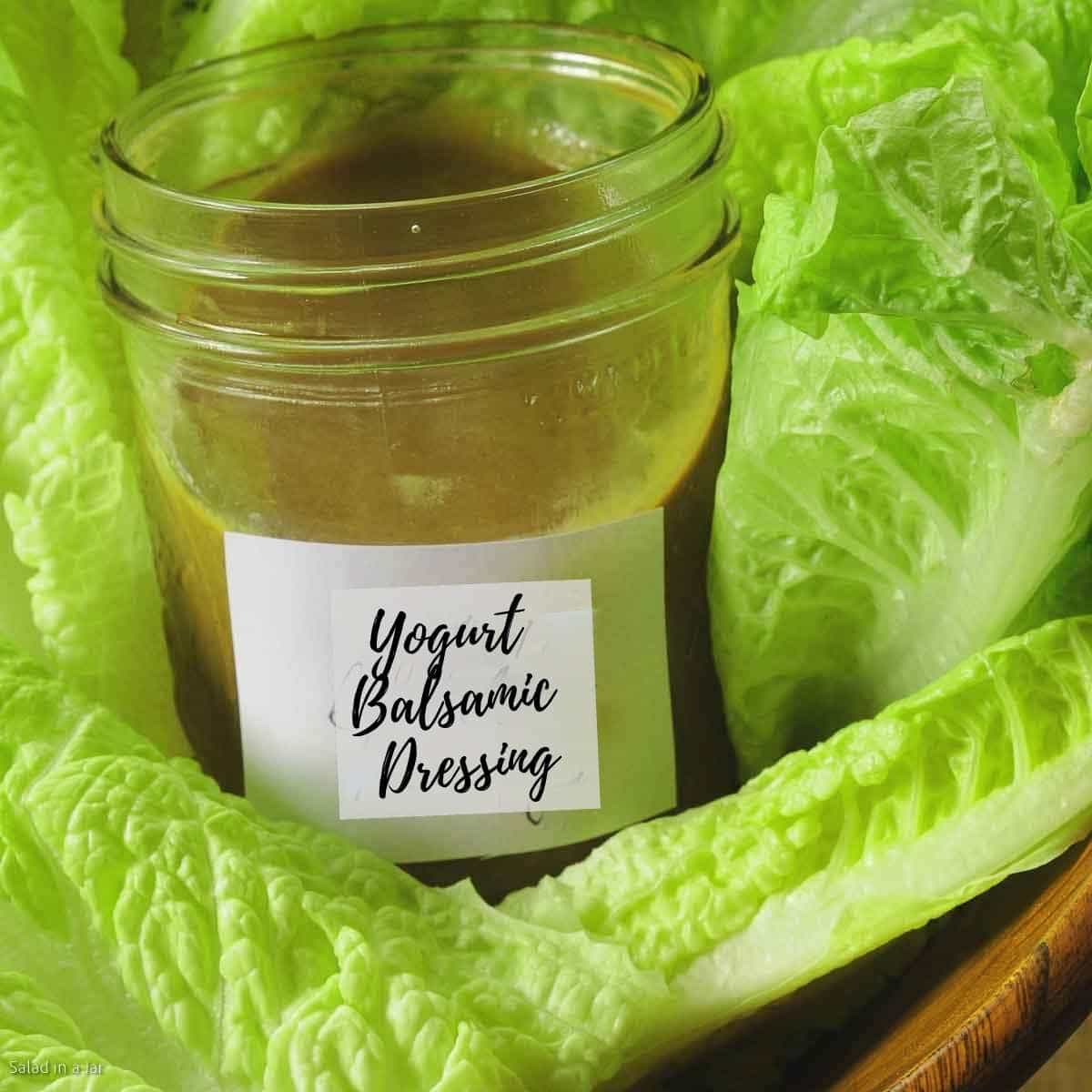 As an Amazon Associate, I earn from qualifying purchases.
Do you ever get in a rut with salad dressing? If so, I feel your pain. I eat a huge salad almost every single day. Variety is key to sustaining the habit.
Making a low-calorie and healthy salad dressing that tastes good isn't easy.
Many published recipes for homemade dressing are high in calories because they contain substantial fat and sugar. While some oils are healthy in moderation, overdoing it can be tempting. (Speaking for myself here.)
Happy Cooks Speak Up:
"This recipe is so wonderful! It's exactly what I've been looking to make, so that I can recreate all my favorite salads from restaurants. Thanks so much! "– Anne
Why make salad dressing at home?
Tastes fresh
No unusual or seasonal ingredients
No blender or food processor is required
Customize to your taste and the ingredients you have on hand
It's cheaper than store-bought dressings.
I wanted something easy, filling, and available when developing this recipe.
That's when I thought about my favorite food group–YOGURT.
---
Why add Greek yogurt to a salad dressing?
It has a creamy texture.
It can be low-calorie.
It's not usually as tart as regular yogurt.
Greek yogurt is readily accessible these days. I keep it in my refrigerator at all times. Make it yourself (but it's certainly not necessary).
---
---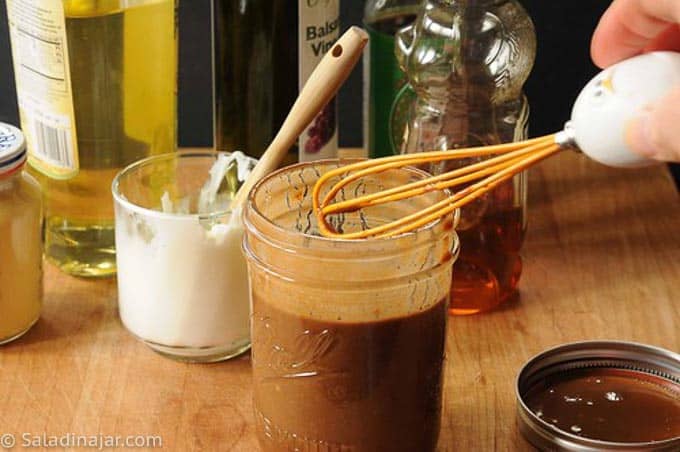 Substituting nonfat Greek yogurt for some of the oil makes the calorie count more reasonable. My standard for salad dressing is 80 calories or below per serving. This recipe comes in at 53 calories per serving (2 tablespoons).
Ingredients and common substitutions:
BALSAMIC VINEGAR: Substitute white vinegar, apple vinegar, or white wine vinegar. I do not use the most expensive balsamic vinegar for this dressing. I save that for occasions when I want the balsamic to shine on its own.

LIGHT SOY SAUCE: Use coconut aminos (for less salt) or regular soy sauce instead of light soy sauce. Skip the salt in the recipe if you go with regular soy sauce.

DIJON MUSTARD: Mustard adds umami to this recipe. Substitute your favorite type of mustard.

HONEY: Maple syrup makes a flavorful substitute.

GREEK YOGURT: The calorie count of this recipe is based on fat-free yogurt, but use your favorite type or whatever you have on hand. If you only have regular yogurt, that will work, too. However, the consistency will be a little thinner.

OLIVE OIL: My first choice is extra-virgin olive oil, but any vegetable oil is acceptable if it's fresh. That's important for the best flavor.

SALT: The soy sauce has some salt, so taste the dressing before adding more.
---
---
Incidentally, a serving of salad dressing is usually two tablespoons. Going overboard is easy. Whenever I'm being obsessive and measuring it out, two tablespoons is rarely enough. Just sayin'.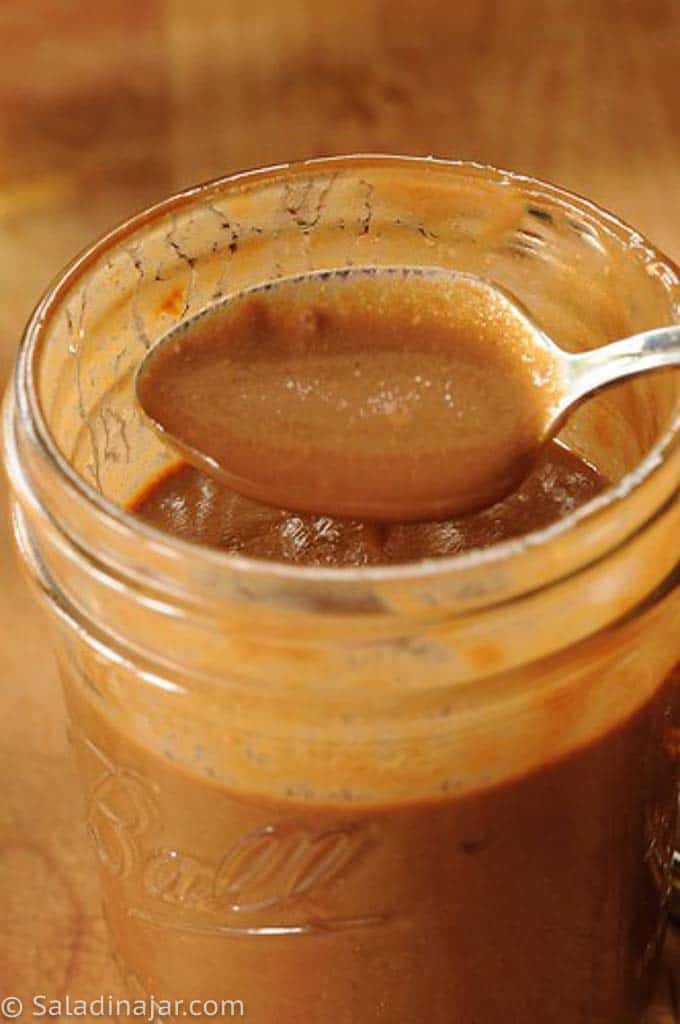 Frequently asked questions about this dressing recipe:
What does this dressing taste like?
Sweet-and-sour describes the honey/balsamic combination of flavors. Subtle umami notes from the soy sauce and Dijon mustard add to the fun. Creamy Greek yogurt acts as the go-between by smoothing and delivering the complex flavors found in this simple and easy recipe.
How long will the dressing stay fresh in the refrigerator?
This dressing should be good for at least two weeks.
What other foods are good with this dressing?
Try this Balsamic and Yogurt Salad Dressing recipe with a lettuce/fruit and nut combination. For example, I love it with chicken and sliced oranges, dried cranberries and almonds, dried blueberries, and toasted pecans. Try it with romaine, teriyaki chicken, and pineapple. Consider serving this dressing as a dip on a relish plate instead of Ranch dressing for a change.
What makes one balsamic vinegar more expensive than another?
How long the vinegar has aged makes a big difference–the longer, the better. If the vinegar is thick and syrupy, it's more likely to be expensive. Cheaper balsamic vinegar contains a lot of red wine and caramel coloring.
Parting Thoughts: If you enjoy making salad dressings, check out my Creamy Strawberry Yogurt Salad Dressing. Or, if you want to make mayonnaise that lasts longer than most homemade mayonnaise, try this Mayonnaise made with Yogurt Whey. One of my favorite homemade dressings comes from Sally at Real Mom Nutrition for White Balsamic Viniagrette. Her recipe calls for white balsamic vinegar and other herbs. If you can find the vinegar, it's a breeze to put it together.
---
Recipe Help at Your Fingertips: For questions or suggestions, email Paula at saladinajar.com. If you need help, I'm happy to troubleshoot via email (faster than leaving a comment). Attach pictures and as many details as possible for the best advice.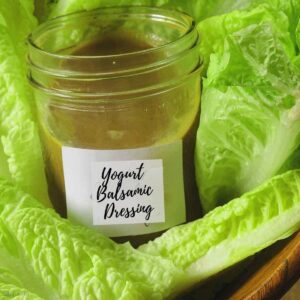 Low-Calorie Salad Dressing Recipe with Balsamic and Yogurt
This is a low-calorie dressing with nonfat Greek yogurt as the base–light on fat, heavy on flavor.
Share recipe love here. ⬇
Ingredients
¼

cup

(

57

g

)

balsamic vinegar

1

tablespoon

light soy sauce

1½

tablespoons

(

23

g

)

Dijon mustard

1½

tablespoons

(

32

g

)

honey

3

tablespoons

(

42

g

)

nonfat Greek yogurt

½

tablespoon

extra-virgin olive oil

–

(or avocado or canola oil)

¼

teaspoon

table salt
Instructions
Whisk

¼ cup

(

57

g

) balsamic vinegar,

1 tablespoon

light soy sauce,

1½ tablespoons

(

23

g

) Dijon mustard,

1½ tablespoons

(

32

g

) honey,

3 tablespoons

(

42

g

) nonfat Greek yogurt,

½ tablespoon

extra-virgin olive oil, and

¼ teaspoon

table salt together in a small bowl until smooth.

Store in the fridge in a Mason jar.
Notes
1. Makes 5 servings/2 tablespoons each.
2. You may substitute regular nonfat yogurt, but the finished product will have a thinner consistency.
Nutrition
Serving:
1
(2 tablespoons)
|
Calories:
53
kcal
|
Carbohydrates:
8
g
|
Protein:
2
g
|
Fat:
2
g
|
Saturated Fat:
1
g
|
Polyunsaturated Fat:
1
g
|
Monounsaturated Fat:
1
g
|
Cholesterol:
1
mg
|
Sodium:
375
mg
|
Potassium:
44
mg
|
Fiber:
1
g
|
Sugar:
7
g
|
Vitamin A:
4
IU
|
Vitamin C:
1
mg
|
Calcium:
17
mg
|
Iron:
1
mg
HELP OTHERS find this recipe. Leave a 5 🌟🌟🌟🌟🌟 rating at the top of the recipe card if you enjoyed it. No comment is required.