Preview: Make these classic bread machine dinner rolls with a bread maker. They are beginner-friendly and taster-approved. No bread machine? No worries! You can still mix the dough in a stand mixer or do it by hand. See the recipe notes for details.
Does anybody still clip recipes in this day of virtual newspapers, Pinterest, and gorgeous picture cookbooks?
I clipped this recipe out of our local newspaper back in the '80s, reportedly from the cooks at a local high school. Whether it was a disgruntled employee or the cafeteria cooks themselves who leaked the recipe, I'm so glad to have their famous recipe for these scratch dinner rolls.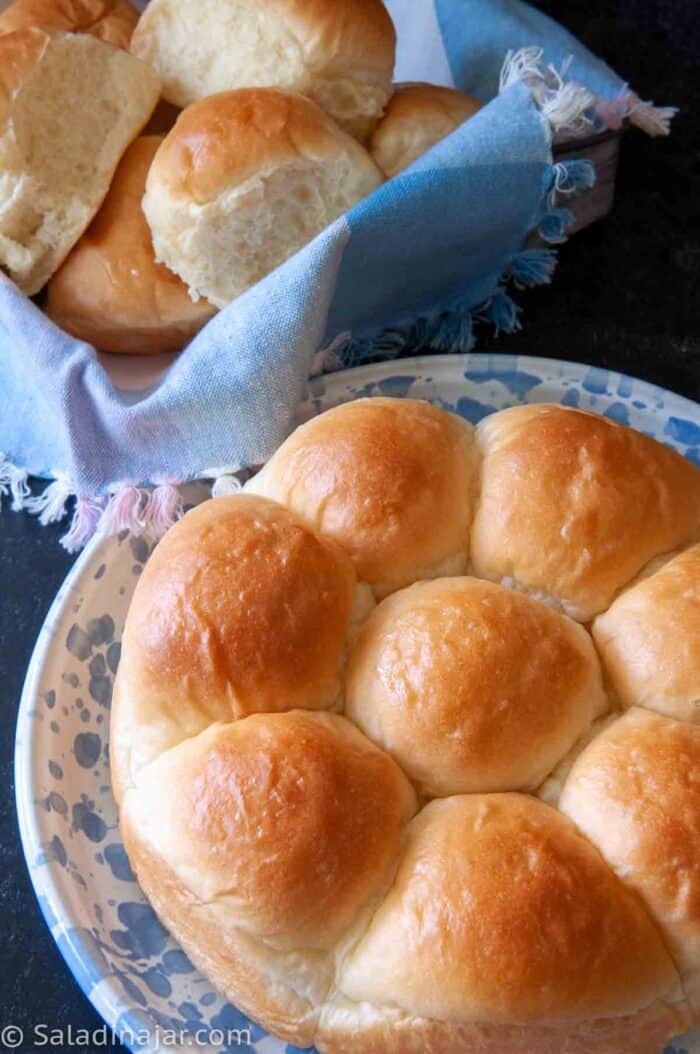 Even though it wasn't a bread machine recipe per se, the recipe converted beautifully so I could make them in my then-new bread machine. I was hooked.
A million and one batches later, I can honestly say this recipe has been "tested and approved." Proceed with confidence.
I published this yeast roll recipe in the early days of this website. When readers complained after it disappeared for a while, I republished it along with a video.
---
Ingredients and substitutions
FLOUR: Unbleached flour is my first choice for a very scientific reason. It's what I keep in the flour canister on my countertop making it easy to grab.

I've tried bread flour, white whole-wheat flour, and bleached flour. They all make great rolls.

MILK: Whole milk is best. The more fat in the milk, the better. If you have some other milk on hand, go ahead and use it. Read below for options to use for lactose-free bread.

If you aren't using whole milk, you could substitute 1 tablespoon of heavy cream for 1 tablespoon of milk. The liquid should not total more than 1 cup.

EGG: I use nothing but "large" eggs in all of my bread recipes. Make adjustments in the amount of liquid if you use a different size egg.

SUGAR: The recipe calls for 3 tablespoons of sugar. I often add only 2 tablespoons depending on how tight my pants are feeling that day. Suit yourself.

BUTTER: The original recipe specified shortening, aka Crisco. After a few years of that, I switched to butter and never looked back. If you are out of butter or want lactose-free bread, use shortening as a substitute.

YEAST: Again, the original recipe called for active dry yeast. I quickly exchanged the idea of waiting 10-minutes while the yeast dissolved for instant or bread machine yeast that doesn't need to be dissolved. Active dry yeast no longer needs to be dissolved according to King Arthur Flour.

SALT: Use table salt or sea salt. If you want to use Kosher salt, add about 1/4 teaspoon more. Salt is an important part of the whole package, so please don't leave it out.
---
---
How do you use a bread machine to make dinner rolls?
If you are a bread-maker newbie, be sure to read 6 Bread Machine Secrets You Need To Know. But, for now, here's the quick answer.
Use the bread machine DOUGH cycle to mix up the dough, knead it, and let it rise. That means you will dump all the ingredients (except the butter) into your bread machine pan in the order listed in the recipe. Start the machine.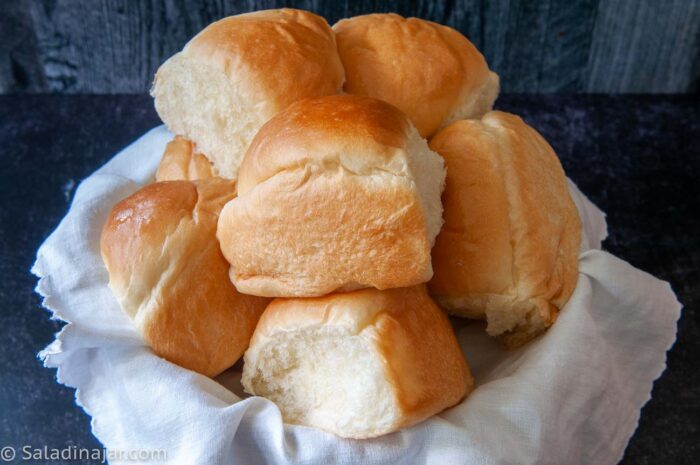 The most important thing you should do when using a bread machine:
Check the dough at least twice by lifting the lid to take a peek. Do this right after the machine starts to see if the paddles are correctly engaged. It's also an excellent time to add butter. (See the recipe below.)
Check the consistency of the dough again 10-15 minutes into the dough cycle.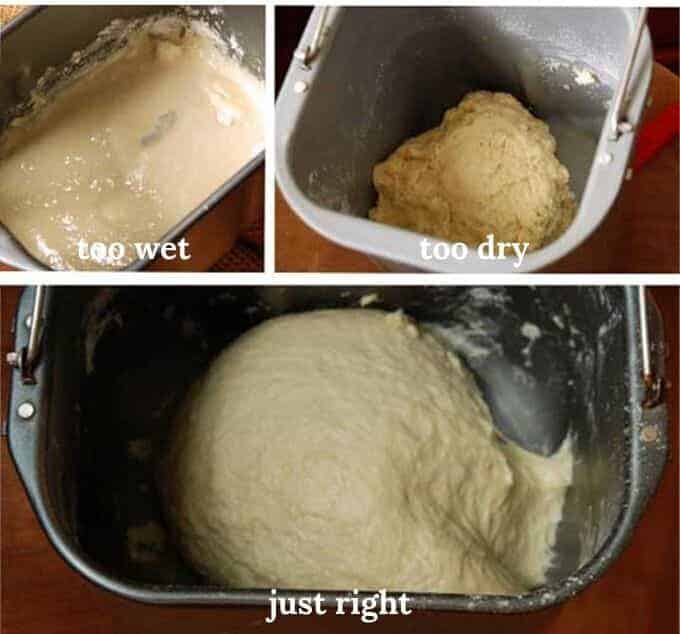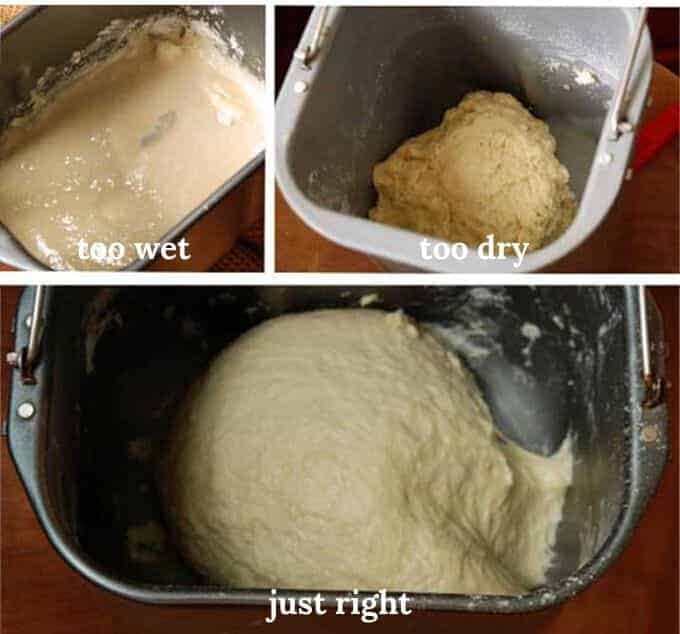 If your dough is too wet, add flour one tablespoon at a time. The dough should stick to the side, then pull away cleanly.
Conversely, if the dough is too dry, add one tablespoon of liquid at a time until the dough looks just right. See the video for another illustration of how your dough should look.
"The goal is for the dough to be shiny and elastic. It should stick to the side, then pull away cleanly."
Once the dough cycle ends, remove the dough from the machine and shape it into balls. Place the balls of dough into baking pans and cover while they rise again. Bake rolls in your conventional oven.
---
Tips for bread machine dinner rolls:
#1
Weigh the flour.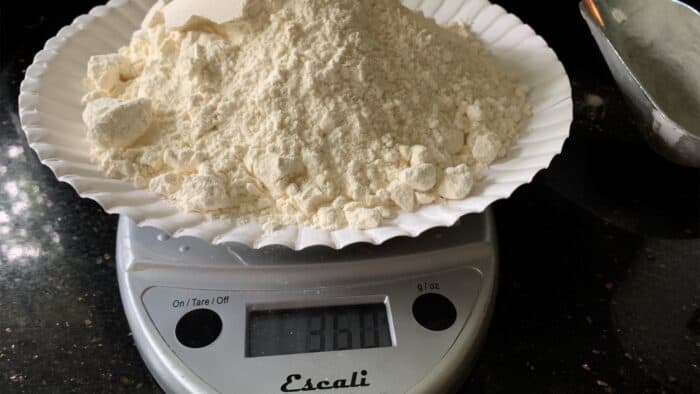 Weighing is more accurate than using a measuring cup. Now that I weigh the ingredients, I rarely need to add more flour or liquid to my bread dough.
If you don't have digital scales, fluff up the flour with your scoop or spoon. Spoon flour into a measuring cup with a delicate hand. Level. Please don't be a "scooper." This practice inevitably leads to too much flour and heavy rolls.
---
#2
Measure the liquid carefully.
The proportions of liquid to flour is vital in bread making. If you add too much liquid, you will have to add extra flour. If you add too much flour, you will have to add more liquid.
---
#3
Add softened butter after you start the bread machine.
This is a little-known secret I stumbled upon a couple of years ago. Now I do it with almost all of my bread recipes. Add the butter after you have started mixing all the other ingredients.
After your machine has been running for about 1 minute, open the lid. Add the softened butter (neither melted nor hard) a tablespoon at a time to the dough.
The other ingredients get a chance to dissolve and mix before the fat coats everything.
If you don't do this or forget, no problem. Dumping everything in at once will still result in great dinner rolls.
---
#4
Use a silicone baking sheet as your "floured surface."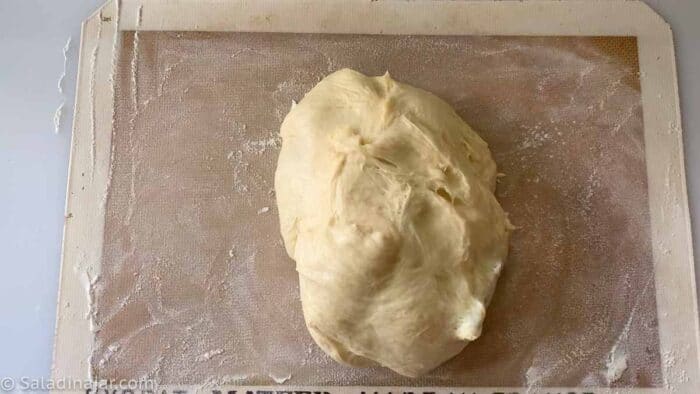 Silicone mats are the best platform for rolling out dough. Why? Because the mat is easy to wash. Throw it into the dishwasher.
Also, it doesn't take as much flour to keep the dough from sticking. Try it, and you'll see what I mean.
Speaking of flour, if the dough is too sticky for you to manage, add flour to your hands and more to the surface. Also, try coating your hands with a bit of butter when shaping the balls to prevent sticking.
---
#5
Use colored pans to get a nice crust on the bottom of your rolls.
My pans of choice are the gold-colored pans. After that, I would choose a pan with a dark non-stick surface. The heavier the pan, the better.
Lightweight aluminum pans or disposable foil pans are slow to brown. If it is your only choice, place the rolls onto the lower rack of your oven.
---
#6
Check for doneness with a thermometer.
Some of you may be thinking, "I never saw my grandma use a thermometer." I didn't either. Experience can take the place of a thermometer.
But if you're a beginner or like to try new recipes, a thermometer can save you a lot of disappointment. It doesn't have to be a fancy one. A quick-read thermometer with a long and skinny probe (paid link) works best.
When using a thermometer, delicately poke the probe from the side of the rolls into the middle to find the lowest temperature. Your rolls should reach 190˚F when they are ready to come out of the oven.
---
#7
Don't leave the rolls in the pan longer than 10 minutes after they come out of the oven.
Because these rolls are so soft, you will need to leave them in the pan for just a few minutes to cool and let them "set." However, remove them after about 10 minutes, or they will become soggy.
Place them onto a paper plate, a plate covered with a paper towel or a cooling rack. After about 20 minutes, I pull the rolls apart and pile them into a basket lined with a towel.
By this time, you will have people gathered around wanting to taste-test for you. I let them! Everyone will appreciate your efforts more when they are hungry.
---
Variations
Because they are plain, basic, classic dinner rolls, the dough is versatile. Make cinnamon rolls, raisin rolls, and more with the very same dough.
Change the flour and make white whole-wheat rolls. Add rosemary and brown the butter to make a wreath with the balls for a holiday meal.
Because I never quit tweaking my recipes…
I adapted this super simple recipe by adding the Tangzhong technique. It might be even better because the rolls are flaky and stay fresh longer. The secret is in a liquid/flour paste that allows the baker to use less flour. However, it is slightly more trouble. You can see the recipe for my Favorite Dinner Rolls with the Tangzhong method here.
Lactose-Free Dinner Rolls:
Substitute water or non-dairy milk (such as oat milk or cashew milk) for the dairy milk. Crisco makes a good stand-in for butter although I missed the buttery taste. Vegan butter is another possibility. Otherwise, follow the directions as written.

---
How to shape bread machine dinner rolls:
I hope these pictures will give you an idea of how to transform the dough into dinner rolls. But, of course, there is more than one way to make a dinner roll.
Some people like to roll the balls on a floured surface. Others roll them between their hands. But I like the method shown in the video. Once you get the hang of it, it goes much faster.
My best kitchen secret for shaping…
"Don't worry about making perfect dough balls. If they are too perfect, people will think you bought your rolls from the grocery store."
How to make Classic Bread Machine Dinner Rolls using the DOUGH cycle:
Combine all the ingredients as described in the recipe. Choose the DOUGH cycle, then START. Check on the dough as described earlier in this post.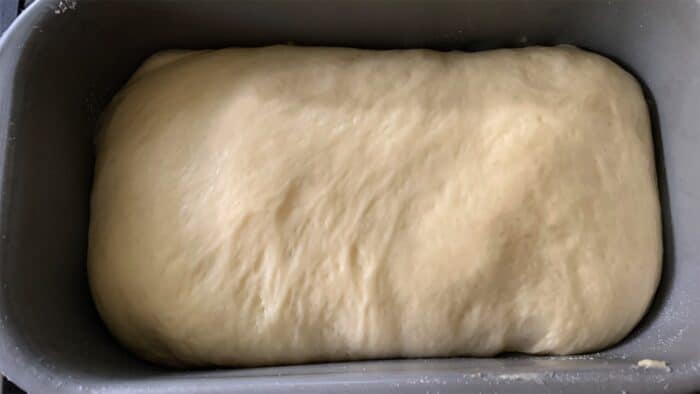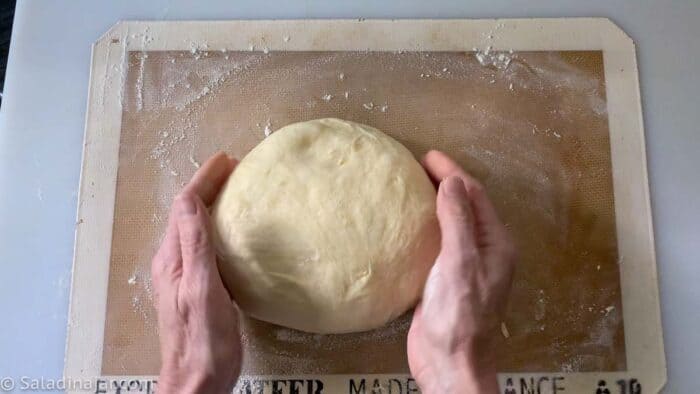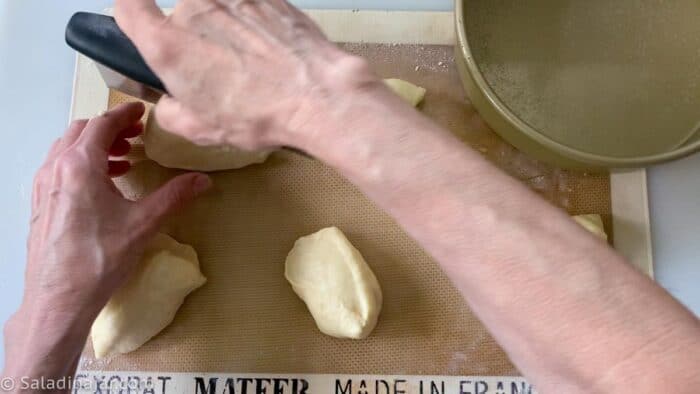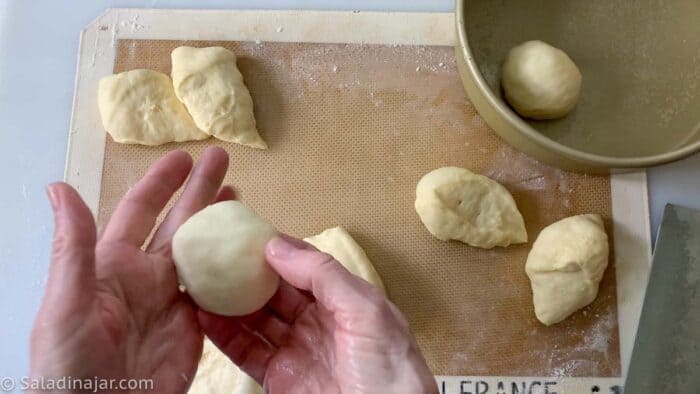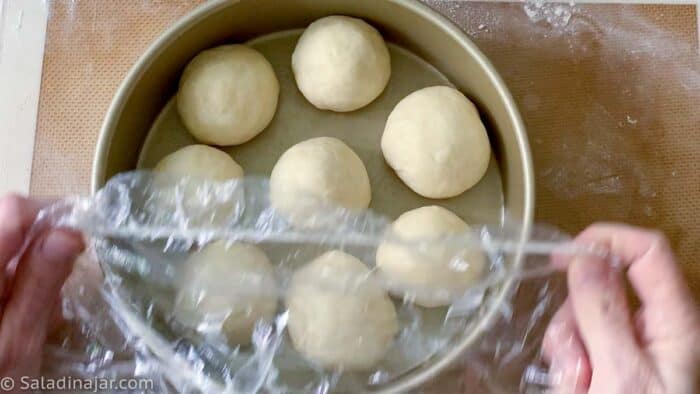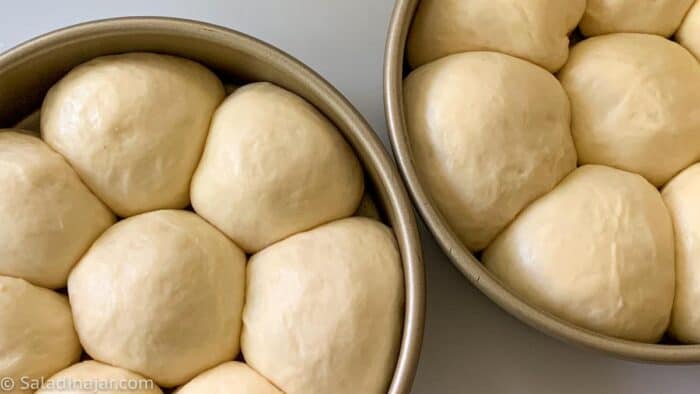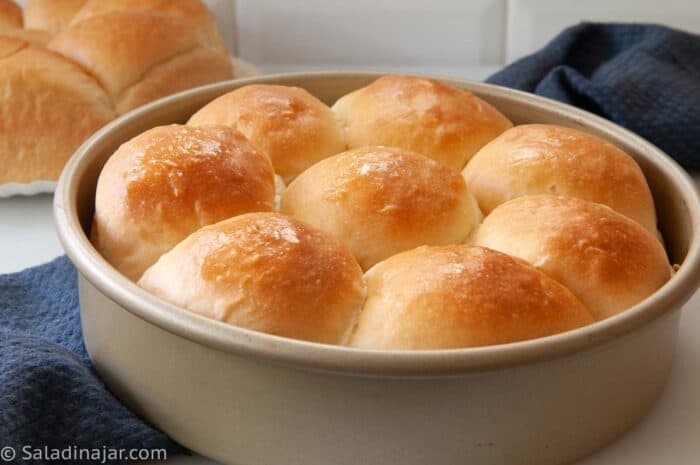 Frequently Asked Questions:
Can I make this dinner roll recipe ahead of time?
Yes. Go ahead and shape the rolls and put them in the pan. Cover and place in the refrigerator.
The next day, take the rolls out of the fridge 1-2 hours before you plan to bake them. Let the cold rolls come to room temperature and rise. When they are puffy, bake them in a preheated oven until golden brown.
Can I make a double batch of yeast rolls when using a bread machine?
Doubling a bread machine recipe is rarely a good idea unless you are mixing the dough with a stand mixer or by hand. This is because a bread maker has a limit to how much flour it can knead adequately. The size of most machines limits the recipe to around 4 cups of flour, but some are even less.
When making a double batch, there are two options.
#1 Option: If you have two machines, use them both. My second machine is old and was never good at baking bread, but it can still knead. Make a batch in each machine.
#2 Option: Make two batches in the same machine.
Assemble and start the first batch. When the kneading stops and the bread maker goes quiet after about 20 minutes, remove the dough to a large bowl. Cover it and move it to a warm place where it will continue to rise.
Clean out the bread machine pan and assemble a new batch in your bread machine. You can allow the second batch to complete the DOUGH cycle. Then, remove the dough and continue as usual.
If you are in a hurry, remove the dough from the second batch to another large bowl. Cover and set the bowl in a warmer place to rise. Often, my second batch will catch up to the first batch, and they will both be ready to shape at almost the same time.
If you have a recipe for bread made the traditional way, but you want to make it in a bread machine, I hope you'll try it using the DOUGH cycle. Send me a picture and let me know how it went. I'll celebrate the accomplishment with you, or we can troubleshoot together.
---
More Bread Machine Recipes and Tips
---
---
Did you enjoy this recipe? If so, you can help others and me by leaving a 5-star 🤩 rating in the comment section below. No comment is required.
p.s. If you have any questions or suggestions, you can email me privately: Paula at saladinajar.com.
Hope to see you again soon!
Paula
---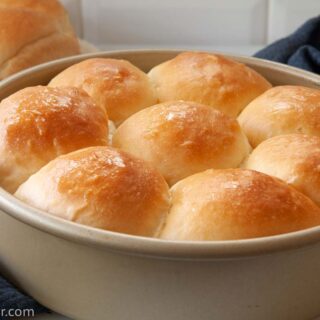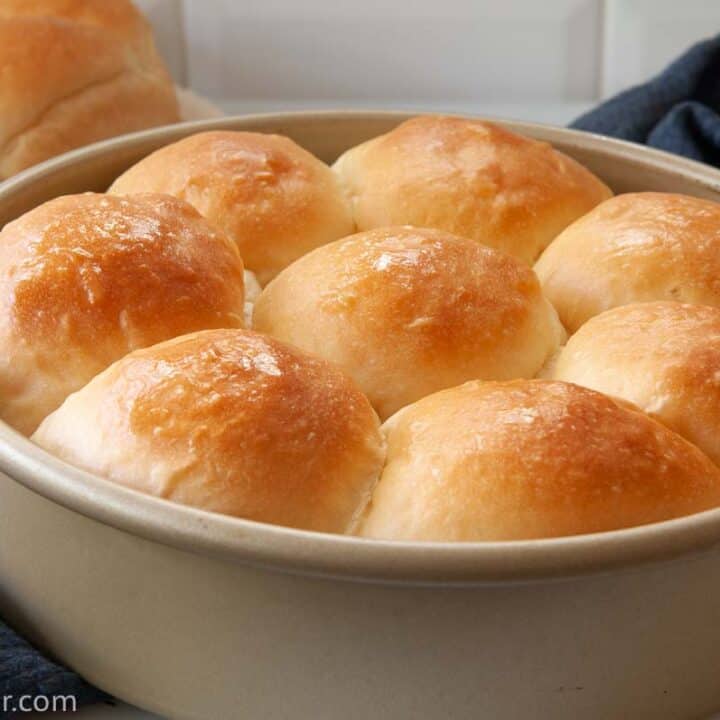 Classic Bread Machine Dinner Rolls
This recipe produces a light and airy slightly-sweet dinner roll you can mix up in your bread machine. Shape by hand and bake in your conventional oven for the best of both worlds.
Ingredients
1

cup

milk

-

(lukewarm) 227 gr

1

egg

-

(large, room temperature) 50 gr

3

tablespoons

granulated sugar

-

36 gr

1

teaspoon

salt

-

5 gr

3

cups

unbleached all-purpose flour

-

360 gr

2

teaspoons

bread-machine or instant yeast

-

6 gr

¼

cup

butter

-

(softened, not melted) 57 gr
Instructions
Place all ingredients but the butter into your bread machine pan in the order listed. Select the DOUGH cycle.

After about a minute or two, open the lid and add the softened butter 1 tablespoon at a time.

Check the dough at least twice during the mixing and kneading phase by lifting the lid to take a peek. The first time, look immediately after the machine starts mixing to ensure the paddles are engaged correctly.

Look again 15 minutes into the DOUGH cycle to assess the consistency of the dough. For most recipes, the dough should stick to the side, then pull away cleanly.

If your dough is too wet, add flour one tablespoon at a time.

Conversely, if the dough is too dry, add one tablespoon of liquid at a time until the dough looks just right. Read more about this surprising secret to success with a bread machine here.

When the dough cycle finishes, the dough should be doubled in size. If not, leave the dough in the bread machine a few more minutes until you can punch two fingers into the dough and it fills in gradually. If it doesn't fill in, it has risen too much. If the dough bounces right back and the dough fills in immediately, then it needs to proof (rise) a little bit longer. (This may happen if your kitchen is cold.)

Pull dough out of the machine and onto a floured surface. Lightly knead the dough to remove any large bubbles, and form it into one large ball. Divide in half, making 2 balls. Divide each of those balls into 8 equally-sized lumps.

Make a ball from each piece of dough by pulling the dough toward the bottom while turning the dough (see video) or use whatever method works best for you.

Arrange balls in 2 well-greased 8 or 9-inch round or square pans (non-stick is better) and cover with a tea towel or a cheap shower cap. Place in a warm spot until almost doubled. (I put mine in the microwave where I have already boiled a cup of water for 5 minutes to make it warm and steamy.)

Preheat oven to 350˚F.

Bake in the oven until golden brown, usually about 12-15 minutes. Rotate to get even browning. The internal temperature should reach 190˚F.

Within 5-10 minutes, dump baked rolls out of the pan and let cool on a rack or paper plate so they won't get soggy from the steam they produce.
Notes
Directions for making bread with a stand mixer or by hand:
To make this recipe in a heavy-duty stand mixer: Add ingredients to the bowl in the same order. Turn on LOW to mix until all ingredients are moistened. Then, using a dough hook, turn the speed to 2 or 3. Continue beating/kneading until dough becomes smooth and elastic (about 5-10 minutes). Cover and allow to rise in a warm place. Deflate dough gently and shape as indicated in the recipe.
If making by hand: Combine all ingredients into a shaggy ball in a large bowl. Turn dough out onto a floured surface. Knead with your hands until the dough becomes smooth and elastic. Kneading will likely take 10-20 minutes, depending on your experience. Place the dough ball into a greased bowl. Cover and allow to rise until double. Deflate the dough gently and shape as indicated in the recipe.
Please note: If you only have active dry yeast, use 1/4 teaspoon more than called for in the recipe.

It no longer needs to be dissolved first

, but you can if you prefer.
Nutrition
Serving:
1
roll
Calories:
138
kcal
Carbohydrates:
22
g
Protein:
4
g
Fat:
4
g
Saturated Fat:
2
g
Polyunsaturated Fat:
1
g
Monounsaturated Fat:
1
g
Trans Fat:
1
g
Cholesterol:
19
mg
Sodium:
182
mg
Potassium:
64
mg
Fiber:
1
g
Sugar:
3
g
Vitamin A:
129
IU
Vitamin C:
1
mg
Calcium:
24
mg
Iron:
1
mg