Cracked Wheat Berry Bread is a nubbly, crunchy, and earthy-tasting white bread starring cracked whole wheat berries. The addition of the berries and yogurt significantly increase the fiber and protein content while making the taste more appealing.
Although the recipe is written to use a bread machine, you can also make it by hand or with a stand mixer. See the notes at the end of the recipe.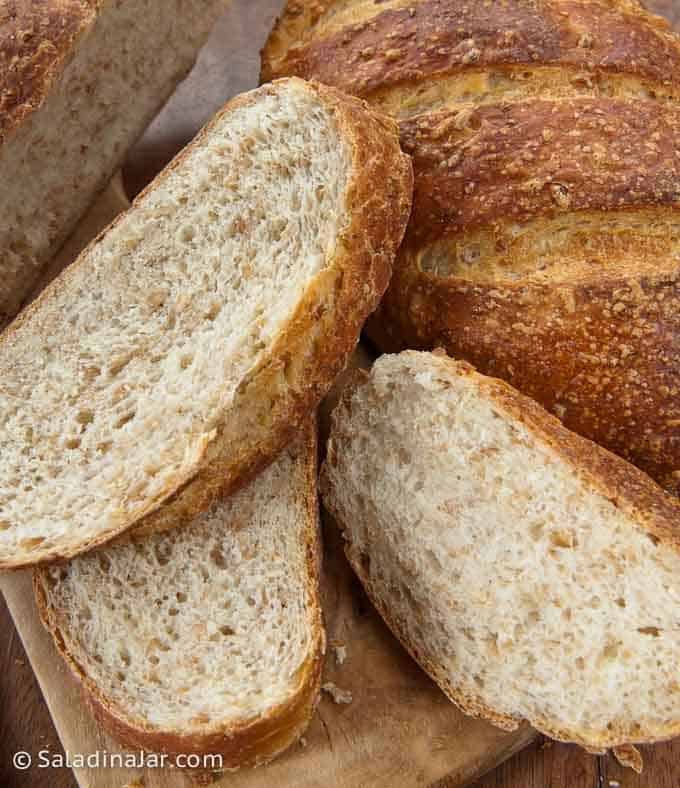 The last few days have been all about recalling memories at my house. You've probably had the same experience when an older member of the family passes.
We buried my 97-year-old mother this past Tuesday. It has been a little rough, but I'm grateful for God's comfort surrounding me in the form of family and friends.
My Dad and Wheat Berries
I have a specific memory about whole wheat berries (the star character in this Cracked Berry Wheat Bread). It involves my dad driving a big green John Deere combine through the wheat fields of our Indiana farm in the middle of July.
Dad would occasionally reach his hand up and behind him to grab a handful of wheat berries out of the hopper. After popping them into his mouth, he would chew for a while until they turned into a soft, viscous mass, not unlike chewing gum.
Mind you, there were often bugs and empty chaff in that hopper along with the wheat berries, but he was undeterred.
When it comes to bread, I'm generally a white-bread-lovin' baby boomer. But I know we're supposed to be eating whole grains, so this bread is the perfect compromise.
Wheat Berries and Forbidden White Bread
How about throwing some crushed wheat berries into that white bread for a uniqu texture, added flavor, and more fiber?
This particular recipe is homemade (with the help of a bread machine), and contains no preservatives. I declare it healthy enough.
It's well worth the calories and effort, although calling any bread made in the bread machine an "effort" is arguable.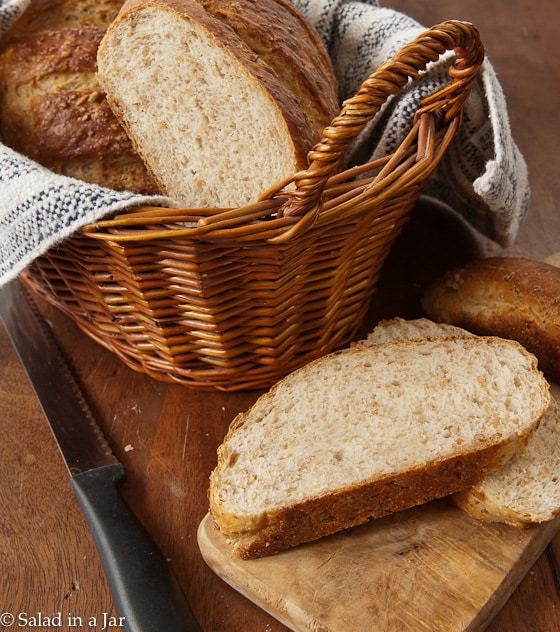 Unfortunately, I no longer have access to those fresher-than-fresh wheat berries my dad grew. However, they often show up in the bulk bins at our local organic grocery stores.
Wheat berries are inexpensive and well worth the trouble. They contribute extraordinary texture, flavor, and nutrition to this nubbly, crunchy, and earthy-tasting bread.
How to create loaves: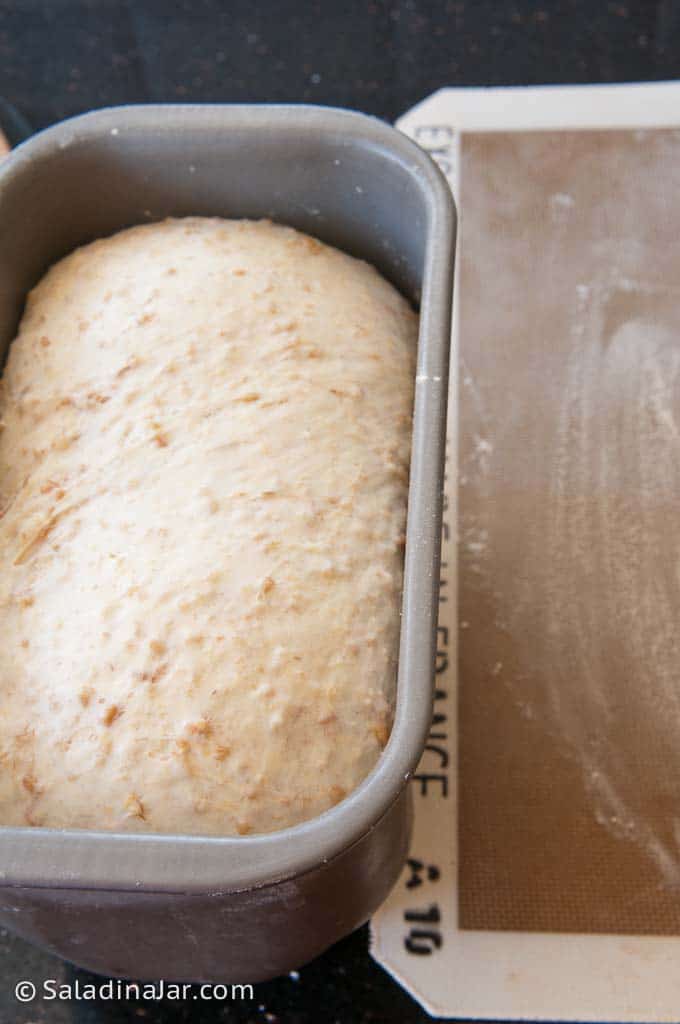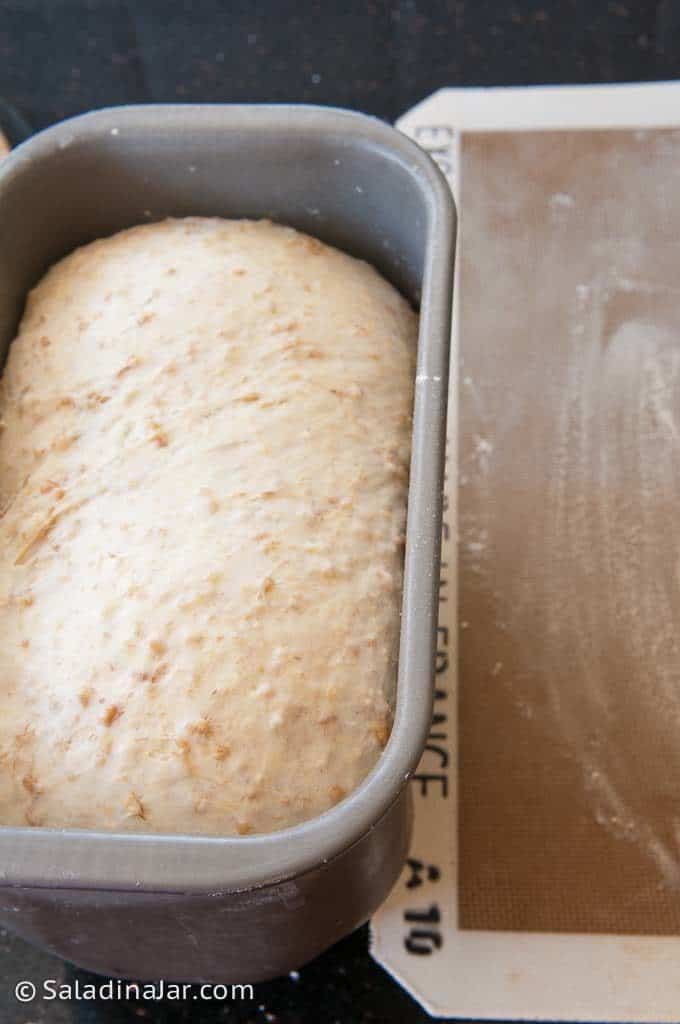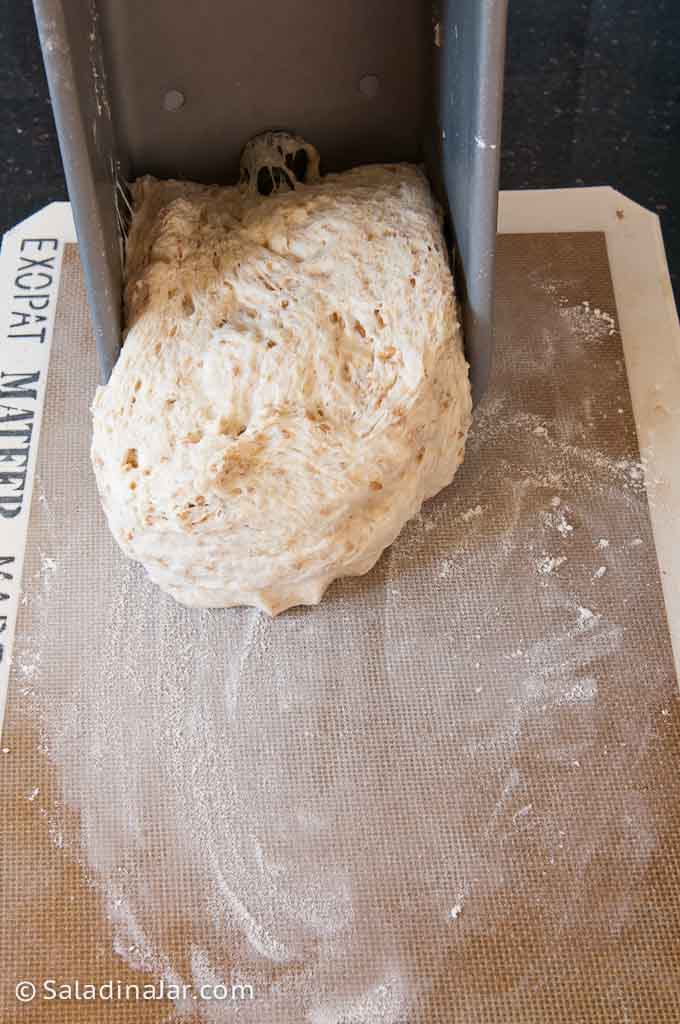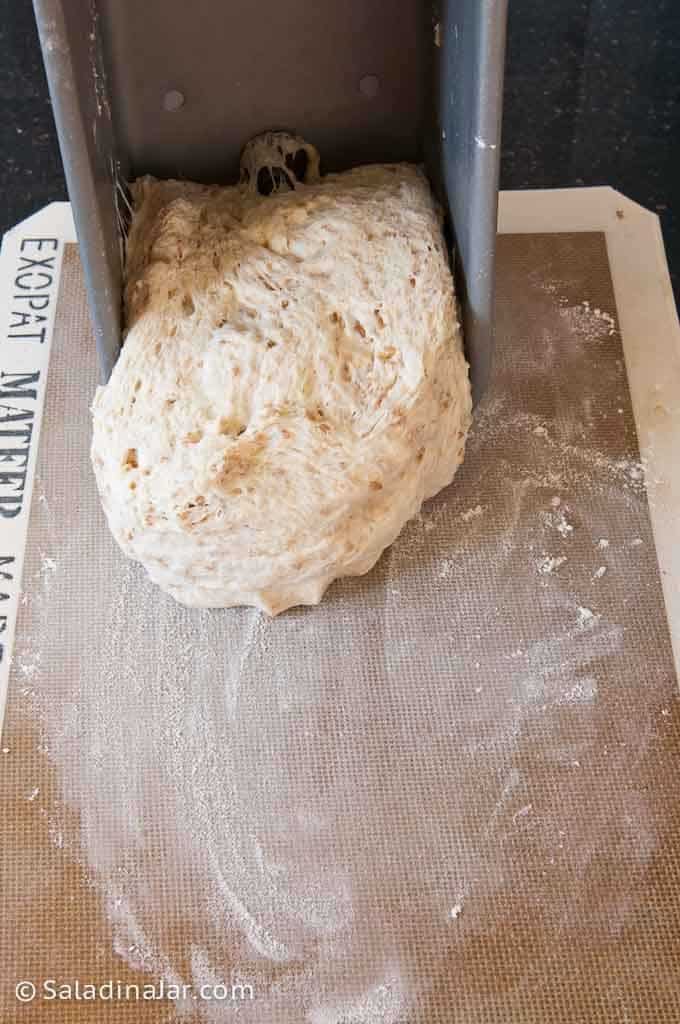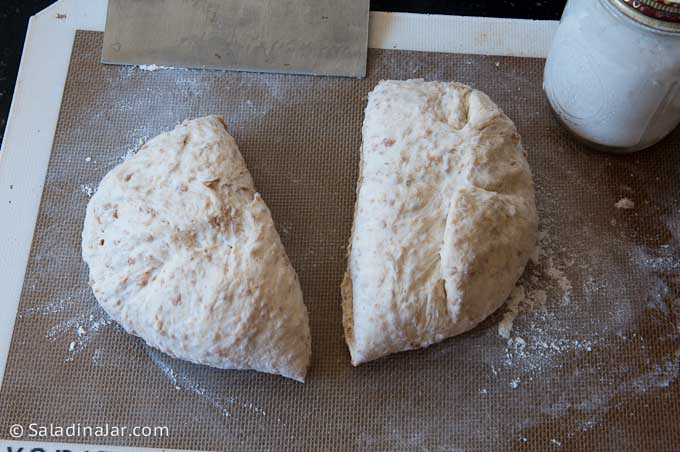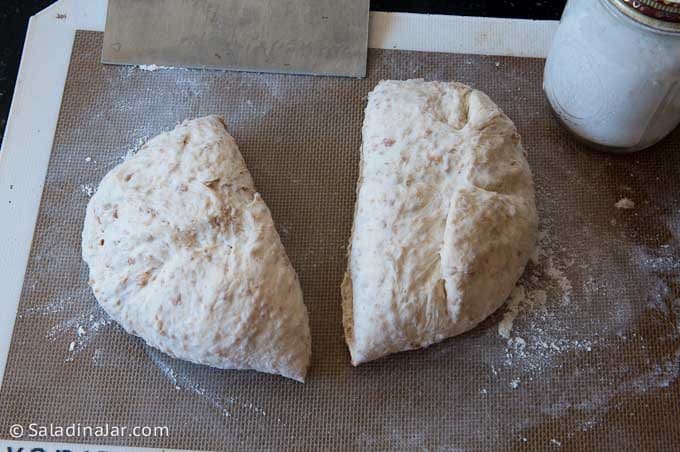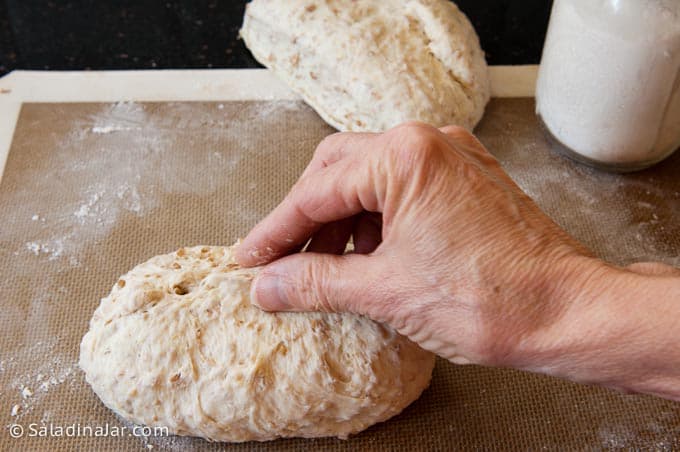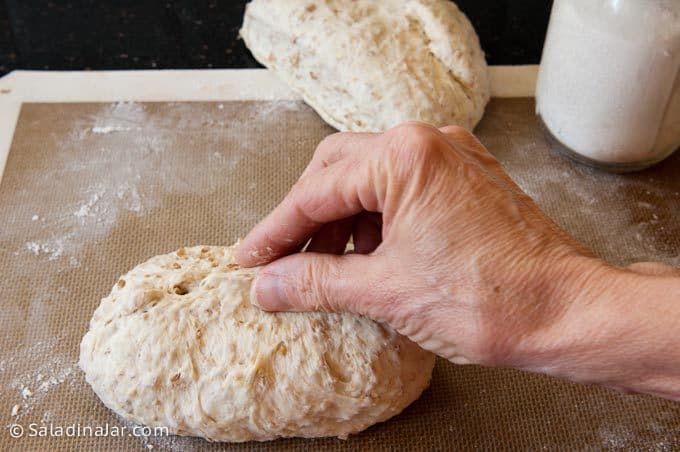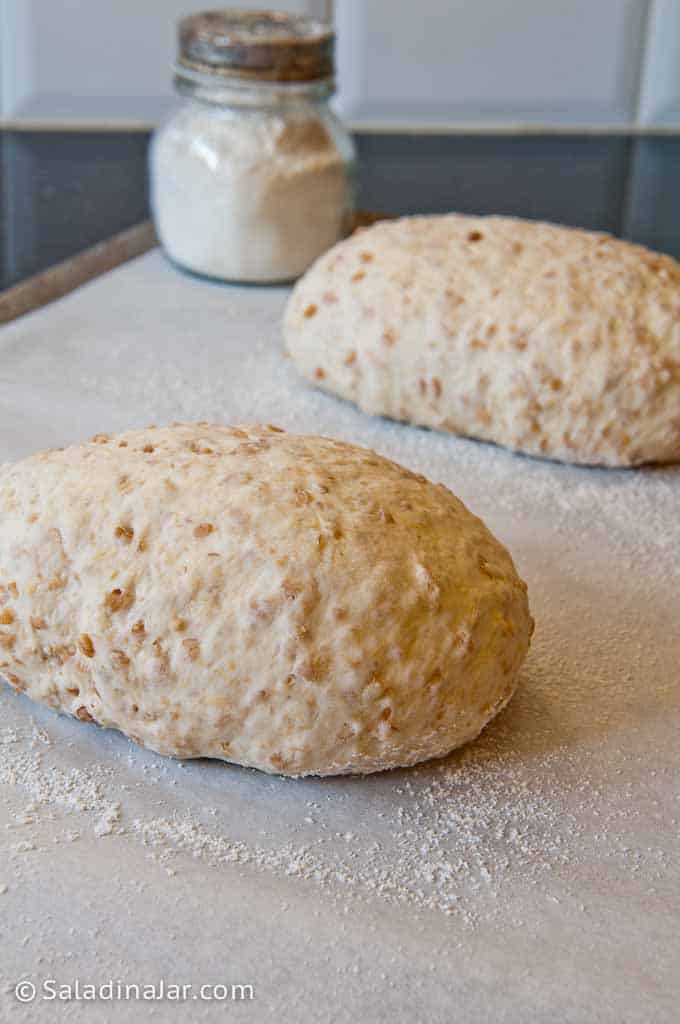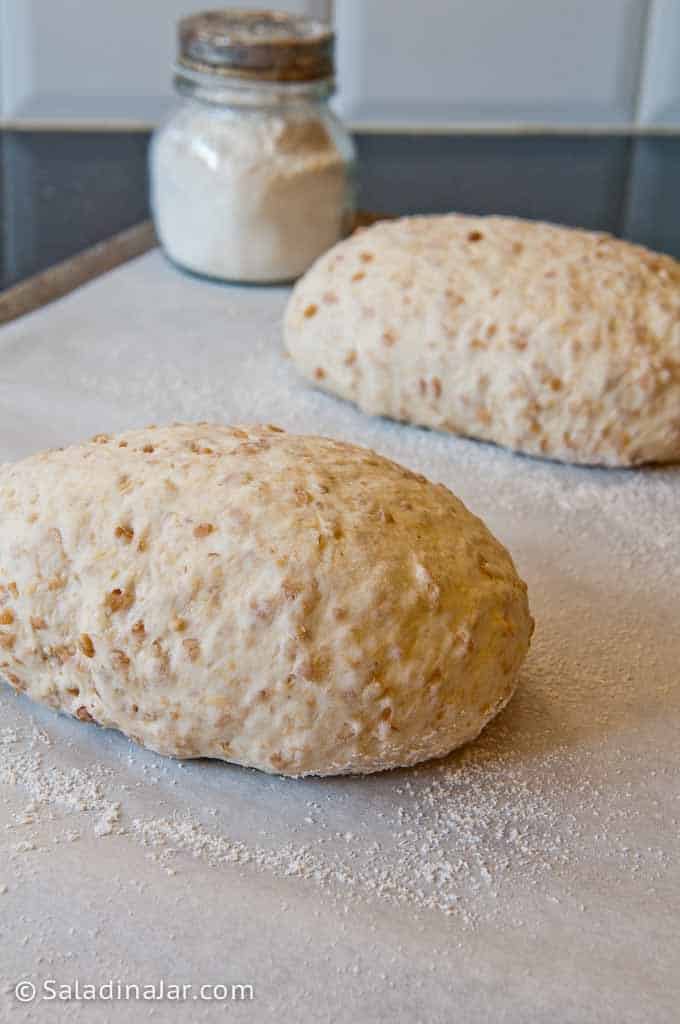 A warning about the wheat berries:
Be sure to boil the wheat berries as directed, or soak them overnight before using for maximum tooth-friendly enjoyment.
If you are new to making bread in your bread machine, I have published several tutorials and lots of bread machine tips on this blog you might find helpful. Start here.
If you make this and enjoy the recipe, it would help me and others if you would return to this post and leave a rating (on the recipe card itself underneath the picture). Although always appreciated, no comment is required. Thanks so much! Paula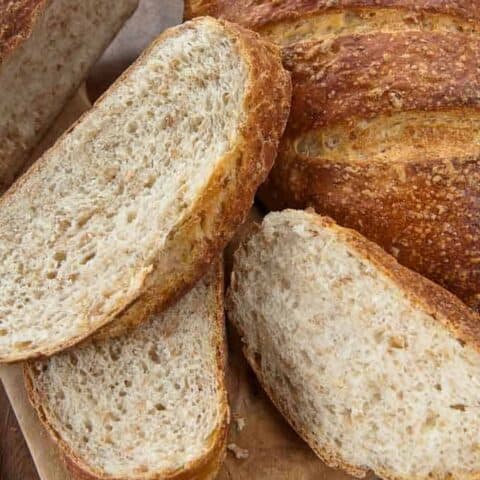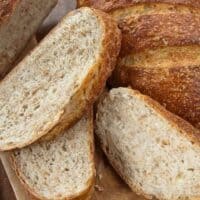 Cracked Wheat Berry Bread -- A Bread Machine Recipe
Yield:
16 slices (2 loaves)
Total Time:
4 hours
30 minutes
A nubby, crunchy loaf with cracked wheat berries you can easily make in your bread machine
Ingredients
1/2 cup whole grain wheat berries
2-1/2 cups bread flour, divided
1 cup warm water or whey drained from yogurt
1-1/2 teaspoon salt
1 teaspoon sugar
1/4 cup nonfat dry milk solids
2 tablespoons unsalted butter, softened
2 teaspoons bread machine or instant yeast
Instructions
Boil wheat berries in 1 cup of water for 20 minutes. Allow to cool (quicker if you add ice cubes) and drain. Alternatively, soak wheat berries in water for 12 hours or overnight. (Softened and drained wheat berries will keep in the fridge up to a week.)
Add prepared wheat berries to a blender or food processor along with 1 cup of bread flour. Process until wheat berries are finely chopped. You will likely need to stop several times to push the flour and wheat berries from the sides of the chopping container back to the middle.
Combine water, salt, sugar, nonfat dry milk solids, butter, and remaining flour to bread machine pan along with ground wheat berries and flour mixture, and the yeast.
Select the dough cycle and start. Check dough after 10 minutes to make sure dough sticks to the side of the pan and then pulls away cleanly. If too wet, add more flour 1 tablespoon at a time. If too dry, add more water 1 tablespoon at a time.
When dough cycle completes, check to make sure dough has doubled in size. If not, leave in pan until it does.
When doubled, remove dough from pan to floured surface and divide into two equal portions. Shape each portion into an oblong shape by pulling dough from the top to the bottom until dough is smooth; then pinch closed. Place seam side down on a cookie sheet covered with parchment paper or a silicone mat that has been sprinkled with a bit of cornmeal.
Cover with a tea towel and allow to rise until almost doubled. Preheat oven to 425 degrees about 20 minutes before you expect the loaf to be ready to bake.
Brush risen loaves with glaze of 1 egg white whipped together with 1 tablespoon water. (This is optional.)
Make 2-3 diagonal slashes in each loaf with very sharp serrated knife or razor blade, being careful not to deflate dough.
Bake in preheated oven for 20-25 minutes, or until interior temperature reaches 190 degrees F, or until bottom is brown and sounds hollow.
Allow loaves to cool on rack for an hour before slicing.
Notes
To make this recipe in a heavy-duty stand mixer, add ingredients to the bowl in the same order. Turn on low to mix until all ingredients are moistened. Using dough hook, turn speed to 2 or 3 and continue beating/kneading until dough becomes smooth and elastic, about 5-10 minutes. Cover and allow to rise in a warm place. Deflate dough gently and shape rolls as indicated in recipe.
If making by hand, combine all ingredients into a shaggy ball in a large bowl. Turn dough out on a floured surface and knead with your hands until dough becomes smooth and elastic, a process that will likely take 10-20 minutes depending on your experience. Place dough ball into a greased bowl. Cover and allow to rise until double. Deflate dough gently and shape rolls as indicated in recipe
Please note: If you substitute regular yeast for instant or bread machine yeast, you must dissolve it first before adding to the dry ingredients. Stir it into about 1/4 cup of the lukewarm liquid called for in the recipe. Let sit for about 10 minutes. Add to other wet ingredients and then add dry ingredients. Proceed as directed to knead and shape rolls.
Recommended Products
As an Amazon Associate, I earn from qualifying purchases. But don't worry. This doesn't change the price you pay.
Nutrition Information:
Yield:

16
Serving Size:

1
Amount Per Serving:
Calories:

119
Total Fat:

2g
Saturated Fat:

1g
Trans Fat:

0g
Unsaturated Fat:

1g
Cholesterol:

5mg
Sodium:

217mg
Carbohydrates:

19g
Fiber:

1g
Sugar:

2g
Protein:

6g
More Ideas for Whole Wheat Breads