Oatmeal Bread Machine Recipe for the Best Toast (+ Video)
Sneak Peek: This Oatmeal Bread Machine Recipe with Sunflower Seeds has a non-assertive but mildly nutty flavor that's perfect for sandwiches and, especially, toast. Mix and knead the dough in a bread maker and bake it in a traditional oven.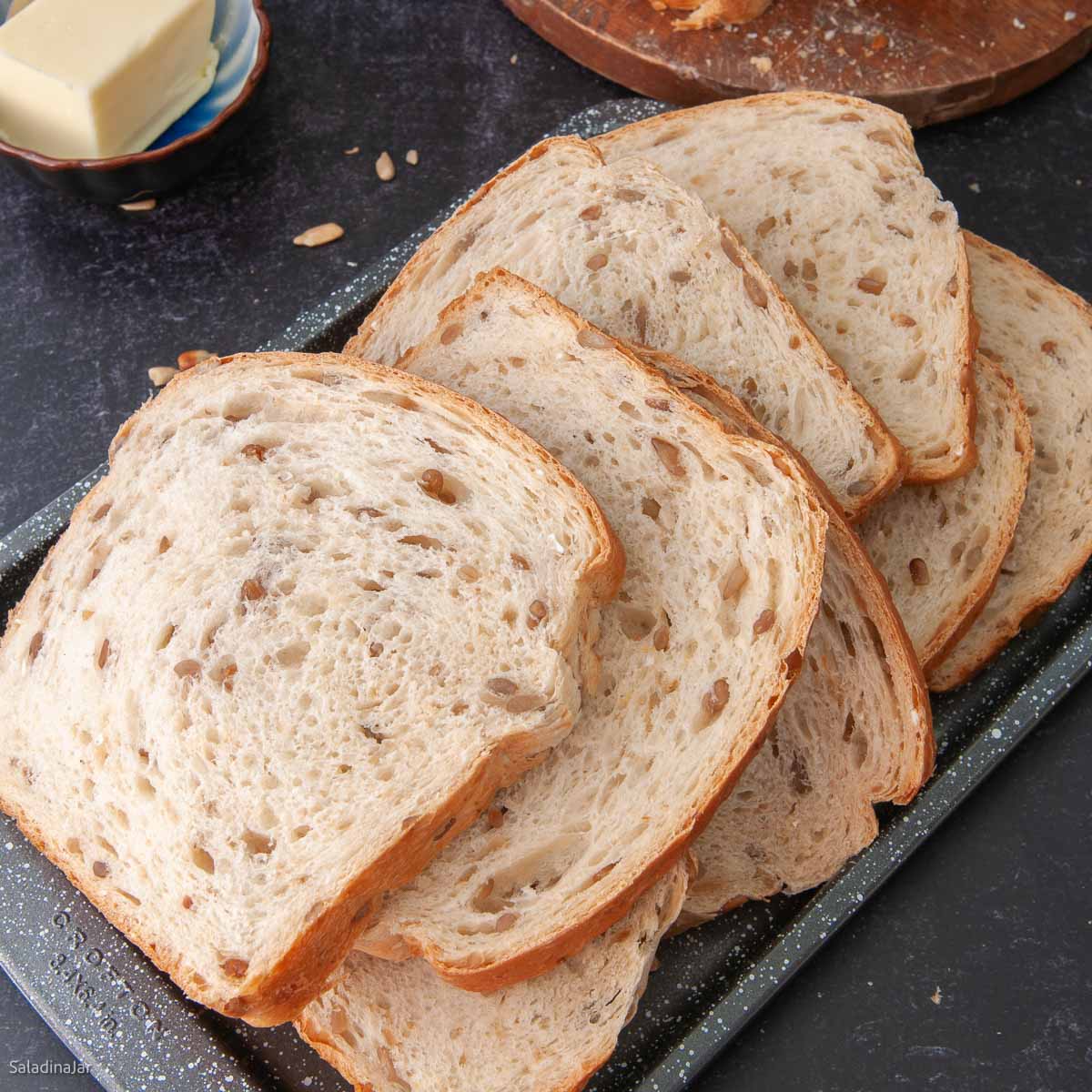 As an Amazon Associate, I earn from qualifying purchases.
Are you having trouble selling your family basic white bread? I'm betting they will go for this oatmeal bread recipe packed with sunflower seeds.
I guarantee your tasters won't detect the oatmeal. If they object to seeds, leave them out. However, the seeds add interest and suggest the taste of peanut butter.
All you need is some jelly for toast or cold cuts and veggies to assemble a terrific sandwich containing tons of fiber.
No worries if you don't have a bread machine. See the recipe notes for details on making this recipe by hand or with a stand mixer.
Happy Bakers Speak Up:
"Wow, wow, wow, wow, wow, this is absolutely delicious and fluffy!!! I am so happy to have found this recipe; thanks for sharing ."🥰💖–Janelle
---
Why you will love this Honey Oat Bread:
This is an easy bread machine recipe–straightforward and easy to assemble. If you are new to the bread machine world, read these 6+ Bread Maker Tips You Need To Make Marvelous Bread.

You can use a bread maker to mix the dough and knead it for an exquisite texture that is difficult to achieve with hand-kneading. Note the circular pattern in the bread pictured above.

The crust is soft and flavorful, not like cardboard, because the loaf is baked in a traditional oven.

The crumb is also soft, well-organized, and finely textured—the perfect base for condiments, butter, or jelly.

Shape the loaf by hand to ensure you have a beautiful loaf instead of a bread machine mutant.

Customize this recipe to your heart's content. Get some ideas from the variations listed below.
---
---
Ingredients and substitutions:
MILK: You can use any dairy milk you have, but whole milk makes the best bread. I usually only have 2%, so that's what I use. I have not tried non-dairy milk, but I would expect it to be satisfactory.

WATER: Tap water works fine. It does not need to be warm–cool is fine.

HONEY: Any kind of honey is suitable. Or substitute maple syrup.

BUTTER: Use salted or unsalted butter. If you use salted butter, cut back on the salt by 1/4 teaspoon.

SALT: Table or sea salt is what I use. If you prefer Kosher salt, add 1/4 teaspoon.

FLOUR: Although I recommend bread flour, a good quality all-purpose flour will still make a splendid loaf. However, it may not be as sturdy for making sandwiches. If at all possible, weigh your flour with a digital scale.

YEAST: I always use bread machine yeast or instant yeast. If you have a bread machine, I recommend you stock up on it. There's no reason to dissolve the yeast when you can throw instant yeast into the pan with all the other ingredients and hit START.

HULLED SUNFLOWER SEEDS: Toast or roast the sunflower seeds (without shells) before adding them to the dough. Raw seeds will not be nearly as flavorful. Look for seeds without salt. If you can't find any, cut back on the salt in the recipe.

Be sure your seeds are super fresh. Sunflower seeds go rancid quickly in the pantry. I keep mine in the fridge to keep them from staling before I can use them. See this article for more information about storing sunflower seeds. Rancid sunflower seeds will ruin your bread.
---
Variations:
Add other seeds, such as pumpkin seeds (pepitas), or nuts, such as pecans or walnuts, instead of sunflower seeds. If you add flax or chia seeds, they can affect the moisture level. You may need more liquid because those seeds are so absorbent.

Add dried fruit in addition or as a substitution for seeds. Try chopped raisins, currants, dates, prunes, or dried apples. If you like fruit in your bread, you might want to try my bread machine banana bread with yeast. It contains much less sugar than traditional banana bread with soda or baking powder.

If you want whole wheat bread, substitute 1 cup of whole wheat flour for 1 cup of bread flour. Check the dough as it kneads to correct the moisture level if necessary.
---
How to make this Oatmeal Bread Recipe with a Bread Maker: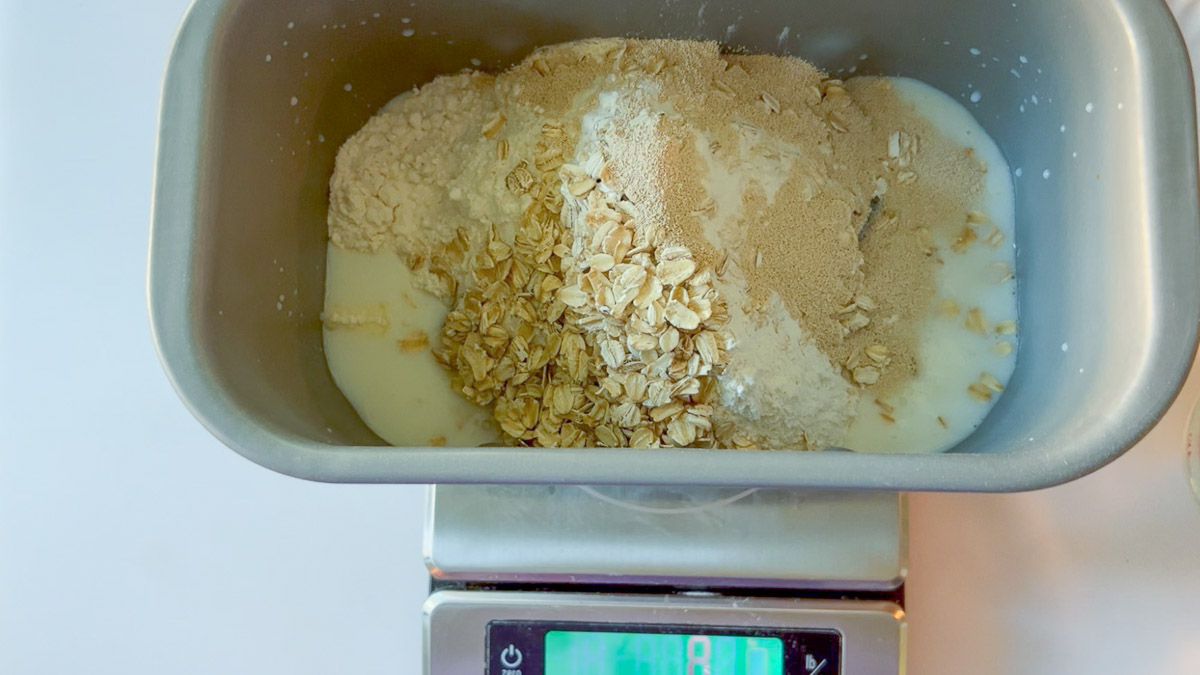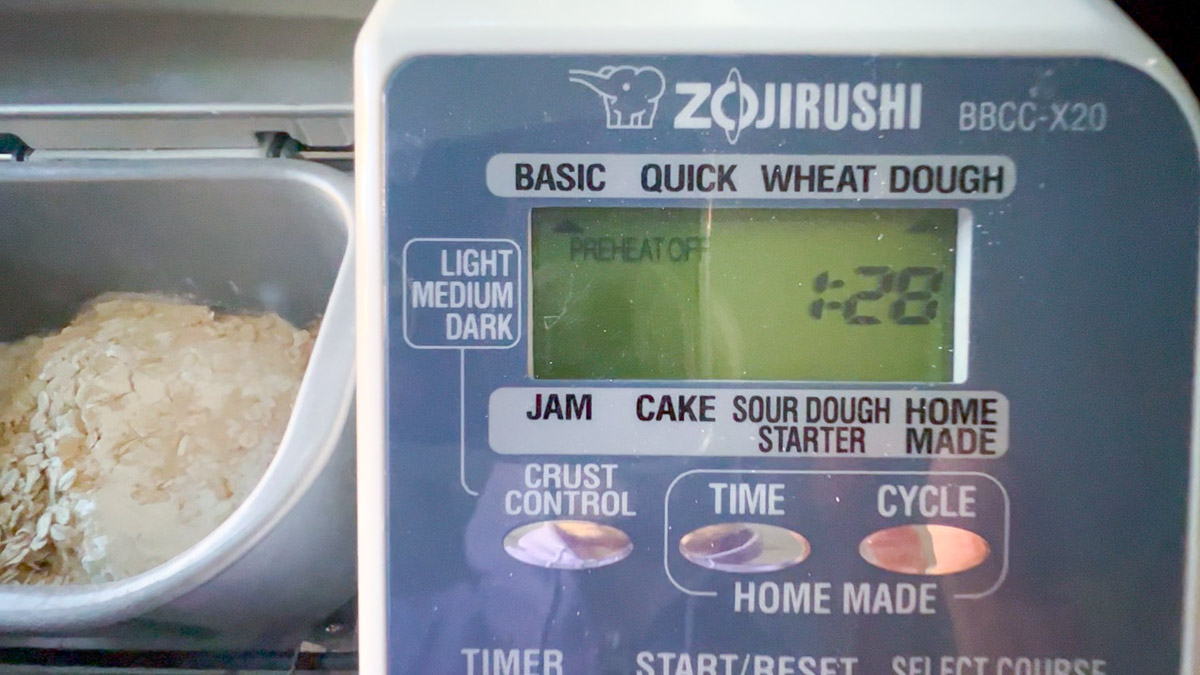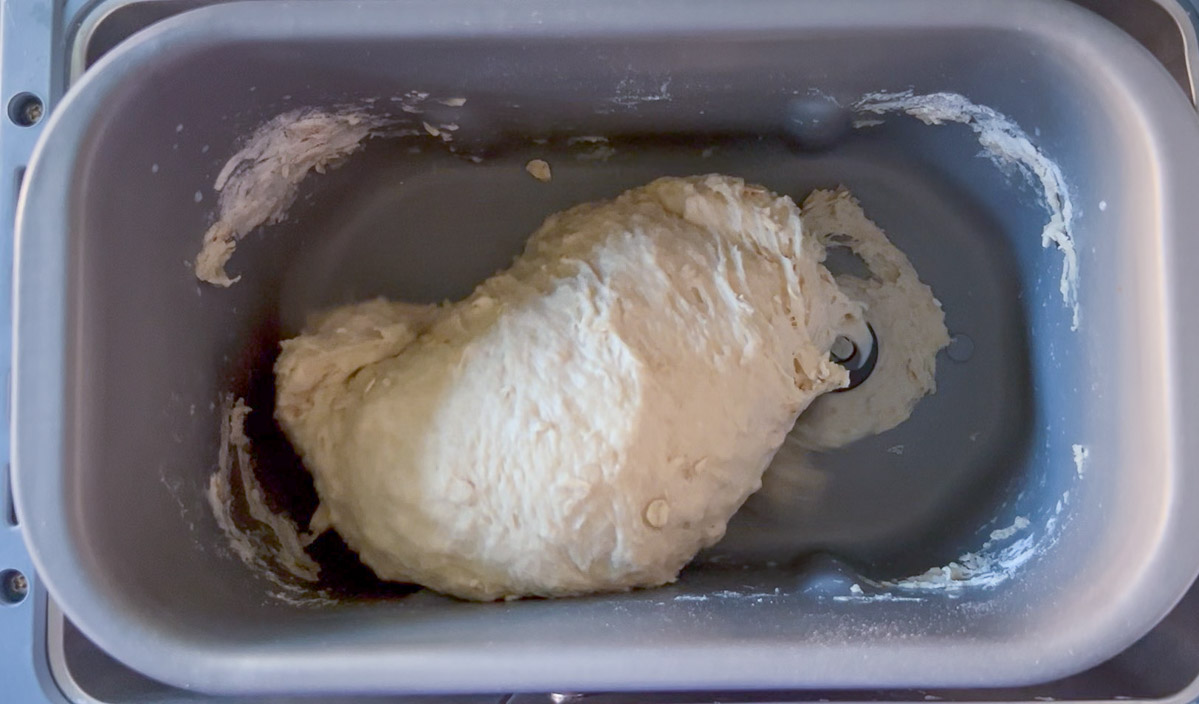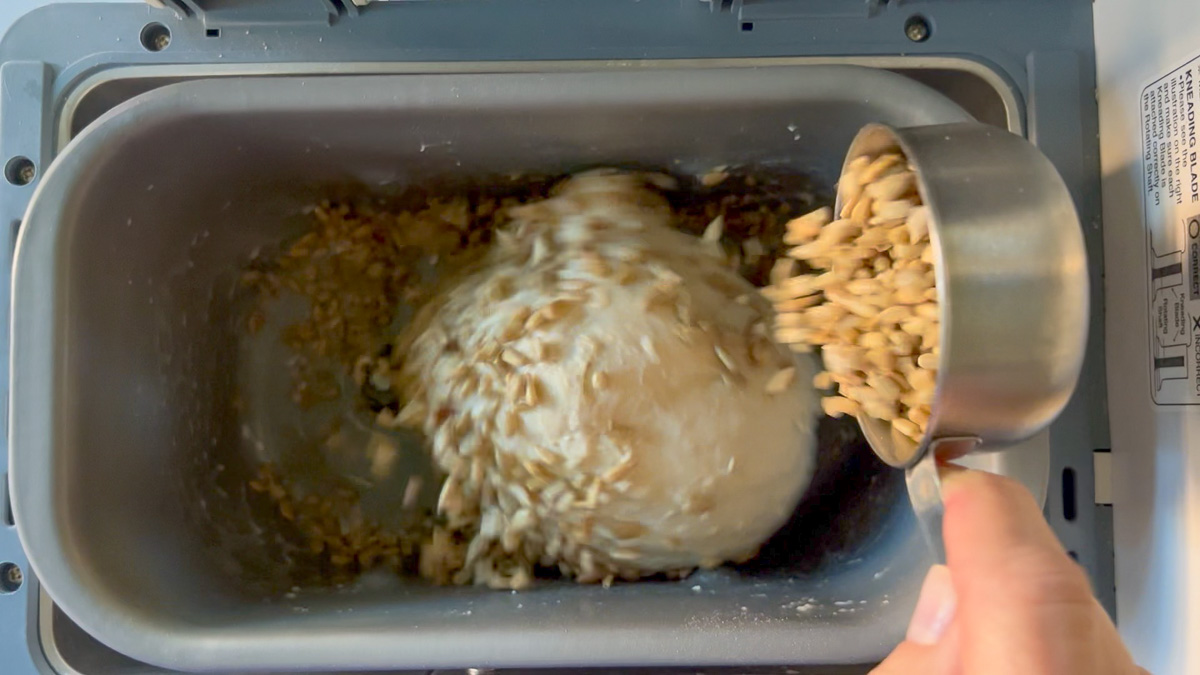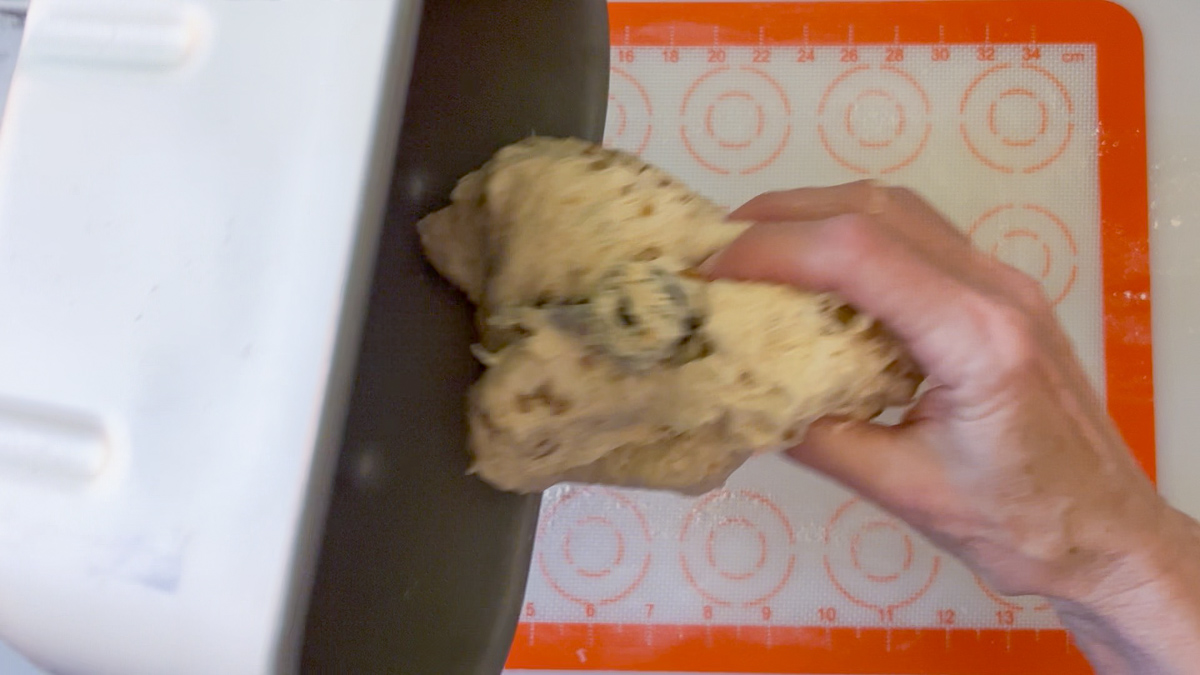 ---
---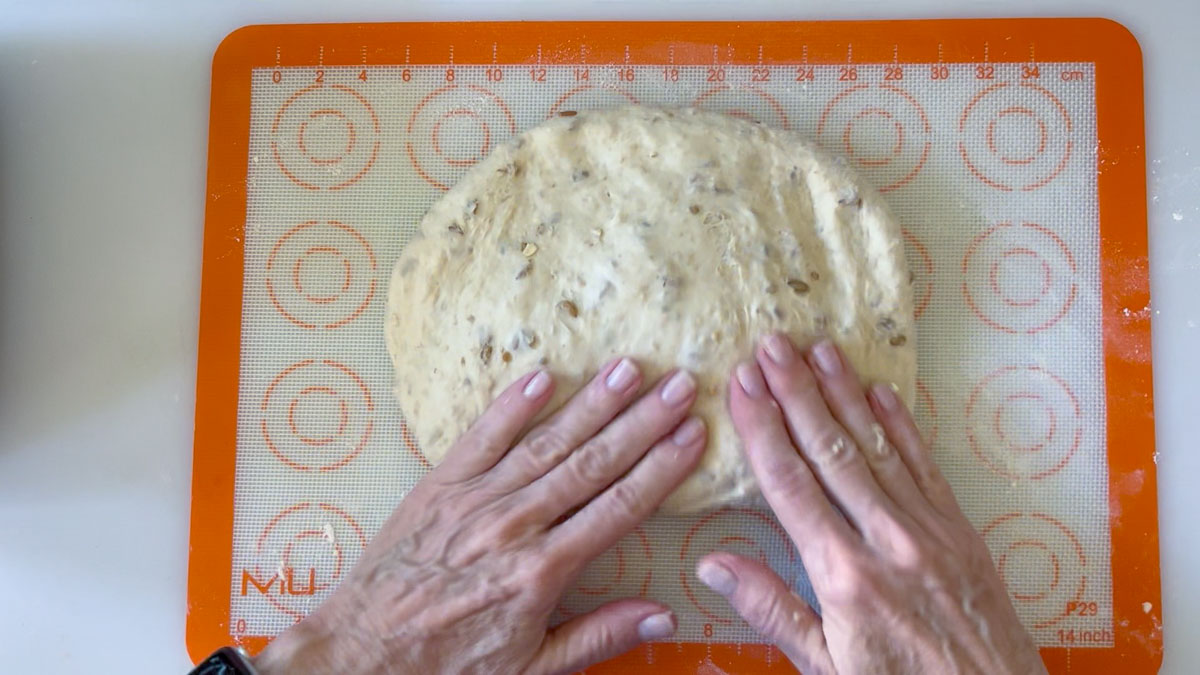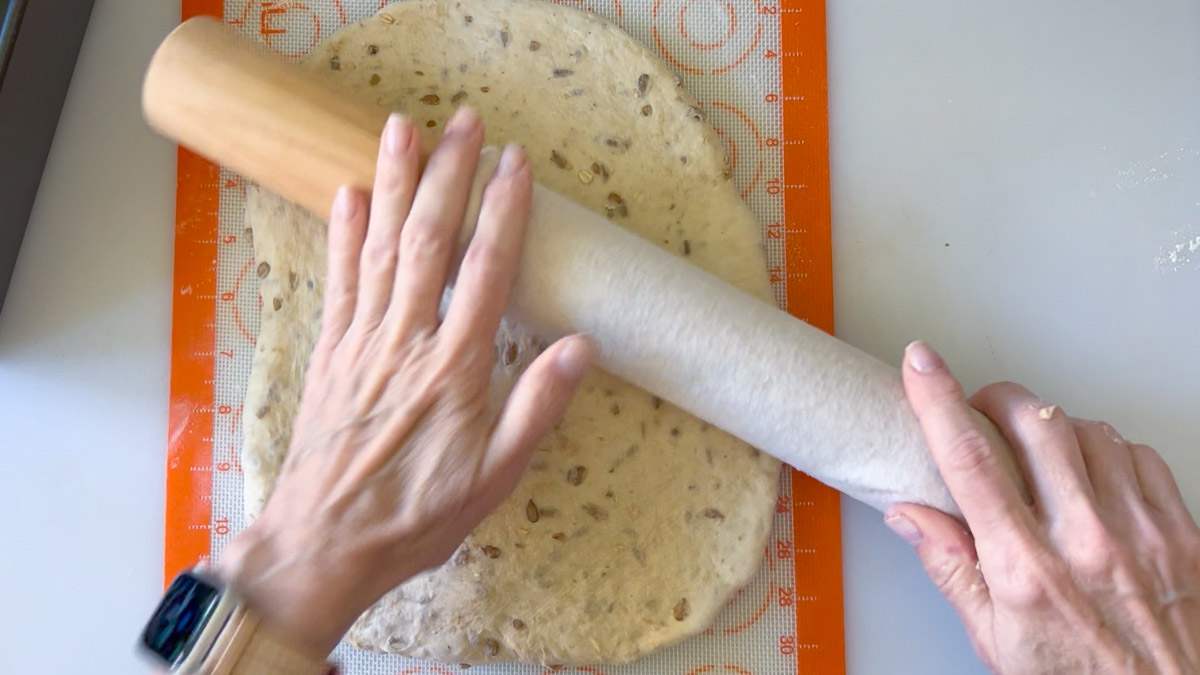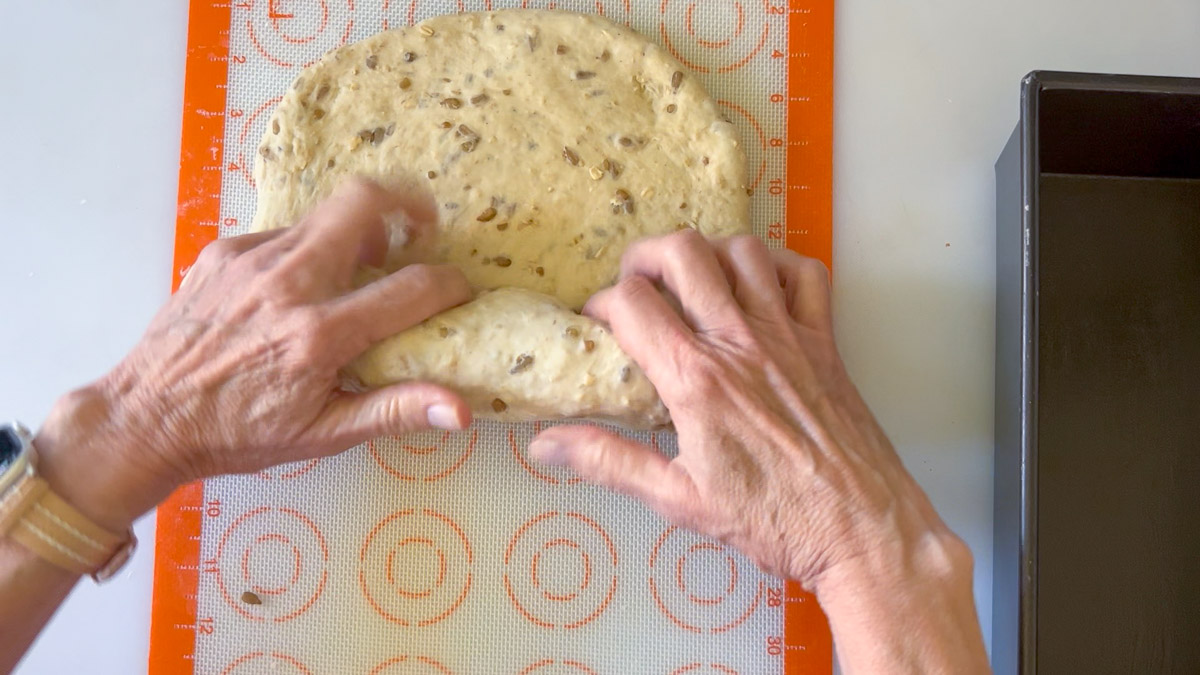 Place the bread into the oven, reduce the temperature to 350˚F (180˚C) and bake for 30-35 minutes. The internal temperature should reach 190-200˚F (88-93˚C).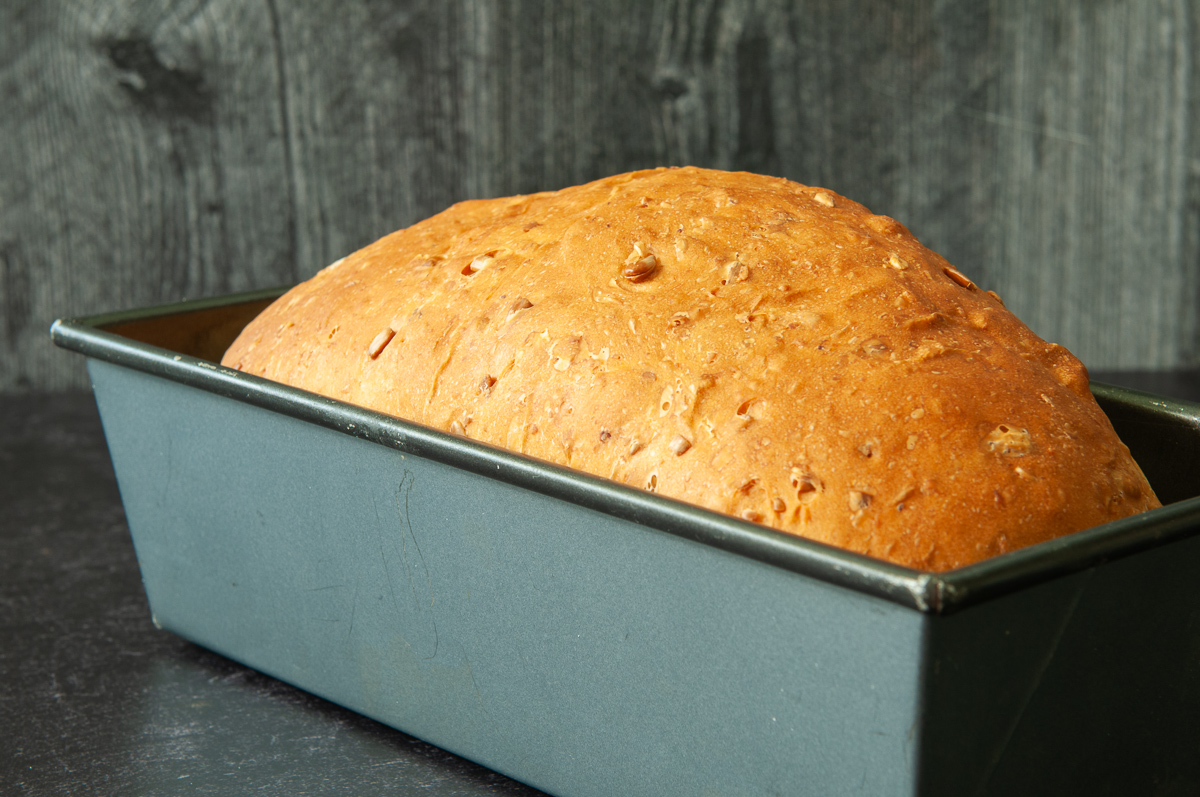 ---
Bread Maker Honey Oatmeal Bread with Sunflower Seeds: FAQ
How do I store this bread?
Store oatmeal bread in a sealed plastic bag after it has cooled. Some people like a breadbox, but its suitability depends on the model and the humidity in your kitchen. Storing in a refrigerator is not recommended as the bread will stale faster because of the moisture.
Can I freeze Oat Bread after baking it?
Yes. I like to slice mine first, but you can also place it in the freezer unsliced. Double-wrap it. Use within one month.
Can I double this recipe?
It depends on your bread machine. Was it designed to handle six cups of flour? (Check the recipes in your manual to see if any call for that much flour.) If so, you're good. Otherwise, it may be too hard on the motor.

It's better to make two separate batches. When the machine kneads one batch, remove the dough to rise in a covered bowl. Assemble the next batch and restart the DOUGH cycle. Read more about doubling recipes when using a bread maker.
---
Parting Thoughts: This homemade bread is a perfect sandwich bread to add to your collection of bread maker recipes. The flavors are unassertive and won't compete with sandwich ingredients. It's more exciting and nutritious than plain white loaves of bread.
---
Recipe Help at Your Fingertips: For questions or suggestions, email Paula at saladinajar.com. If you need help, I'm happy to troubleshoot via email (faster than leaving a comment). Attach pictures and as many details as possible for the best advice.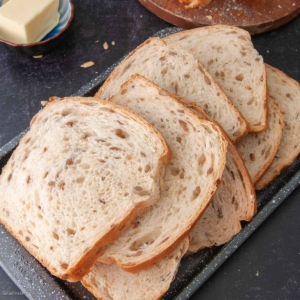 Best Oatmeal Bread Machine Recipe with Sunflower Seeds
This Oatmeal Bread Machine recipe has a mild, non-assertive but nutty flavor thanks to the sunflower seeds. It's perfect for sandwiches and toast. Make the dough in a bread machine and bake it in your oven.
Share recipe love here. ⬇
Ingredients
½

cup

(

114

g

)

whole or 2% milk (cool)

½

cup

(

114

g

)

water

¼

cup

(

85

g

)

honey

2

tablespoons

(

28

g

)

unsalted butter

1¼

teaspoon

table or sea salt

3

cups

(

360

g

)

bread flour

½

cup

(

40

g

)

quick or old-fashioned oats (not instant)

2¼

teaspoons

instant yeast

½

cup

(

67

g

)

hulled sunflower seeds, toasted
Instructions
Add the dough ingredients to your bread maker pan:

½ cup

(

114

g

) whole or 2% milk (cool) and

½ cup

(

114

g

) water,

¼ cup

(

85

g

) honey,

2 tablespoons

(

28

g

) unsalted butter,

1¼ teaspoon

table or sea salt,

3 cups

(

360

g

) bread flour,

½ cup

(

40

g

) quick or old-fashioned oats (not instant) ,

2¼ teaspoons

instant yeast except for seeds in the order given.

Select the DOUGH cycle and start. After about 5-10 minutes, lift the lid and add extra liquid or extra flour 1 tablespoon at a time, if necessary, to correct consistency. The dough should stick to the side of the pan, then pull away.

Add the

½ cup

(

67

g

) hulled sunflower seeds, toasted at the Raisin/Nut signal, or 5-10 minutes before the kneading cycle ends. If you miss it, you can always work them in by hand when you get ready to form the loaf.

When the dough cycle has completed, remove the dough to a floured surface and flatten it into a rectangle. Roll into a cylinder. Place into a 9×5-inch greased loaf pan with the seam down and tuck the ends under.

Loosely cover (I use a shower cap or tea towel) and set in a warm place until dough rises approximately 1/2 to 1 inch above the rim of the pan.

Preheat your oven to 400˚F (200˚C).

When your bread has risen enough, turn the heat back to 350˚F (180˚C). Bake for 30-35 minutes or until internal temperature reaches 190˚F (88˚C). I suggest you test it with a thermometer if you are a novice bread baker.

Note: Check the loaf halfway through baking and cover with foil if getting too brown.

Allow bread to cool inside the pan for 10-15 minutes. Then turn the loaf out onto a cooling rack so the crust won't get soggy.
Notes
Directions for making bread with a stand mixer or by hand:
To make this recipe in a heavy-duty stand mixer: Add ingredients to the bowl in the same order. Turn on LOW to mix until all ingredients are moistened. Then, using a dough hook, turn the speed to 2 or 3. Continue beating/kneading until dough becomes smooth and elastic (about 5-10 minutes). Cover and allow to rise in a warm place. Deflate dough gently and shape as indicated in the recipe.
If making by hand: Combine all ingredients into a shaggy ball in a large bowl. Turn dough out onto a floured surface. Knead with your hands until the dough becomes smooth and elastic. Kneading will likely take 10-20 minutes, depending on your experience. Place the dough ball into a greased bowl. Cover and allow to rise until double. Deflate the dough gently and shape as indicated in the recipe.
Please note: If you only have active dry yeast, use 1/4 teaspoon more than called for in the recipe.

It no longer needs to be dissolved first

, but you can if you prefer.
Nutrition
Serving:
1
|
Calories:
206
kcal
|
Carbohydrates:
32
g
|
Protein:
6
g
|
Fat:
6
g
|
Saturated Fat:
2
g
|
Polyunsaturated Fat:
1
g
|
Monounsaturated Fat:
1
g
|
Trans Fat:
1
g
|
Cholesterol:
5
mg
|
Sodium:
245
mg
|
Potassium:
69
mg
|
Fiber:
2
g
|
Sugar:
6
g
|
Vitamin A:
59
IU
|
Vitamin C:
1
mg
|
Calcium:
9
mg
|
Iron:
1
mg
HELP OTHERS find this recipe. Leave a 5 🌟🌟🌟🌟🌟 rating at the top of the recipe card if you enjoyed it. No comment is required.