Cilantro Pesto Recipe: Fast Food for Cilantro Lovers
Preview: This Cilantro Pesto recipe with green chiles and fresh jalapeño is convenient for preparing cilantro and freezing it. Kiss the wilted black leaves of aging cilantro goodbye.
Fresh cilantro seems to have a short shelf-life in my refrigerator. Often, I buy cilantro for one recipe with plans for using it in many others. But before long, it turns dark and is better suited for an over-the-hill party than my dinner table.
Given my history, transforming a bunch of cilantro leaves into pesto is my best answer.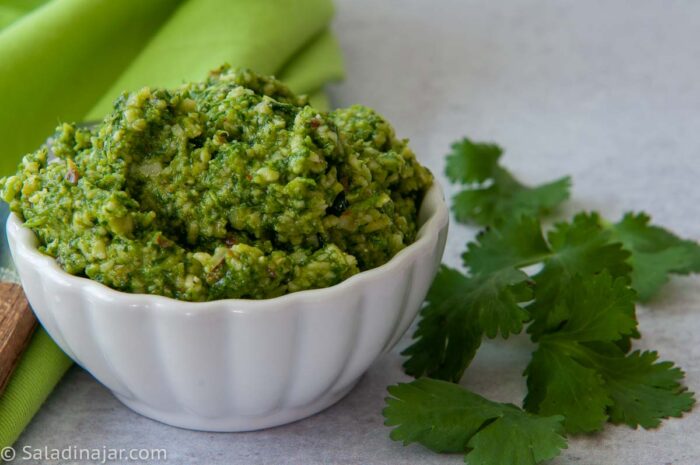 As an Amazon Associate, I earn from qualifying purchases.
Spicy Cilantro Pesto Sauce with green chile peppers and jalapeños is fast food for cilantro lovers. It keeps up to three months in the freezer and is ready to eat within a moment's notice.
What do I do with an abundance of cilantro?
My solution is to make pesto. Divide into small portions and store it in the fridge for 5-7 days or the freezer for three months.
Do I need to remove all the stems from the cilantro?
The stems taste as good as the leaves. It's the appearance and texture that can be objectionable when identifiable. Chopped stems will disappear into the pesto mix along with the leaves.
How do I freeze pesto?
A zippered plastic bag is my container of choice. The snack size is my favorite.
Add 1-3 tablespoons of prepared pesto to the bag. Gently mash the filled bag into a flattened shape, push out the air, and finally, seal. After it's frozen, it will be easy to break off the amount you need.
Alternately, pour the pesto into ice cube trays. When frozen, release the cubes from the tray and store them in plastic bags.
---
Ingredients and substitutions:
CILANTRO: If you buy your cilantro in a bunch, be sure to pull it apart and pull out any black leaves. There are no good substitutes for cilantro. Of course, you could use parsley but then it wouldn't be cilantro pesto.

If you have scales, you can weigh the cilantro to get four ounces. Otherwise, 1 large fluffy bunch of cilantro is sufficient. If the store only has wimpy skinny bundles, best to buy two bunches.

OLIVE OIL: Nothing beats a good olive oil. Avocado oil or mild vegetable oil will also work.

GARLIC: Fresh garlic cloves (not the whole bulb) is the way to go if you can. If you're not a garlic lover, decrease the amount or leave it out.

GREEN CHILIES: Green chilies pair perfectly with cilantro. I usually use the canned variety.

JALAPEÑO: Keep whole fresh jalapeños in your freezer so you will have them whenever needed. They don't take much room and no preparation. Just drop them in a little plastic bag and seal.

In past years, I might have substituted pickled jalapeńo peppers for fresh ones. But now that I know the freezing trick, it's just as easy to use fresh peppers. They are milder and have a better flavor in this cilantro pesto recipe.

Removing the seeds will give you a milder taste. Leave them in for an even spicier pesto.

PARMESAN CHEESE: Again, fresh Parm is best. Pecorino Romano is a viable substitute. Fluffy, powdered Parm in the green jar would not be acceptable at my house.

LEMON: Squeeze a half of a lemon into your pesto and you're good. Substitute lime for the lemon if you like.
---
What can I do with cilantro pesto?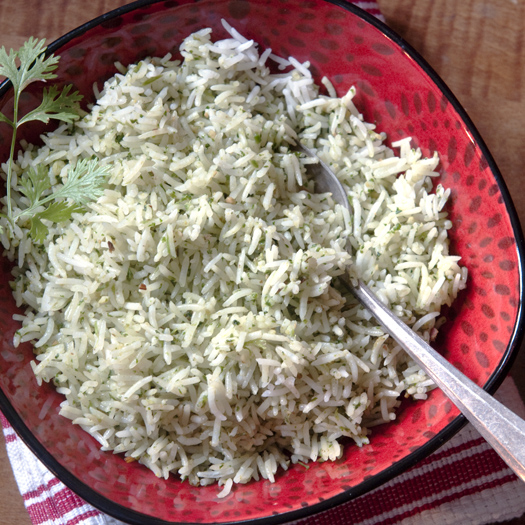 Add this concentrated flavor of cilantro pesto into a bowl of rice or pasta. Or stir it into Greek yogurt for a delicious dip or salad dressing. Works great on my daily salads that I vacuum seal into Mason jars.
Use in place of pizza sauce on a pizza. Then top with cheese and meat in that order. Use it to perk up plain rice or spaghetti.
Try pesto as a condiment on a grilled chicken sandwich or hamburger. Add it to soups that specify fresh cilantro if all the flavors play nice.
---
How to make this Cilantro Pesto recipe: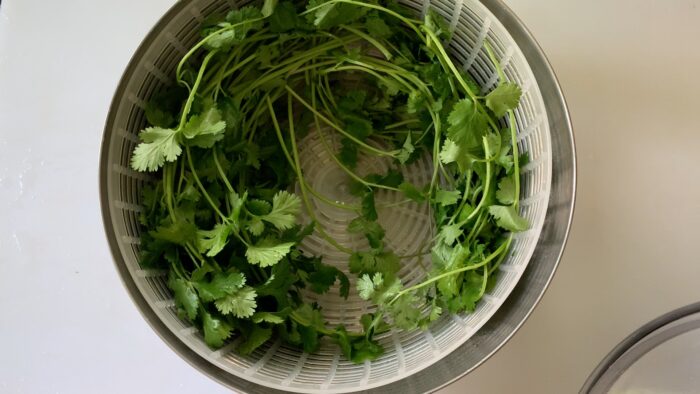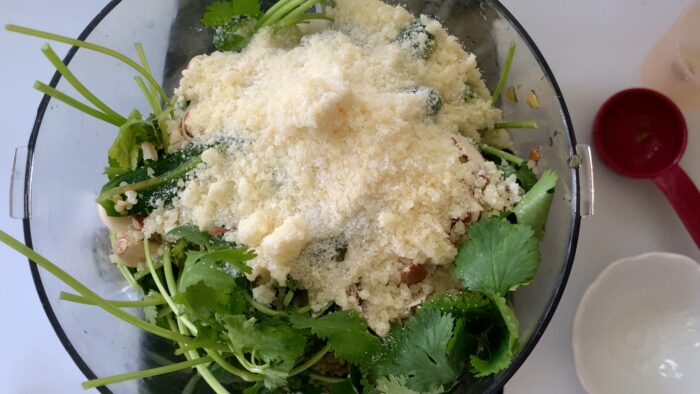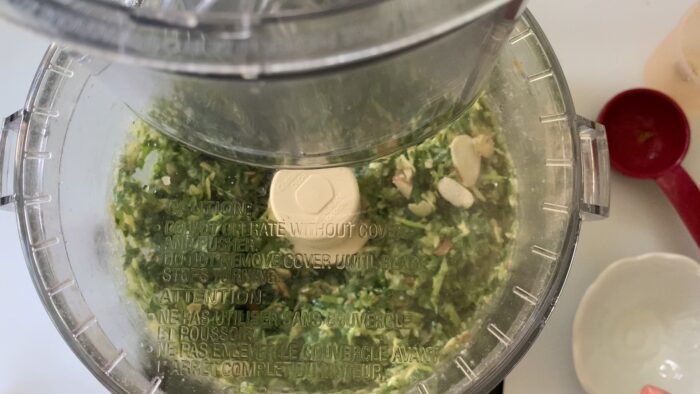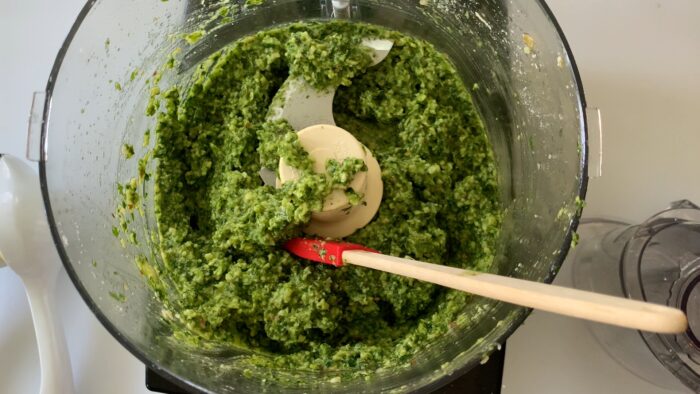 ---
Would you like to see more cilantro recipes?
---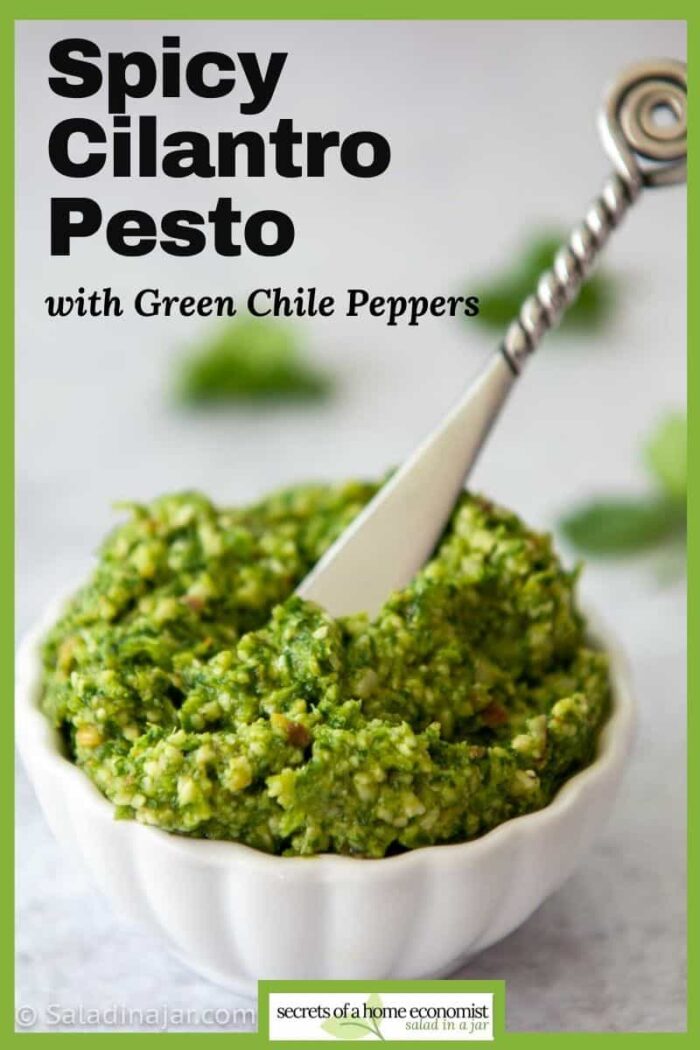 ---
If you have questions or suggestions, email me privately to Paula at saladinajar.com. Hope to see you again soon! Paula
---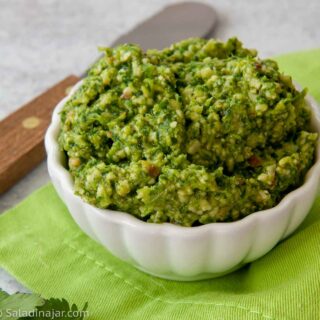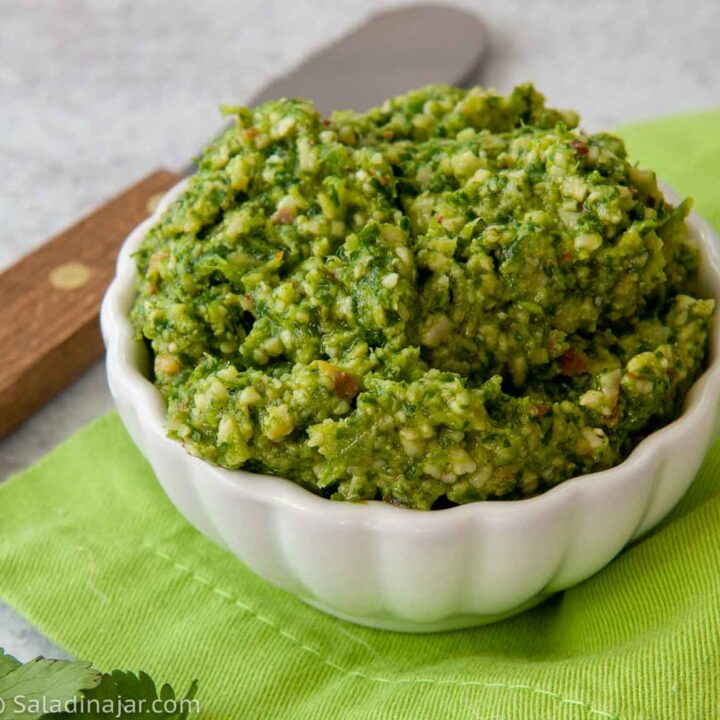 Cilantro Pesto Recipe
Cilantro lovers will appreciate the ease of adding this to many recipes calling for fresh cilantro.
Ingredients
4

ounces

fresh cilantro

-

1 large bunch

½

cup

extra-virgin olive oil

⅔

cup

sliced or slivered almonds

2

cloves

garlic

¼

cup

green chilies

-

canned

1

fresh jalapeno

-

seeded

½

cup

grated fresh Parmesan cheese

¼

teaspoon

salt

Freshly ground black pepper

1

tablespoon

fresh lemon juice

-

juice from half a medium lemon
Instructions 
Add cleaned and dried cilantro with the bottom inch of the stems trimmed, olive oil, almonds, green chilies, jalapeño, Parmesan cheese, salt, and pepper to the bowl of a food processor or blender.

Pulse and process until not-quite a smooth paste. I like a tiny bit of texture.

Squeeze lemon over all; pulse to mix. Taste and add more salt and pepper as desired.
Notes
Freezes well. Place into a small plastic freezer bag, seal, and mash flat. Freezing in this manner makes it easy to break off a piece as needed, even when frozen.
Nutrition
Nutrition Facts
Cilantro Pesto Recipe
Serving Size
1 tablespoon
Amount per Serving
% Daily Value*
* Percent Daily Values are based on a 2000 calorie diet.
Like this recipe? Thanks for leaving a 5-star rating inside the recipe at the top! 🤩