Preview: This Strawberry Yogurt Salad Dressing weighs in at only 53 calories per serving, This slightly sweet and creamy yogurt-based dressing recipe will save your waistline and some dollars.
I used to empty the shelf at the grocery store anytime I found strawberry yogurt salad dressing in stock. However, my conscience bothered me when I read the ingredient list and looked at the price. Attempts to create my own version at home were never quite good enough–until now.
You'll appreciate all the money and calories you save by making Low-Calorie Strawberry Yogurt Salad Dressing at home. Try it served over vacuum-packed romaine lettuce, fresh spinach, or salad greens. Add blue cheese or feta, sliced avocados, and/or dried cranberries for a fantastic salad.
Should I use fresh or frozen strawberries?
You can use either. It's a good way to use fresh berries a little past their prime. Make sure to throw away any with mold or soft spots.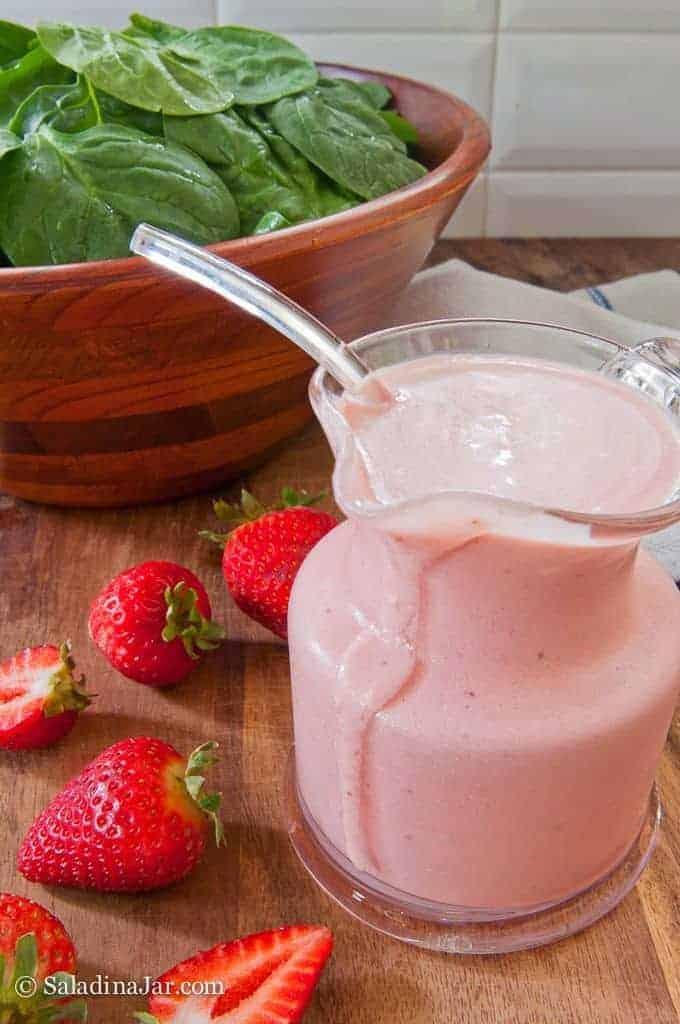 Using frozen berries means they are conveniently available at any time of the year. Buy strawberry pieces to save money.
Why cook the strawberries?
Cooking the strawberries results in dressing that stays fresh longer (at least two weeks), has a better texture, and boasts a concentrated strawberry flavor. Microwave the berries to cook them quickly.
No stirring needed. Of course, you can cook them on the stove if you prefer.
Regarding the yogurt:
Substitute any unflavored yogurt for the Greek yogurt specified in the recipe. However, substituting thinner or thicker yogurt may require an adjustment in the amount of water you add at the end.
No yogurt in the house? Try substituting sour cream for the yogurt. Or make homemade yogurt.
Yogurt gets thicker as it chills. Consequently, don't hesitate to add more water if your dressing is too thick after refrigeration.
How to make this Strawberry Yogurt Salad Dressing Recipe: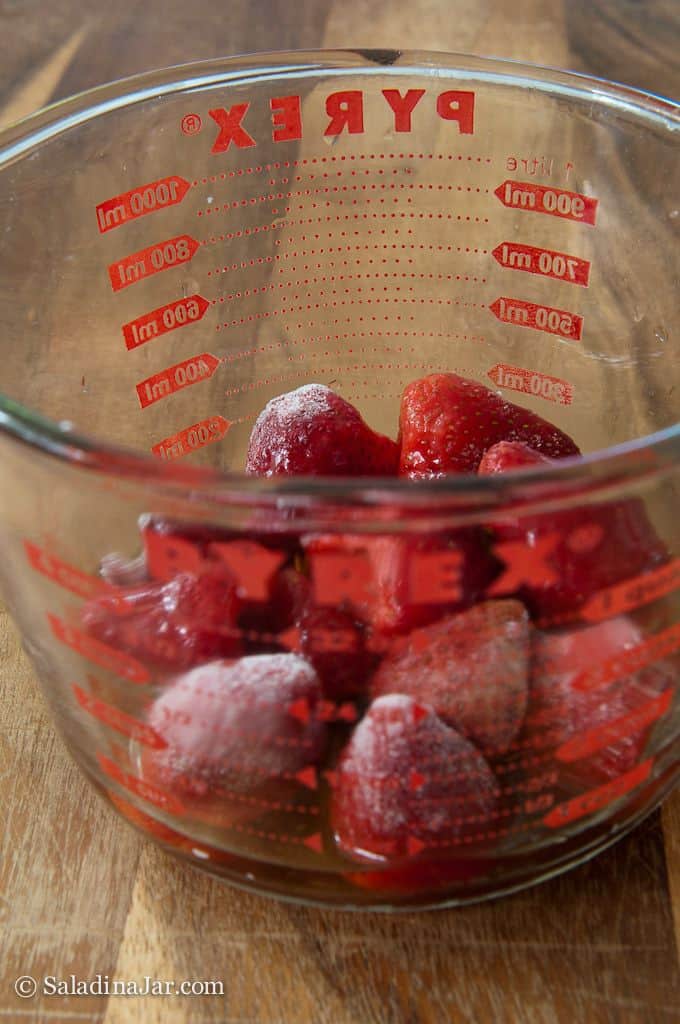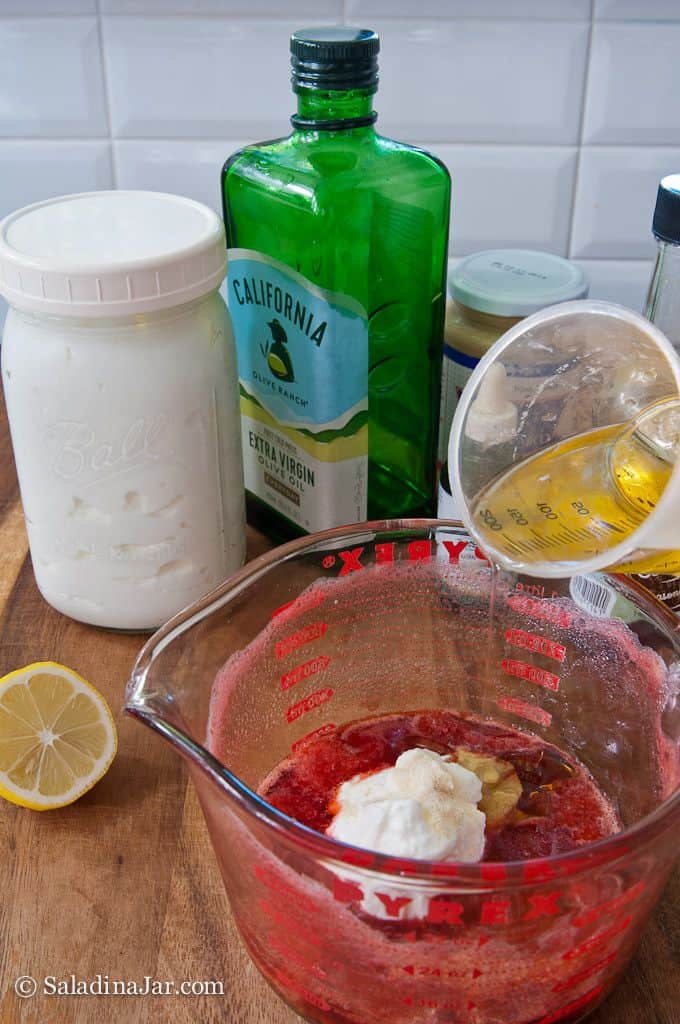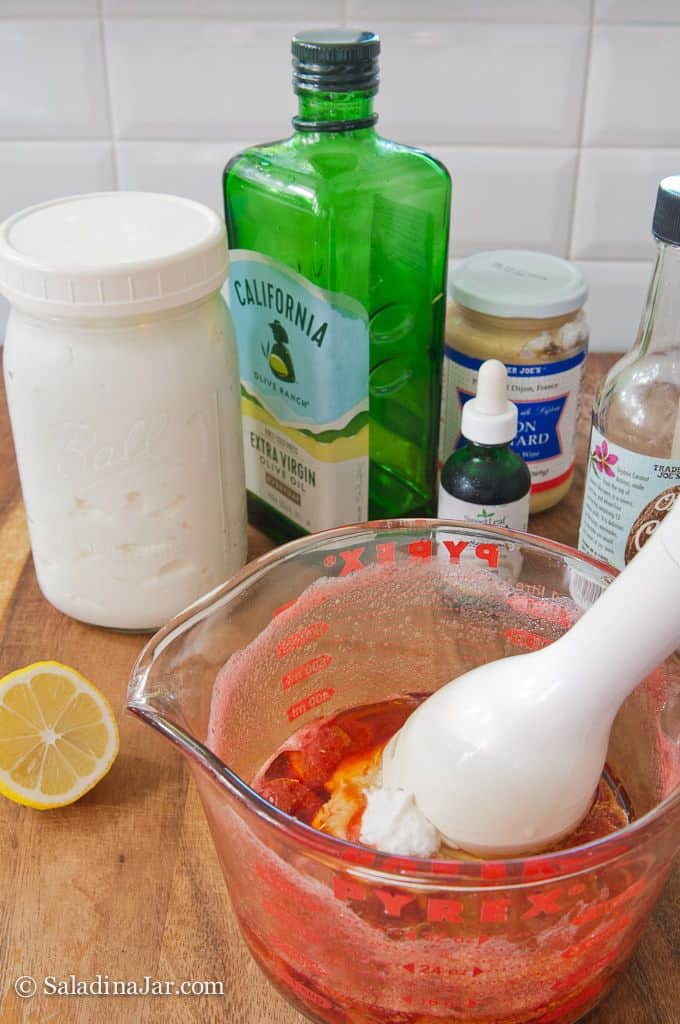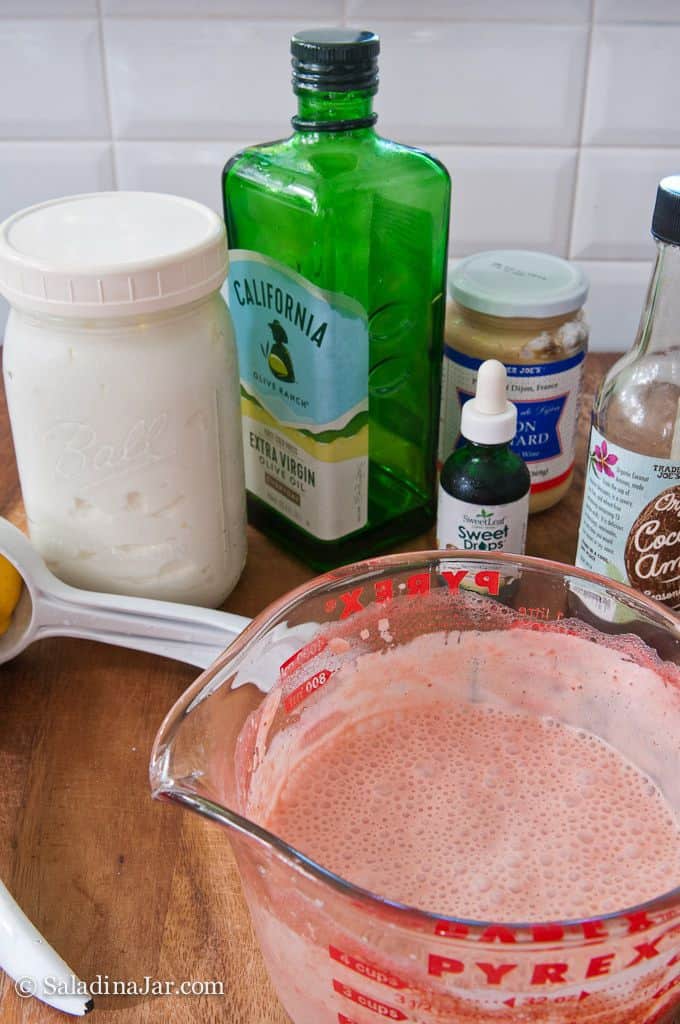 ---
More recipes for salad lovers:
---
If you enjoyed this recipe, it would help others and me if you gave it a five-star rating inside the recipe card below. 🤩 No comment required. Thank you.

Hope to see you again soon!
Paula
p.s. Questions or suggestions? Please email me: Paula at saladinajar.com.