Creamy Strawberry Salad Dressing for Fresh Fruit or Greens
Sneak Preview: This Creamy Strawberry Salad Dressing is a slightly sweet yogurt-based dressing recipe that complements fresh fruit, lettuce, or spinach. The Greek yogurt adds protein to this low-calorie dressing, which checks in at 91 calories per serving (2 tablespoons). Use fresh or frozen berries, cooked or uncooked–suit yourself.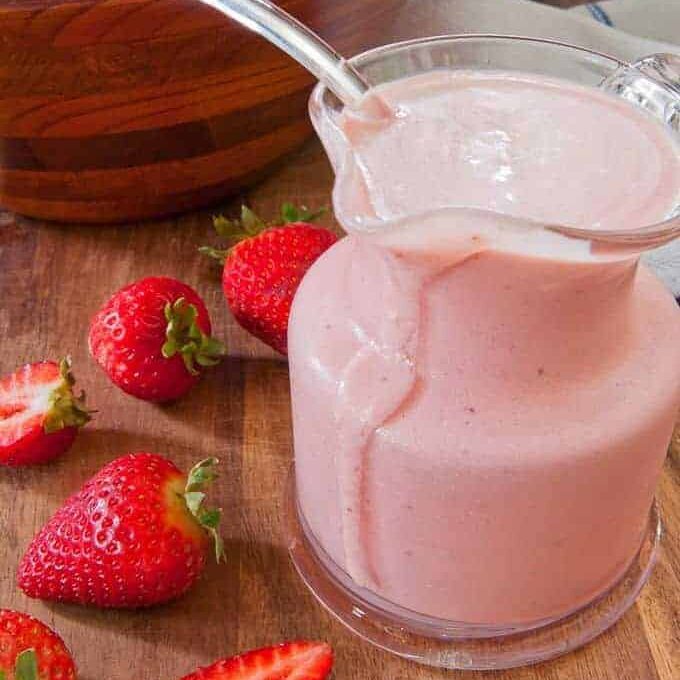 As an Amazon Associate, I earn from qualifying purchases.
I used to empty the shelf at the grocery store anytime I found strawberry yogurt salad dressing in stock. However, my conscience bothered me when I read the ingredient list and looked at the price. Attempts to create my own version at home were never quite good enough–until now.
You'll appreciate all the money and calories you save by making Creamy Strawberry Salad Dressing at home. Try it served over vacuum-packed romaine lettuce, fresh spinach, or a plate of fresh fruit. Add blue cheese or feta, sliced avocados, and/or dried cranberries for a colorful salad with tons of flavor.
Ingredients and substitutions:
Strawberries: Use fresh or frozen unsweetened strawberries. I have not tested this recipe with other fruit, but I suspect blueberries or raspberries would also work.
Vinegar: My favorite vinegar for this recipe is apple cider vinegar. Substitute white vinegar, white wine vinegar, or balsamic vinegar.
Coconut Aminos or Lite Soy Sauce: Coconut aminos is gluten-free. It won't make your dressing taste like coconut. The taste is slightly sweeter than lite soy sauce, which is more savory and salty.
Sweetener: I favor liquid or granular Stevia in this recipe to cut calories. Swap your favorite sugar-free sweetener, granulated sugar, or honey if you prefer.
Onion Powder: Eating anything with raw onions is banned at my house, so onion powder is how I add the flavor. Use yellow, white, or red onions if you enjoy a fresh onion flavor.
Lemon Juice: Fresh or frozen lemon juice packs the most punch. Use bottled lemon juice only if you're desperate.
Greek Yogurt: Since I make Greek yogurt at home, that is what I use. Replace ¼ cup plain Greek yogurt with regular unflavored yogurt; you won't need to add as much water. (The calorie count is based on low-fat Greek yogurt.)
Dijon mustard: Use dry or prepared mustard instead of Dijon mustard if you need a substitute.
Oil: My preference is avocado oil or olive oil. Use vegetable or canola oil if that's what you have.
Should I use fresh or frozen strawberries?
You can use either. It's a good way to use fresh berries a little past their prime. Make sure to throw away any with mold or soft spots.
Using frozen berries means they are conveniently available at any time of the year. They are usually sweeter than out-of-season strawberries.
---
Why cook the strawberries?
If I have some frozen strawberries, I microwave them with vinegar first. I like using the microwave because no stirring is needed. Of course, you can cook them on the stove if you prefer. (Watch the video to see them cooked.)
It is not necessary to cook the berries at all. The color is more intense, and the flavor is fresher (at least when using fresh berries).
Directions for both are included in the recipe below.
---
Regarding the yogurt:
Substitute any unflavored yogurt for the Greek yogurt specified in the recipe. However, substituting thinner or thicker yogurt may require adjusting the amount of water you add at the end.
No yogurt in the house? Try substituting sour cream for yogurt.
Yogurt gets thicker as it chills. Consequently, don't hesitate to add more water if your dressing is too thick after refrigeration.
---
How to make Strawberry Salad Dressing with Yogurt:
Note: If you use fresh strawberries and prefer uncooked ones, skip step #1. Chop them first, then add them to the mixing bowl before proceeding to step 2.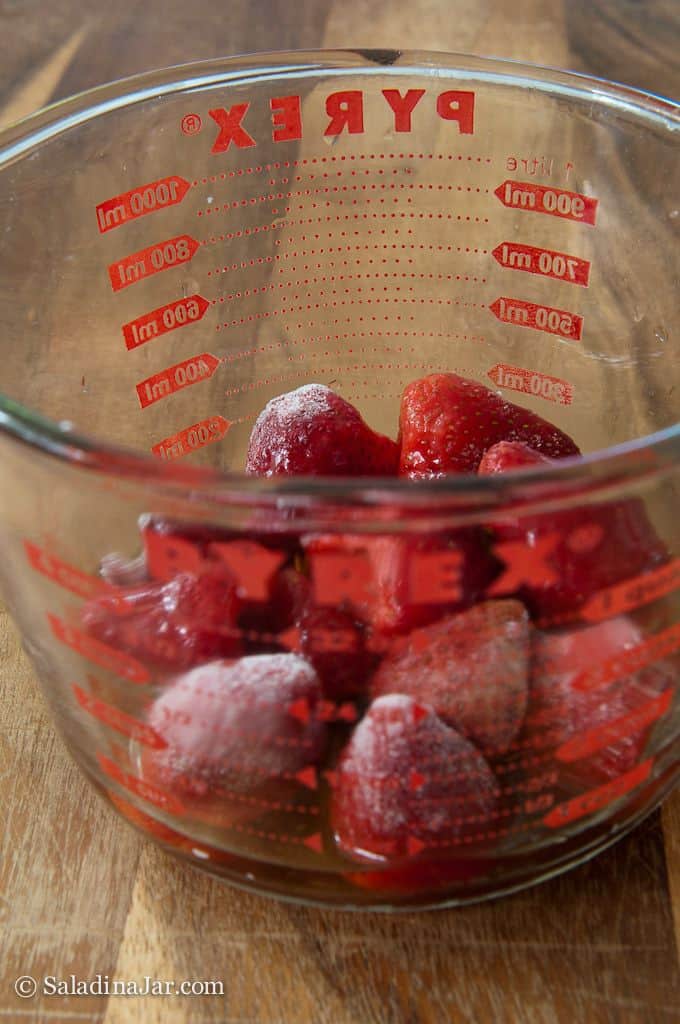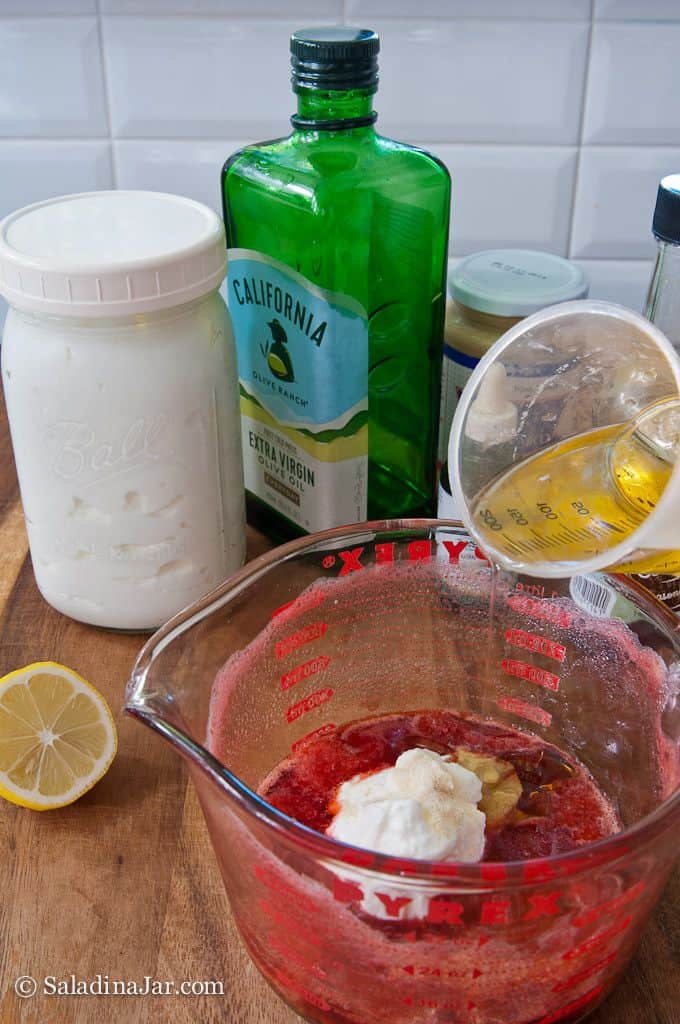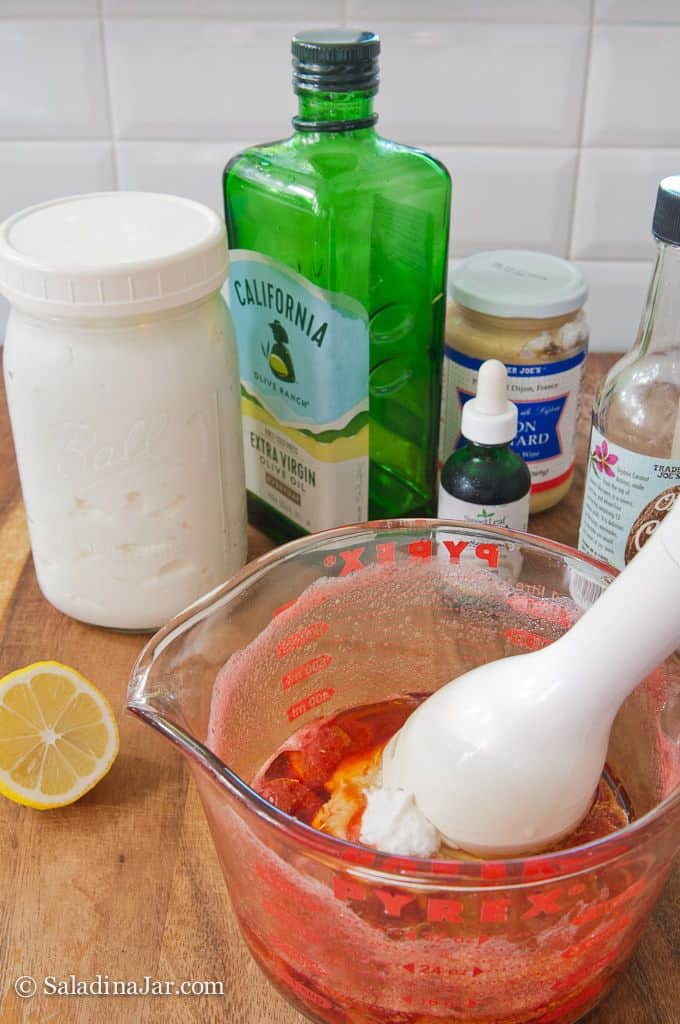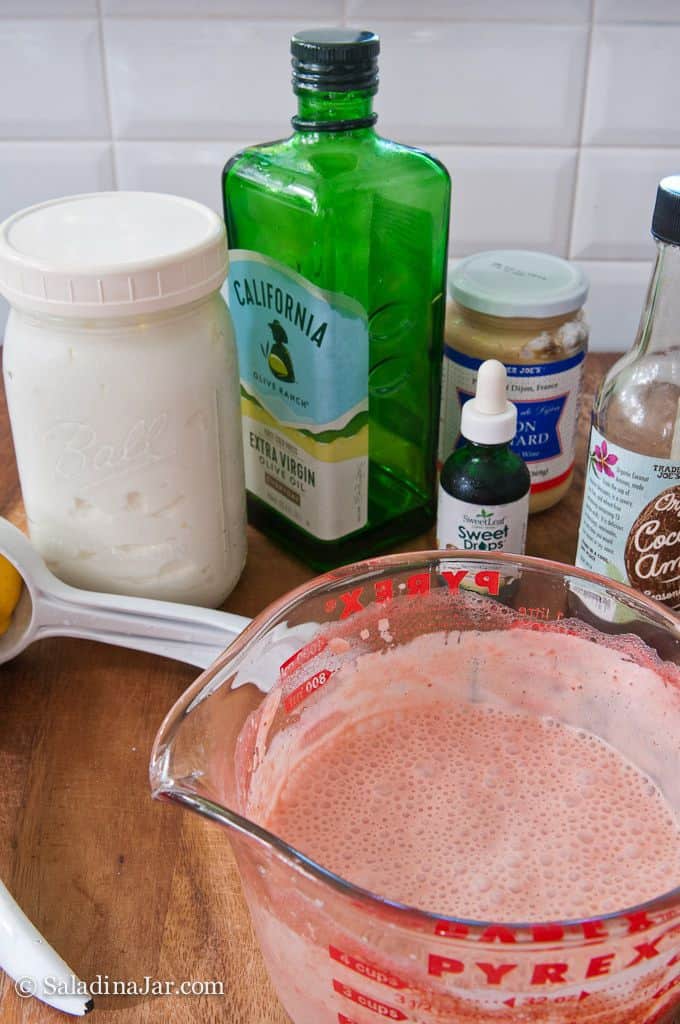 ---
FAQs about Creamy Strawberry Dressing with yogurt:
What is the difference between a strawberry vinaigrette and a creamy strawberry dressing?
A vinaigrette is lighter – think oil and vinegar flavored with pureed strawberries. In general, creamy dressings have yogurt, mayonnaise, or sour cream added. It can be thick enough to serve as a dip or slightly thinned with water for a salad dressing.
Can I freeze this dressing?
I don't recommend it. Yogurt tends to separate during the thawing process.
How do I store this dressing?
Because of the perishable strawberries and yogurt, it must be refrigerated.
What kind of salad is best with this dressing?
Traditionally, many people use strawberry dressing on spinach salad. It's also good with mixed greens or fresh fruit. I use it on my daily "salad in a jar."
My dressing is too thick to pour. What can I do?
Add water and whisk well to make the dressing pourable.
How much is a serving of this dressing, and how many calories is it?
One serving equals two tablespoons and contains 91 calories when using an artificial sweetener. If you prefer granulated sugar or honey, sweeten to taste.
Can I add poppy seeds to this recipe?
Yes. They add textural and visual interest and are popular in strawberry salads.
Note: Did you know poppy seeds should be stored in the fridge to keep them from going rancid too quickly? It's a fact.
Parting thoughts: I know this recipe is a bit of trouble. But when you have a few strawberries in the freezer or fridge, this dressing is a nice change of pace. Like any recipe, the first time you make it takes longer. After a couple of times, you won't need a recipe.
If you have used this recipe in the past, please note that I have changed the amount of oil to make the dressing creamier and smoother. You can cut it back if you prefer.
If you have questions or suggestions, email me privately for a quick answer: Paula at saladinajar.com. Hope to see you again soon!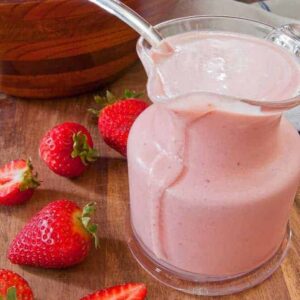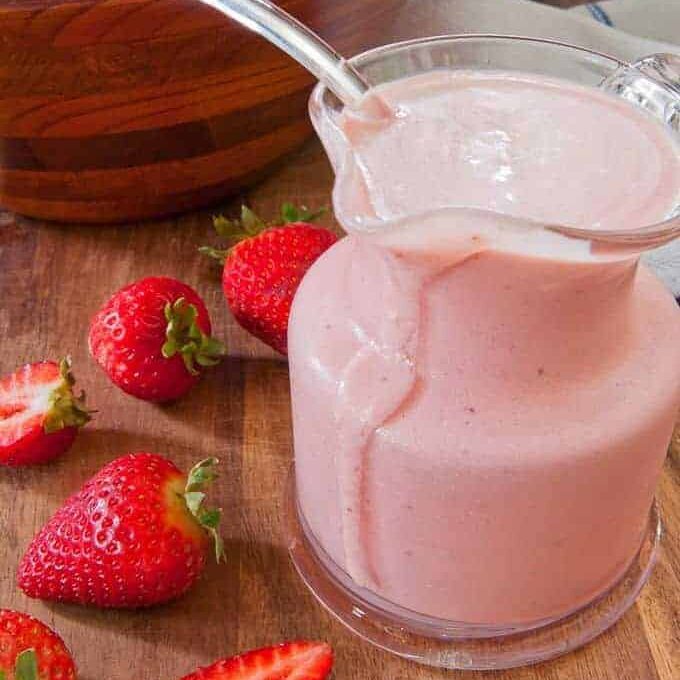 Creamy Strawberry Salad Dressing Recipe
Making Creamy Strawberry Salad Dressing with Greek Yogurt at home is a tasty but healthy way to add flavor, protein, and color to a fresh fruit or lettuce salad.
Ingredients
1

cup

fresh (or frozen)

-

unsweetened strawberries

¼

cup

apple cider vinegar

1

tablespoon

coconut aminos or lite soy sauce

4

packets of sweetener

-

(or use a tablespoon of maple syrup or sugar)

½

teaspoon

onion powder

1

tablespoon

fresh lemon juice

-

half of a small lemon

¼

cup

plain Greek yogurt

1

tablespoon

Dijon mustard

½

cup

olive or avocado oil

¼

cup

water

-

may need to add more water after dressing has chilled to make it pourable.
Instructions
If you want to cook the strawberries: Place berries and vinegar into a microwave-safe bowl no smaller than one quart-size. Microwave for 4-5 minutes on HIGH (add a minute if berries are frozen). No stirring is necessary.

Remove berries from the microwave and add remaining ingredients.

For fresh strawberries: Add destemmed and coarsely chopped strawberries to a medium-sized mixing bowl along with the remaining ingredients.

Store in the refrigerator.
Notes
The coconut aminos will not give this dressing a coconut flavor. It's a great soy-free substitute for soy sauce.
Add more or less sweetener or sugar, depending on your tastes.
Add water if the dressing thickens as it sits in the refrigerator. The more water you add, the fewer calories per tablespoon.
Nutrition
Serving:
1
|
Calories:
91
kcal
|
Carbohydrates:
2
g
|
Protein:
1
g
|
Fat:
9
g
|
Saturated Fat:
1
g
|
Polyunsaturated Fat:
1
g
|
Monounsaturated Fat:
7
g
|
Cholesterol:
0.3
mg
|
Sodium:
45
mg
|
Potassium:
26
mg
|
Fiber:
0.3
g
|
Sugar:
1
g
|
Vitamin A:
5
IU
|
Vitamin C:
8
mg
|
Calcium:
9
mg
|
Iron:
0.1
mg