If you are confident in your bread-baking skills, I wrote this post, "How to Make Ciabatta with a Bread Machine" just for you.
Ciabatta Bread tastes fantastic and boasts a characteristically open texture, but it can be a challenge for the home baker. Using a bread machine or bread maker to mix the dough means you won't have to handle the sticky dough until you get ready to shape your loaf. I have tips to make that easier, too.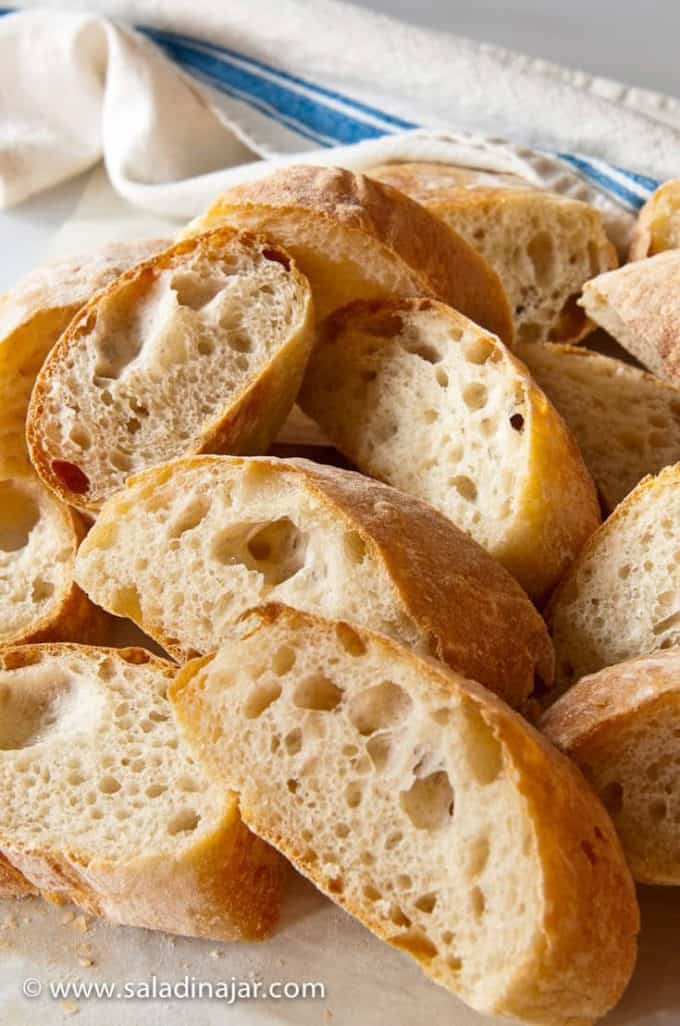 What does my obsession with the British Baking Show have to do with Ciabatta?
Have you seen the British Baking Show on PBS or Netflix? After a friend at church told me about it, I was binge-watching within 24 hours.
In one of the first episodes, Paul Hollywood picked Ciabatta as the "Baker's Challenge". When questioned about his choice, he told Mary Berry, "because it is so hard."
Those are fightin' words…
I took the challenge personally and henceforth, pulled out my bread machine along with several recipe books. After I perfected the recipe, I had to figure out a way to shape the loaves without losing my mind over all the messy dough stuck to my fingers.
Why Making Ciabatta in a Bread Machine is a Good Idea
The dough doesn't "stick and pull away from the side of the pan" like the average bread dough. On the other hand, it should not level out like cake batter, either. The dough should stick to the sides but still maintain some shape as it kneads.
A companion show to the British Baking competition is the Masterclass where the two judges show exactly how to make the recipes they assign as challenges. Paul makes the ciabatta in Masterclass 2 of Season 1. I watched it more times than I can count.
The Secret to Success in Shaping Ciabatta
Wait until you hear this…
In my opinion, Paul Hollywood's method of shaping the dough is genius. For example, a well-greased square or rectangle-shaped plastic container is used to contain the dough while it proofs.
When ready to shape, slowly and patiently dump the dough onto a well-floured surface. Because it is already in a rough square/rectangle shape, it only has to be cut in half with each long half-rolled about a quarter of a turn away from the other loaf.
Finally, with well-floured hands, pick up each half of the dough and gingerly but quickly transfer it to a prepared cookie sheet.
***The secret to success with this process is "well-floured" and "well-greased."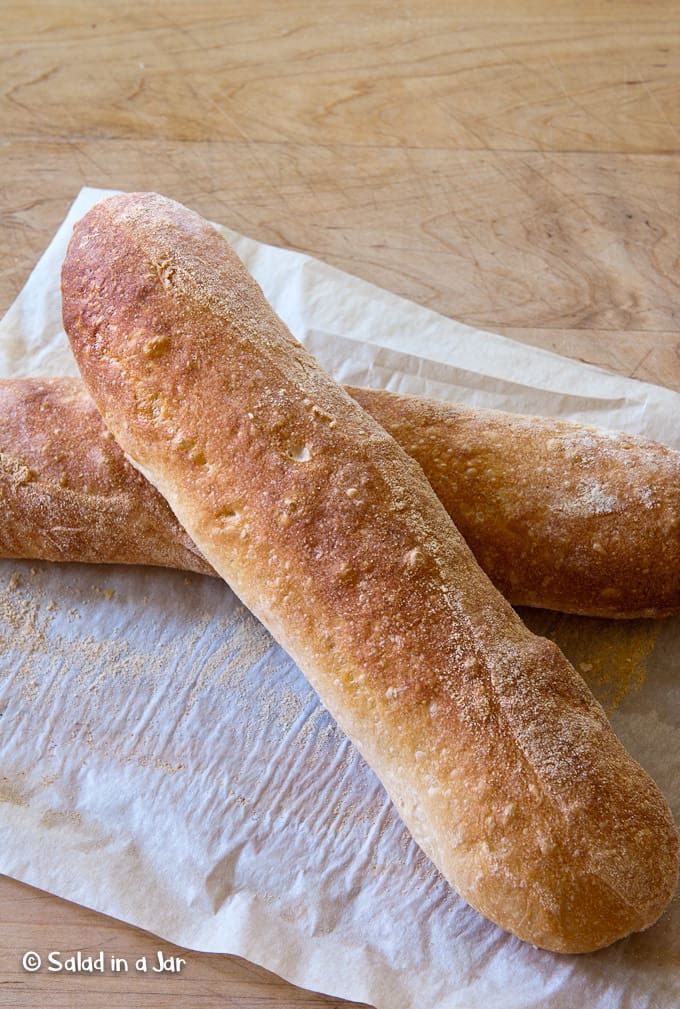 Is this bread really worth the trouble?
I think so. The yeasty flavors are well-developed and flavorsome not to mention the chewy texture and tender but crispy crust.
Substitutions
If you happen to make Greek yogurt at home, substitute some of the whey you drained from the yogurt for the water. Whey will impart a hint of sourdough flavor to your bread.
Substitute bread flour for unbleached flour if you like.
How To Make Ciabatta with a Bread Maker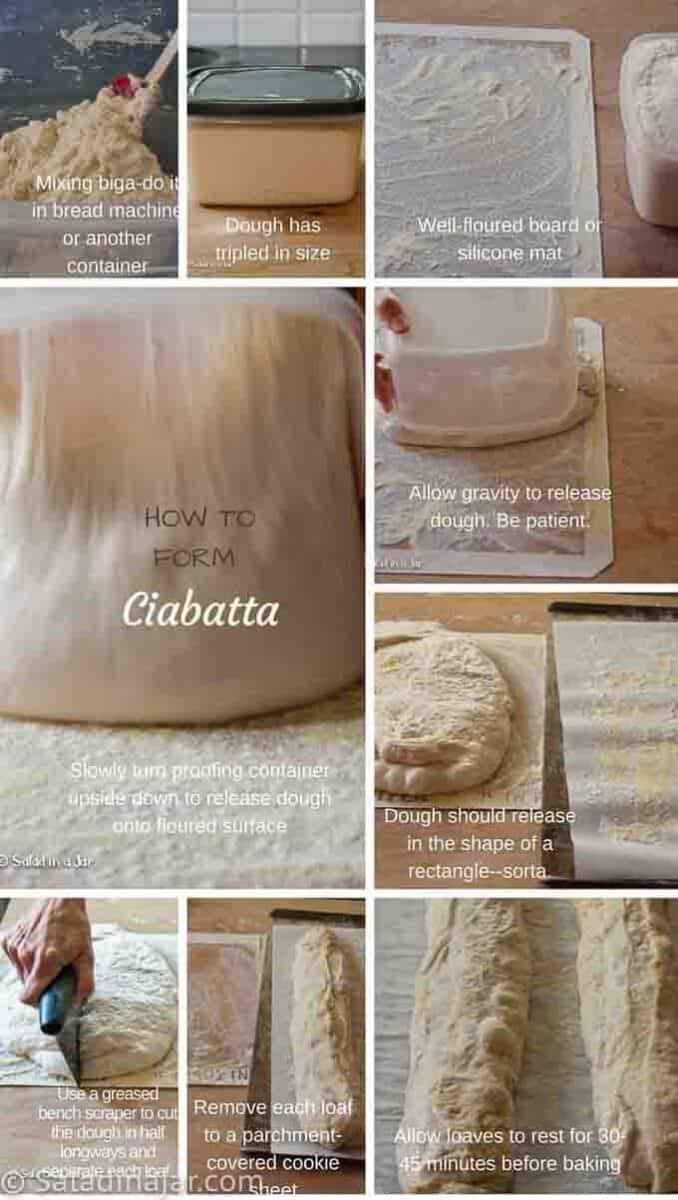 Recipe Note
#1
Never try to rush the proofing or rising time.
Paul Hollywood from the British Baking Show mentioned this more than once. You should only add cold water and cold milk to this recipe.
#2
Let the dough rise at room temperature.
Don't use that warm and humid spot where you usually proof your bread dough. The longer it takes to rise, the better the flavor.
#3
Ciabatta must be started the day before you want to serve it.
This recipe involves a biga–a water and flour mixture with a small amount of yeast that needs to incubate from 12-24 hours. With that in mind, you must start the day before you want to eat your Ciabatta.
If plans change, you can always refrigerate the biga after the first 12-24 hours, then use it sometime in the next 3-4 days.
#4
Check bread with a thermometer if you want to be sure when the bread is done.
Use a quick-rise thermometer to test the internal temperature of your loaf to check if your bread is completely cooked through. The temperature should be around 190˚F.
My favorite thermometer (paid link) is a little pricey but I love how fast and accurate it is. If you like to cook, you'll be surprised how often you reach for it.
---
More Recipes for Bread Makers
---
Pin the picture below to save for later.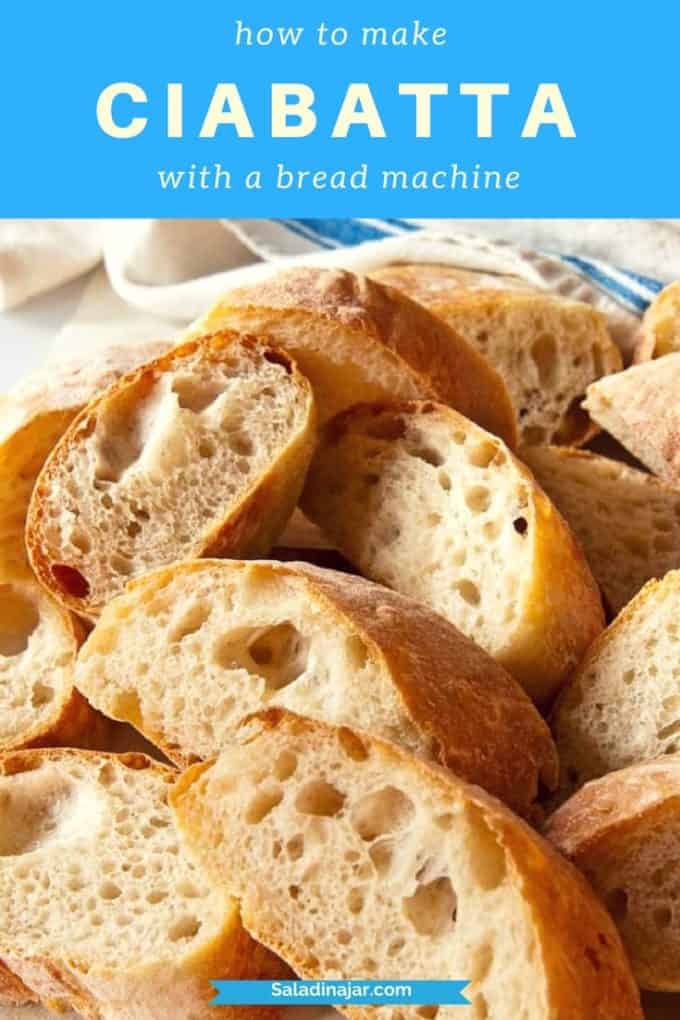 ---
Did you try this recipe and enjoy it? Consider helping other readers (and me) by returning to this post. Leave a rating on the recipe card itself underneath the picture. Although always appreciated, comments aren't required.

If you have a question or tip to share, please leave it in the regular comments after the recipe so I can answer back. Or, email me privately: paula at saladinajar.com.

Thank you for visiting!
Paula
---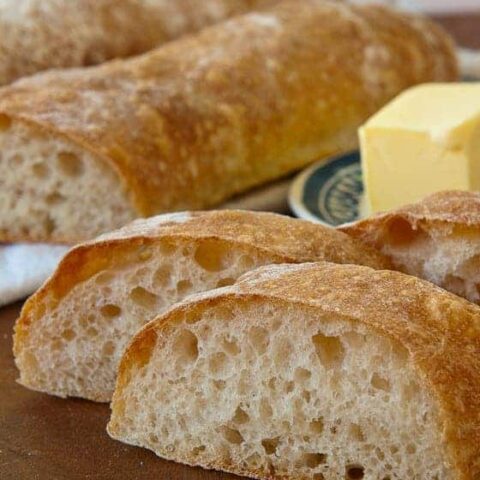 How To Make Ciabatta with a Bread Machine
Total Time:
1 days
30 minutes
Because ciabatta starts life as a very slack and sticky dough, the bread machine is a useful tool to mix and knead the dough. Make the biga by adding the first three ingredients listed below to your bread machine at least 12 hours ahead of time. This is a sort of "starter" that will contribute flavor and a hole-y texture to your bread.
Ingredients
BIGA
1/8 teaspoon instant yeast
1/2 cup water
1 cup unbleached, all-purpose flour (120 grams)
Ciabatta Dough
1/2 cup + 2 tablespoons cool water (Save back 2 tablespoons to add as needed to correct dough consistency)
1/4 cup milk
2 cups unbleached all-purpose flour (240 grams)
1-1/2 teaspoon salt
1/2 teaspoon bread machine yeast (yes, that's all)
flour or semolina for flouring the board and your hands
Instructions
Mixing the Biga
Combine yeast, water, and flour in bread machine (or another container if you don't want to tie up your bread machine that long.) You may need to use a small spatula to scrape excess flour from the corners into the wet flour mixture. Select the dough cycle and turn on for about 5 minutes to mix the ingredients. Turn off machine (or unplug) and let sit for 12-24 hours.
(Note: If not using the biga within 24 hours, place the foamy mixture into the refrigerator where it will keep for 3-4 days and only get better. Allow the biga to come to room temperature before proceeding to the next step.)
Mixing the Ciabatta Dough
When ready to mix Ciabatta dough, add all ingredients to your bread machine in order listed, starting with the biga. Select dough cycle and push start. After 10 minutes, check dough. It should be sticky. It will hold some shape but will also stick to the side. See video. Add water 1 tablespoon at a time if dough is too dry. If dough is too wet and looks more like thick pancake batter, add additional flour 1 tablespoon at a time.
When kneading stops, remove the pan from the machine. (Do not let dough finish the dough cycle as you normally would.) Dough should stick to the sides but still hold a loose shape.
Forming the Ciabatta Dough
Pour about a tablespoon of olive oil into your hands. Use your greasy hands to lightly grease every square inch of the inside of your 2-quart square or rectangular container and the inside of the lid.
While your hands are still greasy, grab the sticky dough inside the bread machine pan and transfer it into the prepared plastic container. Flip the dough over so that all surfaces of dough are greased. Pour another teaspoon or two of olive oil around the edges of the dough so it will not stick to the sides as it proofs.
Cover and allow dough to rise at room temperature. Don't try to rush it. Let rise until almost tripled in size. If you are using a 2-quart container, it will be full.This could easily take 2 hours or more depending on the ambient temperature.
When fully proofed, empty dough by slowly tipping the container upside down onto a very liberally-floured surface (I use a silicone baking sheet since it's easy to throw into the dishwasher). The dough should be in the same general square or rectangular shape of the container it proofed in. DO NOT PAT THE DOUGH DOWN like you would normal bread dough.
Sprinkle dough liberally with flour and/or semolina. Cut dough in half with a greased and floured bench knife and roll each loaf away from the other a quarter turn so that cut edge is facing up and each loaf has two lines down the middle.
With liberally-floured hands, carefully transfer cylinder of dough to a cookie sheet covered with parchment paper which has been sprinkled with flour and/or semolina (or cornmeal). Carefully straighten and clean up shape with your hands and a bench knife.
Let loaves rest for about 30-45 minutes. Preheat oven to 425 degrees F.
Spray loaves lightly with water using a spray bottle. Bake at 425 degrees F for 25-30 minutes. Spray loaves 2 more times during the first 5 minutes of baking.
Recommended Products
As an Amazon Associate, I earn from qualifying purchases. But don't worry. This doesn't change the price you pay.
Nutrition Information:
Yield:

16 slices
Serving Size:

1
Amount Per Serving:
Calories:

167
Total Fat:

1g
Saturated Fat:

0g
Trans Fat:

0g
Unsaturated Fat:

0g
Cholesterol:

0mg
Sodium:

213mg
Carbohydrates:

34g
Fiber:

1g
Sugar:

0g
Protein:

6g