Sneak Peek: This bread machine ciabatta recipe produces the traditional look and texture you love while using a bread machine to mix and knead the dough. Check out the tips for shaping the sticky dough while barely touching it.
Finding holes in my bread was never so satisfying. Whenever I take Ciabatta out of the oven, I can't wait to slice it open. Lots of holes with no huge ones spells bread-making success in my book.
The slack and flimsy dough of Ciabatta gives new meaning to the word "sticky." The home baker may find it challenging to impossible. Use a bread machine to save the day.
If you are confident in your bread-baking skills, I wrote this post just for you. However, if you are a newbie, you might try this recipe for Crusty French Bread. It's the most popular bread recipe on this website.
Recipe inspiration:
Have you seen the British Baking Show on PBS or Netflix? After a friend at church told me about it, I was binge-watching within 24 hours.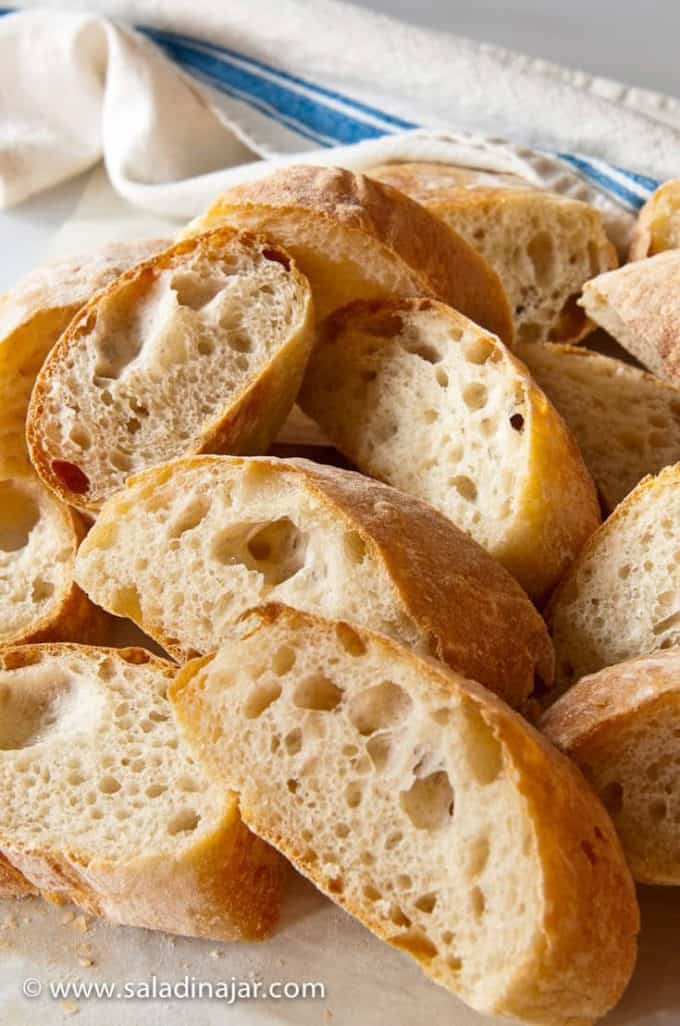 In one of the first episodes, Paul Hollywood picked Ciabatta as the "Baker's Challenge." When questioned about his choice, he told Mary Berry, "because it is so hard."
Those are fightin' words.
I took the challenge and pulled out my bread machine along with several recipe books.
A companion show to the British Baking competition is the Masterclass. The two judges show how to make the recipes they assign as challenges. Paul makes the Ciabatta in Masterclass 2 of Season 1. (So sorry, it looks like this video is no longer accessible.) I watched it more times than I can count.
First on the list was perfecting the recipe. Then I had to figure out how to shape the loaves without losing my mind over all the messy dough stuck to my fingers. I hope you find it helpful.
Why is making ciabatta in a bread machine a good idea?
Ciabatta begins and ends as a very sticky dough. Kneading by hand would be quite a mess (impossible?). Call in your bread machine for the rescue!
The dough doesn't "stick and pull away cleanly from the side of the pan" like the average bread dough. Instead, dough with the correct consistency will stick to the side, then pull away, but not cleanly.
On the other hand, the dough should not level out like cake batter either.
The dough should stick to the sides but still maintain its shape as it kneads. It will become smooth and shiny as the gluten develops.
The secret to "almost-no-hands shaping:"
Paul Hollywood's method of shaping the dough is genius. He proofs the dough in a well-greased rectangle-shaped plastic container.
After rising, dump the dough onto a well-floured silicone baking mat. Do it slowly and patiently. From there, you can do all the manipulation with a bench knife.
The process is SO challenging to explain with words. See the pictures below or, better yet, the video.
***The secret to success with this process is "well-floured" and "well-greased."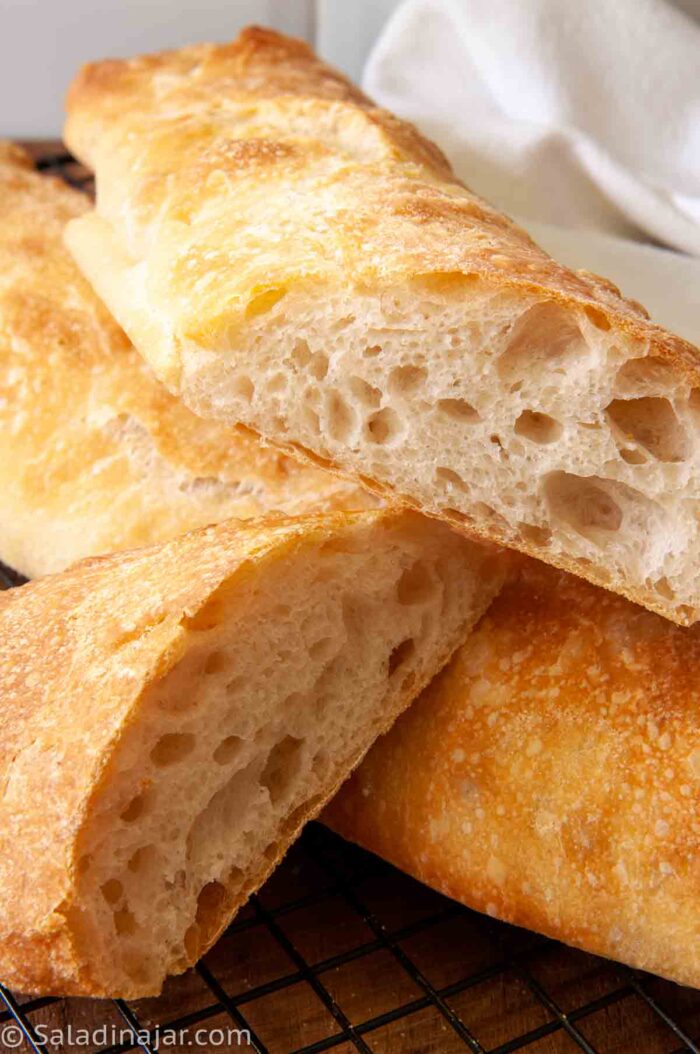 Is this bread worth the trouble?
I think so. The yeasty flavors are well-developed and flavorful, the texture is chewy, and the crust is crusty but tender. To execute this bread successfully is high on my list of satisfying kitchen experiences.
Addendum as of 11/17/20: I've revised the recipe and video to demonstrate an additional foldover technique during the rising process. It will help to obtain a holey texture every time.
---
---
Ingredients and substitutions
YEAST: No need to dissolve instant or bread machine yeast (same thing). I use it in all my bread-machine recipes.

Now you can substitute active dry yeast without dissolving it first. Be aware that it may be a little slower on the uptake, but it will get there. Allow more time for rising.

WATER: If you have spring water in the house, use that. Otherwise, tap water is fine.

FLOUR: The recipe calls for all-purpose flour. Bread flour is a good substitute. Sometimes, I use all-purpose flour for the biga and bread flour when mixing up the dough. I'm indecisive that way.

MILK: Whatever milk you have on hand will work.

SALT: Use table salt or sea salt.

SEMOLINA: This is not an ingredient per se. Sprinkle semolina on the silicone mat where you shape the loaf to prevent sticking. I use this combined with a minimal amount of flour. Use flour alone or along with finely-milled cornmeal as a substitute.
---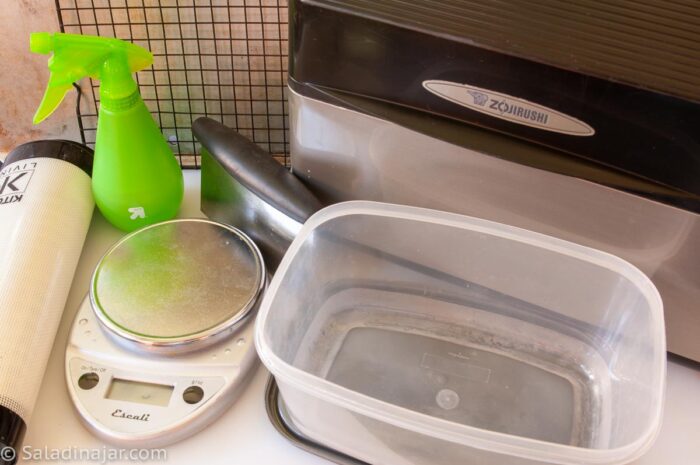 Equipment you will need:
BREAD MACHINE:
I only use my bread machine to knead the dough, so it doesn't have to be fancy. How it bakes doesn't matter because we are only going to use it for what it does best–knead bread dough.

You could use a stand mixer to knead Ciabatta dough, but I wouldn't try to knead it by hand. It's impossibly sticky.

DIGITAL SCALES:
Measuring the flour precisely is important in any bread recipe. If you scoop it out with a measuring cup, you risk using too much. Your Ciabatta won't turn out light and airy. See this post for the correct way to measure if you don't have scales.

3-QUART RECTANGULAR-SHAPED PLASTIC CONTAINER with LID:
I got the one in the picture at the dollar store. It doesn't need to be fancy. If you can get something that holds exactly 3 quarts, then you will know precisely when the dough has risen enough because it will almost fill the container.

What if I can't find one?

You can make a square container work, but you'll have to get your well-greased hands into the sticky dough.

Stretch and reshape each half of the dough after you divide it with a bench scraper. The loaves should be long and skinny. While there's nothing wrong with square and fat, both loaves might not fit onto one cookie sheet.

SILICONE BAKING MAT:
A nonstick silicone mat is essential for making loaves with my "almost-no-touch" technique.

If you don't have a mat, try using parchment paper. But it may wrinkle up underneath the bread.

If you are shaping the loaves on a floured countertop or a large cutting board, move the loaves to a cookie sheet with a floured hand. That dough is sticky, man. You can find yourself in a mess before you know it

BENCH SCRAPER:
This is a key part of my strategy to avoid touching the dough. Spray the scraper with olive oil. If it starts to stick to the dough, you can spray it with more oil or sprinkle it with a little flour.

WATER SPRAY BOTTLE:
If you want a crispy crust, spray the crust before you put the loaves in the oven. Spray once or twice again in the next five minutes.

Optional: Fill a pan with boiling water. Place it onto the bottom shelf of your oven before baking your Ciabatta.

RIMLESS COOKIE SHEET:
Slip a rimless cookie sheet under the silicone baking sheet with the shaped bread on top. If all your cookie sheets have rims, turn one over and use the backside.

COOLING RACK: If you don't want your crust to be soft and soggy on the bottom, use a cooling rack.

4 secrets to success with this ciabatta recipe
1. Use cool water and cool milk in this recipe, but never ice cold.
Often, bread recipes will call for warm liquids because they hasten the proofing or rising. However, Paul Hollywood emphasized that one should not rush the process.
2. Let the dough rise at room temperature.
For the same reason as #1, don't use that warm and humid spot where you usually proof bread dough. The longer it takes to rise, the better the flavor. If the dough rises too fast, it won't be strong enough and will result in a flat loaf.
***Here's a tip
When uncooked ciabatta loaves flatten out in the last rise, it's a sign they may have risen too long the first time.
Fold them lengthwise to make them double in height. Use your fingertips to dimple the dough again. Wait another 5-10 minutes, and then bake as usual.
3. Ciabatta must be started the day before you want to serve it.
This recipe involves a biga (aka pre-ferment). A biga is a water and flour mixture with a small amount of yeast added.
Incubate from 12-24 hours before adding the remaining ingredients. With that in mind, start this recipe the day before you want to eat your Ciabatta.
If plans change, refrigerate the biga after the first 12-24 hours. Then, use it within the next three days.
4. Use a thermometer to check the doneness of your bread.
The temperature should be around 200-210˚F.
Some people claim they can tell by thumping the loaf on the bottom. They might be the same people who can pick the best watermelon at the store by thumping it. Not me. I need something more precise.
My favorite thermometer is a little pricey, but I love how fast and accurate it is. Or check out this popular and affordable thermometer.

How to make ciabatta with a bread maker:
Heads up! LOTS of process pictures ahead.
I want you to be successful with this tricky bread. Let me know if you have a question as you go through the steps.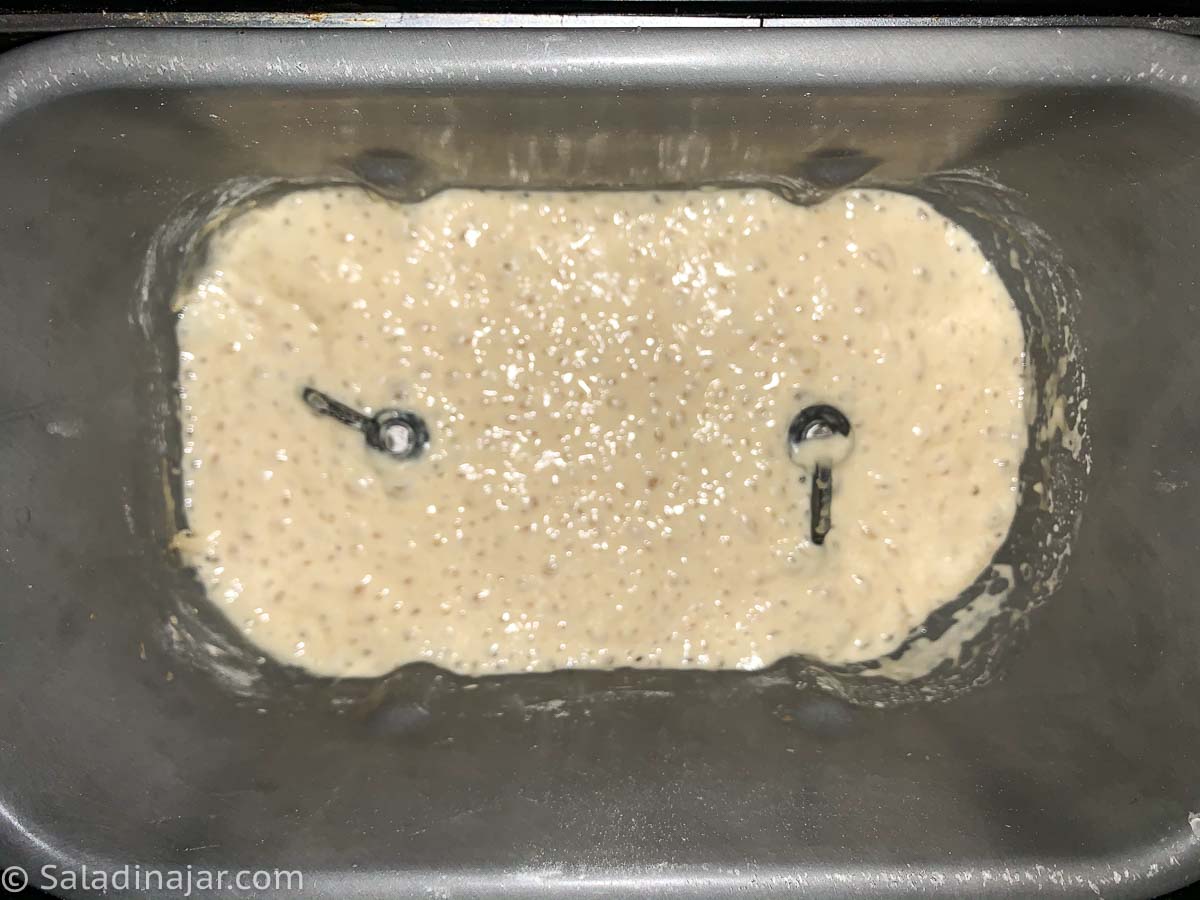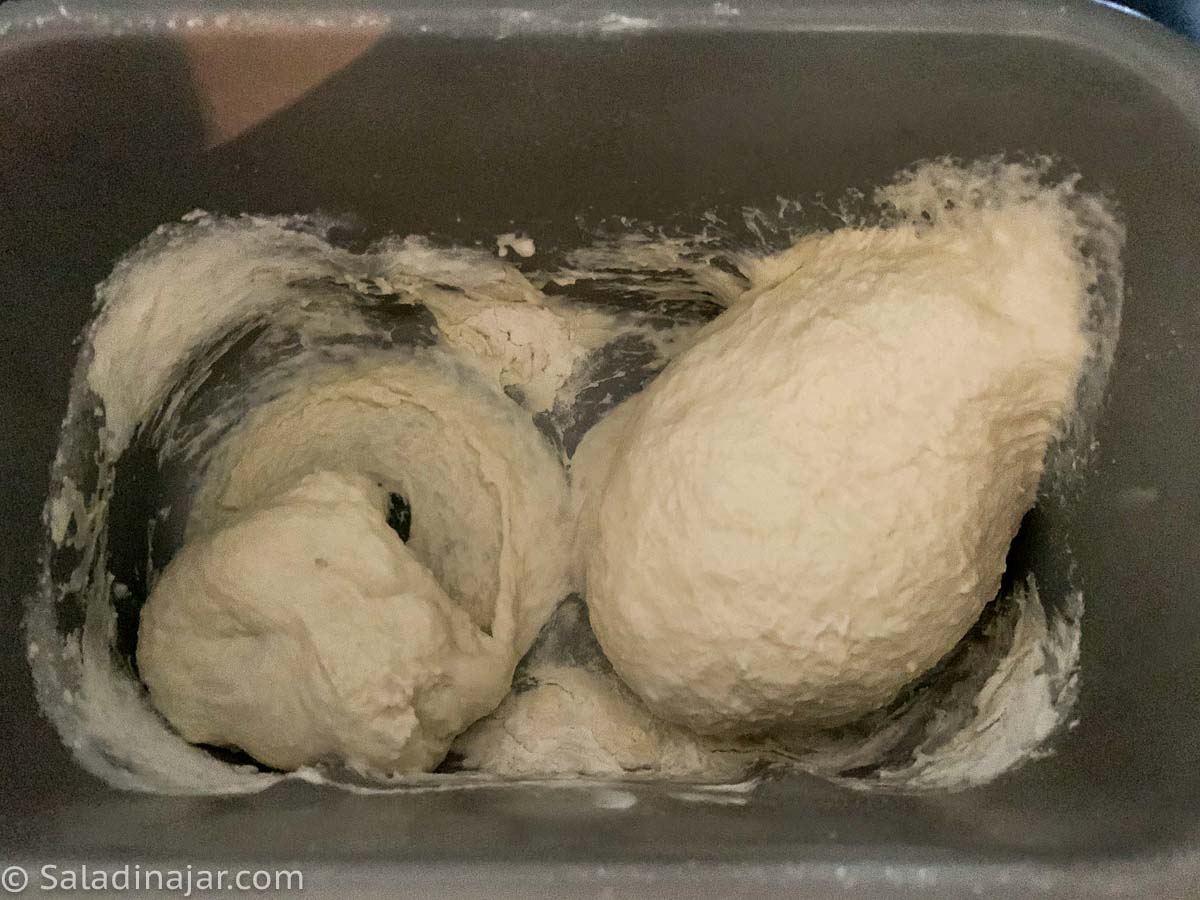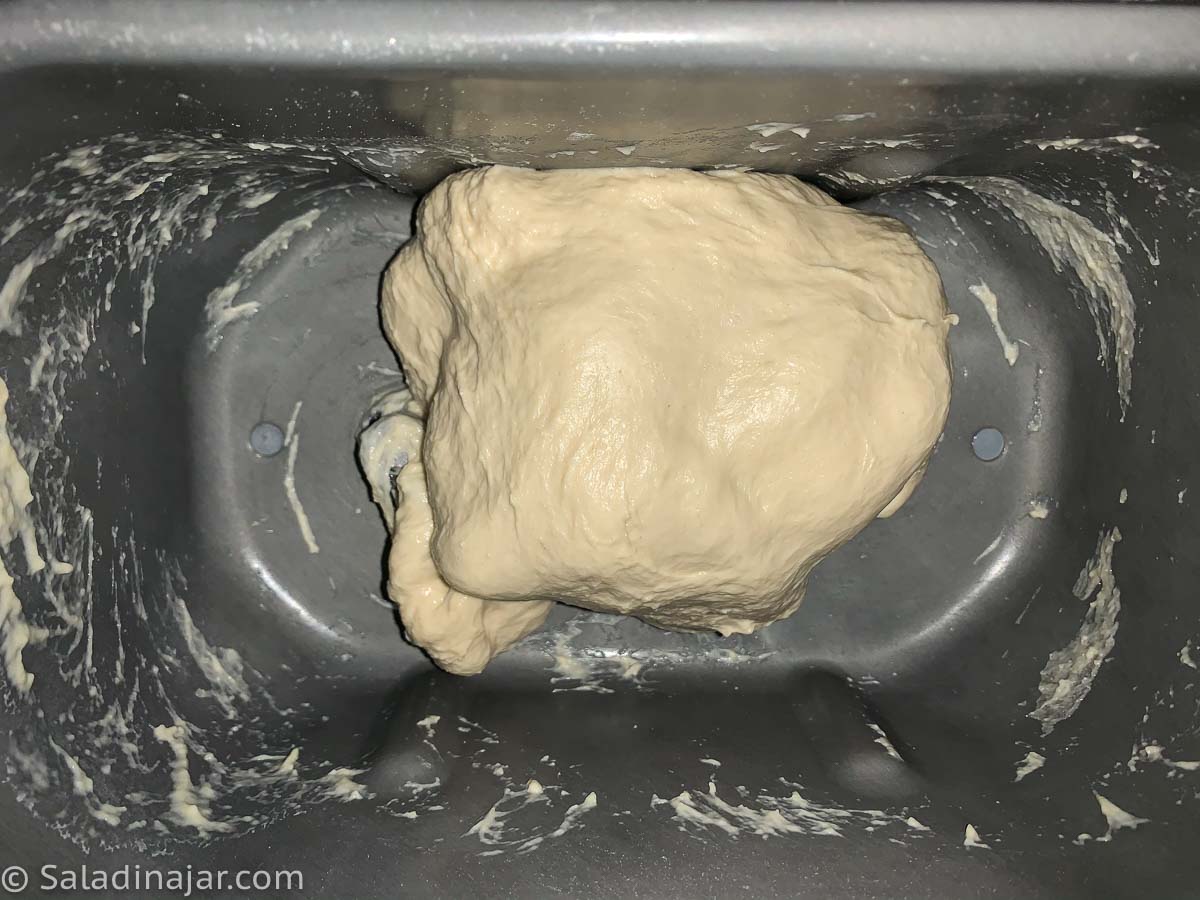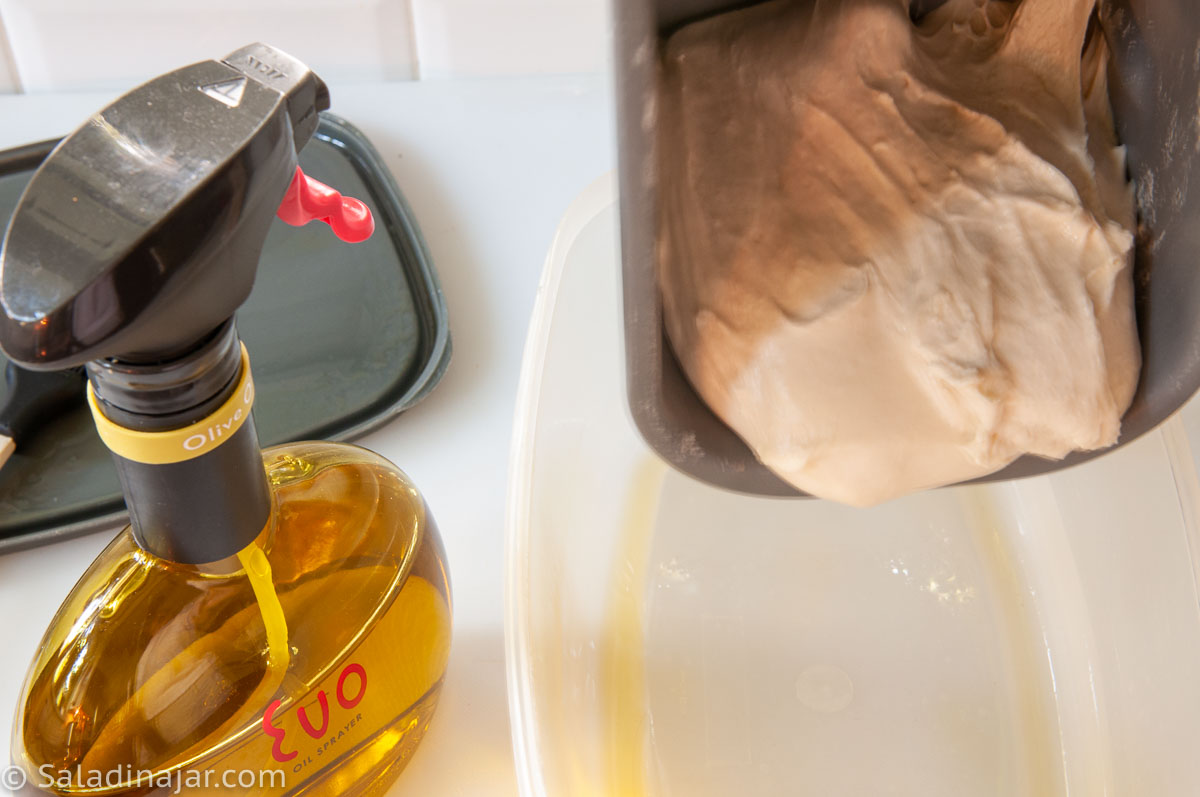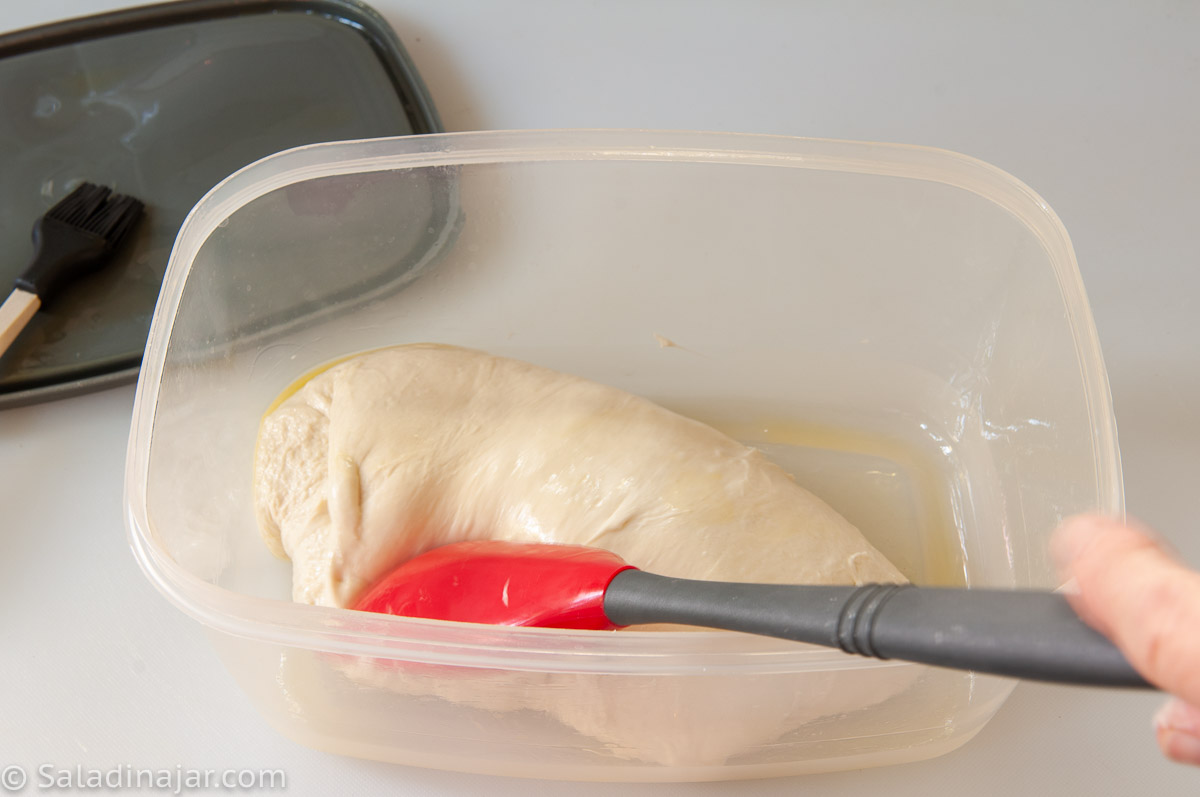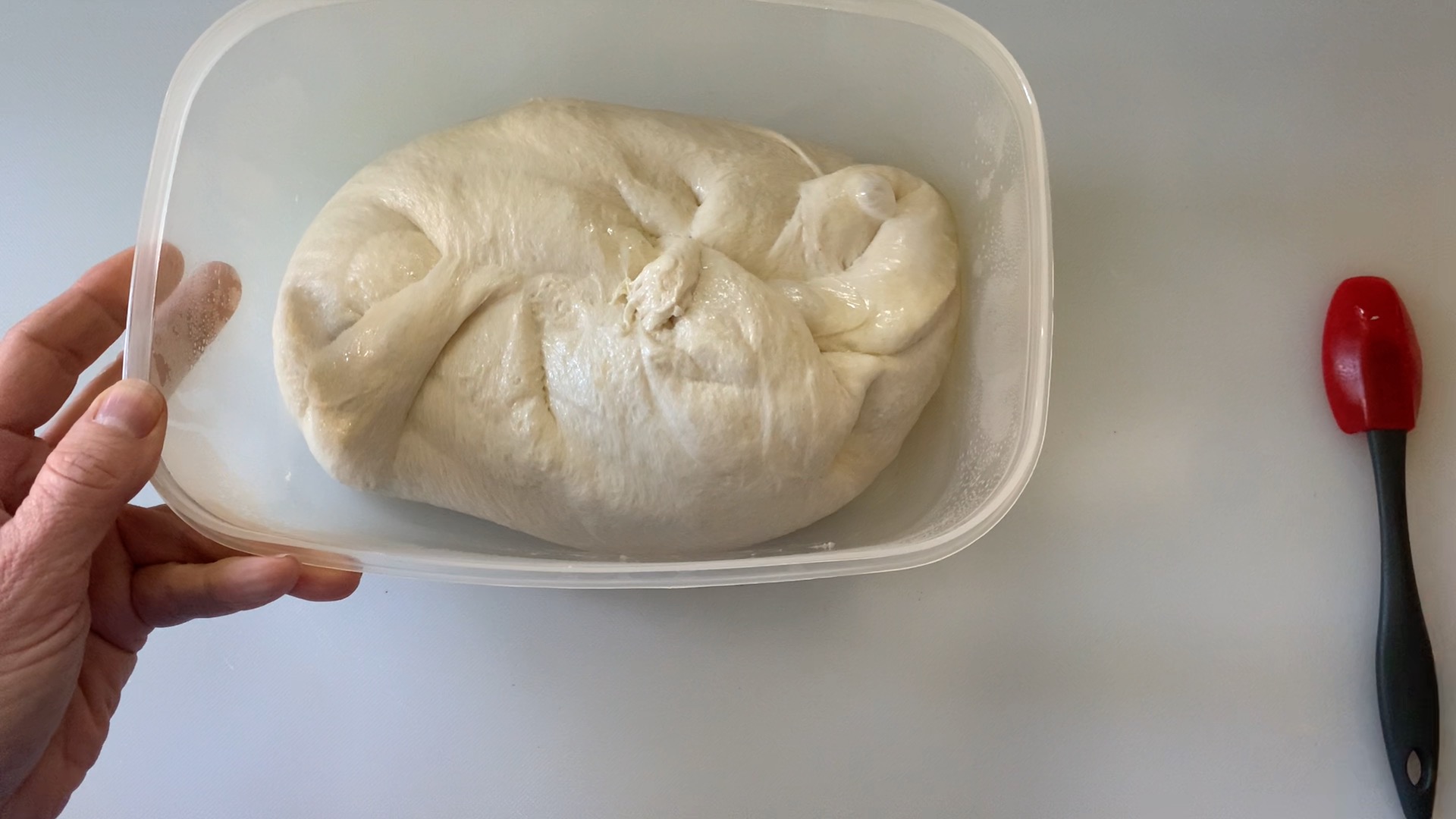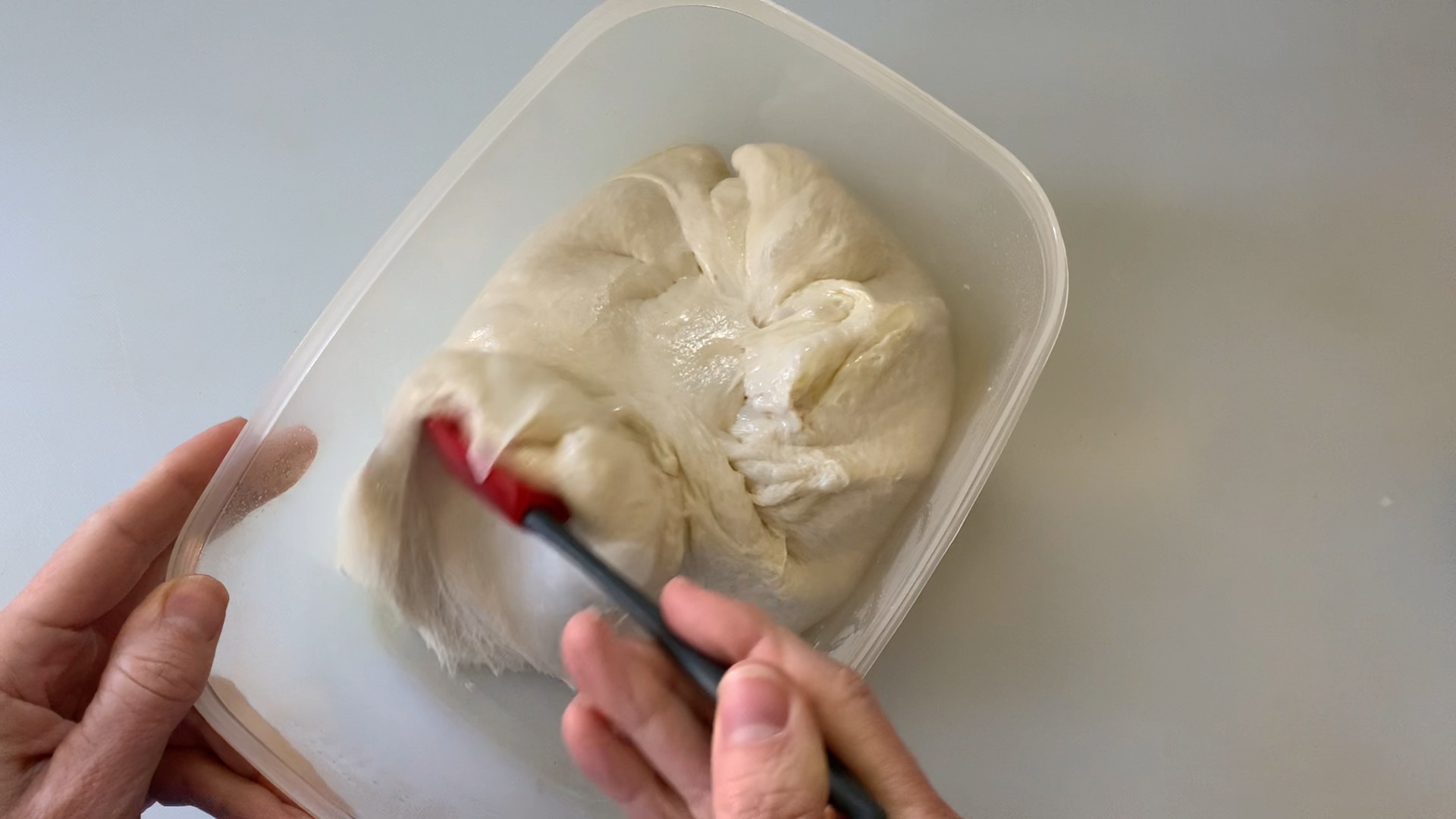 How to shape bread machine ciabatta loaves with the "almost-no-touch" method: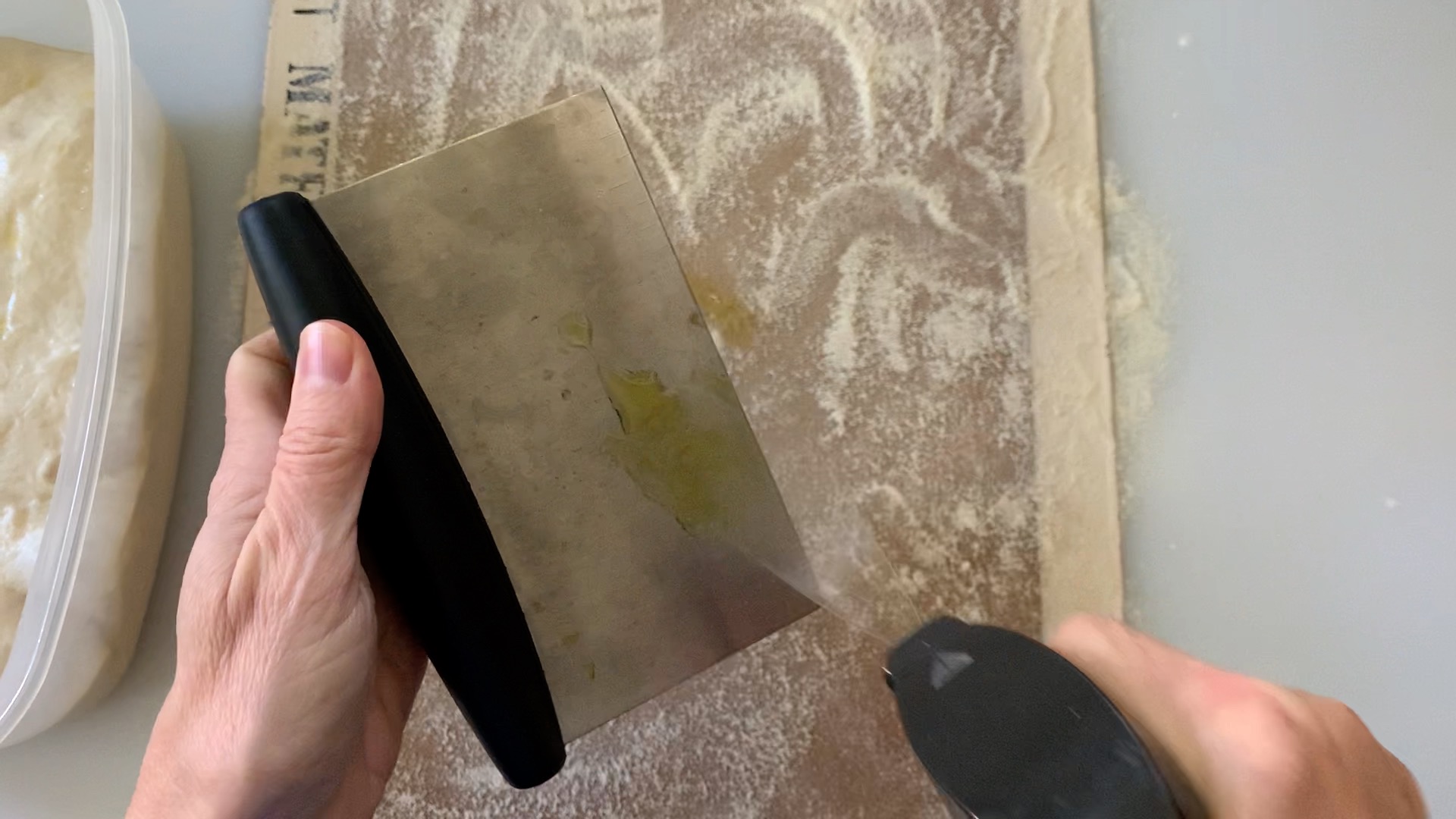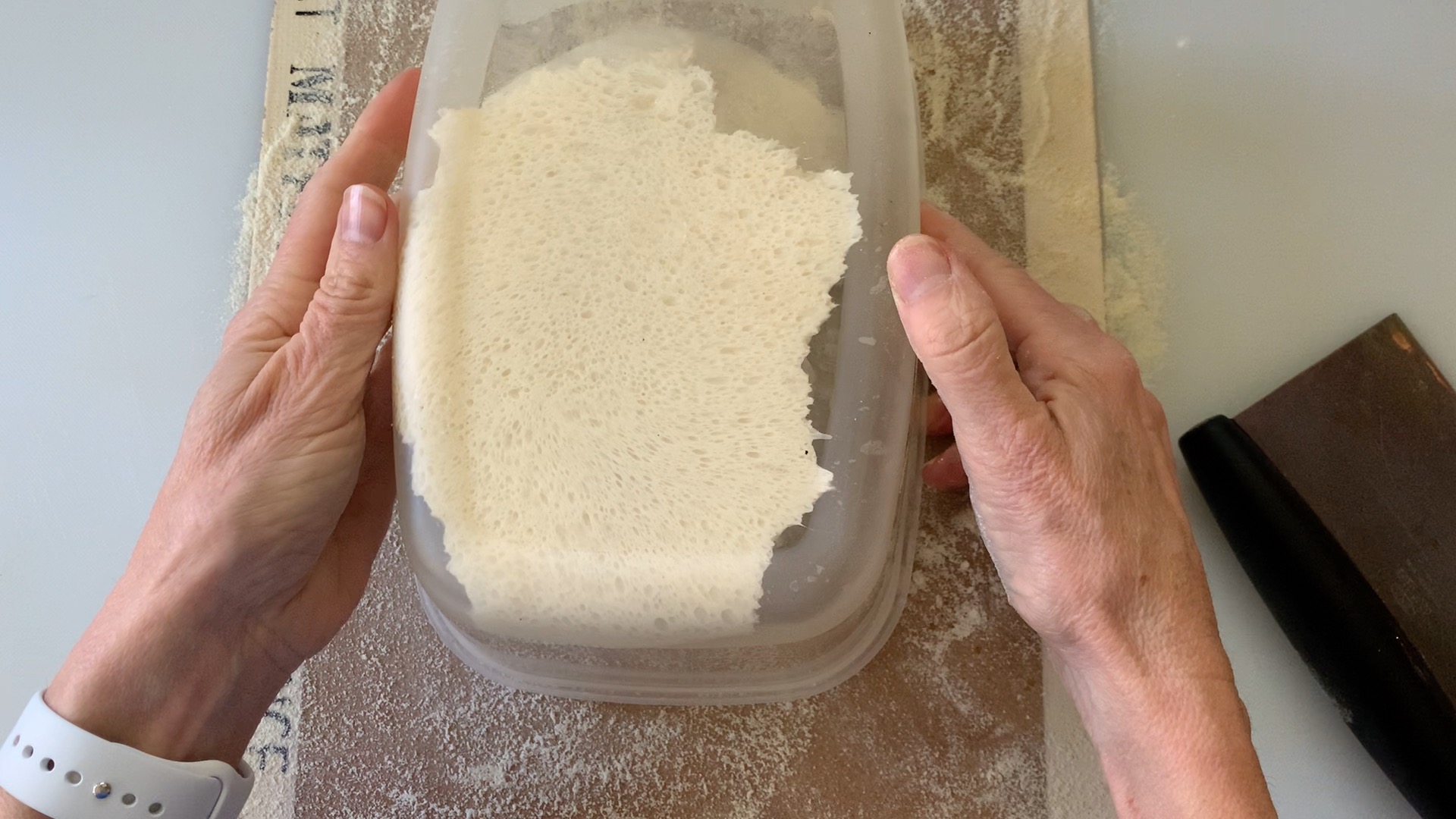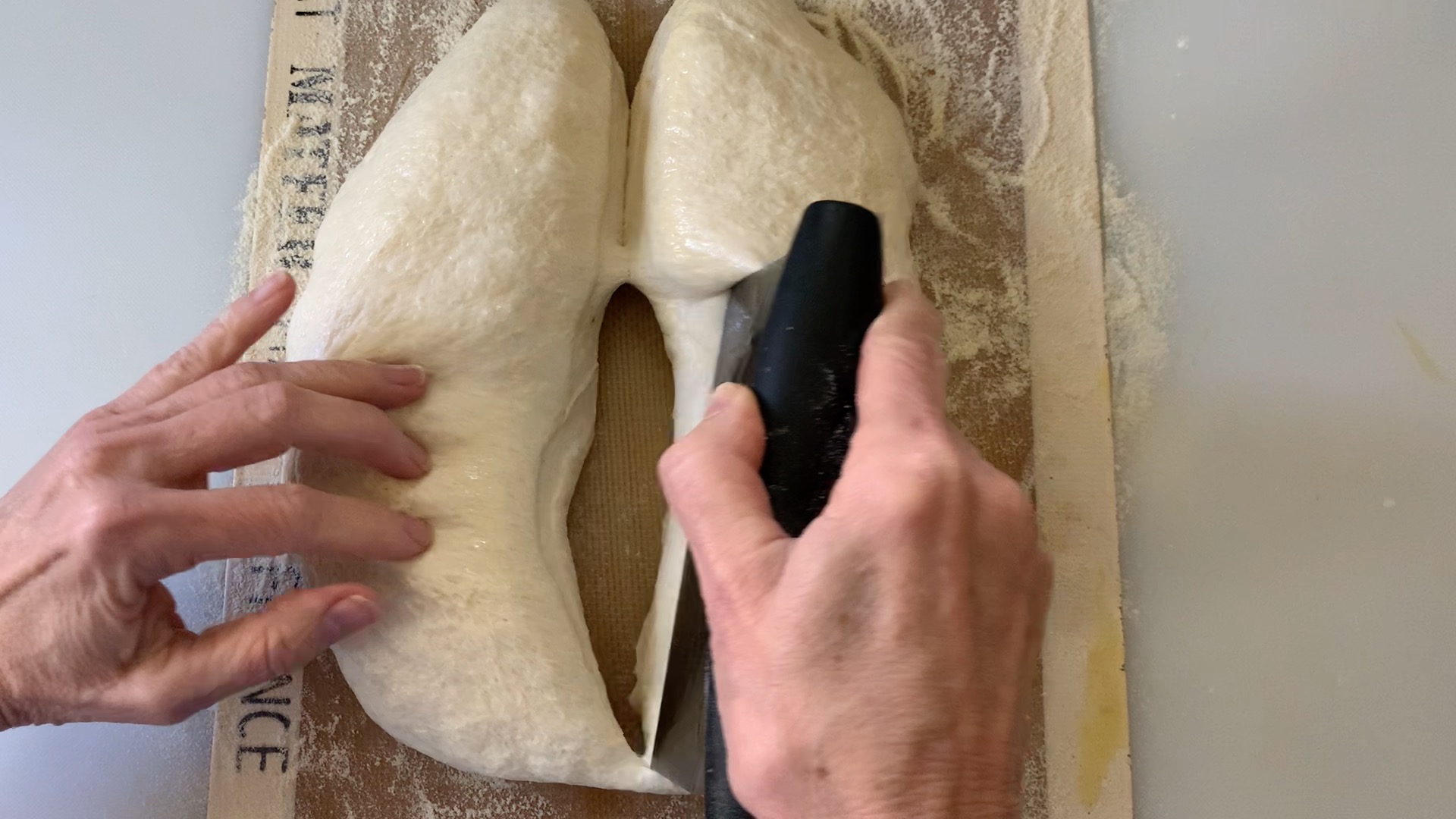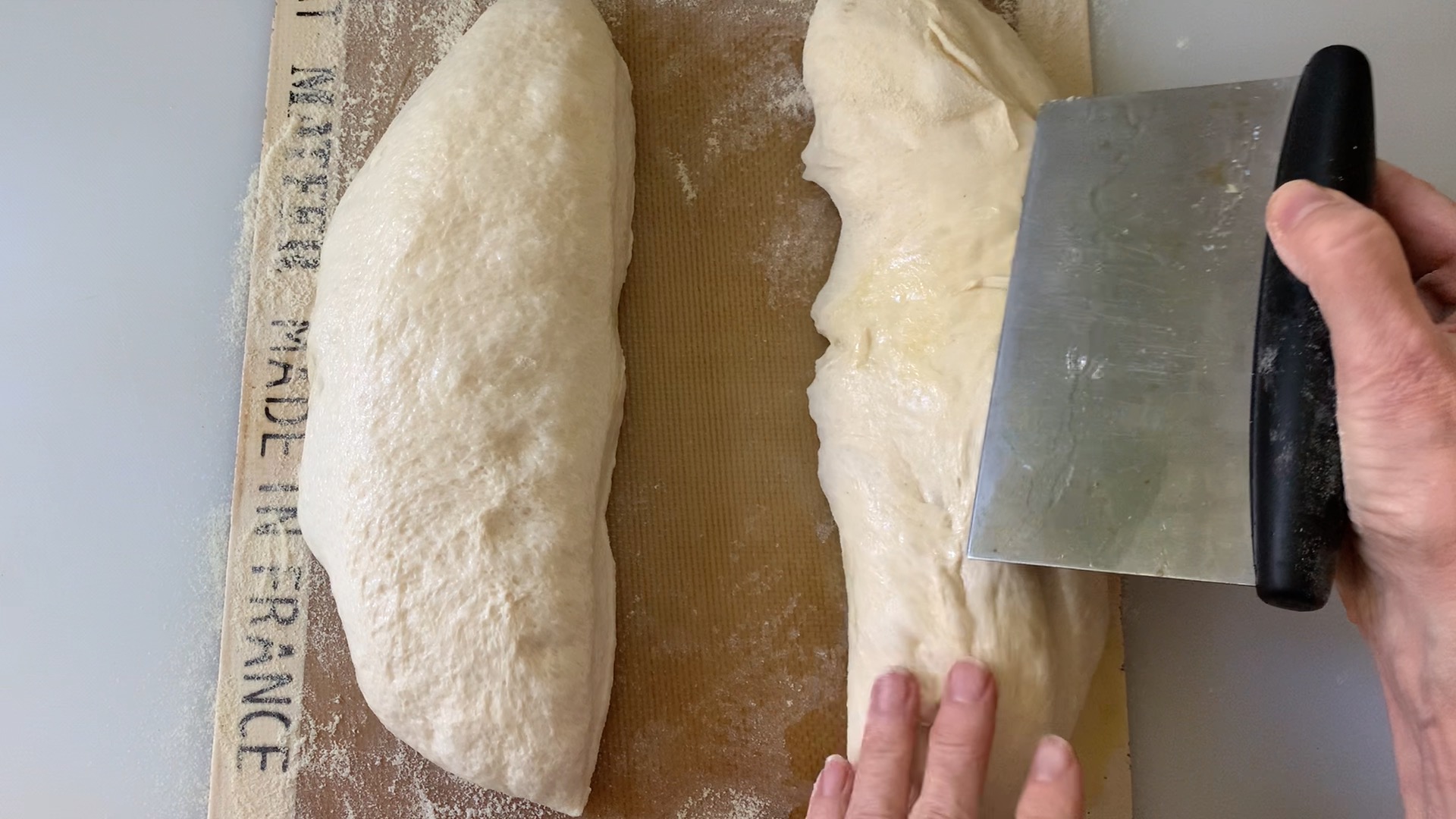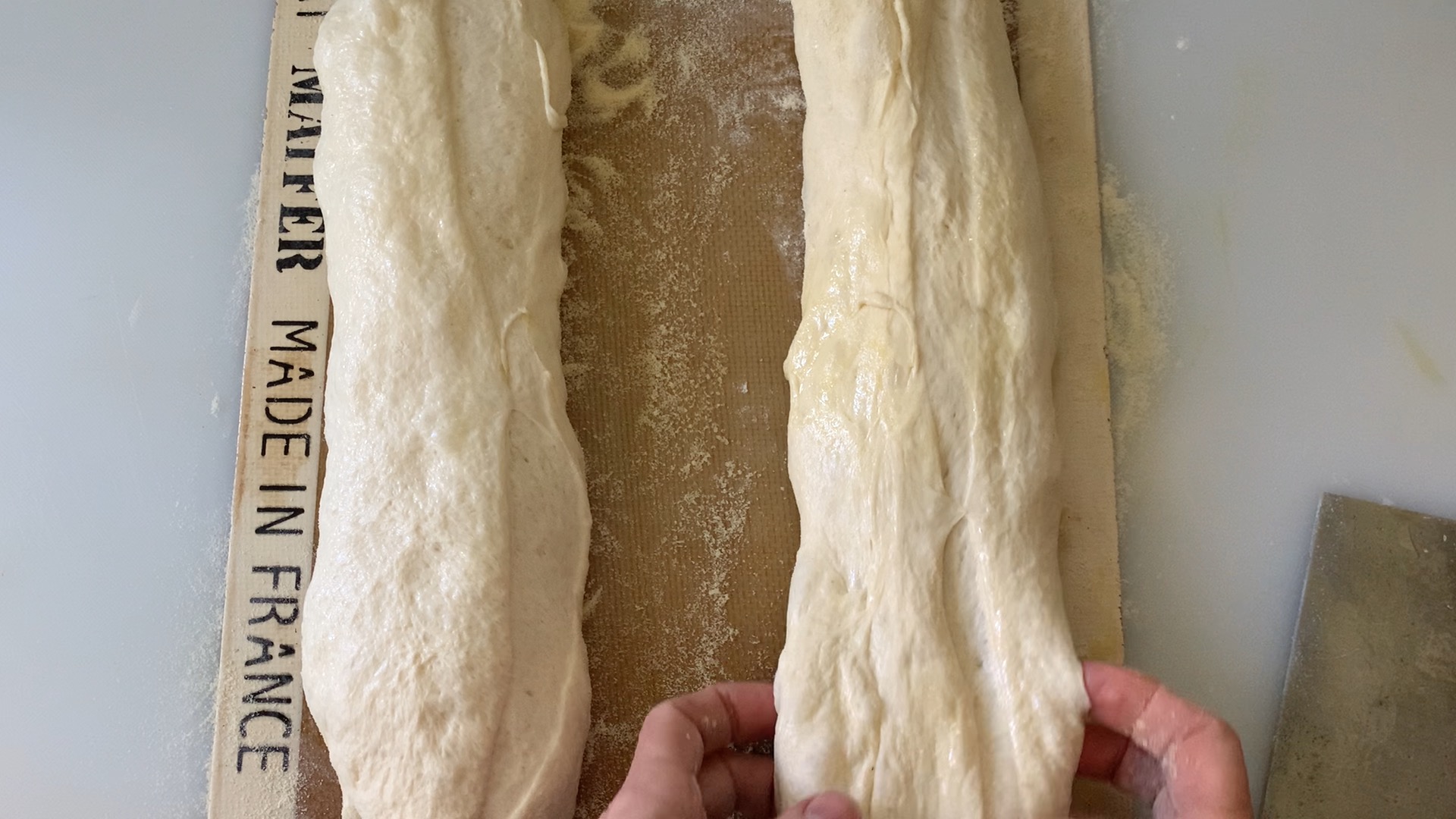 Preheat the oven to 450˚F.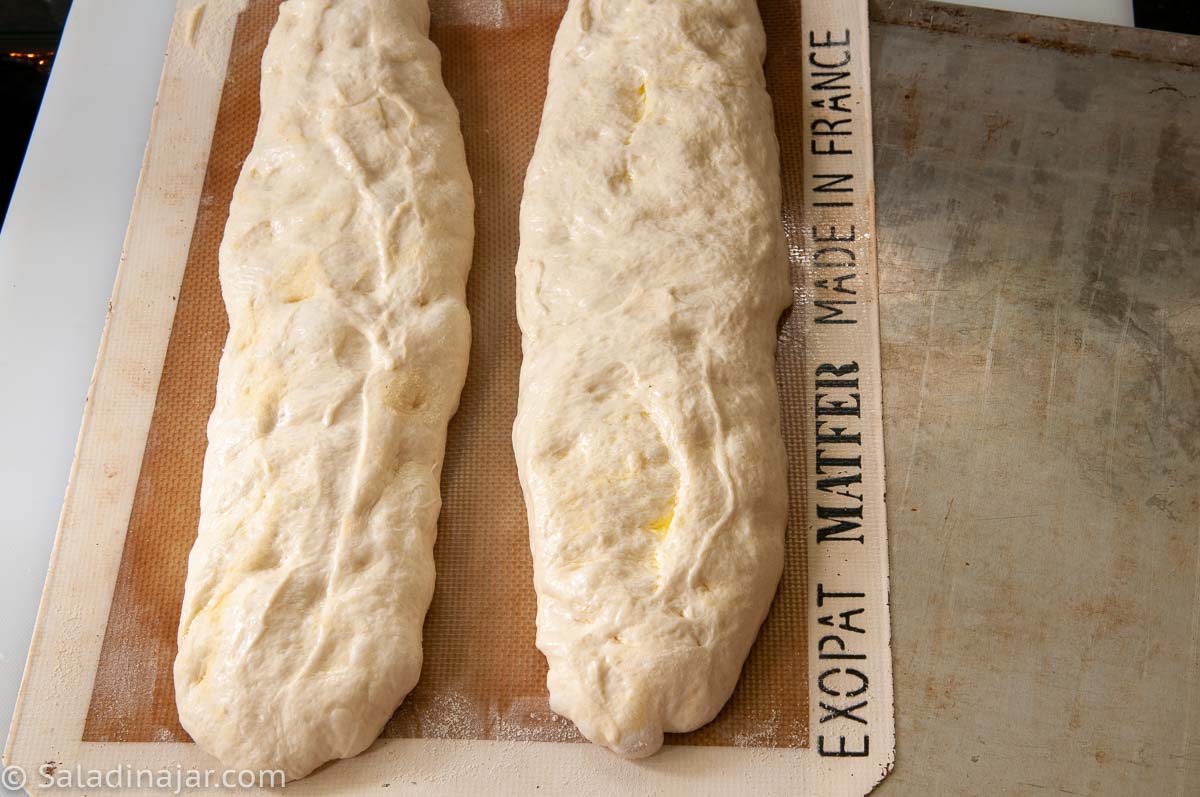 ---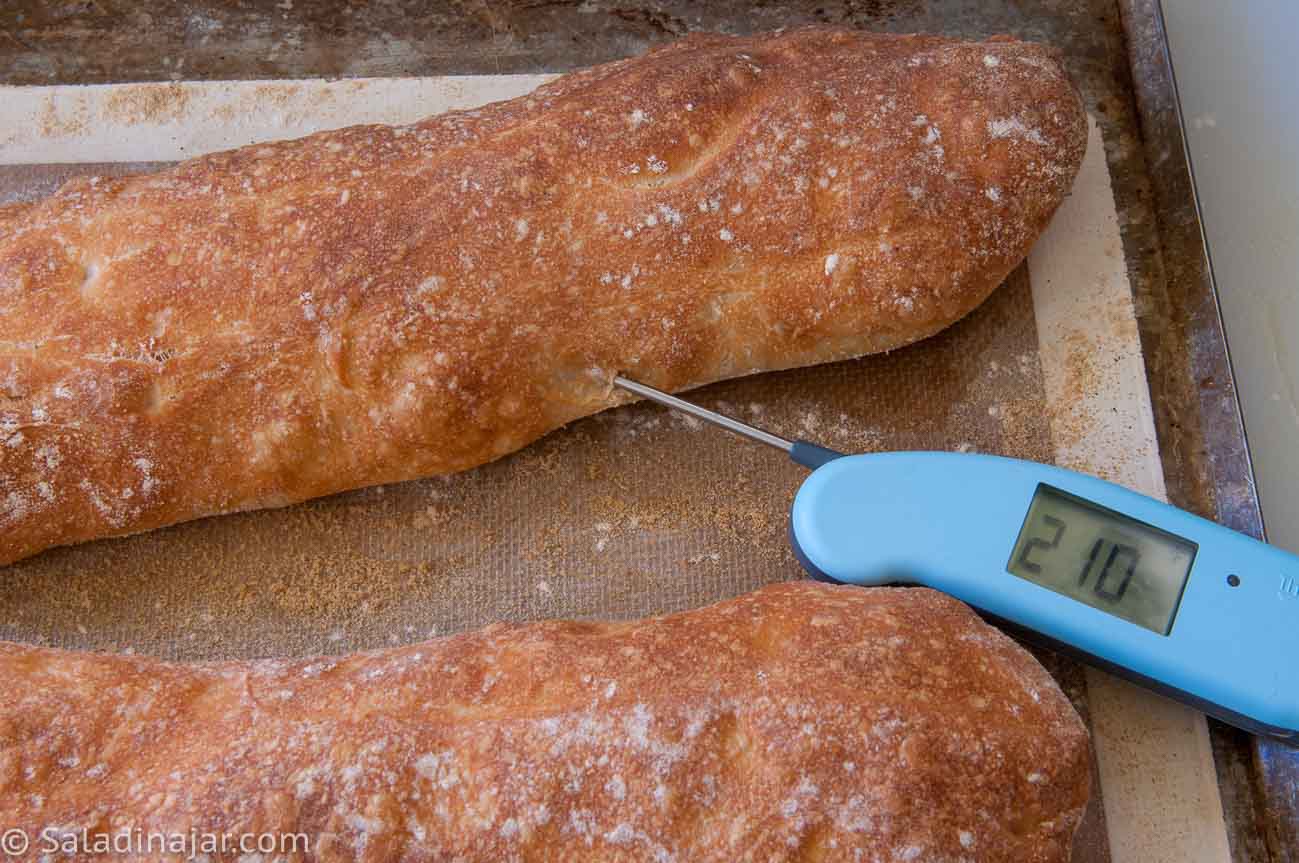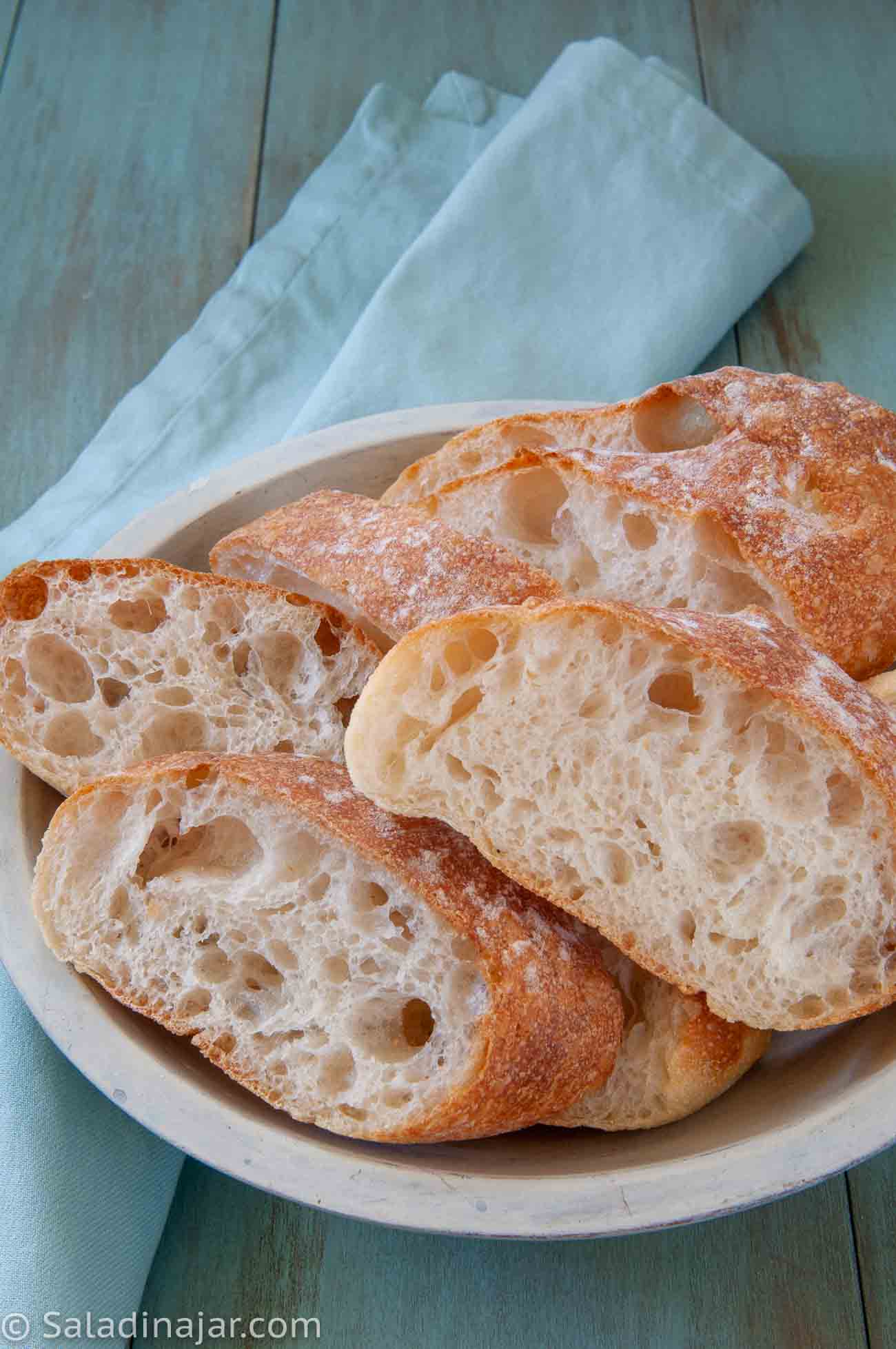 ---
More recipes for bread makers:
---