Greek Yogurt Scones with Lemon and Poppy Seeds: No Heavy Cream
Sneak Preview: These Greek Yogurt Scones with Lemon and Poppy Seeds are easy to freeze ahead and bake the morning you want to serve them.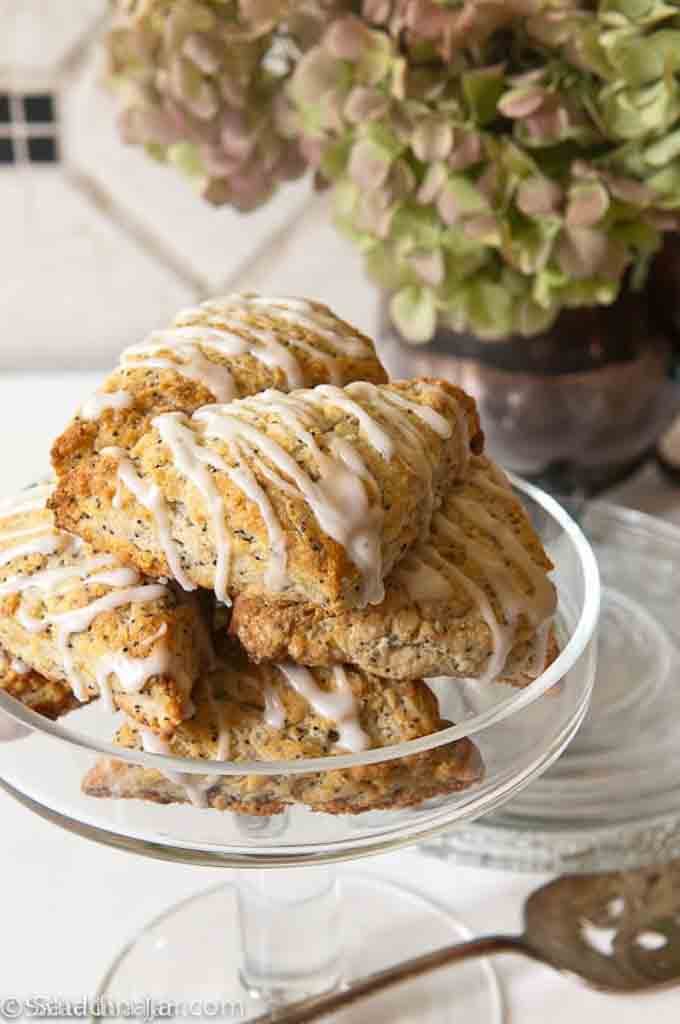 As an Amazon Associate, I earn from qualifying purchases.
Are you looking for a breakfast or brunch pastry that won't require too many jumping jacks afterward? Lemon and Greek yogurt combine with poppy seeds to create a scone that hits the right combination of sweetness and tartness.
Ingredients and substitutions:
GREEK YOGURT: Look for unflavored Greek yogurt (aka yoghurt) or use homemade yogurt with the fat content you prefer. Vanilla-flavored yogurt is another possibility, but you may want to reduce the amount of sugar called for in the recipe.

FLOUR: Use bleached or unbleached all-purpose flour.

SUGAR: Granulated sugar is specified. You may substitute brown sugar 1:1, but the texture may be different.

BUTTER: Substitute margarine or shortening. Salted or unsalted butter is fine. Whatever you use, be sure it's cold.

LEMON: Since this recipe calls for lemon zest, fresh lemons will take care of the zest and juice. You will lose the freshness factor by using dried zest or bottled juice. Substitute fresh oranges for a different taste.

POPPY SEEDS: Sesame seeds (especially black ones) are the best substitute. Flax seeds have a similar appearance but will have a chewy texture because they absorb moisture. That is not what we're going for here.
---
---
How to shape Greek Yogurt Scone dough:
You don't have to cut them as I did in the picture below, but it's one way. If you don't want to ice them, serve them with microwaved lemon curd, softened butter, or your favorite jelly.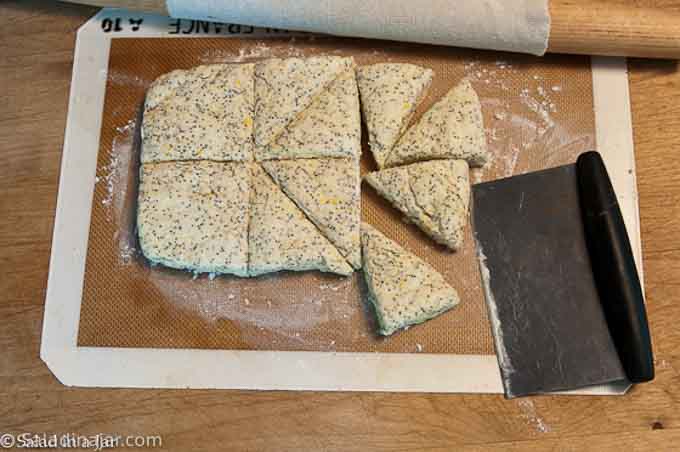 Roll or pat the dough into a 5 x 8-inch rectangle and cut it into 12 pieces. See the recipe for baking instructions.
FAQ about Greek Yogurt Scones:
Can I make these scones ahead and freeze them?
YES! This scone dough is ideal for mixing and shaping ahead of time. It makes it easy to serve overnight house guests or prepare a quick breakfast before heading out.
What is the advantage of using Greek yogurt?
Adding Greek yogurt translates to higher protein, and less fat than the sour or whipping cream often called for in a traditional scone.
Can I use regular yogurt instead of Greek yogurt?
If all you have is regular yogurt, it's best to strain it for a few minutes to remove some of the whey. This process will make the yogurt thicker. Otherwise, the scones will be too sticky.
How do I strain regular yogurt to use in a recipe calling for Greek yogurt?
Since you don't need much, use a coffee filter inside a small strainer. Measure out a third more yogurt than the recipe specifies. Pour yogurt into the filter-lined strainer in the sink or over a small bowl. Let the yogurt drain for at least 30 minutes. Watch for a yellowish liquid called whey to start leaking out of the yogurt. Stop the straining process when the yogurt gets thick and has the consistency of Greek yogurt.
How long will scones stay fresh?
Scones are like donuts. They are best eaten the day they are made and even better while still warm. A quick trip through the microwave or toasting them makes them a good snack later in the day.
---
If you have questions or suggestions, email me privately for a quick answer: Paula at saladinajar.com. Hope to see you again soon!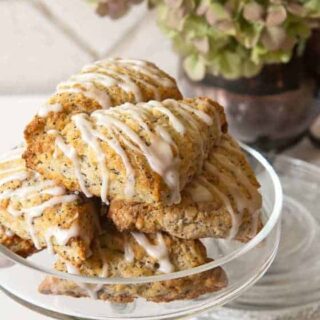 Greek Yogurt Scone Recipe with Lemon and Poppy Seeds
Greek yogurt takes the place of heavy cream for a shot of protein with less fat. You won't miss it.
Rate this recipe here
Ingredients
2

cups

unbleached all-purpose flour

-

240 gr

3

tablespoons

granulated sugar

-

37 gr

2

tablespoons

poppy seeds

-

18 gr

Zest of 2 medium lemons

1

tablespoon

baking powder

-

12 gr

½

teaspoon

baking soda

-

3 gr

½

teaspoon

salt

-

3 gr

½

cup

cold unsalted butter

-

(1 stick cut into 8 pieces) 113. gr

⅔

cup

unflavored Greek yogurt

-

190 gr
Icing:
¼

cup plus 1 tablespoon

fresh-squeezed lemon juice

-

71 gr

½

cup

confectioner's sugar

-

57 gr
Instructions
In a bowl of a stand mixer, combine flour, sugar, poppy seeds, lemon zest, baking powder, baking soda, and salt. Add butter and mix 30-45 seconds until butter is in smallish, irregular pieces. Add Greek yogurt and 1/4 cup of lemon juice. Stir together by hand until the dough comes together in a ball.

Dump out onto a piece of plastic wrap or floured towel and shape with your hands or a rolling pin into an 8 x 5-inch rectangle about 1-inch thick. The dough may be a little crumbly–gently squish it together with your hands. Cut in half the long way. Cut again crossways to make six pieces. Divide each square on the diagonal to make 12 small scones. Place onto a cookie sheet covered with a silicone mat or parchment paper.

Bake for 12 to 14 minutes.
Icing:
While scones cool, stir the remaining tablespoon of lemon juice into the confectioner's sugar until smooth. Drizzle over scones.
Notes
How to freeze unbaked scones:
Freeze prepared scones on a cookie sheet. Once hard, place scones in a plastic bag. When ready to bake, pull out what you need and put them directly into a hot oven. Allow a few extra minutes of baking time.
Nutrition
Serving:
1
|
Calories:
194
kcal
|
Carbohydrates:
25
g
|
Protein:
4
g
|
Fat:
9
g
|
Saturated Fat:
5
g
|
Polyunsaturated Fat:
1
g
|
Monounsaturated Fat:
2
g
|
Trans Fat:
1
g
|
Cholesterol:
21
mg
|
Sodium:
256
mg
|
Potassium:
41
mg
|
Fiber:
1
g
|
Sugar:
9
g
|
Vitamin A:
244
IU
|
Vitamin C:
2
mg
|
Calcium:
101
mg
|
Iron:
1
mg
Did you try this recipe?
If you loved it, don't forget to leave a 5-star rating 🌟🌟🌟🌟🌟 at the top of the recipe card. Thanks so much for taking the time to do that!