Sneak Preview: The mini fruit tarts in this recipe are filled with vanilla pastry cream inside a homemade shortbread crust and topped with fresh fruit. Perfect for a crowd.
Why mini-tarts are an impressive choice to serve a crowd:
Mini-tarts are pre-portioned. Avoid the hazards of slicing a pie with a crumbly or tough crust, a runny or frozen filling, or customizing the serving size.
Small enough to eat out of hand–forks not required
Choose fruit according to what's least expensive.
Not too much crust, not too much filling. The ratio is ju-u-u-ust right.
Make the crusts ahead of time.
The shortbread crusts are so fresh and tasty when they are homemade. The pastry cream comes together quickly in a microwave. Top each tart with the fresh fruit of your choice. Add sparkle with a touch of glaze (currant jelly).
Don't miss the tip at the end for an easy way to freeze the egg whites leftover from making the vanilla pastry cream.
Is this recipe easy enough for beginners?
The filling is easy enough for anybody who can operate a blender and a microwave. If you haven't tried making pudding or pie filling with a microwave yet, you don't know what you're missing.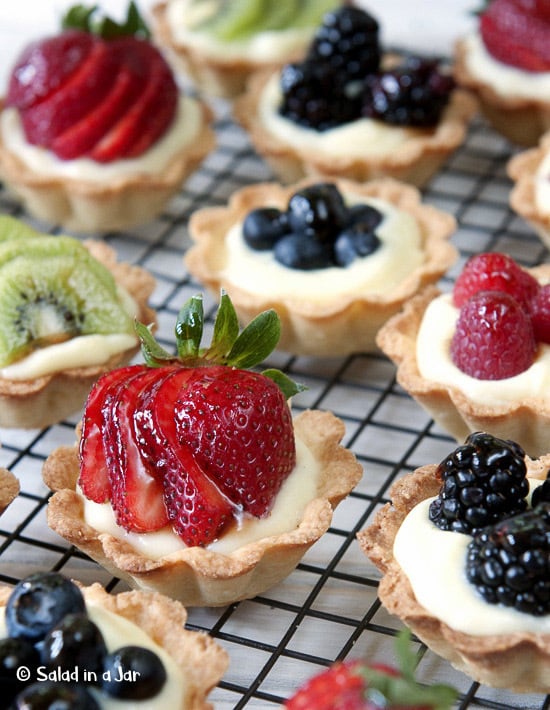 ---
Note: If you don't have or want to use a blender, use a whisk and a bowl. Combine all the ingredients and give them a whippin'. If your final product has any lumps, run it through a sieve.
Here's why?
No worries about scorching the milk or letting it boil over
No tempering the eggs
No lumps if you use a blender and whisk according to the directions
No double boiler needed (thank goodness since I gave mine away years ago)
Related Post: Easy Mini Lemon Tarts with a Shortbread Crust
About the crust…
These mini-crusts are somewhat tedious and may be challenging for people who have never made a pie crust. Store-bought, pre-baked mini crusts are readily available if you are a novice baker or trying to make these in quantity.
By way of encouragement…
You can make the crusts ahead of time. The raw dough pressed into the molds will keep in the freezer for over a month. Planning ahead will give you plenty of time to practice and build your confidence.
Why is the pastry cream not getting thick?
If you have cooked the pastry cream according to the directions and it is still not thick, keep cooking.
Remember, microwaves vary wildly in how fast they cook. Differences in the starting temperature of your ingredients is another variable.
It may take less time than I have suggested if you have a fairly new and powerful microwave. On the other hand, it may take even longer than the recipe states if you have a smaller or less powerful microwave oven.
Your pastry cream mixture will get thick if you cook it long enough and you followed the recipe exactly.
Related Post: Mini Strawberry Tarts: Simple to Serve, Easy To Eat
What fruit is best for fruit tartlets?
Small strawberries, blackberries, blueberries, raspberries, and kiwi are my favorite. The fresher and sweeter they are, the better. Stay away from watery fruits like melons.
---
How can I keep the fruit on top of the tart fresh as long as possible?
Don't wash fresh fruit under running water. Wipe them off with a damp paper towel or cloth. This will help the glaze to stick and keep the fruit looking nice for longer.
---
Can I make these mini fruit tarts ahead of time?
Crusts: The tart dough can be made 1-2 months ahead of time and stored in the freezer. You can store the roll of dough, or you can make the individual tart shells and freeze them (unbaked). Prepared crusts, whether frozen or not, can be baked the day before.
Filling: You will need to make the custard at least 3 hours ahead so it can firm up as it cools. If you make it a day ahead, give it a good whip before pouring into the shells.
Putting tarts together: Assemble the tarts the day you want to serve them. If you do it the day before, the crusts will absorb moisture from the custard and lose their crispness.
Add the fruit as you're getting ready to serve them. The fruit will eventually leak juices that will affect their appearance. On the off chance you have leftovers, call me and I will gladly come and eat them for you.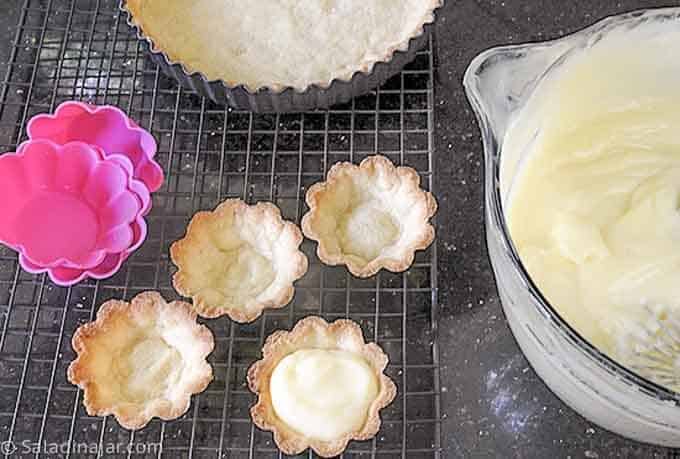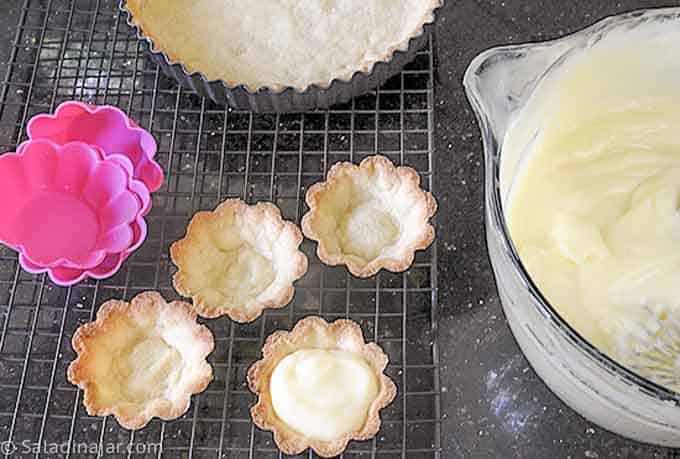 ---
4 secrets for making miniature shortbread crusts:
#1
Grease and flour your molds generously.
If you use silicone molds like the ones shown in this post, you won't have to worry about this. Otherwise, Baker's Secret is perfect for the job.
#2
Freezing the raw tart crusts is ABSOLUTELY ESSENTIAL.
Otherwise, they will shrink and melt the minute they hit the oven.
#3
Place foil inside crusts before baking.
Press the foil down against the crust. This will keep crusts from rising up in the middle while they bake. No other weight is necessary.
Save the used foil if you want to. It's reusable with your next batch of crusts.
#4
Turn the crusts out of the pan within 3-4 minutes after coming out of the oven.
Do it quickly, but gently. These are a bit fragile. On the other hand, they taste like a cookie so the broken ones make great eating all by themselves. (The crusts NEVER stick to the silicone molds. I can't recommend them enough.)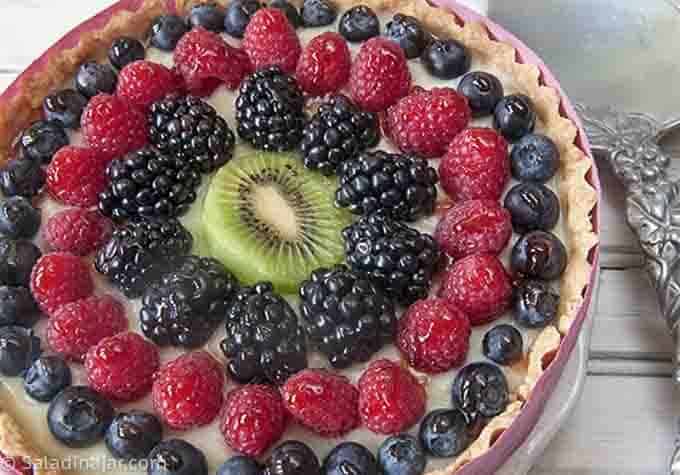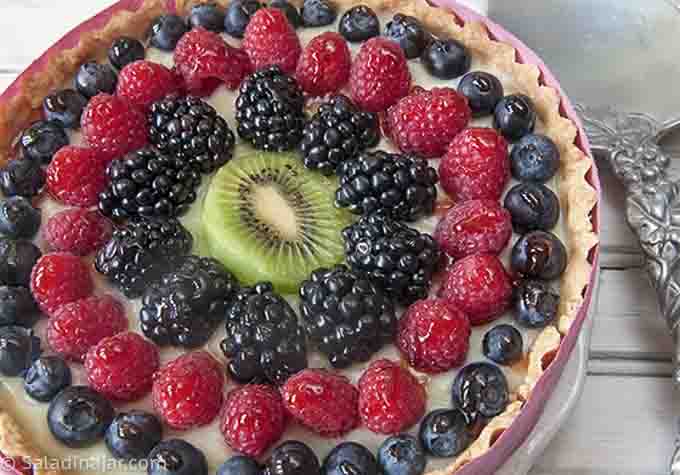 Related Post: Mascarpone Cheesecake Mini-Tarts–Easy To Customize
---
How to make mini-tart crusts:
This picture from my post about Chocolate Ganache Mini-Tarts illustrates the process of making the tart crusts. Don't miss the video on this post.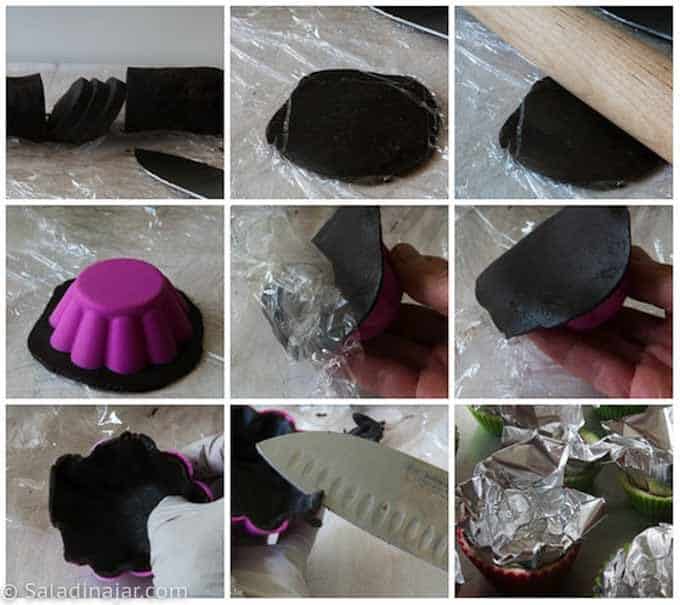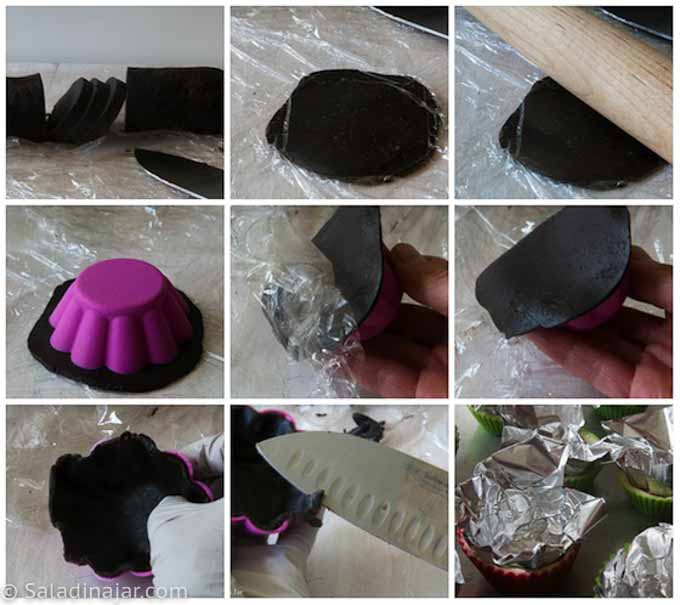 ---
How to make vanilla pastry cream in a microwave: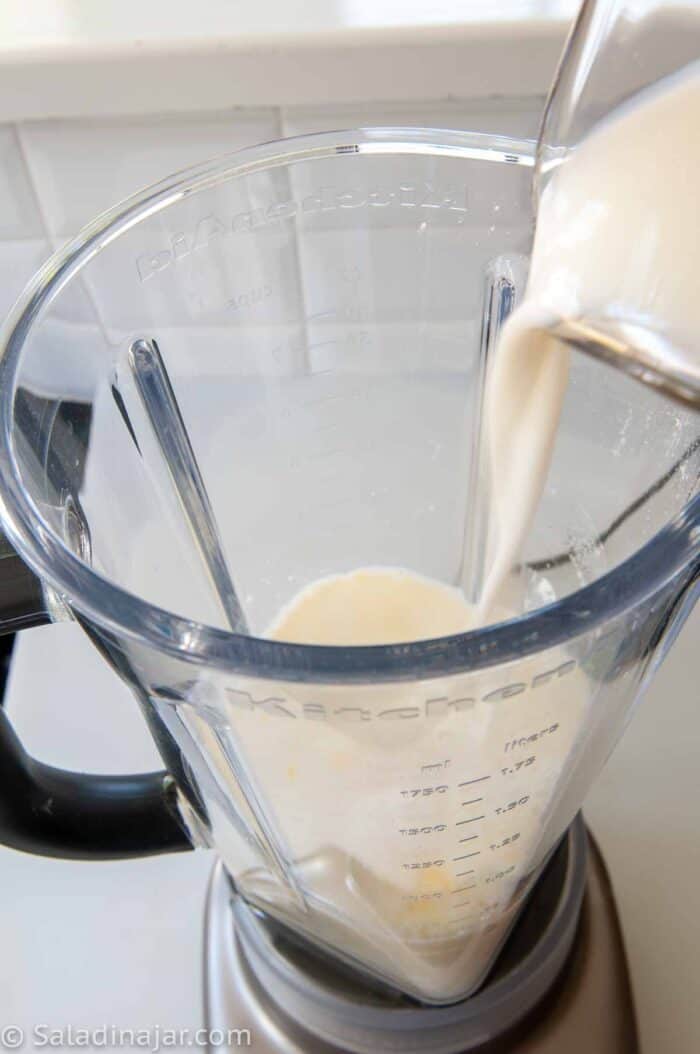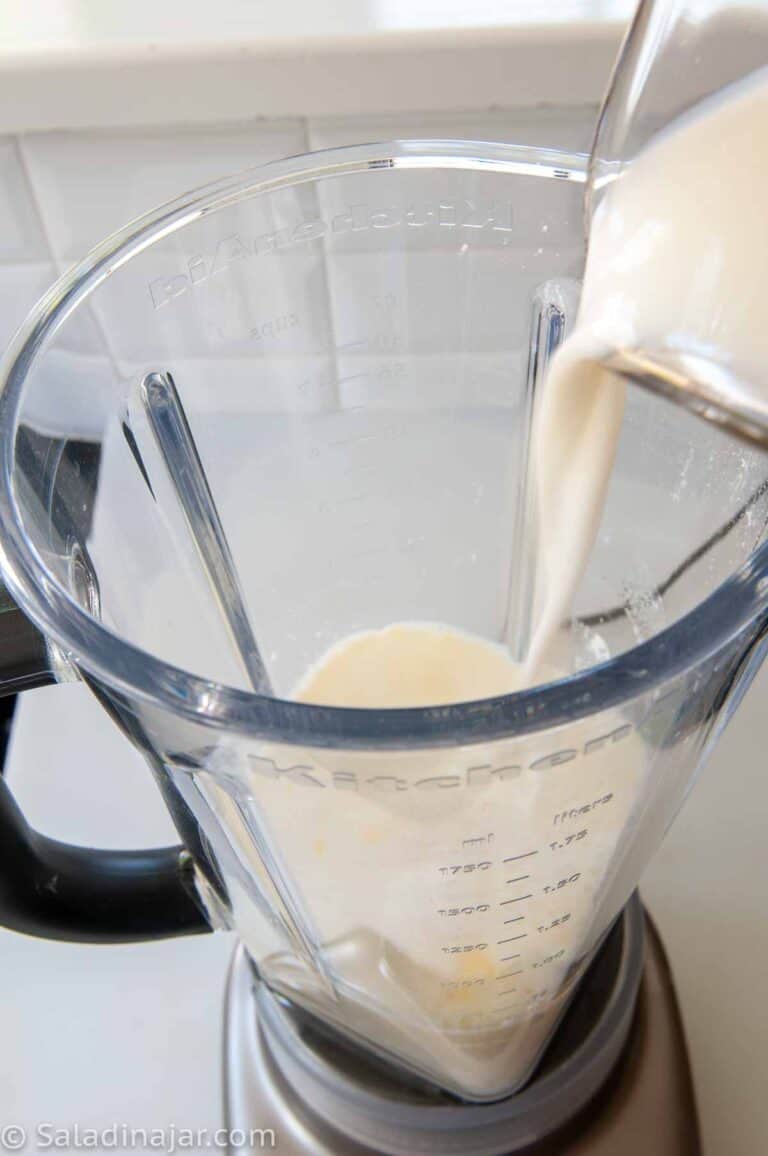 Step #1: Pour milk, sugar, cornstarch, salt, and egg yolks into a blender. Blend 5 seconds.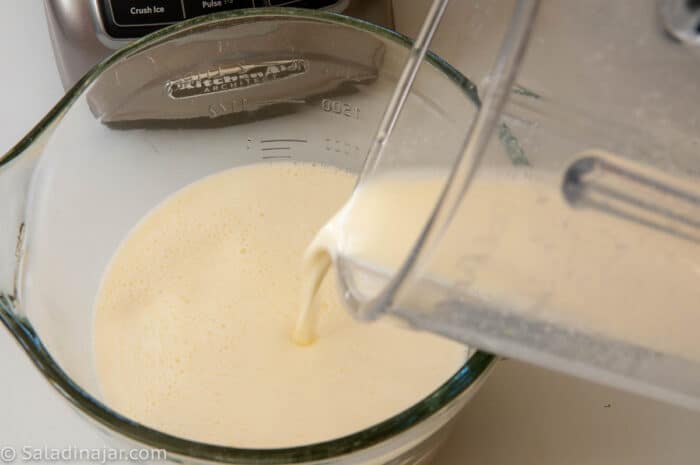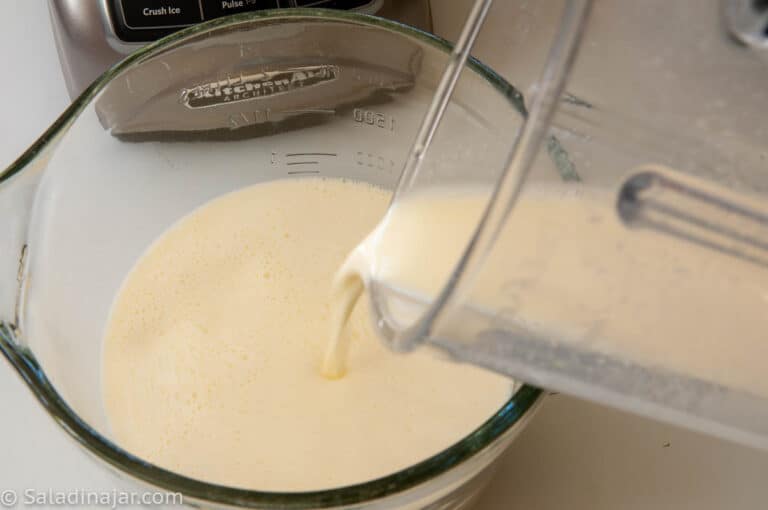 Step #2: Pour filling into a 2-quart microwave-safe Pyrex bowl or pitcher.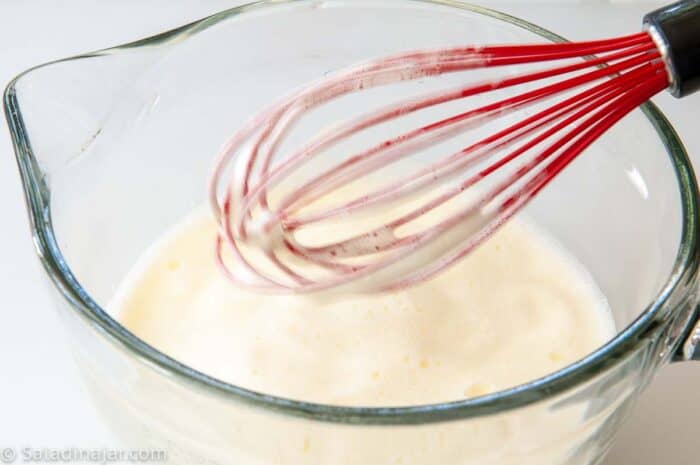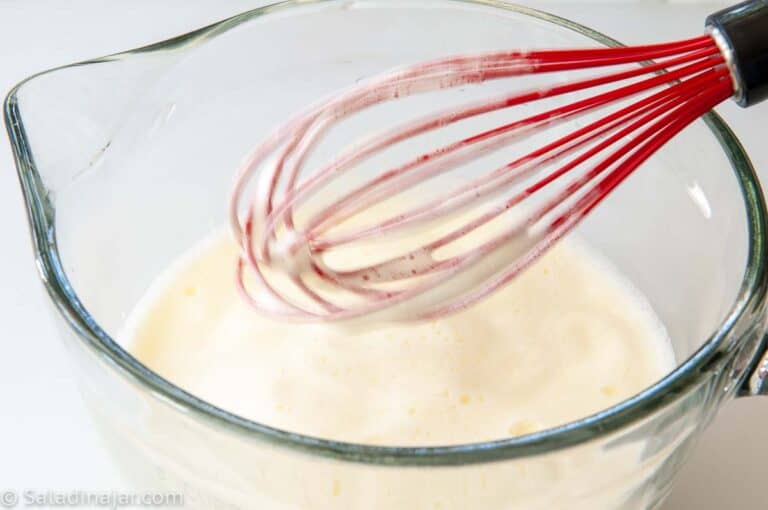 Step #3: Microwave on HIGH for 6-8 minutes, stopping halfway to stir and then again after every minute.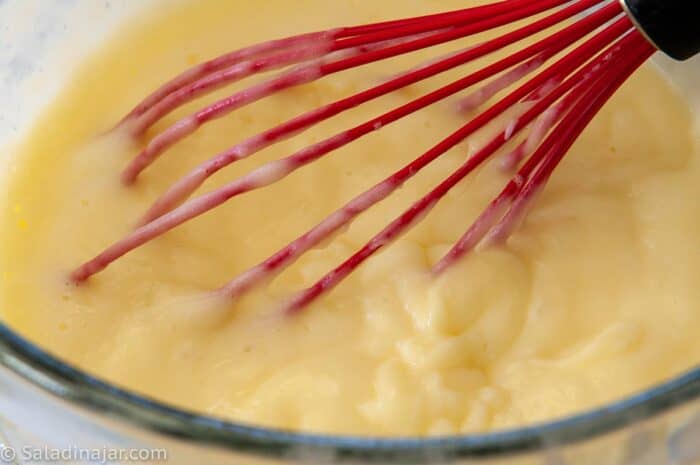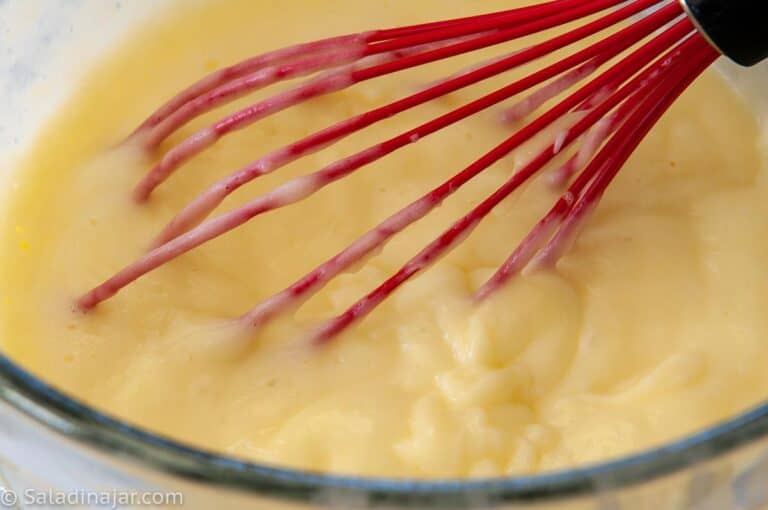 Keep microwaving until your cream starts to thicken like the picture above.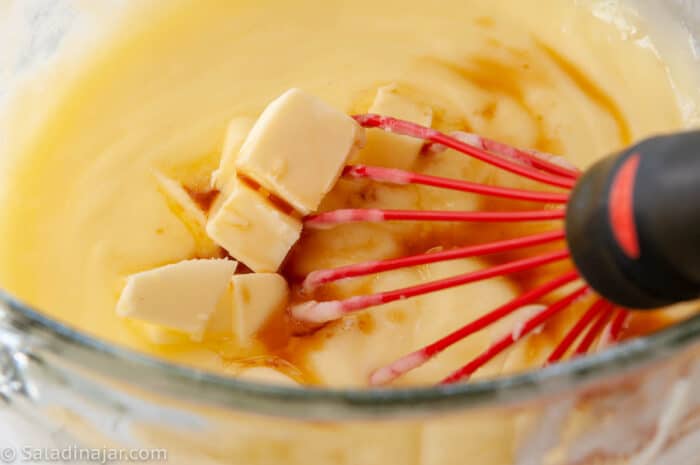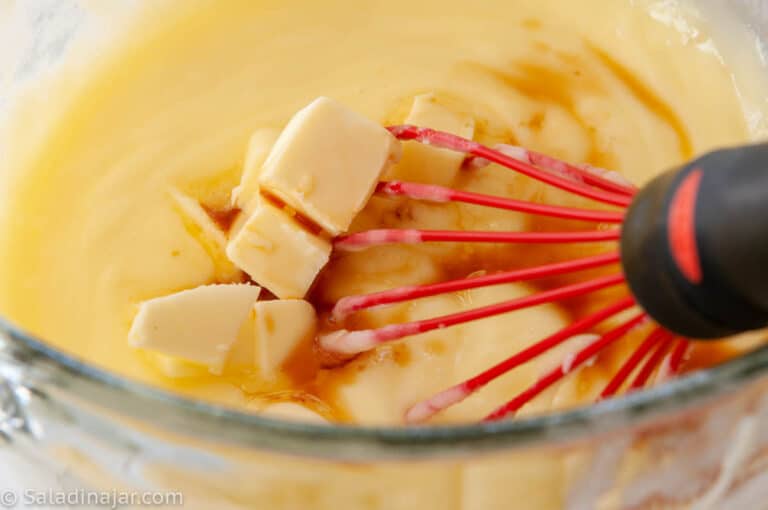 Step #4: Whisk butter and vanilla extract into the cream filling until smooth.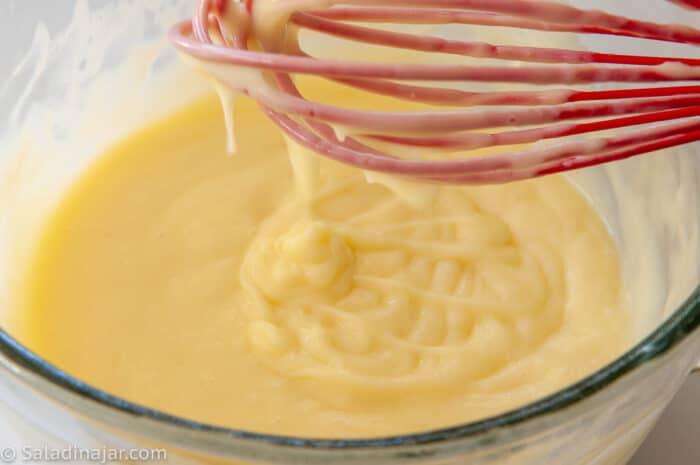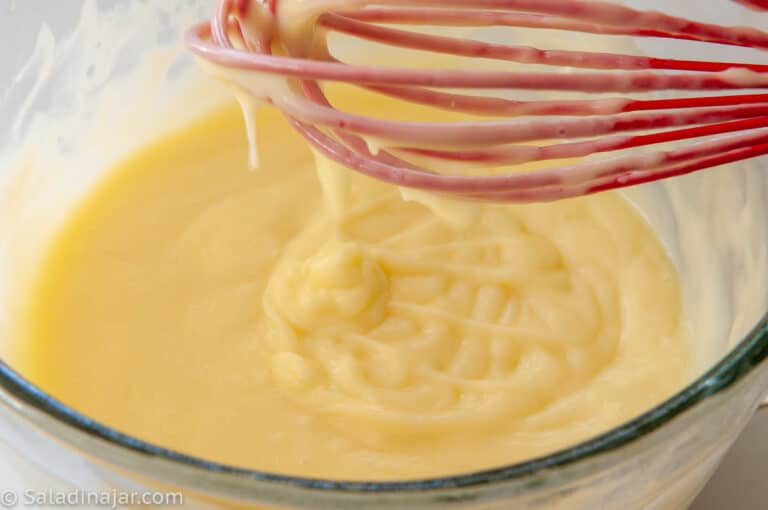 As pastry cream cools it will get thicker but will not set up firm until the mixture is completely chilled.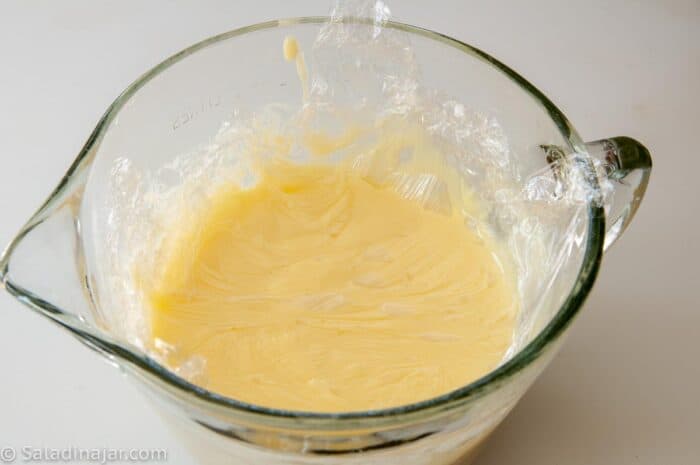 Step #5: Fill tart shells with warm pastry cream. If not ready to assemble tarts yet, cover with plastic wrap. Press the wrap next to the surface of the cooked filling so it won't form a skin.
---
Kitchen tip: How to freeze leftover egg whites:
Since you only need egg yolks to make the cream filling, I like to freeze the whites. The silicone molds I recommend for these tarts are the perfect container for one egg white.
As soon as the egg whites freeze solid, you can peel the silicone away from the egg white. Collect them in a zippered plastic bag and stash them in the freezer. When you get enough, try these spicy pecans or this chocolate and vanilla angel food cake.
---
More recipes for pie lovers:
Did you enjoy this recipe? If so, you can help others and me by leaving a 5-star 🤩 rating inside the recipe below. No comments are required.
Hope to see you again soon!
Paula
p.s. If you have any questions or suggestions, you can email me privately: Paula at saladinajar.com.
---