Mini Fruit Tarts Recipe with Pastry Cream and the BEST Shortbread Crust
Sneak Preview: These mini fruit tarts are filled with vanilla pastry cream inside a homemade shortbread crust and topped with fresh fruit. Perfect for a crowd.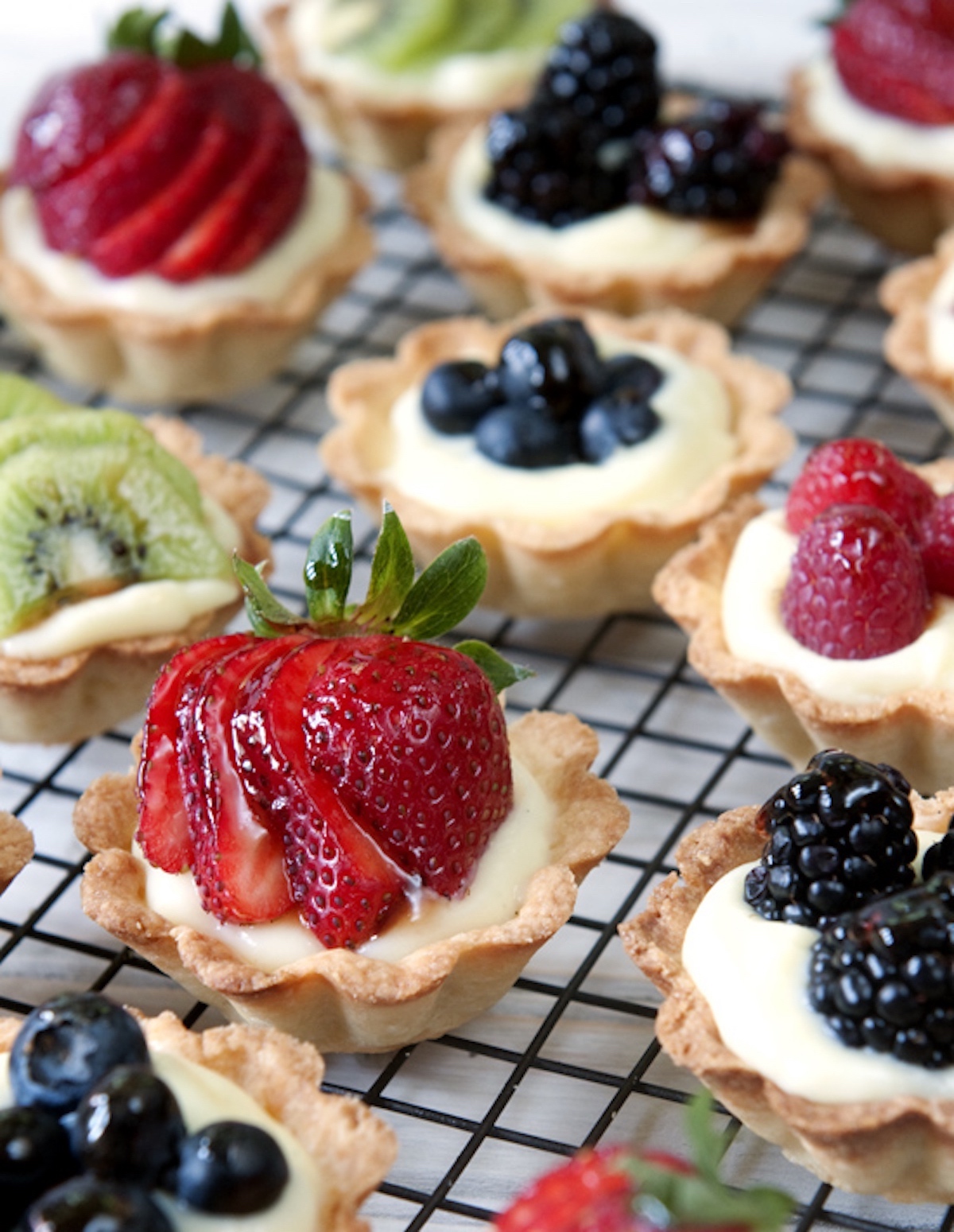 As an Amazon Associate, I earn from qualifying purchases.
Why are mini fruit tarts an outstanding choice to serve a crowd?
Mini-tarts are pre-portioned. Avoid the hazards of slicing a pie with a crumbly or tough crust, a runny or frozen filling, or customizing the serving size.
Small enough to eat out of hand–forks not required
Choose fruit according to what's least expensive.
Offer different flavors or a variety of fruits.
Not too much crust, not too much filling. The ratio is ju-u-u-ust right.
Make the shortbread crust ahead of time.
The shortbread crusts are so fresh and tasty when they are homemade. When I first started making tarts, I made plenty of ugly ones. However, my boys were always standing by to eat them. Well-l-l-l, I ate my share, too.
The pastry cream comes together quickly in a microwave, even if you have an old or small microwave oven. Top each tart with the fresh fruit of your choice. Add sparkle with a touch of glaze (currant jelly).
Don't miss the tip at the end for an easy way to freeze the egg whites leftover from making the vanilla pastry cream.
Happy cooks speak up:
"I make this every year for my boyfriends birthday. It's his favorite!!! Literally the best to pack for a picnic and the cookie crust is so delicious. The custard is so easy to make and taste creamy and amazing. BEST FRUIT TART RECIPE EVER!!!!"

Khy
Is this recipe easy enough for beginners?
The filling is easy enough for anybody who can operate a blender and a microwave. If you haven't tried making pudding or pie filling with a microwave yet, don't worry. I'll hold your hand.
Here's why?
No worries about scorching the milk or letting it boil over
No tempering the eggs
No lumps if you use a blender and whisk according to the directions
No double boiler is needed (thank goodness, since I gave mine away years ago)
Note: No blender? Use a whisk and a bowl. Combine all the ingredients and give them a whippin'. If your final product has any lumps, run it through a sieve.
About the crust…
These mini-crusts are somewhat tedious and may be challenging for people who have never made a pie crust. However, store-bought, pre-baked mini crusts are readily available if you are a novice baker or trying to make these in quantity.
By way of encouragement:
You can make the crusts ahead of time. The raw dough pressed into the molds will keep in the freezer for over a month. Planning will give you plenty of time to practice and build your confidence.
---
Why won't the pastry cream get thick?
If you have cooked the pastry cream according to the directions and it is still not thick, keep cooking.
Remember, microwaves vary wildly in how fast they cook. Differences in the starting temperature of your ingredients are another variable.
It may take less time than I have suggested if you have a relatively new and powerful microwave. On the other hand, it may take even longer than the recipe states if you have a smaller or less powerful microwave oven.
Your pastry cream mixture will get thick if you cook it long enough and follow the recipe precisely.
What fruit is best for fruit tartlets?
Small berries, like strawberries, blackberries, blueberries, and raspberries are popular. The fresher and sweeter they are, the better. Stay away from watery fruits like melons. Kiwi works great, too.
How can I keep the fruit on top of the tart fresh as long as possible?
Don't wash fresh fruit under running water. Instead, wipe the fruit off with a damp paper towel or cloth. Dry fruit will help the glaze adhere and keep the fruit looking lovely longer.
Can I make these mini fruit tarts ahead of time?
Crusts: If more convenient, make the tart shells 1-2 months ahead and store them in the freezer. Freeze individually shaped tart shells (unbaked)or entire rolls of dough. Prepared crusts, whether frozen or not, can be baked the day before.
Filling: Make the custard at least 3 hours ahead so it can firm up as it cools. If you make the cream pastry a day earlier, give it a good whip before pouring it into the shells.
Putting tarts together: Assemble the mini pies the same day you want to serve them. If you do it the day before, the crusts will absorb moisture from the custard and lose their crispness.
Add the fruit as you're getting ready to serve them. The fruit will eventually leak juices that will affect its appearance.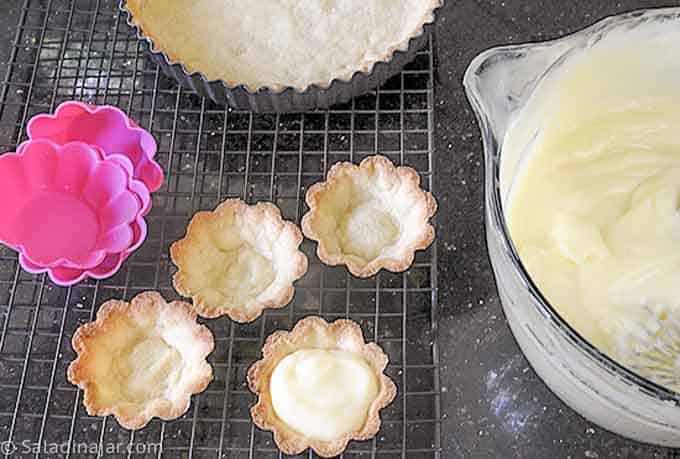 ---
Four secrets for making miniature shortbread crusts for tarts:
1. Generously grease and flour your molds or tart pans.
If you use silicone molds like the ones shown in this post, you won't have to worry about this. Otherwise, Baker's Secret is perfect for the job. Another option is homemade pan release or GOOP.
2. Freezing the raw tart crusts is ABSOLUTELY ESSENTIAL.
Otherwise, the tart shells will shrink and melt when they hit the oven.
3. Place foil inside crusts before baking.
Press the tiny squares of foil down against the crust. The foil will keep crusts from rising in the middle while they bake. No other weight is necessary. If you have trouble with the foil sticking, use non-stick aluminum foil.
Save the used foil if you want to. It's reusable with your next batch of crusts.
4. Turn the crusts out of the pan within 3-4 minutes after coming out of the oven.
Do it quickly but gently. These are a bit fragile when warm. As mentioned, these shortbread crusts taste like shortbread, so the broken ones are great for eating. (The crusts NEVER stick to the silicone molds. I can't recommend them enough.)
Ingredients and substitutions:
Flour: Use all-purpose bleached or unbleached flour for the crust dough. We're going for a crumbly more-like-a-cookie texture.
Powdered sugar: Confectioners' sugar or XXX Sugar is the same thing. Granulated sugar will give the crust a different texture that won't be as easy to shape into a crust without tearing.
Salt: You need such a small amount it doesn't matter what kind you use. Table, sea, or Kosher salt is all good.
Butter: Use salted or unsalted butter. In this case, you don't want the butter to come to room temperature. Use it straight out of the fridge.
Egg yolk: Eggs add richness and act as a binding agent. See my tip below for storing egg whites.
Heavy cream: You don't need much, but this is one reason I call these the BEST pastry crusts.
Milk: Whole-fat milk makes the best pastry cream, but you can use low-fat or skim milk. I have not tested the recipe with non-dairy milk.
Granulated sugar: Use granulated sugar in the filling. I did not test the recipe with sugar substitutes.
Cornstarch: Arrowroot is a common substitute for cornstarch. I like cornstarch better than flour because the texture is silkier on the tongue.
Vanilla Extract: You don't need much.
Currant Jelly: Only a tablespoon is needed to glaze the fruit. It's worth buying a whole jar.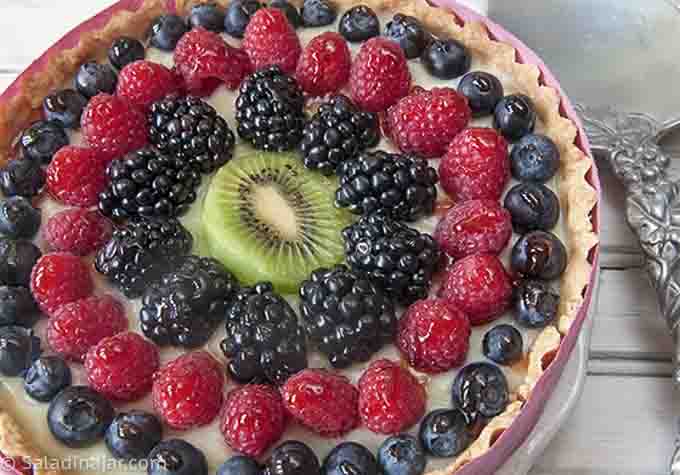 How to make mini-tart crusts: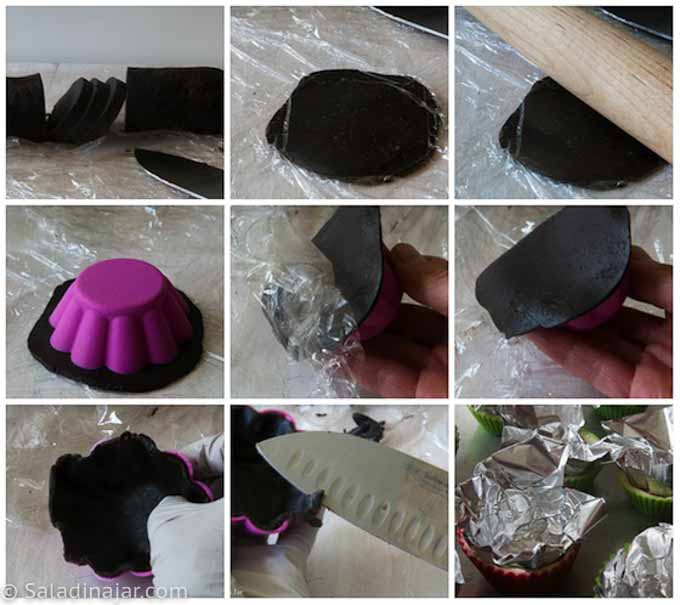 This picture from my post about Chocolate Ganache Mini-Tarts illustrates the process of making tart crusts. Don't miss the video on this post.
---
How to make vanilla pastry cream in a microwave: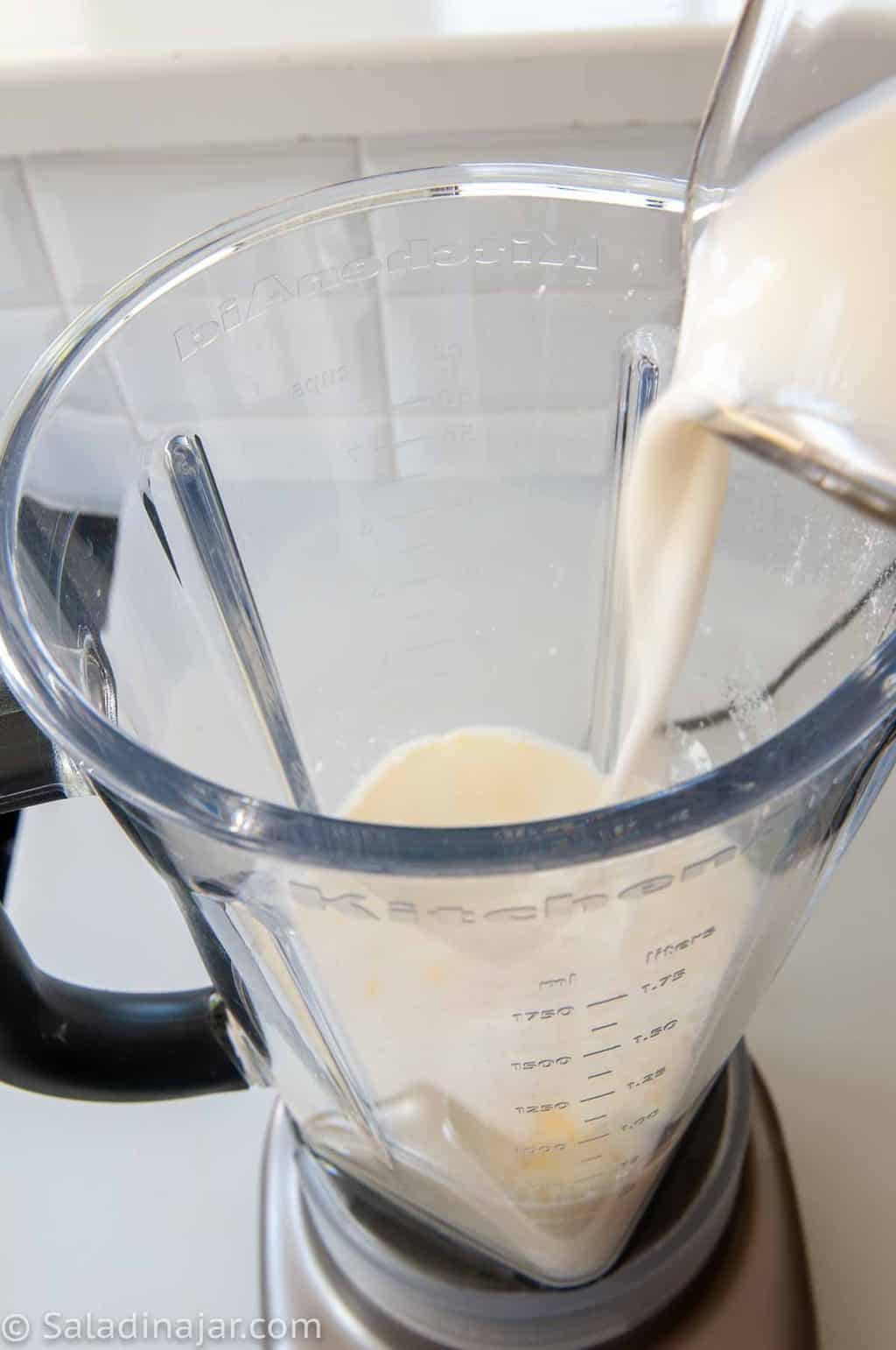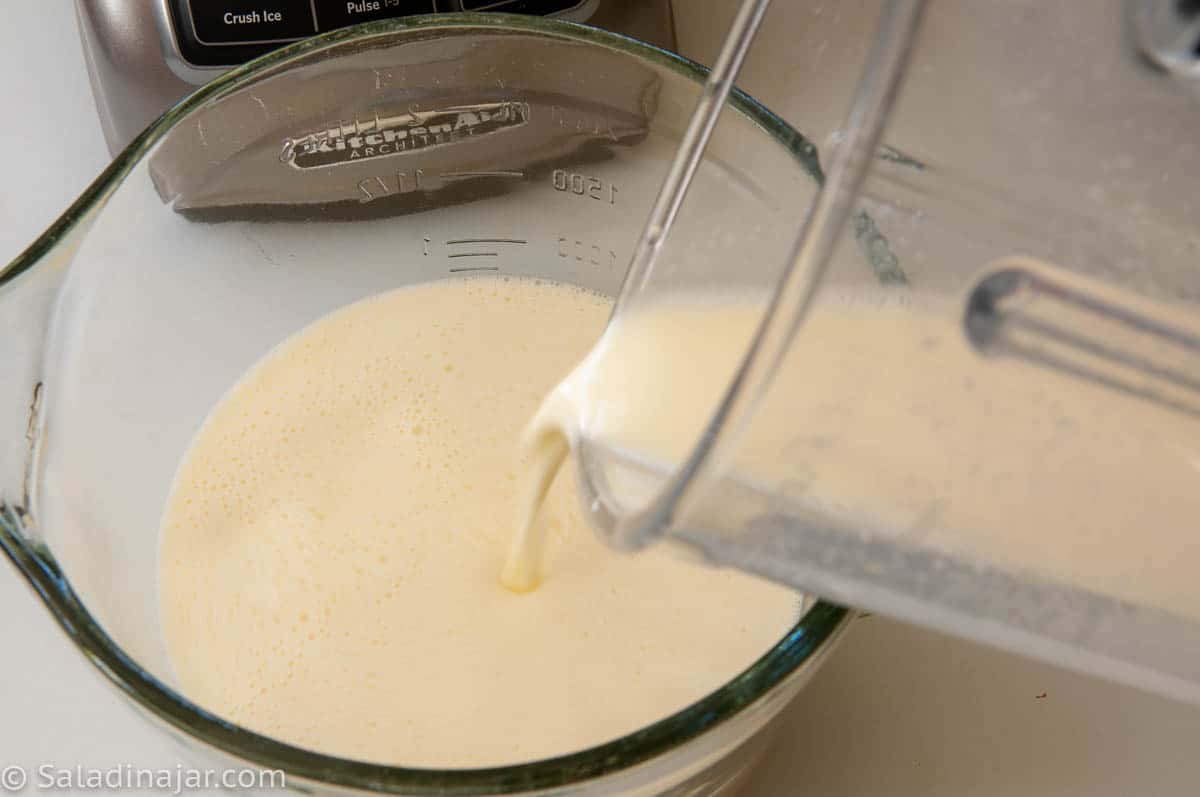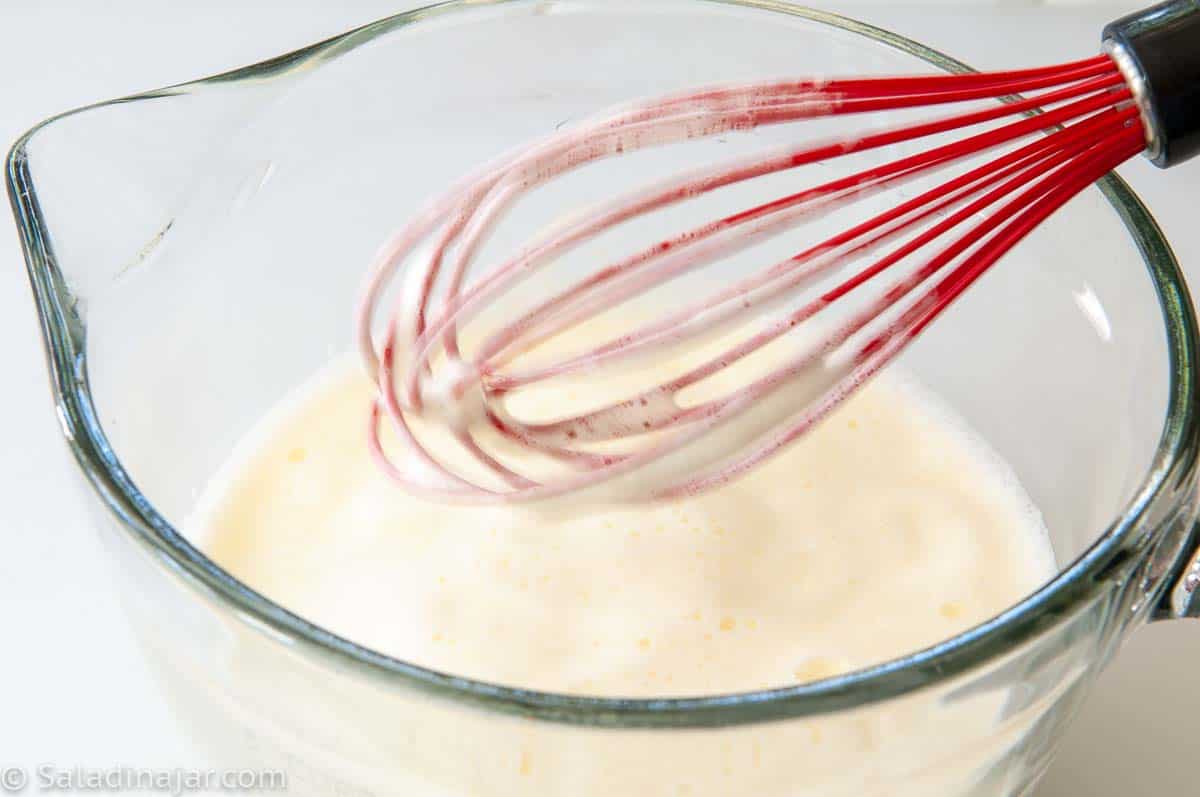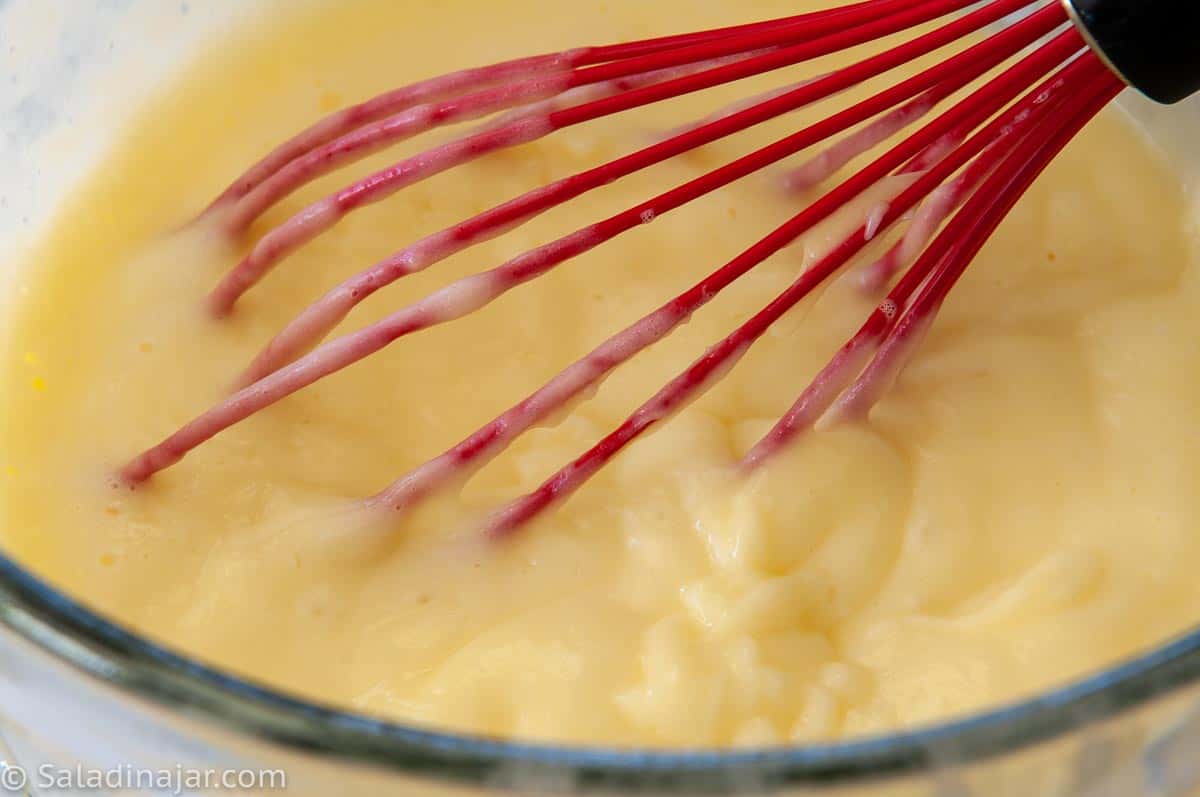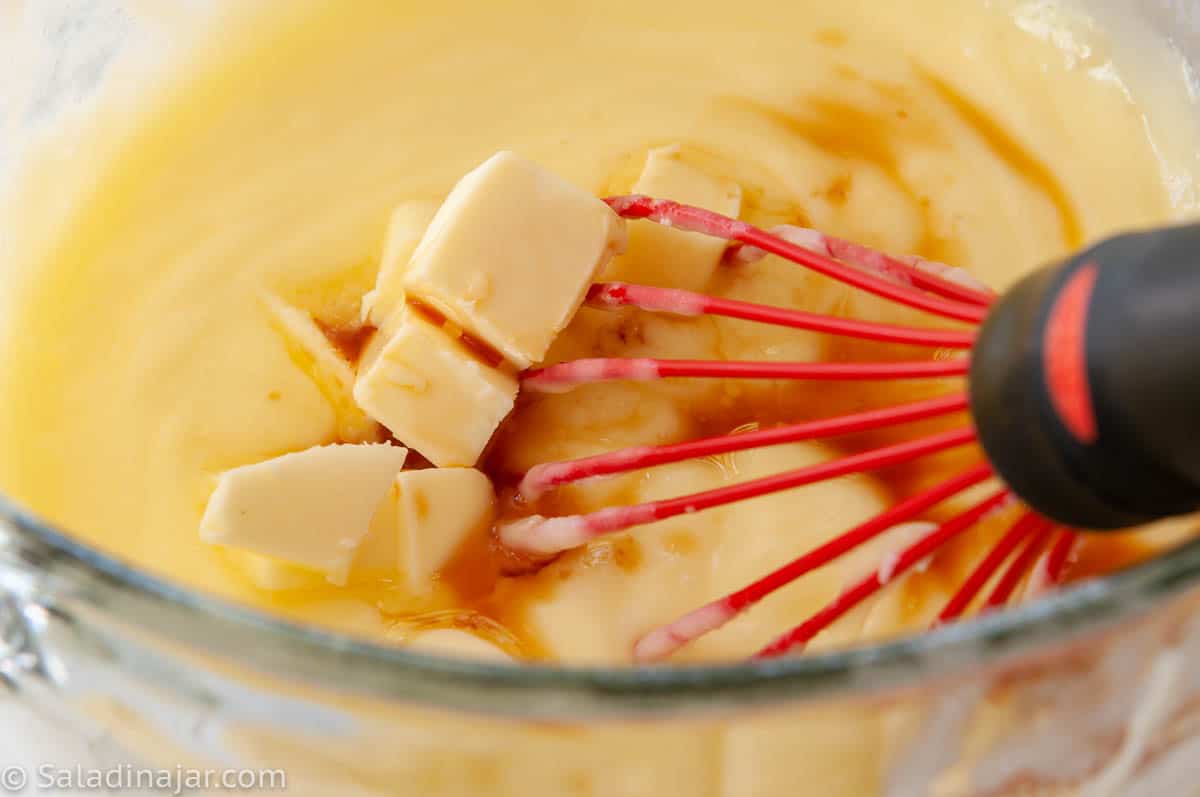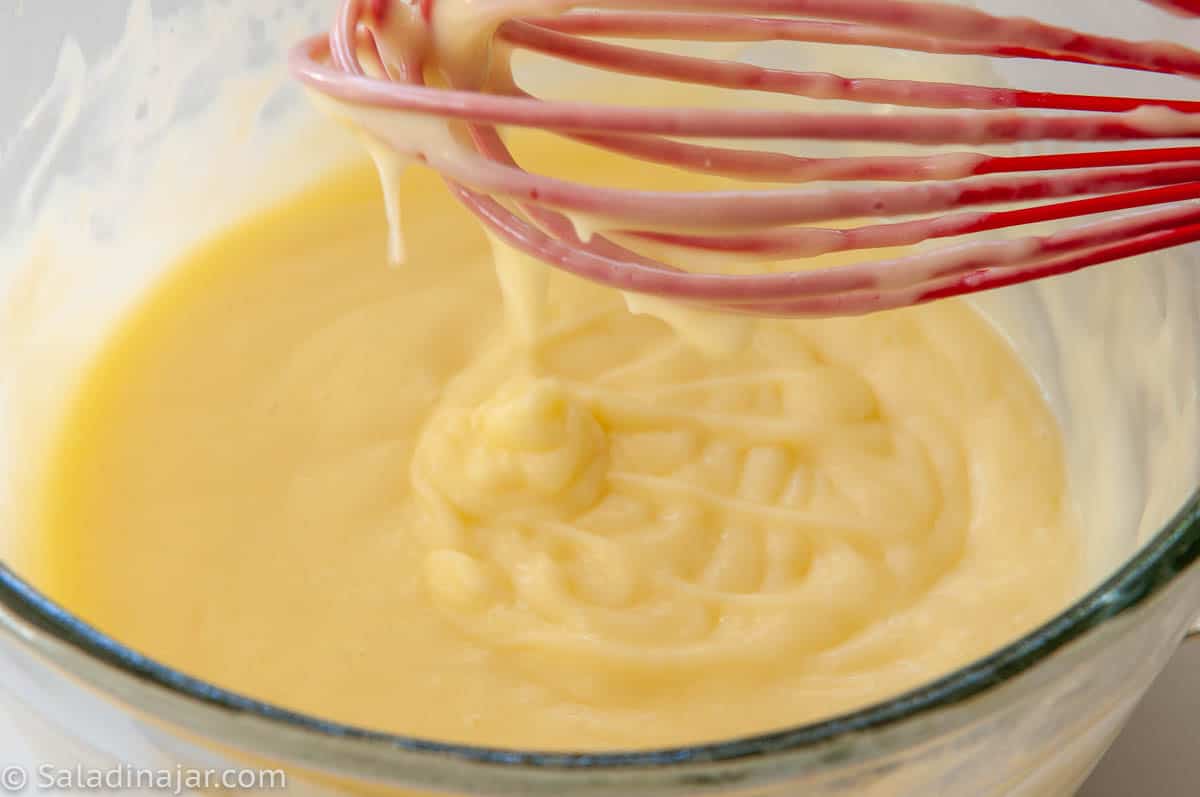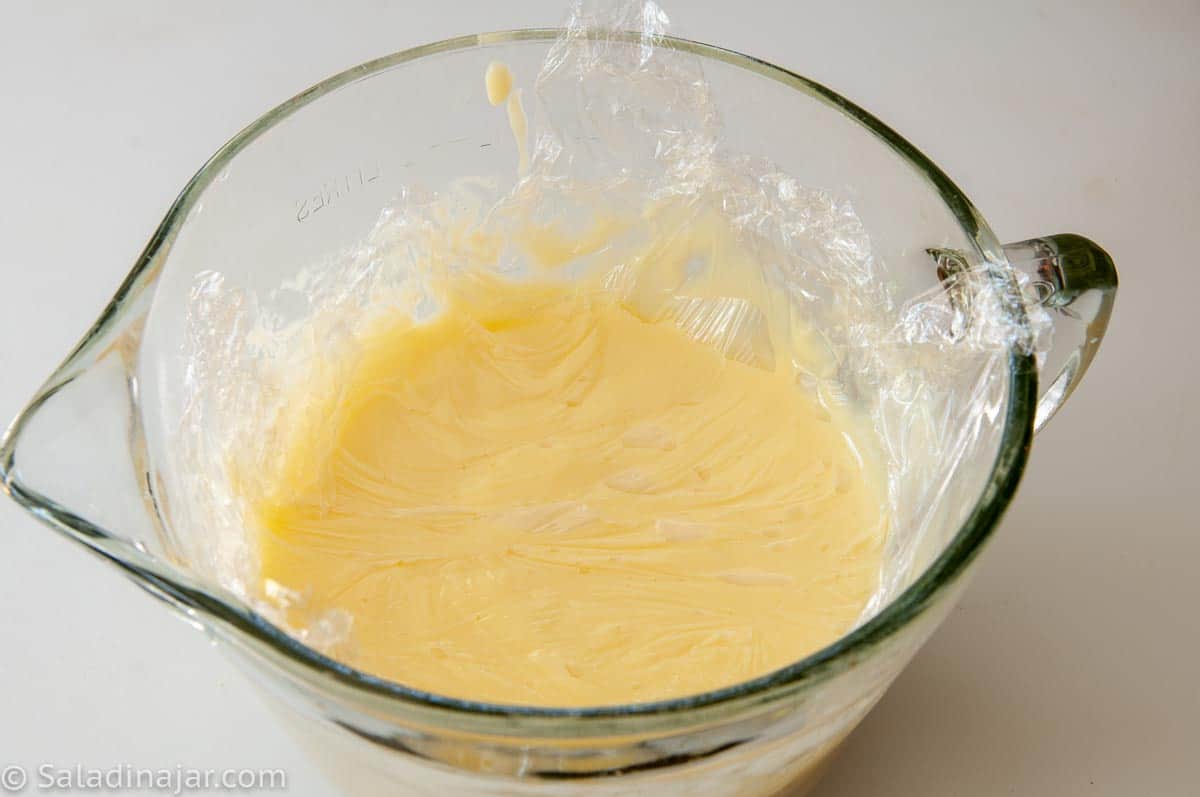 ---
Kitchen tip: How to freeze leftover egg whites:
Since you only need egg yolks to make the cream filling, I like to freeze the whites. The silicone molds I recommend for these tarts are the perfect container for one egg white.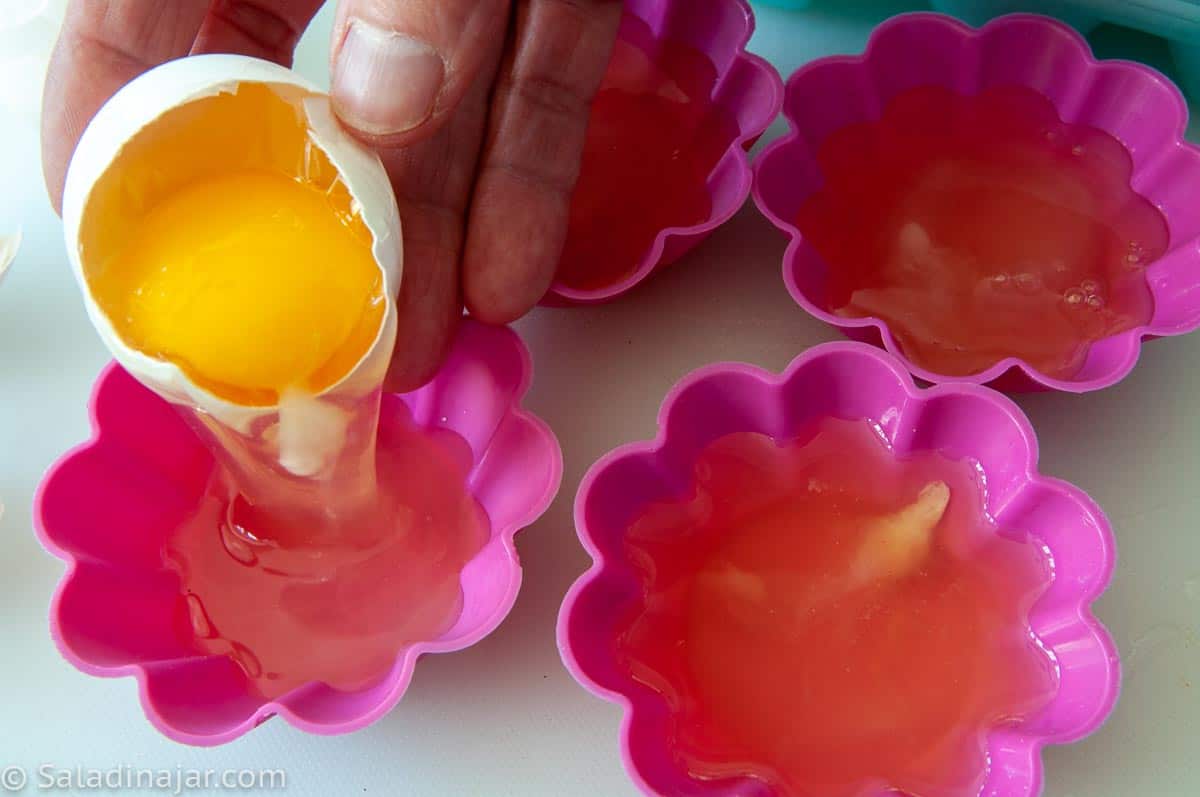 As soon as the egg whites freeze solid, you can peel the silicone away from the egg white. Then, collect them in a zippered plastic bag and stash them in the freezer. When you accumulate enough egg whites, try these Spicy Pecans, Coffee Angel Food Cake, or this fabulous Angel Food Cake with Whipped Cream and Chocolate Ganache.
---
Six more tart recipes for pie lovers:
---
Recipe Help at Your Fingertips: For questions or suggestions, email Paula at saladinajar.com. If you need help, I'm happy to troubleshoot via email (faster than leaving a comment). Attach pictures and as many details as possible for the best advice.
---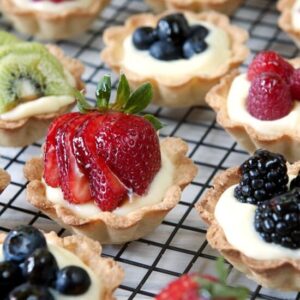 Mini Fruit Tarts with Vanilla Pastry Cream
These shortbread-crusted tarts are filled with a light, creamy custard and topped with fresh fruit of your choice.
Share recipe love here. ⬇
Ingredients
Mini-Tart Crust:
1½

cups

(

180

g

)

unbleached flour

⅓

cup

(

67

g

)

powdered sugar

¼

teaspoon

salt

½

cup

(

114

g

)

unsalted butter

-

chilled

1

(

18

g

)

egg yolk

1

tablespoon

heavy cream
Cream Filling:
2¾

cups

(

624

g

)

milk

⅔

cup

(

133

g

)

sugar

¼

cup

(

32

g

)

cornstarch

⅛

teaspoon

salt

4

(

72

g

)

egg yolks

2

tablespoons

(

28

g

)

unsalted butter

1

teaspoon

vanilla extract
Glaze
¼

cup

(

85

g

)

currant jelly
Instructions
Crust:
Combine

1½ cups

(

180

g

) unbleached flour,

⅓ cup

(

67

g

) powdered sugar, and

¼ teaspoon

salt in a food processor.

Cut

½ cup

(

114

g

) unsalted butter into 8 slices and add to flour mixture, pulsing several times until the mixture resembles oatmeal. Add

1

(

18

g

) egg yolk mixed with

1 tablespoon

heavy cream.

Pulse until all ingredients are moistened. Then allow the machine to run a few seconds until the dough starts to stick together. (Add additional drops of cream if the dough seems too dry.)

Press dough into a roll like refrigerated cookie dough. Wrap in plastic and chill 30 minutes.

Spray molds generously with Baker's Secret or something like it. (Baker's Secret is an aerosol spray mix of flour and oil.) If using silicone molds, no greasing is necessary.

Slice the roll of dough into 12 pieces. Using a rolling pin, roll the dough between two pieces of plastic wrap into a circle slightly larger than tart molds. Press into a mold with fingers being careful to keep the thickness consistent. Use a knife to trim off any extra at the top. Freeze for at least 30 minutes, overnight or up to a month. (See video for this step.)

Place frozen tart shells on a cookie sheet. Press a small square of foil down into each crust and mold it to the shape of the crust. See the picture above.

Bake at 400˚F (200˚C)for 10 minutes. Remove foil and bake until golden brown, usually about 3-4 minutes.
Cream Filling:
Add

2¾ cups

(

624

g

) milk,

⅔ cup

(

133

g

) sugar,

¼ cup

(

32

g

) cornstarch,

⅛ teaspoon

salt, and

4

(

72

g

) egg yolks, to a blender or food processor bowl. (You can use a bowl and a whisk if that's all you have.)

Blend 5 seconds and pour into a 2-quart glass microwave-safe bowl.

Microwave 6-7 minutes on HIGH, whisking until smooth after 3 minutes, then every minute thereafter. (Keep microwaving if not thick after 7 minutes.)

Add

2 tablespoons

(

28

g

) unsalted butter and

1 teaspoon

vanilla extract and whisk until smooth.

If not ready to assemble, cover the top of the warm custard with plastic wrap and smooth it to touch the surface. This prevents a skin from forming on top of the cream.
Assembly:
Fill each baked tart shells with cream filling. Top with fruit of your choice.
Glaze:
Melt

¼ cup

(

85

g

) currant jelly in a microwave or on top of the stove, and use a brush to dab some shininess on each piece of fruit. It's OK if some drips onto the cream.
Notes
NOTES:
1. If dough in the food processor seems too dry to press into a ball, add a teaspoon or two of milk or cream.
2. Tarts are best eaten the day they are assembled.
3. A dollop of whip cream makes these even better.
Nutrition
Serving:
1
tart
|
Calories:
208
kcal
|
Carbohydrates:
24
g
|
Protein:
2
g
|
Fat:
11
g
|
Saturated Fat:
7
g
|
Polyunsaturated Fat:
1
g
|
Monounsaturated Fat:
3
g
|
Trans Fat:
1
g
|
Cholesterol:
101
mg
|
Sodium:
155
mg
|
Potassium:
34
mg
|
Fiber:
1
g
|
Sugar:
17
g
|
Vitamin A:
404
IU
|
Vitamin C:
1
mg
|
Calcium:
25
mg
|
Iron:
1
mg
HELP OTHERS find this recipe. Leave a 5 🌟🌟🌟🌟🌟 rating at the top of the recipe card if you enjoyed it. No comment is required.