If you are a yogurt-making newbie, welcome to the wonderful world of making yogurt. Here are Five Things You Should Not Do When Making Yogurt.
#1
Don't be overly anxious.
Often, readers report having sleepless nights in anticipation of a successful batch of yogurt. It's understandable. I remember how exciting the first attempt can be. Getting up to check on your incubating yogurt like it was a sick child with a fever is not necessary.
Resist checking your incubating yogurt every 30 minutes to see if it's "done" yet. Jostling or moving the bowl will most likely spoil the process.
After 5-6 hours it is OK to shake the bowl ever so gently. Watch for a gelatin-like jiggle. If a slight shake causes a splash (of the milk, not just the whey sitting on top), apologize for interrupting and excuse yourself for another hour or two while the yogurt bacteria continue to multiply.
Along the same line, NEVER STIR or disturb your incubating yogurt before it has set. Pouring it into a strainer or another container stops the incubation process. You have no choice but to use as is or try again with more "starter."
RELATED POST: Why and How To Strain Yogurt With a Yogurt Pouch
#2
Don't use slightly old milk.
Using slightly old milk to make yogurt is not a suitable way to salvage it. The fresher the milk, the better the taste and the longer it will store.
#3
Don't incubate yogurt in your oven right after using it for baking dinner.
Doing so can lead to the mass murder of yogurt microbes and the sudden cancellation of your yogurt project. You might be surprised how long it takes a 400-degree oven to cool down to 100 degrees.
RELATED POST: 18 Ways to Use Whey Leftover From Straining Yogurt
#4
Don't skip the heating process just because you are using pasteurized milk.
I don't completely understand the chemistry. Nevertheless, heating milk to 175 degrees F rearranges the proteins in a way that is beneficial to yogurt bacteria.
Skipping this step will result in thinner yogurt more suitable for drinking.
#5
Don't eat every last drop of your precious homemade yogurt.
I know it's hard to stop. But save a tablespoon or two to use as a starter for your next batch. Usually, you can make 3-4 batches before you need to start over with store-bought yogurt. Traditional yogurt starters can be purchased online that are re-usable for a much longer time.
Are you looking to tweak your method of making Greek yogurt? Don't miss my video showing one way to do it.
A bonus tip:
Go right now and put about 1/4 cup of your freshest homemade yogurt in a small plastic container. Place it in your freezer and save it for a rainy day.
Think of the frozen yogurt as insurance for the day you forget and accidentally eat the last of your yogurt. Or maybe you go on vacation. Then there are the times when you need a break from making yogurt but don't want to give up the idea forever.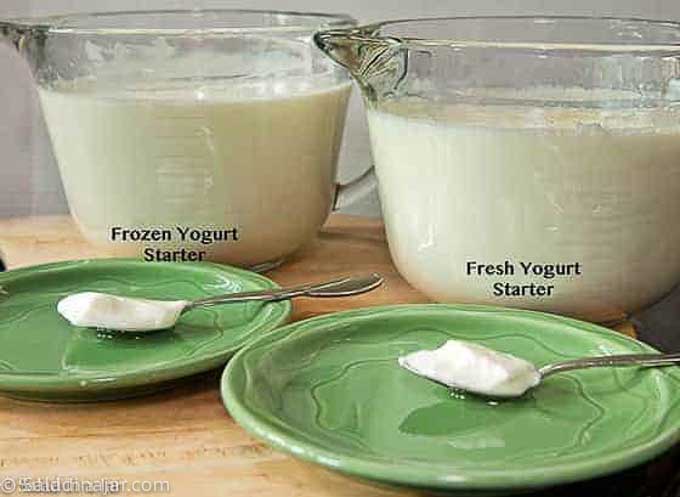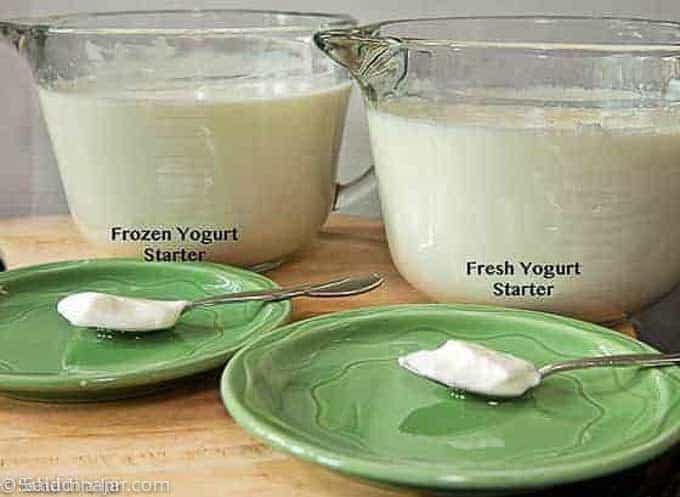 I tried it several times and could not tell the difference between using my three-day-old homemade yogurt as a starter and homemade yogurt stored in the freezer for three months.
Admittedly, I have not done extensive testing to know how LONG one can keep it in the freezer, but it should save at least three months according to my experience.
If you have a precautionary tale gleaned from your own yogurt-making experience, I would love to hear about it.
---
Pin the picture below to save for later.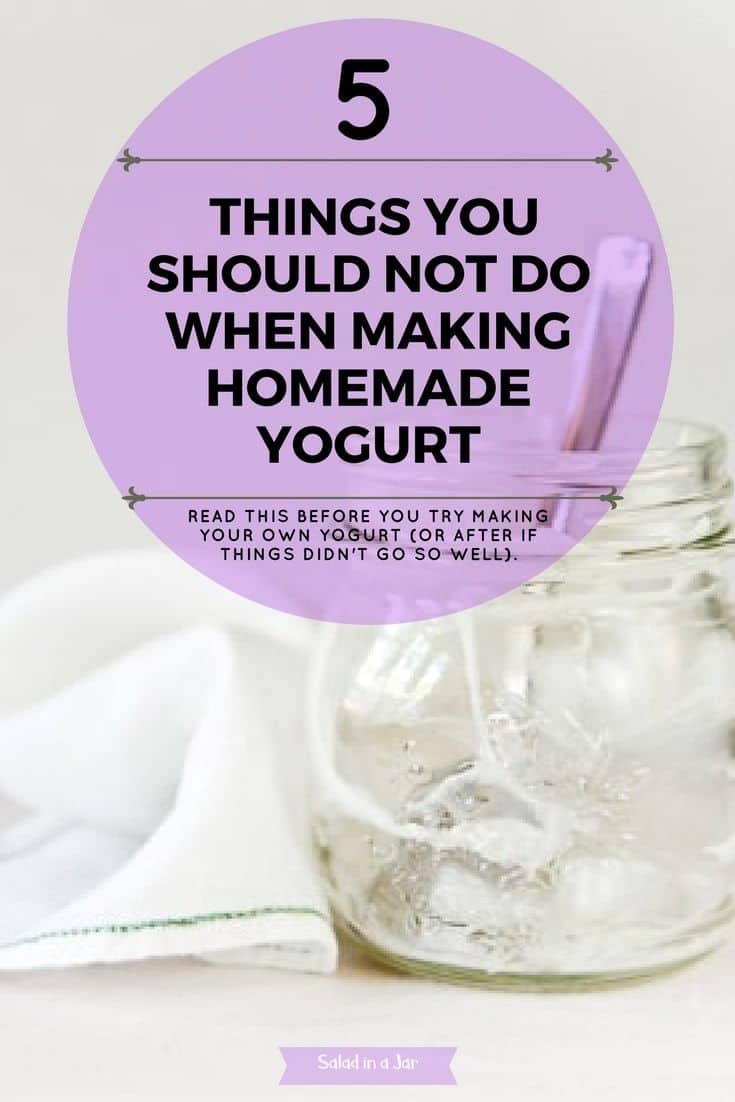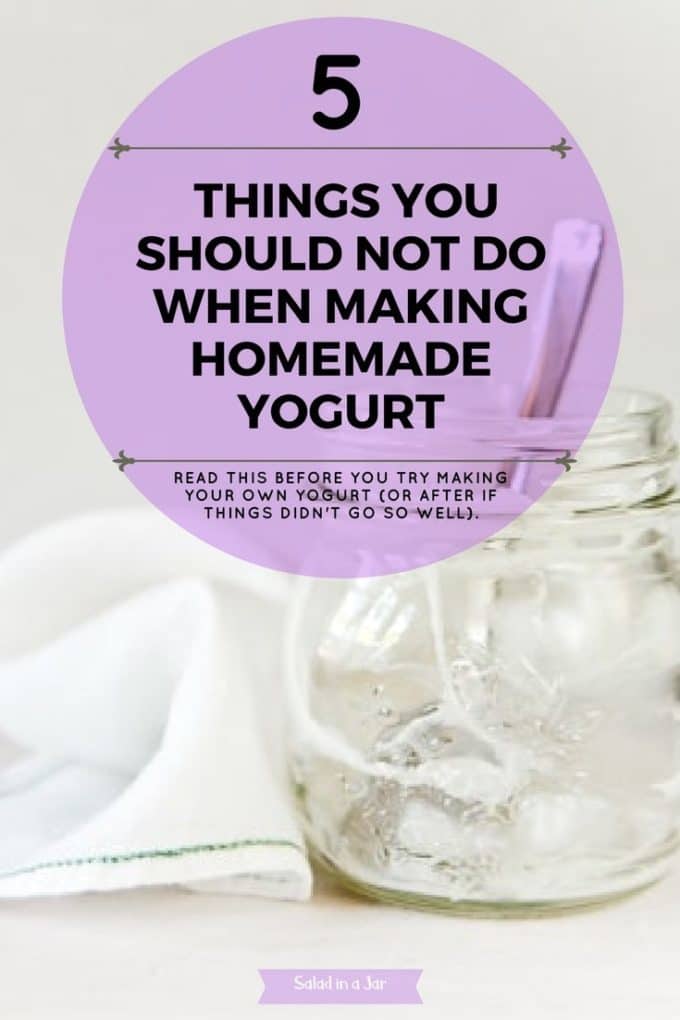 What would you like to read next about homemade yogurt?