Preview: Which is the better to keep cut lettuce fresh? Is a plastic knife the answer or does vacuum-packing work better? Here is my answer. You might be surprised. Read my answer to this question I received from one of my readers.
It's question time again, folks! In regard to the way I vacuum-pack lettuce into Mason jars, several people have left comments/questions about the use of a plastic knife to cut lettuce. They claim it deters brown cut edges, thus avoiding the need to vacuum-pack lettuce for those who desire to store cut lettuce long term.
When I say long-term, I'm talking at least a week to 10 days.
The test:
I decided to test it for myself, so I chopped some hearts of Romaine with a plastic knife and some with a metal knife.
I prepared three jars.
The first jar contained lettuce cut with a plastic knife, stored in a securely-covered glass jar, but not vacuum-packed.
The second jar contained lettuce sliced with a plastic knife, then vacuum-packed.
I prepared the third jar the usual way I always do it–with hearts of Romaine lettuce, swiftly chopped with a metal knife, and then vacuum-packed.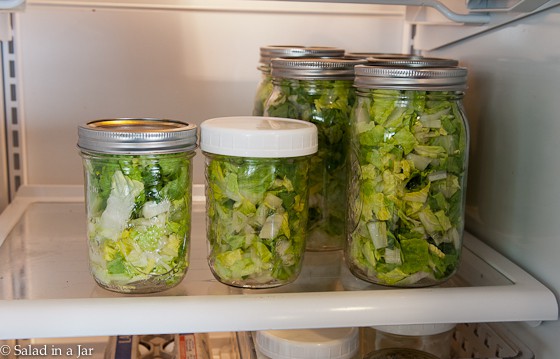 I stored these prepared jars in the refrigerator Sunday afternoon.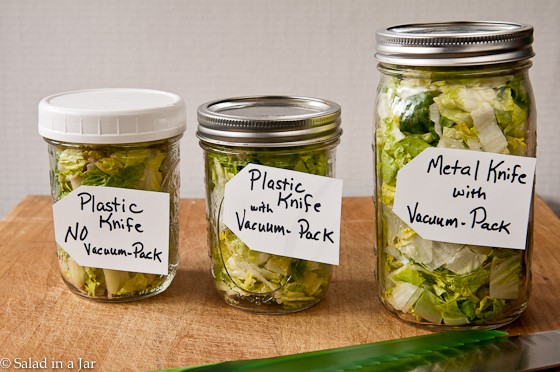 The following Friday, I opened them to see the results.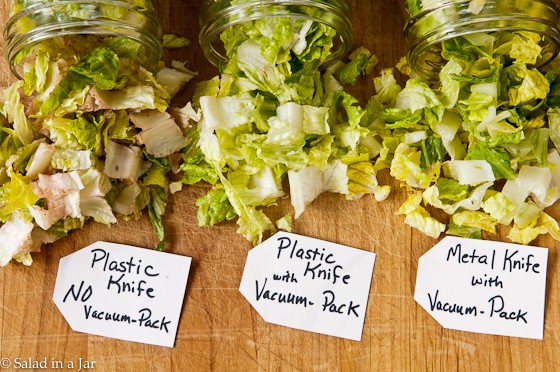 Interesting, don't you think? The two jars that were vacuum-packed, both the one cut with a metal knife and one cut with a plastic knife, still look as fresh as the day I packed them. No brown edges. But that jar on the left, cut with a plastic knife, but not vacuum-packed? Yuk!!
The answer to the question: "Is a Plastic Knife a Substitute for Vacuum-Packing Lettuce?"
Looks like I won't be needing my plastic knife after all since a sharp metal knife cuts faster and easier. Indeed, vacuum-packing removes the oxygen so the edges don't get brown no matter how you cut the lettuce.