Chocolate Peanut Butter Greek Yogurt is an afternoon snack idea with powdered peanut butter and some chocolate shavings mixed in to Greek yogurt.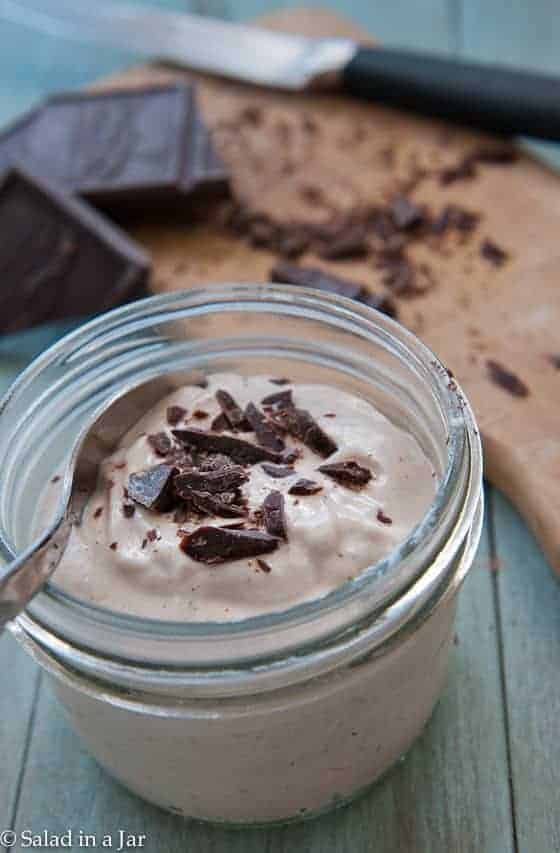 I used to eat a miniature Reese's peanut butter cup every single day, melted on top of my favorite chocolate fudge fiber bar. That questionable habit lasted a couple of years before it wore off. Now I have a different peanut butter-related vice. The idea came from the comment section of one of my homemade Greek yogurt posts.
A reader suggested adding powdered peanut butter to unflavored Greek yogurt. Turns out it mixes into yogurt much more easily than real peanut butter, which can be difficult to combine with yogurt without affecting the texture. My favorite brand and flavor of powdered peanut butter is PB2 with premium chocolate (found it at Target but also available online).
I'm not saying this idea is for everybody. But for yogurt makers like myself and many of my readers, we're continually looking for new ways to eat it and flavor it. This is my latest favorite.
No recipe needed. Just add about a tablespoon of powdered peanut butter to a half-cup of yogurt–Greek yogurt in my case. If you have a sweet tooth, stir in a little sweetener e.g. sugar, honey, Stevia, or whatever is your fave. Sprinkle a few slivers of semi-sweet or dark chocolate on top if you like.
RELATED POSTS: