Basic Bread Machine White Bread You'll Be Eager To Share
Sneak Peek: This basic Bread Machine White Bread is a soft, fluffy 1.5-lb loaf with no eggs and little sugar or fat. And yes, you can make this beautiful loaf with the help of your bread machine. Also, don't miss the secret ingredient that helps make this the best bread machine white bread recipe.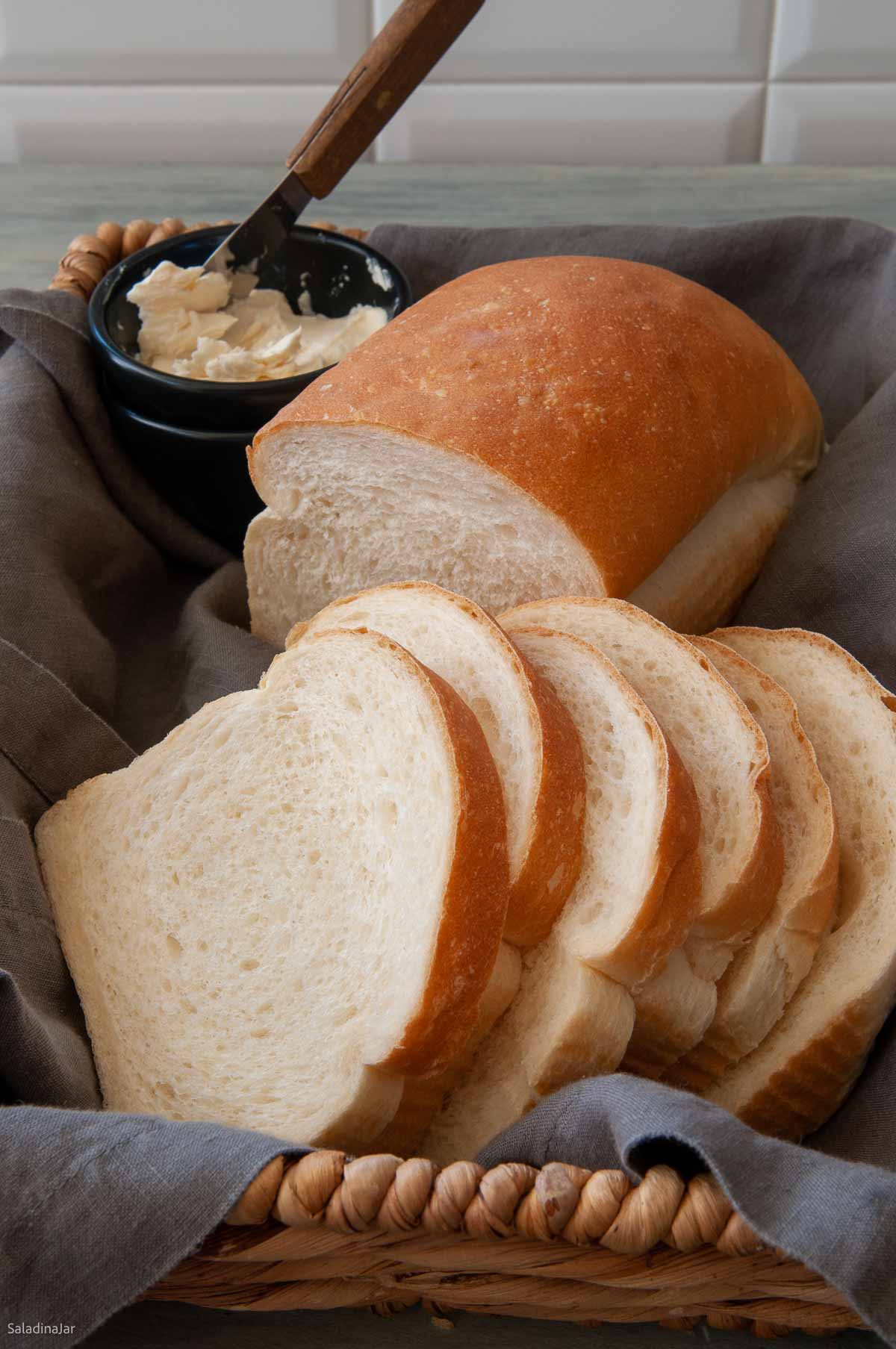 As an Amazon Associate, I earn from qualifying purchases.
Have you tried the first white bread recipe listed in the manual printed by your bread machine manufacturer? Did you make it from beginning to end with the one-and-done button? If you weren't thrilled with the results, I have an alternative.
Let me guess. Was the crust of your first loaf thick and hard? How did the top look?
Was it nicely domed or misshapen and ugly? Was the crust browned or much lighter on top than the rest of the bread? Who wants to give an ugly loaf to his neighbor or friend?
How was the inside of your bread? Was the crumb organized or verging on crumbly? Was it light and fluffy on top but dense on the bottom?
The bread I described above is probably good enough for toast if you aren't particular. But if you want a loaf you are excited to eat and proud to share with others, follow this recipe as closely as possible.
The directions are for a bread machine because it is the best kneading machine in town. But you can make it with a stand mixer or by hand. See the recipe notes for details.
Happy cooks speak up:
"I never review recipes but this one definitely deserves 5 stars. I've made bread in my machine several times but was never impressed.
This is by far the best bread I've ever made and it was easy. The texture, color and taste were perfect. Thanks so much for the recipe!" — Ashley

Ashley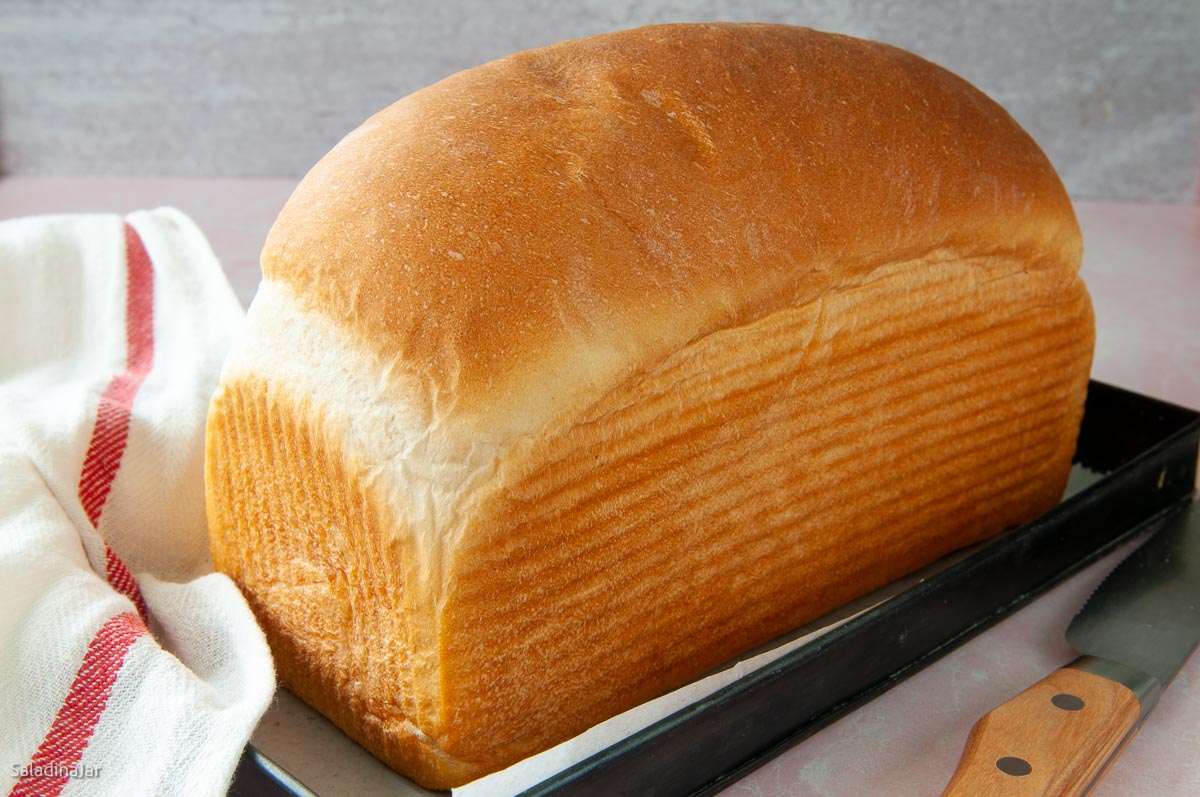 Recipe inspiration:
Are you open to a different way of using your bread machine other than start-to-finish with the push of one button? If so, I can show you how to use a bread maker to make fabulous bread.
A bread machine is one of the best kneaders in town. Plus, you get a timer with it. So you can throw the carefully-measured ingredients into the bread machine, turn it on, and let it do the work while you start your next project.
You'll want to open the lid and check the dough a time or two to ensure it's not too dry or wet. Otherwise, you can leave it alone for an hour and a half (varies with different machines), and when you return, the dough should be ready to shape.
One of the secrets to producing fabulous bread with a bread machine is to use the DOUGH cycle only. That means you will let the machine mix and knead the dough (great for people who find it painful to manipulate it with your hands). Then you will shape the dough with your hands, let it go through one more rise, and bake it in your conventional oven.
Does it sound like a lot of work? It may take a few extra minutes, depending on your experience. But it's worth it.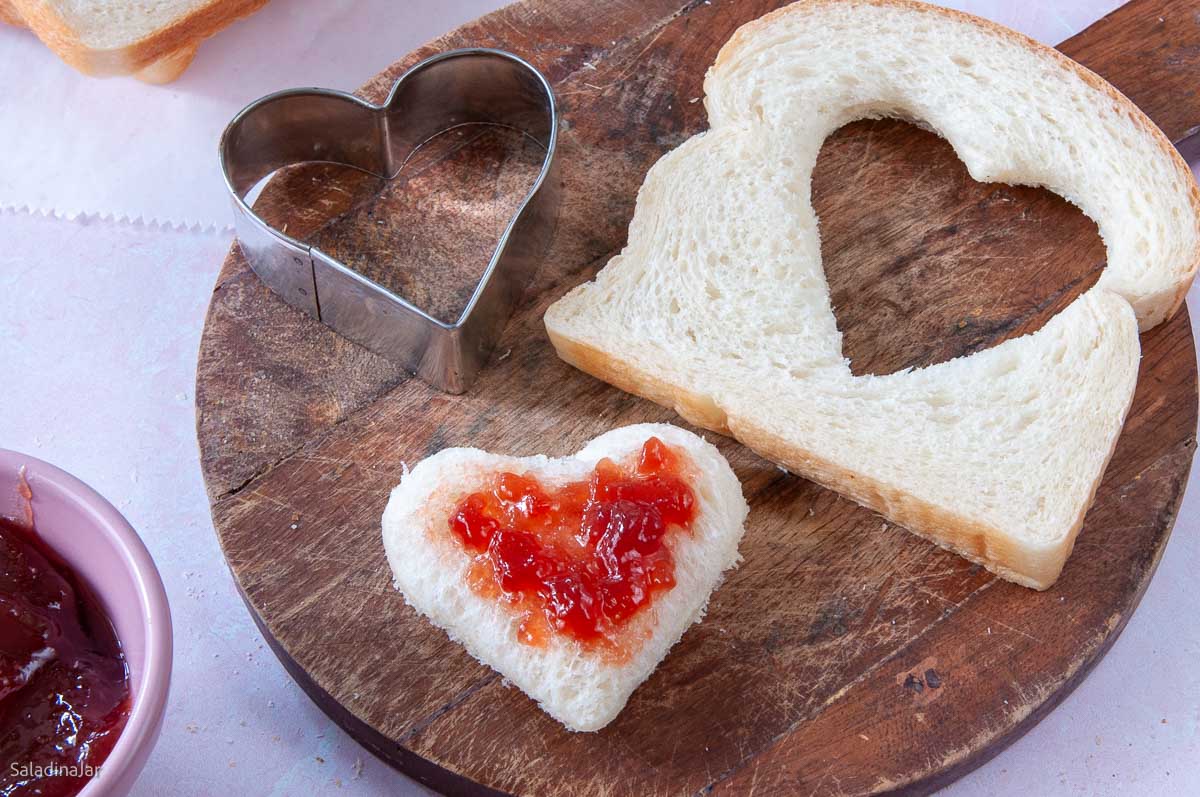 Making great bread is not as easy as pushing one button on a bread machine, as many people hope. However, with a little extra attention and experience, you can use a bread machine to produce a loaf you will be proud to share and excited to eat.
---
Ingredients and substitutions: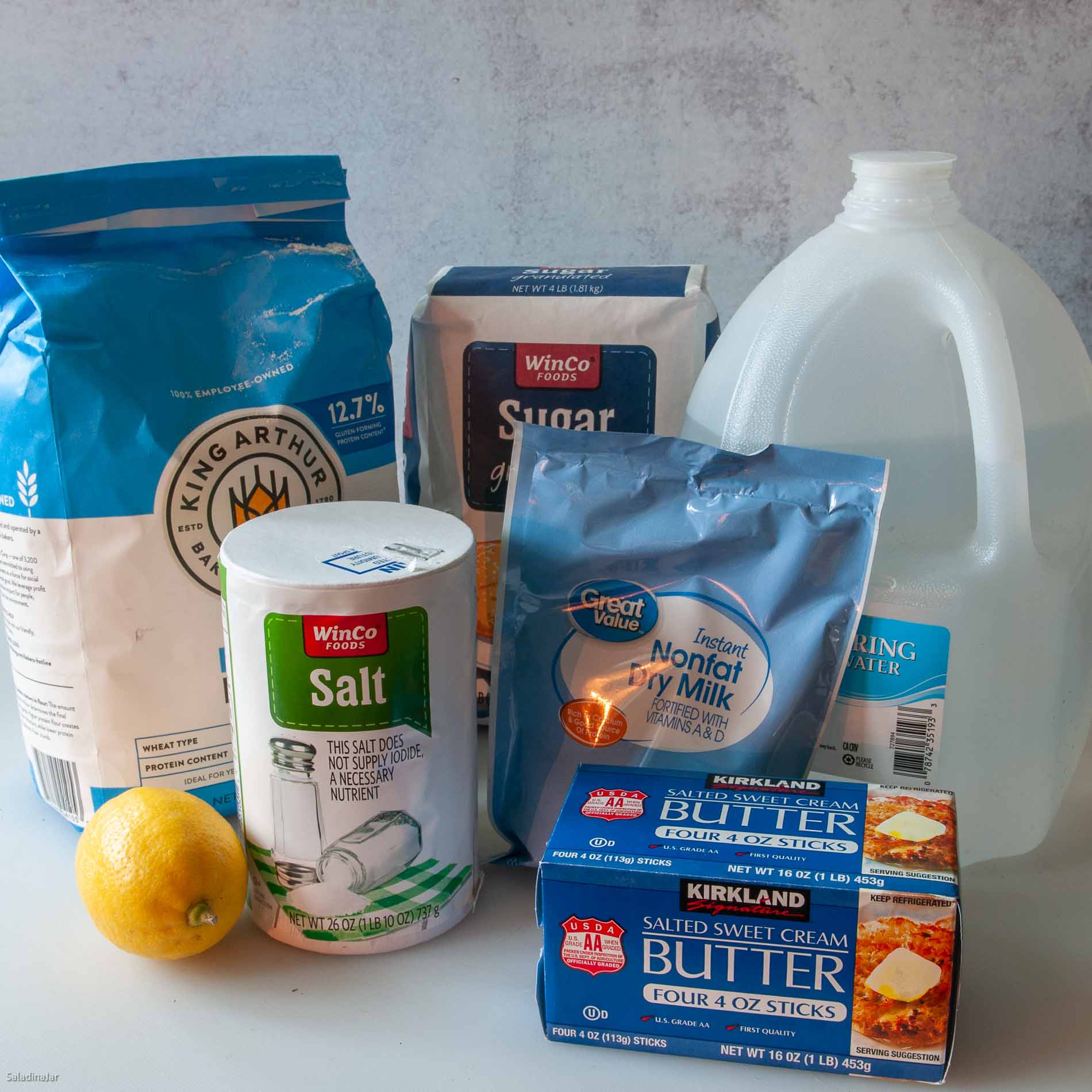 WATER: If your water is especially hard or very soft, you may want to stick with spring water. I like to draw tap water and let it sit for 24 hours to let the chlorine dissipate. But there's no reason to fuss about this unless you are having trouble. Use water straight out of the tap.

SUGAR: I use granulated white sugar, but not much. Possible substitutes include honey or brown sugar. I don't recommend a sugar substitute. It's not the preferred diet for yeasty bodies.

SALT: Table salt or sea salt is specified in the recipe. If you prefer Kosher salt, use a little more, but don't leave out the salt entirely. The bread will be bland, and the yeast needs the salt to behave. Otherwise, the yeast can go crazy, wear itself out, and leave you with a crater instead of a dome on your loaf. If you like, you can experiment with cutting back, but this recipe is not designed for no salt.

NONFAT DRY MILK: Powdered dry milk conveniently imparts the properties of fresh milk to this recipe. Although few machines have a timer for the DOUGH cycle, since this recipe has no eggs or fresh milk, you could set your machine to start later without worrying that the ingredients will spoil. When using a timer, ensure that the milk powder does not come in contact with the water by adding it to the flour.

If you don't have powdered milk, use fresh milk instead of water. However, be sure to open the lid and check the dough. Without the powdered milk, your dough may need a bit more flour. Watch the dough as it kneads: Remember, the dough should stick to the sides of the pan, then pull away cleanly.

BUTTER: Real butter is always my first choice, but you can use non-dairy butter or vegetable oil as an alternative. Also, there is no reason to let the butter come to room temperature. Chop it finely and dump it in the pan before the flour. The friction caused by the kneading paddle will heat the butter (and the dough) to the perfect temperature.

LEMON JUICE: THIS is the secret ingredient. Lemon juice gives your bread lightness and brightness. You won't be able to taste it because the amount is so small.

Try smelling this bread after it has cooled. It's a fresh and inviting smell compared to sniffing a loaf of bread from the store. If you don't have lemon juice, leave it out. Your bread will still be excellent.


FLOUR: The recipe calls for bread flour because it will give you the best product due to the high protein content. The extra protein helps your bread rise and makes it slightly chewy. Substitute unbleached all-purpose flour if you want or need to, but your bread may not stand as tall.

YEAST: Instant or bread machine yeast is perfect for a bread machine and this recipe. There's no need to dissolve the yeast unless you are concerned that it is old.

Substitute active dry yeast if that's all you have. Sometimes it's a bit slower. Add an extra 1/4 teaspoon or allow a bit more time for rising.
---
How to make white bread dough with a bread maker: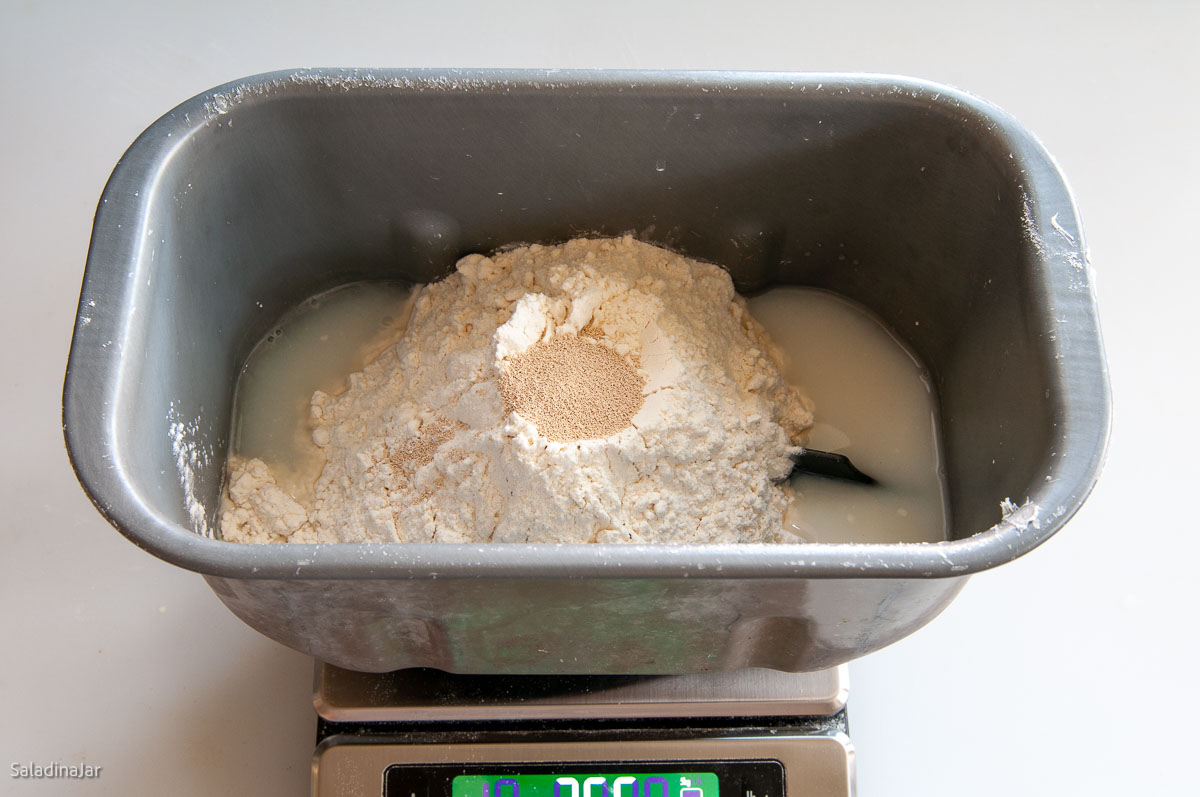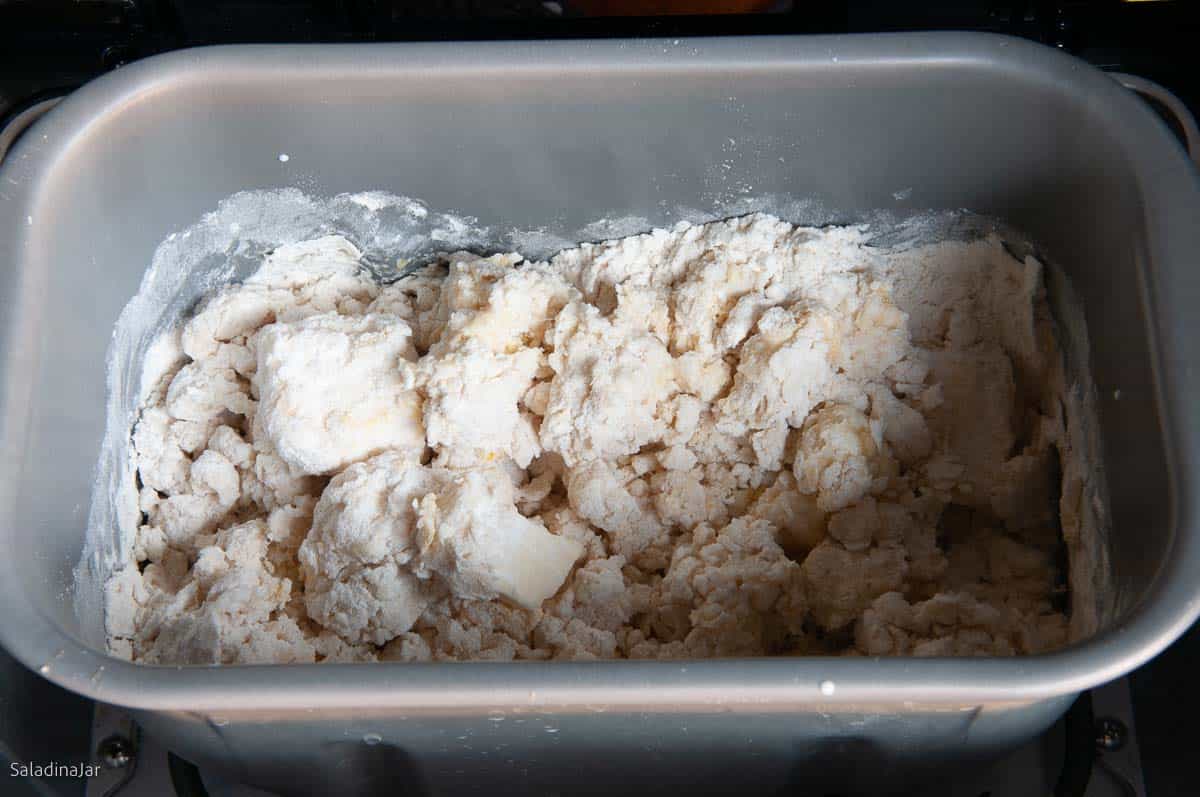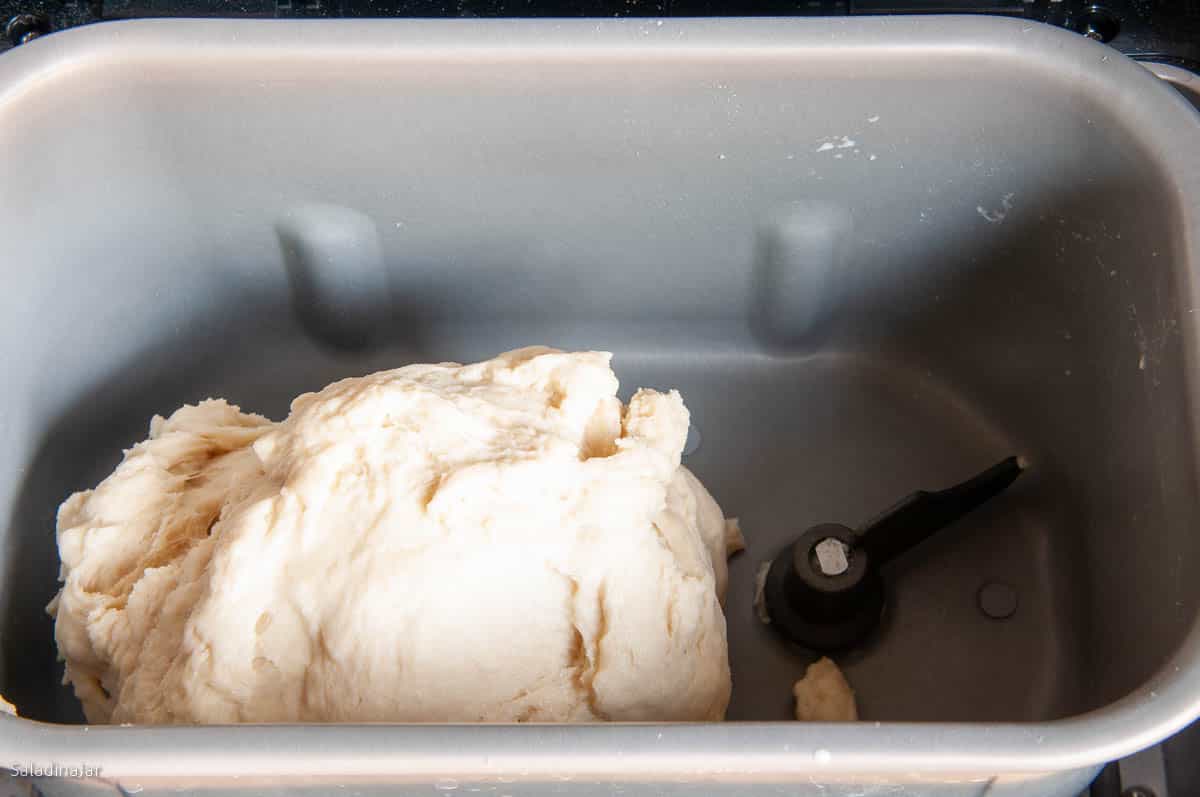 How to assess the dough in a bread machine and what to do next:
a) If the dough looks like a thick pancake batter (possible measuring error) or there is a layer of wet dough underneath the paddles, add a tablespoon of flour and wait a minute or two for it to incorporate into the dough as it kneads. Then, repeat the process until the dough looks right.

b) If the dough is too dry, it may bounce off the pan wall or ride on the post like a merry-go-round. Add one tablespoon of water and give the machine a minute to incorporate the added liquid. You may need a spatula to press the water into the dough because dry dough often won't accept extra water without encouragement.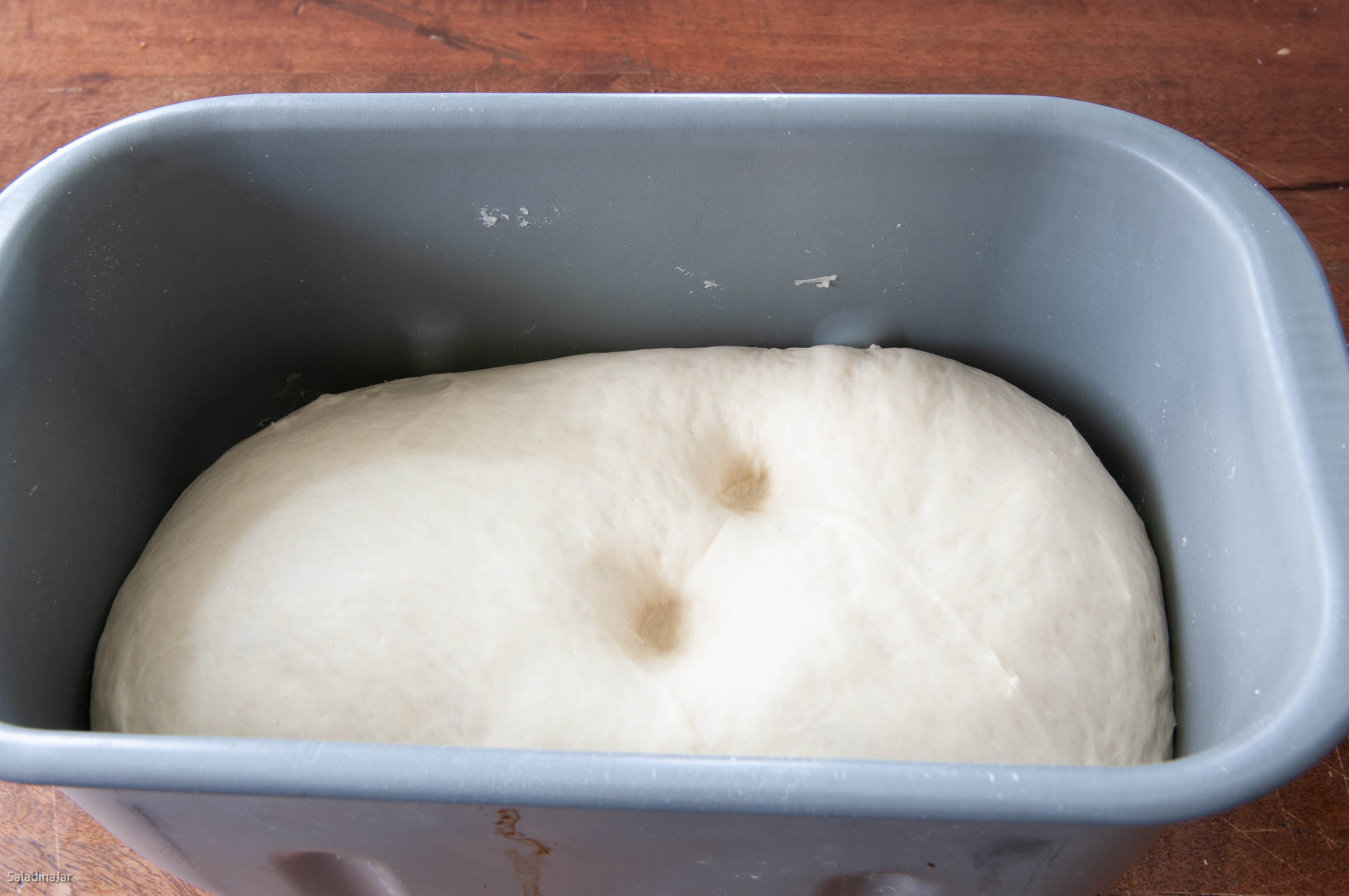 If it doesn't rise in the next hour, you either forgot the yeast, the yeast was dead, or the ambient temperature is too low. When yeast is cold, it is in no mood to eat and belch carbon dioxide that makes bread rise.
Hopefully, the dough has doubled in size when the DOUGH cycle ends. Use the two-finger test to check. Poke two floury fingers gently into the dough.

If the holes fill in slowly but not completely, it's ready. If the dough bounces right back, leave the dough in the pan until your fingers leave a temporary impression. When ready, move the dough from the pan and shape it as pictured below.
---
Shaping the dough: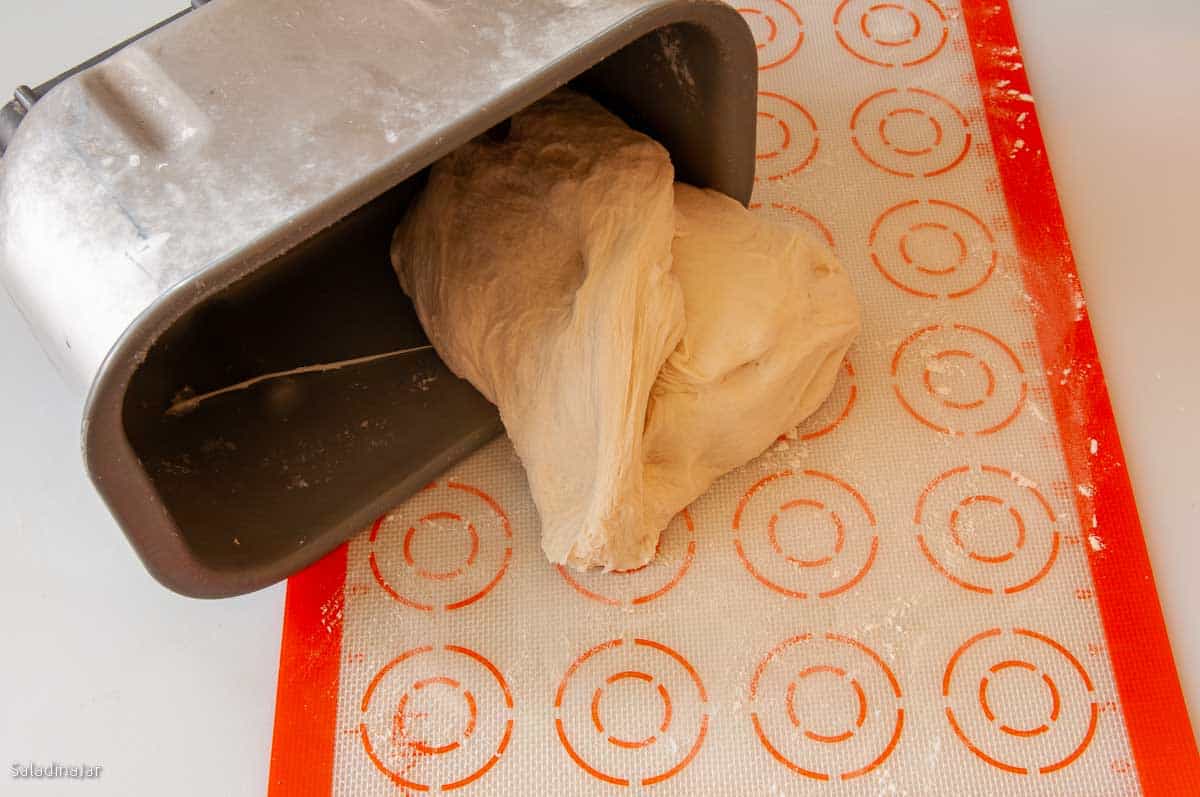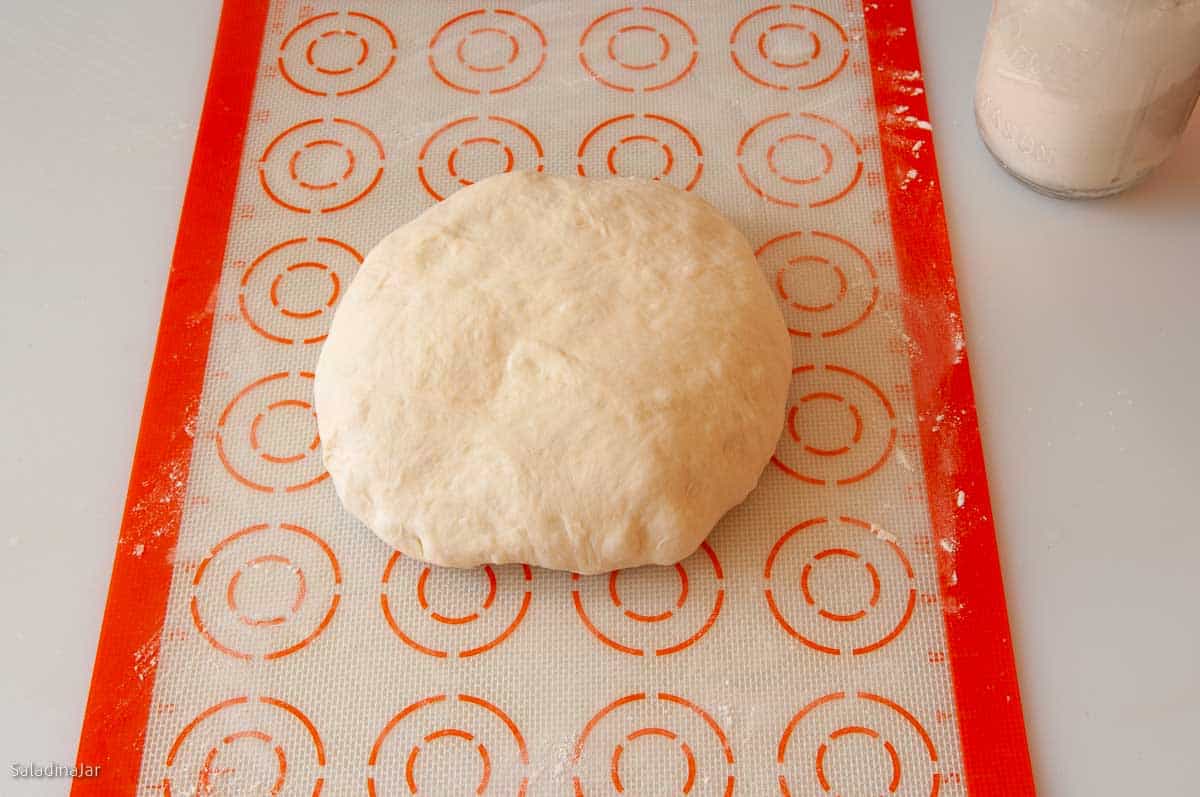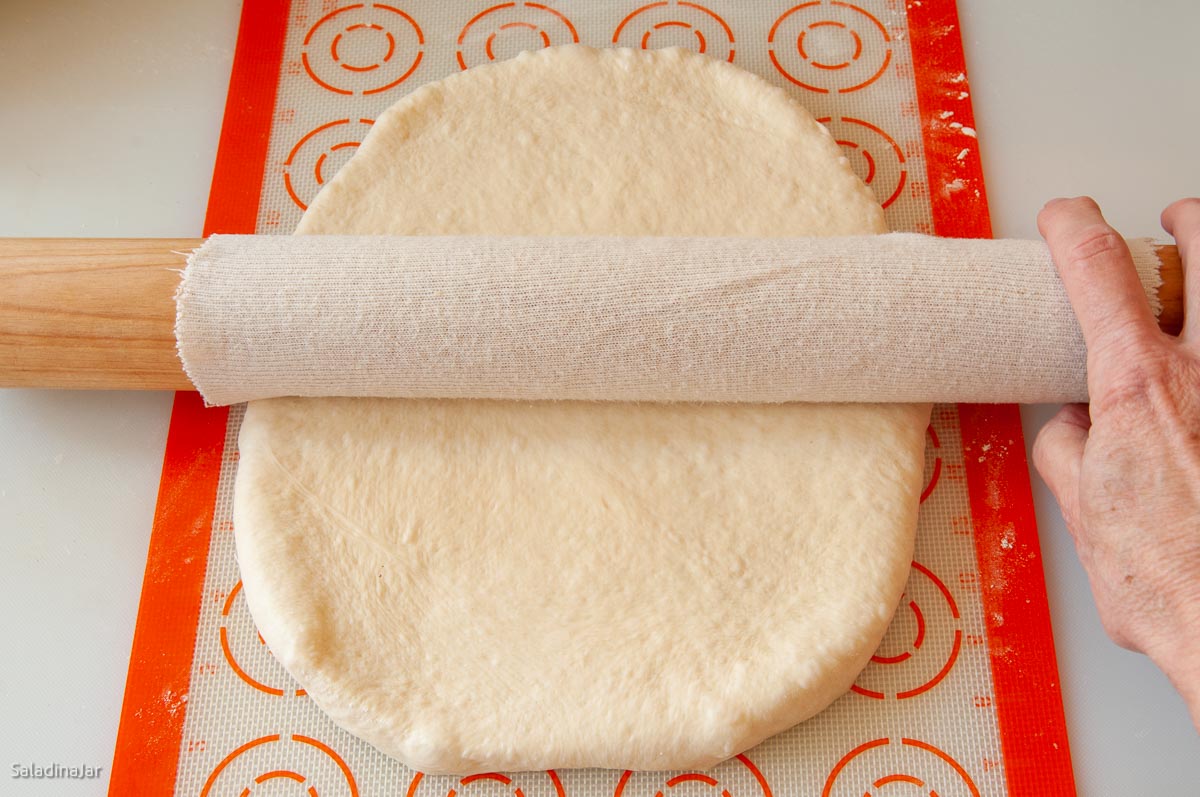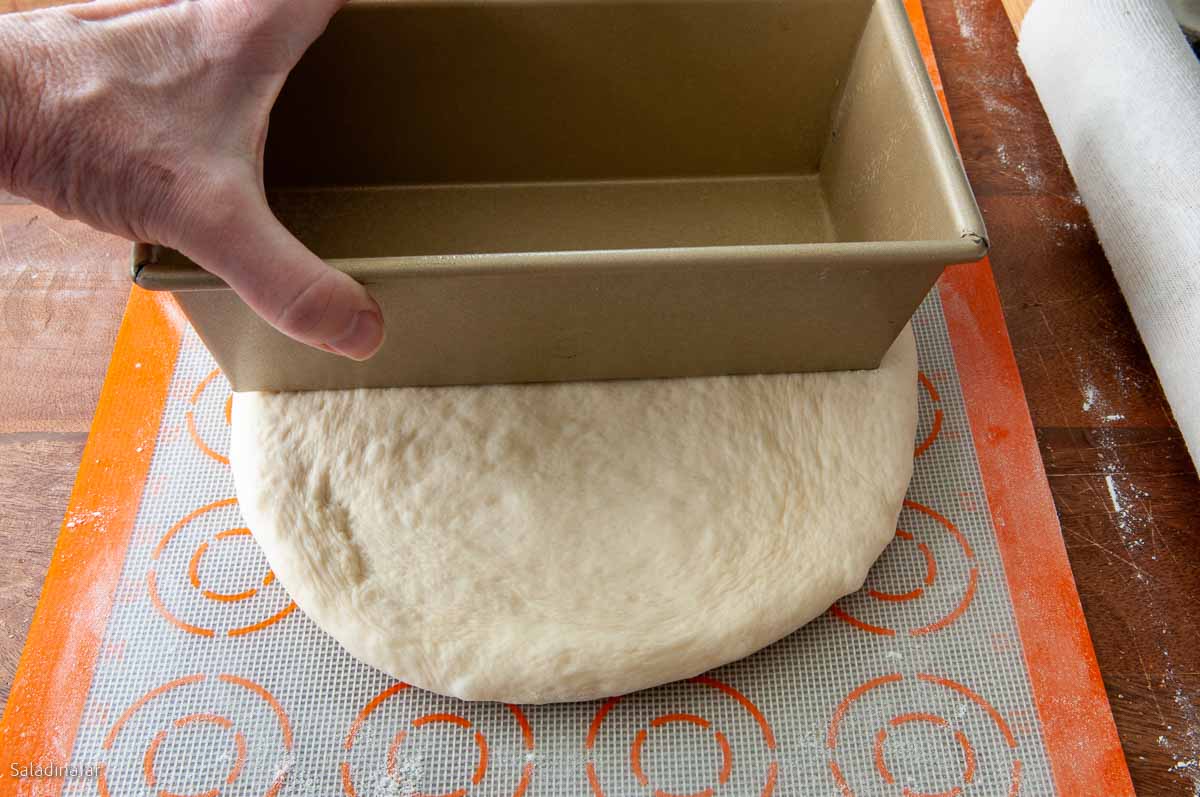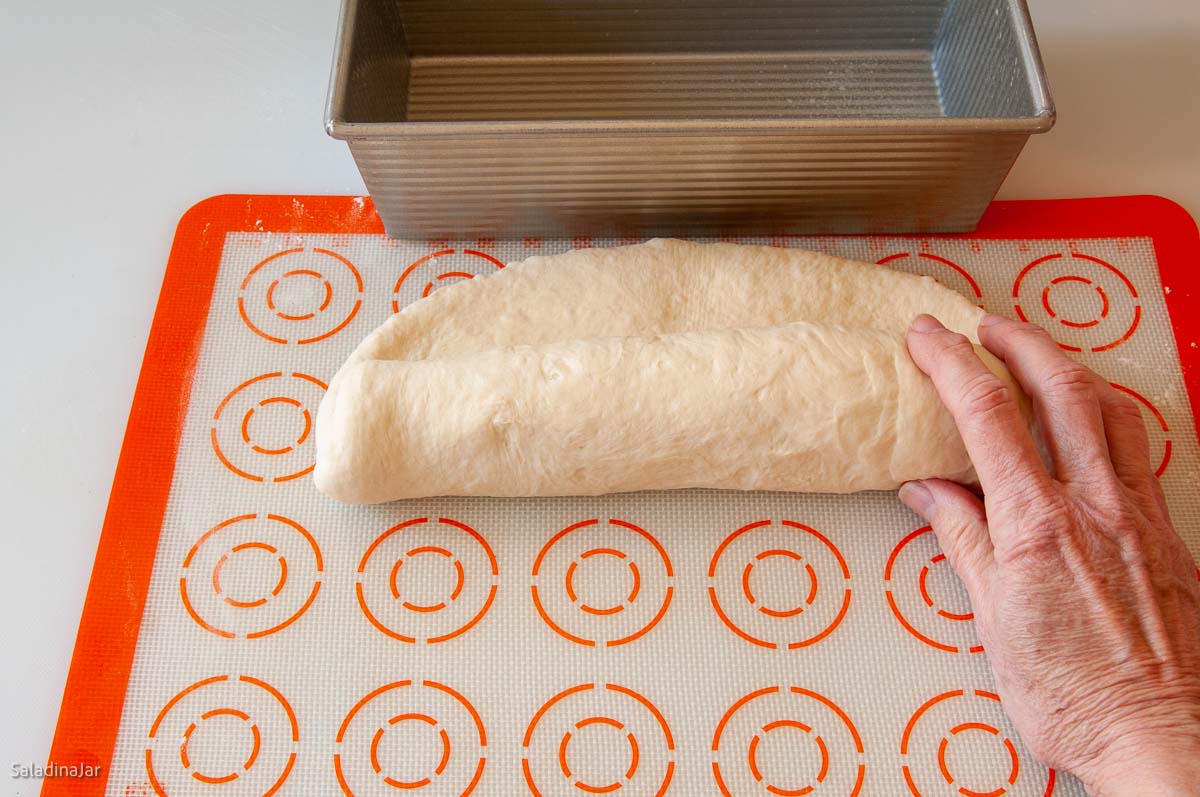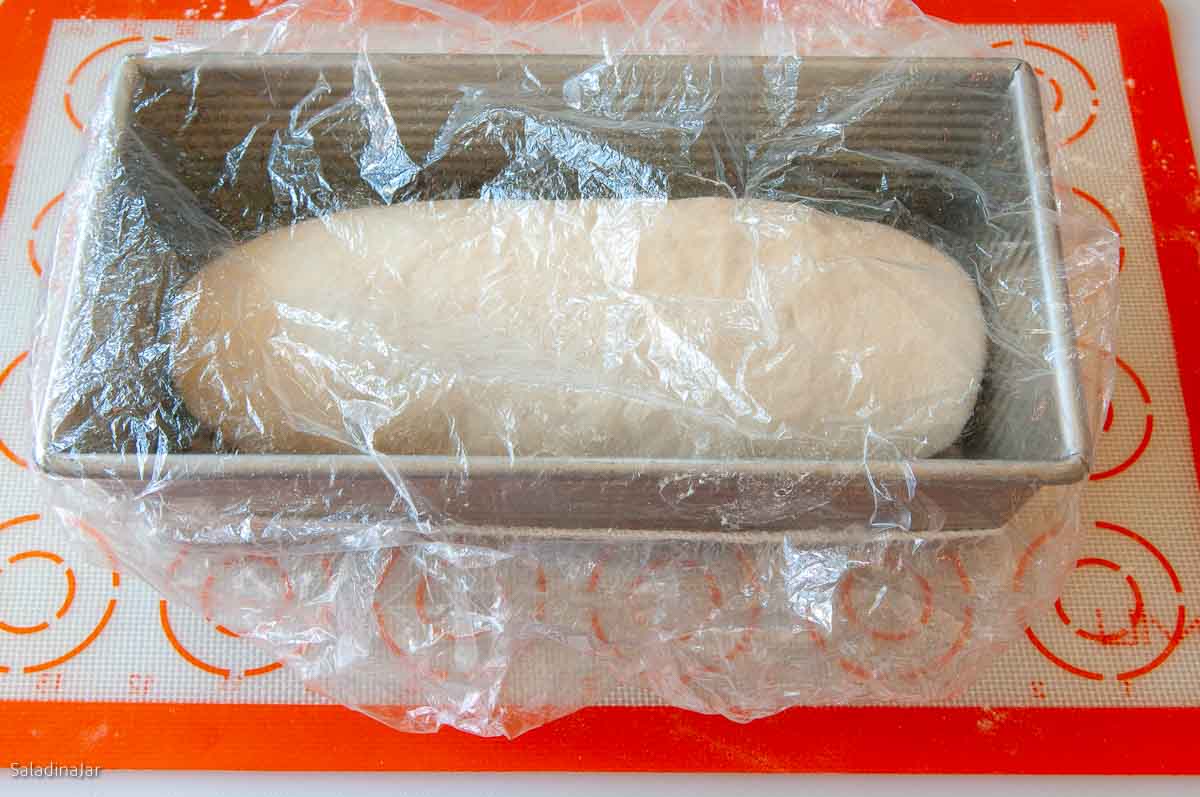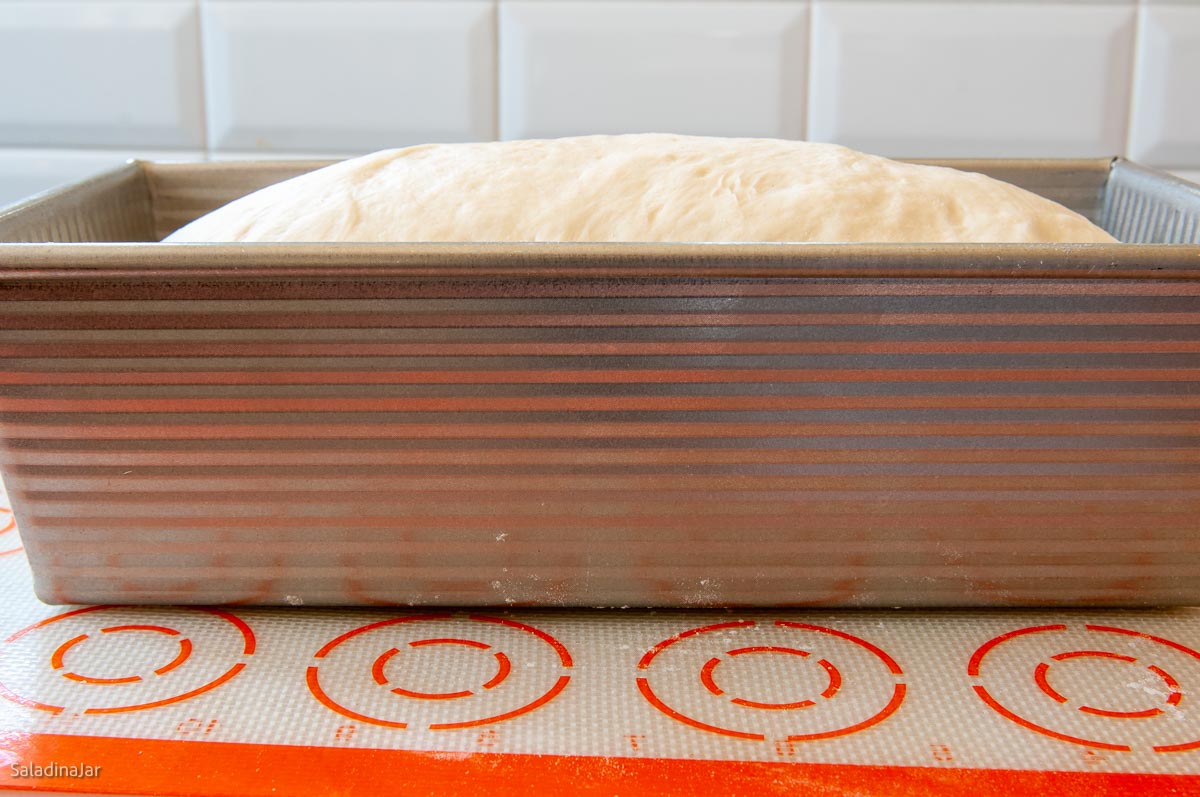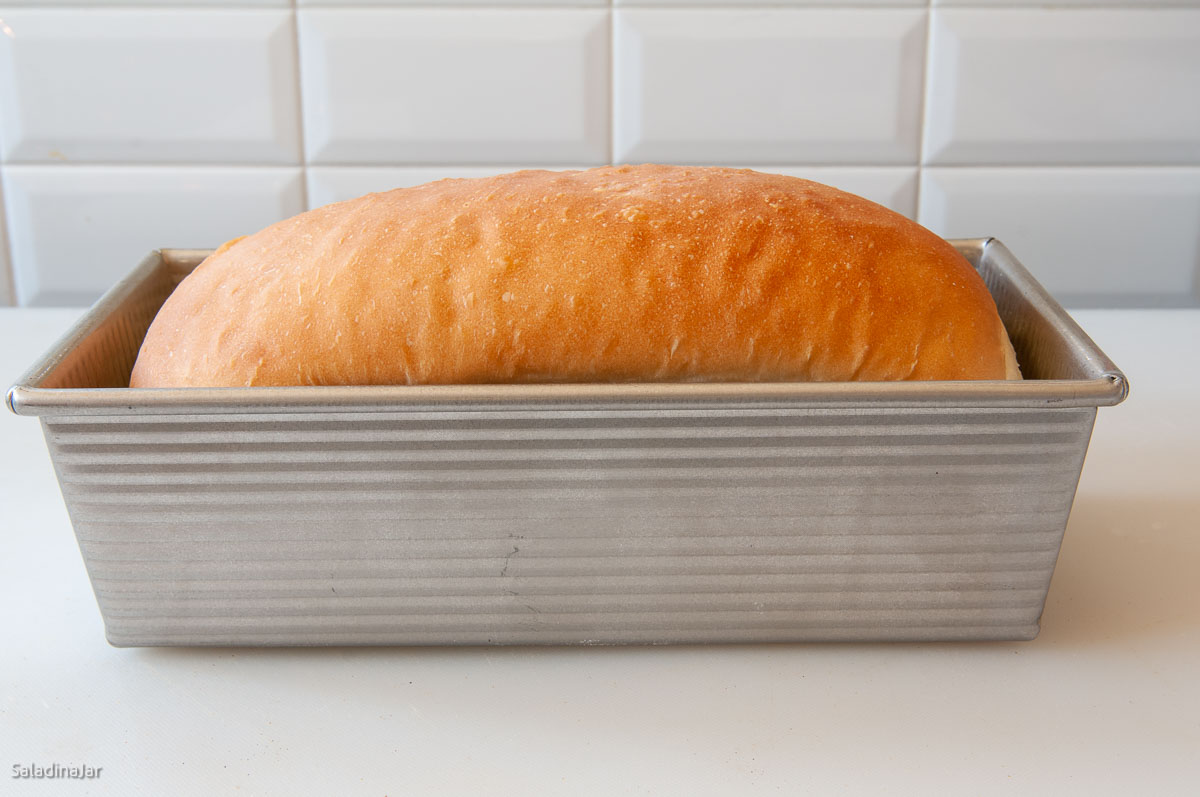 ---
If you prefer sweeter and richer white bread, be sure to take a look at my Condensed Milk Bread: A Not-to-be-Missed Bread Machine Recipe and this Buttermilk Bread Machine Bread Recipe.
FAQ about Basic White Bread from a Bread Machine:
Can I use whole wheat flour in this recipe?
Whole-grain flours bring different rules to the party. If you are a new bread baker, I encourage you to stick to the recipe.

For more experienced bakers, substitute a half cup of whole wheat flour for a half cup of bread flour. If that works out well, go a little higher.

The more whole grain flour you add, the denser your bread and the smaller your loaf tends to be. Also, don't forget to check your dough as it kneads so you can make adjustments to the consistency of the dough on the fly.
My machine has a preheat cycle. Do I need to use it?
If you can turn it off, I would. You don't need it when you aren't going to use the machine for baking your bread.

If you can't turn it off, let the PREHEAT cycle run its course before the machine starts the DOUGH cycle or begin the PREHEAT cycle immediately when you walk into the kitchen. By the time you gather and measure your ingredients, it won't be long before the DOUGH cycle starts.
Should I choose the quick DOUGH cycle or the regular DOUGH cycle?
Not all machines have more than one DOUGH cycle. If yours does, always choose the regular DOUGH cycle when using one of my recipes. The longer your dough has to rise, the better the flavor. Good bread takes time.
I don't have an oven. Can I bake this bread in my bread machine?
Yes. You can. The first loaf pictured below was baked in a bread maker. Lower your expectations. The crust might turn out thicker and crunchier. The top may not be rounded and pretty. But hopefully, the bread will be good enough for toast. Don't forget to open the lid and check the dough to adjust it on the fly. Hopefully, your bread won't turn out too dense or with a crater on top due to environmental extremes or sloppy measuring techniques.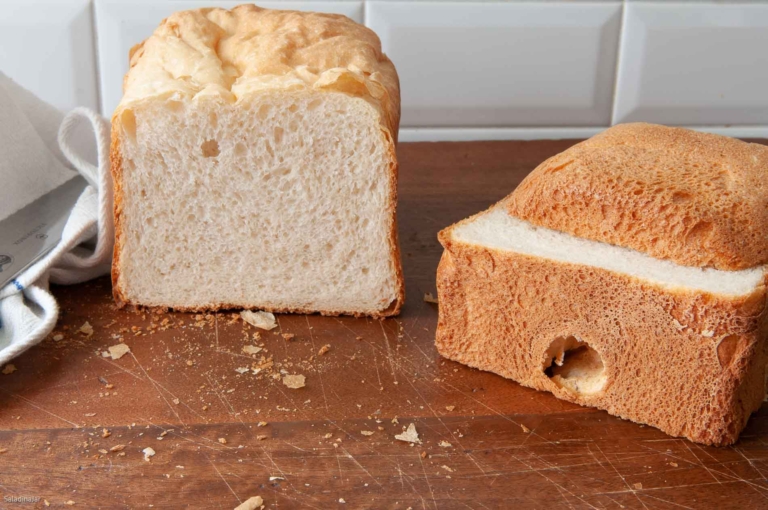 Pin
What kind of pan should I use to bake this in my oven?
Since this recipe calls for 3 cups of flour and is a high-riser, I suggest you use a 9×5-inch loaf pan or a 9x4x4-inch Pullman pan. If you have a dark pan, use that one for a darker crust color.

In my experience, when the sides and bottom of the loaf are darker, they are also stronger. Since this is a light and fluffy loaf, the sturdier sides help support the bread, especially when slicing it.

In the picture below, the bread on the left was baked in a shiny pan. The bread on the right was baked in a black pan. Everything else was the same.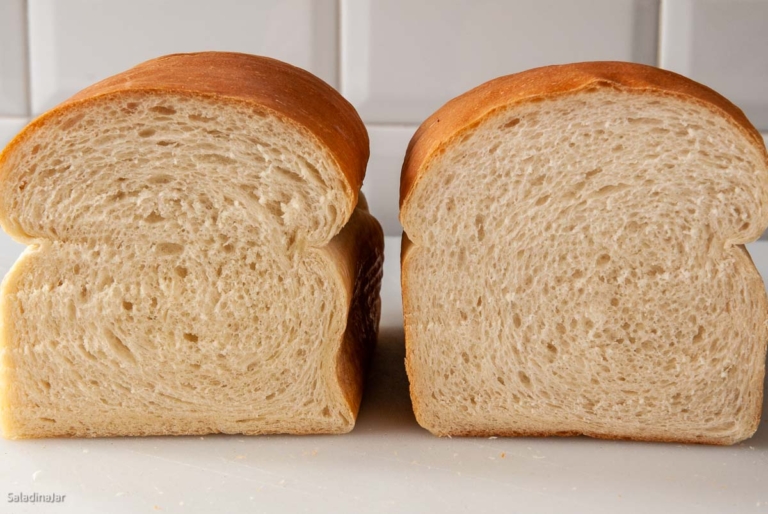 Pin
Why did my bread blow out on one side?
Most likely, the pan you used was too small. Never fill a pan more than half full with dough. This recipe is a high-riser, so using the pan specified in the recipe is essential, or don't put all the dough into your smaller pan. You could make rolls or an extra small loaf with the remaining dough.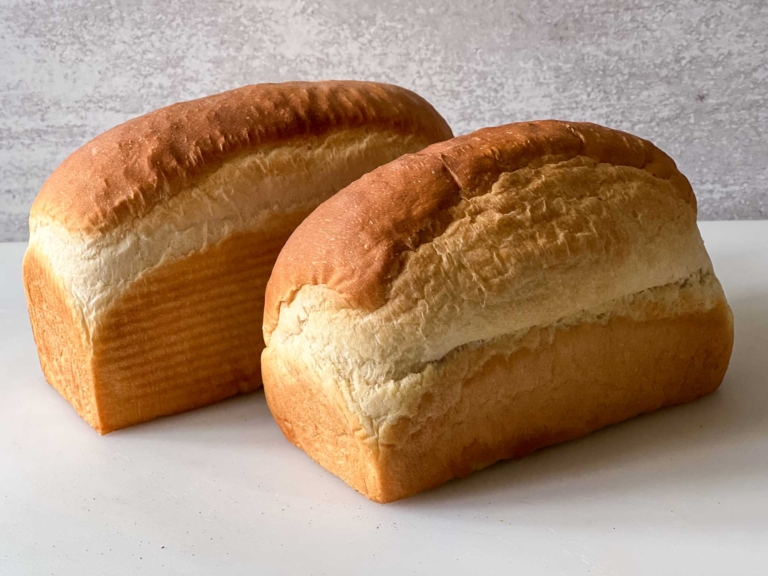 Pin
What is the best way to store this bread?
Be sure your bread is completely cooled. Place in a plastic bag unsliced, or store in a bread box. You can pre-slice the bread for convenience, but I find the bread dries out faster when sliced.

You can also freeze this bread. Double-wrap it (plastic wrap, aluminum foil, or plastic bags) and try to eat it within one month for the best flavor. Avoid refrigeration since the humidity will cause the bread to go stale faster and eventually mold.
Parting thoughts: If you prefer a sturdy and chewy loaf, look at my Sourdough Sandwich Loaf or Bread Machine Oatmeal Bread. If you prefer whole wheat bread, try my Honey Wheat Bread Machine Recipe or this Wheat Berry Bread.
---
If you are a bread-baking beginner, these posts might help:
Recipe Help at Your Fingertips: For questions or suggestions, email Paula at saladinajar.com. If you need help, I'm happy to troubleshoot via email (faster than leaving a comment). Attach pictures and as many details as possible for the best advice.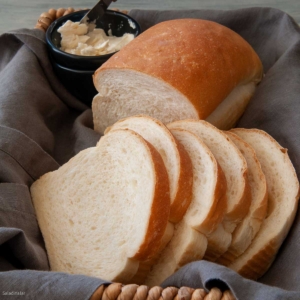 Basic White Bread Machine Recipe
This basic Bread Machine White Bread is a soft and fluffy 1.5-pound loaf with no eggs and not a lot of sugar or fat.
Share recipe love here. ⬇
Ingredients
1

cup

(

227

g

)

water

–

cool

1

tablespoon

sugar

–

granulated

1¼

teaspoon

table or sea salt

¼

cup

(

21

g

)

nonfat dry milk

–

powdered

1

tablespoon

butter

–

chopped

1

teaspoon

lemon juice

3

cups

(

360

g

)

bread flour

1½

teaspoon

instant or bread machine yeast
Instructions
Making the dough:
Add

1 cup

(

227

g

) water,

1 tablespoon

sugar,

1¼ teaspoon

table or sea salt,

¼ cup

(

21

g

) nonfat dry milk,

1 tablespoon

butter,

1 teaspoon

lemon juice,

3 cups

(

360

g

) bread flour, and

1½ teaspoon

instant or bread machine yeast, to the bread machine pan. Select the DOUGH cycle and press START.

Check the dough at least twice during the mixing and kneading phase by lifting the lid to take a peek. The first time, look immediately after the machine starts mixing to ensure the paddles are engaged correctly.

Look again 15 minutes into the DOUGH cycle to assess the consistency of the dough. For most recipes, the dough should stick to the side, then pull away cleanly.

If your dough is too wet, add flour one tablespoon at a time.

Conversely, if the dough is too dry, add one tablespoon of liquid at a time until the dough looks just right. Read more about this surprising secret to success with a bread machine here.

When the DOUGH cycle completes, if the dough has doubled in size, go to the next step. If the dough has not doubled in size, leave it in the machine until it doubles before proceeding.
Shaping the dough:
Remove the dough from the pan onto a lightly floured surface. Push the dough down with your palms to remove the bubbles. Shape into a smooth ball. Cover and allow the dough to rest for 15 minutes.

Roll the dough into a rectangle shape measuring around 10 x 13-inches. Using a rolling pin to gently push down any large bubbles (especially around the edges) will improve the texture and avoid unwanted holes.

Begin rolling the dough from a short side (or a long side if using a Pullman pan). Roll the dough snugly without stretching. Pinch the seam shut with your fingers. Pull up each end in the direction of the seam and pinch shut. (See the process pictures in the post.)

Flip the cylinder of dough over so the seam is on the underside and gently place it into a greased loaf pan. This loaf will work with either a 9×5-inch loaf pan or an 8½x4½-inch loaf pan. Of course, each pan will produce a slightly different shape.

Cover with a towel and allow a final rise before baking. This may take anywhere from 45 minutes to well over an hour. Don't look at the clock–look at the dough. Preheat the oven to

350

°F

(180˚C) about 15 minutes before you think the bread will be ready to bake.

When the bread has almost doubled in size, bake in the middle of the oven for 25-30 minutes. The internal temperature should reach

195-200

°F

(90-93˚C).

Remove from the oven and allow the bread to sit in the pan for 15 minutes. Remove to a cooling rack for at least 30 minutes more, preferably an hour before slicing.
Notes
Directions for making bread with a stand mixer or by hand:
To make this recipe in a heavy-duty stand mixer: Add ingredients to the bowl in the same order. Turn on LOW to mix until all ingredients are moistened. Then, using a dough hook, turn the speed to 2 or 3. Continue beating/kneading until the dough becomes smooth and elastic (about 5-10 minutes). Cover and allow to rise in a warm place. Deflate the dough gently and shape it as indicated in the recipe.
If making by hand: Combine all ingredients into a shaggy ball in a large bowl. Turn dough out onto a floured surface. Knead with your hands until the dough becomes smooth and elastic. Kneading will likely take 10-20 minutes, depending on your experience. Place the dough ball into a greased bowl. Cover and allow to rise until double. Deflate the dough gently and shape as indicated in the recipe.
Please note: If you only have active dry yeast, use 1/4 teaspoon more than called for in the recipe.

It no longer needs to be dissolved first

, but you can if you prefer
Note about the yeast:
If your bread takes too long to proof during the final rise, add another 1/4 to 1/2 teaspoon of yeast or find a warmer place to prove the dough. I prefer less yeast and a longer rise for better flavor, but this may not be convenient. Do what you need to.
2-Pound Loaf:
1⅓ cup water (302 gr), 1 T. + 1 t.sugar (18 gr), 1¾ t salt (9gr), ⅓ cup nonfat dry milk powder (27 gr), 1⅓T. butter (17 gr), 1¼ t. lemon juice (5 gr), 4 cups flour (480 gr), 1½ t. yeast (5 gr)
Nutrition
Serving:
1
slice
|
Calories:
123
kcal
|
Carbohydrates:
22
g
|
Protein:
4
g
|
Fat:
2
g
|
Saturated Fat:
1
g
|
Polyunsaturated Fat:
1
g
|
Monounsaturated Fat:
1
g
|
Trans Fat:
1
g
|
Cholesterol:
4
mg
|
Sodium:
225
mg
|
Potassium:
70
mg
|
Fiber:
1
g
|
Sugar:
2
g
|
Vitamin A:
47
IU
|
Vitamin C:
1
mg
|
Calcium:
26
mg
|
Iron:
1
mg
HELP OTHERS find this recipe. Leave a 5 🌟🌟🌟🌟🌟 rating at the top of the recipe card if you enjoyed it. No comment is required.