Preview: This Jalapeño Hush Puppies Recipe is a flavorful, fried ball of seasoned cornbread traditionally served with fried seafood. The jalapeños add some "ooh-la-la" flavor you will like!
How do you feel about jalapeño peppers? Do you like jalapeños on your pizza? How about your burgers? Maybe in your cheese rolls? Have you tried them in a pot of beans?
My Texas-born-and-raised friends seem to like jalapeños in just about everything. Personally, I prefer the aftertaste more than the initial squirt. Either way, this recipe is for you because the jalapeños are optional.
Jalapeño Hush Puppies pair nicely with any fried fish. Try them with Really Crunchy Fried Shrimp. They were a hit, disappearing as fast as I could cook them at our last New Year's Day party.
These are really good without the jalapeños. I usually make some with and some without.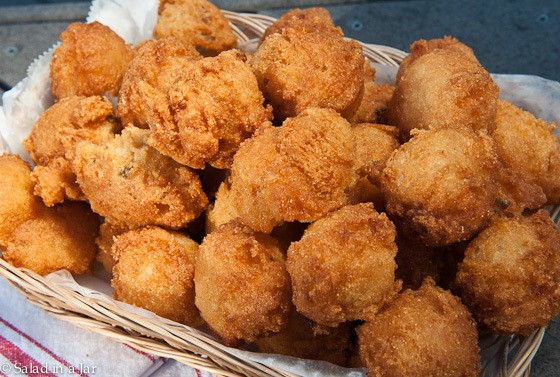 Ingredients and substitutions:
CORNMEAL: Yellow or white finely-ground cornmeal are best.

FLOUR: All-purpose bleached or unbleached flour is good.

EGG: I always use large-size eggs in my recipes.

BUTTERMILK: If you don't have buttermilk, no problem. Here are several options: 1-1/4 cup whey strained from yogurt, 1 cup milk + 1/4 cup yogurt, or 1 cup +3 tablespoons of milk with 1 tablespoon of lemon juice or vinegar added.

ONIONS: Yellow or white onions are perfect for this recipe.

JALAPEÑOS: Fresh jalapeños add so much flavor. However, you can leave them out if you don't want any spiciness. Don't miss the kitchen tip below for storing fresh jalapenos.

You could substitute chopped pickled jalapeño slices if you prefer.
Fresh jalapeños tend to be milder, although they can vary. Pickled jalapeños packaged in a glass jar are usually spicier but again, may vary according to the brand and label. Bear this in mind when deciding whether to use fresh or canned jalapeños.
---
FAQ about Hush Puppies and Jalapeños:
Can I make hush puppies ahead of time or freeze them?
Like most deep-fried foods, these are best made and eaten immediately. If you have leftovers, refrigerate. Reheat in the oven to make the crust crispy again. Freezing is not recommended.
Can I freeze fresh jalapeños?
Place them in a zippered plastic bag and freeze whole. You could seed and chop them first. However, it's not a prerequisite.
Where does the name hush puppy come from?
Supposedly, hunters and trappers would fry balls of cornmeal before preparing their fish for dinner. Then they would toss the fried balls to the dogs to keep them quiet while dinner was prepared.
---
More Recipes for Jalapeño Lovers
---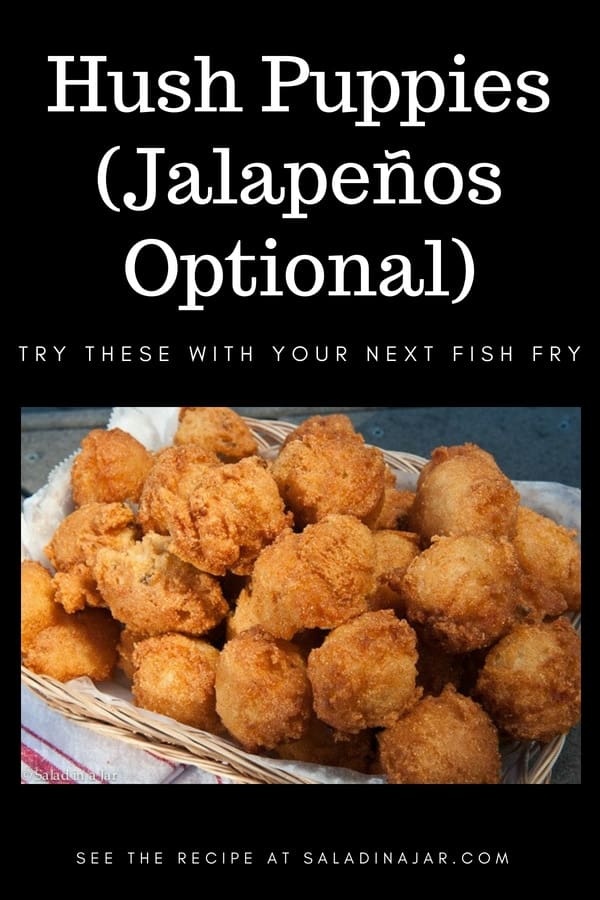 ---
If you enjoyed this recipe, it would help others and me if you gave it a five-star rating inside the recipe card below. 🤩 No comment required. Thank you.

Hope to see you again soon!
Paula
p.s. Questions or suggestions? Please email me: Paula at saladinajar.com.
---