Easy Greek Yogurt Lemon Bars: A Cookie with Secrets
Sneak Preview: These Greek Yogurt Lemon Bars start with a coconut shortbread base underneath a creamy Greek yogurt and Meyer lemon layer. The recipe calls for using the entire lemon (minus seeds)–no grating or squeezing required. Shhhh. That's one of the secrets. 🤫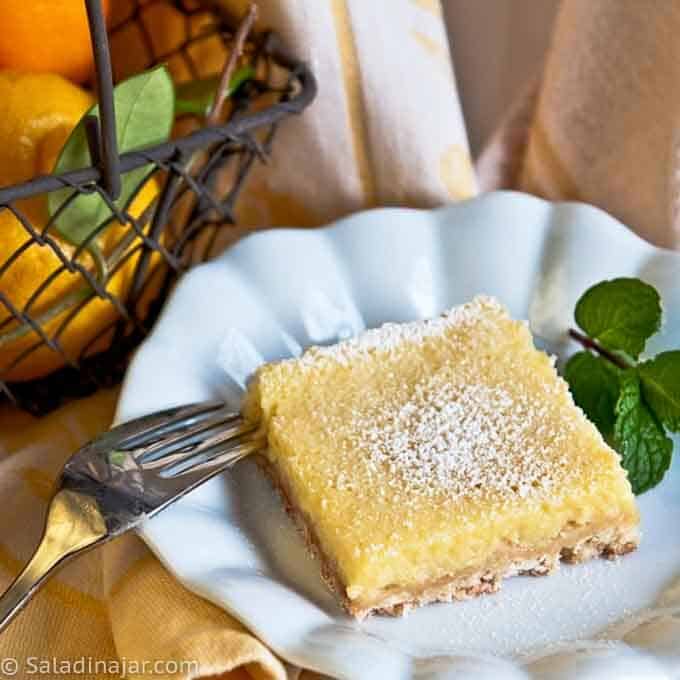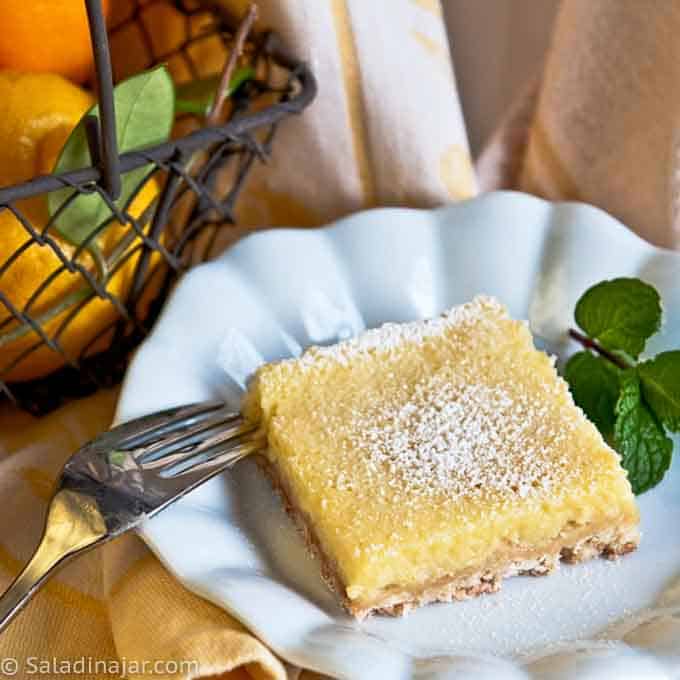 As an Amazon Associate, I earn from qualifying purchases.
Are you a lemon bar lover but aren't crazy about grating or squeezing lemons? This recipe has a secret for avoiding that job.
Do you ever find it challenging to get the first cookie out of the pan without messing it up? This recipe has a secret for that.
Do you have Meyer lemons in your possession but aren't sure what to do with them? I have the recipe for you.
Are you a Greek yogurt lover (maybe you even make it at home) and need more ways to use it? You probably hear this recipe calling your name.
---
Have you tried Meyer lemons yet?
The tartness of a lemon + the sweetness of a tangerine = a Meyer lemon. Perfect for these lemon squares. They're in season from January to April, so act fast. 
Can I substitute regular lemons for Meyer lemons?
I do not recommend it. Regular lemons make a much more tart and intense flavor that only the most die-hard lemon lovers would appreciate. Fresh clementine oranges sold as "Cuties" or "Halos" are a possible replacement.
Recipe inspiration:
Even though I borrowed ideas from many places, these lemon squares have a lighter flavor, texture, and composition than traditional lemon squares.
The crust is adapted from the shortbread cookie base in Pam Anderson's The Perfect Recipe for Losing Weight & Eating Great (one of my favorite cookbooks). You've seen the same buttery crust before in my Toffee Bars Made Easy
I read about lemongrass bars in a recent issue of Bon Appetit with coconut added to the shortbread base. I tried it and loved the flavor.
Dorie Greenspan gave me the idea to use a blender to pulverize a whole lemon in her recipe for Tartest Lemon Tart published in Baking From My House to Yours.  As a result of this revolutionary method, no squeezing or grating is required. Show me another lemon bar recipe like that!
I wanted a creamy lemon layer as opposed to a clear, lemon pie-like filling. I always have Greek yogurt in the refrigerator. Yogurt turns out to be the perfect addition for making these lemon cookies smooth and creamy.
When you make bar cookies, how hard is it to get the first cookie out in one piece?
In the past, I often ended up using a spoon to dig out the first piece of any pan of bar cookies. Then, I felt compelled to eat that cookie because I didn't want to spoil the looks of my pretty cookie tray. Not good.
I no longer have to eat ugly corner cookies because I have found a better way. Non-stick aluminum foil is my secret.
If you want to try out this secret, make these Chewy Coconut Pecan Bars or these Frosted Peanut Butter Cookie Bars Drizzled with Chocolate.
How to remove sticky cookies from the pan:
Line your baking pan with aluminum foil to make serving sticky cookies neat and easy. It also saves clean-up time. This tip works exceptionally well for bar cookies, Rice Krispie squares, candy, etc.
I recommend non-stick aluminum foil. It's the easiest. If you don't have it, use regular foil and spray it with vegetable oil.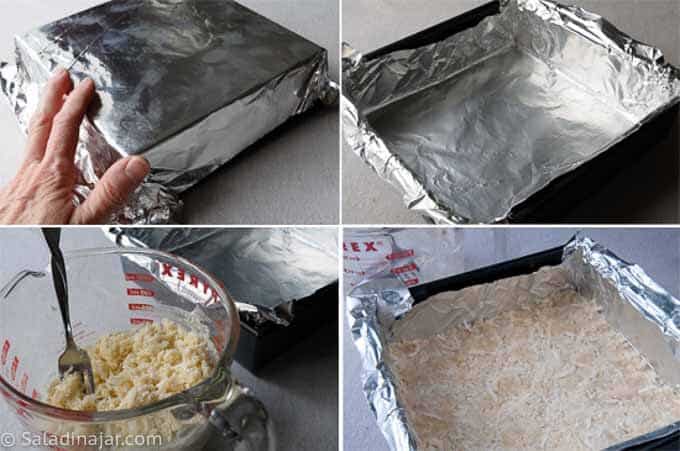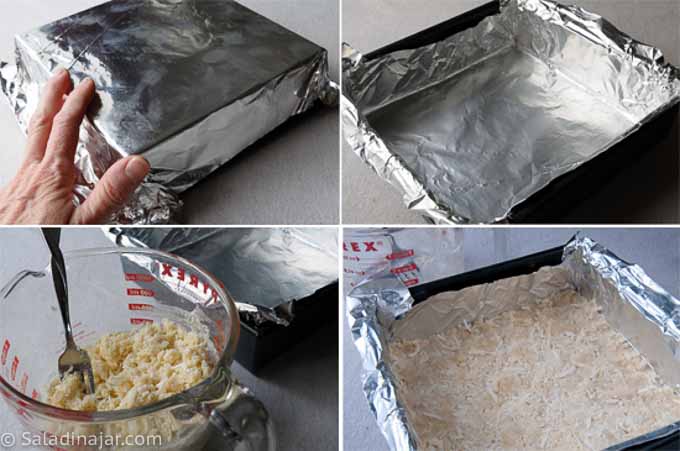 ---
How to prepare the Meyer lemon yogurt layer: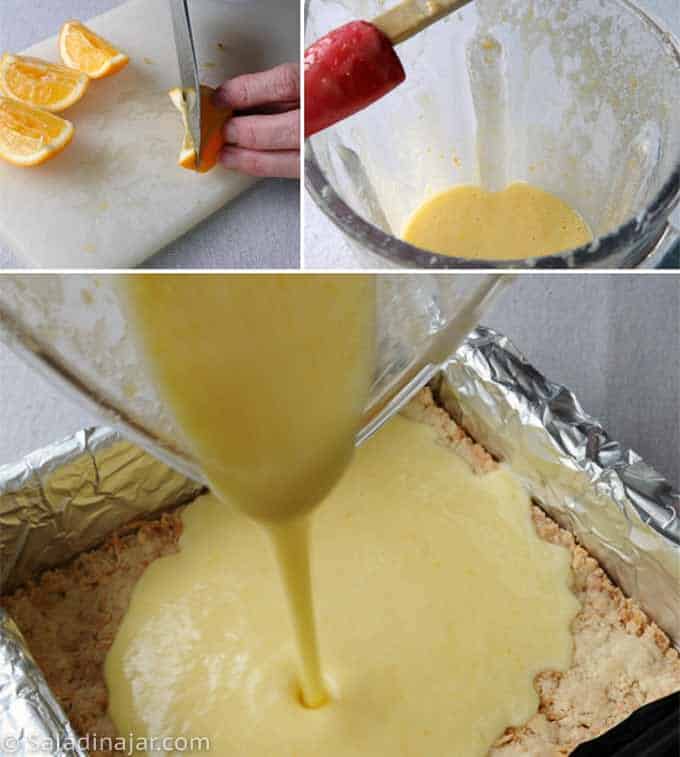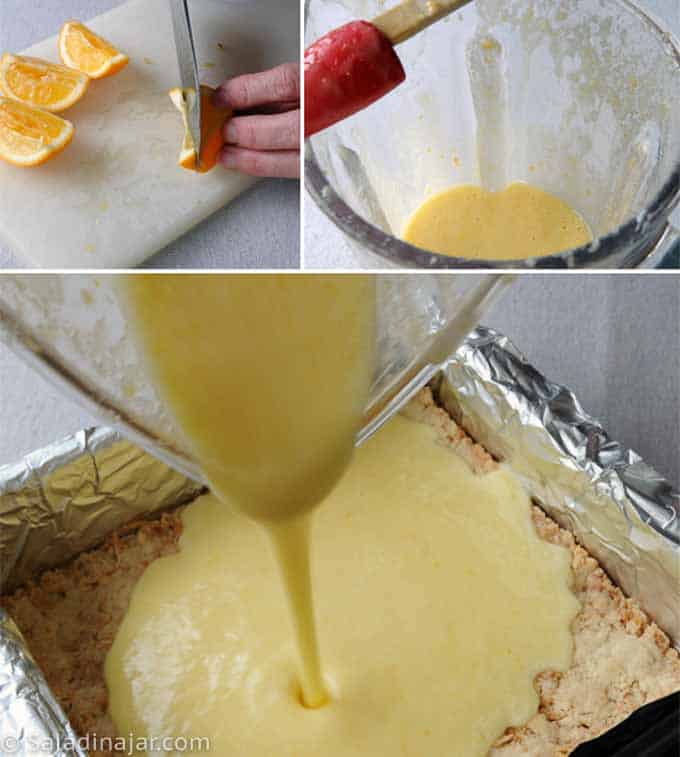 ---

---
Parting Thoughts: The only downside to this recipe is the availability of Meyer lemons. Where I live, it's limited to a few weeks in the spring. But when I can find them, I can't wait to make these special cookies.
---
If you have questions or suggestions, email me privately to Paula at saladinajar.com. Hope to see you again soon! Paula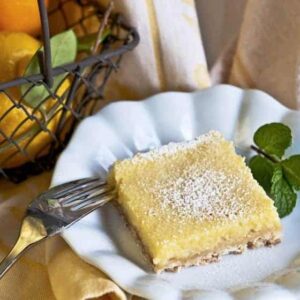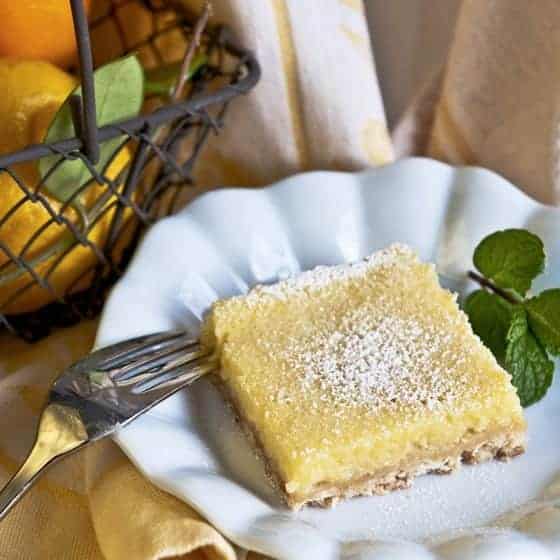 Easy Greek Yogurt Lemon Bars
These Greek Yogurt Lemon Bars start with a coconut shortbread base underneath a creamy Greek yogurt and Meyer lemon layer. The recipe calls for using the entire lemon (minus seeds)–no grating or squeezing required.
Ingredients
Cookie Layer:
1

cup

unbleached all-purpose flour

¼

cup

powdered sugar

¼

cup

butter

¼

teaspoon

table or sea salt

½

cup

shredded coconut
Lemon layer:
1

whole Meyer lemon

1

cup

granulated sugar

1

tablespoon

unbleached all-purpose flour

¼

teaspoon

salt

½

teaspoon

baking powder

2

large eggs

⅓

cup

plain Greek yogurt
Instructions 
Making the cookie layer:
Preheat the oven to 350˚ F

Prepare 8-inch square pan by lining with non-stick foil. Mold foil to shape of pan by turning it over, using hands to shape and then placing molded foil back inside. See pictures above. I highly recommend the foil as the lemon filling can leak under the base and make the finished bars difficult to remove.

Melt butter in the microwave for 50 seconds on HIGH in a quart-size glass dish. Add flour, powdered sugar, salt, and coconut. Lightly mix with a fork just until all ingredients are moistened. Pat into prepared pan. Bake in the oven for 20 minutes.
Making the lemon layer:
Quarter one washed and dried Meyer lemon. Trim center core and remove ALL seeds. (If you miss one, you'll have dark specks in your lemon layer.)

Place lemon in a blender with sugar and pulse on high until mixture is homogeneous throughout, cleaning the sides often. Add flour, salt, and baking powder, pulsing until mixed. Add eggs and yogurt, pulsing only 3-4 times or until batter is just mixed but smooth.

Pour lemon mixture over warm crust immediately after removing the crust from the oven. Put back into the oven and bake at 300˚F for 20 minutes or until the middle is set.

When cool, place in refrigerator to chill for at least 2 hours. Pull bars out of the pan with the foil still attached. Peel foil away and cut into squares while cold. Sprinkle with powdered sugar just before serving. Serve chilled. Store leftovers in the refrigerator.
Notes
* Do not layer bars when storing or serving. The crust will soften where they are stacked on top of each other.
Nutrition
Nutrition Facts
Easy Greek Yogurt Lemon Bars
Amount per Serving
% Daily Value*
* Percent Daily Values are based on a 2000 calorie diet.
Like this recipe? Thanks for leaving a 5-star rating inside the recipe at the top! 🤩