PreviewMaking Meyer Lemon Bar Cookies requires no squeezing or knuckle-scraping grating thanks to a blender. These cookies have a coconut shortbread base with a light and creamy lemon layer over the top. Not as rich and heavy as traditional lemon squares, but every bit as delicious.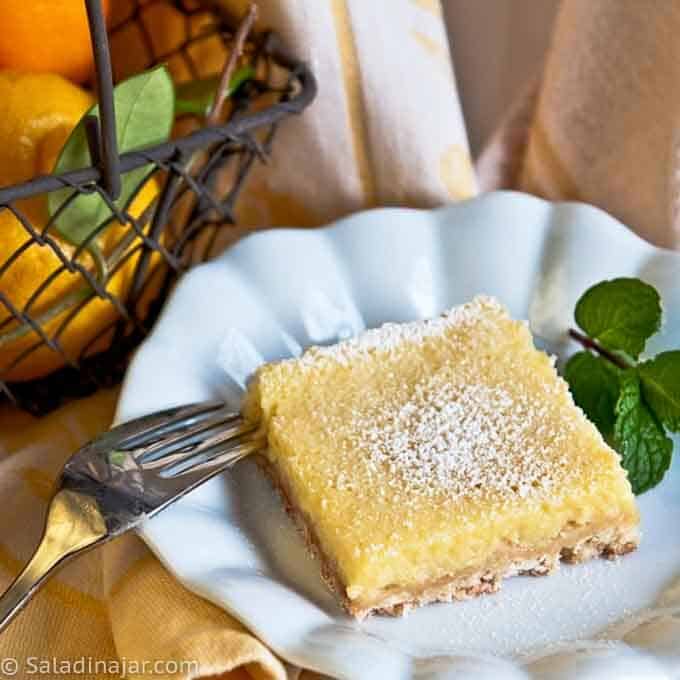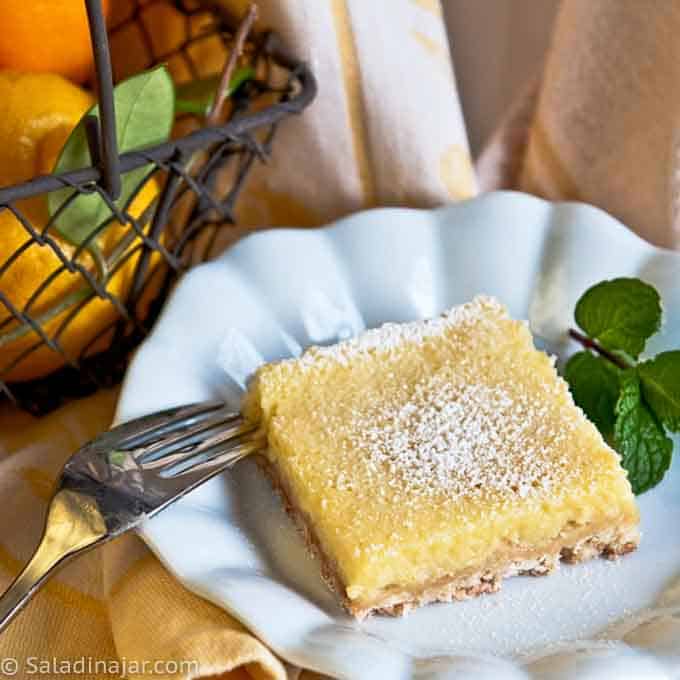 Can I substitute regular lemons for Meyer lemons?
Yes. You can replace the Meyer lemons with regular lemons.
BUT, have you tried Meyer lemons yet?
The tartness of a lemon + the sweetness of a tangerine = a Meyer lemon. Perfect for these lemon squares. They're in season from January to April, so act fast.
Inspiration for this Meyer Lemon Bar Cookie recipe
Over at Will Write for Food (an interesting website about the art of food blogging), Dianne J. recently hosted a lively discussion concerning what constitutes an adapted or inspired recipe, an original recipe, and outright stealing.
In light of her post, I would like to think this recipe is original. Despite the fact that I borrowed ideas from many places, the end product has a different flavor, texture, and composition than any other lemon square I've ever tasted.
The crust is adapted from the shortbread cookie base in Pam Anderson's The Perfect Recipe for Losing Weight & Eating Great (one of my favorite cookbooks). You've seen the same buttery crust before in my Toffee Bars Made Easy
I read about lemongrass bars in a recent issue of Bon Appetit with coconut added to the shortbread base. Subsequently, I tried it and now you should, too, if you're a coconut lover, that is.
Dorie Greenspan gave me the idea to use a blender to pulverize a whole lemon in her recipe for Tartest Lemon Tart published in Baking From My House to Yours. As a result of this revolutionary method, no squeezing or grating is required.
I wanted a creamy lemon layer as opposed to a clear, lemon pie-like filling. I always have Greek yogurt in the refrigerator. Turns out to be the perfect addition making these lemon cookies smooth and creamy.
How to remove sticky cookies from the pan
Line your baking pan with aluminum foil to make serving sticky cookies neat and easy. It also saves clean-up time. This tip works especially well for bar cookies, rice crispy squares, candy, etc.
I recommend non-stick aluminum foil. It's the easiest. If you don't have it, use regular foil and spray it with vegetable oil.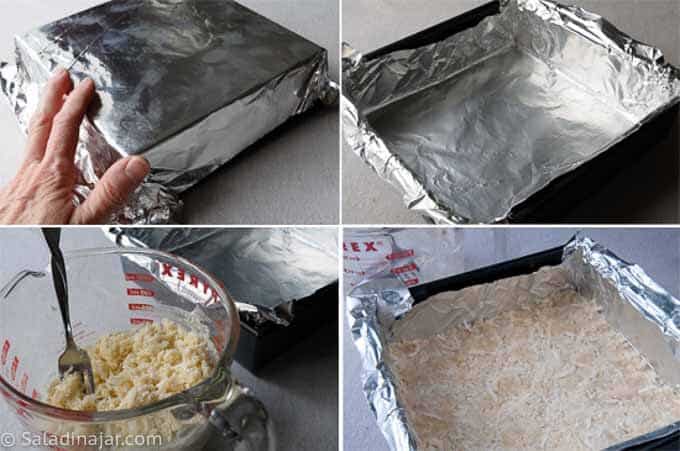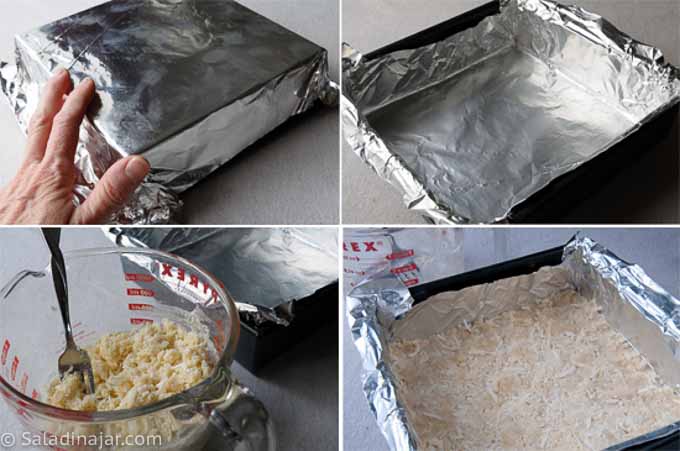 Preparing the Meyer lemon yogurt layer: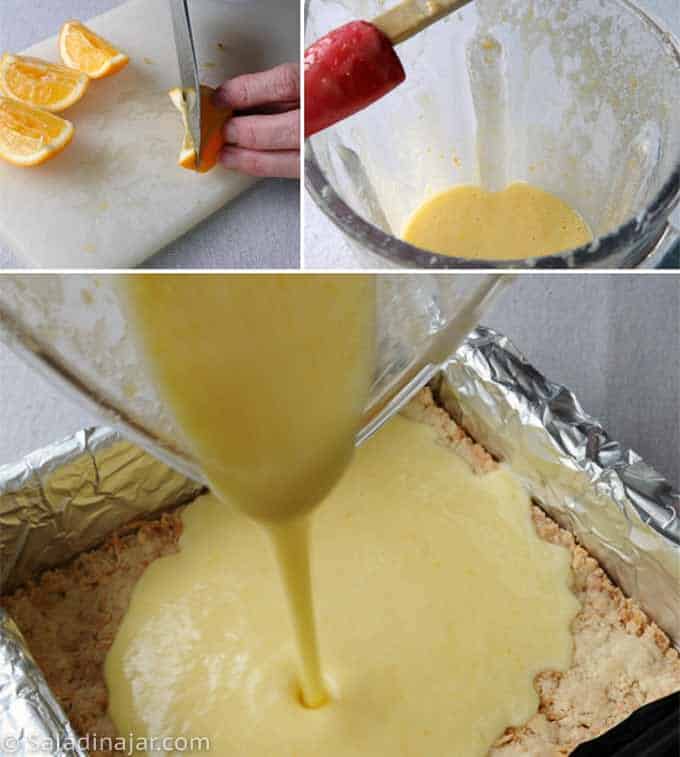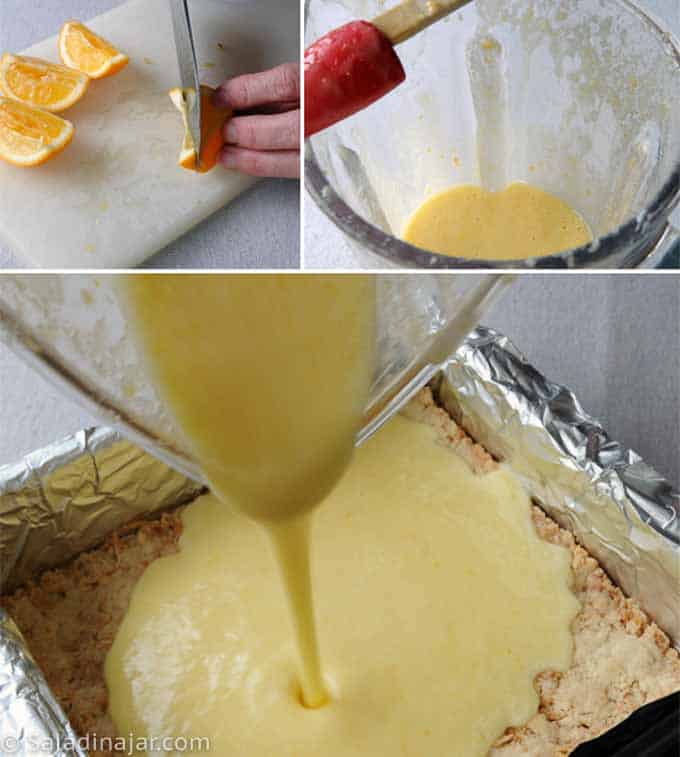 ---
Recipes for lemon lovers:
---
If you enjoyed this recipe, it would help others and me if you gave it a five-star rating inside the recipe card below. 🤩 No comment required. Thank you.

Hope to see you again soon!
Paula
p.s. Questions or suggestions? Please email me: Paula at saladinajar.com.