Must-Try Peanut Butter Cookie Bars: Nutty Goodness
Sneak Peek: These homemade Peanut Butter Cookie Bars look fancy with a thin vanilla glaze drizzled with chocolate. But don't let that fool you. They are easy to make and scrumptious to eat. Don't miss the helpful📌baking tips.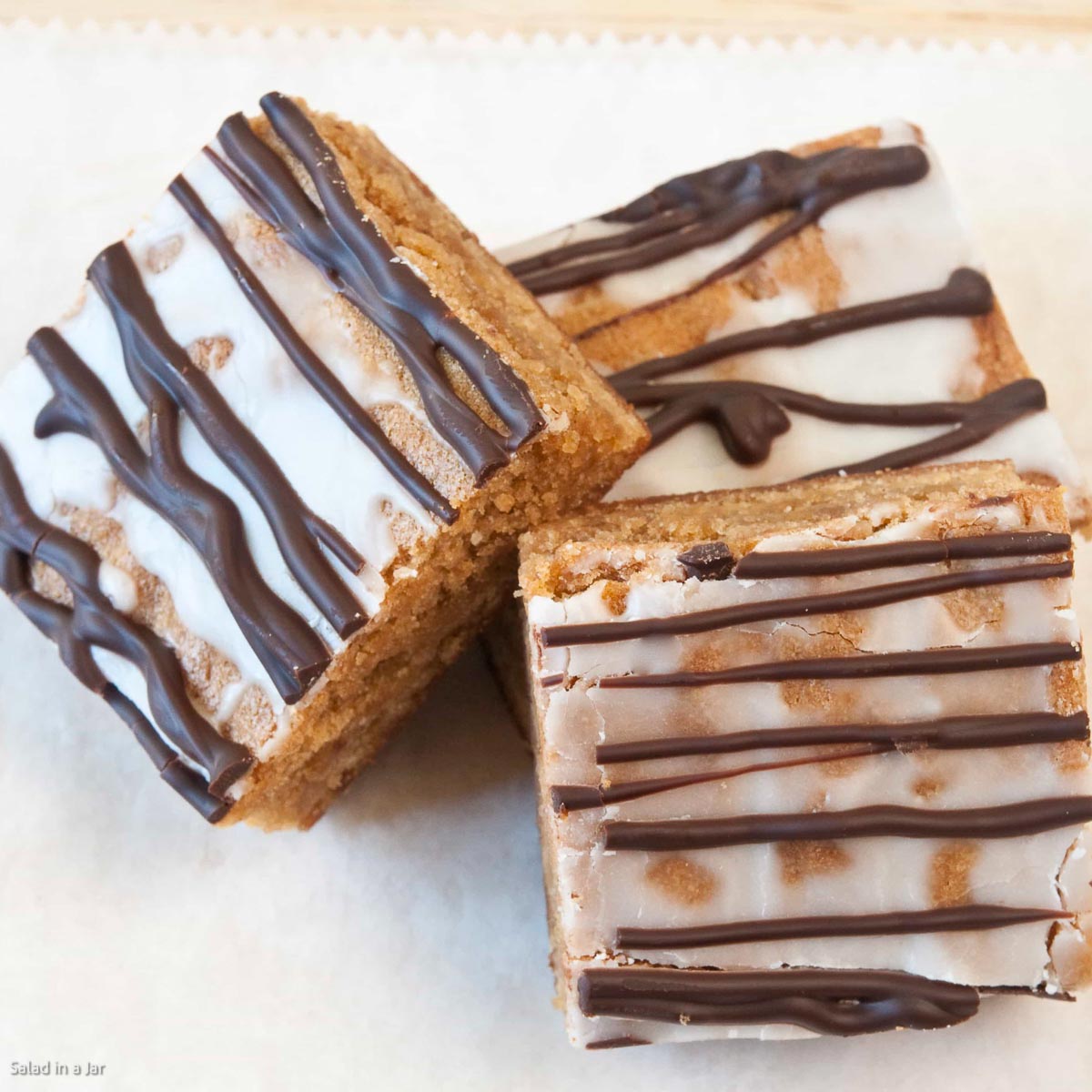 As an Amazon Associate, I earn from qualifying purchases.
Are you a peanut butter lover looking for a beautiful peanut butter cookie? These are not the peanut butter cookies we made in home economics class in jr. high with a crisscross fork pattern on top. They also are not blondies with candy squashed into them or sugar-coated cookies with a chocolate kiss on top.
Instead, these sophisticated Frosted Peanut Butter Cookies Bars are worthy of a Christmas cookie tray or giveaway box. I like to serve them on a pretty crystal plate for something sweet after dinner or at a card party.
Pick me, pick me 🙋🏻 (why you will love this recipe)
These peanut butter cookies have a lighter texture than most brownies. Depending on your choice of peanut butter, they can be crunchy or smooth. The bars are crispy and chewy on the perimeter of the pan but gloriously soft and chewy in the middle. Choose an inside piece or one from the perimeter according to your favorite texture.
I can't deny it. This cookie is RICH but not quite like peanut butter fudge! I recommend you cut them into small pieces for maximum enjoyment.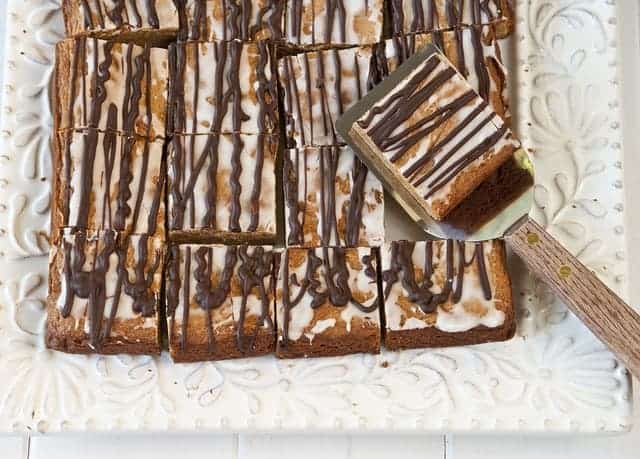 The frosting may look like a lot of trouble, but don't leave it off. It's what makes these bars festive. The random pattern requires no artistic talent. The squiggles and wiggles add homemade charm. In addition, the chocolate adds a "Reese's peanut butter cup" flavor you will love.
If you are a peanut butter lover, jump over to these Chocolate Peanut Butter Pinwheels, or my PB2 Recipe for Peanut Butter Greek Yogurt Snack to get your next peanut butter fix.
Ingredients and common substitutions:
Butter: Substitute margarine if you prefer. Use unsalted butter if you have it. If not, it's fine to use the salted variety.
Peanut Butter: Use creamy peanut butter or crunchy peanut butter.
Brown Sugar: Substitute dark brown sugar for light brown sugar. I have not experimented with granulated sugar or honey as a stand-in for brown sugar.
Eggs: I always use large-sized eggs.
Flour: The recipe specified all-purpose flour. It doesn't matter if you use bleached or unbleached.
Salt: I use table salt or sea salt. If you prefer Kosher salt, add a pinch more.
Confectioners' Sugar: (aka powdered sugar) No known substitutes other than pulsing granulated sugar inside a high-powered blender.
Chocolate: The recipe calls for semi-sweet chocolate chips or chocolate in a bar form. Bittersweet chocolate would be a good substitute. Use your favorite brand of chocolate.
Shortening: It is difficult to find another ingredient that fills in for shortening when making the chocolate drizzle. I've tried coconut oil (as seen in the picture). It's fine in cool weather, but it's too soft in warm weather. When it's hot, don't add fat; stick with chocolate only.
---
Read these kitchen secrets before you start:
📌Kitchen Secret📌– Pick those hard lumps out if you notice dark lumps in your brown sugar as you measure or mix it into the cookie dough. If you don't, you may have a moth-eaten appearance in your finished cookies, as seen in the picture below.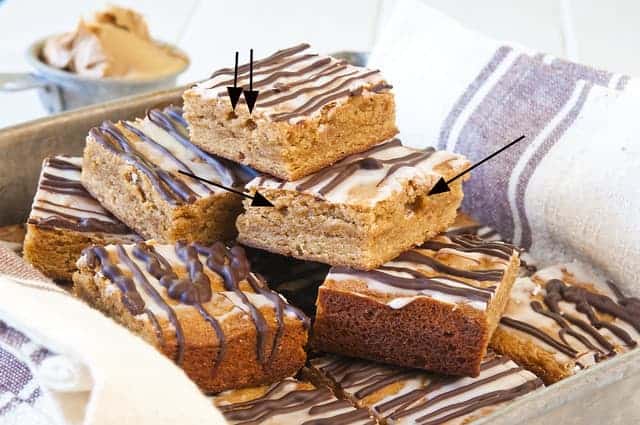 ---
📌Kitchen Secret📌 – If you make many bar cookies, you need this trick. I always use it with my Chewy Coconut-Pecan Bars, Easy Chocolate-Topped Shortbread Bars, and these Meyer Lemon Bars for Clumsy Cooks.
What is your reward for this extra step? You probably won't have to wash the pan. Also, every piece can look perfect since you shouldn't have difficulty getting the first piece out of the pan.
If you don't have any non-stick aluminum foil on hand, use regular foil and spray it with oil. Parchment paper slings are another option.
---
📌Kitchen Secret📌 If you are nervous or have never tried drizzling chocolate, here are a few tips: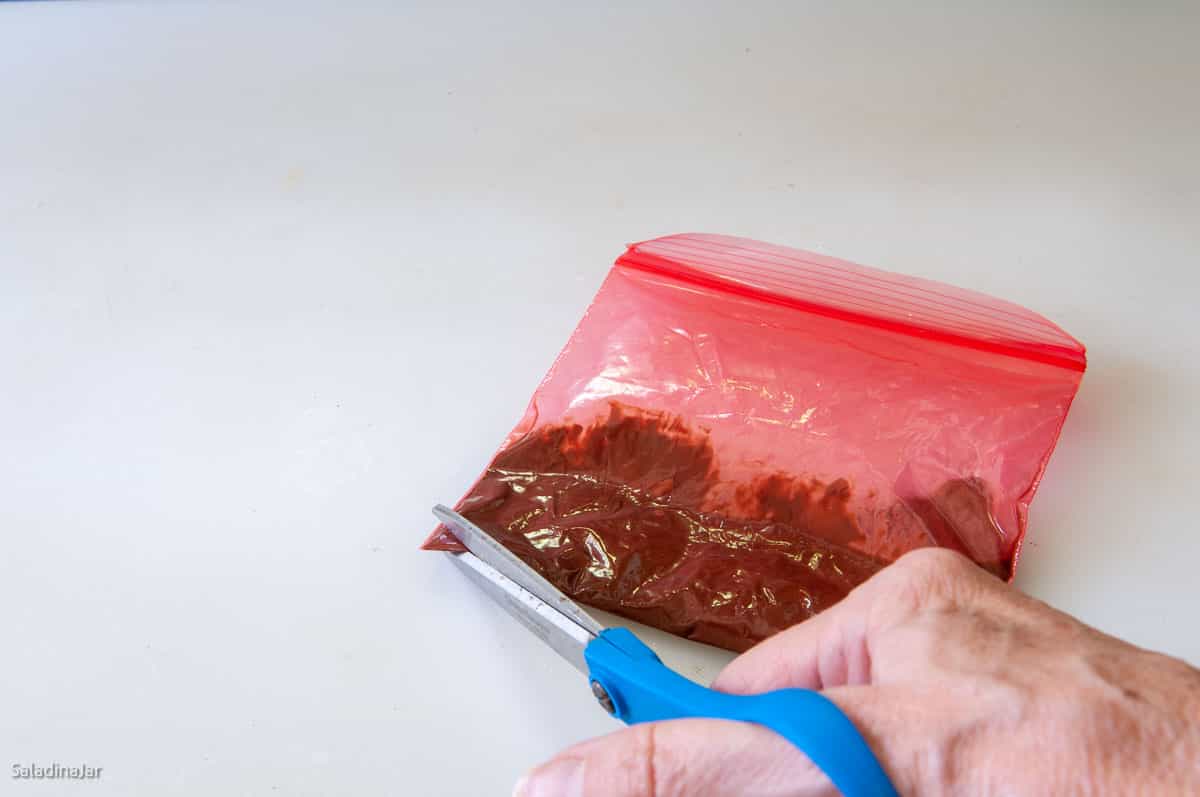 📌Kitchen Tip📌 – This recipe makes a lot, but it's easy to make a half-batch except for the 3-egg dilemma. I find the easiest way is to break one egg into a cup. Whisk it well and only use half of it. Beef up your breakfast omelet the next morning with the remaining half egg.
---
How to make this recipe for Peanut Butter Bars: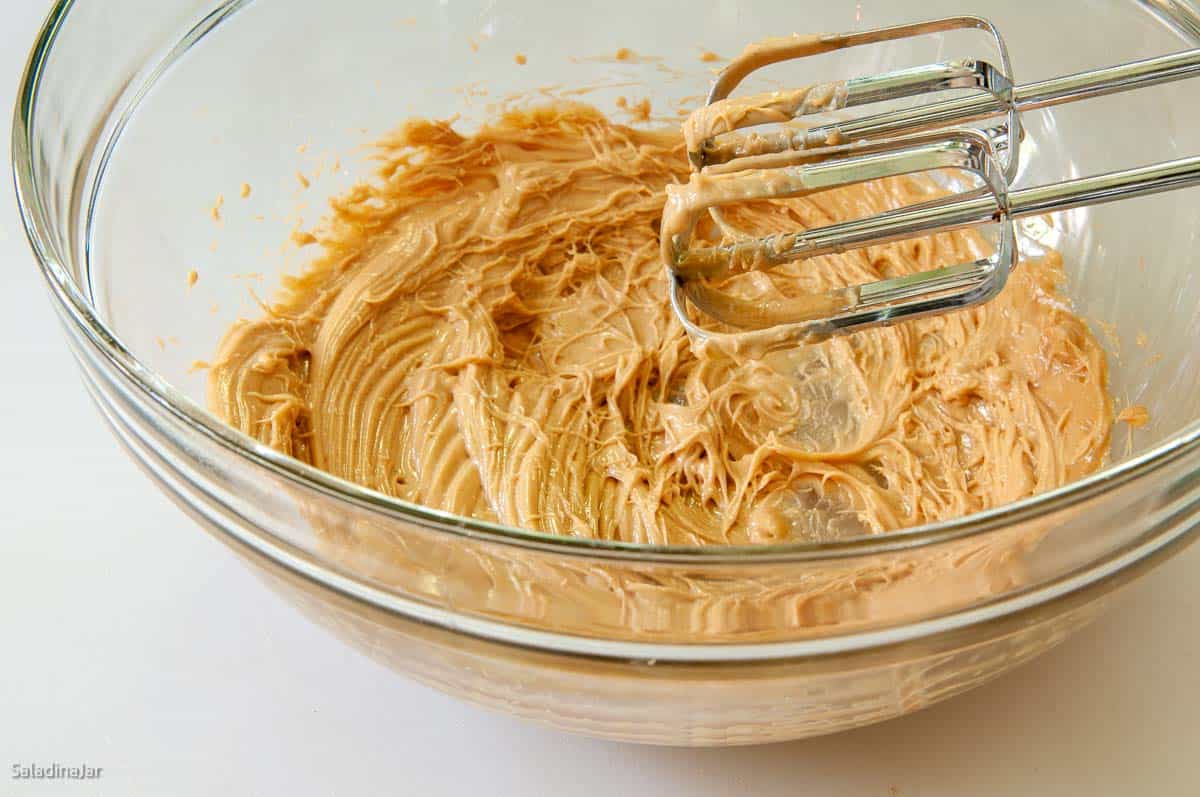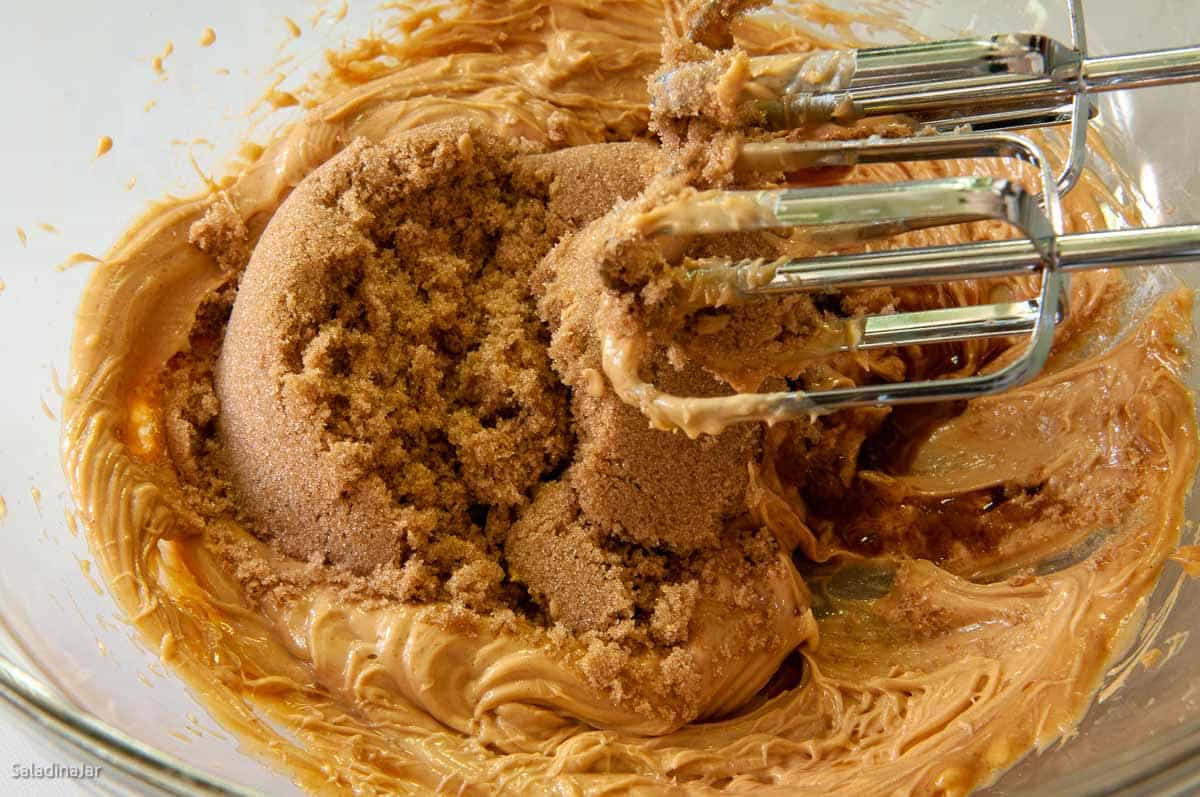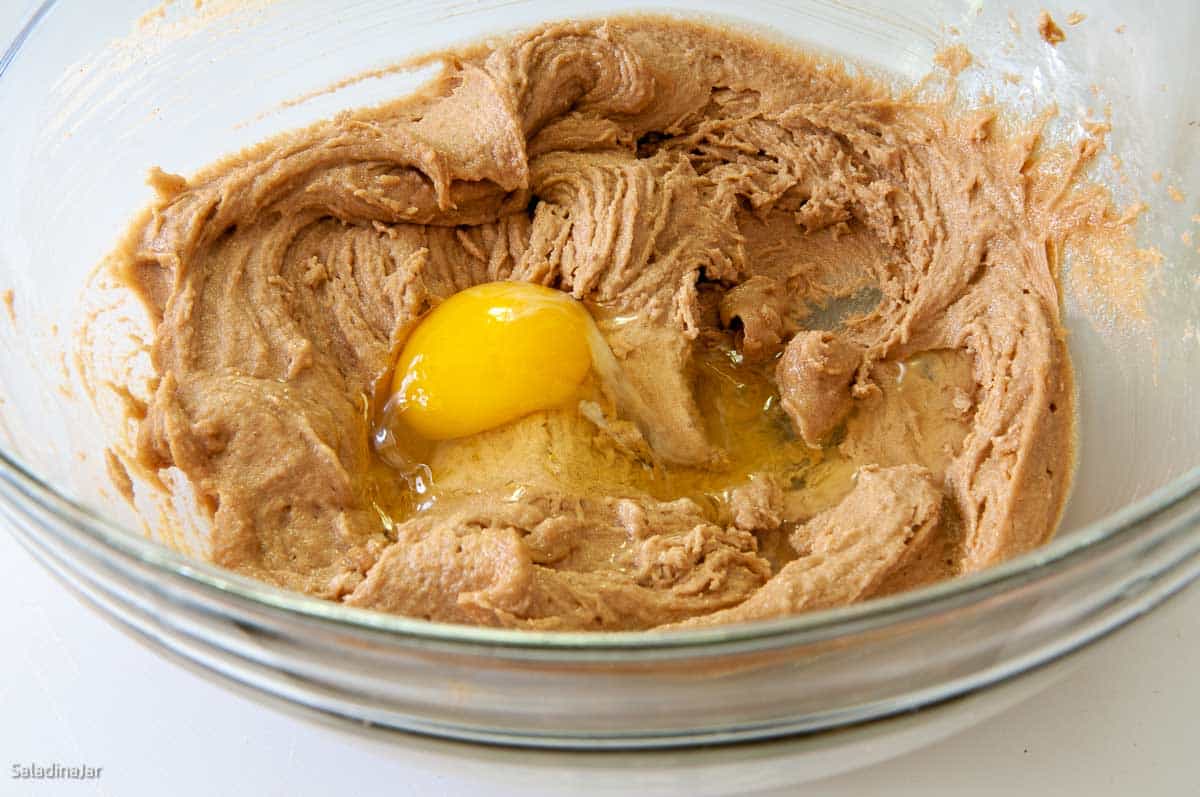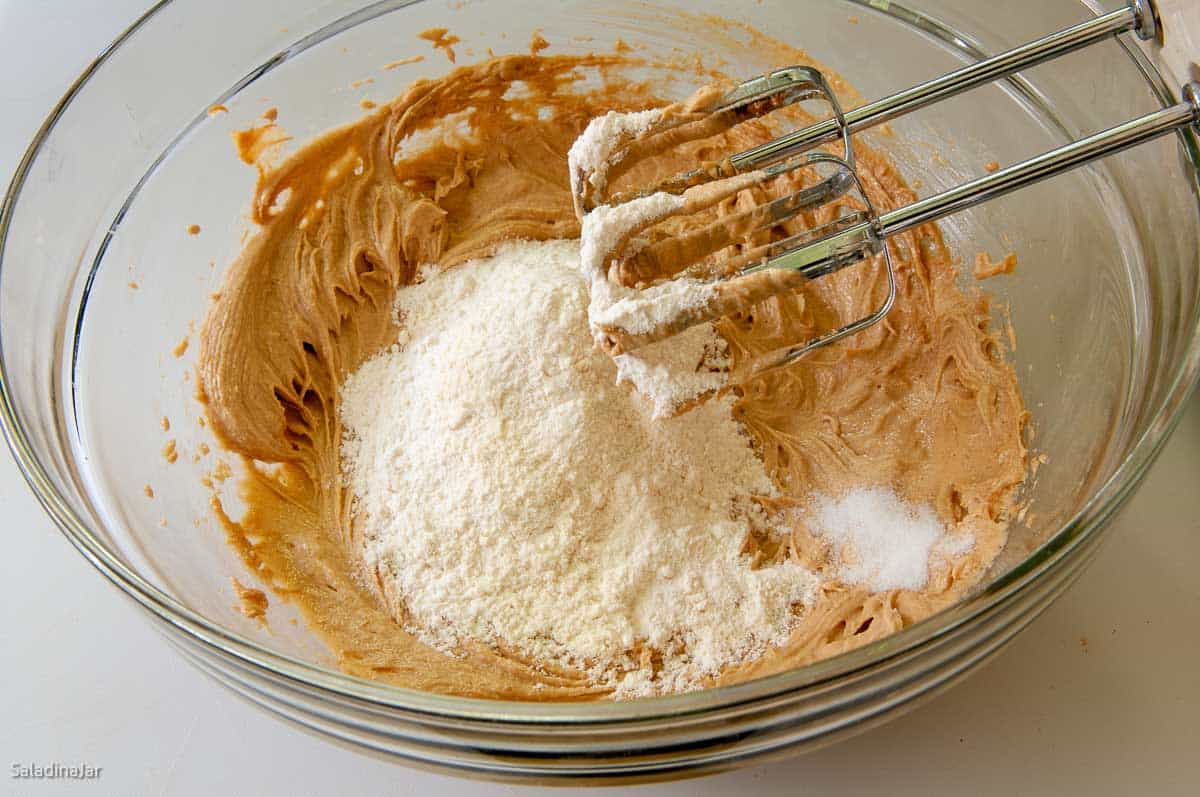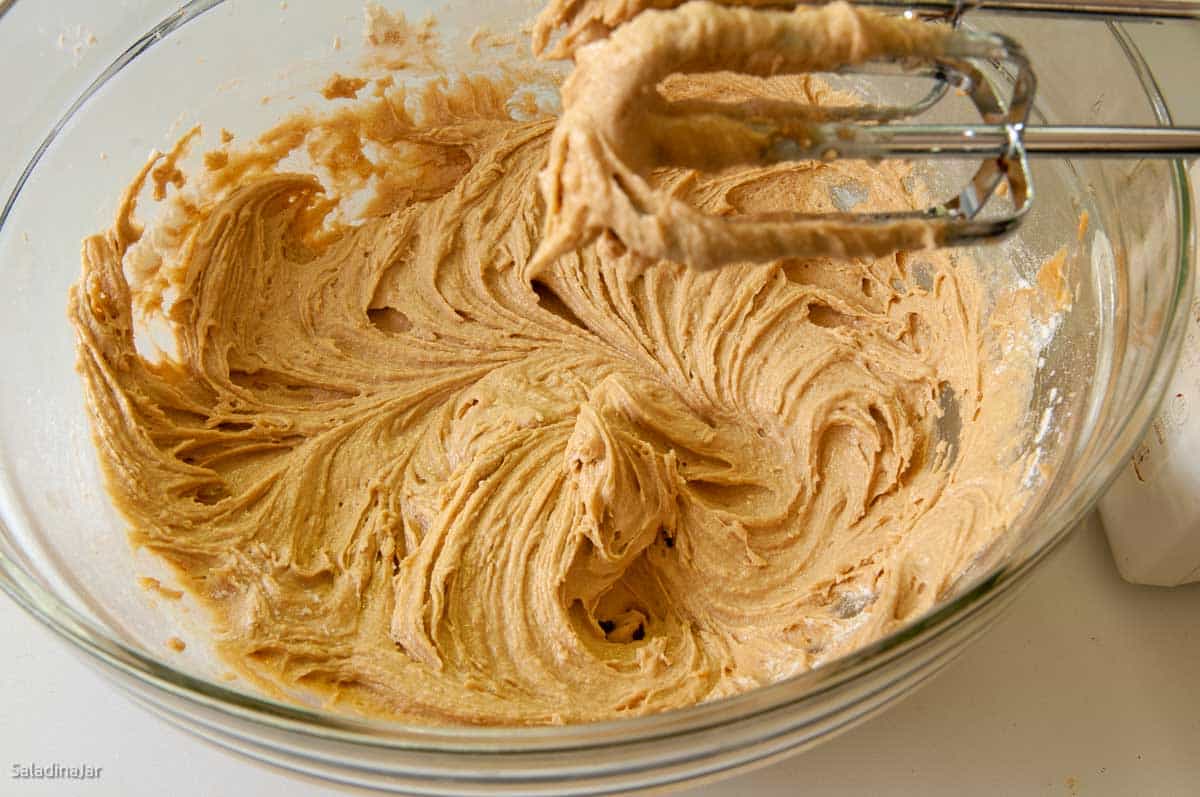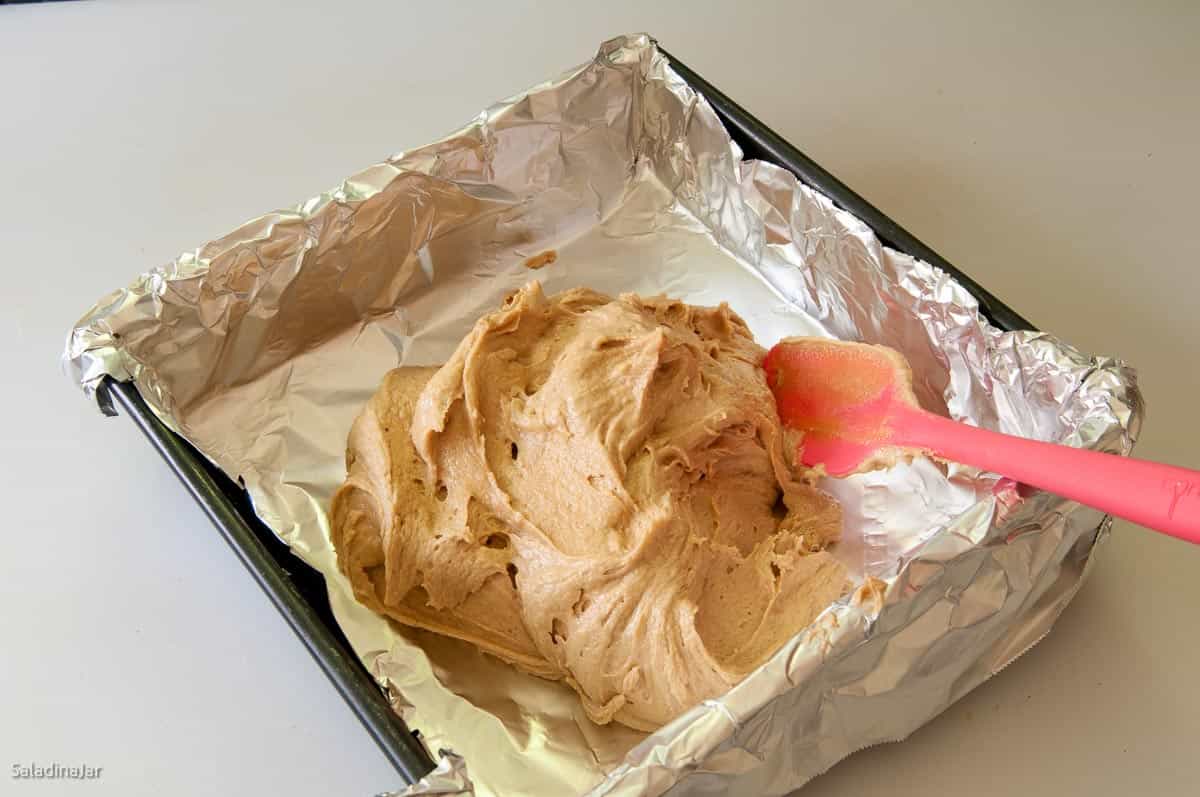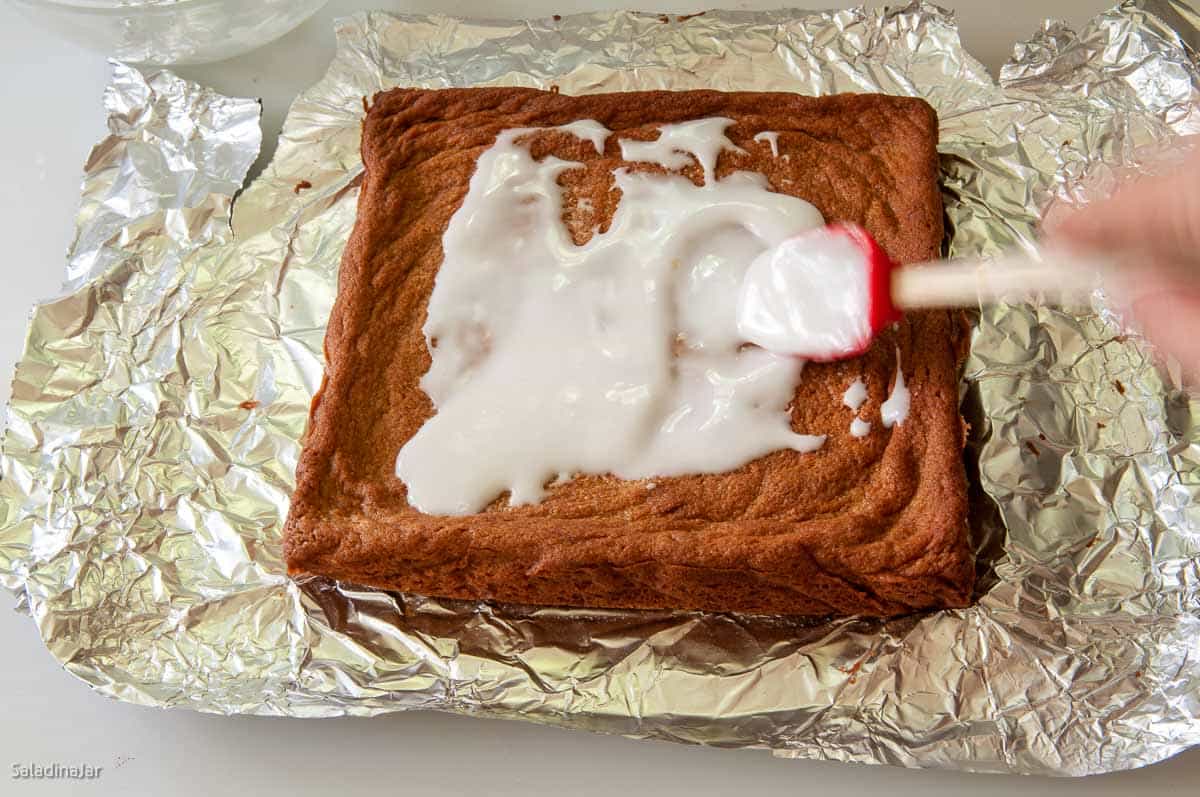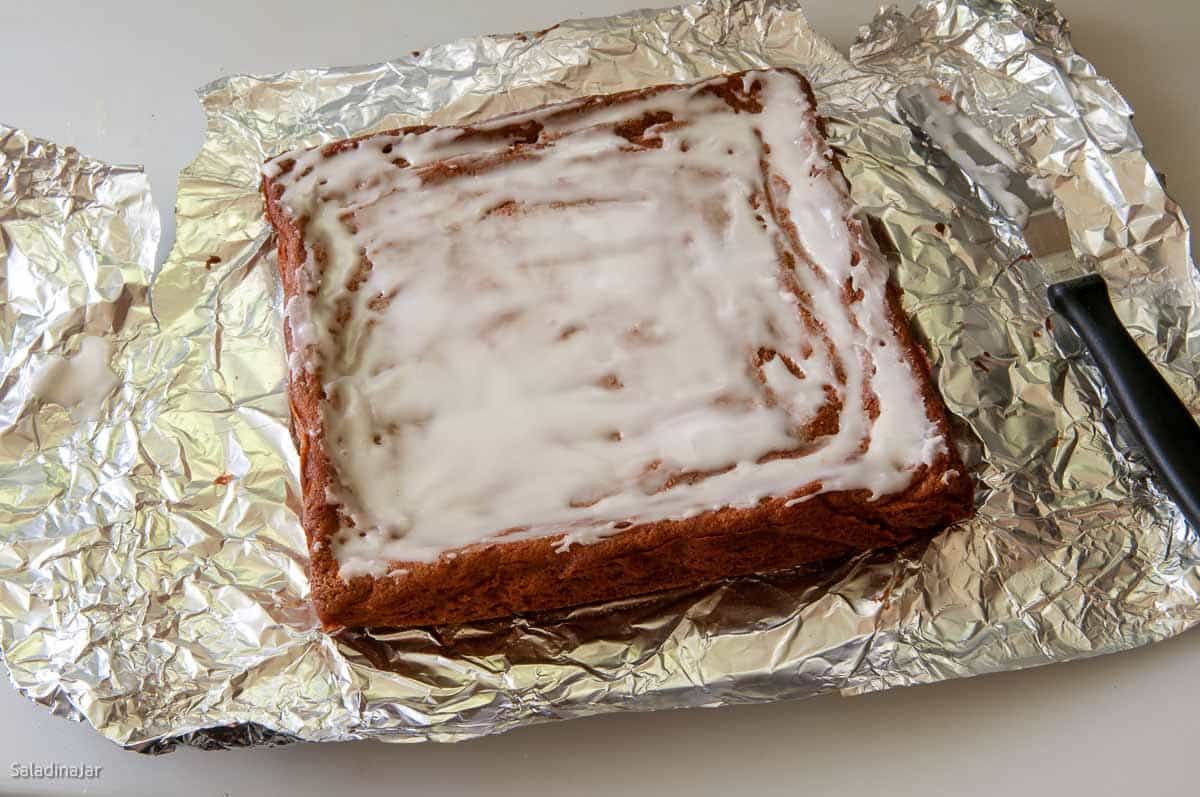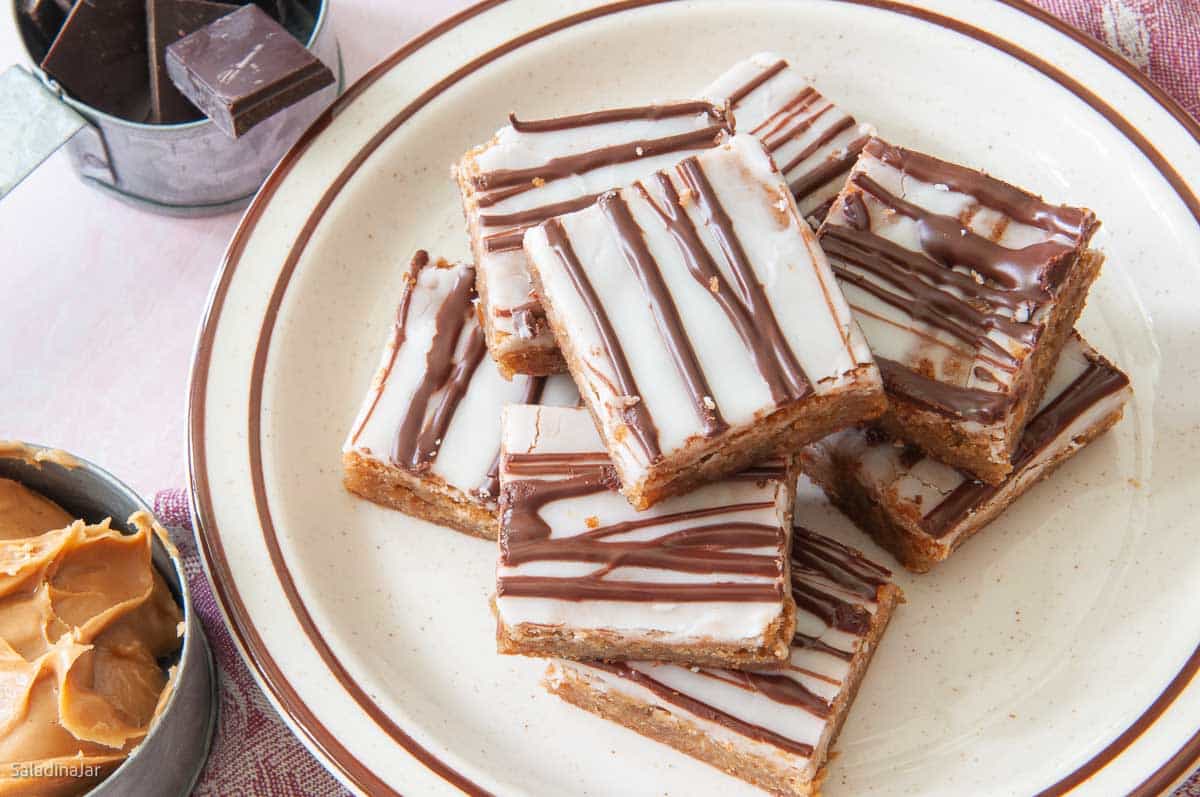 ---
FAQ about Frosted Peanut Butter Cookie Bars:
How long will peanut butter bars stay fresh?
They will keep in the fridge for 4-5 days. Double-wrap and store them in the freezer for up to three months.
What is the best way to store them?
Store these cookies in an airtight container in the refrigerator. If your house is warm, the chocolate will soften and get messy if you don't keep the cookies chilled.
---
What readers are saying:
Your Peanut Butter Bars are the most delicious treats ever, I totally adore them, I'm addicted. Thank you for the recipe.

Lesley F.
---
Help at Your Fingertips: For questions or suggestions, email Paula at saladinajar.com. If you need help, I'm happy to troubleshoot via email (faster than leaving a comment). Attach pictures and as many details as possible for the best advice.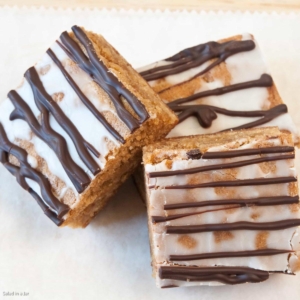 Peanut Butter Cookie Bar Recipe Drizzled with Melted Chocolate
This is a peanut butter bar with a vanilla frosting and chocolate glaze-elegant enough for a holiday platter but easy enough for a lunchbox treat.
Share recipe love here. ⬇
Ingredients
1

cup

(

258

g

)

peanut butter

–

crunchy or smooth

⅔

cup

(

151

g

)

butter, softened

2

cups

(

440

g

)

light brown sugar, firmly packed

1

teaspoon

vanilla extract

3

large

eggs

1

cup

(

120

g

)

unbleached all-purpose flour

½

teaspoon

(

3

g

)

table salt
Frosting
1

cup

(

120

g

)

confectioners' sugar

1-2

tablespoons

water
Drizzle
2

squares

(

56

g

)

semi-sweet chocolate OR 1/4 cup semi-sweet chocolate pieces

1

teaspoon

shortening

–

(see discussion in the post)
Instructions
Brownie Base:
Preheat your oven to

350.

°F

Combine

1 cup

(

258

g

) peanut butter and

2/3 cup

(

151

g

) butter, softened in a large bowl and beat until light and fluffy. Add

2 cups

(

440

g

) light brown sugar, firmly packed and

1 teaspoon

vanilla extract and continue to beat for 1-2 minutes. Beat in

3 large

eggs one at a time.

Stir in

1 cup

(

120

g

) unbleached all-purpose flour and

1/2 teaspoon

(

3

g

) table saltuntil well blended; spread batter in greased or foil-lined

13×9 inch

baking pan.

Bake at

350

°F

for 35-40 minutes, or until the center springs back when lightly touched with a fingertip. Allow cookies to cool for about 15 minutes in the pan.
Frosting:
Combine

1 cup

(

120

g

) confectioners' sugar with

1-2 tablespoons

water in a small bowl and stir until smooth. Drizzle from a spoon over still-warm cookies. Swirl to make a random pattern.
Chocolate Drizzle:
Combine

2 squares

(

56

g

) semi-sweet chocolate OR 1/4 cup semi-sweet chocolate pieces and

1 teaspoon

shortening into a small zippered, plastic bag for one minute on MEDIUM power in a microwave. Knead with fingers to make sure it is all melted. Return to microwave for a few additional seconds if necessary. Chips may take a little longer.

Snip a small tip from one corner and drizzle over the white glaze in a random back-and-forth pattern. When cool, use a sharp knife to cut into 36 rectangles. (I like them best cold out of the fridge.)
Nutrition
Serving:
1
bar
|
Calories:
177
kcal
|
Carbohydrates:
22
g
|
Protein:
3
g
|
Fat:
9
g
|
Saturated Fat:
4
g
|
Polyunsaturated Fat:
1
g
|
Monounsaturated Fat:
3
g
|
Trans Fat:
0.2
g
|
Cholesterol:
26
mg
|
Sodium:
111
mg
|
Potassium:
85
mg
|
Fiber:
1
g
|
Sugar:
18
g
|
Vitamin A:
141
IU
|
Calcium:
21
mg
|
Iron:
1
mg
HELP OTHERS find this recipe. Leave a 5 🌟🌟🌟🌟🌟 rating at the top of the recipe card if you enjoyed it. No comment is required.