If a coconut-pecan pie married a shortbread cookie, the offspring might look like these Chewy Coconut-Pecan Bars, sometimes called Coconut Chews. Top with a browned butter icing for a fabulous sugar-spiked taste experience.
Don't miss the mini-tutorial for how to easily line a baking pan with aluminum foil for clean and neat removal of the cookies and quick clean-up.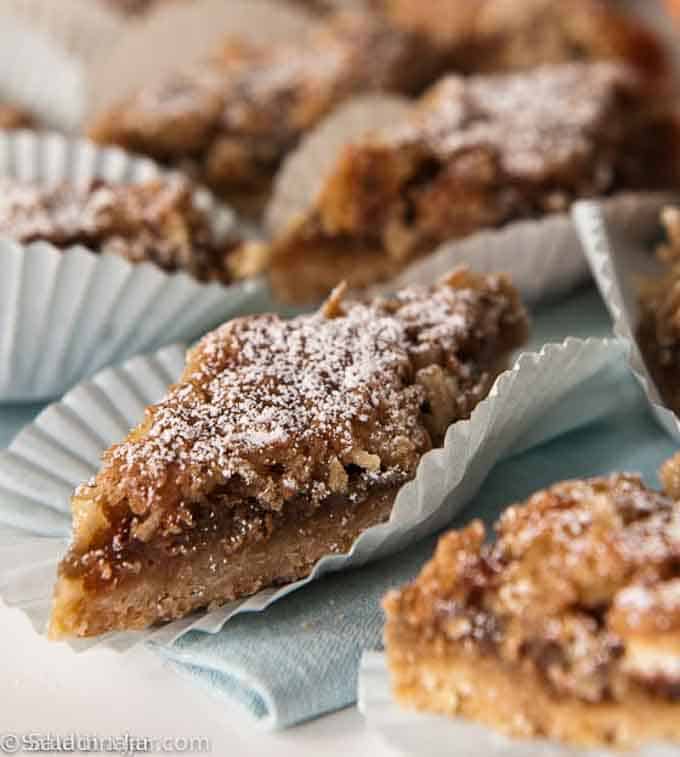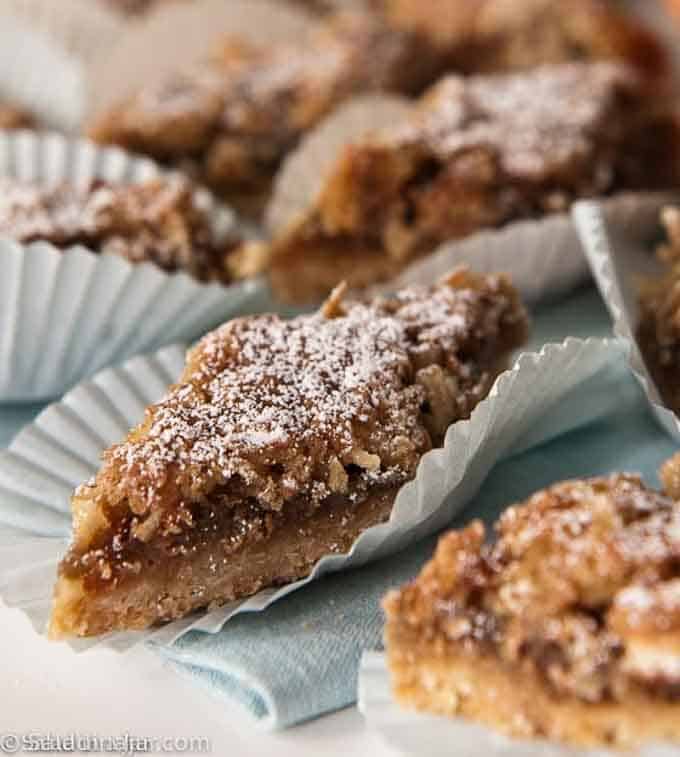 Have you ever heard of "Dream Bars?"
While wasting time on the web one day, I realized that this recipe is quite similar to cookies known as "Dream Bars." Who knew?
Helen Corbitt first introduced me to a form of these cookies in her recipe, "Chinese Chews" published in her "Cooks for Company" cookbook. When I worked at the Greenhouse (a luxury health spa from years ago), everybody went crazy for them.
However, as I've gotten older (ahem,) I feel the need to lighten up on the sugar. Consequently, my approach is often (but not always) an effort to preserve the flavor and texture of a recipe without destroying my waistline. Perhaps you can relate.
To that end, this recipe still has a shortbread layer but is not as thick as most dream bar recipes.
How to easily prepare your pan before baking Chewy Coconut-Pecan Bars: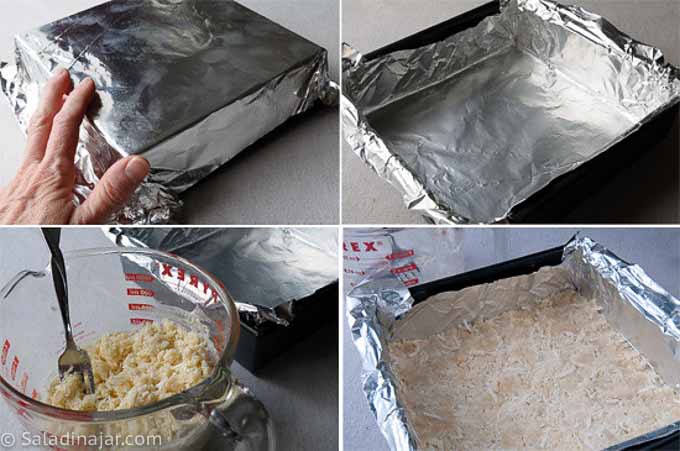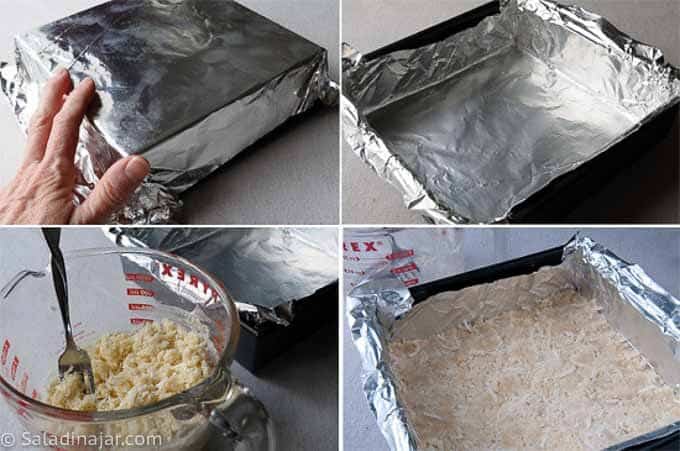 (This is not a paid endorsement–just letting you know about a great product that streamlines life in my kitchen.)
You don't have to use non-stick foil to make these cookies, but I highly recommend it. Without it, they will still taste wonderful, but you will enjoy the cutting, serving, and clean-up process oh so much more.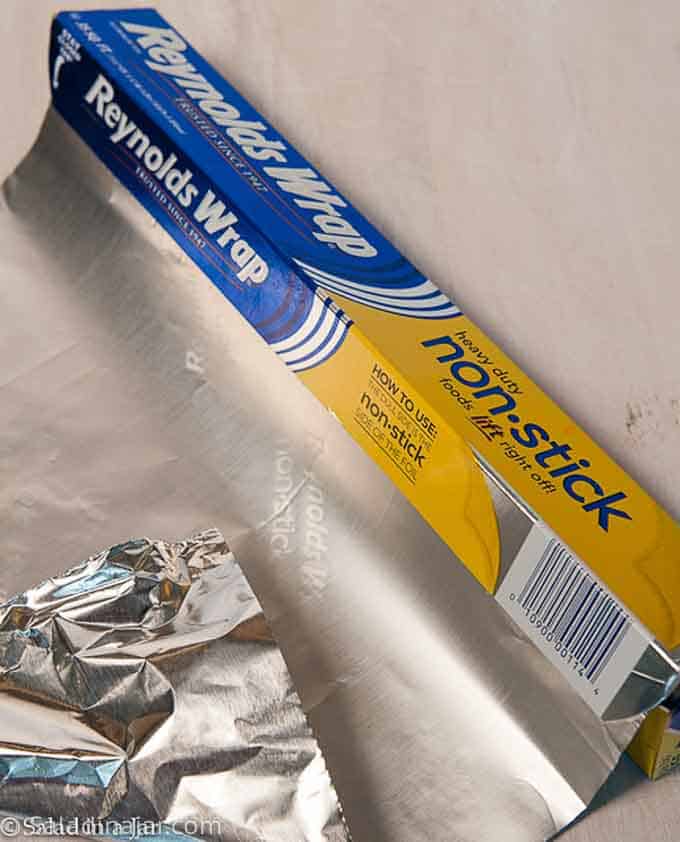 If you dread washing those sticky, gooey, and hard-to-scrape pans, this magic foil is a lazy dishwasher's saving grace. It also makes removing the entire uncut batch from the pan crazy easy. After cookies have cooled slightly, carefully lift the cookies out of the pan using the foil as handles. Then peel the foil away from the cookies. Without the confines of the pan, even the first cookie you cut can be perfect.
If you make brownies, blondies, or any other kind of bar cookies, a non-stick foil is your friend. For a few extra pennies, it's worth it.
Other uses for non-stick aluminum foil?
Cover cheese-topped casseroles so the melted cheese won't stick and be pulled off with foil is removed.
Wrap food in packets for baking in the oven–especially fish
Cover cookie sheets for roasting vegetables and potatoes, especially if you plan to sprinkle them with cheese.
In case you are thinking you can just use regular foil sprayed with vegetable oil….well, yes, you could. But for some unexplained reason, it doesn't work as well according to Cooks Illustrated.
One teeny-tiny suggestion (but keep this to yourself):
You might want to hide this foil so the rest of the family doesn't use it or waste it thinking it's just like any other foil in the drawer. It is considerably more pricey than regular aluminum foil.
Serve these cookies plain, with powdered sugar, or dress them up with a browned butter glaze. Cut them in diamonds for a party, squares for the family, or let the midnight raiders dig them out of the pan.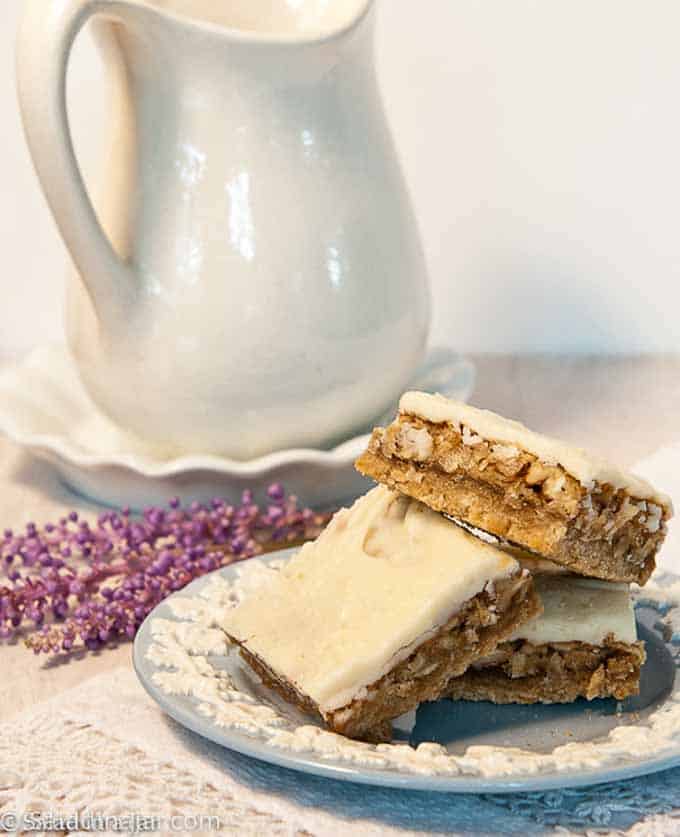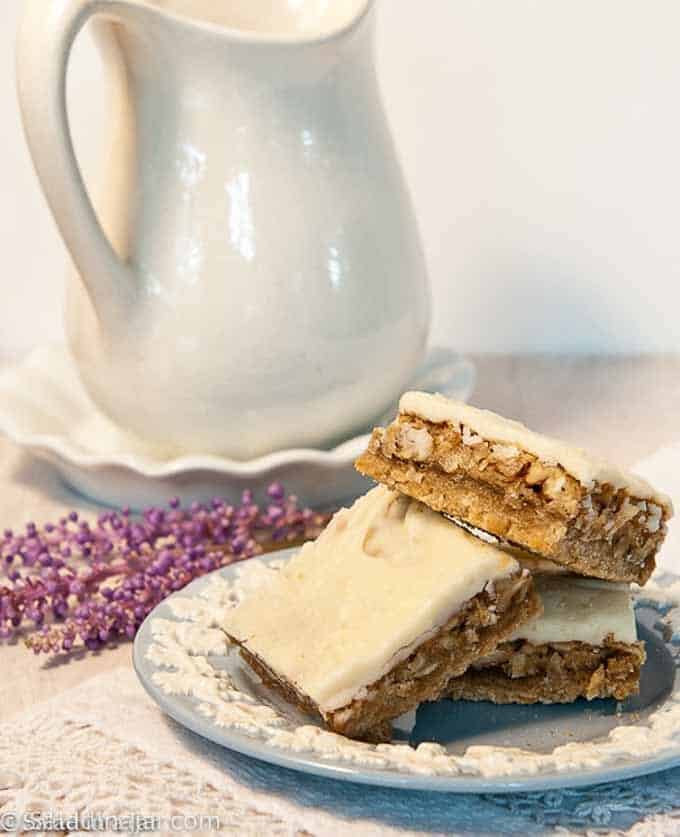 Credits:
The shortbread base is the same used in my Easy Toffee Bars and Meyer Lemon Yogurt Squares. The pecan-coconut layer is an adaptation from the Chinese Chews printed in Helen Corbitt's Cooks for Company.
If you make this recipe and enjoy it, consider helping other readers and me by returning to this post. Leave a rating on the recipe card itself underneath the picture. Although always appreciated, comments aren't required. Thank you for visiting! Paula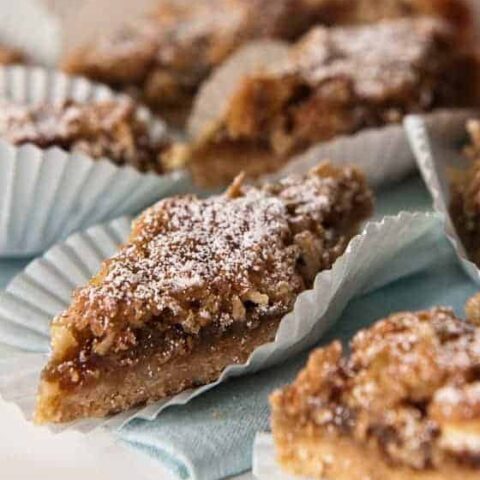 Chewy Coconut-Pecan Bars
If a pecan pie married a shortbread cookie, their offspring might look like these rich and chewy bars.
Ingredients
Shortbread Base
1 cup flour
1/4 cup brown sugar
1/4 teaspoon salt
1/4 cup melted butter
Coconut-Pecan Layer
2 eggs
2/3 cup brown sugar
1/2 cup shredded coconut mixed with 2 tablespoons flour
1/2 cup lightly toasted pecans
1 teaspoon vanilla
1/2 teaspoon salt
Browned Butter Glaze
1 tablespoon butter
1 tablespoon half and half or milk
1 cup powdered sugar
1 teaspoon vanilla extract (optional)
Instructions
Shortbread Base
Prepare 8x8 inch square pan by lining with foil (see picture in post), parchment paper, or spraying with oil/butter mixture such as Baker's Joy.
Combine flour, brown sugar, and salt in a small bowl. Add melted butter and lightly mix with a fork. Press evenly into prepared pan.
Bake at 350 degrees for 12 minutes or until lightly browned around the edges.
Coconut-Pecan Layer
In medium bowl, beat eggs until foamy. Gradually add brown sugar to eggs and beat until thick.
Stir in remaining ingredients. Spread over baked shortbread layer.
Bake for 15 minutes at 350 degrees F.
When cool, turn the entire baked cookie out onto a flat surface and peel off paper or foil if using. Flip over and sprinkle with powdered sugar or ice with Browned Butter Glaze. Cut in squares or diamonds as you prefer.
Browned Butter Glaze
Microwave butter in a medium-sized microwave-safe bowl for 3 minutes (or heat on low in a skillet on the stove) until it just starts to turn brown. Add cream or milk and combine. Add sugar and mix until smooth. Add vanilla if using. If icing is too thick, add more milk. If too thin, add more sugar.
Recommended Products
As an Amazon Associate, I earn from qualifying purchases. But don't worry. This doesn't change the price you pay.
Nutrition Information:
Yield:

16
Serving Size:

1
Amount Per Serving:
Calories:

184
Total Fat:

8g
Saturated Fat:

4g
Trans Fat:

0g
Unsaturated Fat:

4g
Cholesterol:

34mg
Sodium:

156mg
Carbohydrates:

27g
Fiber:

1g
Sugar:

18g
Protein:

3g
Posts Related to Chewy Coconut Pecan Bars and "How to Line a Baking Pan"