Preview: Mini Strawberry Tarts with Shortbread Crusts are full of glazed fresh strawberries and topped with whipped cream. Simple to serve and easy to eat.
Everybody loves these Strawberry Mini-Tarts! It must be something about the small size that makes indulging easier to justify, easier on the conscience, and therefore, more irresistible.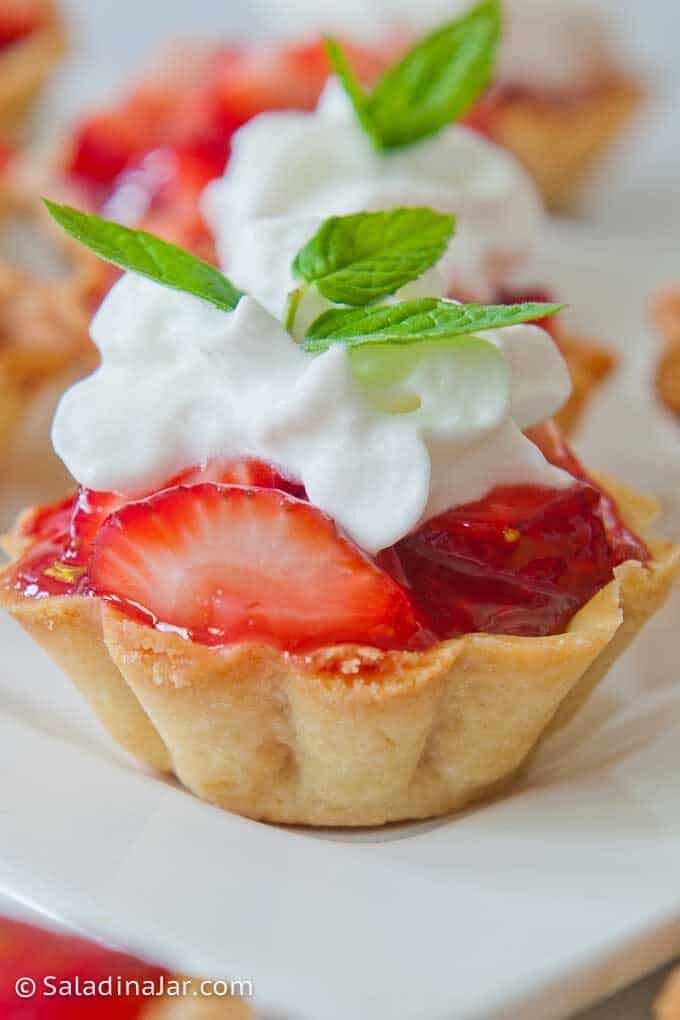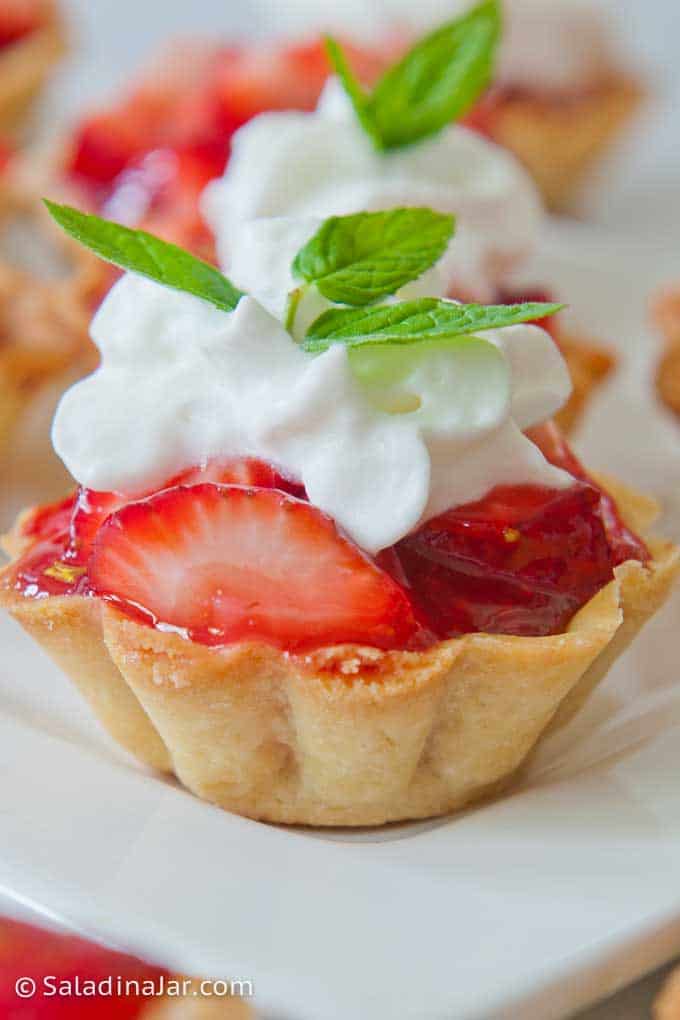 4 secrets for making mini tart shells:
Goodness! It's hard not to nibble on these cookie-crust tart shells before you assemble your mini-tarts. I never cry over a broken crust because I'm too busy eating it.
Since the mini-crusts pictured are only 3 inches in diameter, the dough is reasonably easy to manipulate. If it is your first try, don't miss the video. Just like making pie crusts, practice helps.
You might also like: Fresh Fruit and Cream Mini-Tarts
#1
Always make a few more crusts than you think you will need.
The recipe makes 14-15 crusts or less – depending on how thin you roll the dough and the size of your tart shells. These crusts contain a lot of butter which makes them delicious and sometimes fragile. You will learn to handle them with care.
#2
Make the crusts ahead of time.
Planning gives you time to practice.
The raw, shaped crusts need to freeze a minimum of 30 minutes. You can also freeze the unbaked crusts as long as a month.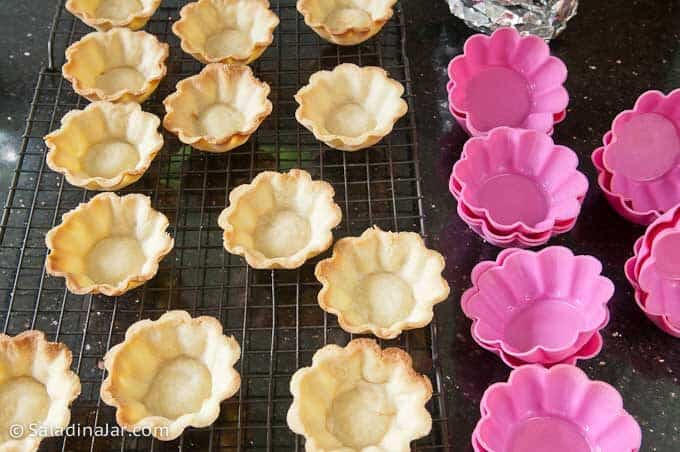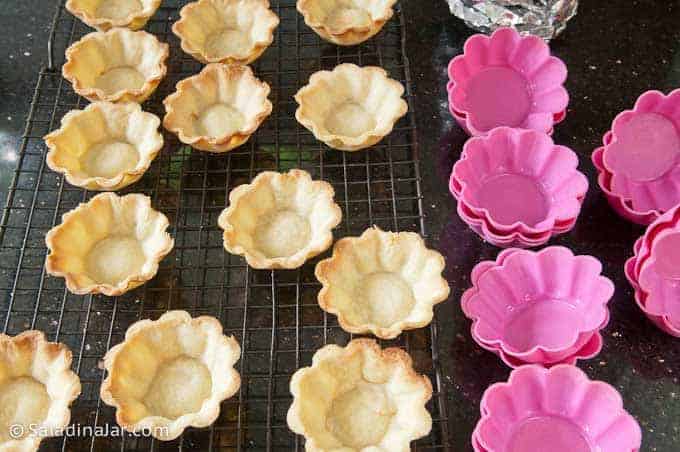 You can bake the crusts a day or two ahead of time.
#3
Substitute store-bought crusts for homemade ones.
Your tart crusts won't be quite as fresh, but they'll still be tasty. However, they're a bit expensive.
#4
Non-stick aluminum foil is the secret.
Press a piece of non-stick aluminum foil inside the raw tart shell to prevent crusts from puffing in the middle as they bake. Use non-stick foil as opposed to regular aluminum foil. Otherwise, the foil may stick to the delicate crust and mess it up as you remove the foil.
Tip: Save the foil squares if you make these often. They are re-useable.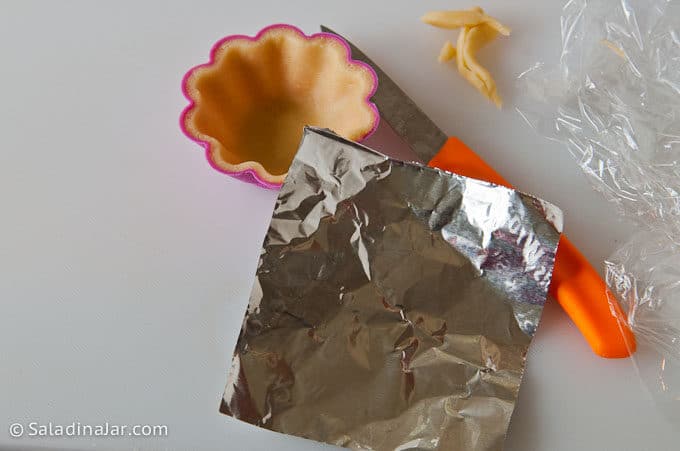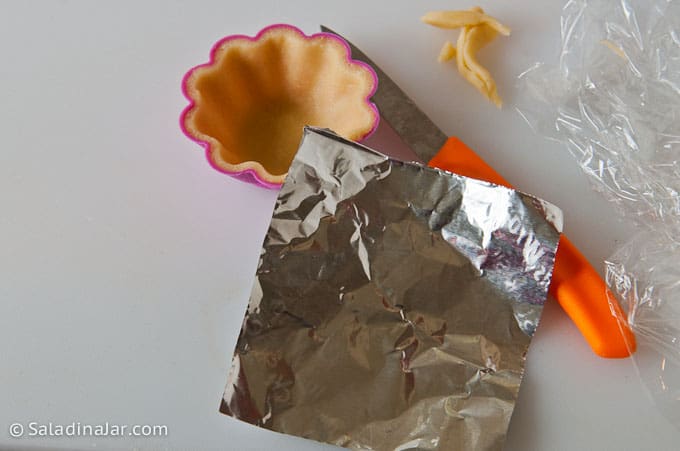 Questions about Mini Strawberry Tarts:
#1
What is the best topping?
Any strawberry pie begs for a topping. Strawberry mini-tarts are no exception.
My first choice is sweetened whipped cream. If there's no time for that, grab a can of Redi-Whip or a similar store brand. Frozen whipped topping like "Cool Whip" is another option. Garnish with mint, if desired.
#2
What if I'm not a strawberry lover?
Try using peaches or nectarines in place of strawberries. Swap out peach jello for the strawberry jello. See my fresh peach pie recipe for more inspiration.
#3
Is corn syrup bad for you?
Corn syrup is not the same as high fructose corn syrup. Some brands of corn syrup do contain HFCS. Stick with Karo because they do not add any HFCS. Also, don't try to substitute another ingredient for corn syrup like sugar or a sweetener. As an alternative, you could try making the syrup yourself.
Of course, corn syrup is a form of sugar, so moderation is in order.
#4
Do you need to make your mini tarts ahead of time?
You can make the tart shells ahead of time and freeze the raw crusts for up to a month. Bake them a day ahead of time if you like.
On the day you plan to serve the tarts, make the glaze and let it cool for about 30 minutes. Wash and slice the strawberries and fold them gently into the glaze. Refrigerate for about 3 hours. Do not wash and slice the strawberries much before you are ready to add them to your prepared glaze.
Serve your tarts within a few hours of assembly. Otherwise, the crust will soften, and the strawberries will exude liquid, making the filling slightly runny. They do not hold up well overnight. I don't mind eating leftover tarts the next day, but I wouldn't plan to serve them to guests.
You might also like: 10 Ways To Enjoy the Fresh Fruits of Summer
How to shape shortbread crusts: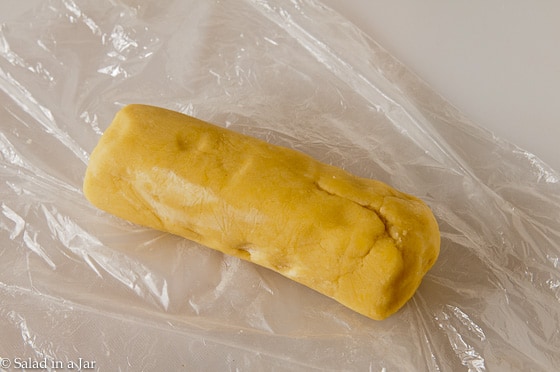 How to assemble the glaze: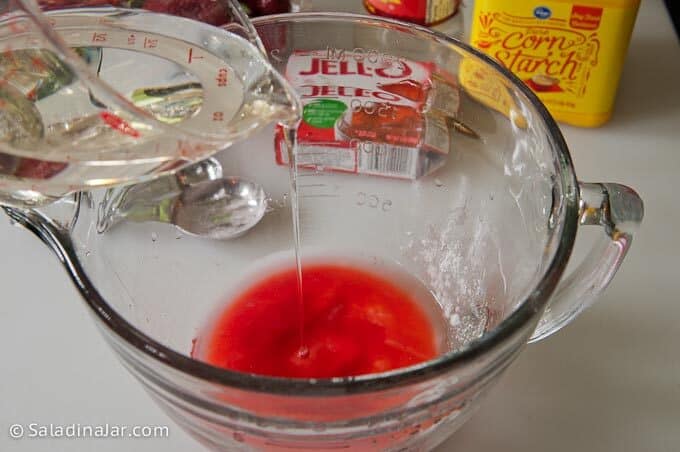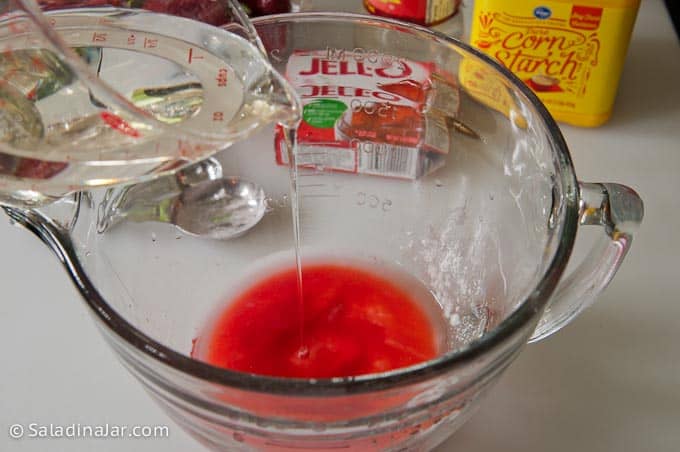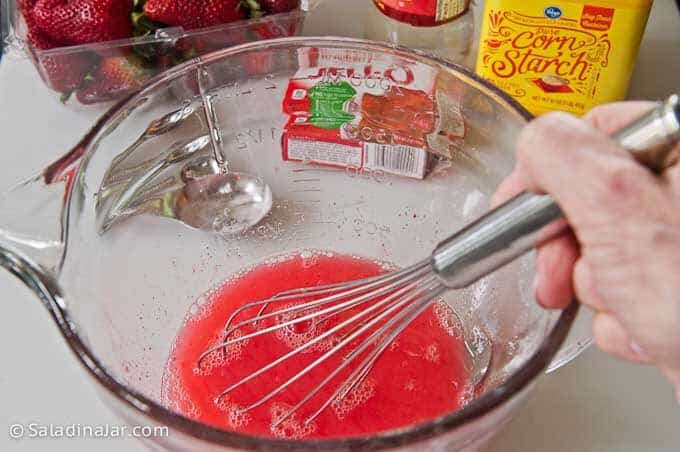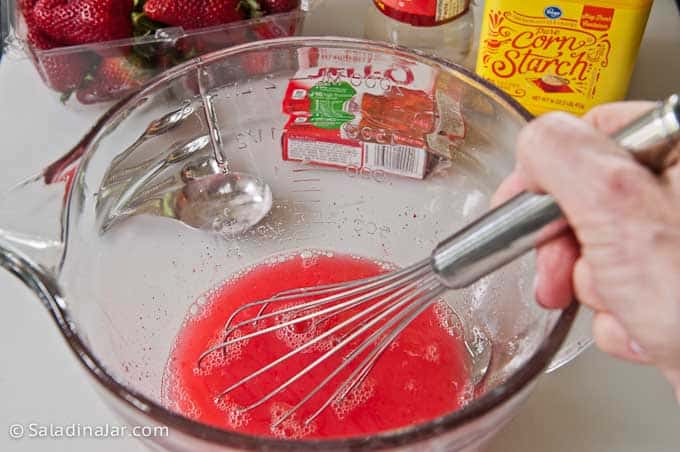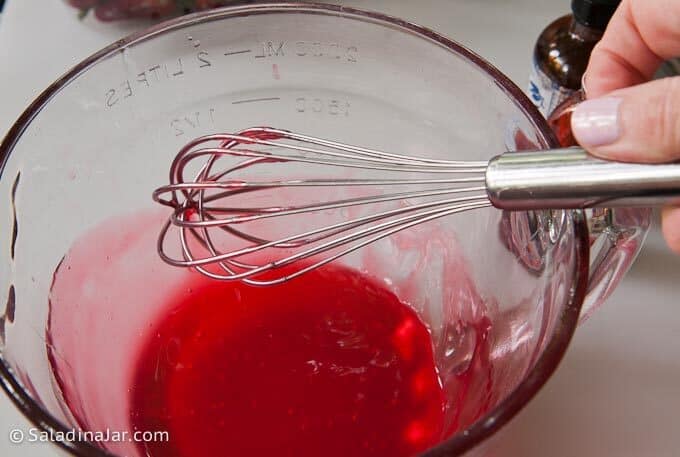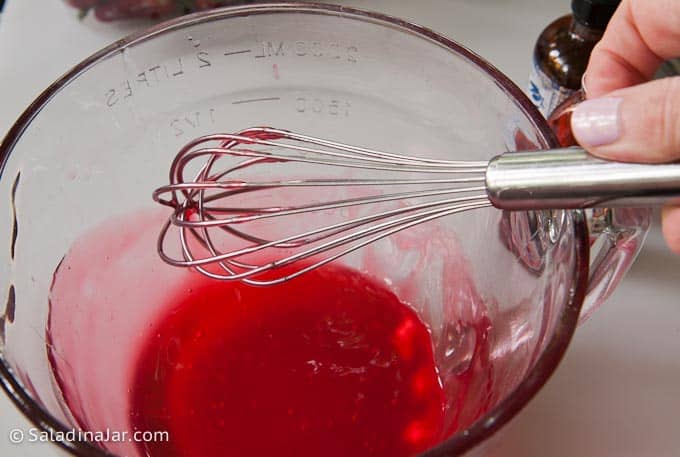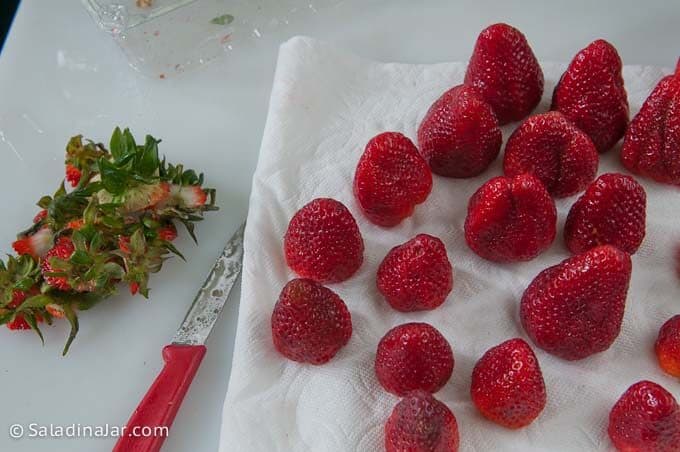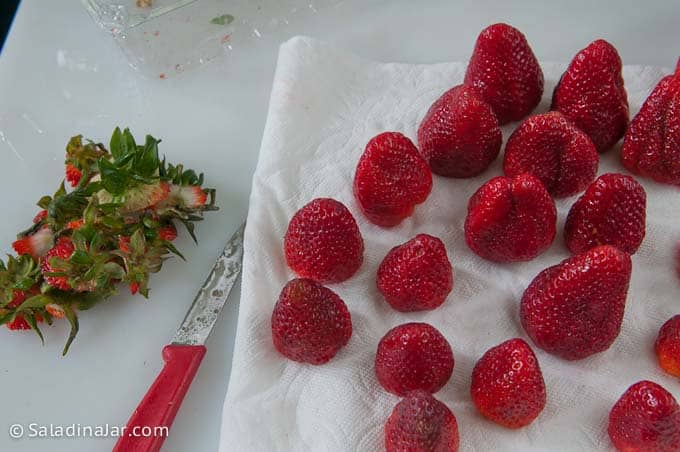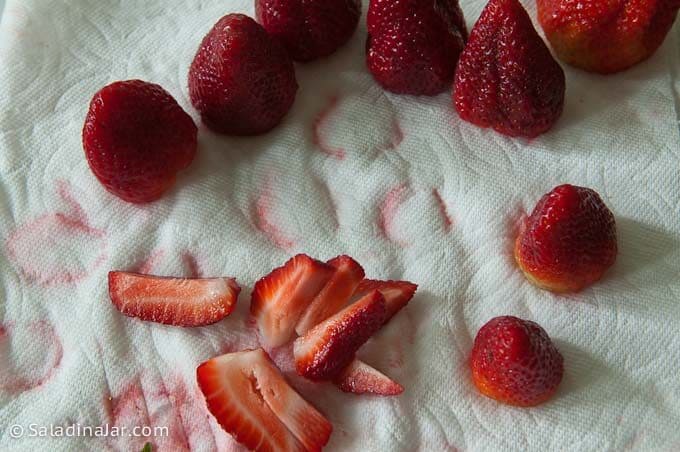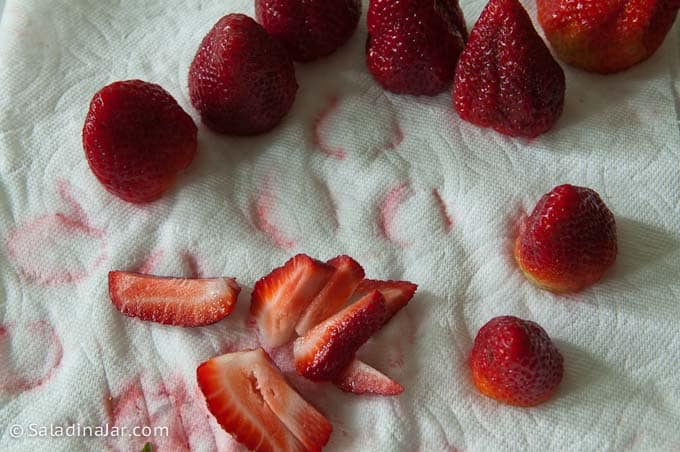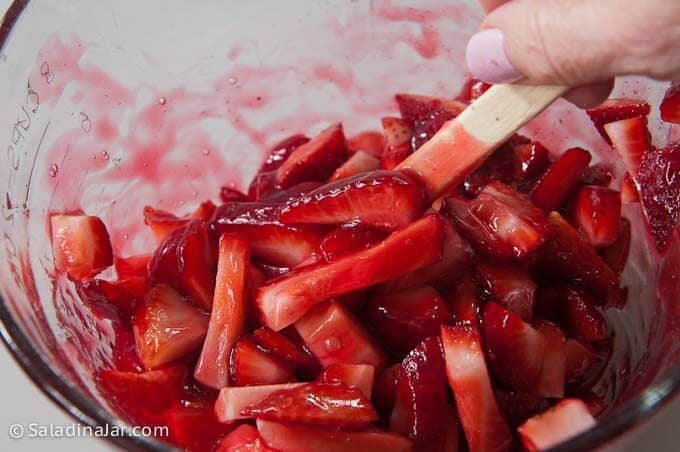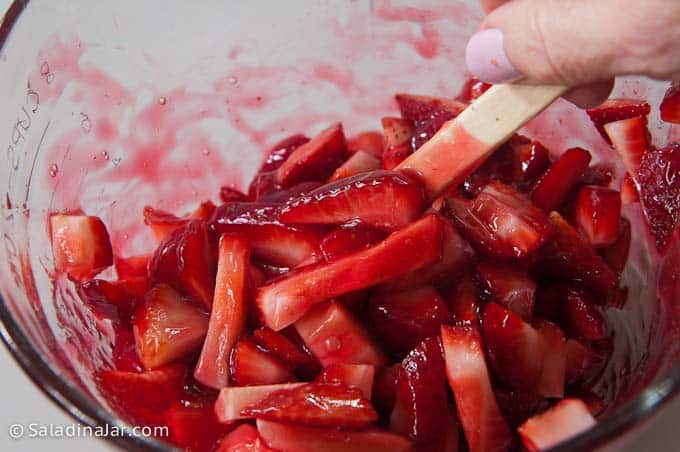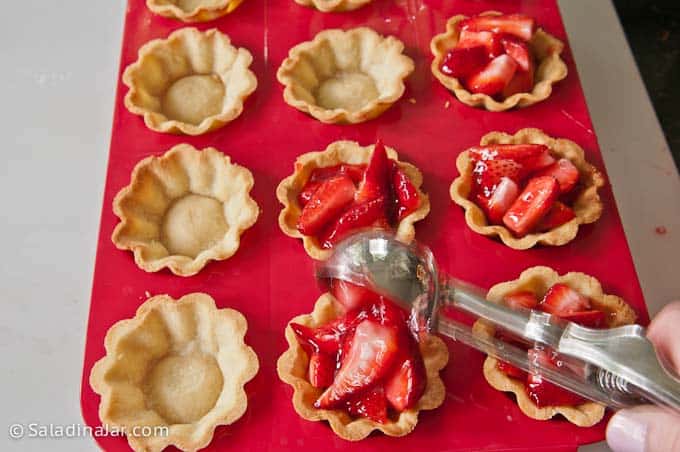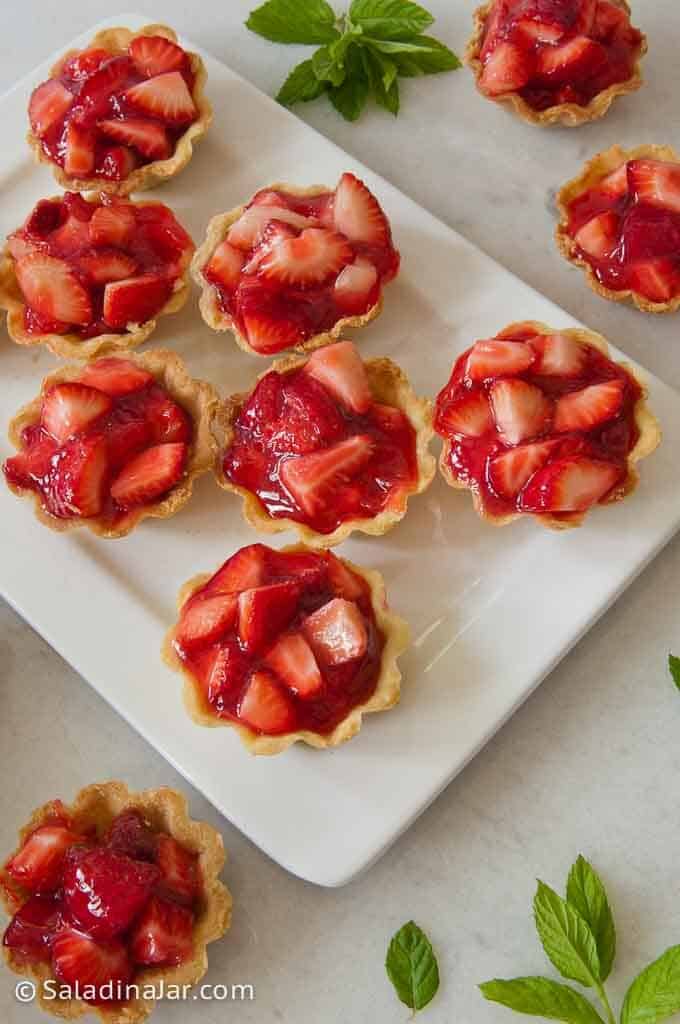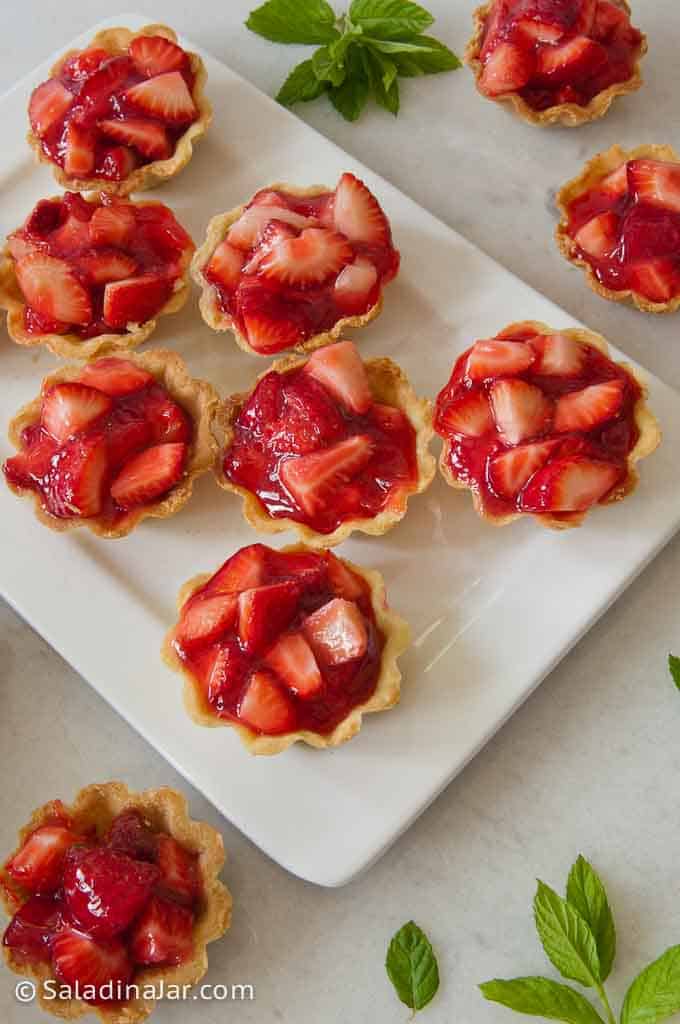 ---
What would you like to read next?
---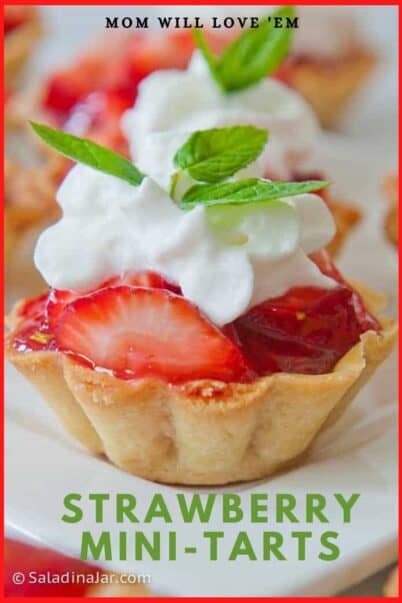 If you enjoyed this recipe, it would help others and me if you gave it a five-star rating inside the recipe card below. 🤩 No comment required. Thank you.

Hope to see you again soon!
Paula
p.s. Questions or suggestions? Please email me: Paula at saladinajar.com.