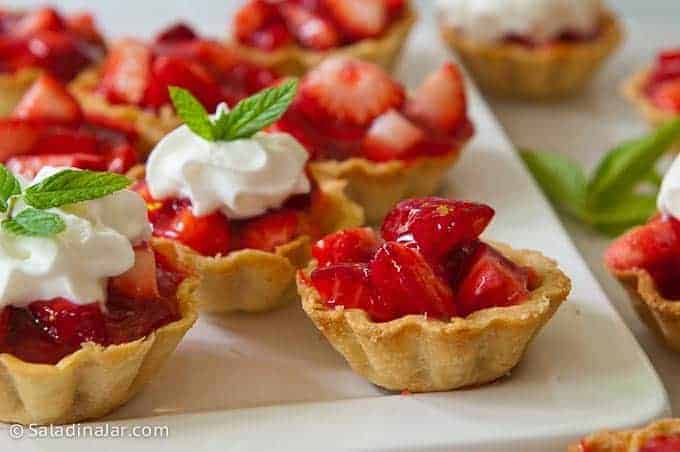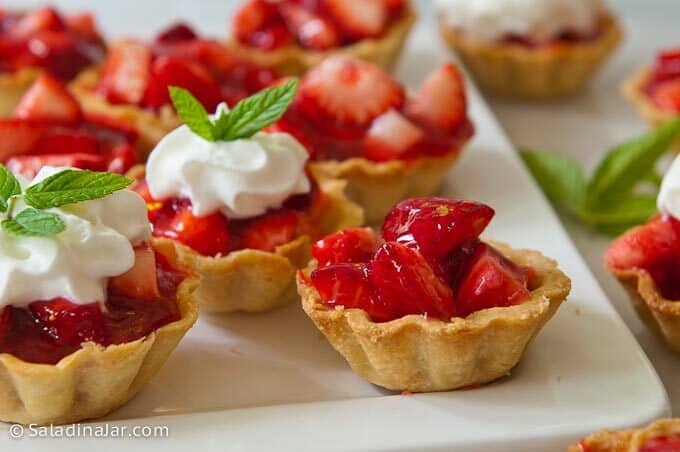 Everybody loves mini-desserts! It must be something about the small size that makes partaking easier to justify, easier on the conscience and therefore, more irresistible.
Do you need another reason to make these?
They are easy to serve! Mini tarts are the cupcakes of the pie world. Guests can pick them up and eat them with their fingers, eliminating the need for plates and silverware when appropriate.
I'm adding this recipe to my mini-tart collection. It's a riff on Aunt Marg's BEST Extremely Fresh Strawberry Pie.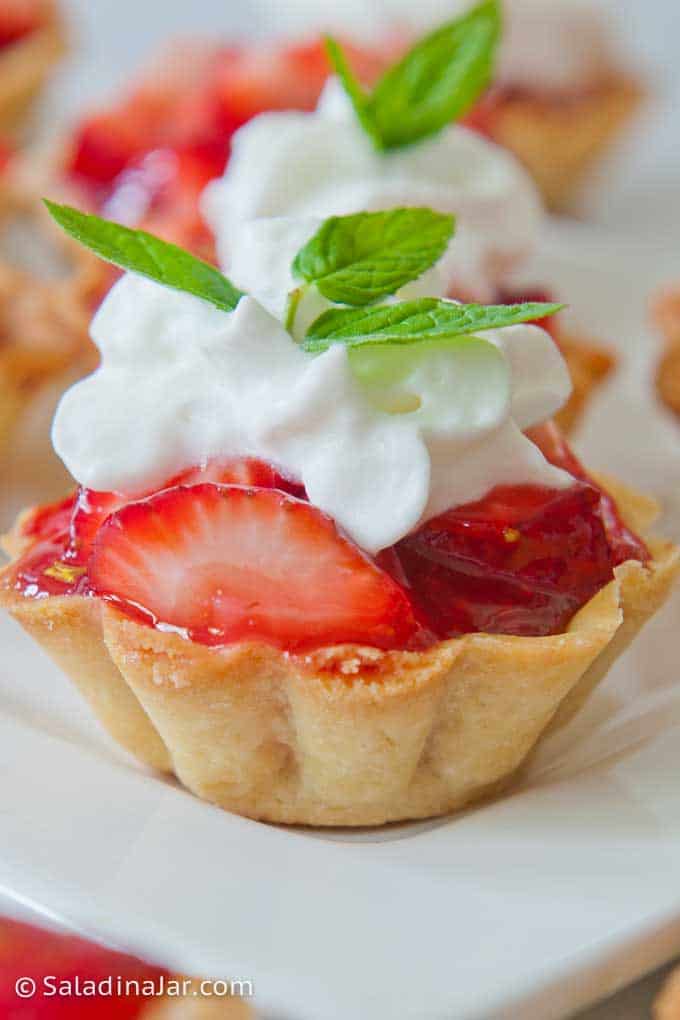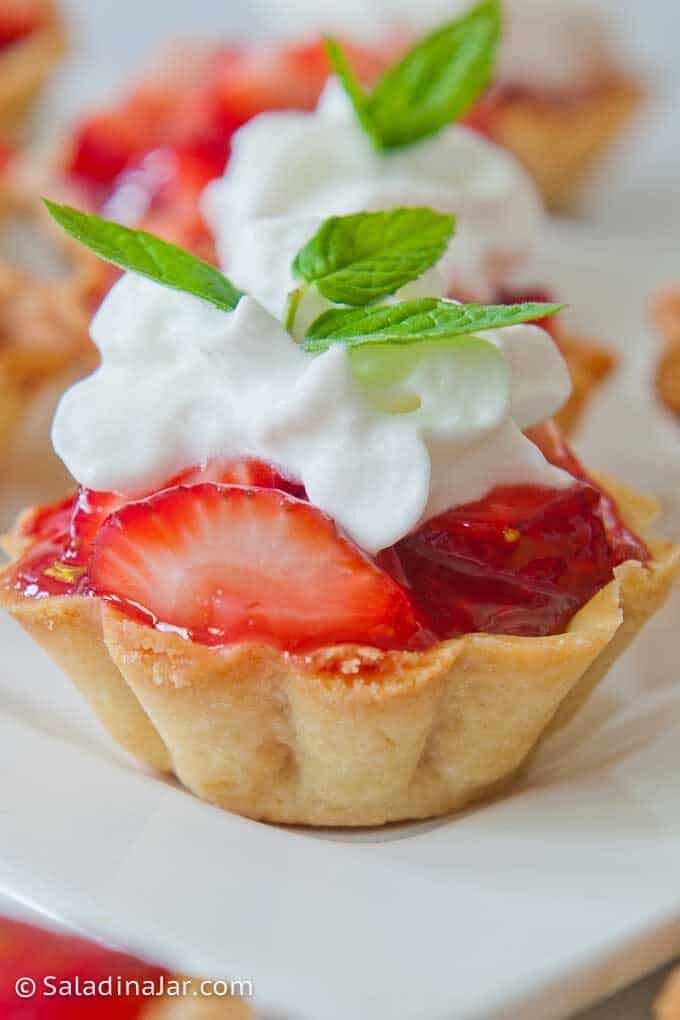 Making mini tart shells:
Goodness! It's hard not to nibble on these cookie-crust tart shells before you assemble your mini-tarts. I never cry over a broken crust because I'm too busy eating it.
Since the mini-crusts pictured are only 3 inches in diameter, the dough is reasonably easy to manipulate. If it is your first try, don't miss the video. Just like making pie crusts, practice helps.
#1
Always make a few more crusts than you think you will need.
The recipe makes 14-15 crusts or less – depending on how thin you roll the dough and the size of your tart shells. These crusts contain a lot of butter which makes them delicious and sometimes fragile. You will learn to handle them with care.
#2
Make the crusts ahead of time.
Planning ahead gives you time to practice.
The raw, shaped crusts need to freeze a minimum of 30 minutes. You can also freeze the unbaked crusts as long as a month.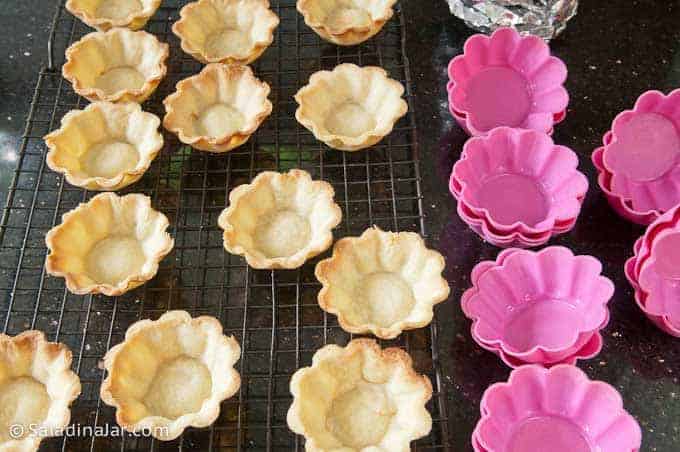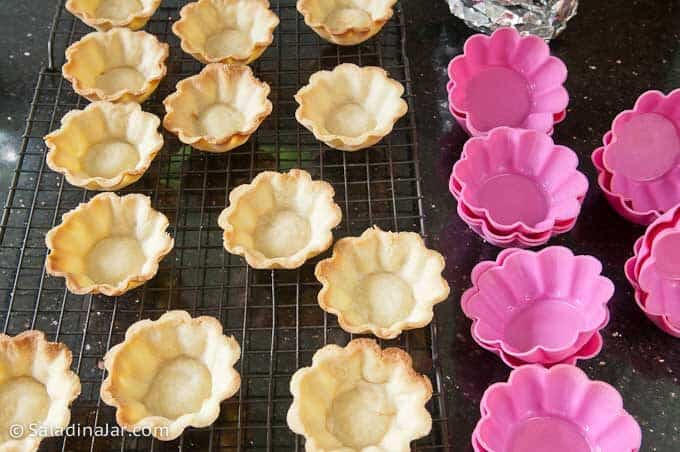 You can bake the crusts a day or two ahead of time.
#3
Substitute store-bought crusts for homemade ones.
Your tart crusts won't be quite as fresh, but they'll still be tasty. However, they're a bit expensive.
#4
Non-stick aluminum foil is the secret…
Press a piece of non-stick aluminum foil inside the raw tart shell to prevent crusts from puffing in the middle as they bake. Use non-stick foil as opposed to regular aluminum foil. Otherwise, the foil may stick to the delicate crust and mess it up as you remove the foil.
Tip: Save the foil squares if you make these often. They are re-useable.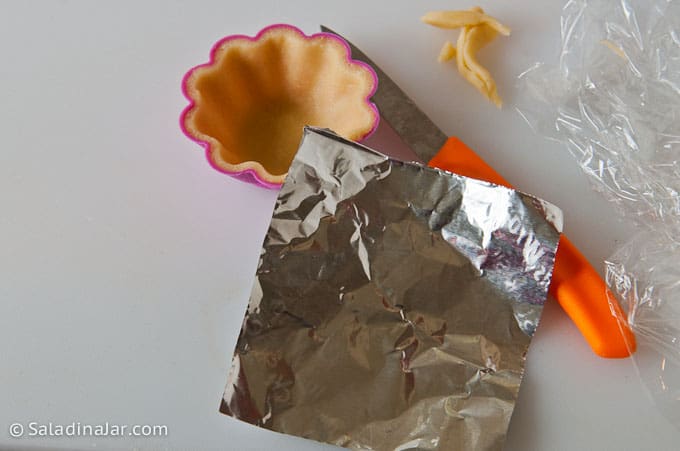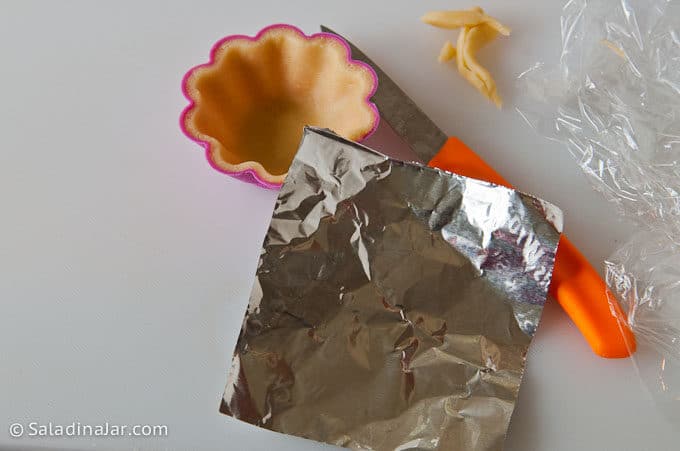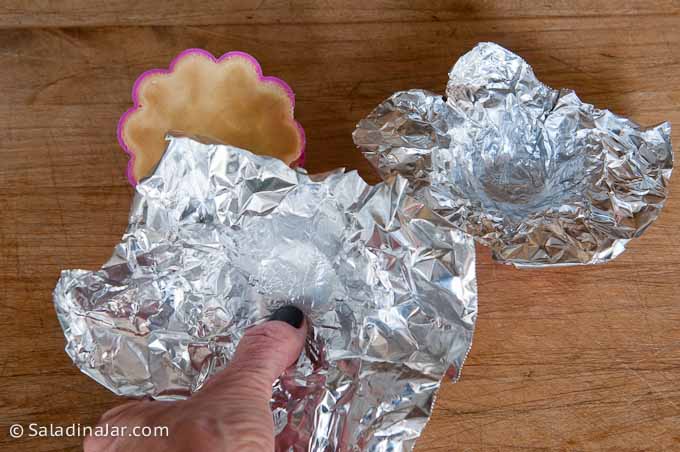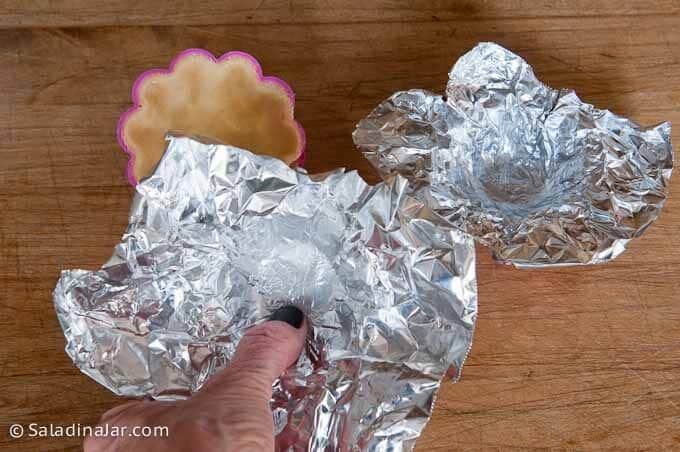 Observations about Mini Strawberry Tarts:
#1
Toppings
Any strawberry pie begs for a topping. Strawberry mini-tarts are no exception.
My first choice is sweetened whipped cream. If there's no time for that, grab a can of Redi-Whip or a similar store brand. Frozen whipped topping like "Cool Whip" is another option. Garnish with mint, if desired.
#2
If you're not a strawberry lover…
Try using peaches or nectarines in place of strawberries. Swap out peach jello for the strawberry jello. See my fresh peach pie recipe for more inspiration.
#3
Is corn syrup bad for you?
Corn syrup is not the same as high fructose corn syrup. Some brands of corn syrup do contain HFCS. Stick with Karo because they do not add any HFCS. Also, don't try to substitute another ingredient for corn syrup like sugar or a sweetener. As an alternative, you could try making the syrup yourself.
Of course, corn syrup is a form of sugar, so moderation is in order.
#4
Do you need to make your mini tarts ahead of time?
You can make the tart shells ahead of time and freeze the raw crusts for up to a month. Bake them a day ahead of time if you like.
On the day you plan to serve the tarts, make the glaze and let it cool for about 30 minutes. Wash and slice the strawberries and fold them gently into the glaze. Refrigerate for about 3 hours. Do not wash and slice the strawberries much before you are ready to add them to your prepared glaze.
Serve your tarts within a few hours of assembly. Otherwise, the crust will soften, and the strawberries will exude liquid, making the filling slightly runny. They do not hold up well overnight. I don't mind eating leftover tarts the next day, but I wouldn't plan to serve them to guests.
How to assemble the glaze for Mini Strawberry Tarts: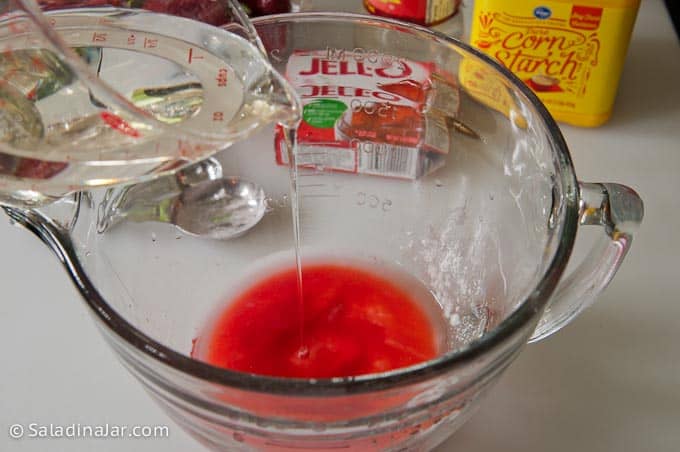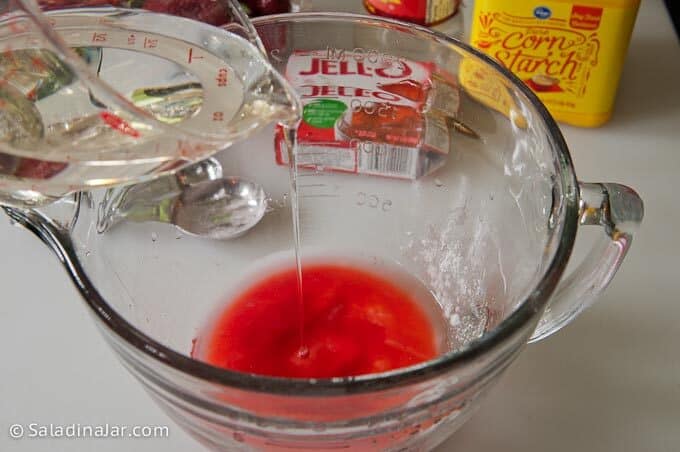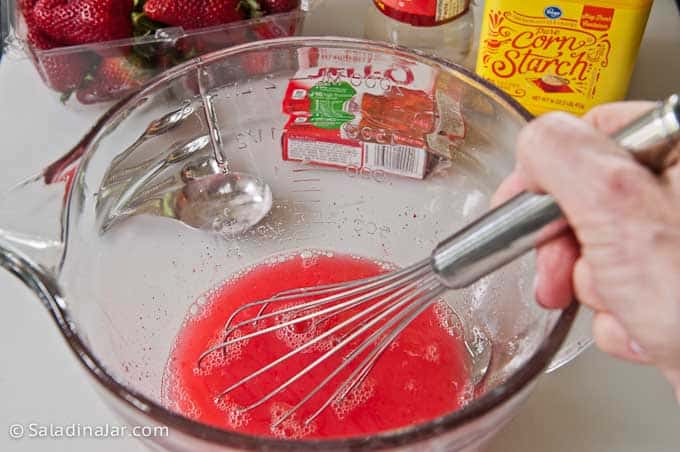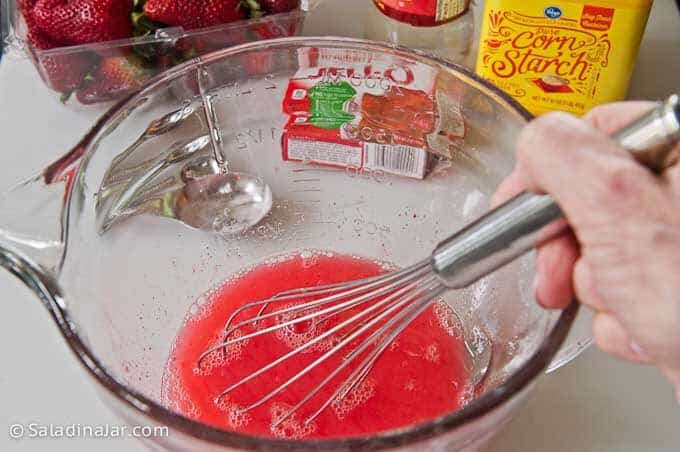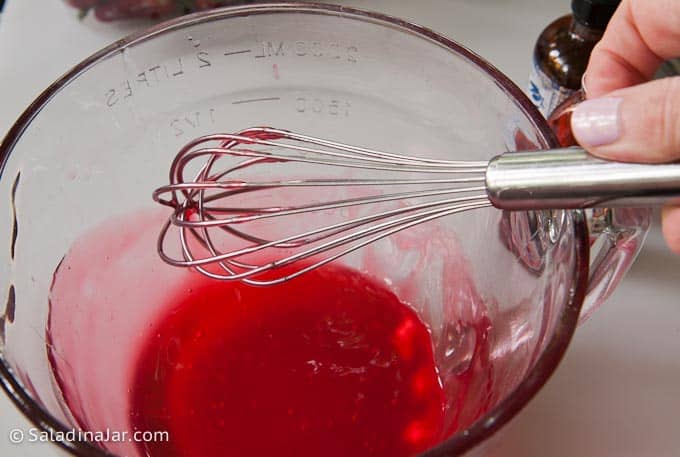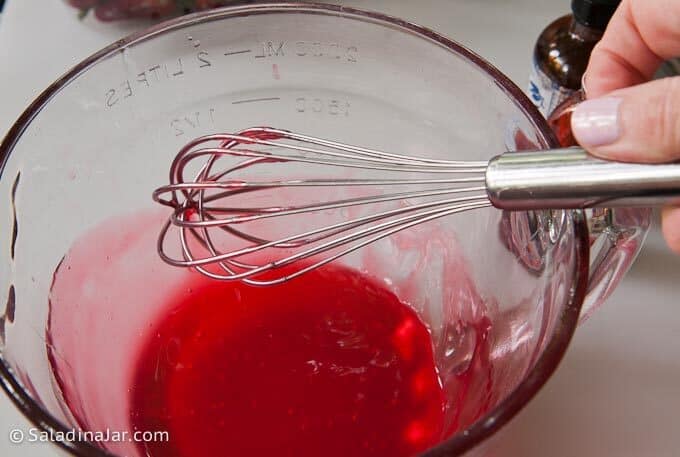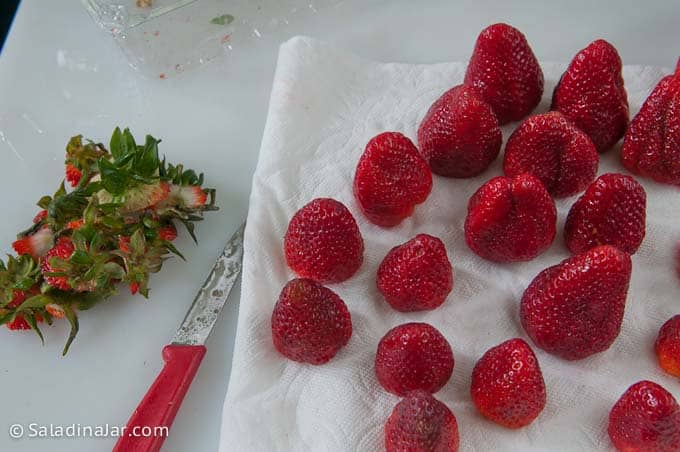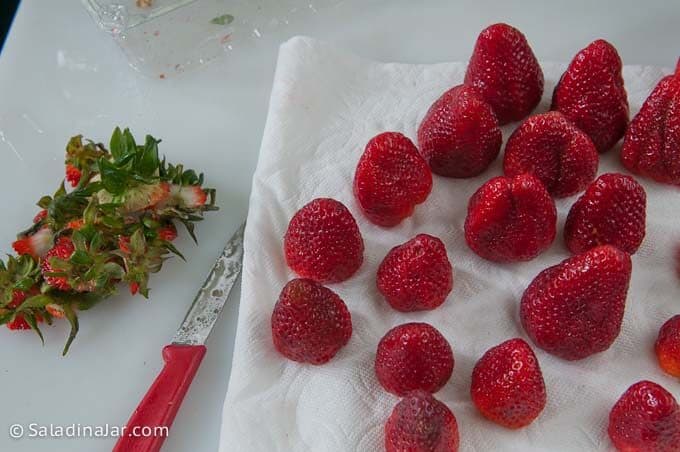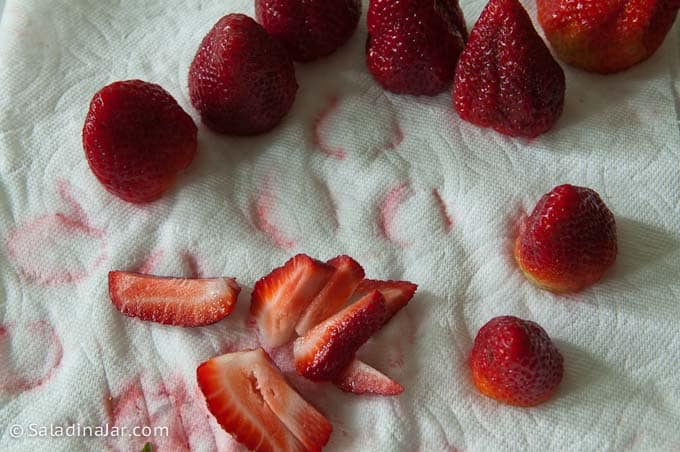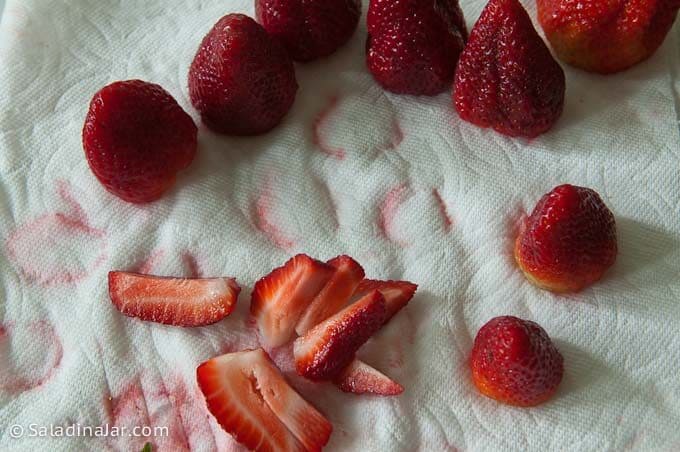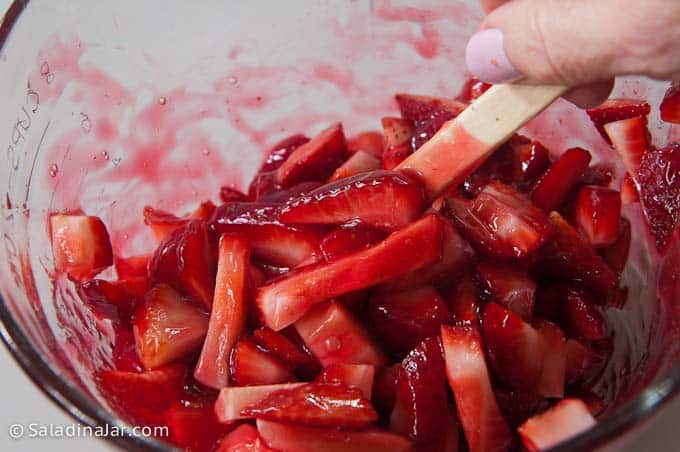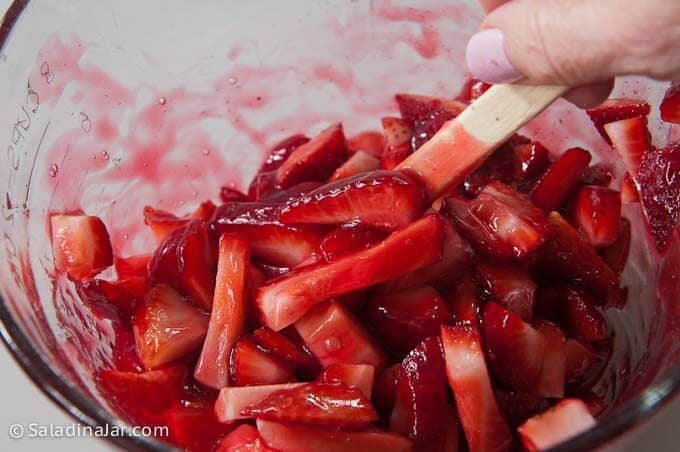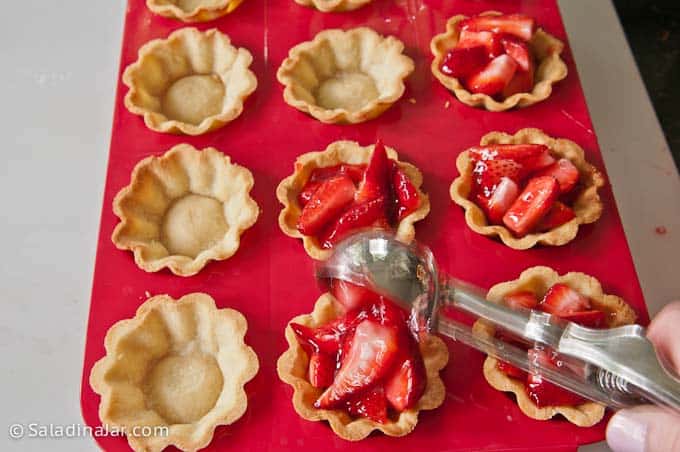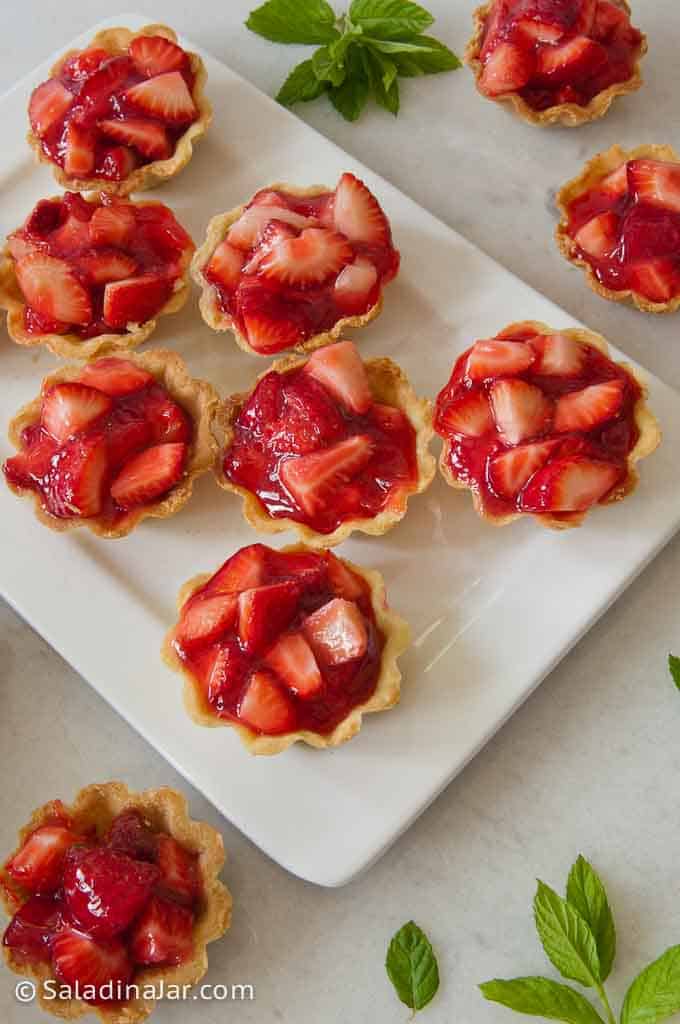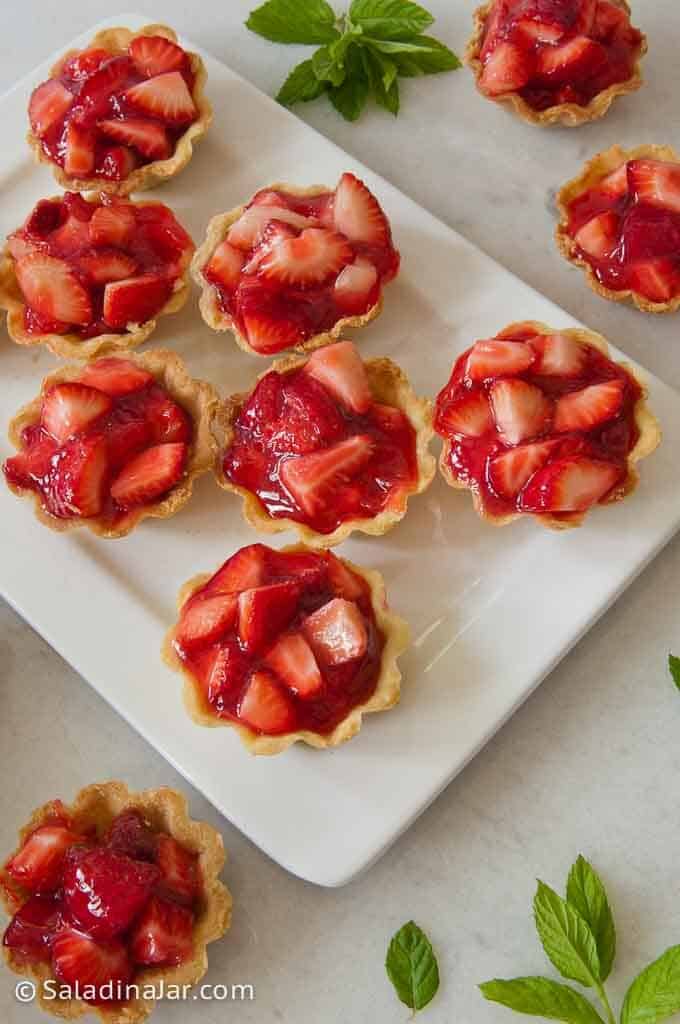 If you make this and enjoy the recipe, it would help me and others if you would return to this post and leave a rating (on the recipe card itself underneath the picture). Although always appreciated, no comment is required. Thanks so much! Paula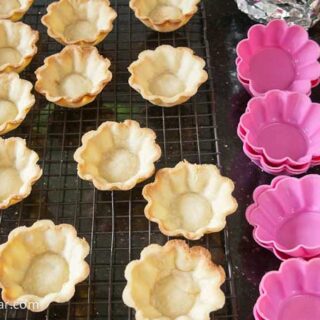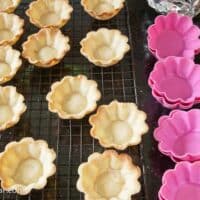 Mini Strawberry Tart Crust Recipe
Total Time:
2 hours
15 minutes
A buttery sweet crust that goes well with any flavor custard or cream filling.
Ingredients
1 1/4 cup all-purpose flour
1/3 cup powdered sugar
1/4 teaspoon salt
1/2 cup (1 stick) chilled butter, cut into 8 pieces
1 large egg yolk
1 tablespoon heavy cream
1/2 teaspoon vanilla extract
Instructions
Combine flour, sugar and salt in food processor. Cut butter into 8 slices and add to flour, pulsing several times until mixture resembles oatmeal. Add egg yolk mixed with cream. Pulse until all ingredients are moistened. Allow machine to run a few seconds until dough starts to stick together. (Add additional drops of cream if dough seems too dry.) Press dough into a roll like refrigerated cookie dough. Wrap in plastic and chill 30 minutes.
Spray tart molds generously with Baker's Joy or something similar. (Baker's Joy is an aerosol spray that mixes flour and oil.) If using silicone molds, no greasing is necessary.
Slice the roll of dough into 13 pieces. Using a rolling pin, roll dough between two pieces of plastic wrap into a circle slightly larger than tart molds. Press dough into a mold with fingers, being careful to keep thickness consistent. Use a knife to trim off any extra dough hanging over the top. I usually have enough scraps to make another tart or two. Freeze for at least 30 minutes, overnight, or up to a month.
Preheat oven to 400 degrees F.
Place frozen tart shells onto a cookie sheet and lay a small square of non-stick foil on top of each crust, non-stick side down. Use your fingers to push foil against the insides of each crust. See picture above or video.
Bake at 400 degrees for 10 minutes. Remove foil and continue to bake until golden brown, usually about 3-4 minutes.
Recommended Products
As an Amazon Associate, I earn from qualifying purchases. But don't worry. This doesn't change the price you pay.
Nutrition Information:
Yield:

14
Serving Size:

1
Amount Per Serving:
Calories:

180
Total Fat:

14g
Saturated Fat:

9g
Trans Fat:

1g
Unsaturated Fat:

4g
Cholesterol:

63mg
Sodium:

148mg
Carbohydrates:

11g
Fiber:

0g
Sugar:

3g
Protein:

2g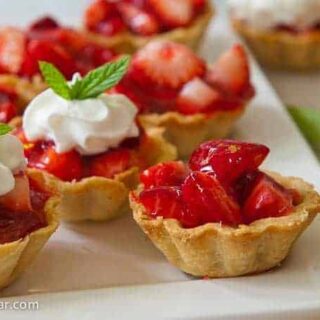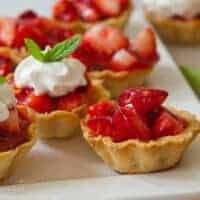 Fresh Strawberry Tart Filling
Total Time:
3 hours
12 minutes
Sliced, fresh strawberries held together with a shiny glaze (easy to make in the microwave) fill shortbread cookie crusts. Easy to serve. Even easier to eat.
Ingredients
1 pounds fresh strawberries, cleaned and de-stemmed
1/2 cup + 2 tablespoons cold water
2 tablespoons cornstarch
2 tablespoons powdered strawberry Jello (do not sub diet Jello)
3/4 cup corn syrup
Few drops of red food coloring, if desired
1/8 teaspoon almond extract (optional)
Instructions
Glaze
Combine water, cornstarch, strawberry Jello, and corn syrup in that order. Stir or whisk until dissolved.
Cook the filling in a microwave using a 2 qt-glass batter bowl. Takes 4-7 minutes on High, stirring once or twice. Mixture should boil and thicken to the consistency of molasses.
Add food coloring and flavorings, if using. Set aside to cool for about 30 minutes.
Meanwhile, rinse and de-stem 1 quart of strawberries. Allow to drain and dry on a towel. Slice or cut strawberries into small pieces. Gently fold strawberries into glaze.
Spoon glazed strawberries into baked shells. I like to fill them as high as possible. Decadence is irresistible.
Refrigerate at least 2-3 hours. Best eaten the day they are made. Just before serving, top with whipped cream. Garnish with fresh mint if desired.
Recommended Products
As an Amazon Associate, I earn from qualifying purchases. But don't worry. This doesn't change the price you pay.
Nutrition Information:
Yield:

14
Serving Size:

1
Amount Per Serving:
Calories:

130
Total Fat:

3g
Saturated Fat:

1g
Trans Fat:

0g
Unsaturated Fat:

2g
Cholesterol:

12mg
Sodium:

127mg
Carbohydrates:

23g
Fiber:

1g
Sugar:

17g
Protein:

4g
Nutrionals are for the filling only.
What would you like to read next?