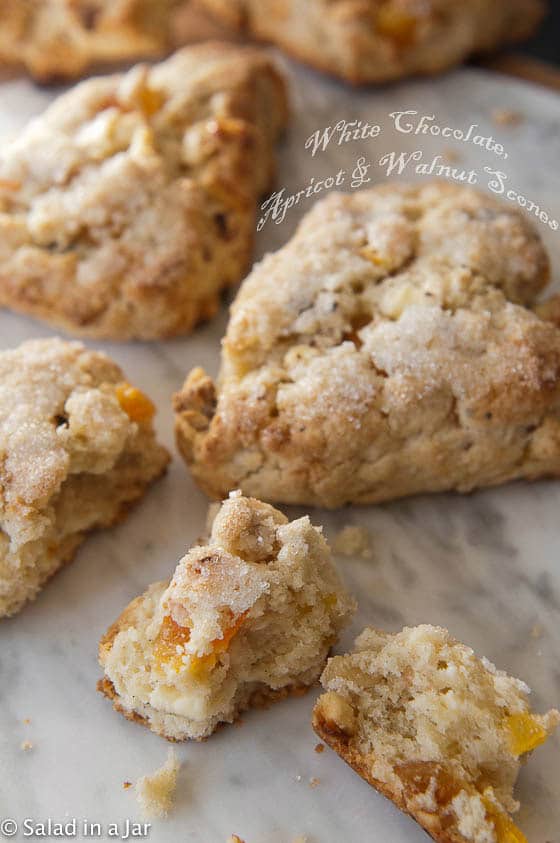 With Valentine's Day waiting in the wings, have you thought about making something a bit special for breakfast? I propose these rich and scrumptious scones with a hot cup of coffee or tea to set the mood and tone for the day.
I scored this recipe when volunteering at Bible Study Fellowship headquarters in San Antonio some years back. The people who work there do everything with excellence, including the food. After helping to serve these for breakfast one morning, I was thrilled to get the recipe.
These scones don't show up in my kitchen very often because they are rich, a tad expensive, and definitely not low-calorie. But they are so worth it for a special occasion. Even though I'm not a big fan of white chocolate, apricots, or walnuts on their own, they all come together in these scones to make a flaky and flavorful quick bread you will enjoy and remember.
The original recipe did not call for the sanding sugar on top, but I think it adds a sophisticated and tempting touch. Don't substitute regular sugar because it will dissolve in the cream glaze, so you won't get that crunchy, sparkly, and sugary crust that makes them so appealing.
You can make these ahead of time and freeze the shaped dough, but don't bake them until the day you want to serve them. They are best eaten the day they are baked, kinda like donuts.
White Chocolate, Apricot, and Walnut Scones
Recipe type:
Breakfast, Quick Breads
Ingredients
2 cups all-purpose flour
⅓ cup sugar
2 teaspoons baking powder
½ teaspoon salt
¼ cup butter
½ cup heavy cream + some for glazing
1 large egg
1-1/2 teaspoon vanilla extract
4 ounces white chocolate, ½-inch rough cubes
⅔ cup walnuts, toasted
⅔ cup finely chopped apricots or raisins
Sanding sugar for tops
Instructions
Mix together first four ingredients. Add cold butter and cut in with a fork until mixture looks like coarse oatmeal.
In a separate bowl, whisk together heavy cream, egg, and vanilla extract before adding it to dry ingredients. Stir in white chocolate, walnuts, and apricots. Mixture will be crumbly.
Pour crumbly mixture out onto lightly floured surface and use hands to press together into a large patty about 9-inches square and 1-inch thick. Cut into four pieces using the shape of a "plus" sign. Cut each square in half diagonally, resulting in 8 scones. For mini-scones, cut each triangle in half.
Brush tops of scones with heavy cream, then dip tops into a bowl of sanding sugar (easier than sprinkling sugar on top). Place onto cookie sheet covered with parchment paper or silicone mat.
Bake in 400 degree oven for 20 minutes. The bottoms of these scones tend to brown quickly, so I position them on a rack closer to the top of my oven than the bottom. Whether you need to do the same will depend on the cookie sheet you use and your oven.
Related Posts: