Preview: This Apricot White Chocolate Scones recipe with walnuts produces a memorable sugar-crusted cream breakfast scone packed with sweetness.
These scones don't show up in my kitchen very often because they are rich, a tad expensive, and not low-calorie. But they are so worth it for a special occasion.
Make these White Chocolate and Apricot Scones up ahead of time and freeze. Bake when ready to eat.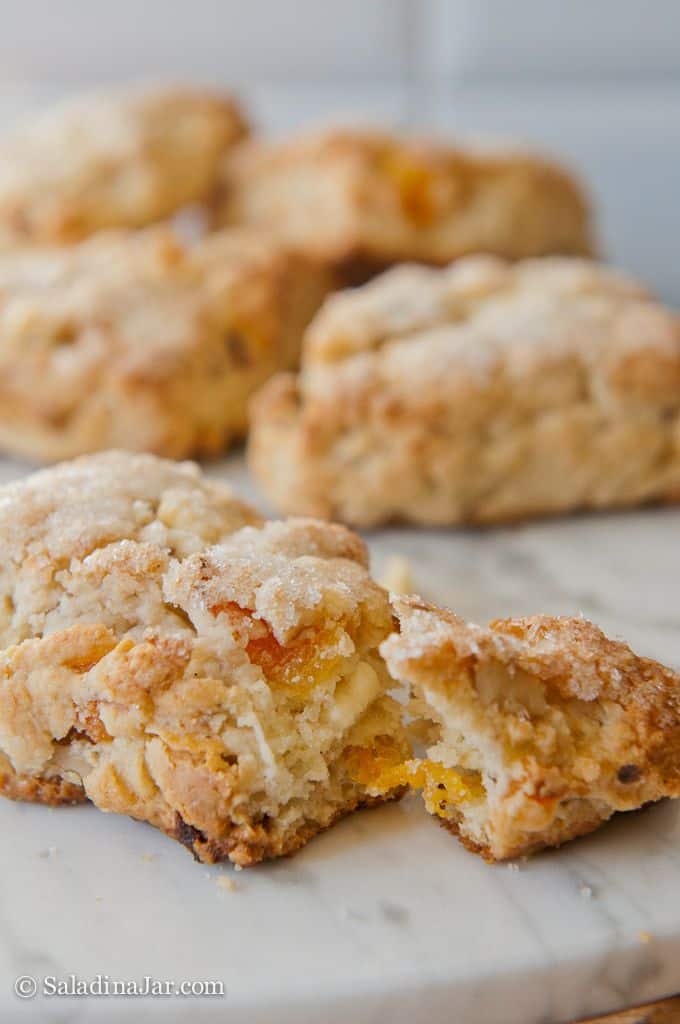 Recipe inspiration…
A few years ago, I had the opportunity to volunteer in the kitchen at Bible Study Fellowship headquarters in San Antonio. Their motto emphasizes excellence in service to the Lord.
The food they prepare is just one example. After helping to serve these white chocolate scones for breakfast one morning, I was thrilled to get the recipe.
Ingredients and substitutions:
FLOUR: Use all-purpose or pastry flour. Bleached or unbleached are both acceptable.

SUGAR: Granulated white sugar is my first choice. Because the apricots and white chocolate add sweetness, not to mention the sanding sugar on top, you could get away with half the sugar specified.

BAKING POWDER: No substitutes. Be sure it's fresh. After you open a can, it's only good for 6 months to a year. Learn more about how to tell if your baking powder has lost its potency.

SALT: Use table salt or sea salt. If using Kosher salt, add ¼ teaspoon extra.

BUTTER: You could substitute shortening or lard but butter gives a richer flavor. Butter should be very cold for maximum flakiness.

HEAVY CREAM: Milk could be substituted for half of the cream for a lighter scone.

WALNUTS: Other possibilities include pecans and macadamia nuts. Don't skip the toasting. It's easy to toast nuts in your microwave.

APRICOTS: Any dried fruit can be used to substitute for the apricots. If they are small like raisins or dried cranberries or blueberries, you won't need to chop them.

SANDING SUGAR: Optional, but worth the trouble.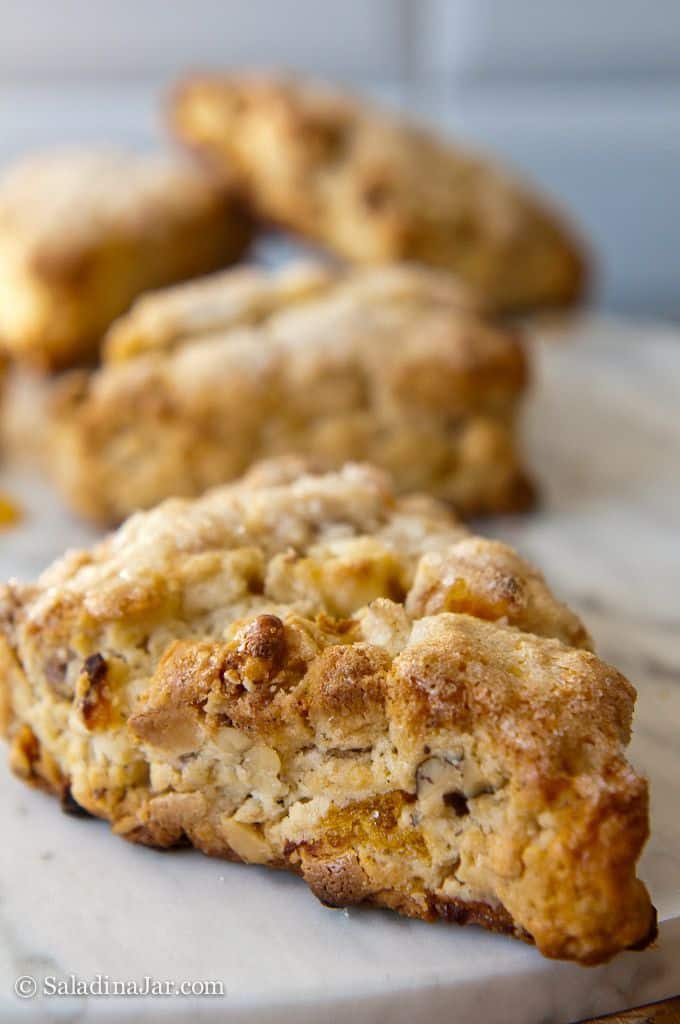 Kitchen Tips:
#1
You can make White Chocolate and Apricot Scones ahead of time.
If you need to make these ahead, freeze the shaped dough, but don't bake them until the day you want to serve them. Eat scones the day they are baked, like donuts.
#2
Roll out scone dough on a silicone baking sheet.
Toss silicone baking sheets in the dishwasher for easy clean-up. However, be careful when cutting the dough into triangle shapes. You don't want to damage your mat. I do it all the time without consequence.
---
How to shape Apricot White Chocolate Scones with Walnuts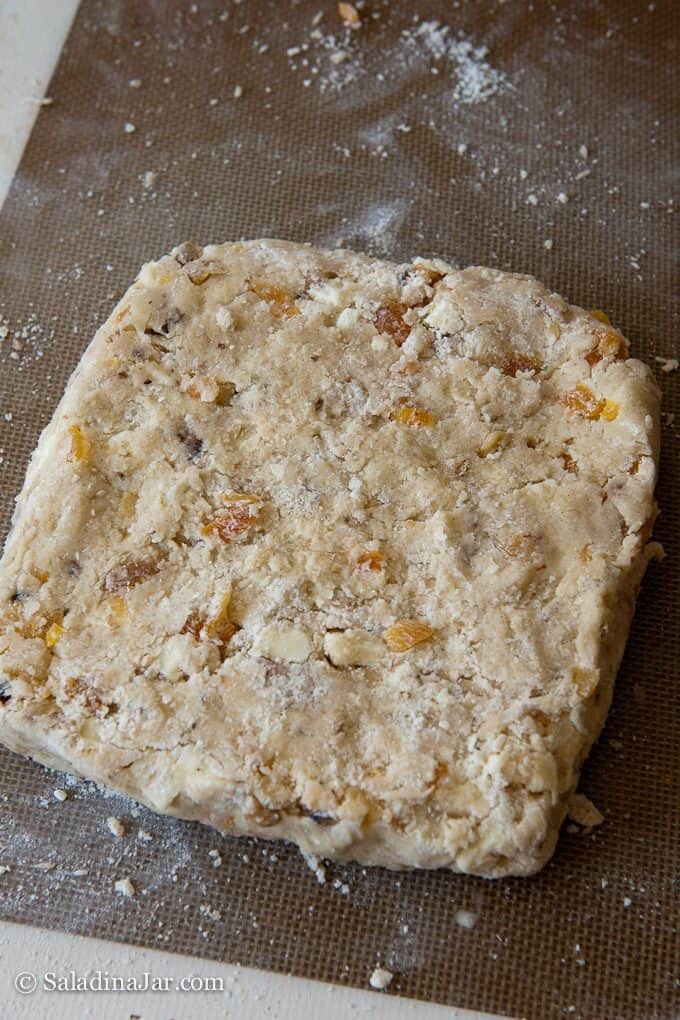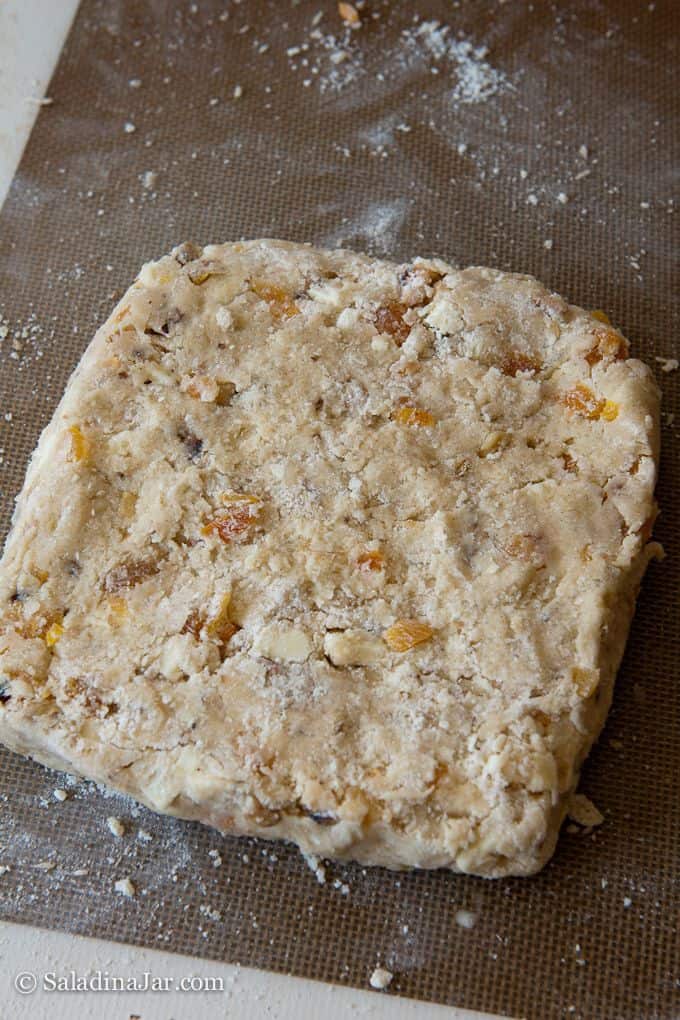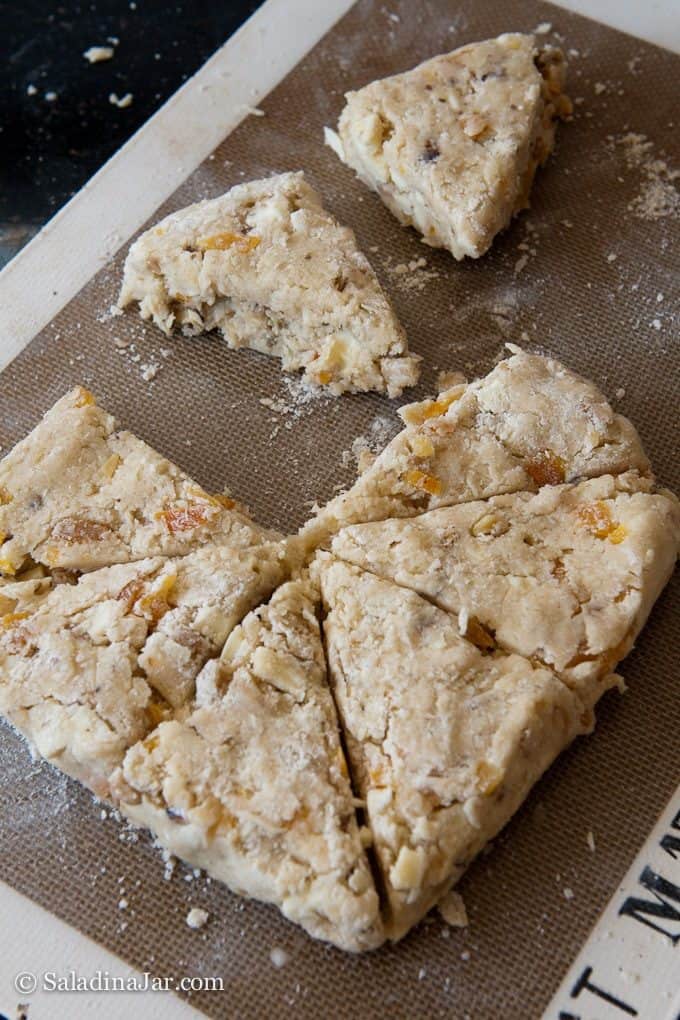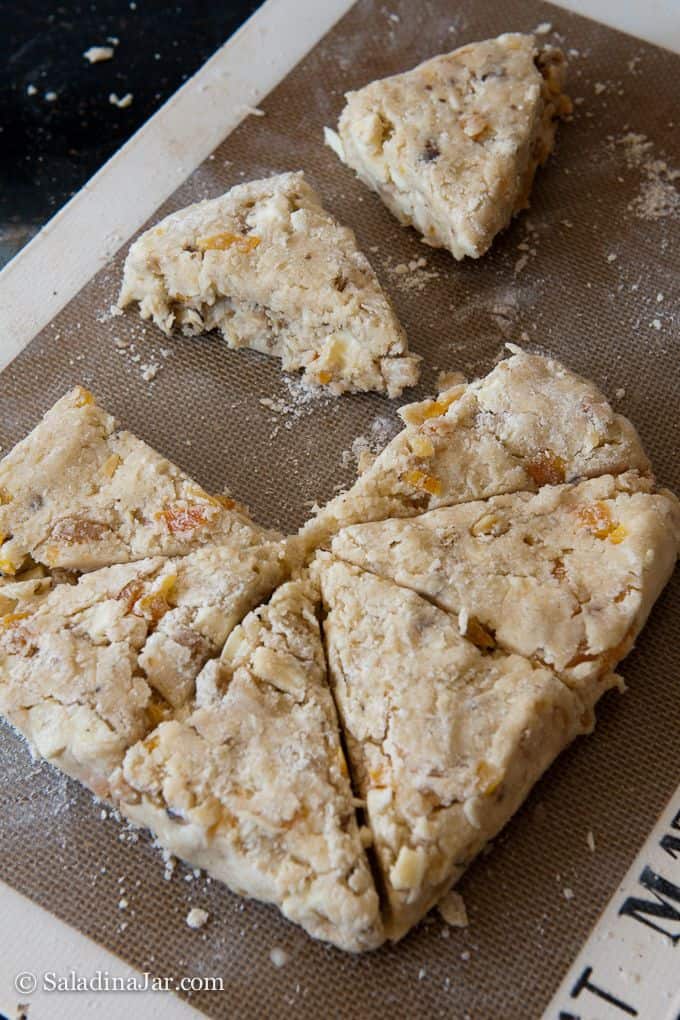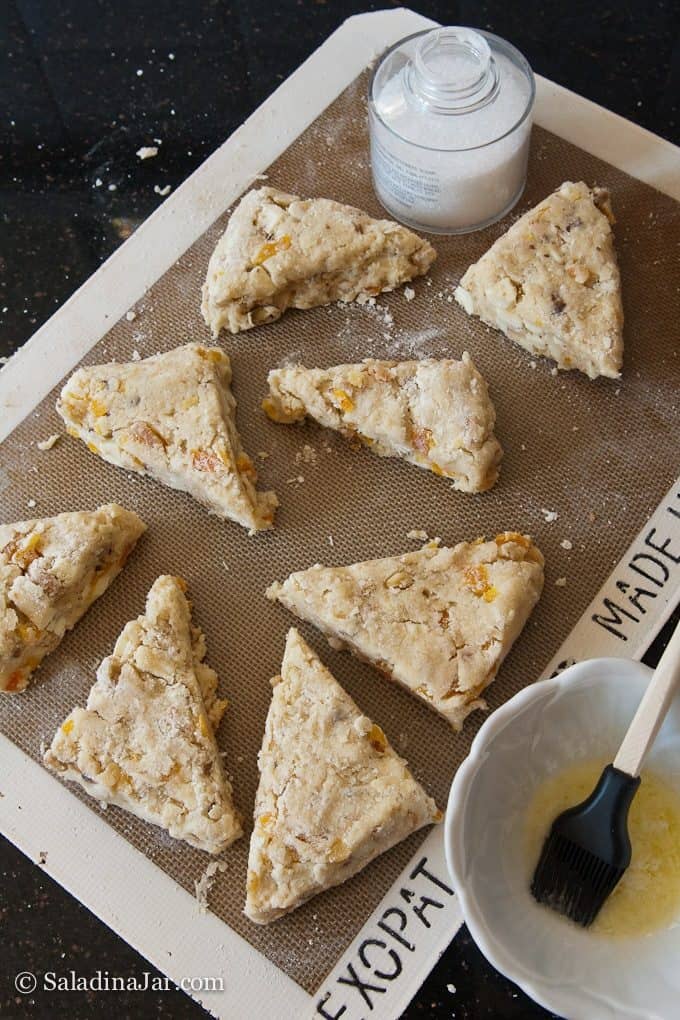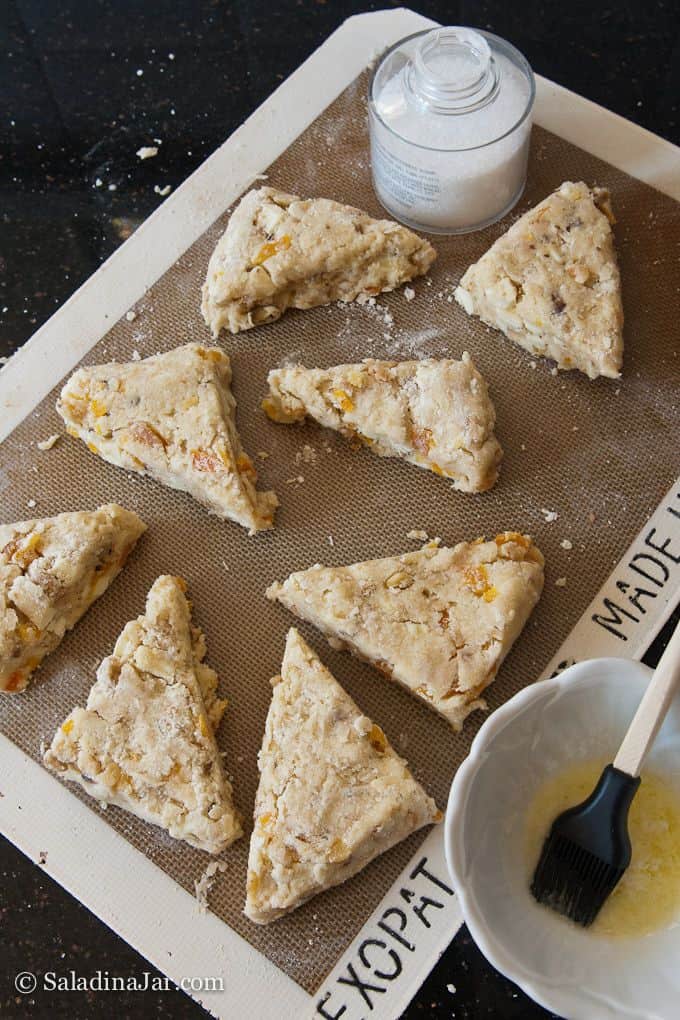 ---
What would you like to read next?
---
If you enjoyed this recipe, it would help others and me if you gave it a five-star rating inside the recipe card below. 🤩 No comment required. Thank you.

Hope to see you again soon!
Paula
p.s. Questions or suggestions? Please email me: Paula at saladinajar.com.