Preview: These warm nuts are mixed nuts seasoned with rosemary and sautéed shallots, They smell SOOOO good! Almost better than fresh cookies. Updated 2/11/21.
At a recent Christmas cookie exchange, this recipe was the star of the show. Nevermind the sparkly cookies, decorated cut-outs, fudge, and numerous other sweets. We wanted savory, spicy, and salty. We wanted whatever it was we could smell baking in the kitchen.
Just in time for your next party…
These nuts are a great idea for your snack table.
Rosemary, shallots and garlic flavor these toasty mixed nuts. It's best to eat them warm out of the oven. Certainly the same day. I recommend serving them from a small slow cooker since "warm" is the best way to eat them.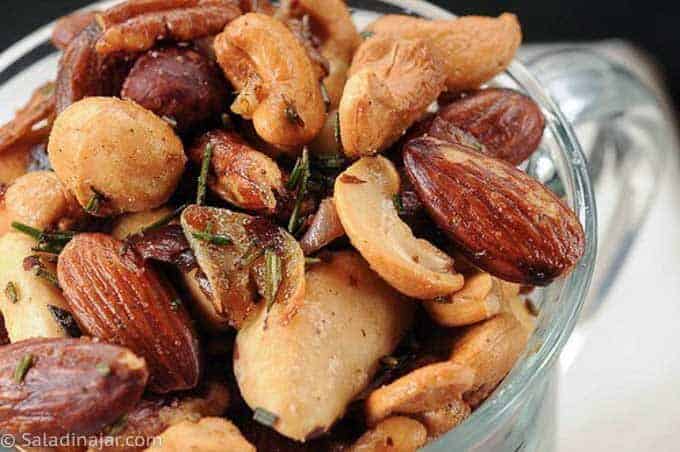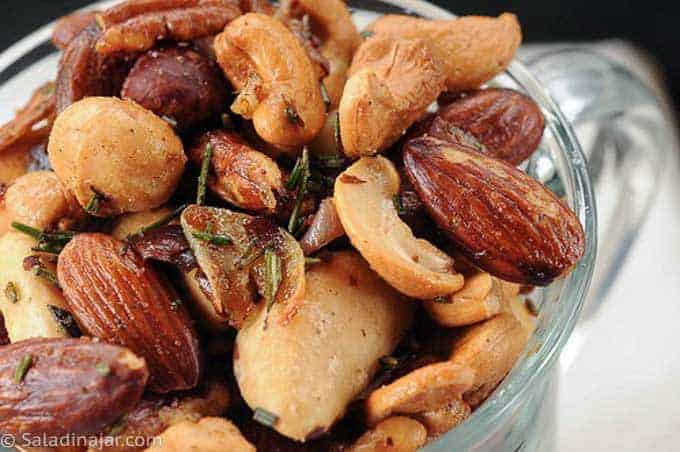 One warning: the smell!
Oh my! Talk about aromatherapy. One whiff and you will forget about your troubles and your waistline.
---
Ingredients and possible substitutions:
MIXED NUTS: Mixed nuts make the prettiest presentation. If you're not a fan of all the different nuts, and you don't have a party of people to help you eat the ones you don't like, cashews are particularly amenable to this recipe.

OLIVE OIL: Any vegetable oil could be substituted but the olive oil adds so much flavor. It's worth the trouble to get some.

SHALLOTS: The shallots shrink and become mild in flavor during the toasting process. They are the best choice.

GARLIC: Garlic powder could be substituted here. However, the toasted garlic is mild and plays nicely with the toasted shallots.

BUTTER: Stick with butter, not margarine. If you use salted butter, consider adjusting the salt added at the end.

ROSEMARY: Fresh rosemary is the best choice here. Dried rosemary won't give you the same aroma or texture when warmed. This is the ingredient that "makes" this recipe.

DARK BROWN SUGAR: Substitute light brown sugar if you don't have dark brown sugar.

SALT: Kosher salt is preferred with fine sea salt close behind.
---
How to make warm nuts: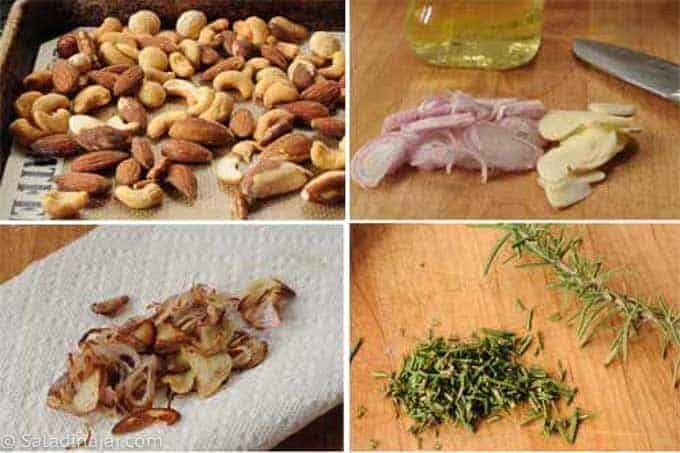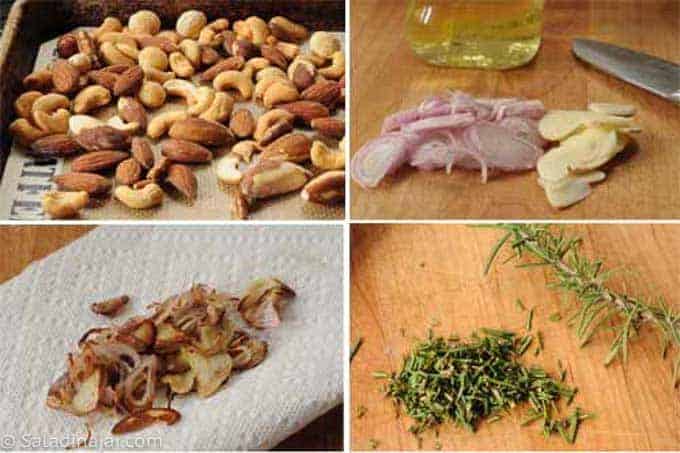 If you like nuts and/or rosemary, check out these recipes:
If you enjoyed this recipe, it would help others and me if you gave it a five-star rating inside the recipe card below. 🤩 No comment required. Thank you.

Hope to see you again soon!
Paula
p.s. Questions or suggestions? Please email me: Paula at saladinajar.com.
Apologies to Martha Stewart: I got this recipe from a friend and realized later it probably came from her magazine or website.