Preview: Add these Christmas Dinner Rolls with brown butter and rosemary (mixed in a bread machine) to your next holiday menu. Directions for shaping into a wreath included.
Are you looking for something easy but festive for a holiday gathering? Although homemade yeast rolls issue an aromatic, come-hither statement on their own, this simple wreath configuration is guaranteed to make them memorable.
Don't fret if you aren't Mr. or Ms. Bread-Baker-of-the-Year. Below is a list of various ways you can create these Browned Butter and Rosemary Dinner Rolls for your holiday table.
Although this recipe comes with bread machine instructions, you can make them by hand or with a stand mixer. See the recipe notes for detail.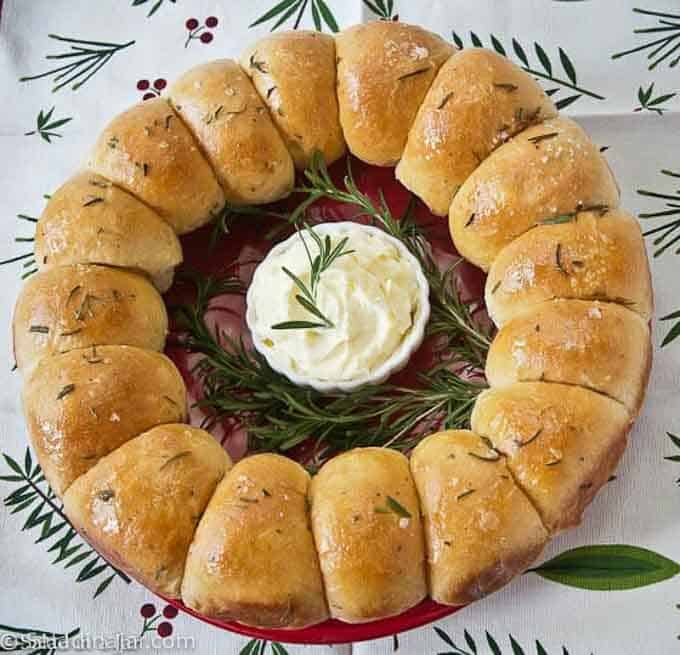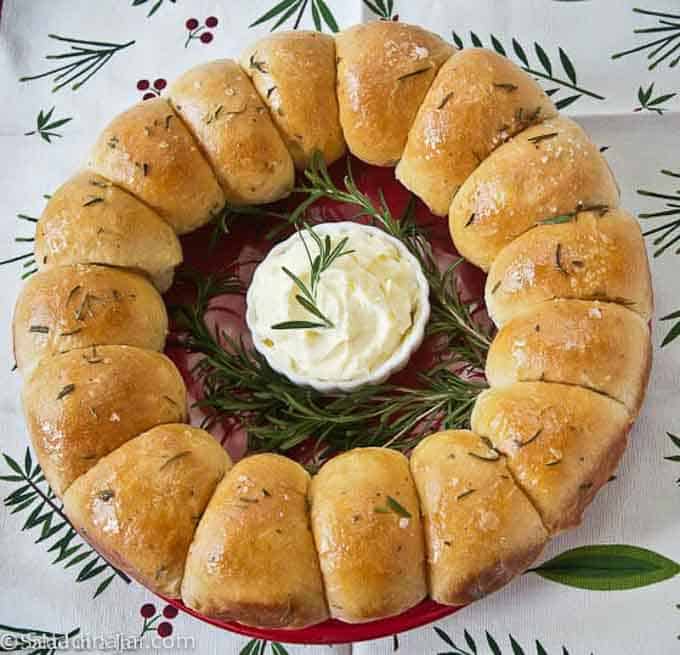 Four ways to use this holiday bread recipe:
No time or too many bread-baking insecurities? Use store-bought frozen bread dough.

No desire and/or time to mix and knead bread dough by hand? Use a bread machine or a heavy-duty stand mixer to do the job. You could even use a bread machine mix from the grocery store.

Already have a favorite roll recipe but want to dress it up? After letting your dough rise, start with the instructions for shaping the rolls in step 5 and proceed as directed.

Not sure about the wreath but want to try the rolls? (They make great slider buns.) Skip the whole wreath idea and put dough balls into two 8 or 9-inch pans as seen here and start from step 5 in the recipe.
If you haven't already, be sure to check out this video for instructions on how to make perfect little balls with yeast dough. No fancy twisting, knotting, or similar frustration required.
Two ways to form a wreath out of Christmas dinner rolls: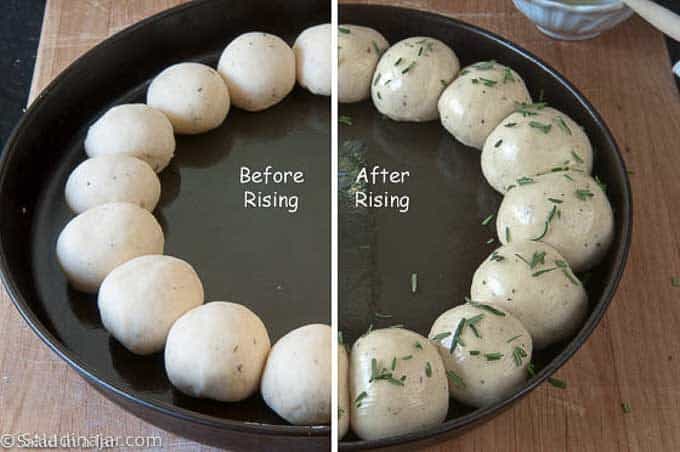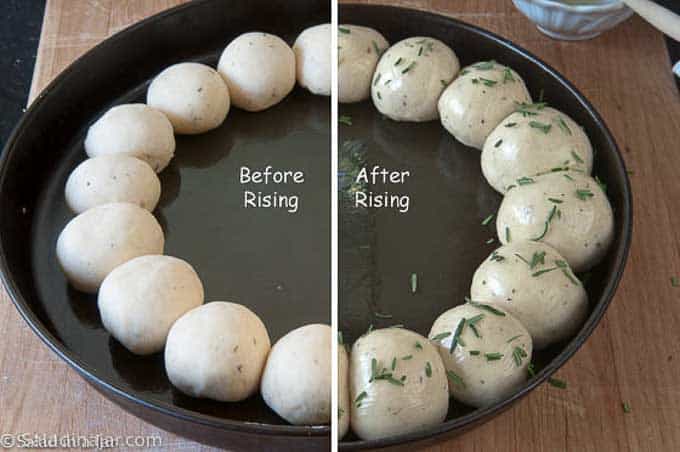 Here's another option, only because I'm having fun with this recipe.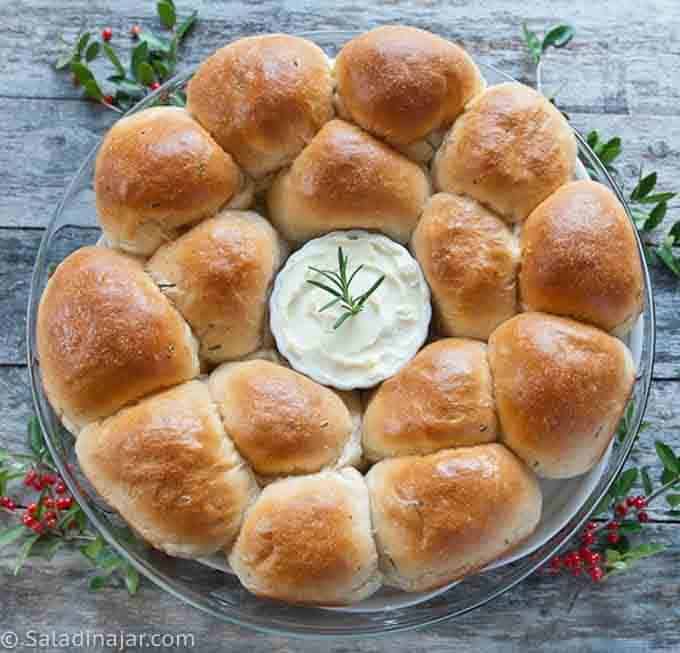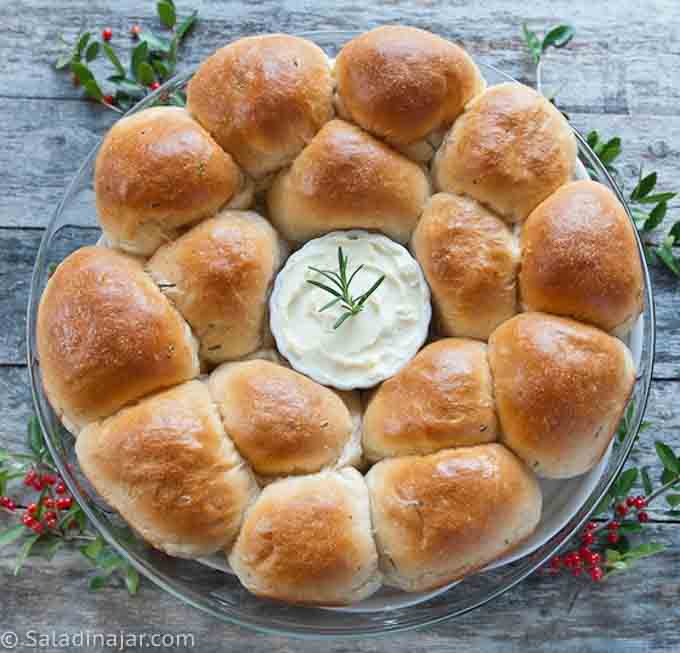 As you can see in the picture below, I put an oven-safe measuring cup in the middle to maintain the wreath shape.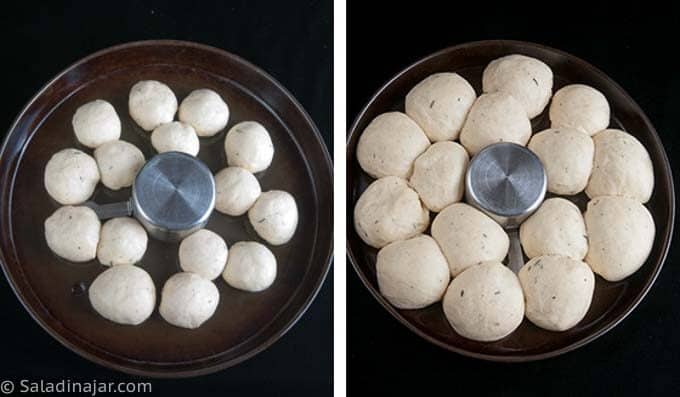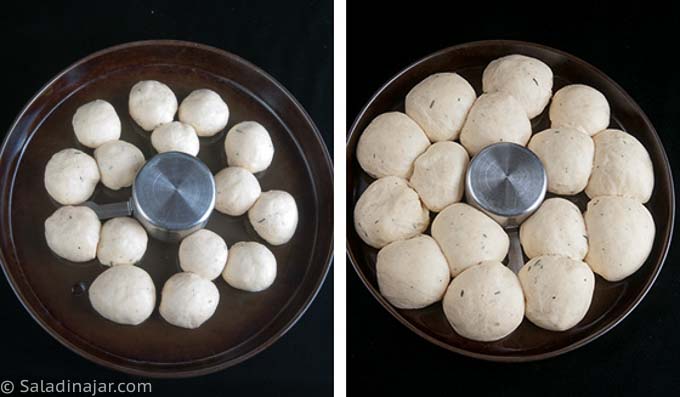 Credits:
The idea of the wreath comes from Martha Stewart Living.
Recipe adapted from my very favorite bread cookbook, One hundred years of bread: Classic Breads from your bread machine by Sidney Brockman Carlisle.
What would you like to read next?
If you enjoyed this recipe, it would help others and me if you gave it a five-star rating inside the recipe card below. 🤩 No comment required. Thank you.

Hope to see you again soon!
Paula
p.s. Questions or suggestions? Please email me: Paula at saladinajar.com.