Preview: Rosemary takes this artisan Cranberry Pecan Bread Machine recipe over the top. Makes a memorable turkey or ham sandwich.
An unnamed person in my family loves to dine with the net-capped sample-givers at the grocery store. We pretend not to know him while he prowls the end of the aisles searching for his next bite.
My self-righteousness falls apart when I visit the bakery at Central Market. The paper bags with folded down tops, tongs inside, and stuffed with small chunks of fresh-baked bread are irresistible. Those with some combination of nuts, fruits, and/or spices are my favorite.
This Cranberry and Pecan bread recipe reminds me of those artisan loaves I see at the bakery. It's a sweet and savory artisan loaf with a chewy crust. Try the recipe and see how easy it is to mix up in your bread machine.
No worries if you don't have a bread machine. See the recipe notes for how to make this recipe with a stand mixer or by hand.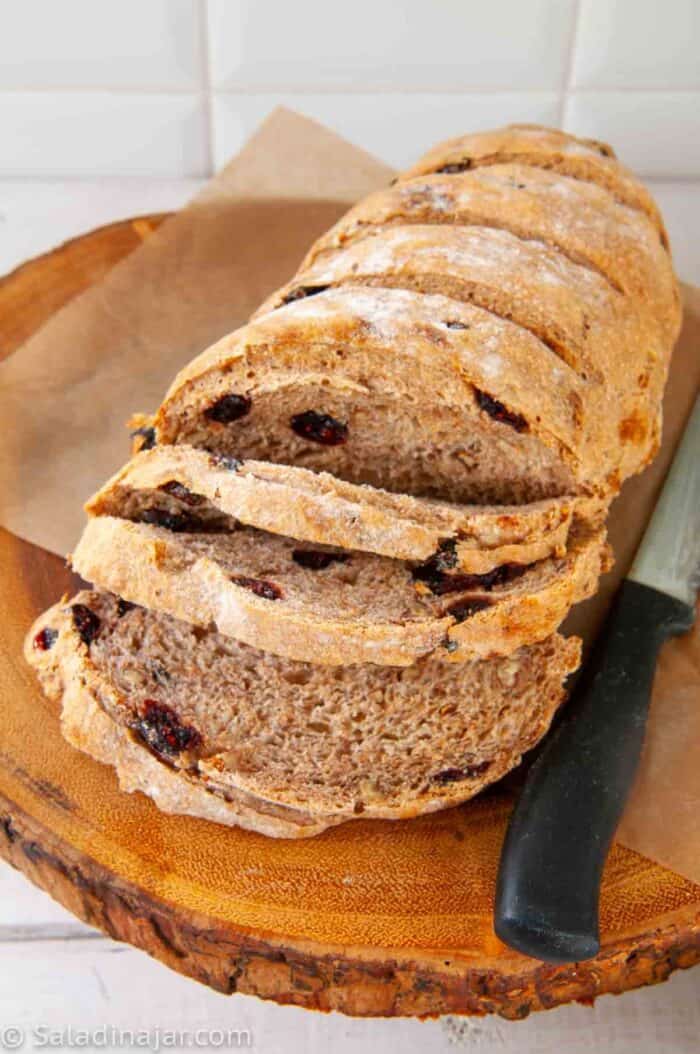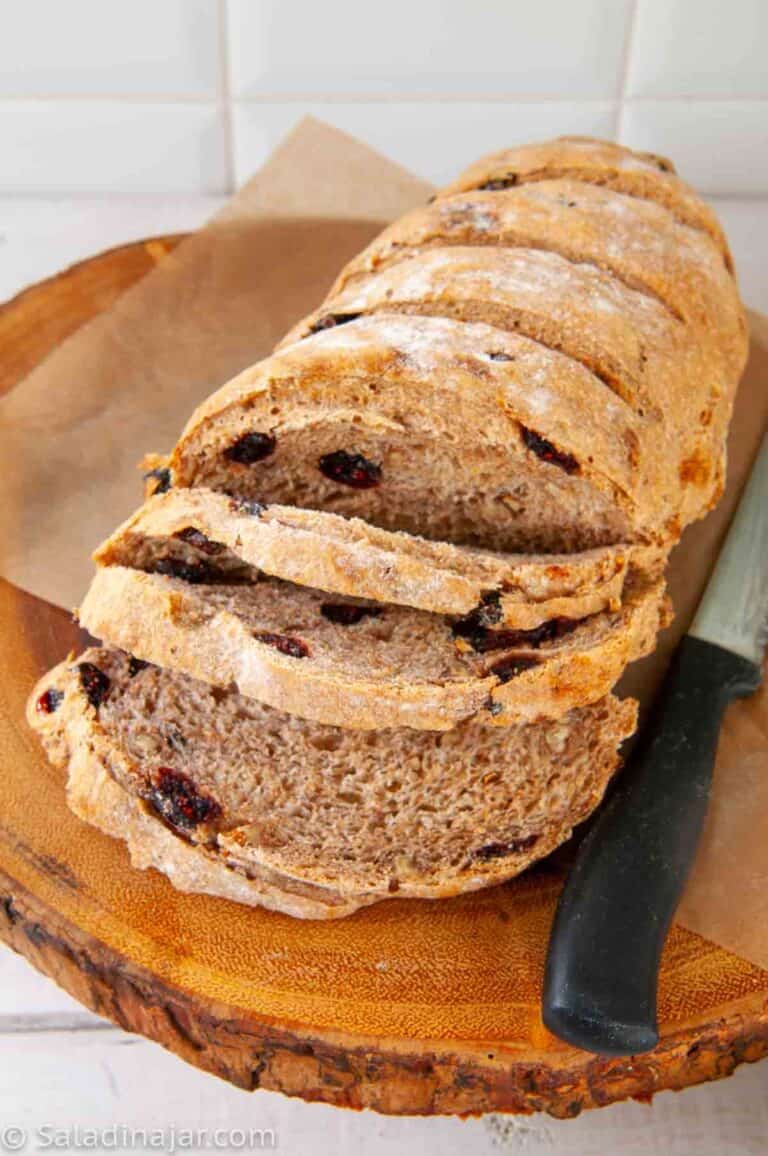 What makes a bread "artisan?"
Are you wondering what makes a bread "artisan?" When I looked it up, the definition includes bread without preservatives. The process of making it takes longer than dinner rolls and other simpler recipes. Bread sold without a wrapper is often artisan bread.
A pre-ferment started the night before lends a fabulous yeasty flavor to this artisan bread. But the fresh rosemary, dried cranberries, and toasted pecans are what make this bread memorable.
---
Recipe inspiration for Cranberry Pecan Bread from a bread maker:
After reading about rosemary and cherry pecans in a now-defunct food magazine, I was inspired to create a bread with similar flavors.
Using one of my favorite bread machine recipes–Crusty Round Bread, I added fresh rosemary, dried cranberries, and toasted pecans.
We loved the results. With or without a smear of McCutcheon's cherry butter, this bread will deliver your taste buds to sweet and savory nirvana.
You could do the same with your own favorite white or wheat loaf. I haven't tried it yet but wouldn't this make an extraordinary variation on Almost No-Knead Bread?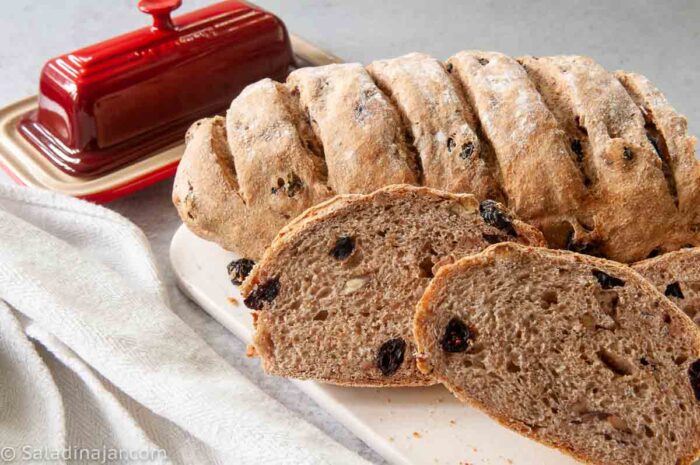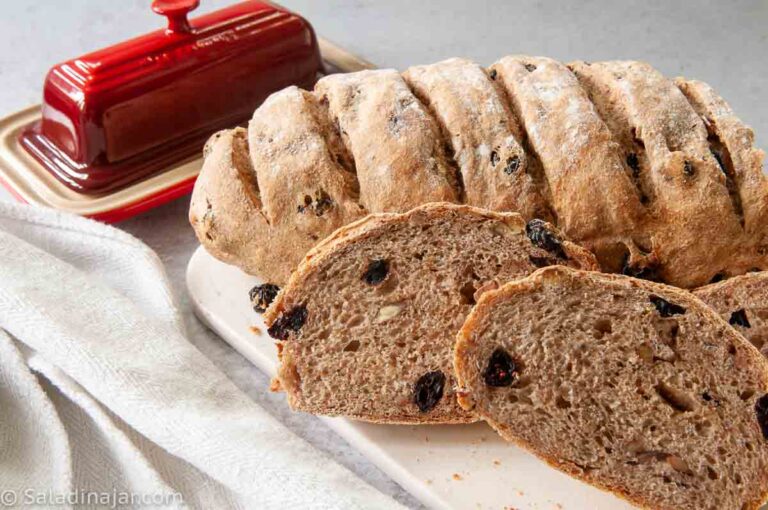 Ingredients and substitutions:
Flour: The original recipe for Crusty Round Bread calls for unbleached all-purpose flour. Weigh it for the best results.

Replace the unbleached flour added second in the recipe with whole wheat flour if you like. Remember that it may cause the bread to rise slower. (The picture above shows this version.)

Bread flour would help this bread rise higher. As written, this recipe makes a sturdy artisan sandwich bread.

YEAST: Use instant or bread machine yeast (same thing) in this recipe as written. If you only have active dry yeast, use 1/4 teaspoon more than called for in the recipe. It no longer needs to be dissolved first, but you can if you prefer.

DRIED CRANBERRIES: Any dried berries would be delicious in this bread. Try dried blueberries, dried cherries, and even dried apricots if they are chopped. Fresh fruit is not recommended. If you want a bread machine recipe that uses fresh fruit, this Uncommonly Fresh Blueberry Bread is a totally different kind of yeast bread but also scrumptious.

ROSEMARY: Fresh rosemary is my first choice. You could use chopped dried rosemary but I haven't tried it. If you do, reduce the amount a third from what the recipe calls for.

PECANS: The recipe calls for toasted pecans. Use your microwave to toast them on a paper plate in less than 2 minutes.

Toasted walnuts or almonds would make a good substitute.
---
What else can I do with leftover cranberry pecan bread?
If you have leftovers, try making this rosemary bread sandwich. Fill this basic panini with shaved ham, cheese of your choice, and Durkee's Sandwich Spread.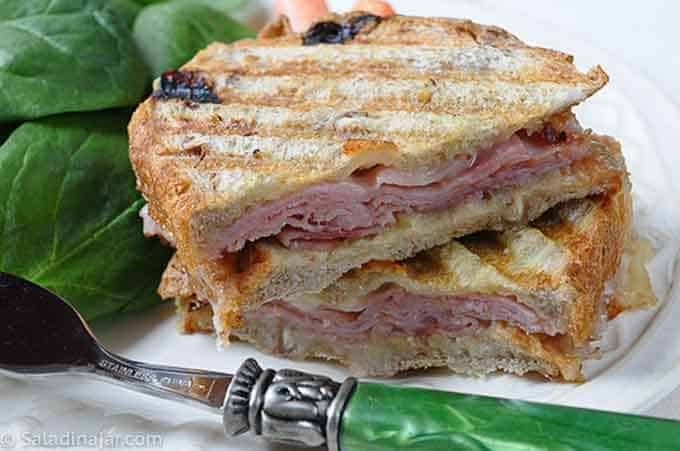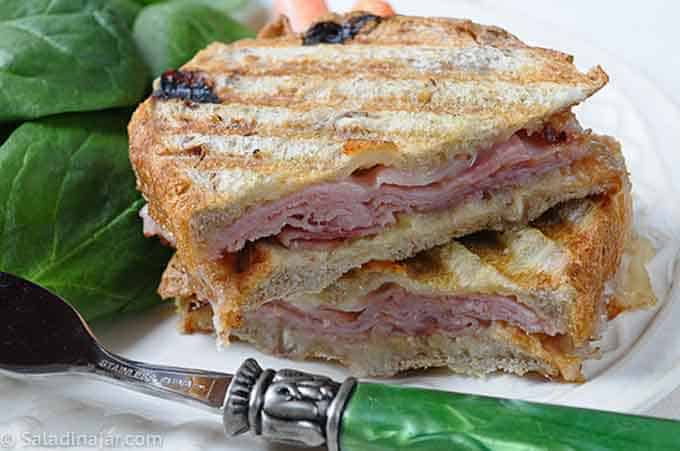 How to roll out the dough:
The first image below shows the sponge you need to make ahead of time. Follow the pictures to continue shaping the dough after the dough cycle in your bread machine completes.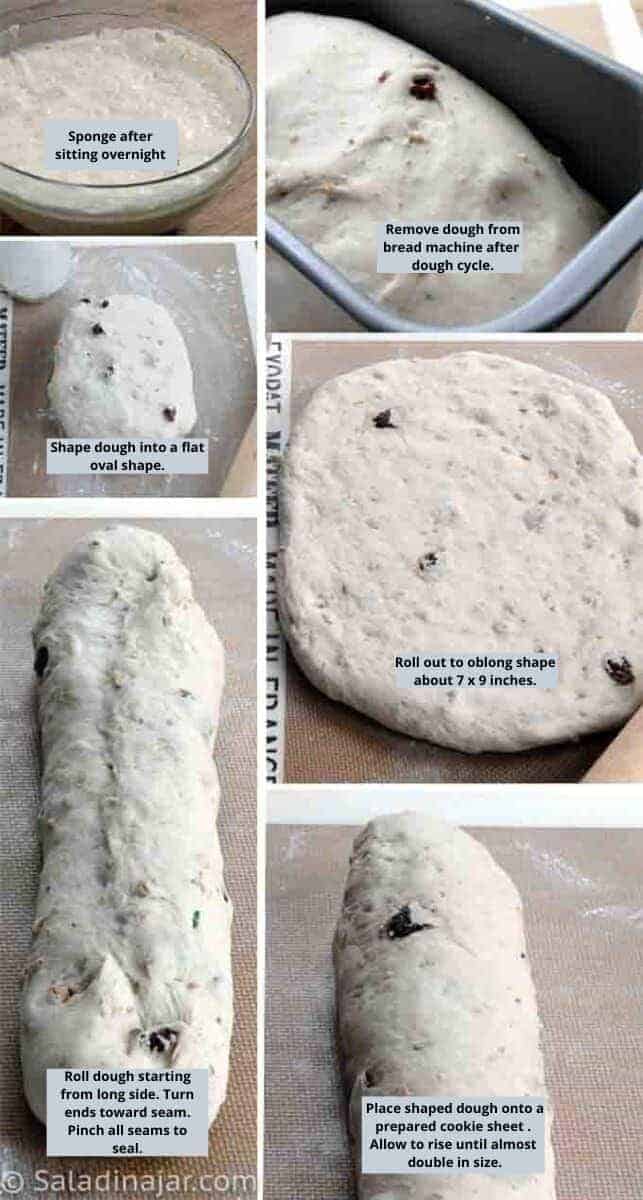 How to bake Rosemary Bread with Dried Cranberries and Toasted Pecans: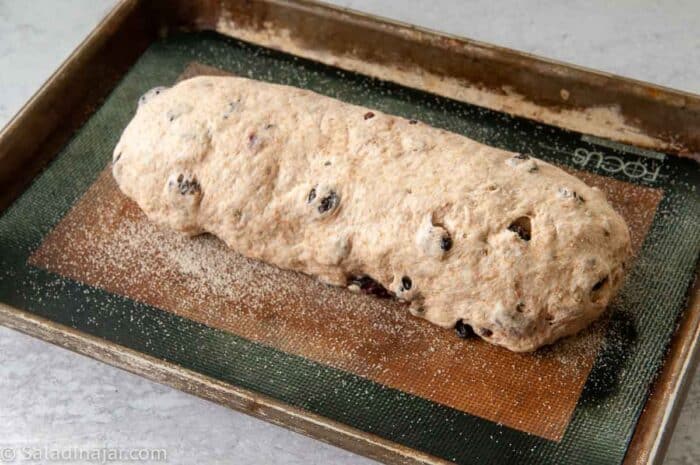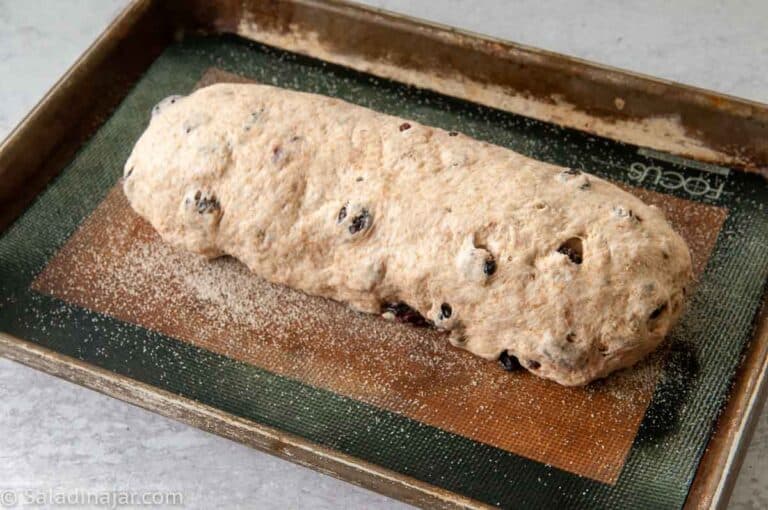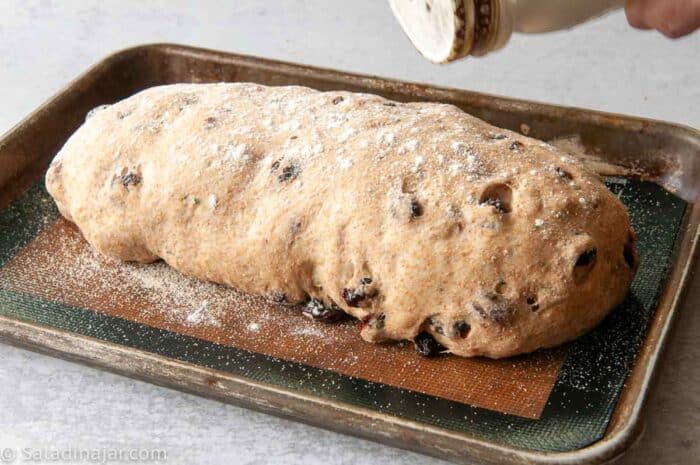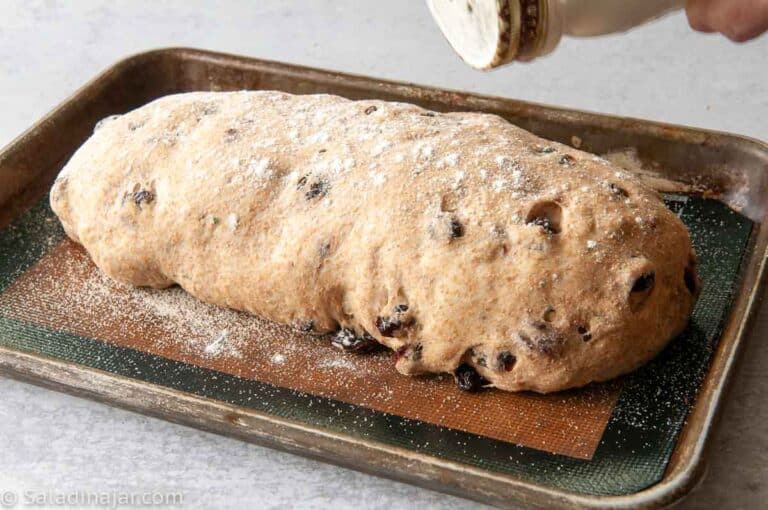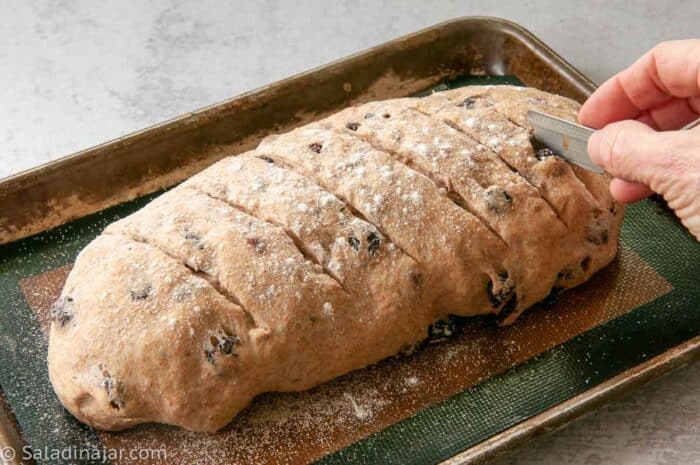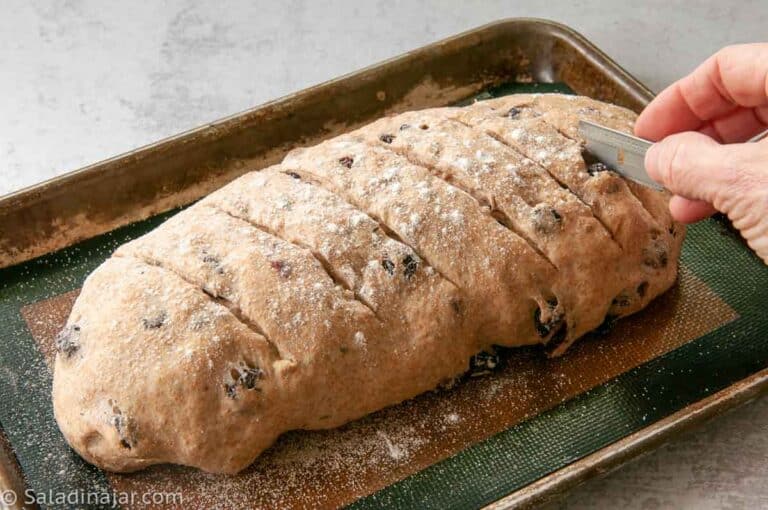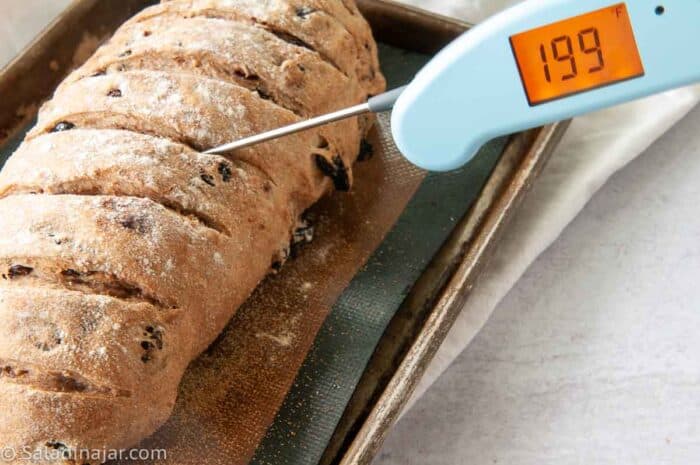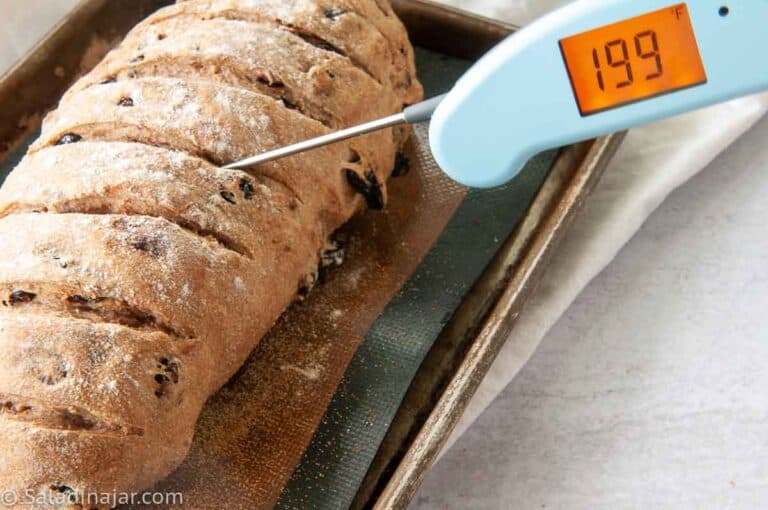 ---
If you enjoy making yeast bread, check out these posts:
---
---
Did you try this recipe and enjoy it? Consider helping other readers (and me) by returning to this post. Leave a rating on the recipe card itself underneath the picture. Although always appreciated, comments aren't required.
If you have a question or tip to share, please leave it in the regular comments after the recipe so I can answer back. Or, email me privately: paula at saladinajar.com.

Thank you for visiting!
Paula
---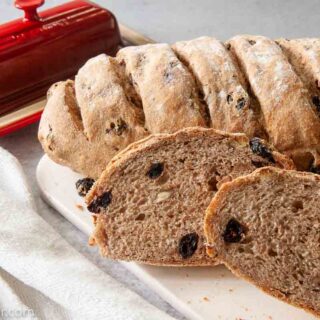 Cranberry Pecan Bread Machine Recipe
This bread machine recipe is a sweet and savory artisan loaf with a crispy crust. Dried cranberries and toasted pecans complement the fresh rosemary in this flavorful bread you can easily mix and knead in a bread machine.
Ingredients
Pre-ferment
1-1/2

cups

all-purpose, unbleached flour

-

180 gr

1

teaspoon

instant or bread machine yeast

-

3 gr

1

cup

spring or tap water

-

240 gr
Dough
Pre-ferment mixture

3

tablespoons

spring or tap water

-

44 gr

1

teaspoon

sugar (optional)

-

4 gr

1-1/2

teaspoon

salt

-

9 gr

1-3/4

cups

all-purpose, unbleached flour

-

210 gr

2

teaspoons

fresh rosemary

-

chopped

½

cup

toasted pecans

-

(coarsely chopped) 80 gr

¾

cup

dried cranberries

-
Instructions
Making the Pre-ferment

Place the first three ingredients (water, yeast, and flour) into the bread-machine pan and select the "dough" cycle. Allow mixing about 5 minutes, using a small spatula to carefully push flour stuck in the corners into the mixing area.

Unplug the machine and let it rest at room temperature overnight or about 8 hours. Do not leave over 16 hours.

Dough

Add water, sugar, salt, and flour to the pre-ferment.

Restart using the DOUGH d cycle.

Check the dough at least twice by lifting the lid to take a peek. The first time, look immediately after the machine starts mixing to ensure the paddles are engaged correctly.

Look again 15 minutes into the DOUGH cycle to assess the consistency of the dough. For most recipes, The dough should stick to the side, then pull away cleanly.

If your dough is too wet, add flour one tablespoon at a time.

Conversely, if the dough is too dry, add one tablespoon of liquid at a time until the dough looks just right. Read more about this surprising secret to success with a bread machine here.

When the bread maker beeps (if your machine beeps when it's time to add whole ingredients, if not–add by hand after the DOUGH cycle), add cherries, rosemary, and pecans.

When the DOUGH cycle ends, allow the dough to continue to rise in the machine for at least 30 minutes (or more if the ambient temperature is cool) until doubled the original size.

Preparing and Baking the Loaf

Remove the dough from the bread-machine pan to a lightly floured board or silicone baking mat (my preference).

Roll dough into an oblong shape approximately 8 x 12 inches. Starting from the long side, roll up. Pinch the seam together. Turn the ends under and pinch together. Manipulate into a rounded oval shape. See the pictures above.

Place on a parchment-covered cookie sheet. Cover loosely with lightly-oiled plastic wrap and place in a warm place to rise until almost double.

About 15 minutes before the bread is ready to bake, preheat oven to 425 degrees.

Just before putting bread into the oven, sprinkle top with flour. Using a single edge razor blade (or a sharp, serrated knife), make several cuts across the top of bread about 1/2 inch deep.

Bake for 30-35 minutes until the loaf is golden brown and the internal temperature has reached 190˚F.

Allow the loaf to cool on a rack before slicing. Or slice while it's hot at the risk of squashing your bread. It's worth it.
Notes
Directions for making bread with a stand mixer or by hand:
To make this recipe in a heavy-duty stand mixer, add the preferment (which you made ahead of time in another bowl) along with the additional flour, sugar, water, and salt to the mixing bowl. Turn on low to mix until all ingredients are moistened. Using the dough hook, turn speed to 2 or 3 and continue kneading until dough becomes smooth and elastic–about 5-10 minutes. Add rosemary, dried cranberries, and pecans. Mix for one more minute. Cover and allow to rise in a warm place. Deflate dough gently and shape as indicated in the recipe.
If making by hand, combine the pre-ferment mixture with the remaining ingredients (except for the rosemary, dried cranberries, and pecans) into a shaggy ball in a large bowl. Turn dough out on a floured surface and knead with your hands until dough becomes smooth and elastic, a process that will likely take 10-20 minutes depending on your experience. Gently knead in the rosemary, dried cranberries, and pecans. Place the dough ball into a greased bowl. Cover and allow to rise until double. Deflate dough gently and shape as indicated in the recipe.
Please note: If you only have active dry yeast, use 1/4 teaspoon more than called for in the recipe.

It no longer needs to be dissolved first

, but you can if you prefer.
Nutrition
Serving:
1
slice
Calories:
85
kcal
Carbohydrates:
14
g
Protein:
2
g
Fat:
3
g
Saturated Fat:
1
g
Polyunsaturated Fat:
1
g
Monounsaturated Fat:
2
g
Sodium:
98
mg
Potassium:
38
mg
Fiber:
1
g
Sugar:
5
g
Vitamin A:
3
IU
Vitamin C:
1
mg
Calcium:
5
mg
Iron:
1
mg