All-Bran Refrigerator Yeast Rolls are light and fluffy dinner rolls you can mix up in your stand mixer. Make the dough one dough and let it chill. The next day, roll out and bake. Because the dough is chilled, the rolls are a cinch to form all kinds of fun shapes.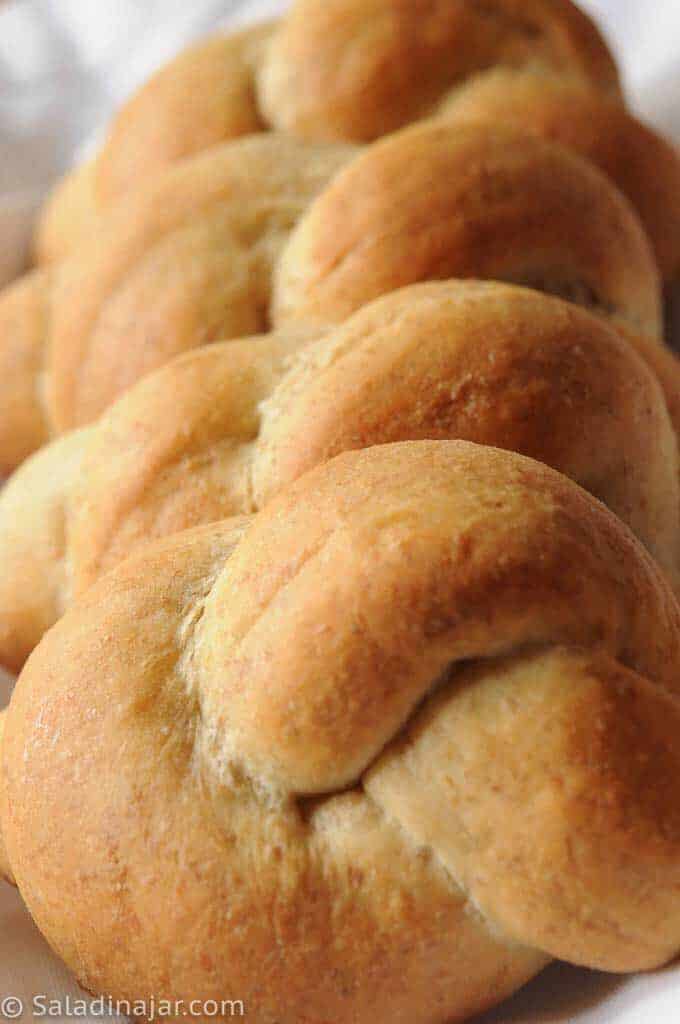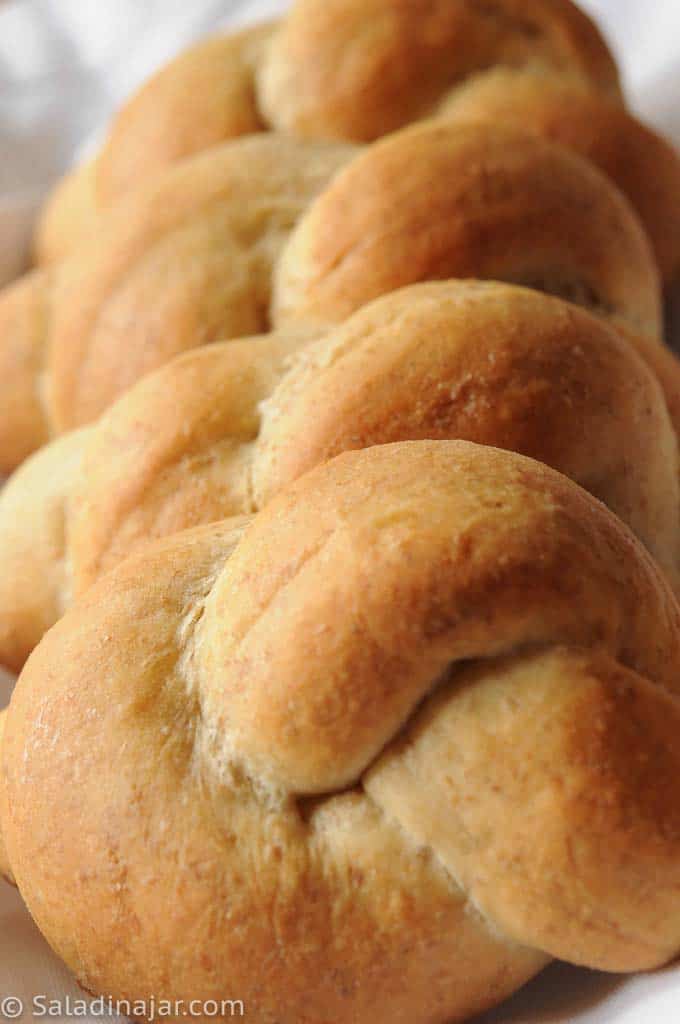 Sundays and holidays have at least one thing in common when it comes to food. People expect a little something special on the table.
Since there are usually a few other things going on–like church or holiday festivities, advanced planning is key.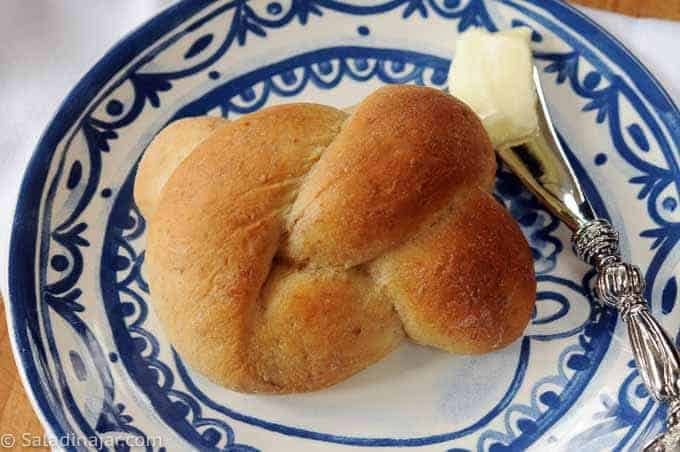 How can you serve homemade rolls hot out of the oven for lunch when you're gone all morning?
So how can you serve homemade rolls hot out of the oven if you can't be in the kitchen for the various steps i.e. mixing, kneading, proofing, etc?
I have a few tricks up my sleeve. These rolls are one of them.
No bread machine today. Instead, use a big electric mixer or you could mix by hand if you've got Herculean arms like mine. (I wish.) The dough goes immediately into the refrigerator until the next morning.
About 2-3 hours before dinner (or before church), roll them into your favorite shape. The rolls rise (proof) while you are out of the house or otherwise occupied. When you get home, throw them in the oven for about 10 minutes.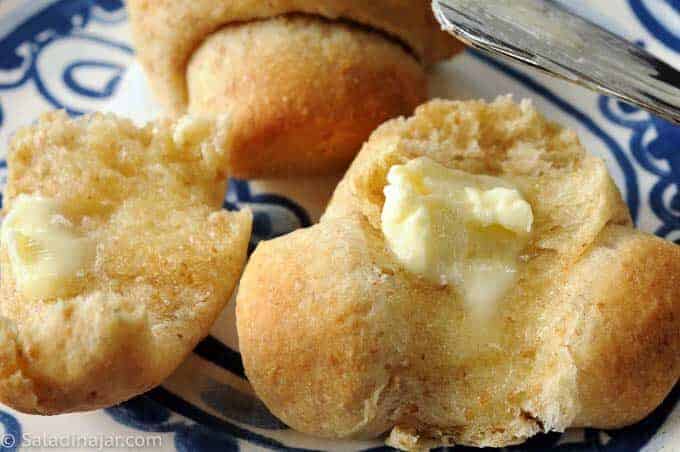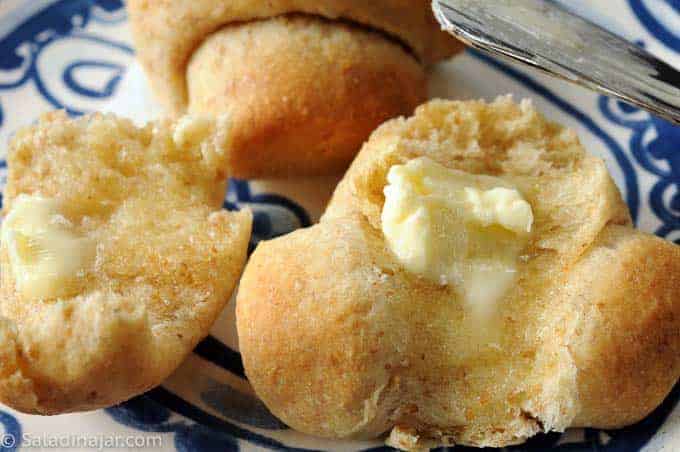 Ingredients and Substitutions
Shortening: You can tell this is an older recipe that's been around for a while. We are still making it in our family because it is so delicious. If you don't want to use shortening, substitute butter or even half butter and half shortening.

Sugar: 3/4 cup is quite a lot of sugar. Reduce to a 1/2 cup if you don't need much sweetness.

All-Bran: Because I'm a Fiber One girl, I tried to substitute it for the All-Bran. It didn't work. All-Bran seems to dissolve more readily and is much better for this recipe.

Yeast: You can use whatever you have in the house. See the discussion below.

Flour: Unbleached is my preferred flour but if you only have bleached all-purpose flour, go with it.
Do I have to bake the dough within 24 hours?
No. The dough is good for about 3 days as long as you store it in the fridge.
Does it matter which kind of yeast I use?
You can use whatever yeast you have in the house, as long as it's fresh. The standard procedure is to dissolve regular yeast in a small amount of warm water before adding to the mixture.
Instant or bread machine yeast can be added at the same time as the flour without dissolving first. It doesn't hurt if you want to dissolve it first, like regular yeast, but it's not necessary.
Can I cut this recipe in half?
I often cut this recipe in half for fewer guests. Or try making cinnamon rolls with half the dough, and regular rolls with the other half. I'm betting the cinnamon rolls will go first.
How to roll out Make-Ahead All-Bran Yeast Rolls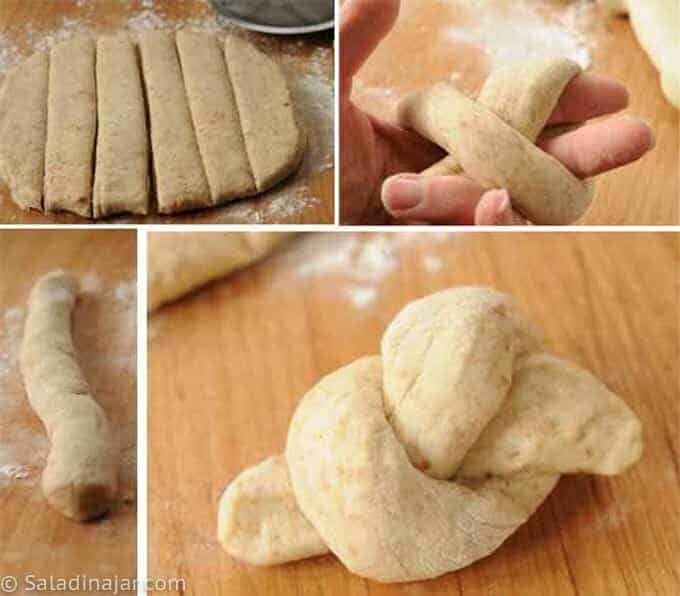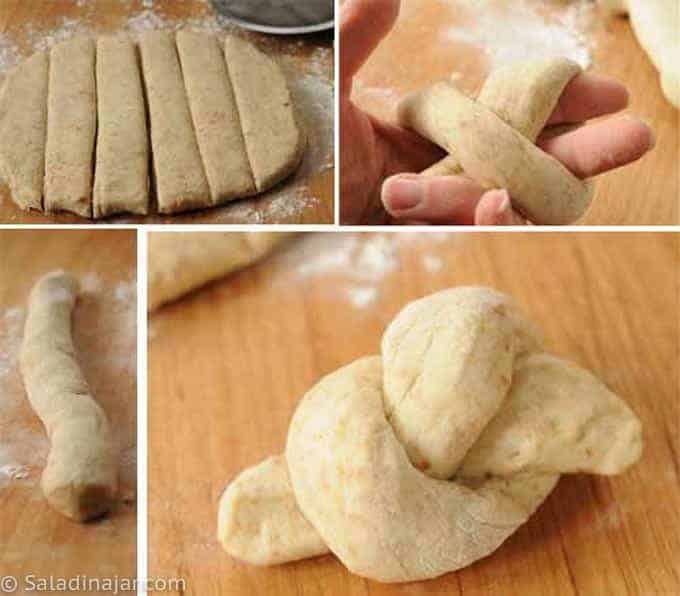 I often cut this recipe in half for fewer guests. Or try making cinnamon rolls with half the dough, and regular rolls with the other half. I'm betting the cinnamon rolls will go first.
---
Other bread recipes you might want to consider:
---
---
---
Did you try this recipe and enjoy it? Consider helping other readers (and me) by returning to this post. Leave a rating on the recipe card itself underneath the picture. Although always appreciated, comments aren't required.
If you have a question or tip to share, please leave it in the regular comments after the recipe so I can answer back. Or, email me privately: paula at saladinajar.com.

Thank you for visiting!
Paula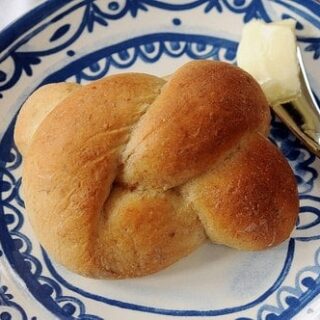 Overnight Yeast Rolls with All-Bran
Prep Time:
8 hours
30 minutes
Total Time:
8 hours
45 minutes
Convenient high-fiber roll--make the dough, refrigerate, and bake the next day.
Ingredients
1 cup shortening
3/4 cup sugar
1 1/2 teaspoon salt
1 cup All-Bran (Fiber One is not a good substitute)
1 cup water (heat in microwave 1 minute)
2 eggs, beaten
2 packages yeast, instant or bread machine (See note in the post about using regular yeast)
1 cup water, lukewarm
6 cups all-purpose, unbleached flour
Instructions
Put shortening, sugar, salt and All-Bran cereal in large mixer bowl. Pour hot water over all and allow to cool to lukewarm.
Add eggs and remaining water. Thoroughly blend in flour and yeast. Beat for 1-2 minutes.
Cover and refrigerate overnight.
Roll 1/4 of dough into a square on a generously floured surface. The dough should be about 1/2 inch thick.
Divide into 6-8 strips depending on the size of rolls you desire.(I prefer bigger rolls--softer and fluffier.) Roll each strip to round the edges and then make a knot. A little practice and you'll be a pro.
Notes
If you prefer a different shape, this dough is most agreeable because it's cold. Crescents or balls work great. Try big balls for hamburger buns.
Recommended Products
As an Amazon Associate, I earn from qualifying purchases. But don't worry. This doesn't change the price you pay.
Nutrition Information:
Yield:

36
Serving Size:

1
Amount Per Serving:
Calories:

159
Total Fat:

7g
Saturated Fat:

3g
Trans Fat:

0g
Unsaturated Fat:

4g
Cholesterol:

15mg
Sodium:

106mg
Carbohydrates:

22g
Fiber:

1g
Sugar:

5g
Protein:

3g