Preview: If you can't resist eating these cornmeal yeast rolls before dinner, you're in good company. Although this recipe is formulated to be mixed in a bread machine, alternate directions for making with a stand mixer or by hand are included in the recipe notes below.
What happens to yeast rolls when you add cornmeal? You get a surprisingly soft and somewhat chewy interior with a slight but interesting crunch to the crust. Cornmeal Dinner Rolls are especially nice with soup.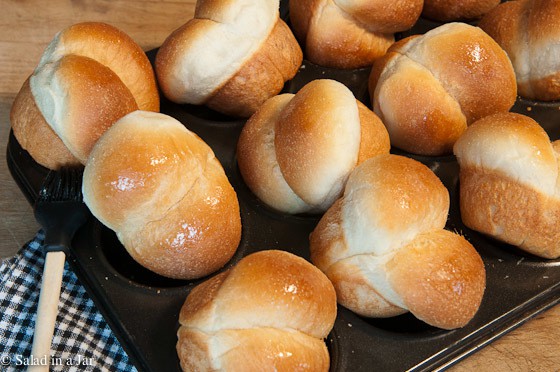 Recipe Inspiration
The shape of these rolls takes me back to the brown-and-serve rolls my mother-in-law used to serve on holidays.
She liked to split them straight out of the oven, just enough to cradle a big hunk of butter (although it was probably margarine, now that I think about it). The melty and messy butter made those cheap grocery store rolls so memorable…and sinful beyond redemption.
These might look like brown-and-serve rolls, but in reality, there's no comparison. Yes, they are light and fluffy, but they are more substantial and flavorful than their commercially-made cousins.
Why add cornmeal to yeast bread?
These cornmeal yeast rolls are not like yeasty cornbread. The half cup of cornmeal gives these rolls a barely perceptible personality boost with the slightest crunch, most noticeable in the crust.
After baking, split these and add butter "mother-in-law style" if you like. Personally, I think it's unnecessary when they are fresh out of the oven–it also ruins the rolls for leftovers.
Ingredients and Substitutions
Flour: The recipe calls for bread flour but you can substitute unbleached flour or bleached all-purpose flour if that's all you have.
Cornmeal: Either white or yellow cornmeal will work but I prefer white in this recipe. Stoneground cornmeal would not be a good substitute.
Milk: Whole milk, 2% or fat-free are all acceptable. I prefer whole milk for maximum flavor.
Yeast: Anytime you are using a bread machine, instant yeast or bread machine yeast makes it easy. But if you only have active dry yeast in the house add 1/4 teaspoon extra so make up for the slowness of active dry yeast.

Recipe adapted from One Hundred Years of Bread by Sidney Brockman Carlisle.
---
Bread-maker Favorites:
---
Pin the picture below to save for later.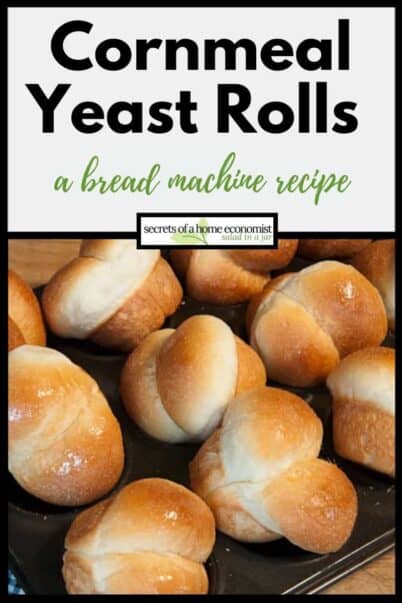 ---
---
---
Did you try this recipe and enjoy it? Consider helping other readers (and me) by returning to this post. Leave a rating on the recipe card itself underneath the picture. No comment required.
If you have a question or tip to share, please leave it in the regular comments after the recipe so I can answer back. Or email me: paula at saladinajar.com.

Thank you for visiting!
Paula
---
"Why is my bread dense?"
Download a FREE printable guide to help you diagnose the cause of dense bread when you sign up to receive my free updates and exclusive bread-making tips in your inbox.
Don't worry. I won't share your address. Unsubscribe any time.
Yield: 16 rolls
Cornmeal Dinner Rolls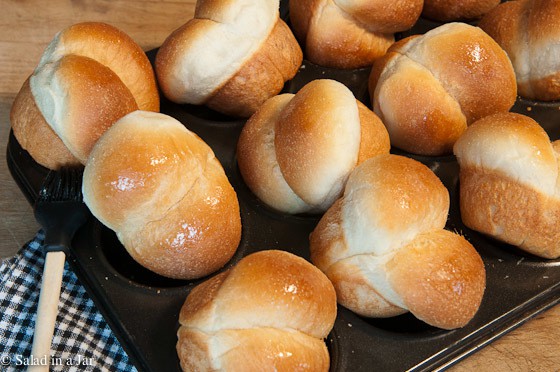 This Bread Machine Cornmeal Yeast Rolls recipe makes a yeast roll formulated to be mixed and kneaded in a bread machine with just enough cornmeal to add a slight but interesting crunch to the crust.
Prep Time
2 hours
30 minutes
Total Time
2 hours
45 minutes
Ingredients
1/2 cup boiling water
1/2 cup white cornmeal
1/2 cup milk
1 egg
1/4 cup butter
1 teaspoon salt
2 tablespoons sugar
2-1/2 cups (300 grams) bread flour
1 teaspoon bread machine or instant yeast
Instructions
Add cornmeal to boiling water and pour into bread machine pan.
Add lukewarm milk, salt, egg, sugar, butter, salt, flour, and yeast to pan in that order.
Select DOUGH cycle and press start.
After 10 minutes, check the dough to be sure it is not too wet or too dry--just sticking to the side, then pulling away cleanly. If too wet, add 1 tablespoon flour at a time. If too dry, add 1 tablespoon water until dough looks right.
When dough cycle has completed and dough has doubled in size, remove dough to a floured surface.
Divide dough into 24 equally-sized portions and roll each one into a ball. Place two balls inside each cup of a muffin pan.
Cover with a tea towel and allow to rise in a warm place until almost doubled (30-45 minutes). Preheat oven to 375˚F.
Bake rolls for 18-20 minutes or until golden brown.
Notes
Directions for making bread with a stand mixer or by hand:
To make this recipe in a heavy-duty stand mixer, add ingredients to the bowl in the same order. Turn on low to mix until all ingredients are moistened. Using dough hook, turn speed to 2 or 3 and continue beating/kneading until dough becomes smooth and elastic, about 5-10 minutes. Cover and allow to rise in a warm place. Deflate dough gently and shape rolls as indicated in recipe.
If making by hand, combine all ingredients into a shaggy ball in a large bowl. Turn dough out on a floured surface and knead with your hands until dough becomes smooth and elastic, a process that will likely take 10-20 minutes depending on your experience. Place dough ball into a greased bowl. Cover and allow to rise until double. Deflate dough gently and shape rolls as indicated in recipe
Please note: If you substitute regular yeast for instant or bread machine yeast, you can dissolve it first before adding to the dry ingredients. Stir it into about 1/4 cup of the lukewarm liquid called for in the recipe. Let sit for about 10 minutes. Add to other wet ingredients and then add dry ingredients. Proceed as directed to knead and shape rolls.
Recommended Products
As an Amazon Associate, I earn from qualifying purchases. But don't worry. This doesn't change the price you pay.
Nutrition Information:
Yield:
16
Serving Size:
1
Amount Per Serving:
Calories:

132
Total Fat:

4g
Saturated Fat:

2g
Trans Fat:

0g
Unsaturated Fat:

1g
Cholesterol:

20mg
Sodium:

166mg
Carbohydrates:

21g
Fiber:

1g
Sugar:

2g
Protein:

4g