Preview: These Cornmeal Yeast Bread Rolls are mixed and kneaded in a bread machine. There's just enough cornmeal to add a slight but interesting crunch to the crust.
What happens to yeast rolls when you add cornmeal? You get a surprisingly soft and somewhat chewy interior with a slight but interesting crunch to the crust. Cornmeal Yeast Bread Rolls are especially nice with soup.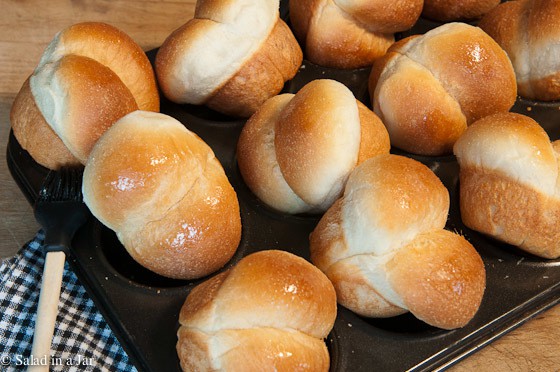 Recipe inspiration:
The shape of these rolls takes me back to the brown-and-serve rolls my mother-in-law used to serve on holidays.
She liked to split them straight out of the oven, just enough to cradle a big hunk of butter (although it was probably margarine, now that I think about it). The melty and messy butter made those cheap grocery store rolls so memorable…and sinful beyond redemption.
These might look like brown-and-serve rolls, but in reality, there's no comparison. Yes, they are light and fluffy, but they are more substantial and flavorful than their commercially-made cousins.
---
Why add cornmeal to yeast bread?
These cornmeal yeast rolls are not like yeasty cornbread. Instead, the half cup of cornmeal gives these rolls a barely perceptible personality boost with the slightest crunch, most noticeable in the crust.
After baking, split these and add butter "mother-in-law style" if you like. Personally, I think it's unnecessary when they are fresh out of the oven–it also ruins the rolls for leftovers.
---
Ingredients and substitutions:
FLOUR: The recipe calls for bread flour but you can substitute unbleached flour or bleached all-purpose flour if that's all you have.

CORNMEAL: Either white or yellow cornmeal will work. Yellow cornmeal will change the color but still tastes great. Stoneground cornmeal would not be a good substitute.

MILK: Whole milk, 2% or fat-free are all acceptable. I prefer whole milk for maximum flavor.

YEAST: Anytime you are using a bread machine, instant yeast or bread machine yeast makes it easy. But if you only have active dry yeast in the house add 1/4 teaspoon extra to make up for the slowness of active dry yeast.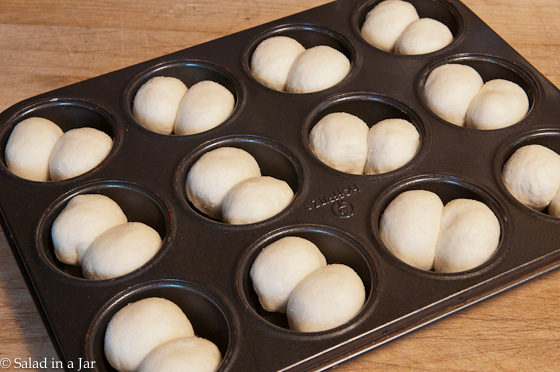 FAQ for Cornmeal Yeast Bread Rolls
Can I make these rolls ahead of time?
Yes. Make the dough and shape them the night before. Place in the refrigerator overnight. When ready to bake the next day, remove the rolls and let them come to room temperature. Bake when they become puffy.
Can I make these without a bread machine?
Yes. See the recipe notes for details for making in a stand mixer or by hand.
What is the best way to keep these rolls fresh?
Homemade bread doesn't have the same preservatives as store-bought bread. They are best the day they're baked. I prefer to keep them in a Ziplock bag or a bread box. Don't store in the refrigerator. Freezing is good, but double-wrap the rolls to prevent freezer burn.
Recipe adapted from One Hundred Years of Bread by Sidney Brockman Carlisle.
---
Bread-maker Favorites:
---
Pin the picture below to save for later.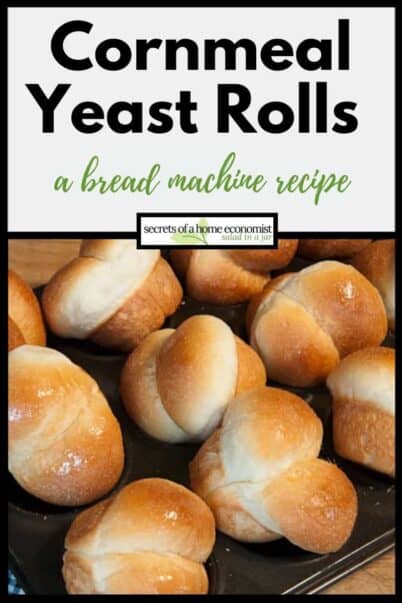 ---
Did you try this recipe and enjoy it? Consider helping other readers (and me) by returning to this post. Please leave a rating on the recipe card itself underneath the picture. No comment required.
If you have a question or tip to share, please leave it in the regular comments after the recipe so I can answer back. Or email me: Paula at saladinajar.com.

Thank you for visiting!
Paula
---