Preview: Mix up this Kid-Friendly Coffee Cake with Bisquick the night before and bake it the next morning. Or, whip it up after you drink your morning coffee and bake immediately. Delicious either way!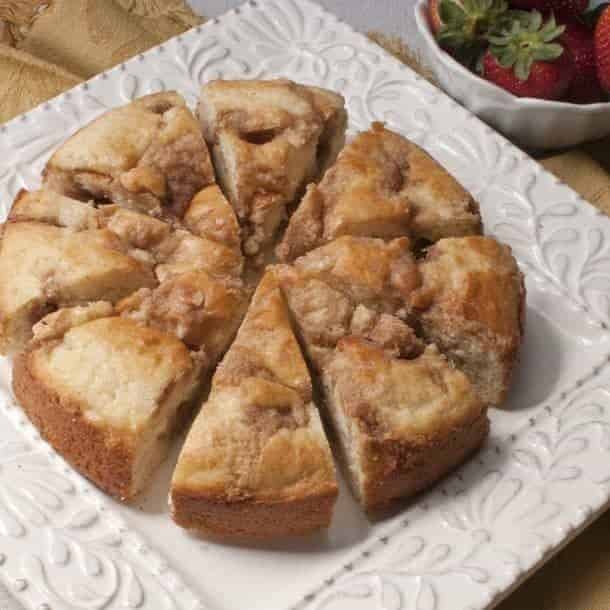 The following people may be affected beneficially by this Coffee Cake with Bisquick:
Picky eaters
Toddlers and kids
Harried cooks
Beginner cooks
Night owls (You can make it the night before)
People who like sweets with their morning coffee
Sentimental members of my family who have eaten breakfast at my sister's house
This family recipe comes from my niece, Derinda. She describes it as "the coffeecake Mom always made on Saturday when I was a kid. Now my kids LOVE it. I like it because I can prepare it at night, put it in the fridge, and cook it in the morning."
Thanks, Derinda for sharing.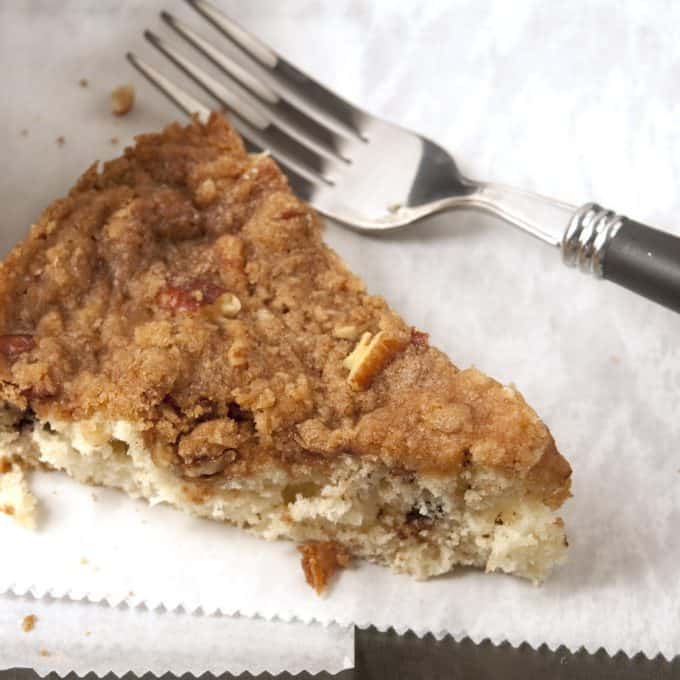 Note the original recipe includes no nuts, chocolate or unusual spices or flavorings making it perfect for kids or people with allergies.
HOWEVER…(it's hard to leave well enough alone)
I added pecans (1/4 cup) and chopped semi-sweet chocolate (1-2 ounces) to the cake pictured below, and it was delicious! I can only imagine what it would taste like with almonds, chopped candy bars, butterscotch chips, etc.
Two ways to distribute the cinnamon-sugar topping:
#1
If you want your cake to have deep valleys full of cinnamon-sugar-buttery-goodness like you see in the first picture, make the topping as Derinda does. Melt the butter and stir with a spoon. Drop it over the dough.
#2
If you prefer a more even topping, do it like her mother, Kay. Cut cold butter into sugar-Bisquick mixture with a fork or rub it together with your fingers then sprinkle evenly over the dough.
Note to my friends who think I never use a mix: Sometimes there is not enough daylight or energy for baking from scratch no matter how much you want to. Thank goodness for baking mixes in those times. Besides, it's the way we've always made this family tradition
---
Kid-Friendly Coffee Cake was adapted from a recipe on the back of the Bisquick box.
---
More Breakfast Goodies:
If you enjoyed this recipe, it would help others and me if you gave it a five-star rating inside the recipe card below. 🤩 No comment required. Thank you.

Hope to see you again soon!
Paula
p.s. Questions or suggestions? Please email me: Paula at saladinajar.com.