Do you eat a lot of mashed cauliflower? I do. But no SOGGY cauliflower is allowed in this house. If you have been looking for a better way, check out this Mashed Cauliflower recipe.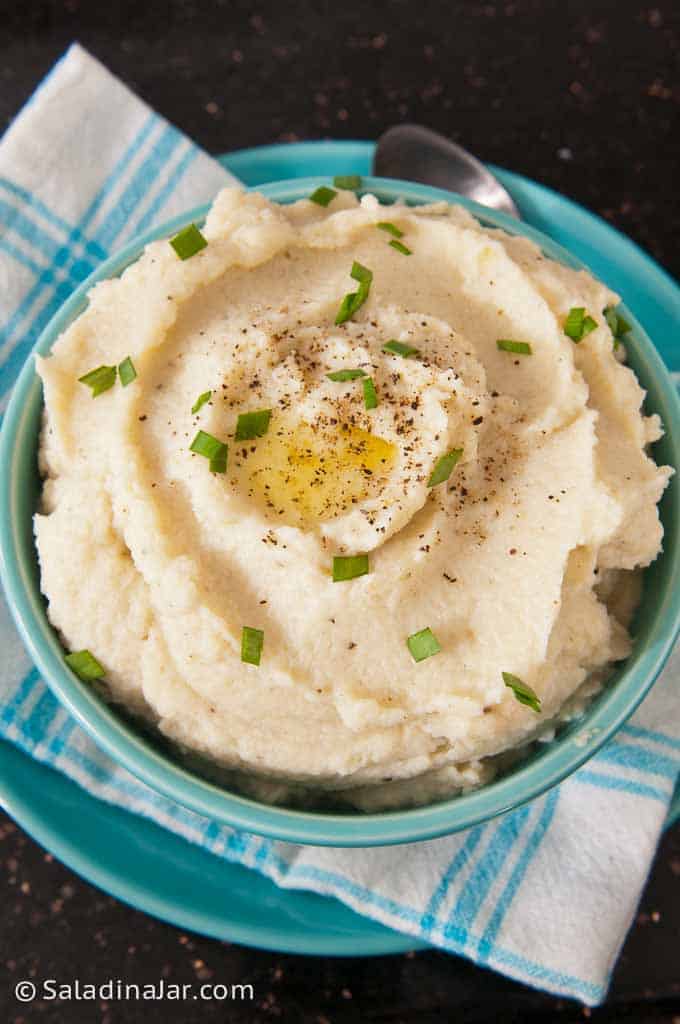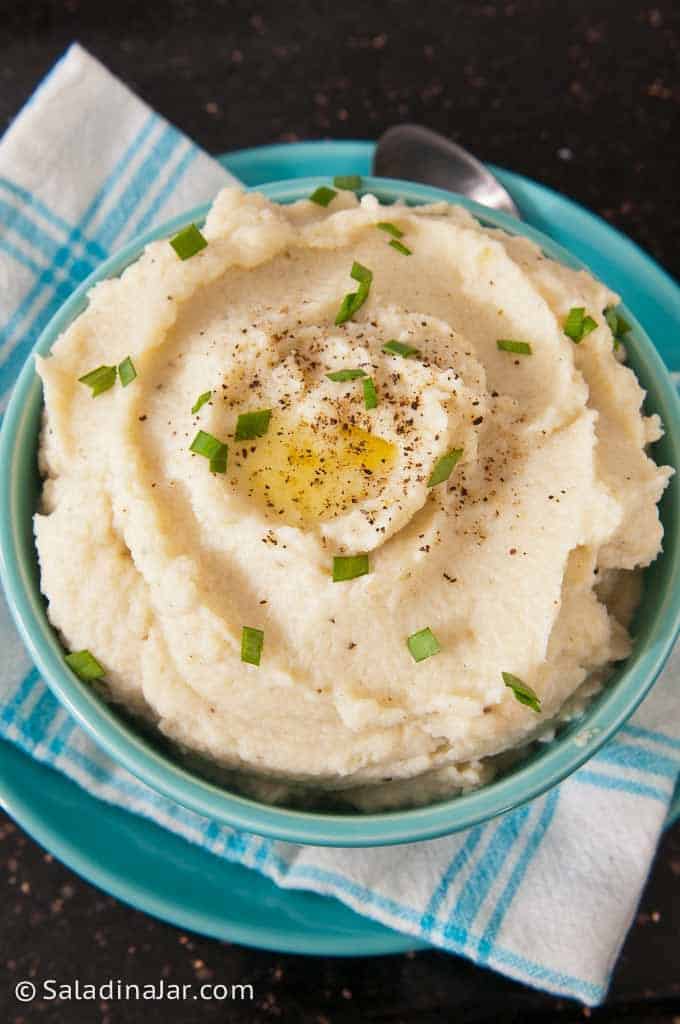 Did you have a good weekend? Were you able to celebrate the New Year with family and/or friends?
I don't know about you, but I'm looking forward to getting back to reasonable and healthy eating. For me, that means LOTS of mashed cauliflower.
In case you're wondering…
"No." I haven't always loved mashed cauliflower or any kind of cauliflower for that matter.
When I first started making and eating mashed cauliflower, I wondered how Khloé Kardashian could eat what she calls "Magic Mash-up" every day.
In my search for non-soggy mashed cauliflower, I've tried several methods and many recipes. They included the Instant Pot, steaming on the stove, and covered in the microwave.
Most recipes call for adding additional liquid when mashing. That only made matters worse.
Ultimately, they were all too watery and soggy for my tastes. My husband was not impressed, either.
For a while, I had to fix him mashed potatoes whenever I ate cauliflower. However, I figured out a few tricks. He still doesn't eat it as often as I do, but then, I eat it almost every day.
Are you ready?
How to make non-soggy mashed cauliflower in the microwave: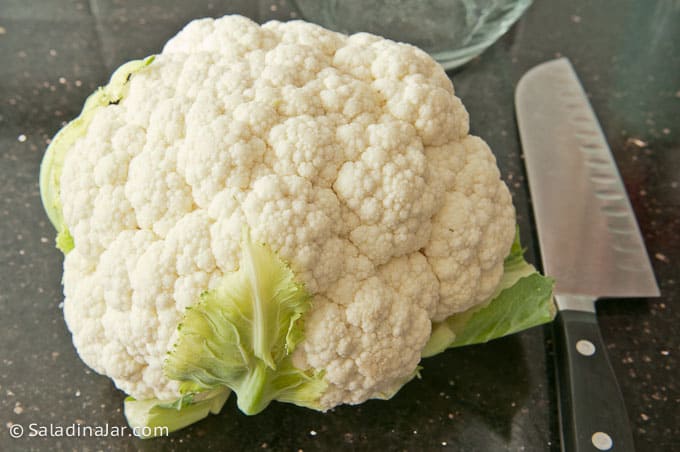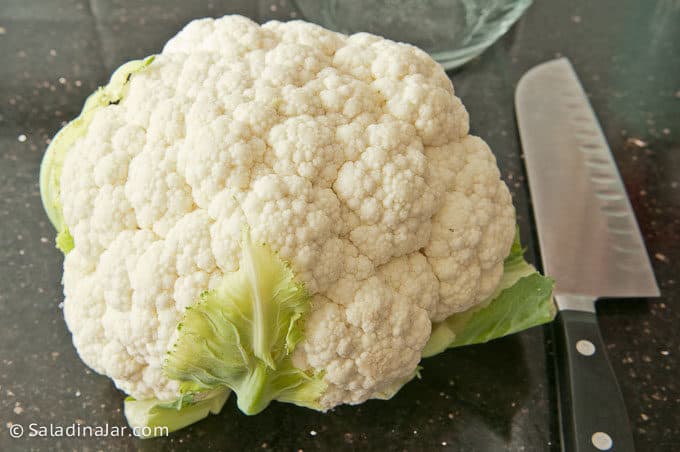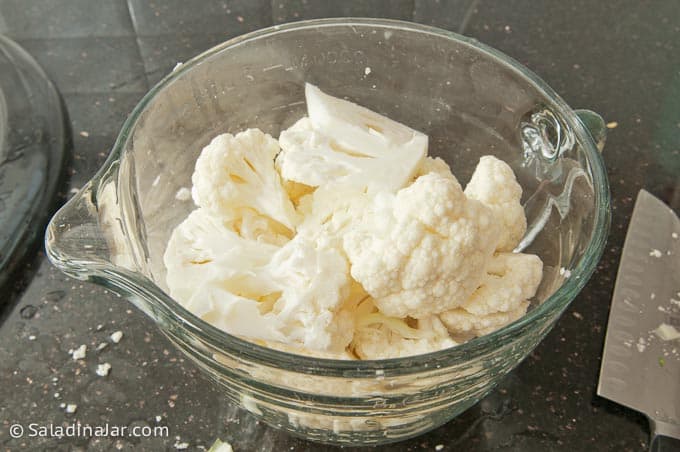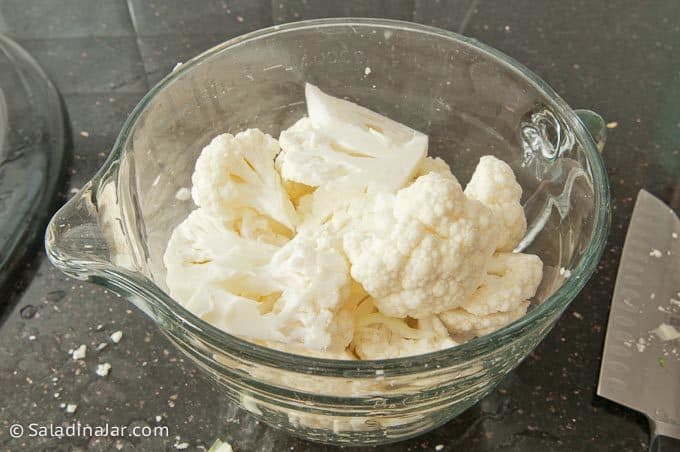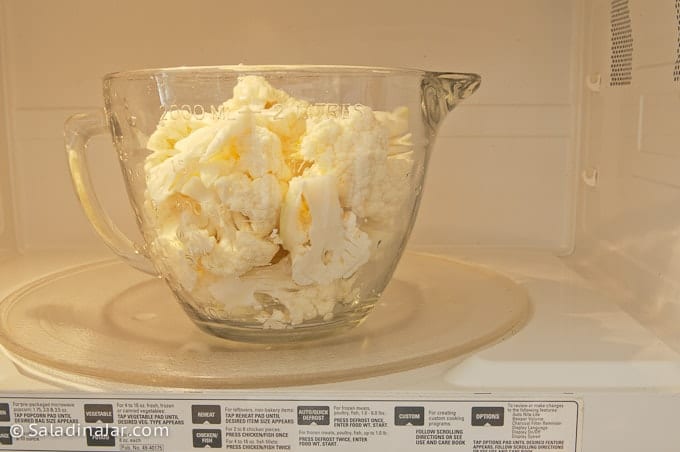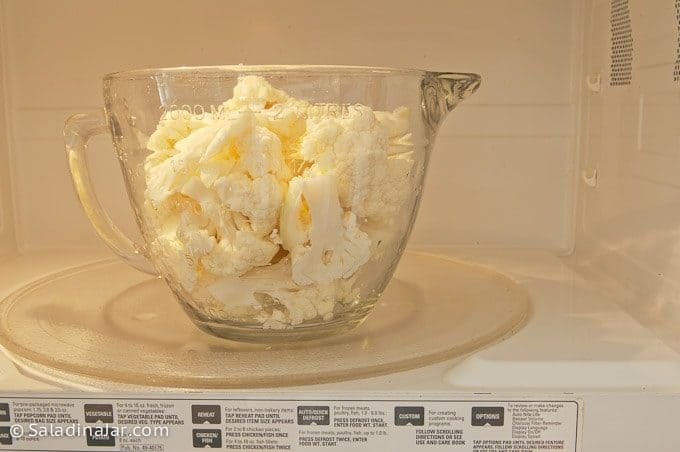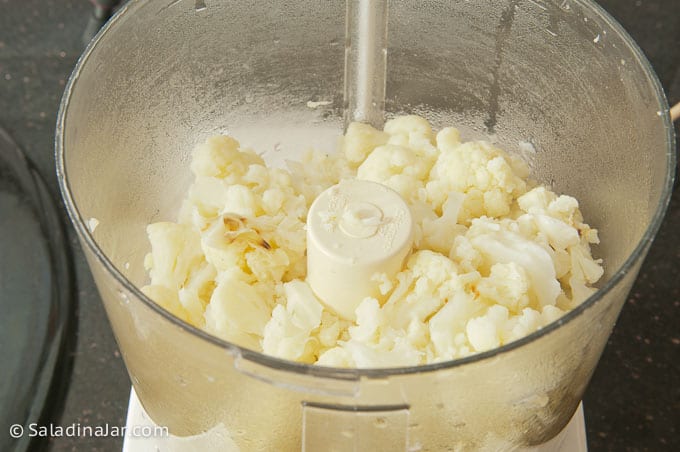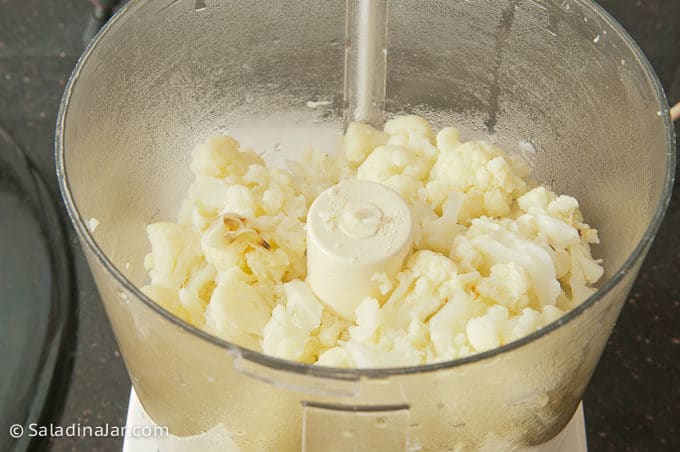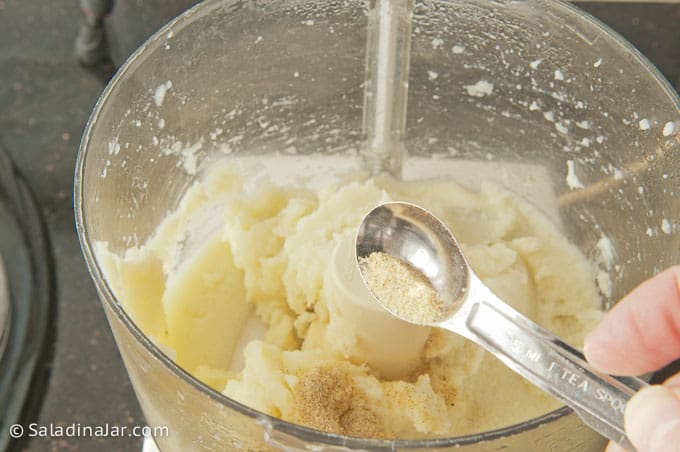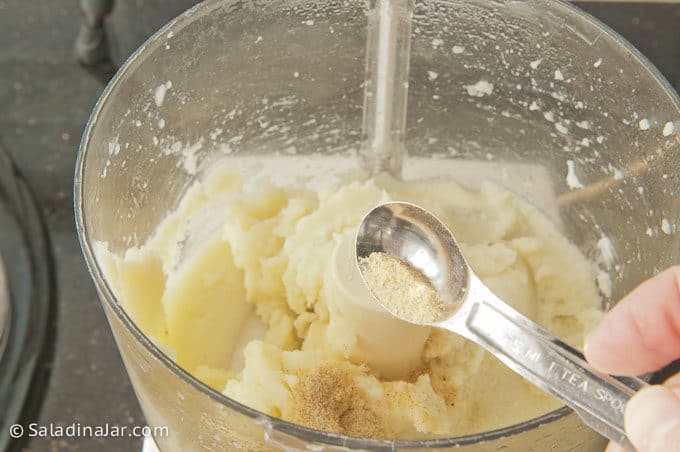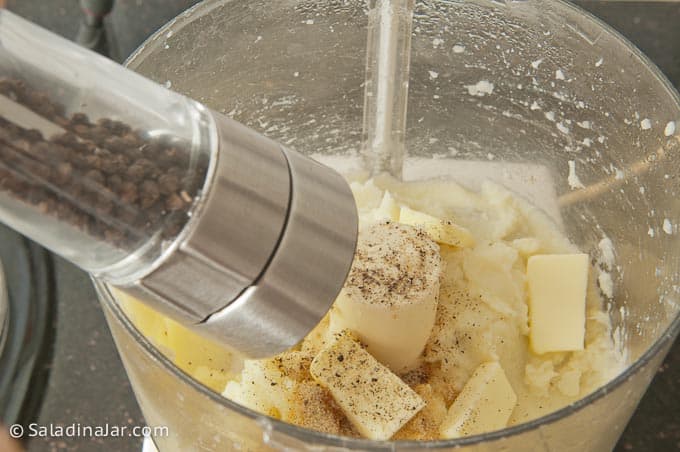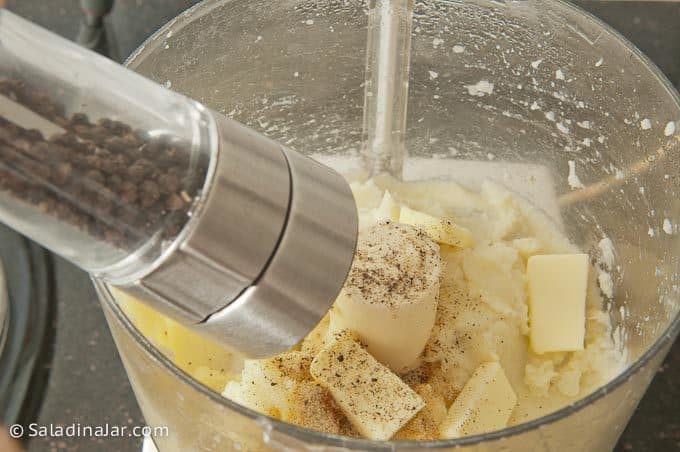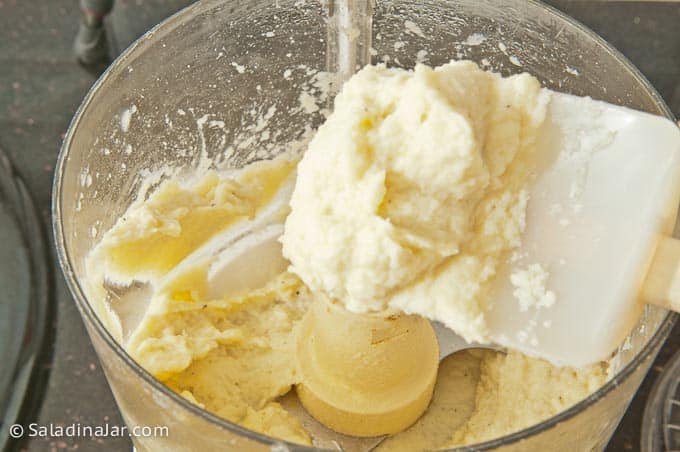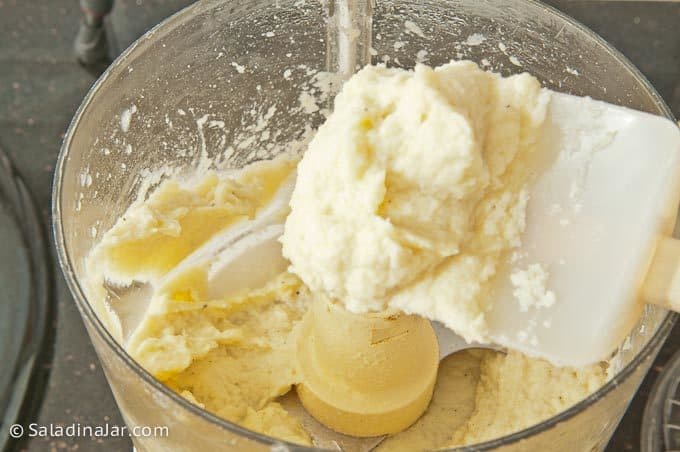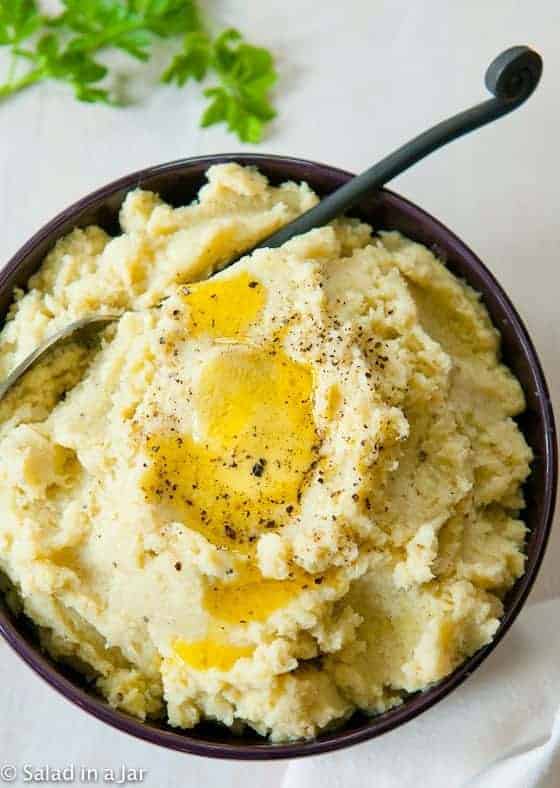 Seven Ways To Make Your Mashed Cauliflower More Enjoyable
#1
Cook cauliflower in a microwave oven–UNCOVERED.
Leaving the cauliflower uncovered will keep the cauliflower from steaming itself. Minimal moisture is key to imitating the texture of mashed potatoes.
#2
Use a food processor to mash cauliflower.
A food processor works fastest and leaves no lumps when mashing cauliflower. I've tried a blender and was utterly frustrated. Same with an immersion blender.
#3
Use good butter or another fat you enjoy.
Adding fat helps the flavor. I like Kerrygold, but any good butter will work. Bacon grease is fabulous, but my conscience won't allow it too often.
#4
Try adding cheese instead of butter.
An intensely flavored cheese such as aged Cheddar, Parmesan, or smoked Gouda will help cover the strong-ish cauliflower flavor. I've tried adding sour cream, but it thins the cauliflower a bit too much for my taste. I want my cauliflower to be thick!!
This next one is important for people who aren't crazy about the taste of cauliflower.
#5
Serve it with gravy.
If the gravy or sauce has enough flavor, you won't taste the cauliflower. In case you're thinking gravy would defeat the whole purpose if you are trying to eat more healthfully, check out this grain-free gravy and this "instant" gravy.
#6
Use mashed cauliflower instead of rice in spicy soups.
When eating spicy soups, especially those with a thick consistency (e.g., gumbo and chili) I will often place a big scoop of mashed cauliflower into the bowl. Then, I pour the soup on top in the same way I used to do with rice.
I promise you won't taste the cauliflower but you will fill up faster and get your veggies at the same time.
This last idea is just my opinion.
#7
Don't try to trick adults or kids into eating mashed cauliflower.
I label the mashed cauliflower on a buffet or somehow let everybody know that what looks like mashed potatoes is, indeed, mashed cauliflower. Giving a heads-up is generally appreciated by all.
If you make this recipe and enjoy it, consider helping other readers and me by returning to this post. Leave a rating on the recipe card itself underneath the picture. Although always appreciated, comments aren't required. Thank you for visiting! Paula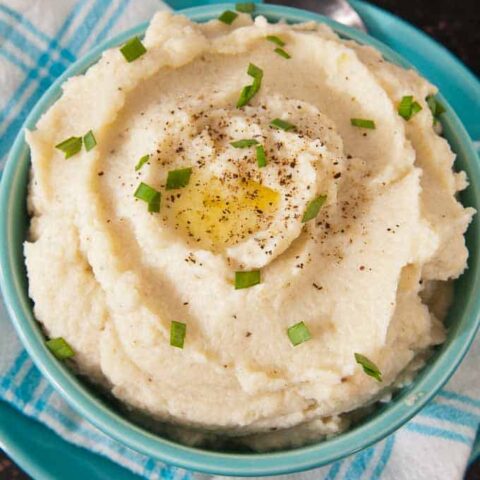 Microwaved Mashed Cauliflower
Make your mashed cauliflower more appealing and non-soggy by cooking in the microwave--uncovered.
Ingredients
1 medium head cauliflower
2 tablespoons butter (or strongly-flavored cheese, unflavored Greek yogurt or cream cheese)
1/2 to 1 teaspoon seasoning salt
Freshly ground black pepper
Instructions
Remove cauliflower florets from tough core. Place in microwave-safe glass dish. I always use my two-qt Pyrex glass measuring bowl. Do not add water. Do not cover.
Microwave on HIGH for 10 minutes. Stir and continue on HIGH for 8-10 more minutes until cauliflower is soft throughout. Microwave ovens and cauliflower size vary hugely and will affect cooking times. If you have an older oven it may take several minutes more. A larger than average cauliflower will also take longer. Check often if you are new to this method. A few scorched spots on the cauliflower is not a big deal.
Pour steaming cauliflower pieces into a food processor and allow it to sit until the steaming stops. Puree until smooth. Add butter, salt and lots of pepper.
Recommended Products
As an Amazon Associate, I earn from qualifying purchases. But don't worry. This doesn't change the price you pay.
Nutrition Information:
Yield:

4
Serving Size:

1
Amount Per Serving:
Calories:

165
Total Fat:

12g
Saturated Fat:

7g
Trans Fat:

0g
Unsaturated Fat:

4g
Cholesterol:

33mg
Sodium:

510mg
Carbohydrates:

8g
Fiber:

4g
Sugar:

5g
Protein:

9g
Posts Related to "How to Make Non-Soggy Mashed Cauliflower and Enjoy it More"
A cauliflower soup that will remind you of potato soup. Grain-free.
Cauliflower substitutes for potatoes in this American classic.
A gluten-free, grain-free, sugar-free gravy packed full of veggies