Preview: Microwave mashed cauliflower makes a thicker mashed cauliflower than traditional recipes. This post includes seven tips for making your mashed cauliflower taste better than you ever imagined.
No SOGGY cauliflower is allowed in my house. My secret starts with a microwave but does NOT involve the grueling task of squeezing out moisture.
If you have been looking for a way to make mashed cauliflower thicker and less watery, check out this Mashed Cauliflower recipe.
Are you a cauliflower lover?
When I first started making and eating mashed cauliflower, I wondered how Khloé Kardashian could eat what she calls "Magic Mash-up" every day. But after experimenting with a Keto diet some time back, I came to enjoy it when I figured out the best way to make it.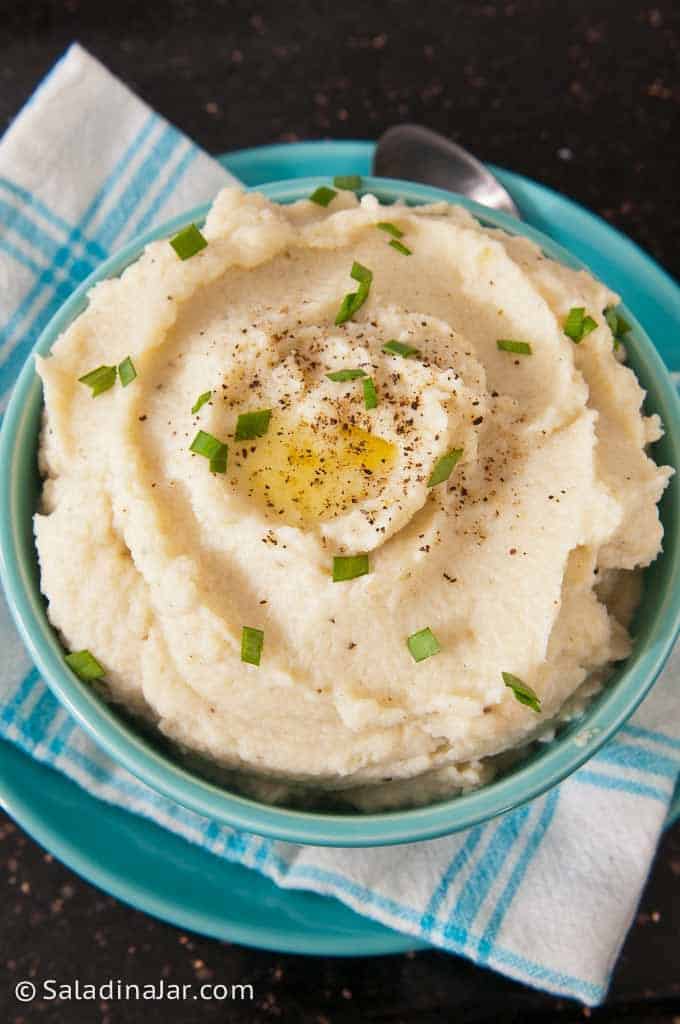 Why is mashed cauliflower usually soggy?
In my search for thicker mashed cauliflower, I've tried several methods and many recipes including my Instant Pot, steaming on the stove, and cooking in the microwave with a cover.
All these methods have one thing in common. They cause the cauliflower to retain too much moisture. The cauliflower is water-logged even when I try to press out excess water.
Some recipes call for adding additional liquid when mashing. This only makes matters worse.
How to make mashed cauliflower thicker:
Cook the cauliflower in a microwave WITHOUT a cover or any liquid added to the bowl. No cover means the moisture can evaporate as the cauliflower cooks. No need for an extra step to squeeze out excess water.
Conveniently, cauliflower cooked this way does not need to be "riced" or finely chopped. Large 1-inch chunks will suffice.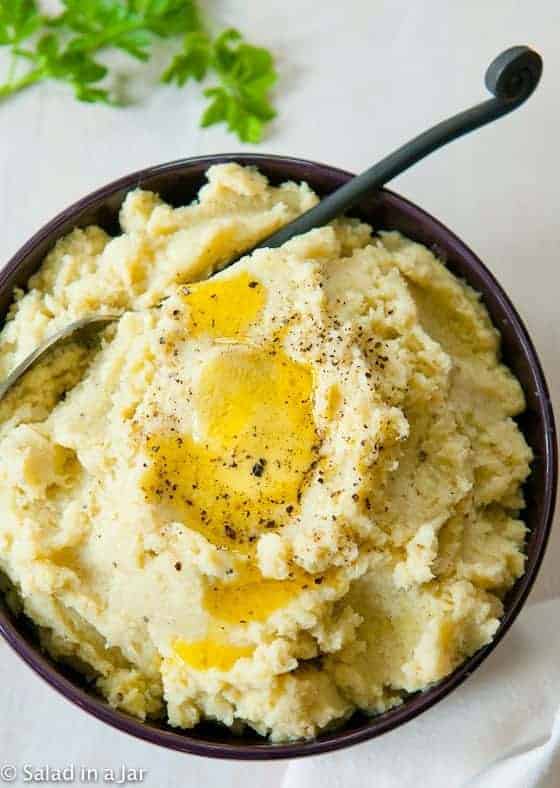 7 ways to make your mashed cauliflower more delicious:
#1
Don't overcook your cauliflower.
Poke a knife into the cauliflower. If it pulls out easily, you should be good. Overcooking can cause mushiness and intensify the "cabbage family" flavor.
#2
Use a food processor to mash the cauliflower.
A food processor works fastest and leaves no lumps when mashing cauliflower. I've tried a blender and was utterly frustrated. Same with an immersion blender. A stand mixer will work but it's hard to eliminate all lumps.
#3
Use good butter or other fat you enjoy.
Adding fat helps the flavor. I like Kerrygold, but any good butter will work. Bacon grease is fabulous, but my conscience won't allow it too often.
#4
Try adding cheese instead of butter.
An intensely flavored cheese such as aged Cheddar, Parmesan, or smoked Gouda will help cover the strong-ish cauliflower flavor. I've tried adding sour cream, but it thins the cauliflower a bit too much for my taste. I want my cauliflower to be thick!!
This next one is important for people who aren't crazy about the taste of cauliflower.
#5
Serve it with gravy.
If the gravy or sauce has enough flavor, you won't taste the cauliflower. In case you're thinking gravy would defeat the whole purpose of trying to eat more healthfully, check out this grain-free gravy and this "instant" gravy.
#6
Use mashed cauliflower instead of rice in spicy soups.
When eating spicy soups, especially those with a thick consistency (e.g., gumbo and chili) I will often place a big scoop of mashed cauliflower into the bowl. Then, I pour the soup on top in the same way I used to do with rice.
Here is a favorite soup where mashed cauliflower is part of the recipe: Cheesy Cauliflower Vegetable Chowder
I promise you won't taste the cauliflower but you will fill up faster and get your veggies at the same time.
This last idea is just my opinion.
#7
Don't try to trick adults or kids into eating mashed cauliflower.
I label the mashed cauliflower on a buffet or somehow let everybody know that what looks like mashed potatoes is, indeed, mashed cauliflower. Giving a heads-up is generally appreciated by all.
---
Can I make this mashed cauliflower ahead of time?
Yes. The mashed cauliflower will keep covered and stored in the refrigerator for up to three days.
I have tried freezing this recipe. Unfortunately, the texture changed slightly and the cauliflower flavor intensified so I'm not a fan.
---
How to make thick mashed cauliflower in the microwave: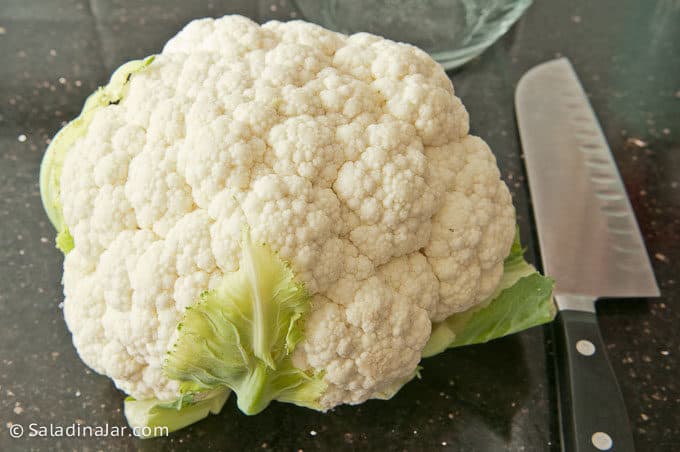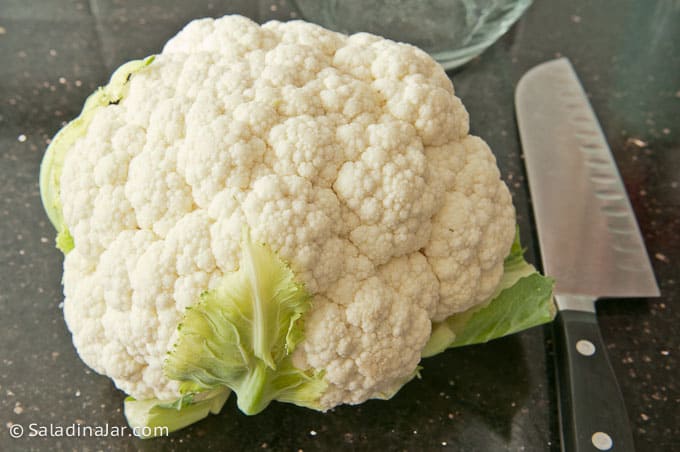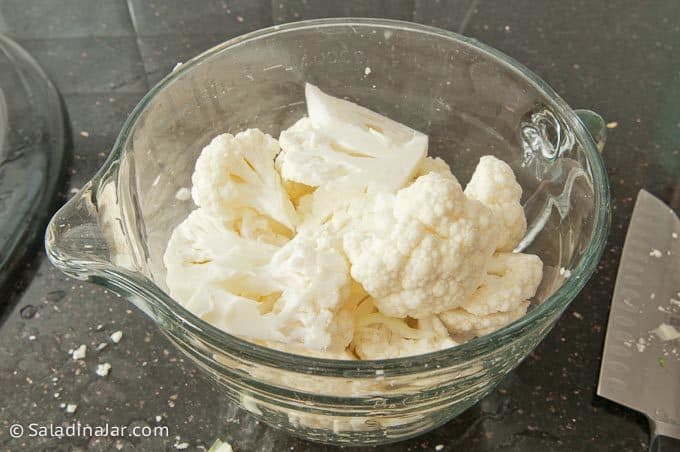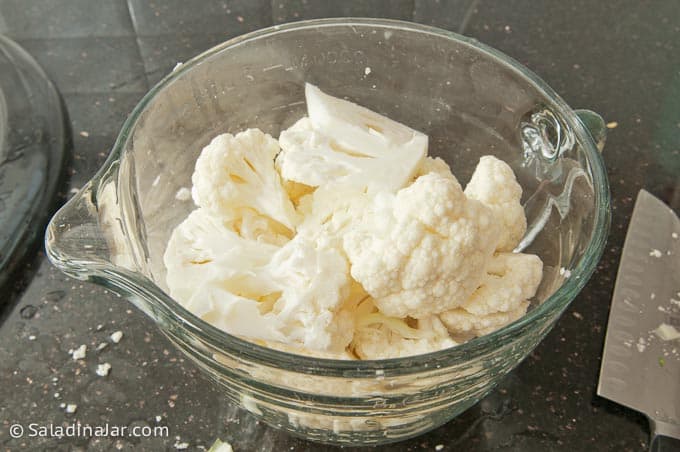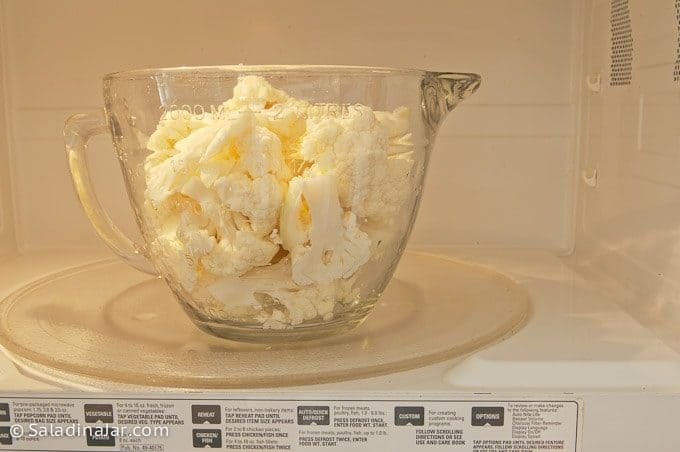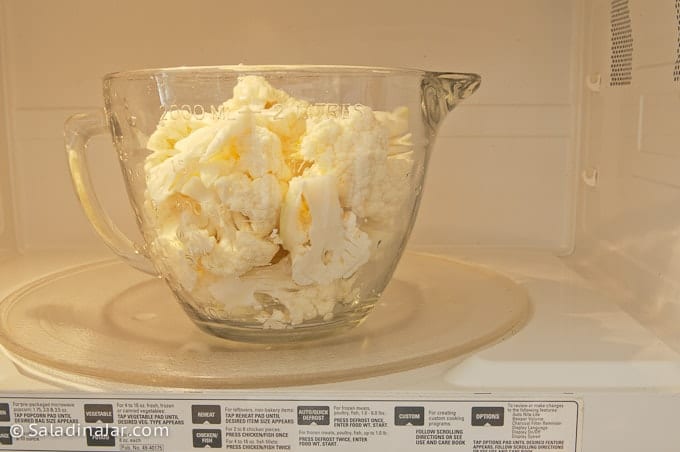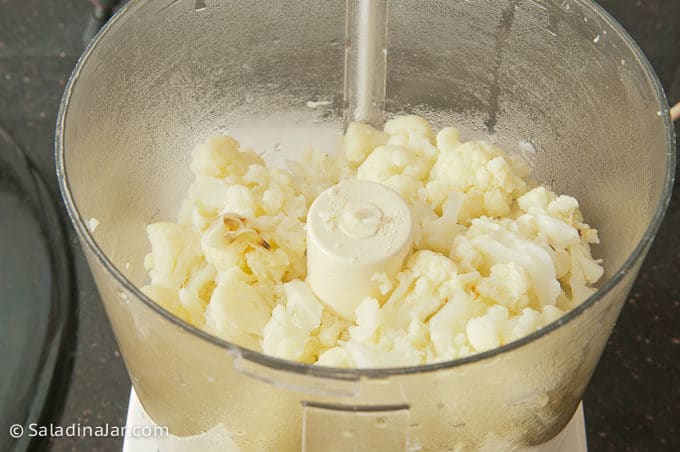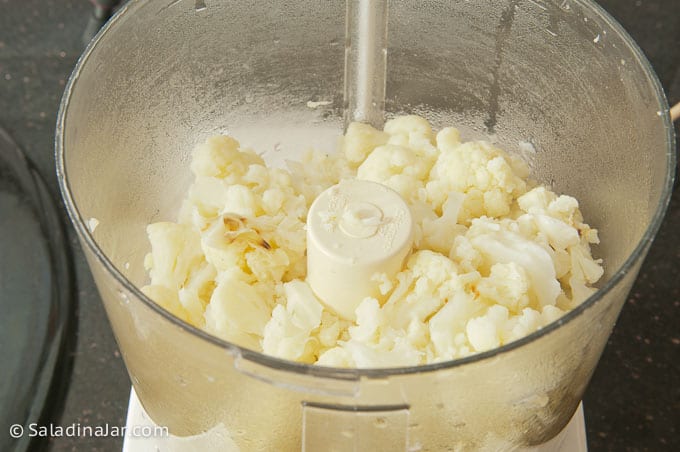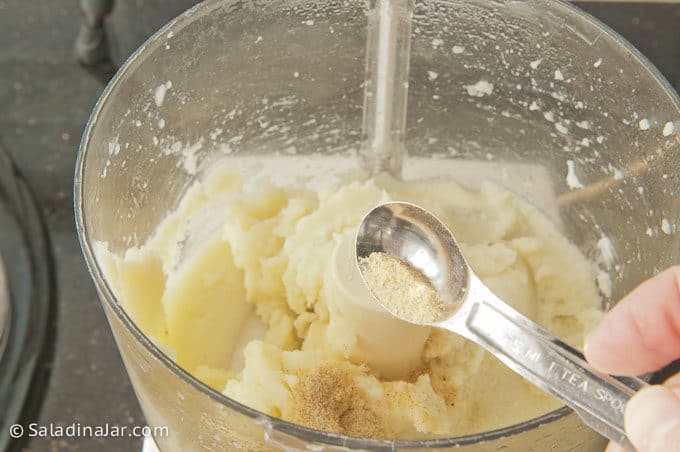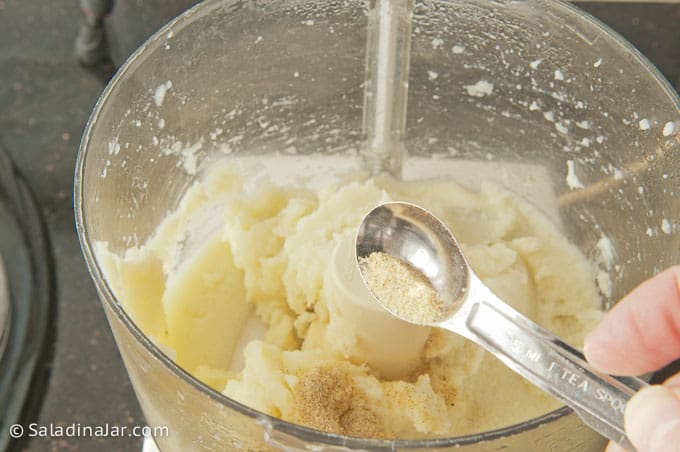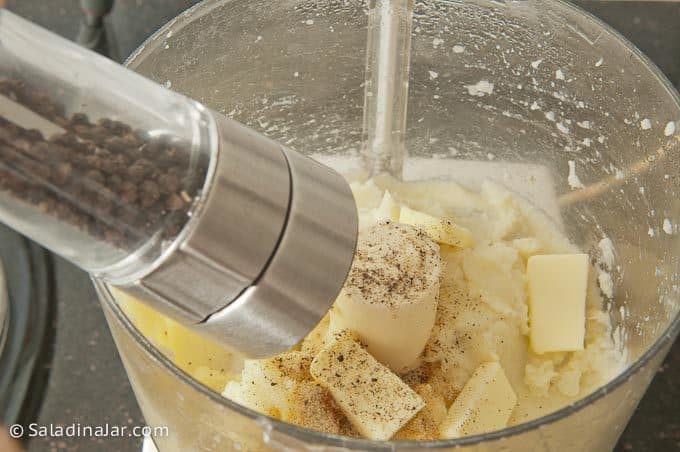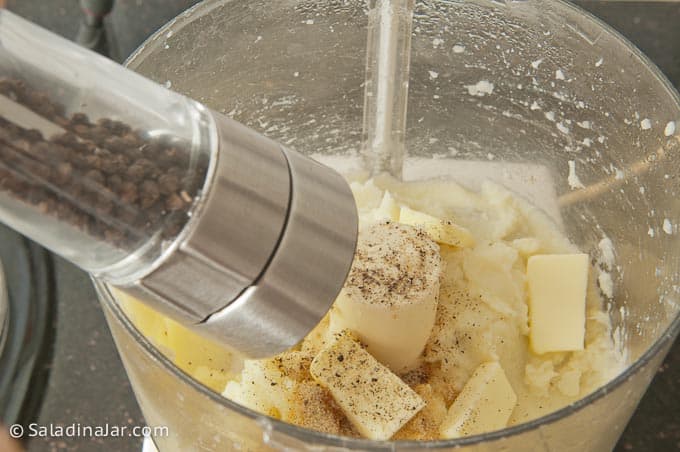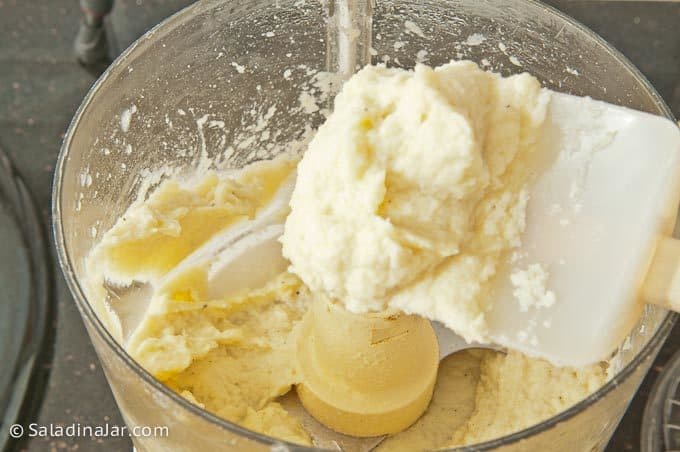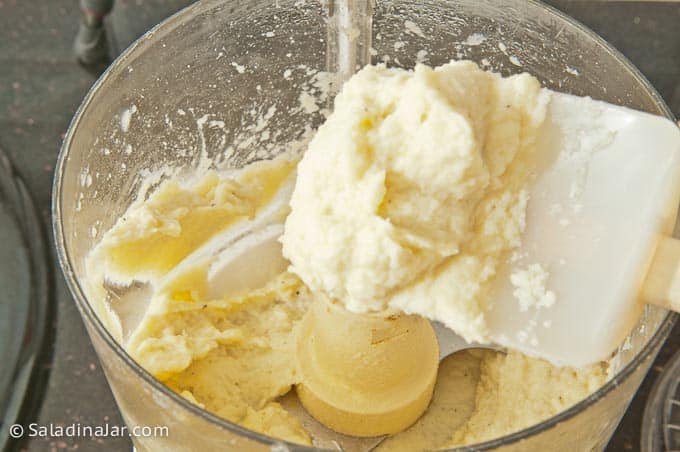 ---
More low-carb recipes
Did you enjoy this recipe? If so, you can help others and me by leaving a 5-star 🤩 rating in the recipe below. No comment is required.
p.s. If you have any questions or suggestions, you can email me privately: Paula at saladinajar.com.
Hope to see you again soon!
Paula