Marvelous Stuffed Shells with Mascarpone, Ricotta, and Spinach
Sneak Preview: Mascarpone cheese is the secret to these marvelous Stuffed Shells with Mascarpone, Ricotta, and Spinach. It makes this vegetarian entree especially rich, flavorful, and decadent.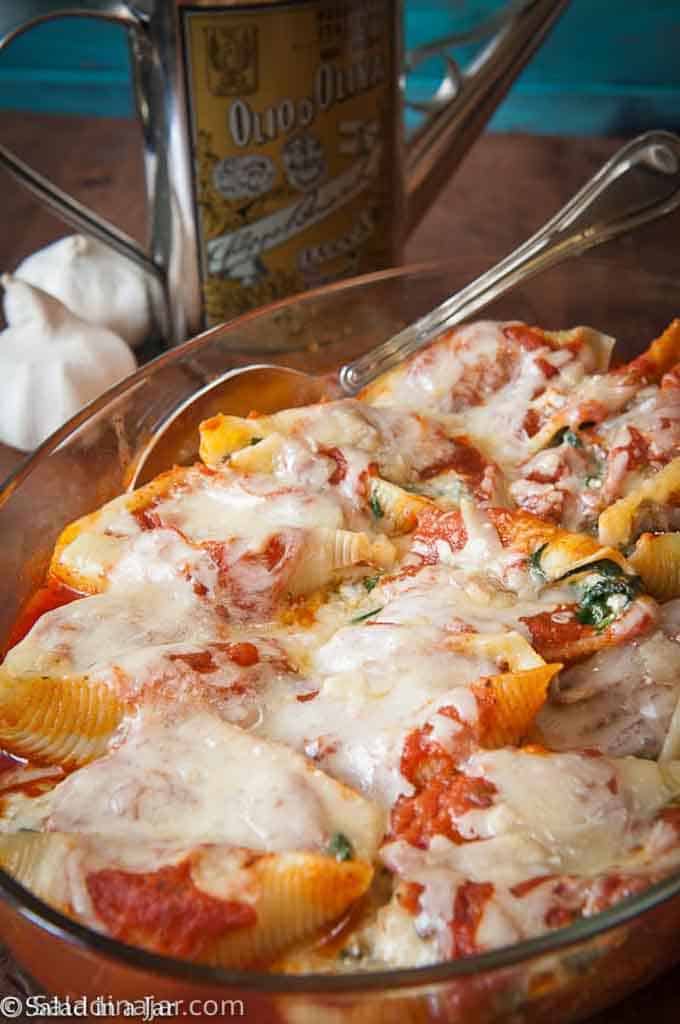 As an Amazon Associate, I earn from qualifying purchases.
For a while, no-meat or meatless Mondays were quite popular. Arbitrary rules like that don't work for me, but the occasional meatless meal is a nice change. Do you enjoy a meal without meat? If so, this recipe is for you.
Can you guess the most challenging part of making this recipe? Finding the ingredients. But don't let that discourage you. I've listed some hints. Besides that, you probably already have one of these ingredients, which may have motivated you to look for a suitable recipe. So you're off to a good start.
The biggest challenge might be laying hands on the jumbo shells in the grocery store. I usually have good luck at my local Krogers. Don't forget to try online if all else fails.
The second challenge is locating the Mascarpone cheese. Look for it in the deli section, not the regular cheese section where the more common Cheddar and Mozzarella hang out.
Once you've gathered the ingredients, assembling this dish is pretty simple. It's less complicated than lasagna in my book.
The easiest part, of course, is eating it.
Who can resist gooey cheese, luxurious Mascarpone, flavorful spinach and mushrooms, and pasta shells bathed in your favorite marinara?
---
Ingredients and common substitutions:
Jumbo shells-If you can't find jumbo shells, try manicotti. It won't look the same, but the taste will be similar.
Butter: Margarine or vegetable oil can substitute for butter.
Mushrooms: Since you went to the expense of buying Mascarpone cheese, I hope you'll use fresh mushrooms. It's worth it.
Fresh baby spinach: A 10-ounce package of frozen spinach is another option. Cook as directed on the package. As usual with spinach, squeeze the water out after you defrost the spinach.
Garlic: Fresh garlic has the most flavor. Bottled garlic is also appropriate.
Ricotta cheese: Cottage cheese is a common replacement for ricotta.
Mascarpone cheese: Mascarpone makes this recipe special. Creme Fraiche is the best substitute. Cream cheese is a possible alternative, particularly if you add a bit of sour cream to lighten the texture.
Parmigiano Reggiano: Romano cheese will serve the purpose if you can't get Parmigiano Reggiano.
Mozzarella cheese or pizza cheese is the glue that holds the filling together.
Marinara or spaghetti sauce is the most convenient choice. You could make your own sauce if you like.
---
📌Kitchen Secret for Stuffing the Shells📌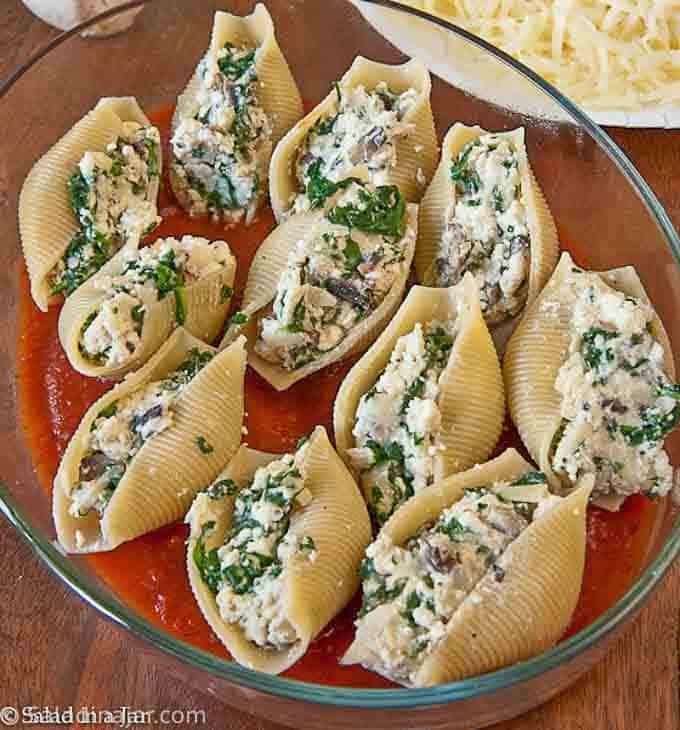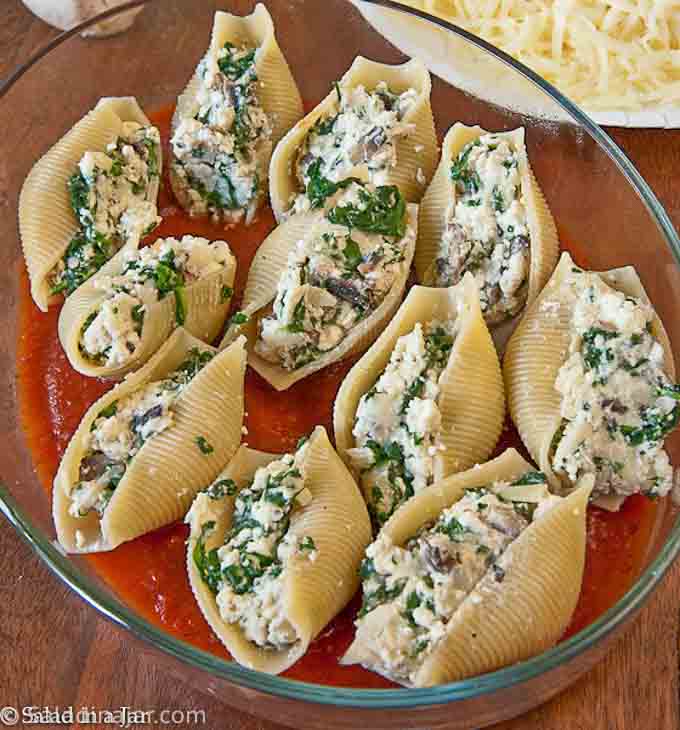 ---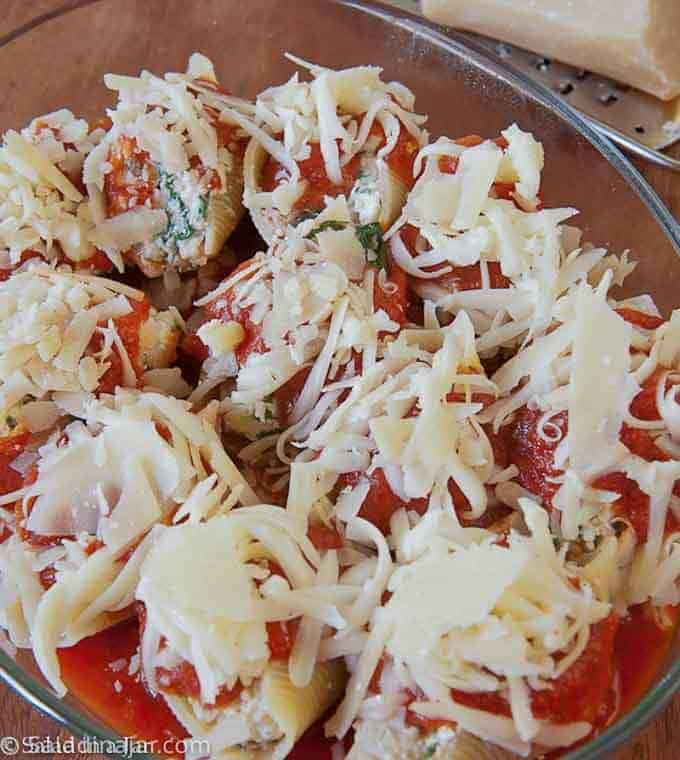 ---
Frequently asked questions about Mascarpone Stuffed Shells:
Can I freeze this recipe ahead of time?
These stuffed shells are a good freezer meal. Prepare the recipe as listed. Double wrap and keep in the freezer for a month to six weeks. When ready to bake, place the casserole in the refrigerator to thaw the night before. The following day, cover with foil and bake for 20 minutes. Then uncover and finish baking until the cheese starts to brown.
Can I add meat to this recipe?
Chicken or Italian sausage would pump up the protein numbers and expand the flavor profile. Ground beef is another possibility.
Can I leave out the spinach and mushrooms?
Leave out the spinach and mushrooms if they aren't your favorite. Then you could call these "Four-Cheese Stuffed Shells."

What readers are saying:
I made these tonight, and you were right, I had to go to two stores before I could find the shells…I doubled the recipe because I only have 8×11 dish pans and I wanted to freeze some for later (not realizing how much this made…we got through half a pan with a family of 5)… anyway, I inadvertently used only one 8 oz mascarpone for both batches combined…but it still came out DELICIOUS!! Thanks again for posting such yummy things! I have a hard time trusting cookbooks, but I know when I pick something off of your aite to make, it's going to be awesome! Thanks again! —Julie
---
Parting Thoughts: I'm not a big pasta girl, so that's a clue that any pasta recipe you find on my website is good. This Cream Cheese Baked Spaghetti has ingredients that are easier to find if you don't have good luck gathering what you need for this recipe.
---
Recipe Help at Your Fingertips: For questions or suggestions, email Paula at saladinajar.com. If you need help, I'm happy to troubleshoot via email (faster than leaving a comment). Attach pictures and as many details as possible for the best advice.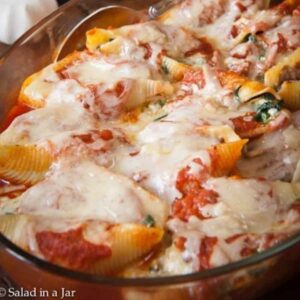 Stuffed Shells with Mascarpone, Ricotta, and Spinach
These Stuffed Shells are filled with Mascarpone, spinach, mushroom, ricotta, Mozzarella, and Parmesan cheese.
Share recipe love here. ⬇
Ingredients
½

box

jumbo shells

½

tablespoon

butter

4

ounces

fresh mushrooms

–

chopped

6

ounces

fresh baby spinach

–

small bag

1

clove

garlic

–

crushed

1⅓

cup

ricotta cheese

8

ounces

Mascarpone cheese

1

cup

Parmigiano Reggiano cheese

–

shredded and divided

8

ounces

Mozzarella cheese

–

shredded and divided

Salt and pepper to taste

1

24-ounce

jar marinara or spaghetti sauce

2

tablespoons

water
Instructions
Cook shells in boiling water for 9 minutes. Stir several times to keep them from sticking to the bottom. Drain and place on a cookie sheet to cool.

Meanwhile, melt butter in a large skillet and add mushrooms. Saute until browned. Remove from pan to medium mixing bowl. Add spinach and garlic to a hot skillet and saute until wilted. Drain well in a colander, pressing with the back of a spoon to remove as much moisture as possible. Chop and add to mushrooms.

Combine ricotta, Mascarpone, half of the Parmesan, and half of the Mozzarella with spinach and mushrooms. Season with salt and pepper.

Fill each shell with spinach and mushroom and cheese mixture.

Add water to half of the prepared sauce and pour it into the bottom of a 9 x 13-inch dish. Place shells on top of the sauce, open side up.

Pour the remaining sauce over the top of the shells. Sprinkle remaining Mozzarella and Parmesan over shells

Bake at 400˚F for 30 minutes.
Nutrition
Serving:
1
|
Calories:
569
kcal
|
Carbohydrates:
27
g
|
Protein:
28
g
|
Fat:
38
g
|
Saturated Fat:
24
g
|
Polyunsaturated Fat:
1
g
|
Monounsaturated Fat:
6
g
|
Trans Fat:
0.04
g
|
Cholesterol:
109
mg
|
Sodium:
604
mg
|
Potassium:
386
mg
|
Fiber:
2
g
|
Sugar:
2
g
|
Vitamin A:
3846
IU
|
Vitamin C:
9
mg
|
Calcium:
590
mg
|
Iron:
2
mg
HELP OTHERS find this recipe. Leave a 5 🌟🌟🌟🌟🌟 rating at the top of the recipe card if you enjoyed it. No comment is required.