Easy Homemade Creme Fraiche with Yogurt or Yogurt Whey
Sneak Preview: It's so easy to make homemade creme fraiche with yogurt or yogurt whey. No buttermilk is required. Many uses!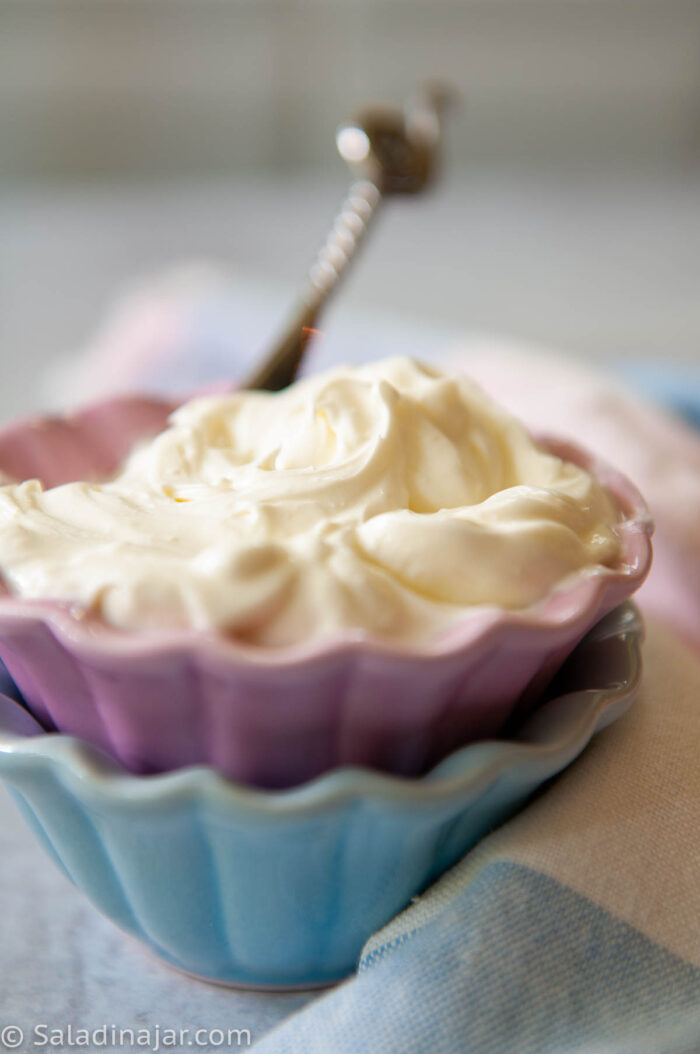 As an Amazon Associate, I earn from qualifying purchases.
Homemade creme fraiche is traditionally made with buttermilk. But, I have great news if you don't keep buttermilk in the house and hate to buy a whole quart of buttermilk when you only need one tablespoon. Buttermilk is not the only game in town.
Check out the price of creme fraiche at your local grocery store if you can find it. It's crazy. Now you know why I like to make it.
If you're like me, you may wonder what creme fraiche is (keep reading).
What is Creme Fraiche?
Creme Fraiche originated in France, where they make it with unpasteurized heavy cream. The cream is naturally inoculated with the right bacteria to thicken it.
Since our cream is pasteurized or ultra-pasteurized, we must add bacteria back to the cream. This process makes a thick cream with a slightly tangy flavor.
You won't believe how simple it is to make at home.
Drain a tablespoon of whey from the top of your daily portion of (unflavored) yogurt, or add a spoonful of yogurt to a cup of heavy cream. Whisk until smooth.
Let it sit unattended for 8-24 hours in a warm place and wait for the magic to happen. Chill and serve.
How is sour cream different?
They look identical. However, sour cream contains less fat (made with whole milk), making it less stable and prone to curdling when boiled.
It often contains ingredients such as gelatin, added to make it thicker.
Creme Fraiche is milder and richer in flavor with 36% butterfat. It won't curdle when added to a boiling mixture, as sour cream does.
It's also much more expensive to buy.
Although similar to sour cream, creme fraiche is not the same.
What's in this magical stuff?
Two ingredients:
Heavy Cream: Use heavy whipping cream, which has 36-38% butterfat. If you have a choice between heavy cream and whipping cream, choose heavy cream. The latter has less fat, but will still work. Half-and-half does not contain enough fat to get thick with this method.
Yogurt or yogurt whey
That's it. You can add sweetness such as sugar, honey, or an artificial sweetener. Extracts such as vanilla or almond are another way to customize this treat.
How can I use Creme Fraiche?
#1
#2
Along the same line, try smearing this creamy mixture on cinnamon melba toasts. Delicious!
#3
Substitute Creme Fraiche for sour cream in sauces or soups that need to simmer. It won't curdle like sour cream because of the higher fat content.
#4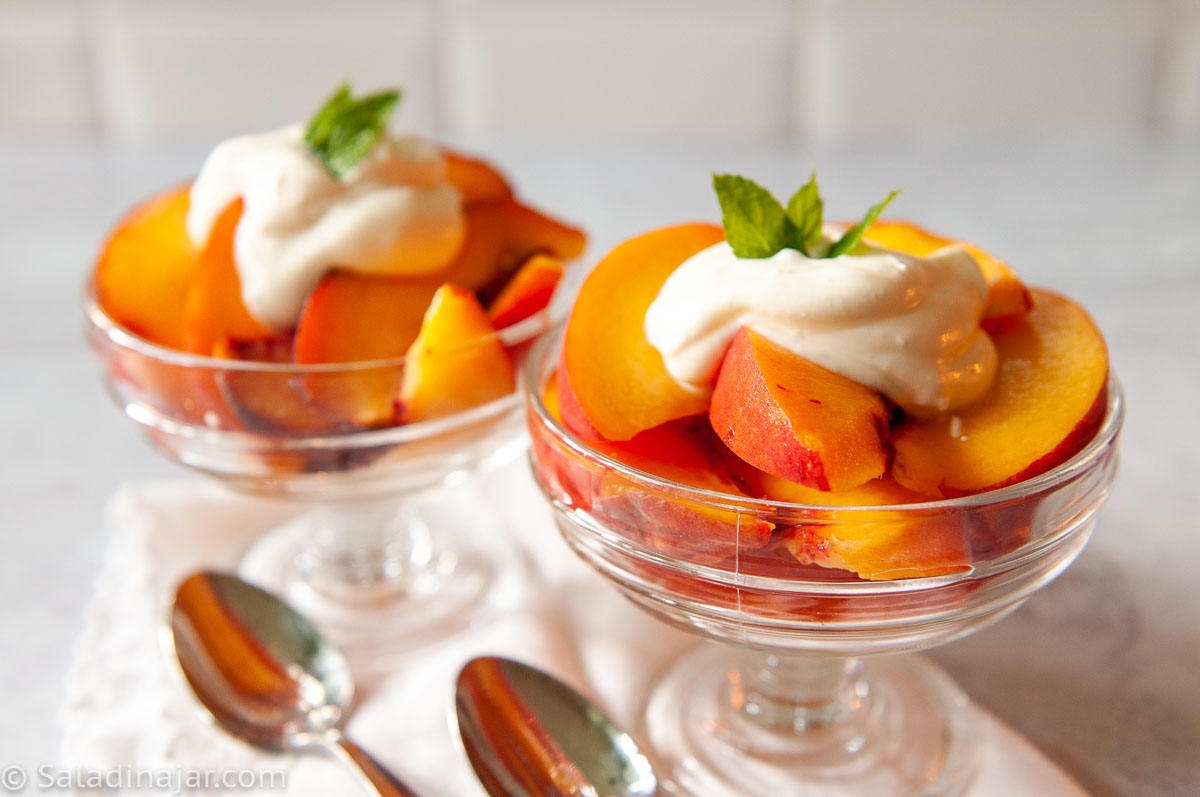 Use a dollop of creme fraiche instead of whipping cream with fresh fruit. It's the perfect foil for sweet fruits like these peaches.
#5
Make cultured butter with your homemade Creme Fraiche. You can see the simple process for making cultured butter in this post from Mark's Daily Apple.
#6
Try adding it to scrambled eggs. Gordon Ramsay has a famous recipe for scrambled eggs with Creme Fraiche that people rave about.
#7
#6 This is one is my favorite way to use creme fraiche. Spread it on hot bread and toast the same way you would butter. Creme Fraiche won't get hard like butter and contains fewer calories than butter (100 calories per tablespoon for butter vs. 52 calories per tablespoon for Creme Fraiche). BONUS: It's always spreadable.
#8
Make Creme Fraiche ice cream. It's fabulous. This recipe has flakes of Nutella throughout, which makes it even better.
---
How to make Creme Fraiche with yogurt or yogurt whey: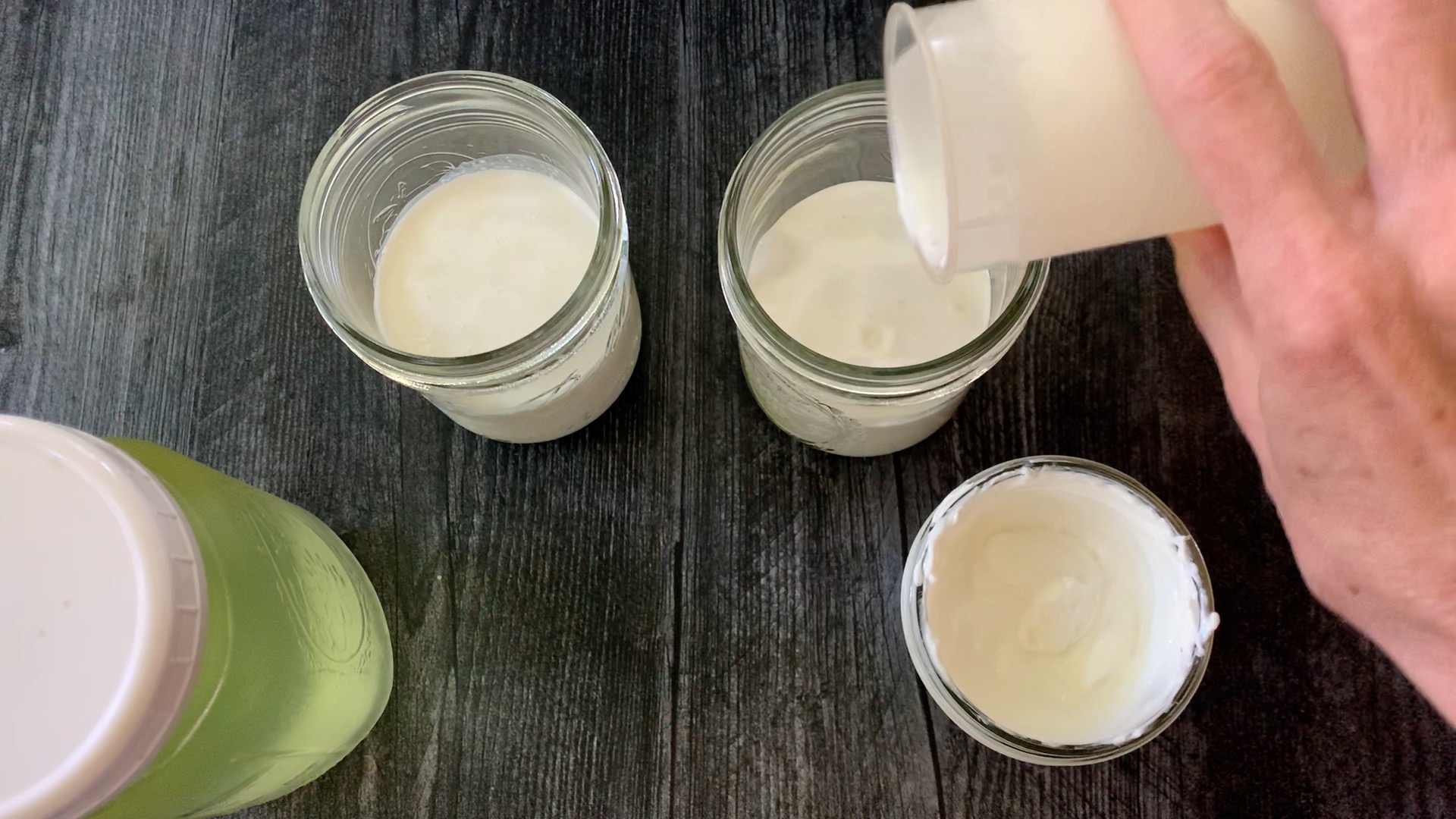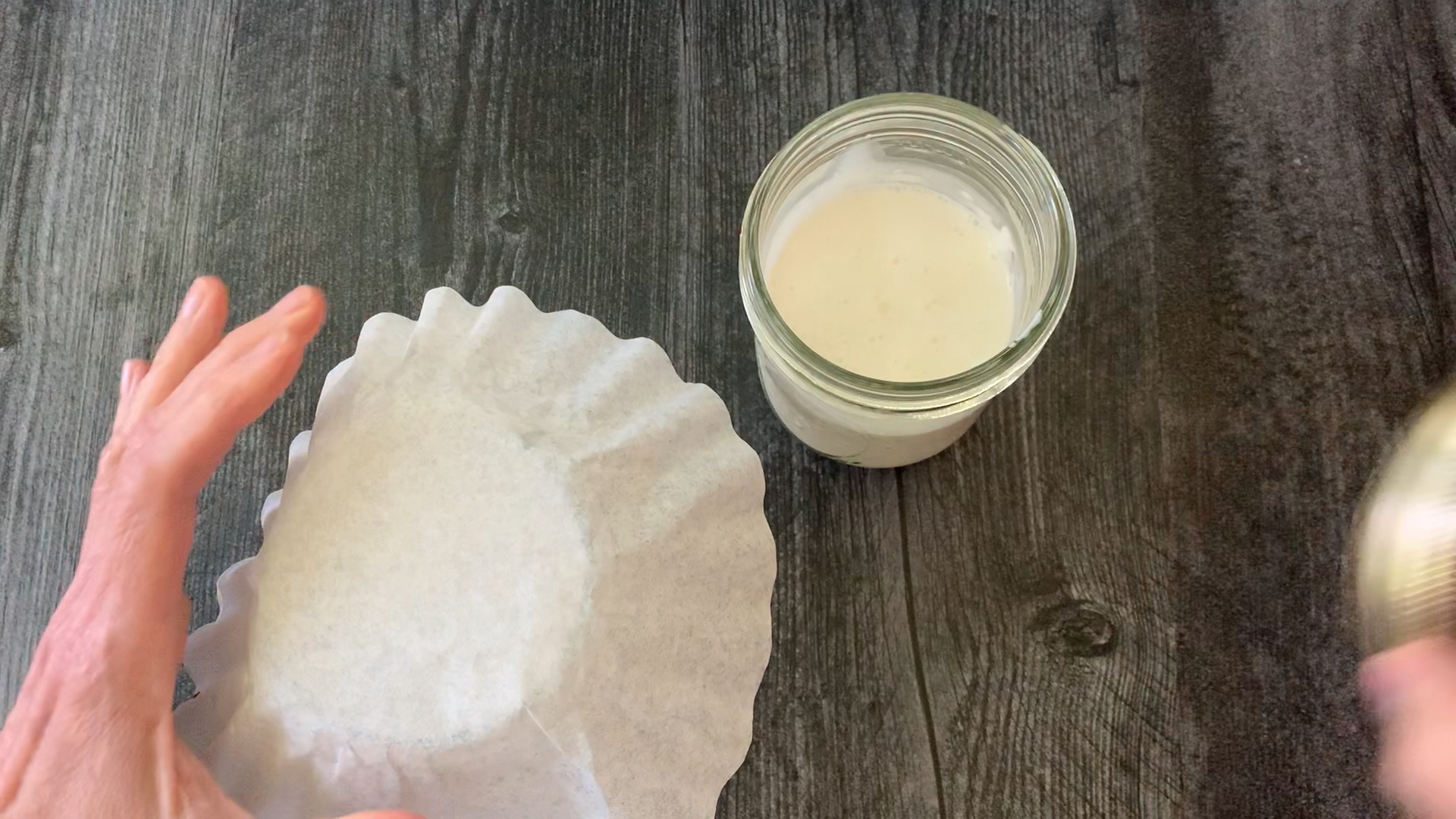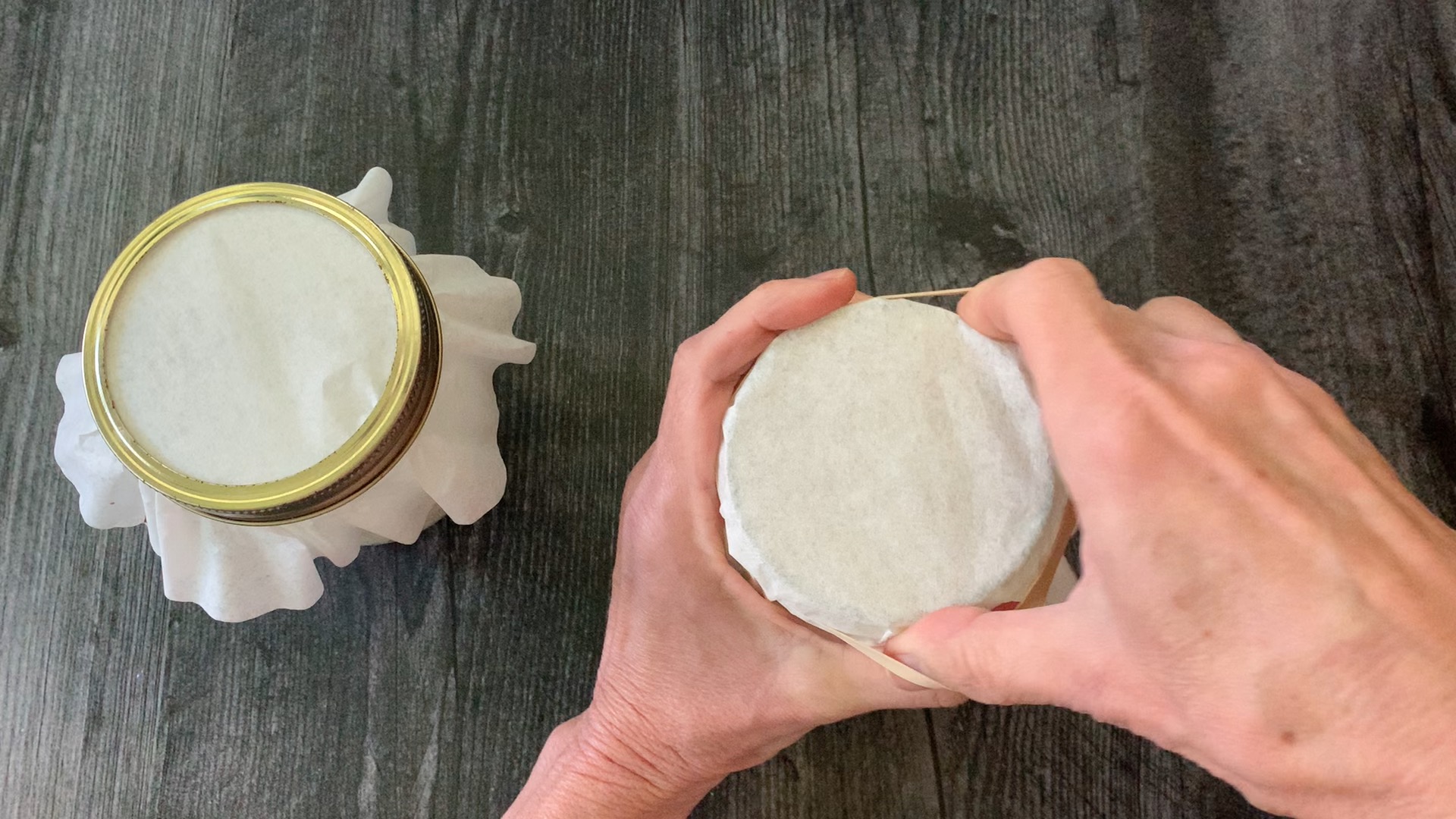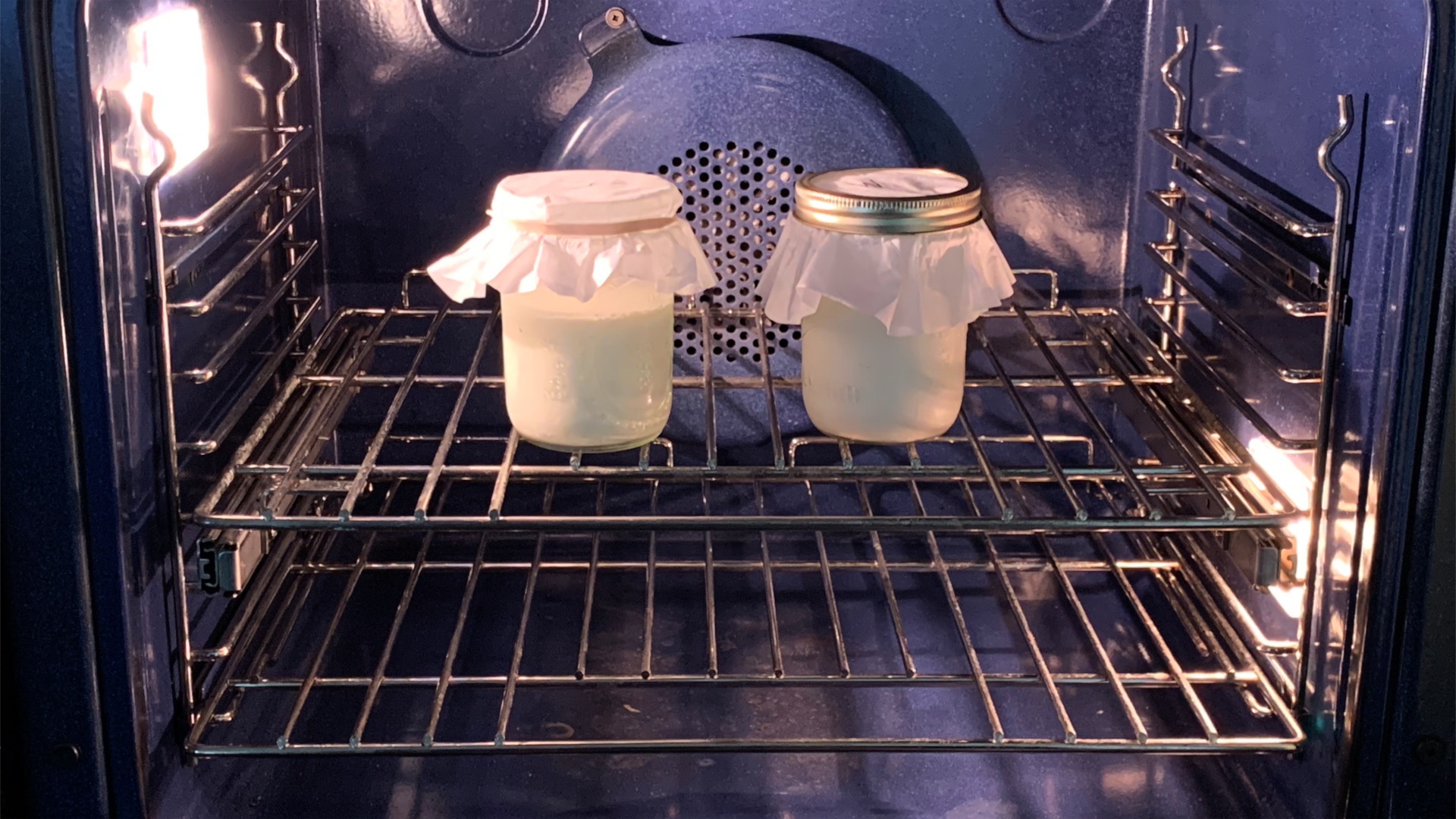 Just like making regular yogurt, avoid moving or shaking them while the yogurt bodies are busy propagating.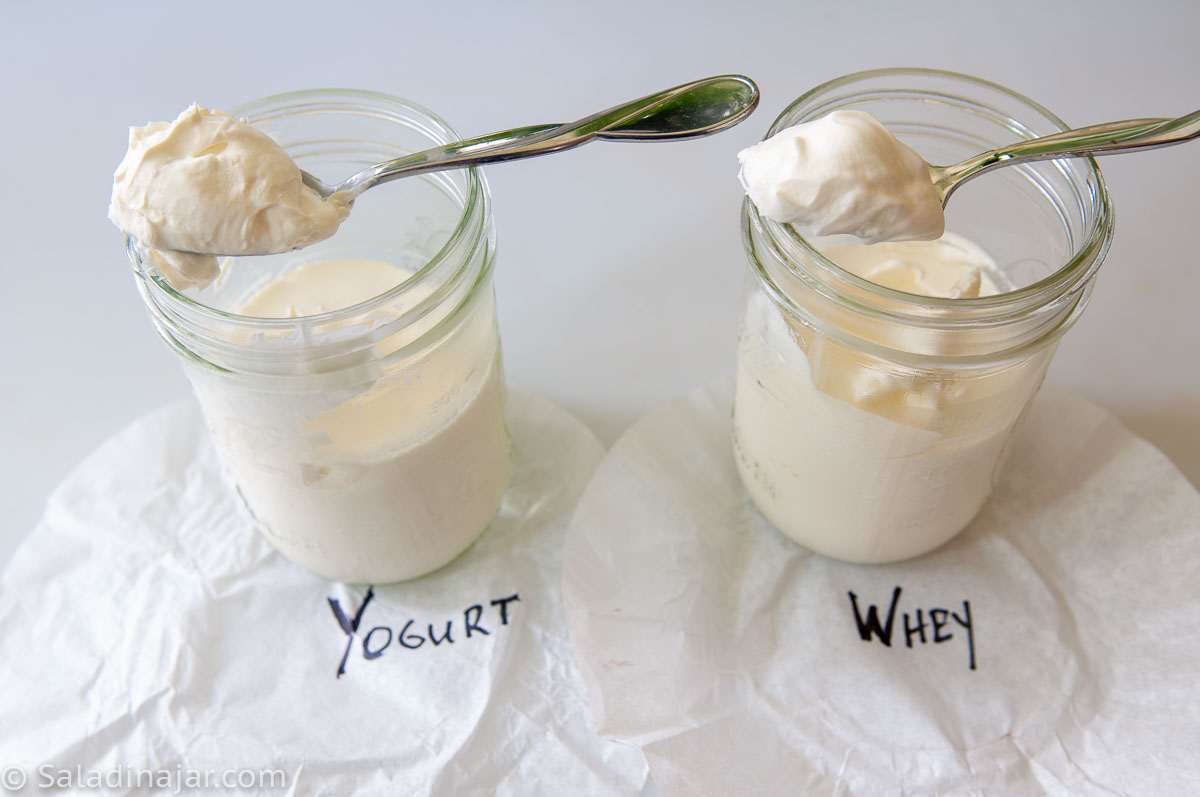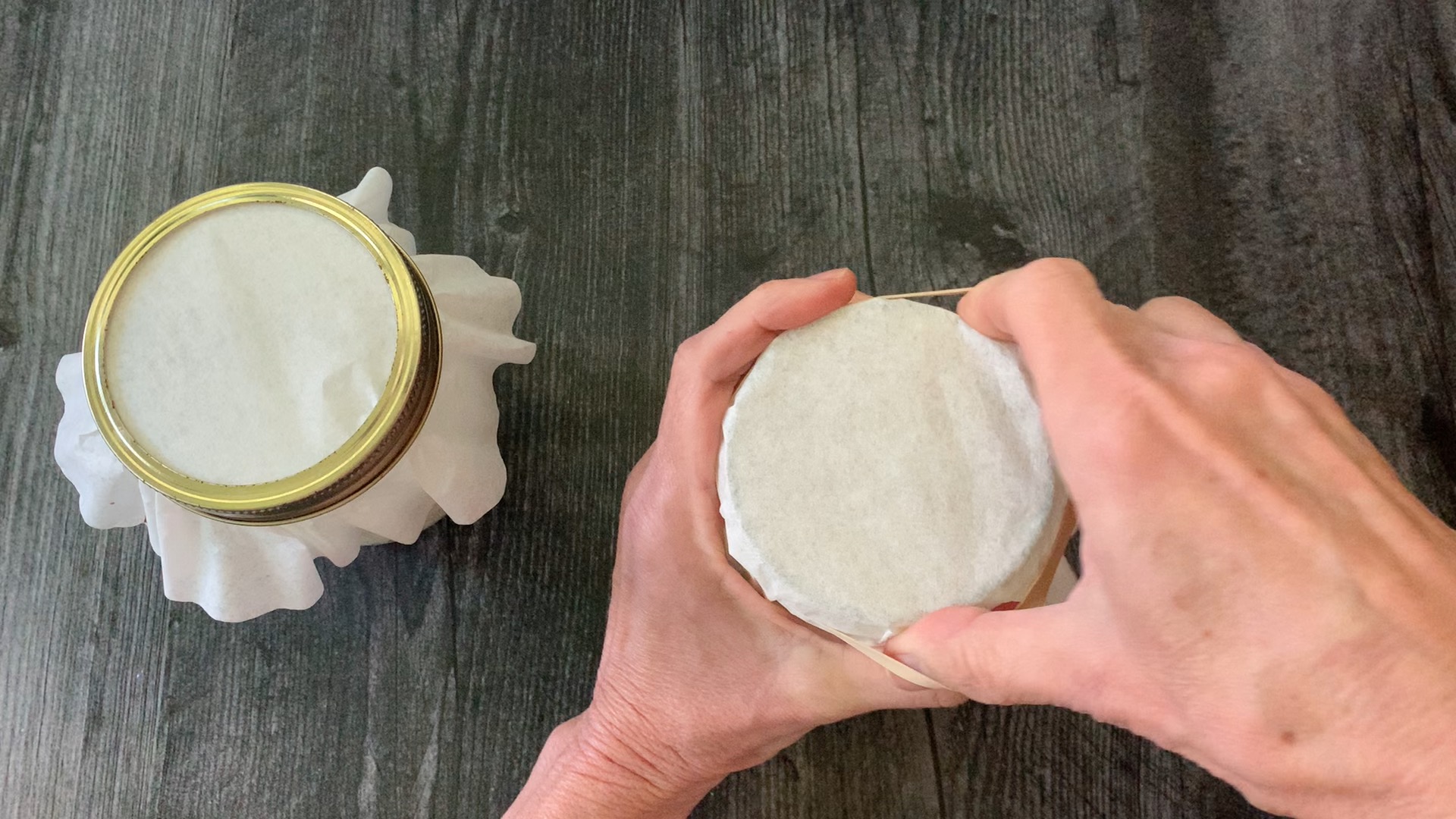 7. When the yogurt sets, it will be firm and jiggle only slightly, like gelatin. (See the video.) Refrigerating for several hours will firm up the texture even more.

Frequently Asked Questions about Creme Fraiche:
1. Does it matter whether the heavy cream is pasteurized or ultra-pasteurized?
You will find many instructions online that say you must use pasteurized cream. However, that's not my experience. I have only ever used ultra-pasteurized cream, and it works beautifully.

Some say it takes more time for ultra-pasteurized cream to set. But, unfortunately, I couldn't find anything but pasteurized cream in the store to experiment with so that I could speak from experience.

Even with ultra-pasteurized cream, it usually sets within 12 hours. So give it up to 24 hours.

The time to set may vary according to the ambient temperature, the virility of the culturing bacteria, your technique, and the freshness of your ingredients.
2. Do I need to heat the cream first?
No. Heating the cream to room temperature is unnecessary. Nor is it necessary to warm the yogurt or yogurt whey because they will come to room temperature fairly quickly.

You could warm the cream and the yogurt or whey to save on the "setting" time, but be careful not to overheat (over 100˚F) and kill the little yogurt bodies.

In my microwave, heating for 30 seconds on HIGH will bring a cup of cream up to 75˚F, saving me a little time. (If you want to try the same thing, consider that my microwave is relatively slow. Experiment to find how much time it takes in your microwave.)

3. Which is better for making creme fraiche? Yogurt or yogurt whey?

If you make yogurt, creme fraiche is another use for whey (the yellowish liquid that separates from yogurt). You won't need much—just one tablespoon for one cup of cream.

Instead of whey, you could use plain unflavored yogurt. But, again, one tablespoon is plenty for a cup of cream. Avoid using yogurt with anything added, like thickening agents or flavorings.

Whether you use Greek yogurt, regular yogurt, fat-free yogurt, or whey drained from yogurt doesn't matter. The most important thing is that the yogurt is fresh and not more than 7 to 10 days old.
4. Does it matter that my yogurt is two weeks old?
The most important thing is that the yogurt is fresh–no more than 7 to 10 days old. The longer yogurt or whey sits in the fridge or on the store shelf, the less potent it becomes.
5. How long will creme fraiche keep in my refrigerator?
You can store creme fraiche in the fridge for a week to two weeks. As with homemade yogurt, how long you can keep it depends on the freshness of the ingredients used when making it.

The longer you keep it, the more it will separate, just like yogurt. If the flavor starts to taste a little off, throw it out. If you see mold, it's time to pitch it.
6. Can I freeze creme fraiche?
I don't even try–the texture changes when you thaw it. Theoretically, if you whip it enough, you can bring it back close to its original smoothness.
If you want to try, here is a detailed post on how to freeze individual servings of crème fraîche.
7. How is creme fraiche different from Mexican crema?
"Mexican crema is similar to Creme Fraiche: it's a littler runnier and tastes even more tangy. It's essentially Creme Fraiche with lime and salt added!"–A Couple Cooks
---
If you have questions or suggestions, email me privately to Paula at saladinajar.com. Hope to see you again soon! Paula
---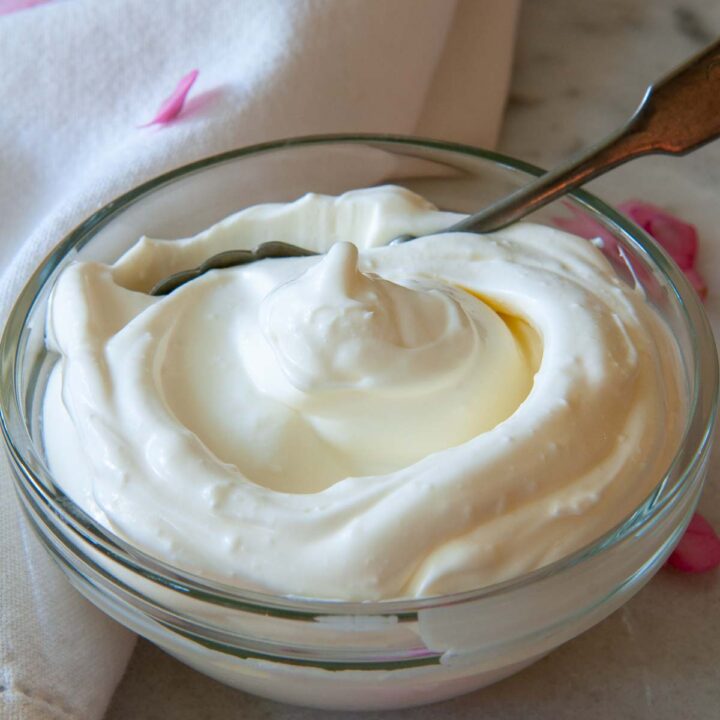 Homemade Creme Fraiche Recipe with Yogurt or Yogurt Whey
Add fresh yogurt or yogurt whey to heavy cream to make this creamy and rich spread you can slather on bread, add to salad dressing, or stir into soups and entrees.
Ingredients
1

cup

heavy cream

1

tablespoon

of fresh unflavored yogurt or yogurt whey
Instructions 
Pour cream into a glass or ceramic bowl or a glass jar.

Add 1 tablespoon of yogurt or yogurt whey. Whisk until smooth.

Cover with a coffee filter, cloth, or a flat plate. The mixture needs oxygen to work. Secure with the traditional metal collar or a rubber band if necessary to keep cover in place.

Set mixture aside on a quiet shelf where it will not be disturbed for 8-24 hours. The ambient temperature should be in the 70s. Do not stir, shake, or jostle during this time.

After 8 hours, check to see if your cream mixture is set by barely tipping the jar. It should be as firm as gelatin.

When set, refrigerate for 2-3 hours until cold and stiff. If you like, use a whisk to make it creamy.
Nutrition
Nutrition Facts
Homemade Creme Fraiche Recipe with Yogurt or Yogurt Whey
Serving Size
1 tablespoon
Amount per Serving
% Daily Value*
* Percent Daily Values are based on a 2000 calorie diet.
Like this recipe? Thanks for leaving a 5-star rating inside the recipe at the top! 🤩