Baked Spaghetti with Cream Cheese You'll Be Excited To Share
Sneak Peek: This Baked Spaghetti with Cream Cheese Recipe (AKA Scooter's Spaghetti) is a spaghetti casserole layered with spaghetti, cream cheese, and meaty marinara, then baked. Crunchy French-Fried onion rings on top add incredible flavor and texture. Don't miss the gluten-free version.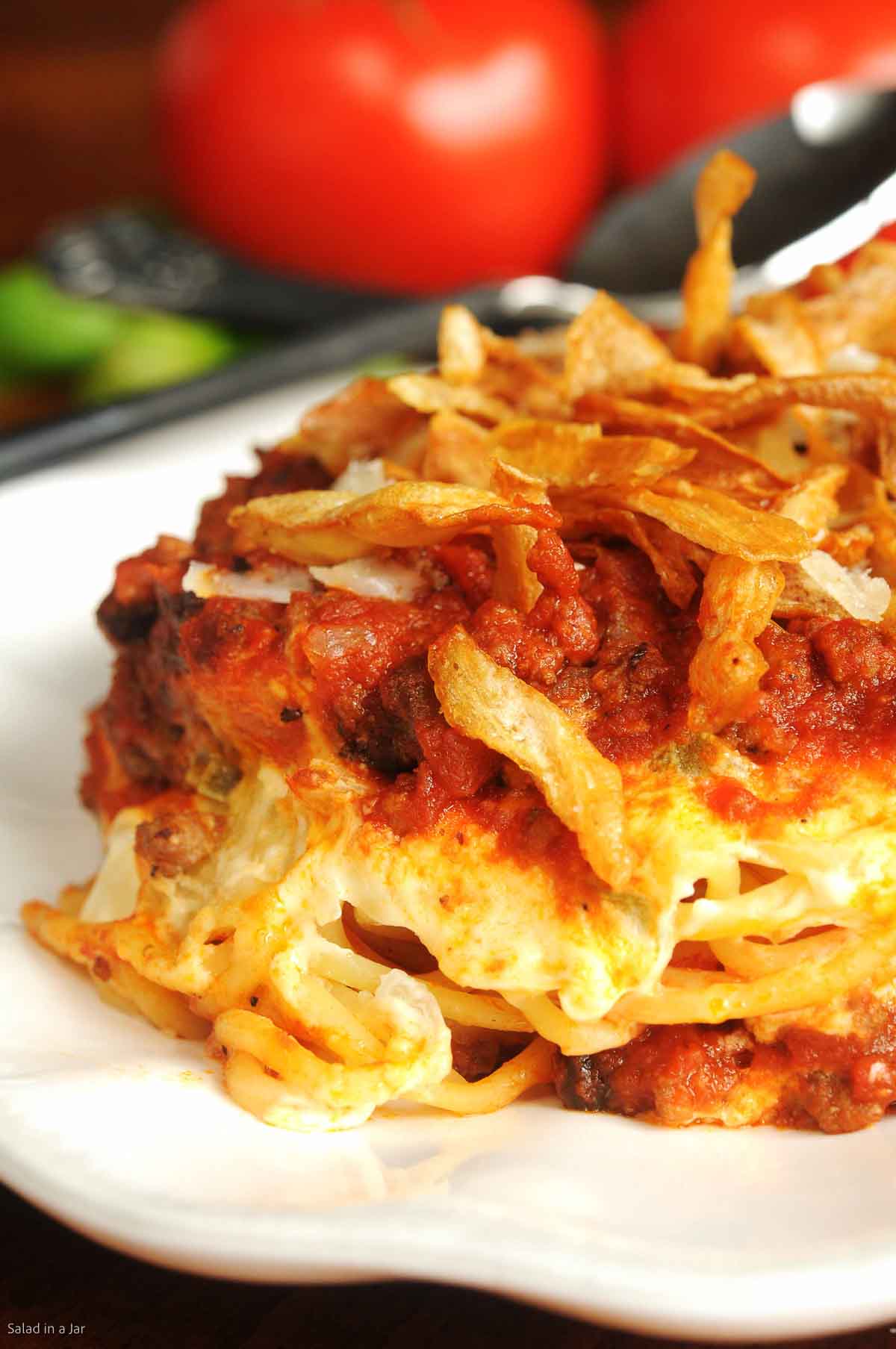 As an Amazon Associate, I earn from qualifying purchases.
What kind of entree do you like to take to a party, a potluck, or a sick/sad friend?
These are my requirements:
Easy but scrumptious
Made from ingredients already in my pantry
Something most people (including kids and picky eaters) will enjoy
Not worrisome to transport in your car
Recipes you can make ahead of time get bonus points. Wouldn't you agree?
This Baked Cream Cheese Spaghetti casserole is a winner in all these categories! But the topping makes it stand out: crispy French-Fried onion rings. I hope you enjoy it as much as we do.
You can assemble this recipe the day before if that helps.
The first time or two may seem more trouble than plain spaghetti. But with a bit of experience, you won't need the recipe. It will come together in a hurry.
Happy Cooks Speak Up
This is really delicious and simple to make. Everyone that has tried it likes it! I use green pepper, its so good in this! Thanks for sharing!

Tonya V.
Tips for making this ahead of time:
Assemble all layers except the onions and cover with plastic wrap, then foil. (Spaghetti sauce will cause small holes in the foil where it touches.) Place in the refrigerator for up to 24 hours.
But don't add the French Fried Onions when assembling the casserole. Instead, hold them back until 5 minutes before the spaghetti is ready to serve or give away.
Sprinkle the onions over the top and return to the oven for about 5 minutes to get crispy. Watch closely to prevent burning the onions.
---
RELATED POST: Easy Beef Goulash Recipe with Ketchup: One Pot to Clean
Can I freeze baked spaghetti with cream cheese?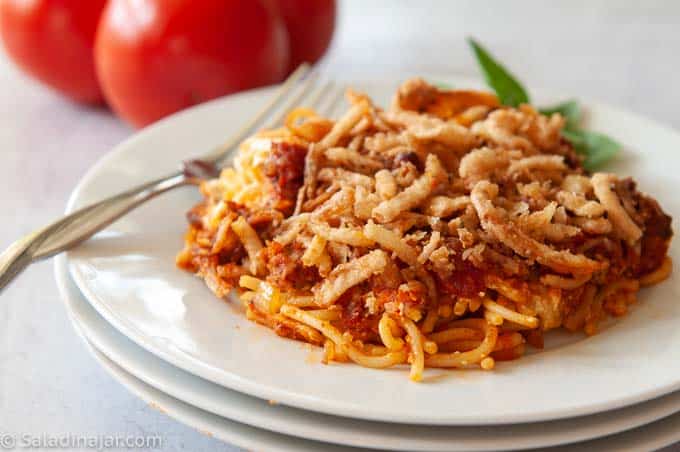 Yes–before you bake it. First, cover assembled but unbaked spaghetti casserole (without onion rings) with plastic wrap, then a layer of aluminum foil. (Plastic wrap is essential. Spaghetti sauce can eat holes in thin aluminum foil.)
When ready to bake it, remove the plastic wrap and cover it with foil while the casserole heats. Remove the foil halfway through baking to allow the cheese to brown.
Whether you refrigerate or freeze, don't forget about the French-Fried onions. As previously mentioned, sprinkle them evenly over the top of the casserole for 5 minutes before the end of the baking time.
---
Ingredients and substitutes:
GROUND BEEF: Substitute breakfast or Italian sausage for a portion or all of the ground beef. I like to use 50% beef and 50% hot breakfast sausage.

If you want a vegetarian meal, try substituting sliced Baby Bella mushrooms for ground beef.

SPAGHETTI: I like to use thin spaghetti noodles. Not as thin as vermicelli but slightly skinnier than traditional spaghetti, although traditional spaghetti pasta will also work.
SAUCE: My favorite sauce is Victoria White Linen Marinara Sauce (paid link). It contains less sugar than most. It's available at Costco as of this writing. Also seen on Amazon.

If you want to spice up the sauce with garlic and onions, go ahead. Cook them with the ground meat to soften them.
Have a favorite spaghetti sauce recipe? Go ahead and use it in this recipe. You will need about 3 to 3-1/2 cups of sauce.

CHEESE: Neufchâtel is a suitable replacement for cream cheese if you're trying to cut the fat. Read more about Neufchâtel here.

You could leave out the cream cheese, but please don't. It won't be the same. Even if you think you don't like cream cheese, it's magic in this recipe. I have not tried substituting sour cream, ricotta cheese, or cottage cheese for cream cheese.

PARMESAN CHEESE: Grated Parmesan cheese adds incredible flavor or umami to this recipe. I don't recommend the grated Parmesan sold in the green can.

I have never substituted Mozzarella or Cheddar cheese for Parmesan. Romano cheese would make a good substitute.

FRENCH-FRIED ONION RINGS: Don't be tempted to leave these out! It would be like ordering a cheeseburger without cheese. What's the point?

The onion rings and cream cheese layer make this recipe special and unique.
If you need gluten-free or grain-free, check out these onion rings available at Asian supermarkets and Amazon(paid link). They are fried but without a batter coating.
---
How to make Spaghetti with Cream Cheese Casserole: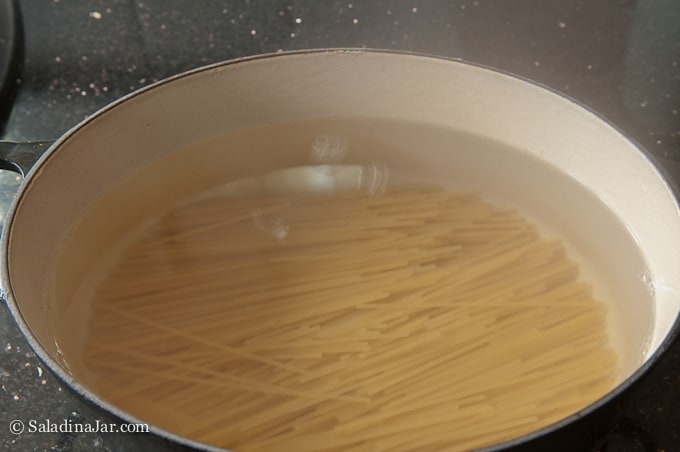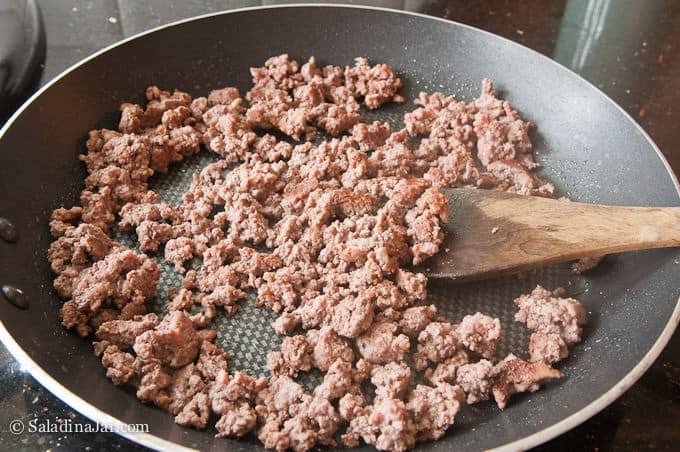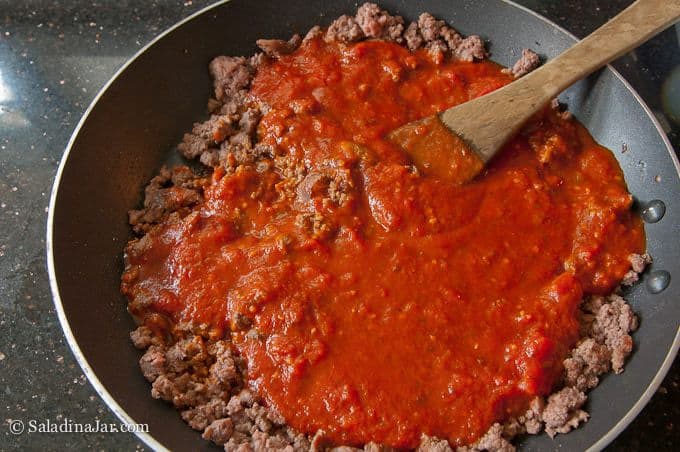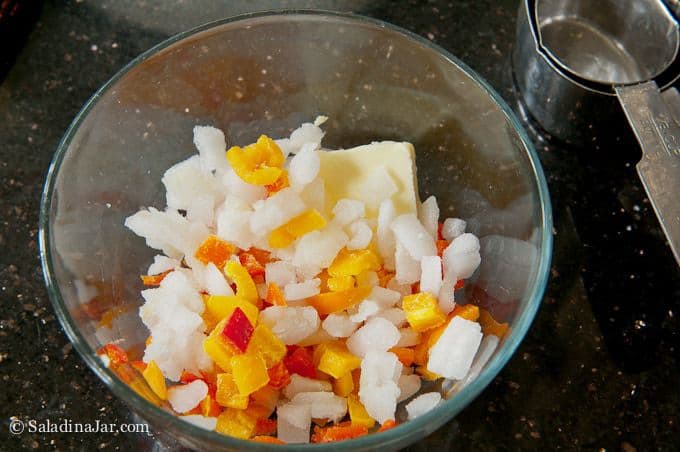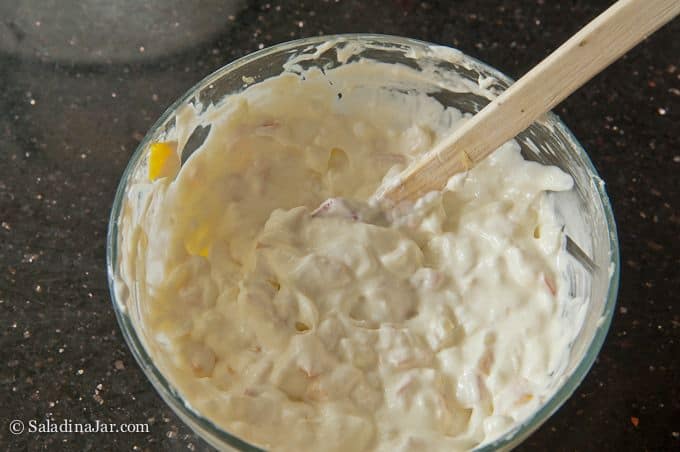 ---
How to assemble the layers for baked cream cheese spaghetti: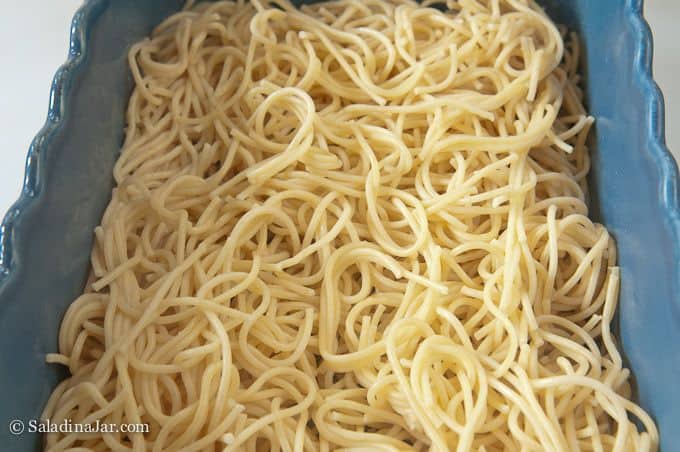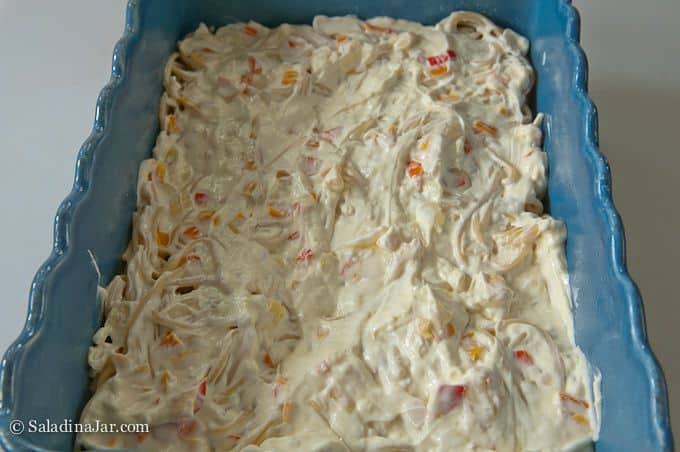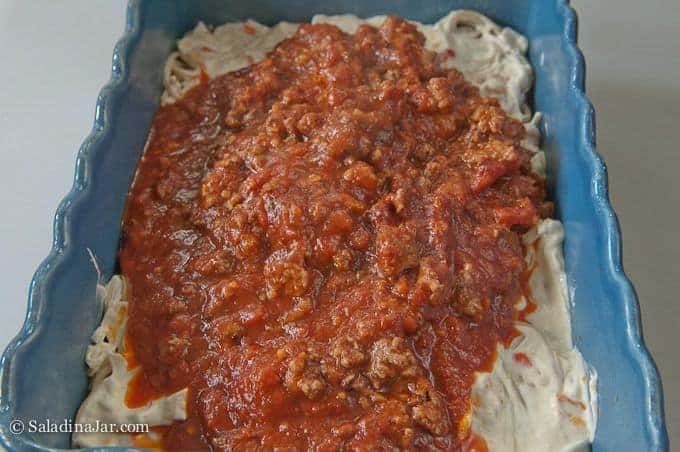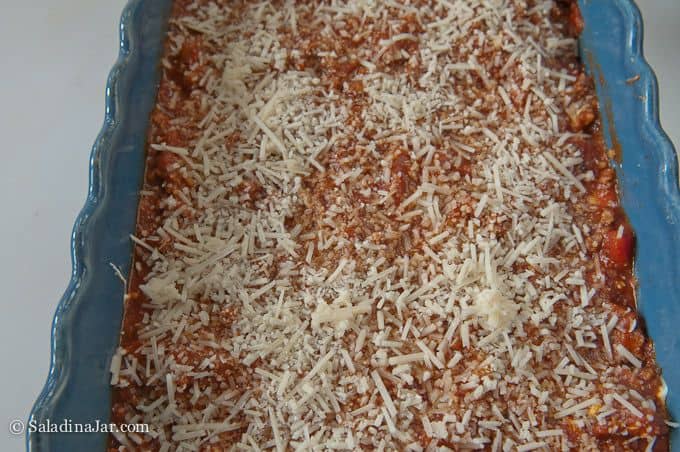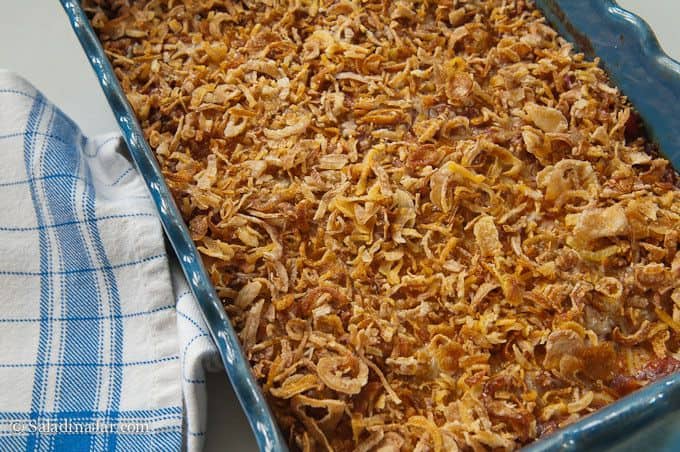 Put the casserole back into the oven until the onions are toasty. Please keep your eyes on it. The onions can burn faster than you can answer the door.
---
Remember that I warned you earlier that this casserole would take a little extra time the first time or two you make it. It's not as easy as stirring it all up in a big bowl. But believe me when I say it's worth it so you can enjoy all the different textures in this dish.
---
FAQ for this baked spaghetti:
How can I make store-bought spaghetti or pasta sauce more flavorful?
Add crushed dried red pepper, sauteed onions, garlic, and softened peppers (red, yellow, orange, or green). Some people like a touch of sugar.
Can I use gluten-free spaghetti instead of traditional spaghetti?
Yes. Or see the zucchini-noodle version below for fewer carbs.
---
Variation: Gluten-Free Version of Baked Cream Cheese Spaghetti (with Zucchini Noodles)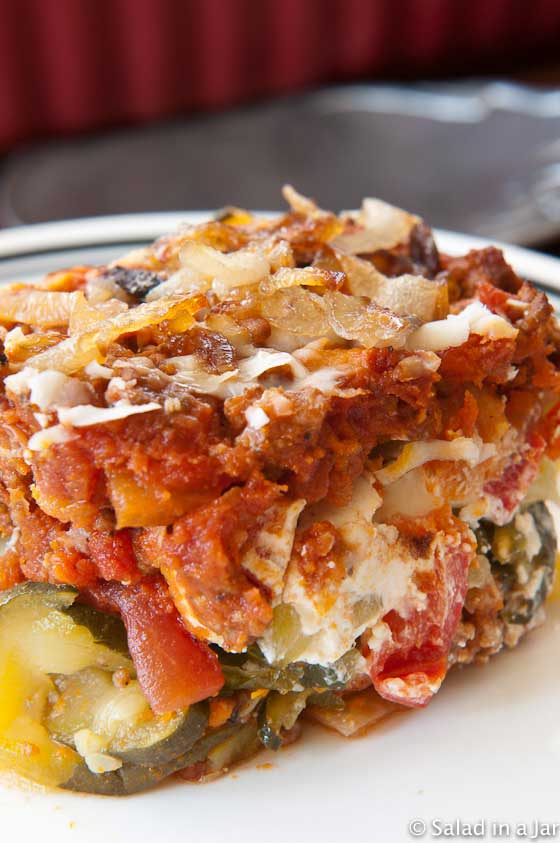 Substitute zucchini for the spaghetti for a gluten-free, veggie-packed version. Use a spiralizer(paid link) or a mandolin(paid link) to make noodles from 3 medium zucchini. No peeling is necessary.
Squeeze as much moisture out of the zucchini as you can before assembling the casserole.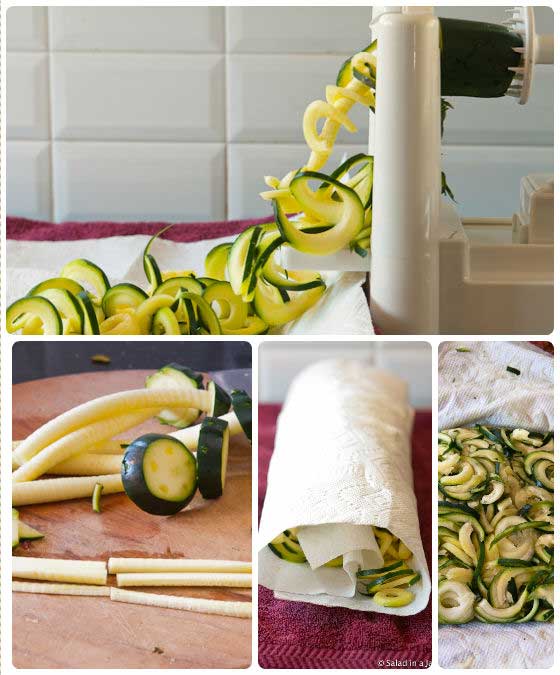 To keep this recipe gluten-free, substitute pan-fried shallots for the onion rings.
You will need at least 4-5 shallots for this recipe. Sautè sliced shallots in a frying pan with a little bit of oil. Fry at med-low temperature until brown, stirring frequently.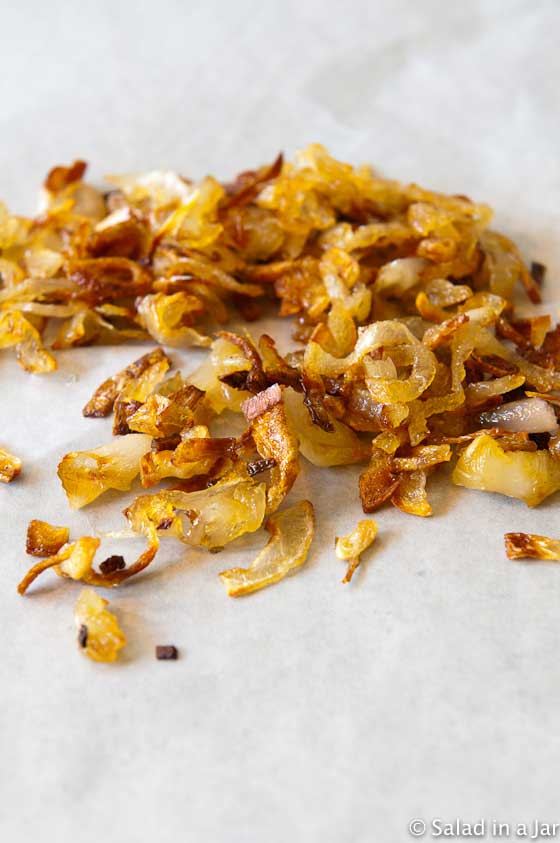 Parting thoughts: Who or what is "Scooter?" (the original namesake of this recipe)She is one of my favorite people from way back. I'm so happy she is willing to share her recipes. I was sick the first time she brought this to my house, and I have never forgotten it!
If you like this one, check out these recipes Scooter also shared with me: Breaded Almond Chicken, Bacon-Wrapped Stuffed Pork Tenderloin, Warm and Toasty Nuts with Rosemary, and Shallots.
---
Do you need some bread with your spaghetti?
Help at Your Fingertips: For questions or suggestions, email Paula at saladinajar.com. If you need help, I'm happy to troubleshoot via email (faster than leaving a comment). Attach pictures and as many details as possible for the best advice.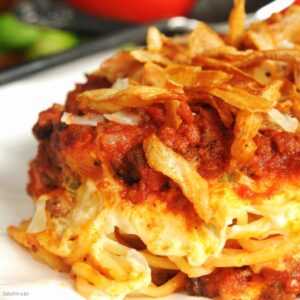 Scooter's Baked Spaghetti with Cream Cheese and French Fried Onions
Layered spaghetti casserole topped with French-Fried onions is a family favorite!
Share recipe love here. ⬇
Ingredients
8

ounces

(

227

g

)

uncooked thin spaghetti

1

pound

(

453

g

)

ground beef

1

26.5 oz jar

(

751

g

)

spaghetti sauce

1

tablespoon

(

14

g

)

butter

½

cup

(

74

g

)

chopped green peppers

–

(or substitute red peppers)

⅓

cup

(

17

g

)

chopped onions

8

ounces

(

227

g

)

cream cheese

2

tablespoons

(

28

g

)

milk

2

tablespoons

(

11

g

)

Parmesan cheese, grated

–

fresh, if possible

1

6-ounce can

(

170

g

)

French-fried onions
Instructions
Cook

8 ounces

(

227

g

) uncooked thin spaghetti according to the directions on the package. Cook to al dente, then drain and set aside.

Brown

1 pound

(

453

g

) ground beef, then drain excess grease. (This is the time to add garlic if you like. You choose the amount based on your taste preferences.)

Add

1 26.5 oz jar

(

751

g

) spaghetti sauce to the cooked ground beef and heat.

Combine

1 tablespoon

(

14

g

) butter,

1/2 cup

(

74

g

) chopped green peppers and

1/3 cup

(

17

g

) chopped onions in a small microwave-safe bowl. Cover and microwave for 3-4 minutes on HIGH until soft.

Add the

8 ounces

(

227

g

) cream cheese and

2 tablespoons

(

28

g

) milk to the cooked vegetables and stir well. (If the cream cheese is not soft, nuke the entire mixture for 20-30 seconds to make it easy to spread.)

Using a 12 x 8-inch baking dish (or something close), assemble in the following order: thin layer of spaghetti sauce, cooked spaghetti, cream cheese/vegetable mixture, remaining spaghetti sauce,

2 tablespoons

(

11

g

) Parmesan cheese, grated (amount subject to your own taste)

Bake at

350

°F

(177˚C) for 25 minutes or until the sauce bubbles around the sides.

Top with

1 6-ounce can

(

170

g

) French-fried onions and continue baking for 5 more minutes. (This is the secret ingredient–don't let them burn.)
Notes
Make this ahead of time and refrigerate or freeze without the French Fried onions. Don't forget to add them 5 minutes before casserole is finished cooking.
Nutrition
Serving:
1
|
Calories:
393
kcal
|
Carbohydrates:
29
g
|
Protein:
17
g
|
Fat:
24
g
|
Saturated Fat:
11
g
|
Polyunsaturated Fat:
1
g
|
Monounsaturated Fat:
8
g
|
Trans Fat:
1
g
|
Cholesterol:
74
mg
|
Sodium:
566
mg
|
Potassium:
539
mg
|
Fiber:
2
g
|
Sugar:
6
g
|
Vitamin A:
841
IU
|
Vitamin C:
14
mg
|
Calcium:
78
mg
|
Iron:
2
mg
HELP OTHERS find this recipe. Leave a 5 🌟🌟🌟🌟🌟 rating at the top of the recipe card if you enjoyed it. No comment is required.