This recipe for Scooter's Baked Spaghetti with French-Fried Onions is a one-dish masterpiece. French-fried onions sprinkled over layers of spaghetti, cream cheese, and flavorful marinara make a dish that, honestly, is hard to stop eating.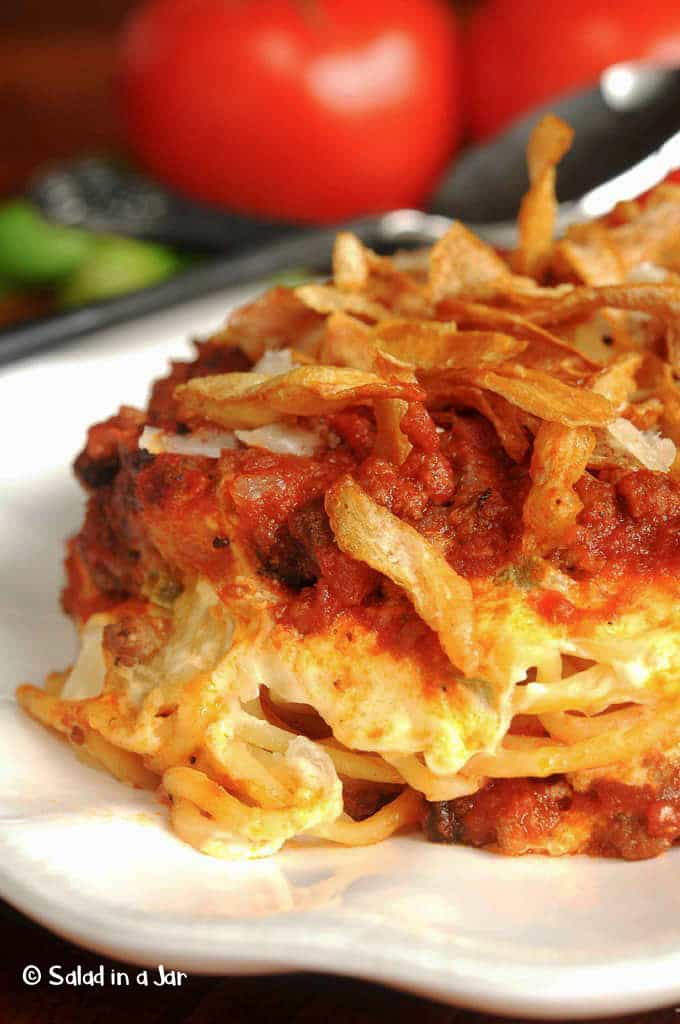 What kind of recipe makes your all-star list?
If you are like me, it must be:
Easy
Made from ingredients you are likely to have in your pantry
Something most people (including kids and picky eaters) will like
Recipes you can make ahead of time get bonus points.
When you make this, you will see that Scooter's Baked Spaghetti Casserole fulfills all these requirements.
Can I make this ahead of time?
Yes. But don't add the French Fried Onions.
Assemble all layers except the onions and cover with plastic wrap. It can be refrigerated for up to 24 hours.
What about freezing?
Cover unbaked spaghetti casserole with plastic wrap and an outer layer of aluminum foil if you want to freeze it. When you get ready to bake it, remove the plastic wrap and cover it with foil until the casserole is heated through. Remove foil.
Five minutes before your casserole is ready to be served, top it with onions and return this easy spaghetti to the oven to brown slightly.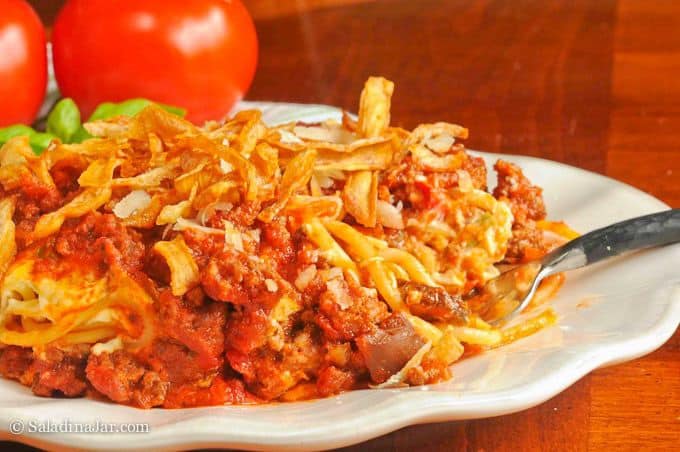 Do You Share Recipes?
Speaking of sharing recipes, what is your opinion on the matter? Although I used to be reluctant in an earlier stage of my life, I have found sharing a recipe ensures memories of you every time the recipient makes it. Hopefully, you've written the measurements down correctly so the memory will be a good one.
Case in point, I recently ran into somebody I had not seen in 30 years. Unfortunately, she was completely forgotten by me. But she remembered a recipe I had given her. She claimed to make it still. When she told me what it was, I couldn't place it. I guess it was a fleeting experiment for me.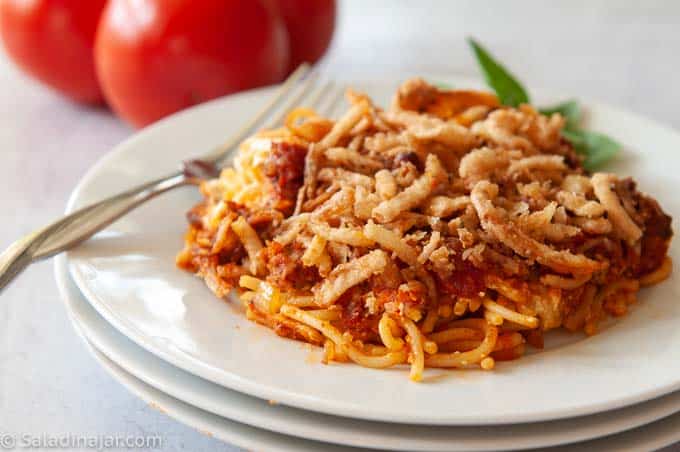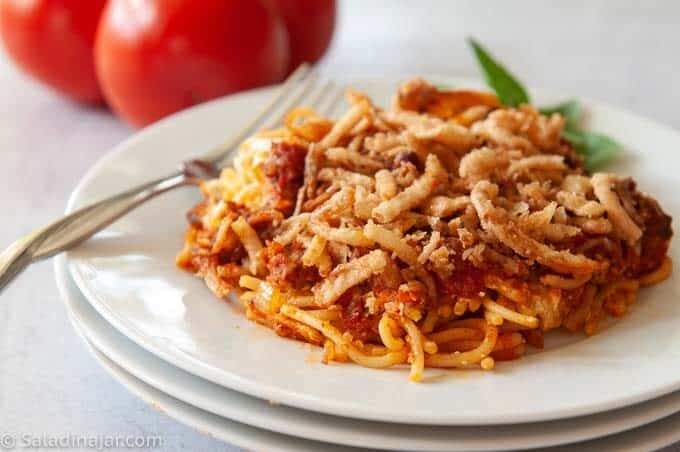 Scooter is one of my favorite people from way back, who is an excellent cook. I'm so happy she is willing to share recipes. If you like this one, you should check out more of her recipes here, here, and here.
Related Post: How to Make Ciabatta with a Bread Machine
How to assemble Scooter's Spaghetti: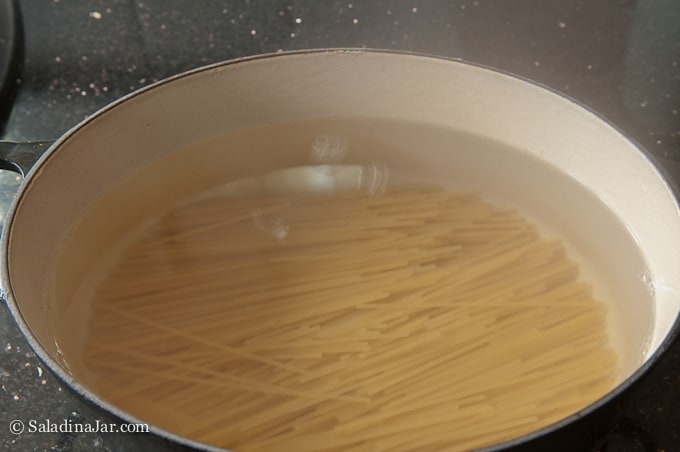 Prepare 8 ounces spaghetti according to directions on the package. Drain and set aside.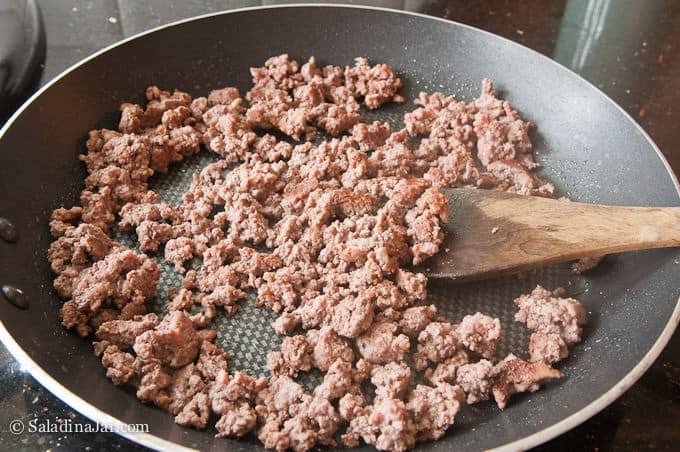 Brown the ground beef in a large skillet. Drain excess grease if necessary.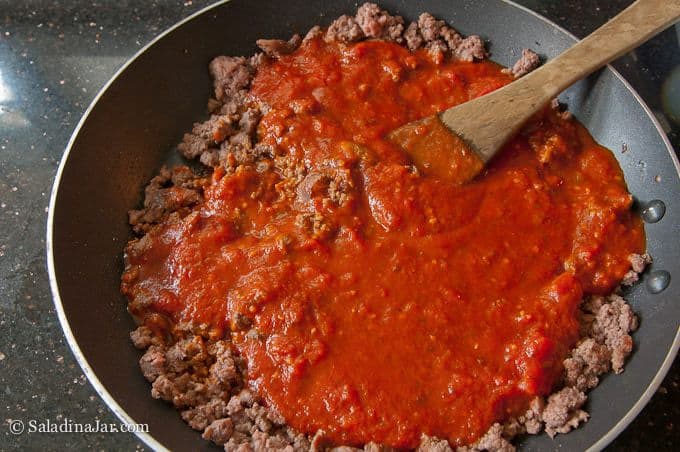 Add spaghetti sauce to ground beef and heat on medium-low.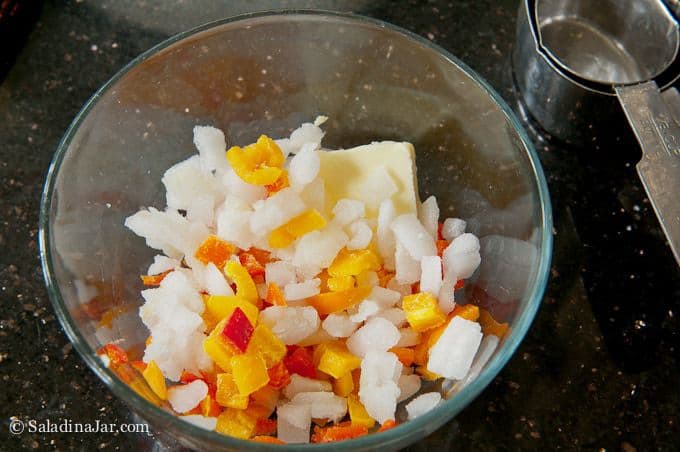 Combine butter, peppers, and onions into a microwave-safe glass bowl. Cover. Microwave on HIGH for 3 minutes.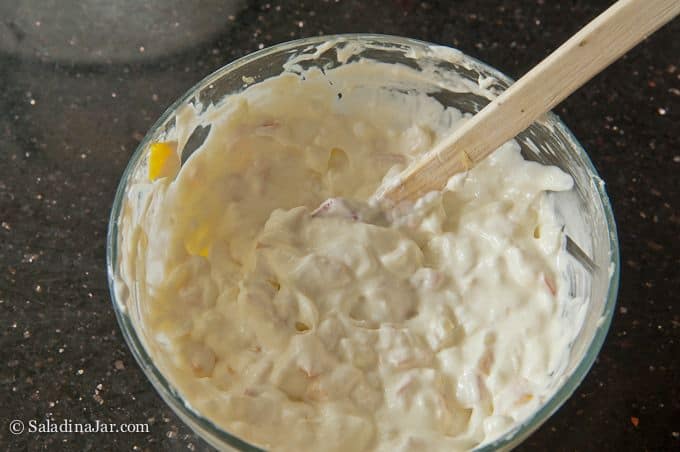 Add softened cream cheese and milk. Stir until smooth.

Related Post: French Bread (Made in a Bread Machine)
How to layer Scooter's Spaghetti: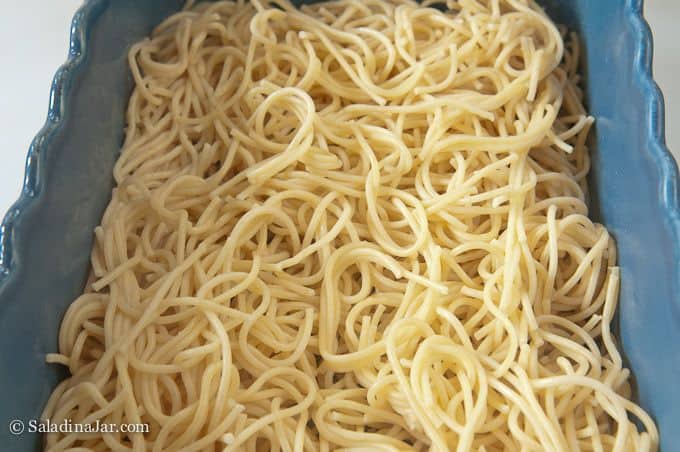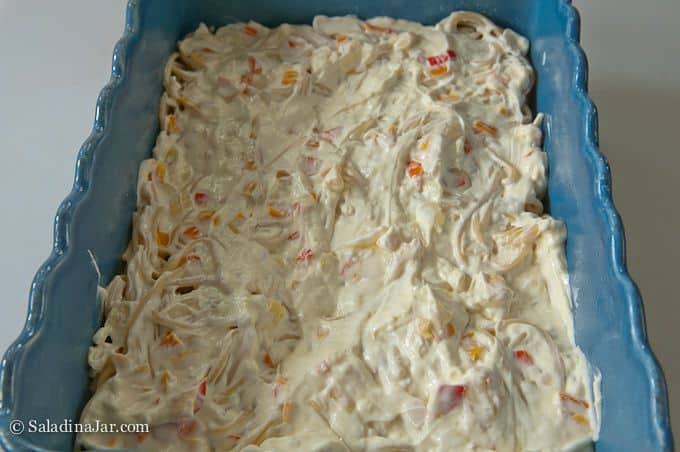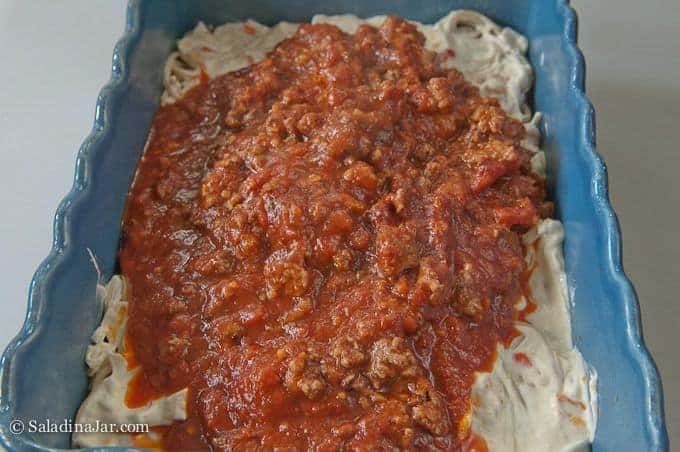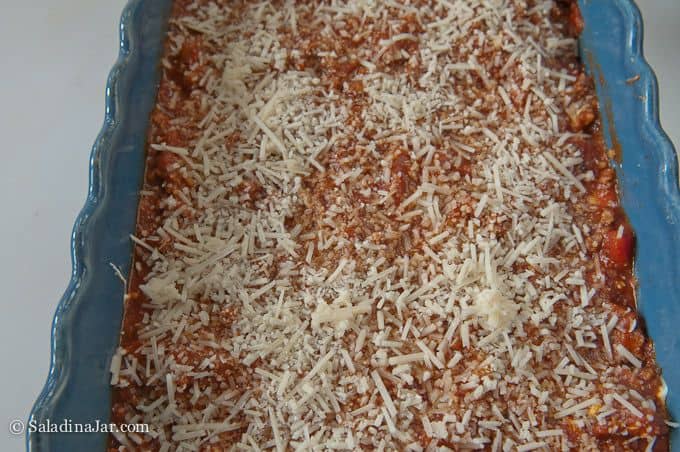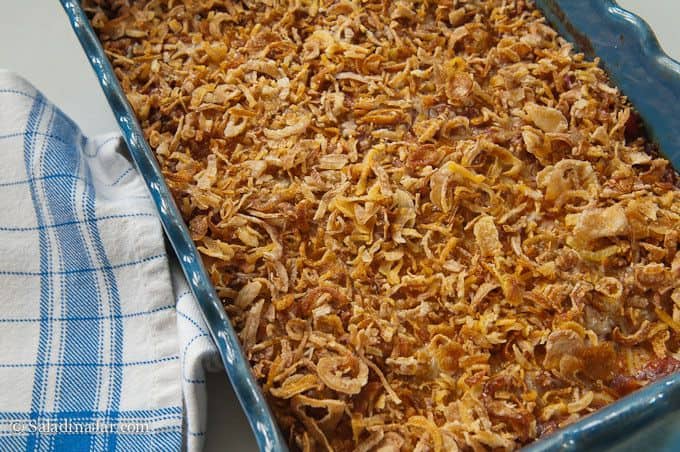 Put the casserole back into the oven until onions are toasty. Keep your eyes on it. The onions can burn faster than you can answer the door.
---
Pin the picture below to save for later.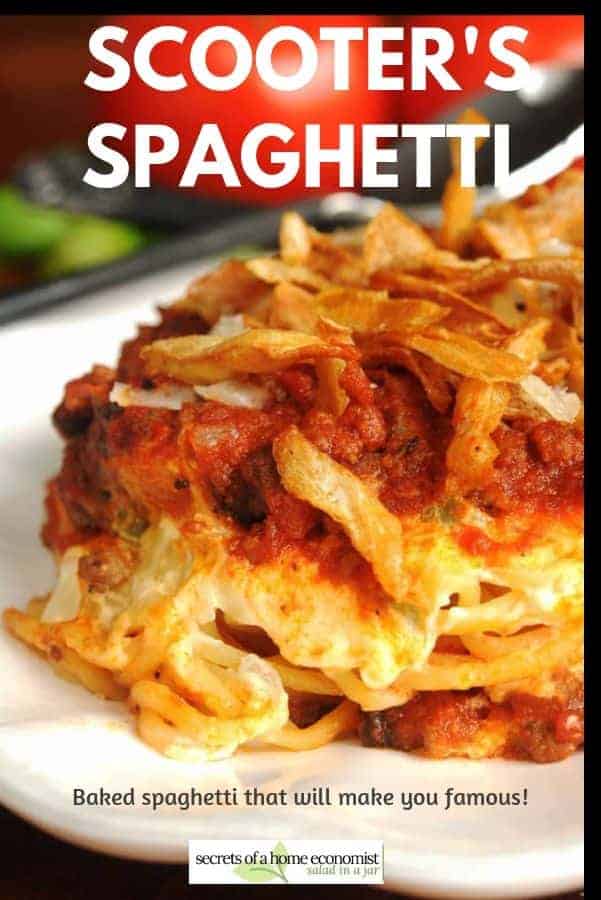 If you make this and enjoy the recipe, it would help me and others if you would return to this post and leave a rating (on the recipe card itself underneath the picture). Although always appreciated, no comment is required. Thank you for visiting! Paula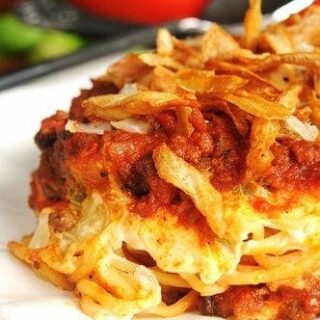 Scooter's Spaghetti with French-Fried Onion Rings
Layered spaghetti casserole topped with French-Fried onions is a family favorite!
Ingredients
8 ounces uncooked spaghetti
1 pound ground beef
1 large can spaghetti sauce (26.5 ounces)
1 tablespoon butter
1/2 cup chopped green peppers (I usually omit or substitute red peppers)
1/3 cup chopped onions
8 ounces cream cheese
2 tablespoons milk
Fresh grated Parmesan cheese
French-fried onions (small can)
Instructions
Cook spaghetti according to directions on the package. Cook to al dente, drain and set aside.
Brown ground beef, then drain excess grease.
Add spaghetti sauce to ground beef and heat.
Combine onions, peppers and butter in small glass bowl. Cover and microwave 4 minutes on HIGH until soft.
Add cream cheese and milk to vegetables and stir well. (If cream cheese is not soft, nuke it for 20-30 seconds to make it easy to spread.)
Using a 12 x 8-inch baking dish (or something close), assemble in the following order: thin layer of spaghetti sauce, cooked spaghetti, cream cheese/vegetable mixture, remaining spaghetti sauce, parmesan cheese (amount subject to your own taste)
Bake at 350 degrees for 25 minutes.
Top with french-fried onions and continue baking 5 more minutes. (This is the secret ingredient--don't let them burn.)
Notes
Make this ahead of time and refrigerate or freeze without the French Fried onions. Don't forget to add them 5 minutes before casserole is finished cooking.
Nutrition Information:
Yield:

10 servings
Serving Size:

1
Amount Per Serving:
Calories:

317
Total Fat:

18g
Saturated Fat:

9g
Trans Fat:

0g
Unsaturated Fat:

7g
Cholesterol:

67mg
Sodium:

200mg
Carbohydrates:

21g
Fiber:

1g
Sugar:

3g
Protein:

17g
Posts related to Scooter's Spaghetti with French Fried Onions: