Preview: These Crispy Breakfast Flautas (aka breakfast taquitos or tornados) are flour tortillas stuffed with scrambled eggs, sausage, and pepper jack cheese.
If you have overnight house guests in the plans, what's for breakfast? Since I always eat the same thing every morning or nothing at all, I don't have many options in my breakfast recipe repertoire. But I need some tasty recipes in my pocket for house guests.
Rich breakfast casseroles have had their day. The usual pancakes, waffles, and cinnamon rolls can be sugar overload in the morning. Regular eggs and bacon every day would make my husband happy, but not me.
Flautas packed with eggs, sausage, and pepper jack cheese will make everybody smile. They're especially good for the occasional breakfast-for-supper night.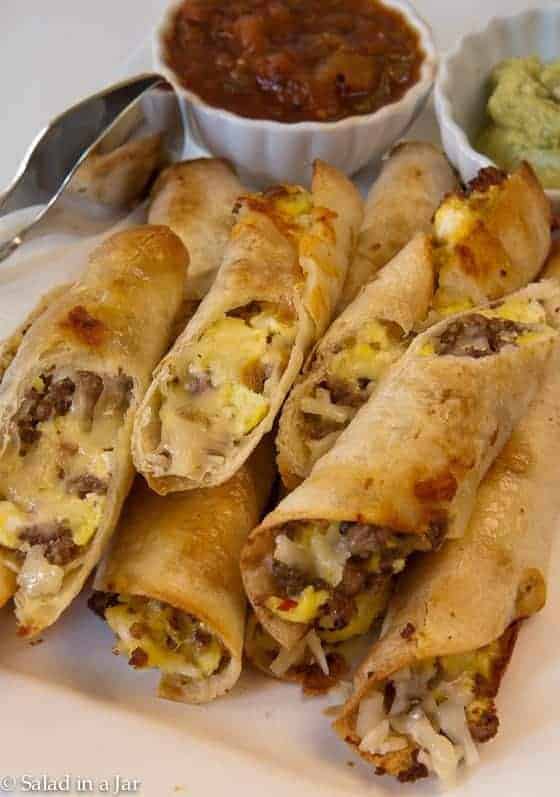 A thumbs-up from the guys…
Recently, my husband hosted a small planning meeting with a couple of other guys from church. I pulled these baked taquitos out of the oven as they were coming in the door and served them with guacamole and a couple of different salsas. They snarfed them up in no time.
Part of the appeal with guys is the spicy heat of the pepper jack cheese and the fact they are small. That means you can eat a lot of them without feeling stuffed.
Ingredients and substitutions:
FLOUR TORTILLAS:
Quality flour tortillas are essential to the success of this recipe.
The raw tortillas (TortillaLand) sold in these parts by Walmart and Costco are my favorite because they are fresh and flaky. They must be lightly browned in a skillet first before you stuff them to make flautas.
If you buy the cooked flour tortillas sold at the grocery store, you can roll them right out of the package. If they seem stiff, microwave them a few seconds between two damp towels (or paper towels) to make them flexible enough to roll easily.
Looking for fewer carbs?
I prefer these with more filling, less tortilla. That's why I cut the tortilla in half before stuffing and rolling. If you prefer more tortilla and less filling, use the whole tortilla and roll as you would an enchilada. The latter is neater, but you are getting a higher ratio of carbs to protein.
CHEESE:
If you are serving to kids or to people with sensitive taste buds, substitute cheddar cheese or plain Monterrey jack in place of pepper jack cheese.
EGGS:
I use fresh large eggs. If you only have medium eggs, use 5 instead of 4 as called for in the recipe.
SAUSAGE:
Ground breakfast sausage is my preference. Hot, mild, or regular sausage are all good choices.
Can I make these ahead of time?
Assemble these an hour or two ahead of time if you like, but don't bake until just before serving. You want them to be super crispy.
With all the flavors and crispiness going on, I'm guessing you won't miss the fat associated with fried taquitos or as some people call them, flautas.
---
More breakfast options:
---
If you enjoyed this recipe, it would help others and me if you gave it a five-star rating inside the recipe card below. 🤩 No comment required. Thank you.

Hope to see you again soon!
Paula
p.s. Questions or suggestions? Please email me: Paula at saladinajar.com.