This Low-Carb Chili Relleno Casserole with Ground Beef is for Chili Relleno lovers like me. If you love to order Chili Rellenos at your favorite Mexican restaurant, you will appreciate enjoying the same flavors at home. Please invite me to dinner when you make these.
Heads-up low-carb eaters. A serving of this layered casserole contains only 12 carbs (an estimate) so you can enjoy this for recipe guilt-free.
Updated 01/10/2020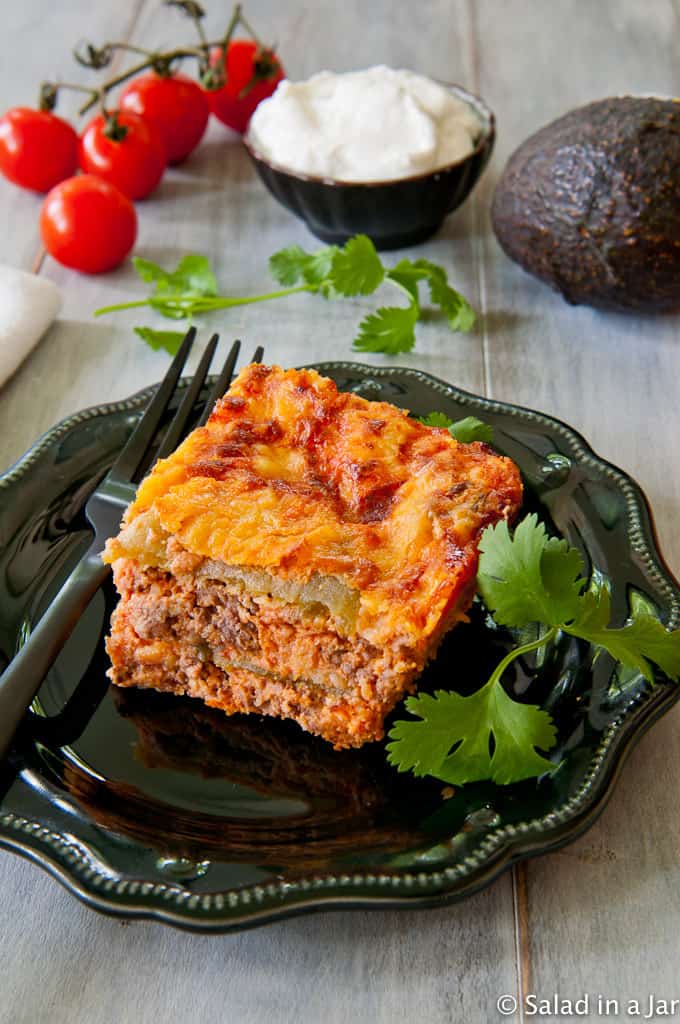 We recently returned from a 2-week vacation to Central Europe–visiting Prague, Vienna, Salzburg, Budapest, and other places previously unheard of by me. The scenery was spectacular, the weather perfect, and the food delicious, even though it was mostly meat and potatoes.
Not surprisingly, that made the men happy. But anytime I leave home for more than a week, I start to crave Tex-Mex. Baked Chili Relleno Casserole is a one-dish meal that qualifies as comfort food for a jet-lagged, homesick Texan.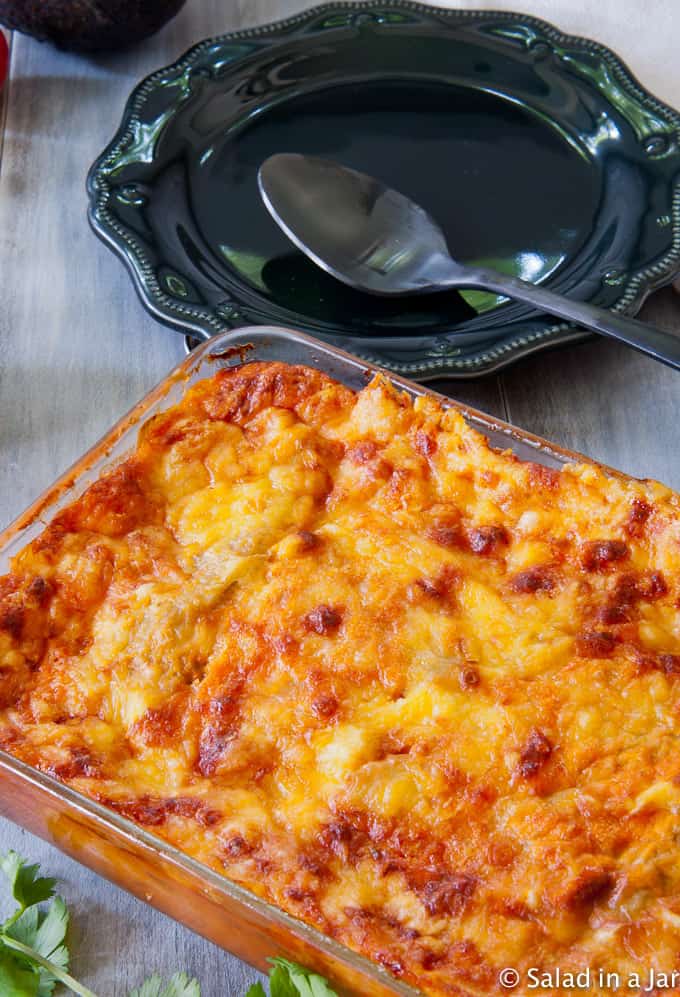 Recipe Inspiration
Chili Rellenos are my #1 favorite Mexican food. Whenever we try a new Mexican restaurant, the likelihood we will return depends on their Rellenos.
My favorite ones come from the El Rancho Grande restaurant in the Ft. Worth Stockyards. Admittedly, these Chili Rellenos aren't quite the same as theirs.
First, I left out the "stuff, batter, and-fry-each-individual-poblano-pepper" part. Secondly, it's easier to layer all the ingredients into a casserole dish. I hope you enjoy it as much as we do.
Ingredients:
Ground Beef:
The ground beef of choice for this recipe would be an 85/15 mix. There's enough fat to flavor the meat but no so much that you will have to drain a lot off.
Poblano Peppers:
Fresh poblano peppers are cheap and fairly easy to broil and peel yourself. They give this dish the best flavor, making them my first choice.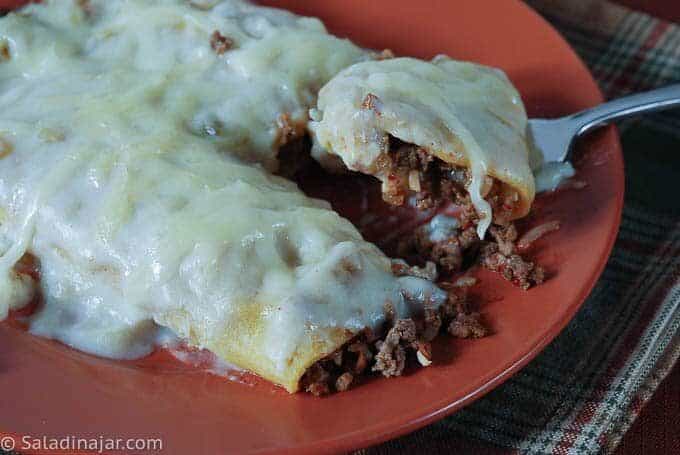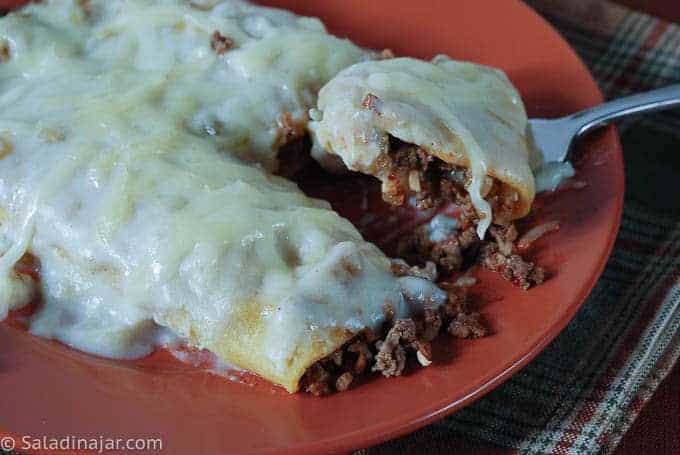 However, if you lack the time or inclination, buy a can of whole green chilies and slice them lengthwise to lay flat. Or, use chopped green chilies if you can't find the whole ones. It all gets mixed up anyway.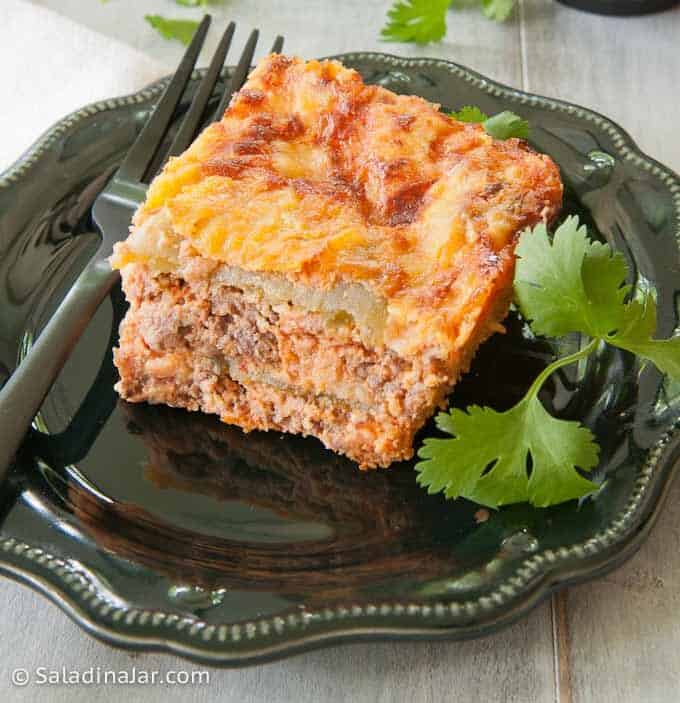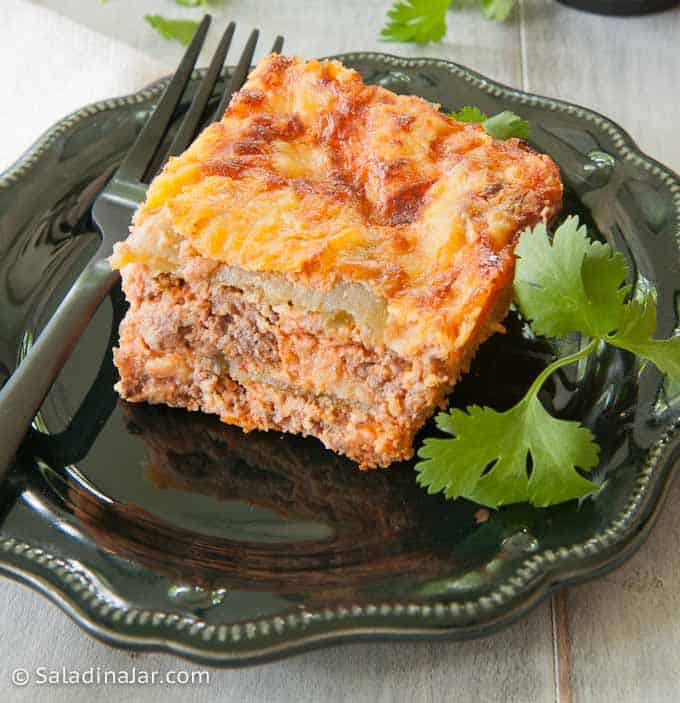 Taco Seasoning:
Store-bought packets of taco seasoning are the most convenient option. Or, make it yourself. I love the recipe for Taco Seasoning on Perry's Plate.
Leftovers make a scrumptious filling for a burrito using a flour tortilla. I wonder how many times I've said that about a recipe on this blog. It's my #1 recycling trick.
Heavy Cream:
Heavy cream adds richness to this recipe. It takes the place of the cheese or Ranchero sauce usually served with Chili Rellenos. I have not tried half and half or milk as a substitute.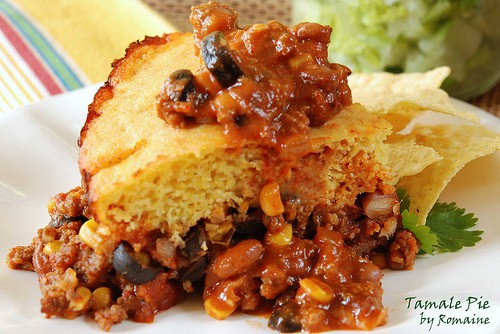 Cilantro-Tomato Seasoning:
Ever since a cashier at Kroger's told me how to use this seasoning, I don't need much of an excuse. Goya Sazon makes several flavors. Con Cilantro Tomate is my favorite. These mysterious packets pump up the flavor.
What to serve with Baked Chili Relleno Casserole:
Serve with sour cream and/or cilantro, diced tomatoes, or avocado slices. In my family, refried beans must be served on the side. Fresh, hot tortillas are also good.
More recipes with similar flavors:
---
Pin the picture below to save for later.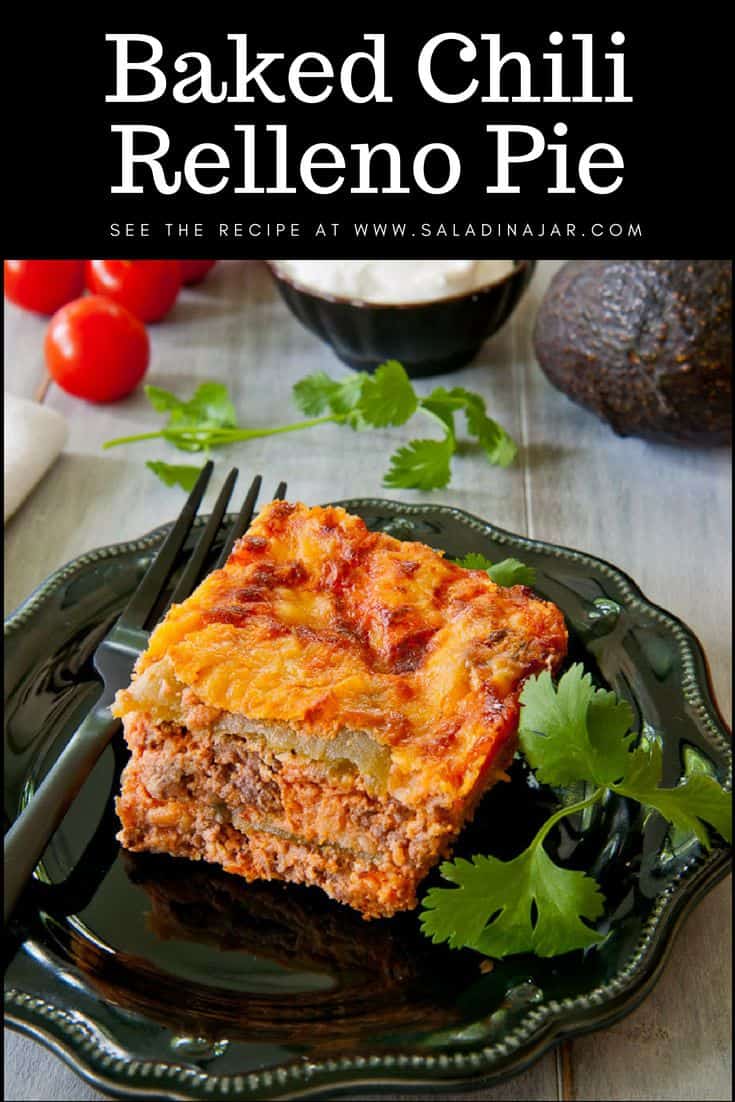 ---
---
---
Did you enjoy this recipe? You can help others (and me) by leaving a rating on the recipe card itself underneath the picture. No comment required. Thank you.

Hope to see you again soon!
Paula
p.s. Questions? Email me: paula at saladinajar.com.
Yield: 8 servings
Baked Chili Relleno Casserole with Ground Beef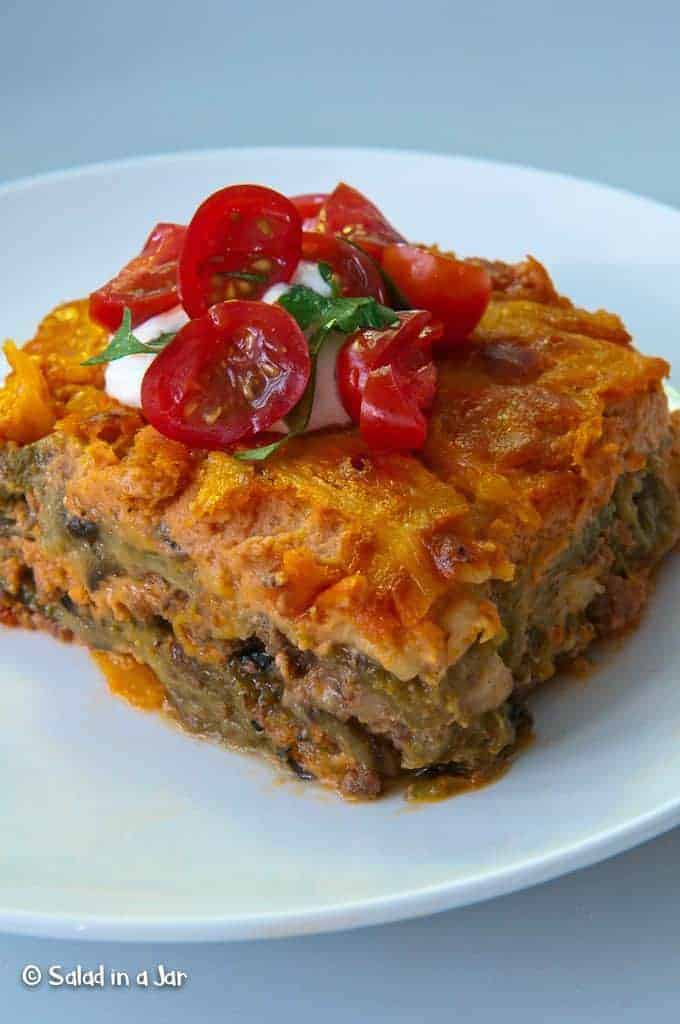 A spicy Tex-Mex casserole mimicking the flavor of chili rellenos, but requiring a lot less time and trouble.
Ingredients
1 pound ground beef
2 teaspoons taco seasoning
4 poblano chilies (broiled with charred skin peeled off and seeded) or 8 ounces whole or chopped green chilies
1 cup heavy cream
6-ounce can tomato paste
1 packet cilantro-tomato seasoning SAZON (optional)
6 eggs
2 cups pepper jack cheese, shredded
1 cup Cheddar cheese or Monterrey Jack, shredded
Instructions
Brown ground beef sprinkled with a pinch of salt and pepper, and drain off any excess fat. Stir in taco seasoning.
Broil fresh poblano chilies just until skin is charred. Place in a paper bag or covered bowl to steam for about 10 minutes. Carefully peel away blackened skin. Split open and remove seeds. OR, use canned whole green chilies and split lengthwise so you can open them up flat. You can also use chopped green chilies.
Whisk together heavy cream, tomato paste, Sazon seasoning, and eggs in a medium bowl.
In a 9-inch square dish or pan, layer half the ground beef, then half the green chilis, then 1 cup of pepper jack cheese.
Make a second layer using the remaining beef, chilies, and 1 cup of pepper jack cheese.
Pour cream mixture over the layers. Sprinkle Cheddar cheese on top.
Bake at 350 degrees F for 35-40 minutes or until pie is set and a knife comes out clean.
Allow to set for at least 5 minutes before serving.
Recommended Products
As an Amazon Associate, I earn from qualifying purchases. But don't worry. This doesn't change the price you pay.
Nutrition Information:
Yield:
8
Serving Size:
1
Amount Per Serving:
Calories:

528
Total Fat:

39g
Saturated Fat:

21g
Trans Fat:

1g
Unsaturated Fat:

15g
Cholesterol:

266mg
Sodium:

512mg
Carbohydrates:

12g
Fiber:

2g
Sugar:

7g
Protein:

34g