This Fresh Guacamole Recipe with Orange Juice is a hand-mixed guacamole recipe with a squeeze of fresh orange juice instead of the more common lime or lemon juice. Everybody will beg you to make this again and again.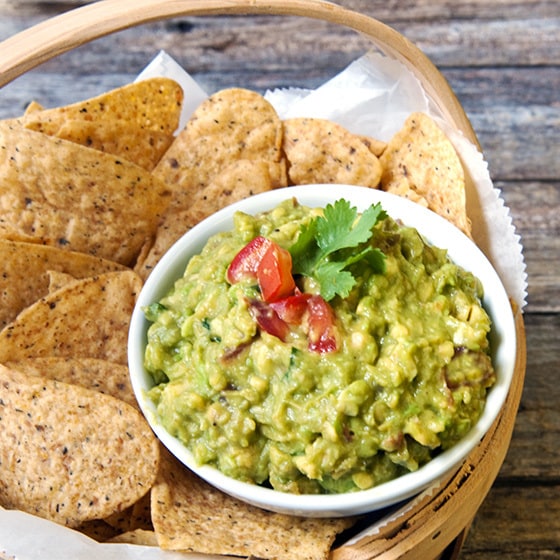 RECIPE INSPIRATION
I love secret ingredients. They're all over my blog: cardamom in my sweet yeast bread, chocolate in my chili, and ground cloves in my cinnamon rolls to name a few. They are usually in small amounts so the flavor is unrecognizable, but they add a distinctive touch.
The secret ingredient in my guacamole is a squeeze of fresh orange juice, something I learned from Boudro's, my favorite restaurant on the Riverwalk in San Antonio.
HOW DO I BUY AVOCADOS THAT DON'T HAVE LOTS OF BRUISES?
You can read all about how I buy avocados here, but for this article, I'll summarize. Buy the hard-as-a-rock and green-as-a-leprechaun avocado about 2-3 days before you want to use them. Let them ripen on the counter.
When they are soft on the stem end, refrigerate them. I buy avocadoes once a week. They are in constant rotation from the grocery bag to the ripening bowl to the produce drawer in my fridge.
If you want to buy avocados to use the same day, go to the best market or fresh fruit stand in town where the produce is more expensive. The avocados are usually less shop weary.
Press ever-so-lightly at the stem end. If it gives a little, it should be good. Experience helps with knowing when an avocado is at its perfect ripeness.
WHAT IF I DON'T HAVE ORANGE JUICE?
Lime juice and lemon juice are the more common ingredients used in guacamole to balance the richness of avocadoes. Either or both citrus juices can easily substitute for the orange juice.
WHAT KIND OF TEXTURE DO YOU WANT IN YOUR GUACAMOLE?
Guacamole is subject to personal tastes and family traditions, much like meatloaf or potato salad. I like mine chunky (chunkier than shown above– it got a touch too much love in the whole mixing and picture-taking process).
This recipe is relatively mild so the natural flavor of avocado can be appreciated. If you want more flavor, keep reading.
INTERESTING ADDITIONS
Try adding one of the following to this guacamole recipe:
a few dashes of hot sauce like Frank's Red Hot or Tabasco Green Pepper Sauce
a spicier salsa
chopped fresh garlic
Pico De Gallo
Chopped onions or onion powder
No raw onions are allowed in my guacamole. My favorite salsa adds the ideal onion flavor. Almost any variety made by D.L. Jardines will work.
HOW TO SERVE GUACAMOLE
Guacamole is commonly served as a dip with corn or tortilla chips. However, I also like guacamole on sandwiches like a BLT or a San Antonion Bean Burger. Try guacamole on toast (spread like jelly), or used as a condiment alongside other Mexican food.
HOW TO MAKE FRESH GUACAMOLE
HOW DO I STORE LEFTOVER GUACAMOLE?
That is a good question. I've tried leaving the seed in the prepared guac. Not much good.
Plastic wrap isn't much better. You still have to physically remove the top layer.
I like Faith Durand's idea over at the kitchn.com. Cover leftover guacamole with a thin layer of water. Add a lid and refrigerate.
Pour the water off when you are ready to use it. Stir it up and your avocado dip is good as new.
---
MORE RECIPES FOR TEX-MEX LOVERS
---
---
---
Did you try this recipe and enjoy it? Consider helping other readers (and me) by returning to this post. Leave a rating on the recipe card itself underneath the picture. Although always appreciated, comments aren't required.
If you have a question or tip to share, please leave it in the regular comments after the recipe so I can answer back. Or, email me privately: paula at saladinajar.com.

Thank you for visiting!
Paula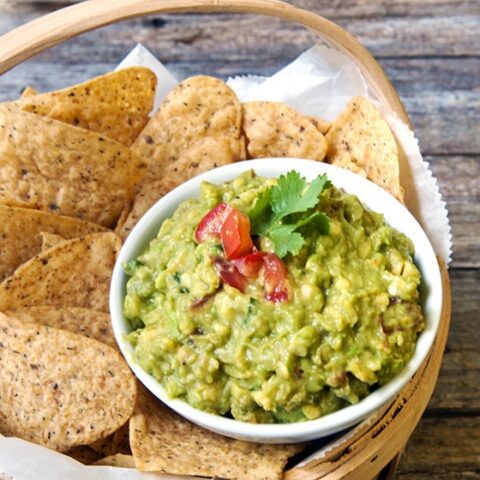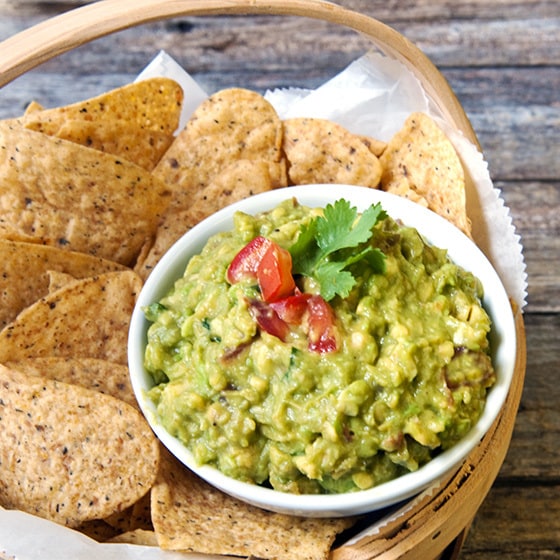 A Fresh Guacamole Recipe with Orange Juice
Hand-mixed guacamole with a squeeze of orange
Ingredients
3 large, ripe avocados
2 tablespoons salsa of your choice
Juice of 1/2 orange
Salt and pepper to taste
Fresh cilantro, chopped
Instructions
Slice avocado lengthwise and split in half. Remove the flesh to a small bowl.
Use a table knife to chop avocados until chunky. Mix in salsa and orange juice. Season with salt and pepper to taste.
Garnish with chopped fresh tomatoes and cilantro if desired.
Notes
Substitute lime or lemon juice for all or part of the orange juice for a more traditional guacamole.
Nutrition Information:
Yield:

8
Serving Size:

1
Amount Per Serving:
Calories:

107
Total Fat:

8g
Saturated Fat:

1g
Trans Fat:

0g
Unsaturated Fat:

6g
Cholesterol:

0mg
Sodium:

89mg
Carbohydrates:

10g
Fiber:

4g
Sugar:

5g
Protein:

1g